January 21 - 27, 2018: Issue 344

Bayview Yacht Racing Association - BYRA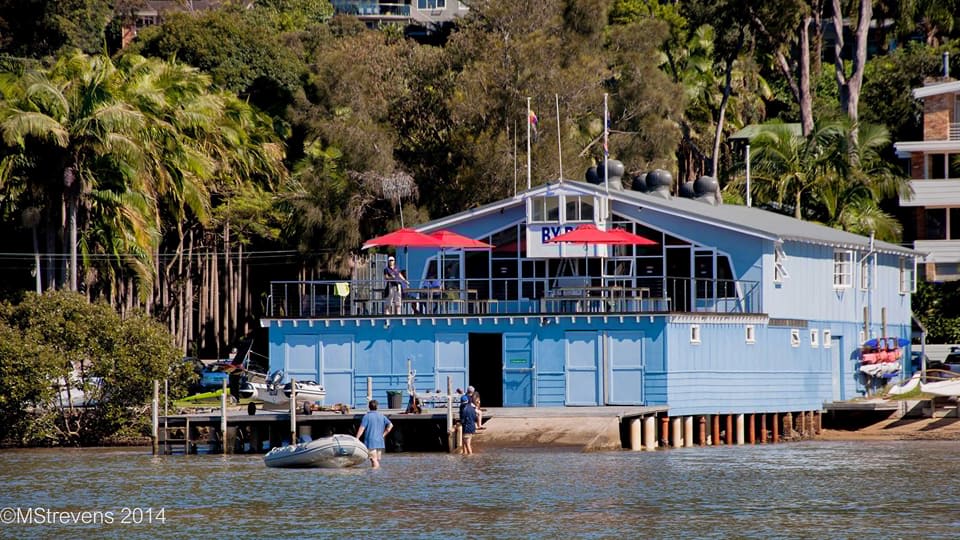 Bayview Yacht Racing Association (BYRA)
1842 Pittwater Rd
Bayview
Rob Warnes, Commodore of BYRA, has a passion for sharing the great waters of Pittwater and a love of sailing with everyone aged 8 to 80 or over!

"This year rather than having a particular day or morning for TRY A SAIL it has been decided that every Sunday is a TRY A SAIL Day and we welcome newcomers." Rob told us this week.
"At t
his time of year, new members can join for the second half of the season at a 50% discount. So, if you have friends interested let them know."
At Easter, we have the NS14 NSW States Championships, where we hope to welcome 50 or 60 boats. If you are doing nothing in particular at Easter and would like to volunteer to help please let me or Susie, the registrar, know.
Also on the last Sunday of the month from January 28th the Foiling Moth fleet will be visiting us for races. If it is a combined fleet day they will have their own race course, so unless you have a Foiling Moth you won't be chasing them.
Our February Learn to Sail programmes, starting on February 8th , are full already and we hope in the month of February to have some of the BIC sailing dinghies for the Juniors to try. They are modern, exciting single- handed boats with interesting away races."
BYRA, Pittwater's Family orientated Sailing Club, is holding a

Learn to Sail course

in the sheltered waters off the Clubhouse in Bayview this week.
Youngsters from 8 and 14 years are welcome. Over the three days the course their Australia Sailing qualified coaches will introduce the sport of Sailing, regulations and safety, with lots of educational activities for the kids to learn in a safe environment.
Boats and life jackets are provided by the club.
Clothing and footwear should be waterproof and a change of clothing is recommended. Bring lunch, supplies, a water bottle, sun cream, don't forget the hat!. Sunglasses are recommended but not necessary. Kids willing to attend the course must be able to swim 50 metres.
BYRA'S SUMMER HOLIDAY SAILING PROGRAM
23 TO 25 JANUARY 2018 FROM 9:30 TO 3:30PM
On Friday, January 26th, members will be volunteers helping out at Avalon Sailing Club's 2018 Australia Day Regatta - the two clubs have been sailing against each other, and enjoying sailing together, since the earliest years of both of these on the Pittwater estuary based clubs.
This week a small insight into one of Pittwater's GREAT Sailing Clubs - jump aboard, you won't be sorry getting involved in sailing here - these are great people making sure everyone gets a chance to enjoy the best waterway in the world!
SAILING ON PITTWATER
The Bayview Yacht Racing Association (BYRA) is both a dinghy racing and yacht club based on Pittwater, in Sydney's northern beaches. We offer some of the best water access and sailing conditions in Sydney. The club boasts a proud history of producing state, national and world champions and is a friendly family club with a strong sense of community.
We offer dinghy racing on Sunday afternoons and twilight yacht racing on Tuesday nights from September to May. New members and visitors are always welcome to join our existing fleets or introduce a new class to the club.
BYRA has a strong focus on skills development, and offers learn to sail programs, junior sailing on Sunday mornings, introduction to racing, race training and other support as requested. BYRA has an ongoing commitment to supporting junior sailors and fostering their sailing skills, from learn-to-sail programmes through to elite competition.
BYRA is run entirely by volunteers, and we welcome you to get involved at the club, whether in race organisation, on our response boats, in the canteen or in the many other jobs associated with keeping our club operating smoothly.
You'll always recognise a BYRA sailor by their smile and friendly welcome, and that's just as important to us as doing well on the race course.
Established in 1949 BYRA is Pittwater's finest family sailing club
Join our dinghy fleet races on Sundays from September through to May.
BYRA runs sailing courses for children throughout the season.
LEARN TO SAIL
Sydney offers many amazing waterways, but Pittwater provides perhaps the best environment for learning to sail. Some of the world's most successful sailors started out at BYRA, but that's not to say we're all about competition. Many of our sailors choose simply to explore the pristine waters of Broken Bay and the Hawkesbury. However, for those with a competitive streak we offer Combined Fleet Racing on Sunday afternoons with the other Pittwater-based clubs. This guarantees a high standard of competition and good-sized fleets.
Sailing courses take place on Sunday mornings and are finished by noon. Ideally students will be competent swimmers, but this is not essential as classes are supported by one or more patrol boats (as numbers require). These are crewed by experienced members.
BYRA can accept online credit card payments via a secure link provided by the Commonwealth Bank. Alternatively you can pay by cheque. See our
Purchases page
for details.
• Boat
• Life Jacket
• Experienced Coach and support crew
• Patrol Boat
• A great club with a relaxed atmosphere!
WHAT DO STUDENTS NEED TO BRING?
• Hat
• Sun Screen
• Suitable Clothing - one of our long-sleeve rashies is ideal, but otherwise shorts/swimmers and something to cover your arms that dries quickly. You will be getting wet!
• Water and something to eat - or pick something up from BYRA's canteen.
It's never too late to experience the fun and sense of achievement that sailing can bring. Many of BYRA's members found sailing later in life. Find out more about our sailing courses for adults.
CHILDREN'S SAILING COURSES
BYRA operates regular introductory sailing courses for children throughout the summer. Training is conducted by experienced coaches who love the sport, and their enthusiasm is infectious.
Bring your child down to the club any Sunday morning during the season and someone will be happy to show you around the club and the boats. You can even attend one of our free Discover Sailing days with no obligation to see if sailing is for your child. Check the calendar on the home page for the next one.
ADULTS LEARN TO SAIL COURSES
Currently there are no Adult LTS course planned. If there is demand, we can also run Adult LTS from 1-5pm on Saturdays, but we need a minimum of 2 students to make this work.
Please contact the club if you are interested.
JOIN BYRA
The Bayview Yacht Racing Association (BYRA) is a vibrant, community-based club.
If you are considering getting into sailing, why not visit us on a Sunday morning to see the different boats we sail up close - our members are always keen to answer questions and show you the ropes.
You can even arrange to go out on a patrol boat or the committee boat to watch the sailing school or racing up close.
Once you've decided to join us, you can use one of the
links here
to purchase BYRA membership.
WHAT DOES BYRA MEMBERSHIP OFFER?
Competitive fleet racing for all levels of experience




A Twilight Yacht Racing series




Learn-to-sail courses




A progressive Junior Development Programme




A large fleet of club Optimists for children's use




A large rigging area




Easy access to the water




Launch facilities for trailer sailers and larger boats at the club, or at nearby Rowland Reserve




Ample parking




A well-stocked canteen - great coffee and a large selection of fresh food




Boat storage (for full members only)




Organised social functions and informal get-togethers



We are always looking for new members and we would love to hear from you. Contact us if you are interested in learning more about BYRA or want to discuss joining up. Or why not drop in for a chat (Sunday mornings are best) and deliver them in person? That will give you a chance to look around, meet us, and to get an idea of what we're all about.
Or, if you have already made up your mind, click one of the links (to the right) and join now.
We offer a range of membership options to suit all levels of involvement.
SENIOR SAILING MEMBERSHIP
Senior membership is for individuals aged 18 years or older on July 1st. Senior members tend to have their own boats which they either store at the club or keep at home and bring along each Sunday.
JUNIOR SAILING MEMBERSHIP
Persons aged less than 18 years on July 1st are eligible for Junior membership. This category provides all the benefits of Senior Membership.
Our Family Membership provides a cost-effective means for members of the same immediate family to join BYRA.
Associate Membership is for non-racing members who do not intend to own, skipper or crew a boat registered with BYRA. This membership category is effectively for social members.
BYRA'S HISTORY
One Wednesday in 1949, K.C. Dalton Esq. Skipper of the "Owen Davern", and
Cedric M Williams Esq
., Skipper of the "Christina", sailed a match race around Lion Island. The event aroused so much interest and enjoyment that it was decided to form a yachting association, and so BYRA was born.
The above inscription, which appears on BYRA's perpetual trophy, "The K.C. Dalton Memorial Trophy", states in brief how BYRA began. The first and inaugural meeting to form a yacht club or association was held at the home of Mr Dalton, "Marengo" Fermoy Avenue, Bayview, on the 27th November 1949, and an association was formed to be called - Bayview Yacht Racing Association, BYRA for short. Those who were present or had sent an apology plus those who were elected to the committee at the second meeting were declared to be foundation members, twenty one in all.
Mr. Dalton had prepared a cup for the initial match race, won by Mr Williams in "CHRISTINA". The BYRA committee, at the second meeting, resolved that the cup be known as the "Dalton Lion Island Perpetual Challenge Cup" and be open to Auxiliary Cruising Yachts acceptable to the committee. The cup was competed for as a challenge between the holder and a challenger, and is now an annual event open to all Auxiliary Yachts approved by the committee.
BYRA started as an all yachts club, the first race being held on 27th December 1949. The yachts started in the vicinity of Bayview wharf, running free to a mark near Riddle's, thence round a mark in the vicinity of Long Nose, and back to Bayview, three times round. The winner of this race on handicap was "NYRIA" skippered by Mr.G. Solomon.
During 1950 BYRA decided to sponsor the Star class, and Stars were raced at BYRA as the Pittwater fleet until 1958. Mr Dalton had purchased from Melbourne a Star class yacht known as "Tranquil" 2816. This yacht was sailed in all BYRA races for some time and her performance was so satisfactory that other members purchased Stars with the idea of forming a fleet. At a general meeting of the BYRA executive and Star owners in June 1951, it was decided to form a Star Fleet to be known as the Pittwater fleet, and to apply for affiliation with the International Star Class Yacht racing Association of America. The charter was subsequently granted and, at the end of 1951 season, BYRA had ten Stars on the register.
STAR CLASS YACHT RACE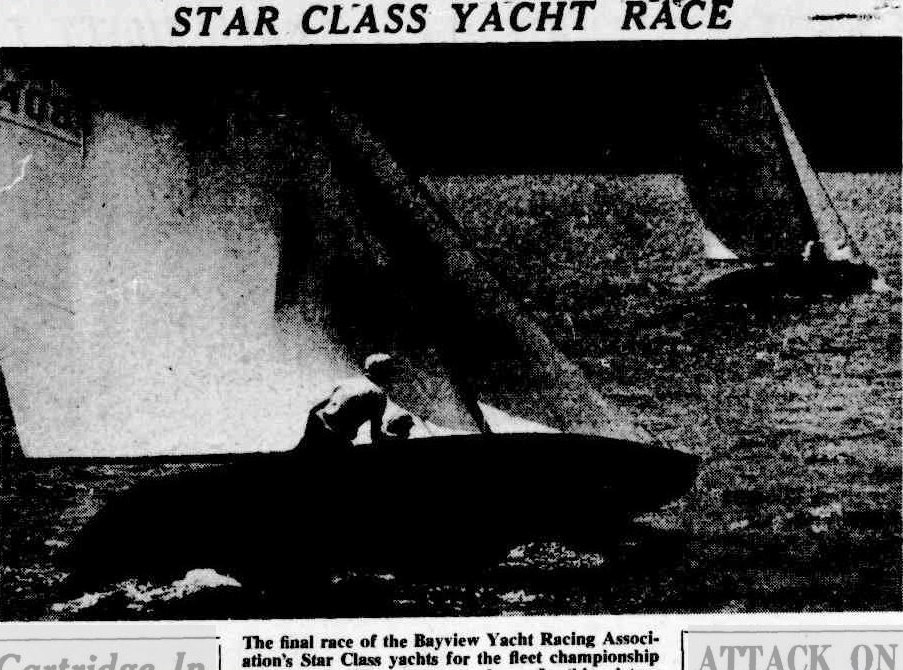 The final race of the Bayview Yacht Racing Association's Star Class yachts for the fleet championship was held at Pittwater yesterday. In this picture Hornet (C. M. Williams), 2nd in the race, and winner of the championship, leads Valsheda (B. Russell). STAR CLASS YACHT RACE. (
1954, November 29
).
The Sydney Morning Herald
(NSW : 1842 - 1954), p. 5. Retrieved from
http://nla.gov.au/nla.news-article18454851
In November 1950, Mr. Dalton launched at Pittwater the first certificated Dragon, D/KA1, "Platypus". Dragon races were conducted during the whole of 1951 and at the end of that year BYRA had three certificated Dragons racing. Several more were in the offing and it was anticipated that the Dragon fleet would keep its flag flying at BYRA. However, during 1952 the Dragon fleet ceased to exist, some going to race on Sydney Harbour, and others not wanting to race on Sunday.
Early in 1952 BYRA was requested to form a V.J. fleet, and, at the end of 1952/53 season , BYRA had the second biggest V.J. fleet in the Sydney Harbour/ Pittwater Zone. The mixed yachts had fallen off by this time, and for a time BYRA consisted mainly of the Star and V.J. fleets, each operating as separate entities.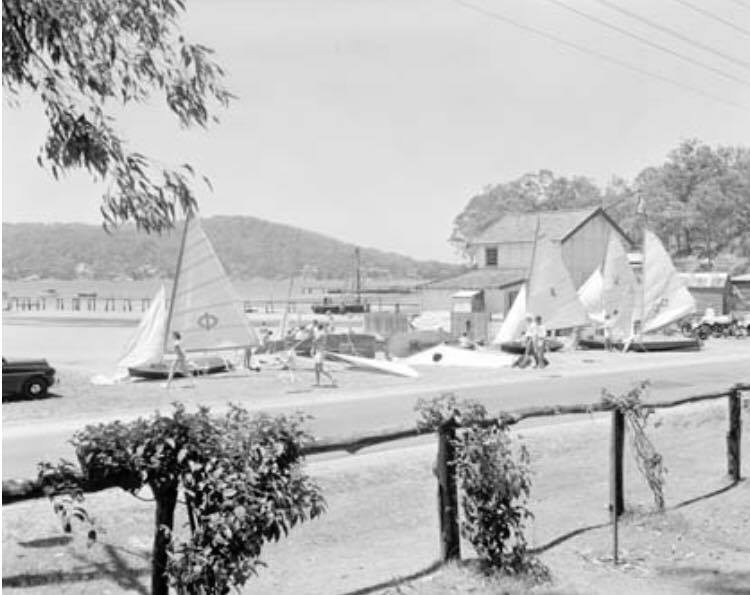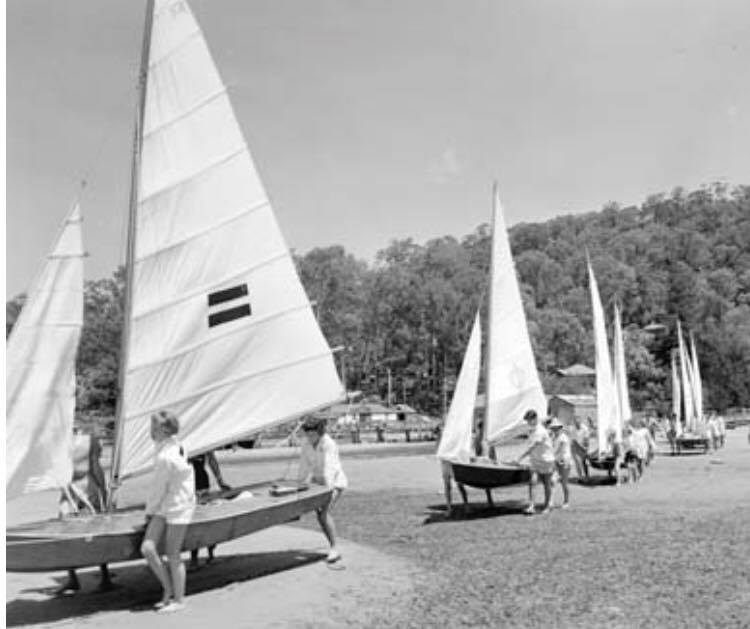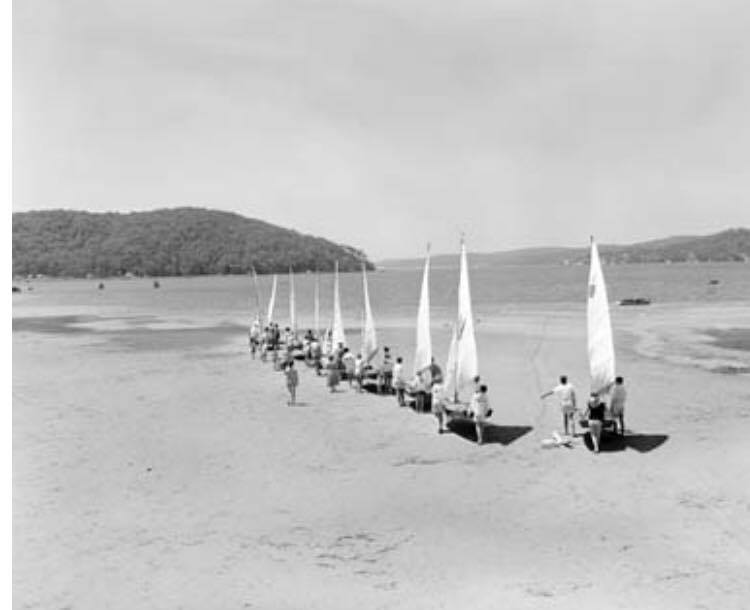 Vee-Jays rigging and launching at BYRA, 1957.

During 1956, Moths were introduced to BYRA and proved to be very popular, at one time seriously threatening the V.J. fleet in numbers. To boost interest in the V.J.'s the Patron, Major H. Porter, donated a V.J. for a competition in 1961. This V.J. was named "Thoroughbred" and was won by David Robinson. During 1958 the number of Stars dwindled and eventually the Star fleet moved its activities to the Royal Prince Alfred Yacht Club.
During 1963 Herons made their appearance at BYRA, and were eventually given fleet status. 1964 saw the Commonwealth Heron titles at BYRA, and this helped to build up the fleet, so much so that the increased number of family members brought in with the Herons was a shot in the arm financially for BYRA.
The 1964/65 season saw the introduction of three more classes - the 505, Fireball and the TS16 - and BYRA was really growing fast, with a predominantly family atmosphere. New classes introduced since then were 1967/68 Mirror Dinghy; 1969/70 Manly Juniors; 1970/71 NS14 and GriffinT.S. 17; 1974/75 Solo; 1977/78 Flying Ants, 1984/85 Spirals.
Incidentally:
Narrabeen Lakes 16-footer Club may transfer to Pittwater in the New Year. NSW Skiff Association
Commodore Reg Smee is negotiating with Bayview Yacht Club officials to affiliate the Narrabeen Lakes Club with BYRA. BYRA would sponsor the 16 - footers, but the skiffs would have their own officials' to control racing and club administration.
"There is plenty of room for 16-footers and yachts at Pittwater, and we would welcome the Narrabeen Lakes skiffs," said BYRA Commodore K. C. K. Dalton today.
Star class yachts from Bayview will compete at Avalon tomorrow. Avalon VJ and VS Club members will sail as crew members of yachts.
Ketch Late Entry In Yacht Race
The 38-foot ketch Bissy Girl was a lastminute entry yesterday for the Sydney-Hobart race, to start on December 27.
Seventeen entries had been received when entries closed at midnight yesterday.
Bissy Girl is the first entry ever received from the Bayview Yacht Racing Association.
Owner Mr. Tom Dawson and the crew of four all work at the N.S.W. Transport Department, in Macquarie Street.
The yacht was built at San Pedro, California, and came to Australia in July 1933, after visiting Samoa, Fiji and New Zealand.
Mr. Dawson has owned Bissy Girl for about nine months.
Entries are: ...
THE CLUBHOUSE
In the early years (1950/57) a two storey boatshed in the vicinity of Riddles shop was rented from the council for a nominal fee and became the BYRA clubhouse.
TROPHIES won during the 1950-51 season were presented to the winners by Commodore K. C. K-. Dalton at
the first annual ball of the Bayview Yacht Racing Association, held

at Pasadena, Church Point

, on Friday.
Commodore Dalton also announced that a grant of land and a suitable building would soon enable the club have its own clubhouse.
Bayview Yacht Racing Association will entertain guests at the opening of their new clubhouse at Bayview tomorrow afternoon. BYRA Commodore K. C. K. Dalton, Vice-Commodore Cedric Williams and Rear-Commodore E. Cotter will be present. BYRA started 2 1/2 years ago with only six yachts registered and a small membership. The club now has more than 50 registered boats and a membership of 160. The club will close its summer - autumn season tomorrow but will conduct races every Sunday during the winter months.
With the advent of the Moth fleet and growing membership it was seen that a bigger clubhouse would soon be needed, and during the 1956/57 season plans were made to extend the clubhouse. Much of the planning and direction was provided by Mr. Henry King and Mr Richard Overy. The necessary money to build was raised at various functions and from debentures taken out by a number of members and interested persons.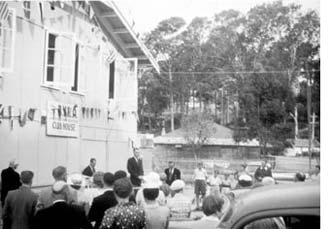 The extended clubhouse was opened by the Patron, Mr Dalton, on 23rd November 1957, and was then of upstairs dimensions 40 feet by 38 feet with down stairs accommodation for 40 boats. Eventually hot showers, septic toilets and amenities were installed, making BYRA one of the most comfortable clubhouses in the Sydney area.
With further growth in membership, and the introduction of new classes, the clubhouse was further extended in 1959/60 and capable of storing 72 boats. In the 1966/67 season further extensions were carried out. The 1969/70 season saw the upstairs floor tiled and the interior made more attractive.
In 1971/72 the upstairs deck was extended and more storage for boats provided downstairs. In the early stages much of the work was done by voluntary labour, the members being very keen, but the later stages were able to be let out to builders owing to the improved financial status of the club from an enlarged membership.
EVENTS
Each November, on the anniversary of the founding of BYRA way back in 1949, BYRA holds a yacht race around Lion Island. Officially known as the Lion Island Challenge Cup, the event is open to all members and guests.
BYRA's annual Peter Loft Marathon Race takes place annually on the first Sunday in May. This is a great event and sailors from all clubs are welcome. All race fees benefit the Peter Loft Foundation.
One of the most popular aspects of the race is the Le Mans start. Competitors line up on the beach beside the clubhouse and, on the dropping of the BYRA flag, sprint to their boats to begin. Clearly this gives the less-old sailors an advantage, but history shows that experience soon wins out.
PORTUGUESE BEACH PICNIC DAY
At the end of each sailing season BYRA combines with other Pittwater-based sailing clubs for a BBQ picnic lunch and games such as tug-of-war and an egg catching competition. Bring food for the BBQ and something to drink.
It's a great day out and all members and their friends are welcome.
VOLUNTEERING AT BYRA
Our sailing club benefits from the assistance of many volunteers to make it the success that it is. We are always looking for people to help in various roles on Sundays during the sailing season, and even a commitment of just a few hours once a month makes a big difference to us. Here's an example of the types of things you can get involved in as a volunteer:
You get to spend the afternoon on the race start boat (a large comfortable vessel) watching the racing up close. The role involves recording sail numbers and finish times of the boats as they cross the finish line. At least one other scribe works with you so you can agree records. You need to arrive at the club at 12:30pm for the BYRA patrol boat to take you to the start boat. At the conclusion of racing (normally by 4:30pm) you will be ferried back to BYRA. No experience necessary and a great way to spend an afternoon!
BYRA operates a patrol boat on the northern course (immediately to the north of Scotland Island) each Sunday afternoon to support the Combined Fleet Racing. The role of this boat is to:
• Lay and retrieve course marks.
• Ferry the Race Scribe to and from the start boat.
• Provide assistance to the dinghys as required.
• The Partol Boat requires a Driver and at least one Crew.
No experience necessary! As crew you assist with mark laying and providing support to dinghies if required. You need to arrive at the club at 12:30pm . At the conclusion of racing (normally by 4:30pm) you retrieve the BYRA scribe from the start boat and return to BYRA. A wonderful way to spend an afternoon and to see dinghy sailing up close!
To drive the boat you require a boat license. Ideally you would serve a couple of sessions as Patrol Boat Crew to become familiar with proceedings first. You need to arrive at the club at 12:30pm. At the conclusion of racing (normally by 4:30pm) you retrieve the BYRA scribe from the start boat and return to BYRA. A wonderful way to spend an afternoon and to see dinghy sailing up close!
BYRA operates a very successful canteen from 8:30am to 1:00pm each Sunday. Volunteers can commit to just a few hours or the whole day - all assistance is greatly appreciated. The canteen is the heart of BYRA and is a very enjoyable place to spend a few hours. Many of our volunteers combine a few hours in the morning with an afternoon as race scribe or on the patrol boat.
CLUB TROPHIES
1. K.C.K. Dalton Memorial Trophy (Perpetual)
Will be presented to the Club Member who, in the opinion of the Selection
Committee, brought most credit to the Club during the season. Major
consideration will be given to sailing ability, sportsmanship, general
demeanour and club service.
2. W.H. King Memorial Trophy (Perpetual)
Will be presented to the Club Member who, in the opinion of the Selection
Committee, has made an outstanding contribution to the Club during the
season. Major consideration will be given to general demeanour,
sportsmanship and club service, sailing ability will be included but the
award decision will be independent of competitive success.
3. Peter Loft Pursuit of Excellence
Shall be awarded to a junior member, 18 years or under, for travel
expenses to major interstate or overseas event. Fleet Captains, or
members, are invited to nominate possible recipients to the General
Committee.
4. Chris Hildebrandt Trophy (Perpetual)
Shall be awarded to the most consistent performer in the Club in
Handicap events. The skipper with the best average points will receive the
trophy. All heats of the seasons Point Score shall be counted with 10
points allocated for 1st place, 9 points for 2nd place, and so on. In the
event of a tie, a count back shall apply. Any Fleet which has an average of
less than 10 starters shall have the points reduced proportionally, e.g. Av.
Pts = 7.2; av. Starters 8.6; Adj. Ave. Pts 7.2 x 8.6/10 =6.192pts.
5. Errol Robinson Memorial Trophy (Perpetual)
Shall be awarded to the most consistent performer in the club on Scratch
results. This shall be calculated in the same manner as the Chris Hildebrandt
Trophy.
Shall be awarded to acknowledge success in a new class.
7. Blue Peter Trophy (Perpetual)
Shall be awarded to the most promising graduate from a training class.
Shall be awarded to a junior member who has contributed to the running of
the club.
9. The BYRA Cup Perpetual (In memory of Jan Curtis)
Shall be awarded to a recent graduate from the training class, who has made
an outstanding contribution to sailing activities.
10. Zac Stollznow Perpetual Trophy
Shall be awarded for the greatest level of effort and progress made by a
participant in a junior training class.
FLEET TROPHIES - ORGANISED BY FLEETS:
• Roley Bernard Memorial Trophy for Fleet Champion (Perpetual)
• Privateer Shield for Seasons Point Score (Perpetual)
SPIRAL
• Spiral Fleet Championship Trophy (Perpetual)
• Hot Jazz Perpetual trophy for seasons Point Score (Perpetual).
• Ruddy Blush Trophy
• Old China Cup
• The Bill Gray Trophy for Twilight series scratch winner (perpetual)
• McCYRG Twilight Cup for Twilight series handicap winner (perpetual)
• Two Island Classique Trophy (Perpetual)
• Ruth and Leon Paul Memorial Barbeque Trophy (Perpetual)
• The Dalton Lion Island Challenge Cup (Perpetual)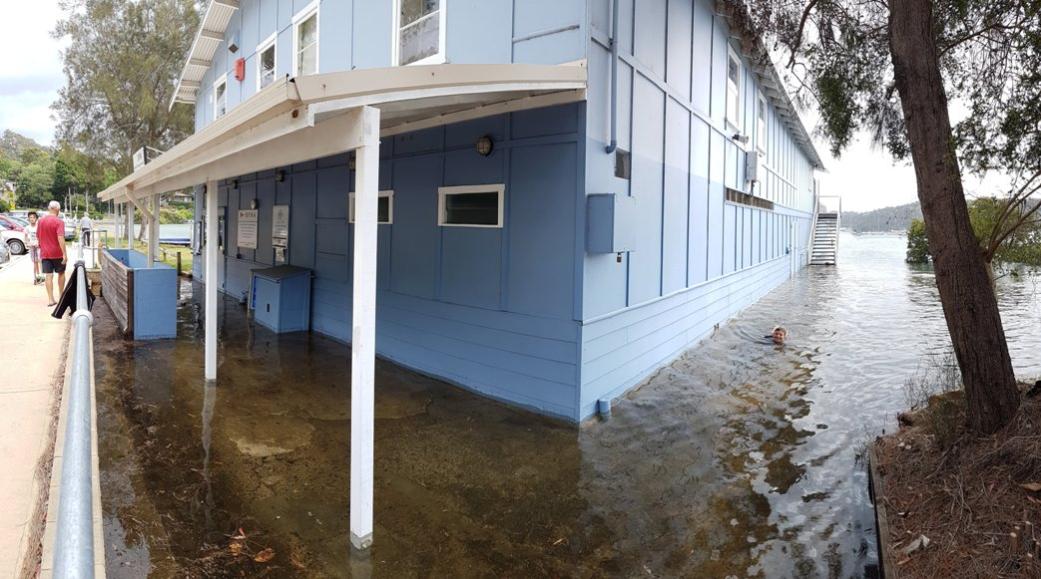 Christmas King Tides at BYRA, photo courtesy Ian Urban of the NS14.