March 20 - 26, 2016: Issue 256
Warriewood SLSC Boat Section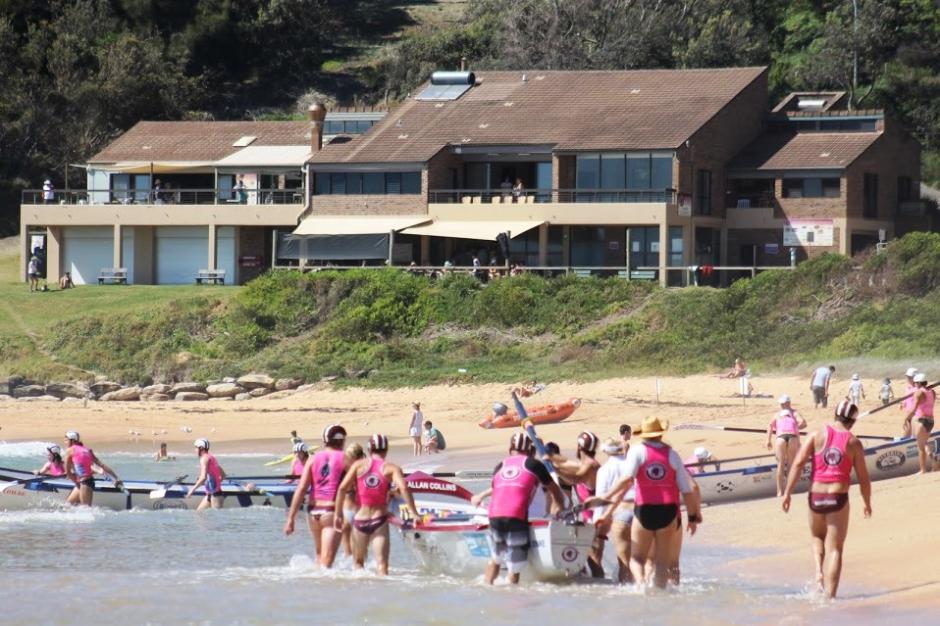 Every October Warriewood SLSC hosts a Masters carnival and is the start point for the annual Don Jenkins Memorial Ocean Swim from the sands of Warriewood to the southern end of Mona Vale beach in January.
A large Nippers division, as well as Kindy Nippers, along with a Cadet program for 15-18 year olds to progress into the senior Surf Life Saving movement, with all parents getting involved on the beach or in the regular working bees to keep the clubhouse and its environs spruce, makes Warriewood a the family club for all ages.
The Boat section at Warriewood is part of this family and as each December rolls around and the club hosts Round 3 of the Sydney Northern Beaches Branch boat carnivals, the support boaties give every other part of the club brings in a return support, making this one of the most relaxed carnivals on the calendar each year.
Warriewood participates in every other carnival they can as well, from the great friendly local carnivals to Ocean Thunder and Navy ASRL events, to Branch and State and Aussie championships.
Warriewood members participated in the 2016 George Bass Marathon – the world's longest surf rowing event, and came third in the Masters Division. This was a joint effort between Warriewood and Avalon Beach SLSC Members.
Warriewood SLSC Sweep - Russell Lamb, Masters Women: Rowers – Louise Barnett, Alex Coates, Tanya Deer, Phillipa Lowe - Avalon Beach SLSC – Rowers – Kerry McEwan, Kate Munro, Beverley Tilbury, Donna Wishart. Support Crew – Phil Deer, Carl Quitzau. Leg 5 Winners - 3rd Overall in Masters Women.
Kate Munro, Kerry McEwan, Donna Wishart and Bev Tilbury, Jen Spencer and Russell Lamb were also involved in a rescue while training off Warriewood in June 2015. They were subsequently awarded the National and NSW Rescue of the Month for May/June after rescuing a rock fisherman who fell five metres onto rocks at Warriewood Beach on 27 June 2015.
This week a small insight into what creates and keeps longevity in a surf club boat section, courtesy of Boat Captain Shaun Taylor:
How long have you been Boat Captain at Warriewood SLSC?
Four years now.
How long have you been in surfboats?
I've been involved with the surfboats since I was 15, which is 25 years now. I usually Sweep for Warriewood SLSC but have been having a year off due to injury this Season. The other sweeps have shouldered the load as ordinarily I sweep the Under 23 Girls and the Reserve Grade Men.
The Reserve Grade just won a Silver Medal in the 2016 New South Wale SLS State Championships?
Yes, this is the first one since the 1978/79 Season when Warriewood won state and Aussies that year.
How many surfboat crews are there at Warriewood SLSC at present?
We have five, almost six crews; two Masters crews, Reserve Grade Mens, Open women's, Under 23 Women's and half of a junior crew. Five of these crews are competing solidly while the Under 19's have been helping out here and there.
These crew names are The Rusty's, which is the 180years women's crew, The Crustys, which is the 200/20 years Men, those are our two Masters Crews.
We also have Business Time in the Reserve Grade, and our Wahines in the Open Women's, while our Under 23 Womens crew call themselves 'The Whips'.
You're having a Come and try Surfboat Rowing morning on March 20th at Bayview?
Yes, we'll meet where the tennis courts are, and go from the sand-flats are off there.
The Come and Try mornings for anyone who would like to come down and find out more about this great sport and get in and have a try of rowing. Both girls and boys are welcome and we will have some of our very experienced and highly skilled coaches on hand to show you the ropes.
If you are interested please contact the Boat Captain Shaun Taylor on 0405 451 880 or email shaun.taylor1215@gmail.com to register your interest. If you cannot make it to this session there will be another later in the year or even a chance to come and see what it's all about during a training session. Get in contact with me, Shaun, and we'll take things forward from there.
So Warriewood is extending its crews into Juniors then?
Yes, we're trying to foster the Junior Division, the Under 19's. This is an Under 19's Mixed Division, so girls and boys are welcome. This is part of our focus on fostering the future of the sport as these young rowers will be who take surfboat rowing forward, not only so they may enjoy it, but so others can see what is dynamic as well as historic about these great boats on our beaches.
Warriewood SLSC has always had a very strong Boat Section – why is there such a passion for surfboats at Warriewood?
Rowing at Warriewood goes a long way back, to near the start of the club itself. We do have a strong focus in other areas too, Nick Yakich was a very good runner for the club back in the day, and there have been other good sprinters and ski paddlers for the club around as well.
The Boat Section has always been fostered though. In early days when Allan Collins arrived they had consistent wins, which got things started and there has been a focus ever since.
Surfboats were primarily a rescue vessel when first launched, and are still used in this way. You only have to look at the example of the girls training off Warriewood on a Sunday morning last year when they were involved in a rescue to remember why they were launched and maintained at a beach like Warriewood. – LINK – Full page with add in of award for – Al; you have BIG pic with girls in red and yellow somewhere – insert here (few Av members -but explain - + George Bass link – maybe under Extras)
The sport of surfboat racing is a way to showcase what is inherent in surf life saving itself – a focus on the saving of lives and educating yourself in the skills needed for this, on encouraging and maintaining the fitness of the individual members so they are skilled in saving lives, and the team work involved in any surf life saving club is based on promoting camaraderie – which you get in surf boat crews in spades.
Jock Mackay, one of your Life Members and his wife June are other outstanding examples of this. You had a new surfboat christening and launch of a boat named for them on February 9 2016?
That's right. Jock and June Mackay have been big contributors to Warriewood SLSC for decades, so it was great to honour all they have done. Jock rowed for Warriewood SLSC for many years and both Jock and June have been an integral part of club life for most of their lives. Their great enthusiasm and great company have been an inspiration to so many club members over the years, so it was great to acknowledge their input by giving our newest racing boat their name.
It was a perfect day for the celebration – clear skies, beautiful sunshine and not too much wind. After being christened with a bottle of champagne, the boat was launched into a messy surf which had onlookers holding their breath. The rowers successfully negotiated the waves though and returned smoothly to shore where the crowd clapped appreciatively.
The function was very well attended and it was great to see so many Life Members, sponsors and members of Pittwater Council present. We'd like to thank the sponsors of this new surfboat – NTT Communications, Keysun, Ecodownunder and our many other great supporters for making this possible.
The Aussies and the Best of the Best is coming up at North Narrabeen – who is Warriewood sending to these to represent the club this year?
For the Aussies the two Masters crews will be going, as will the Open Women's and the Reserves and under 23 girls – all five crews that recently were at the NSW State Championships.
Our Under 23's, Open Women's and Reserves will also compete at the Best of the Best too, which is a good lead into Aussies for them.
You have a fair amount of surfboat knowledge and have been Boat Captain for a while – what makes a good Boat Captain in a surf club?
The main focus of a Boat Captain is to organise the crews, making sure they have the right equipment, that any equipment that gets damaged gets fixed in time for them and fostering the sport, tracking down new Members for the club and new rowers for crews.
Warriewood host Round Three of the Surf Life Saving Northern Beaches Branch surfboat competition each year – what's the focus on for this event?
This is the last surfboat carnival before Christmas so we try and keep the focus for the carnival we host on having a bit of fun. The carnival is wedged in between a couple of the Ocean Thunder events and some crews may be taking a break to be strong for these, or having a rest because we're all coming into Christmas – we still have steady and good numbers of clubs and crews attending though. We have a barbecue at the clubhouse afterwards, make sure the carnival is run smoothly and fast so people enjoy it, and as you saw last December, there's always a focus on safety and if conditions dictate it, the carnival has a wait and see period until it's safe enough to continue.
It's a good carnival, people enjoy it, the crews out in the water can hear the applause from their fellow rowers on the beach when they make it over a wave or catch a good wave back in.
What happens when the seasons ends?
A lot of the crews will continue training, doing their own times. They'll have a break but most of the crews are all mates, so they'll still hang out together.
Training wise they'll continue their gym sessions throughout Winter to maintain fitness and strength until the Boat Section starts up again in August.
Some crews will row throughout Winter; some have other commitments, playing soccer and rugby through the cold months, so that will restrict their available time for rowing.
Those that row right through, where are they doing this – on the Pittwater estuary or on the ocean?
A bit of both – it depends on the day and the weather. If there's a good wave on you'll find a few boats out catching a few waves – you do find a few guys out in Winter as there's always some good Winter swells that come through and guys want to get out there and crack a few waves. The other side of that is though if it's a nice sunny day and the surf is a bit bumpy they'll go for a row at Bayview or on Narrabeen lagoon, somewhere like that, to keep strength and speed up during the off season.
You've been rowing for 25 years – what to you is the best about surfboats?
For me the most enjoyable part of it is the team aspect – you're really part of a group, you're part of a crew. The camaraderie and the mateship you get in this sport is second to none.
There's also the excitement of getting out in the surf, cracking a wave, holding a big boat straight back to the beach with four guys in it. A surfboat is a big heavy piece of equipment – so to be able to manoeuvre that back to the beach safely, and straight, for me is one of the most enjoyable aspects of this sport.
It's also great fun, just getting out in amongst the surf. So that is the best part, getting out with a group of guys, you're all mates, so enjoying each other's company and cracking a wave – there's nothing like it.
Everyone must have a very good level of fitness to be able to go to carnival after carnival each Season, from Branch through to Ocean Thunder and Navy ASRL events, States, Best of the Best ten Aussies – how do you do it?
There's a lot on, yes. We pick and choose what we go to, which depends on individual schedules of crew members, but at the end of the day the crews all train really hard and put a lot of effort in and racing is what it's all about and what they look forward to.
They will attend each and every event that they can throughout the Season because that's what they've aimed for.
Someone like yourself, or say a Don McManus, who have been in the sport for decades – it clearly produces a fit for life ethos too; physically, mentally, emotionally – you also all get to travel around Australia to carnivals too…
The fitness is definitely beneficial to your health, I'm sure it's a major reason I can still keep going.
The travelling to carnivals is also a great part, surfboats gives you the option to get around and see places many wouldn't have seen if they hadn't been surfboat rowing. I remember trips down to Lorne and Ocean Grove and up the coast like Umina, beautiful places.
How long have you been part of Warriewood SLSC?
I came back to Warriewood in 2011, so this will be our 5th season back there. I actually started as a Junior at Warriewood, in Nippers. Then I moved away for a while and found myself back again.
What for you is the best part of being a Member at Warriewood SLSC?
The club is very inclusive. We're one big family. I'm an Age Manager down there for the Under 6's, looking after my son in the Under 6 boys.
There's no separation between the Nippers community and the Senior club, everybody mucks in and helps each other. We have boat rowers and Masters working together to do Water Safety and Patrol the beach and help the Nippers, then you have the Cadets and Nippers and Nippers parents coming down to help run the Water Safety and do the first Aid or run the clubhouse or do things for the boat carnival or the Masters carnival. All the club members get behind each other and the club itself and support each other in everything that needs to be done or events that happen each season – it really is just one big family.
It's a very friendly club I think, very social – we may take our life saving commitments and training and our competitions very seriously, including how to do it better each Season, but at the end of the day everyone's there to have fun and enjoy ourselves while we're doing what we're doing – this is the main reason people continue to do it, to be volunteers in a surf life saving club.
What is your favourite place in Pittwater?
Warriewood Beach, clearly. I also enjoy getting down to the Rock Pool at North Narrabeen and the Lagoon – it's such a marvellous area.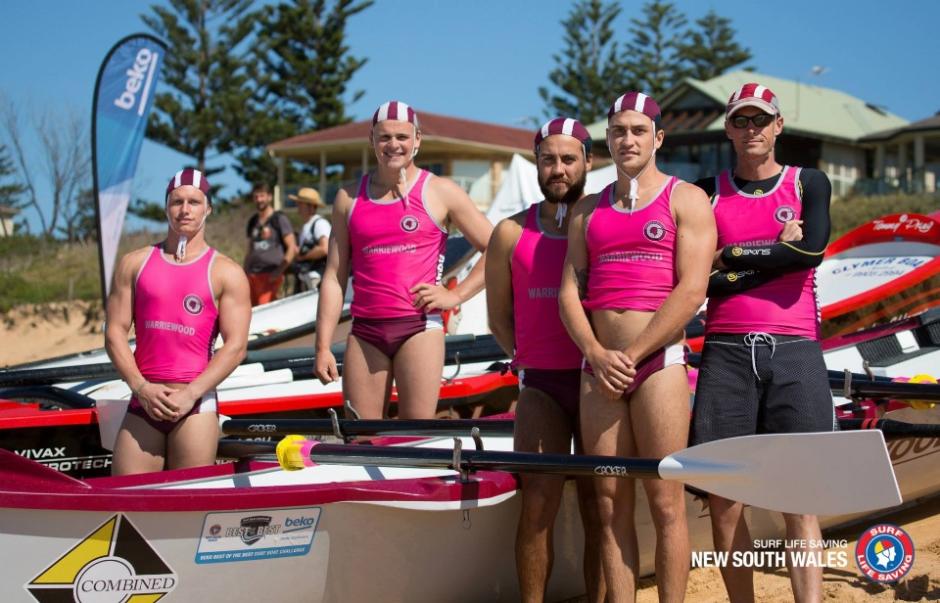 Best of the Best 2015 - Shaun on the right in the long sleeves with his Reserve crew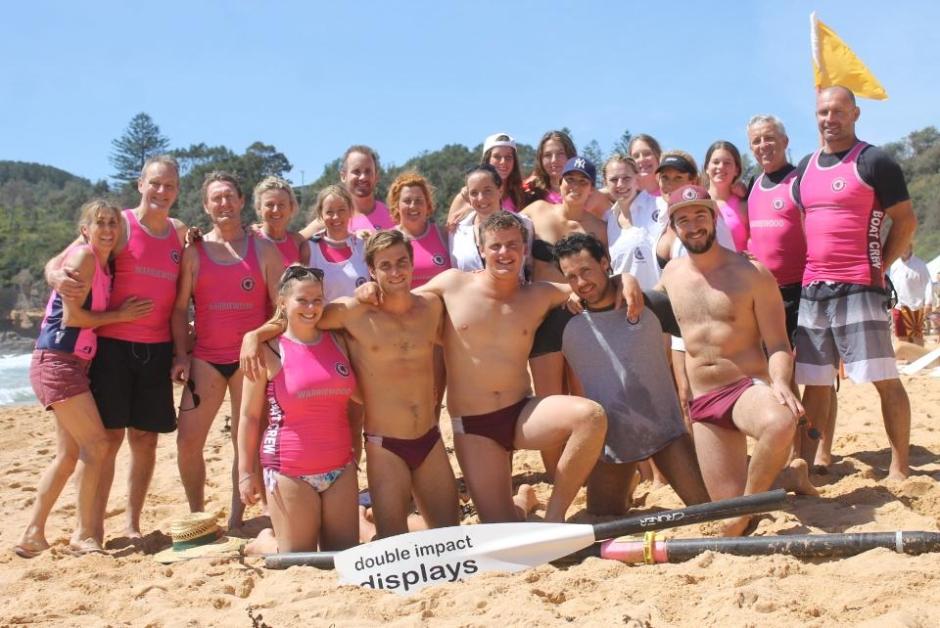 Warriewood SLSC Boat Section Hosting Round 3 of 2015-16 SNB SLS Premiership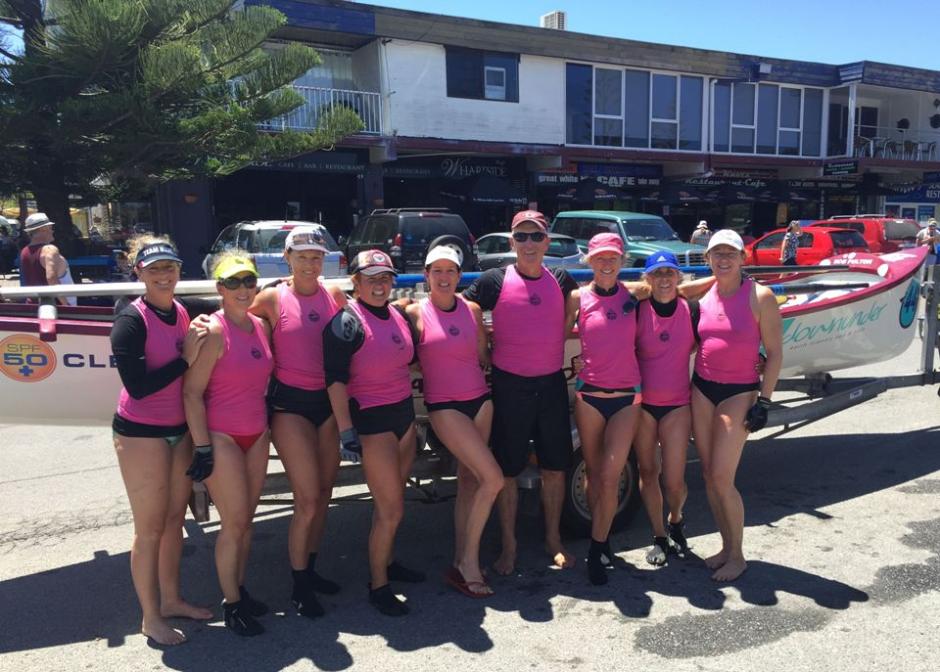 The Rustiques - Day 7, at Eden - photo courtesy their support crew - George Bass Marathon 2016
Warriewood SLSC Sweep - Russell Lamb, Masters Women: Rowers – Louise Barnett, Alex Coates, Tanya Deer, Phillipa Lowe - Avalon Beach SLSC – Rowers – Kerry McEwan, Kate Munro, Beverley Tilbury, Donna Wishart. Support Crew – Phil Deer, Carl Quitzau. Leg 5 Winners - 3rd Overall in Masters Women.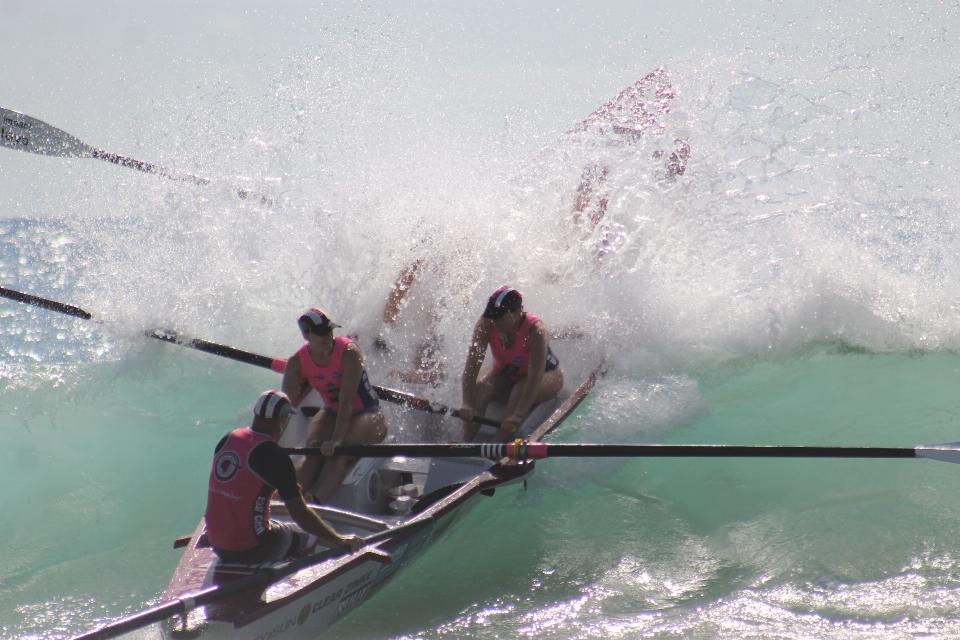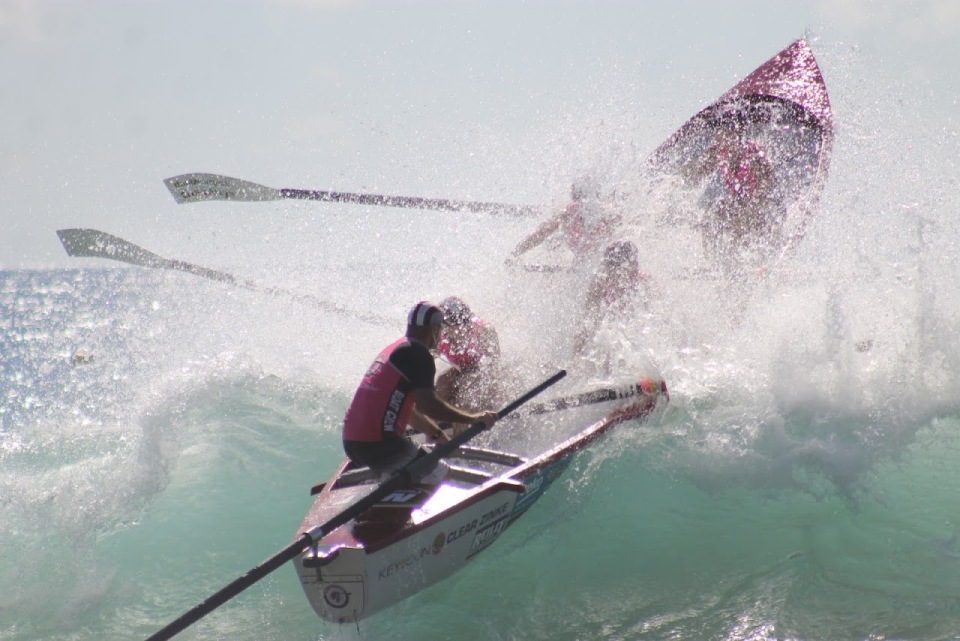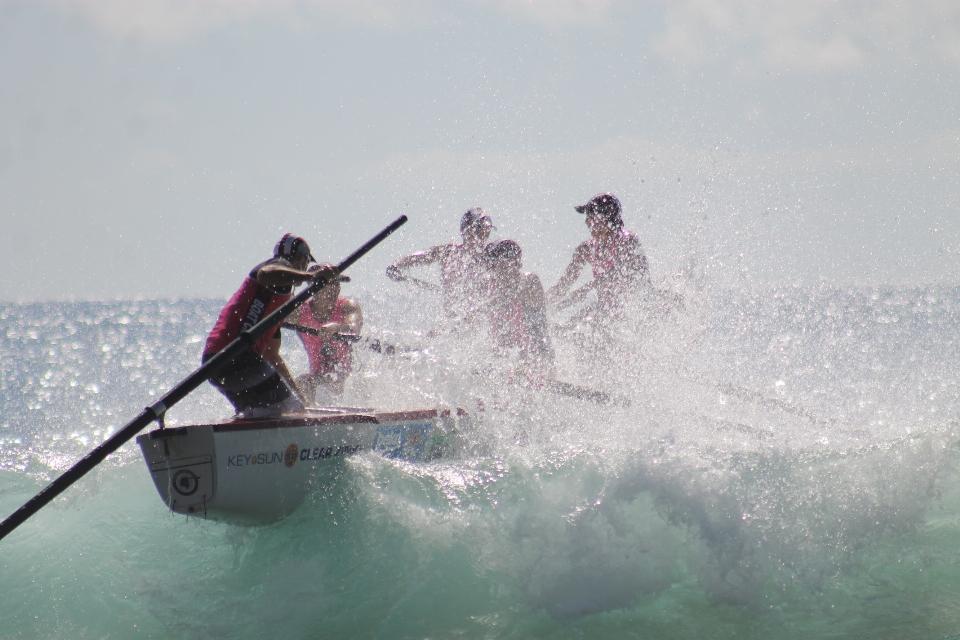 Warriewood at Sydney Northern Beaches Branch Championships 2015-16 Season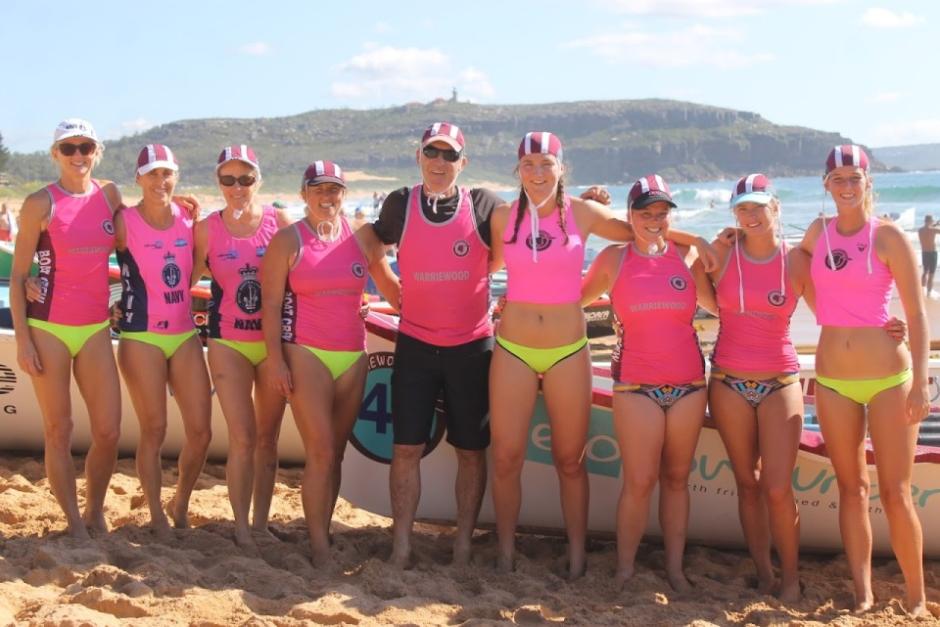 Copyright Warriewood SLSC, 2016.