November 28 - December 4, 2021: Issue 520
Avalon Cafés BYO Cup Initiative: December 1-10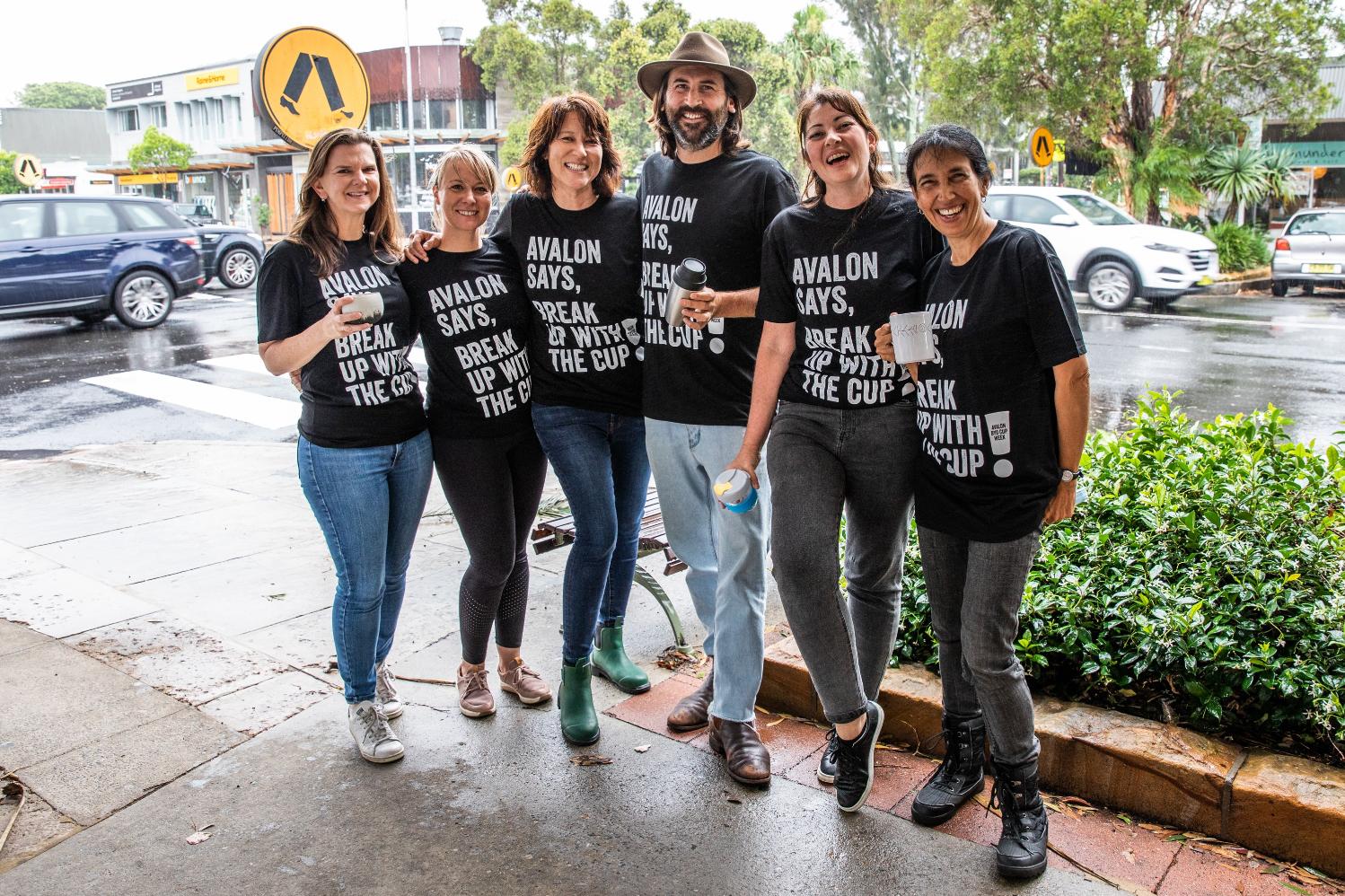 Left to right: Cara Morgan, Nicole Tognetti, Rita Kluge, Tim Silverwood, Fiona Forsyth and Neela Sarkar are asking us all to BYO Cup!

Photo: Rita Kluge



"It's only one takeaway cup… said 1 billion people."
Australians toss 2.7 million coffee cups into landfill every day. Takeaway cups are now the number one contributor of waste after plastic bottles. And Australians are now officially the number one user of single-use plastics.*
Avalon cafés are making a stand. Inspired by a movement by cafes in Bondi, who will become the first council locality in the world to go 100% takeaway coffee cup-free, cafés in Avalon will join the movement in hopes of further expanding the initiative across other councils and Australia. For 10 days in December Avalon cafés will ban takeaway coffee cups.
Inspired by the work of Bondi Locals Sondra Beram from bRU Coffee, and New York Times bestselling author and climate motivator Sarah Wilson who started the movement in Bondi, Cara Morgan and Nicole Tognetti from Our Blue Dot, an Avalon based community group working towards a sustainable future through community action, are working to make it happen in Avalon.
Joining Our Blue Dot, are a band of passionate locals, including James Sledmere from The Sneaky Grind, award winning ocean photographer Rita Kluge, Vince Frost from Frost collective, Tim Silverwood from Ocean Impact Org, Alfonso Rinaldi from Alfonso's café and Jacqui Scruby from 6 Weeks to Plastic Free.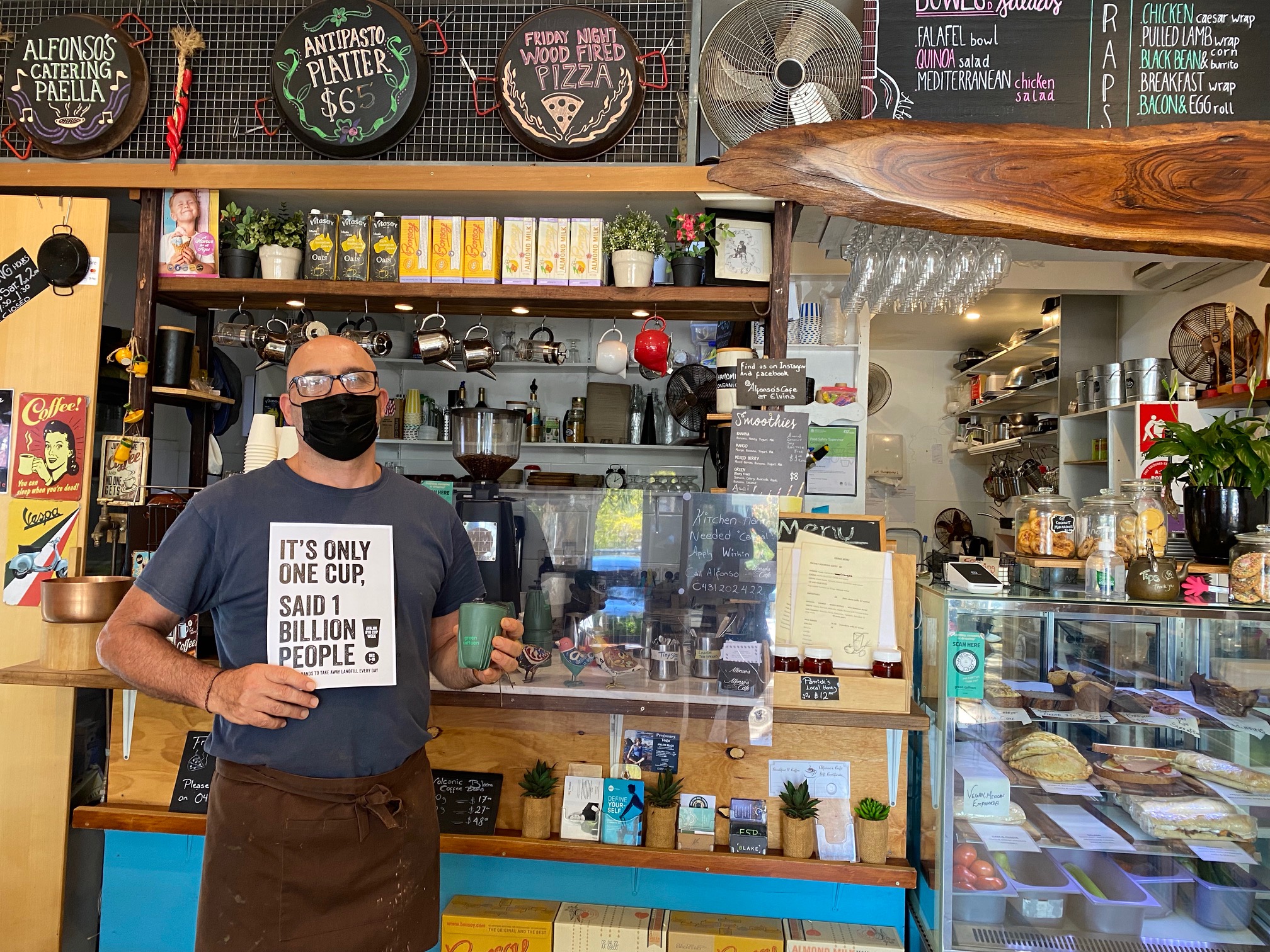 Alfonso Rinaldi from Alfonso's café

Tim Silverwood, co-founder of Ocean Impact Organisation and the not-for-profit organisation 'Take 3' says "Whilst it's evident we lost a lot of ground in the 'war on waste' this past two years I'm fully confident that, collectively, we can turn the battle against single use plastics around. And what better problem to tackle than the scourged single use coffee cup that is so emblematic of our throwaway society".
Nicole, who utilised the information from Sarah Wilson on the science and laws regarding the safety of disposable cups to help educate her community says,
"A lot of cafes and patrons stopped using reusable cups due to misinformation or uncertainty but I think the community are ready to learn how to reintroduce reusables and embrace them as part of community norms like we are seeing in suburbs like Bondi. Besides that, I think here on the Northern Beaches, particularly Avalon, we feel a bit competitive with the Eastern Suburbs, we can't let them out do us on this one"
To get involved or for more information, please contact Cara Morgan cara@herrmann.com.au or Nicole Tognetti Nicole.e.tognetti@gmail.com
World Surf League's Sydney Surf Pro Heads To North Narrabeen For 2023 Edition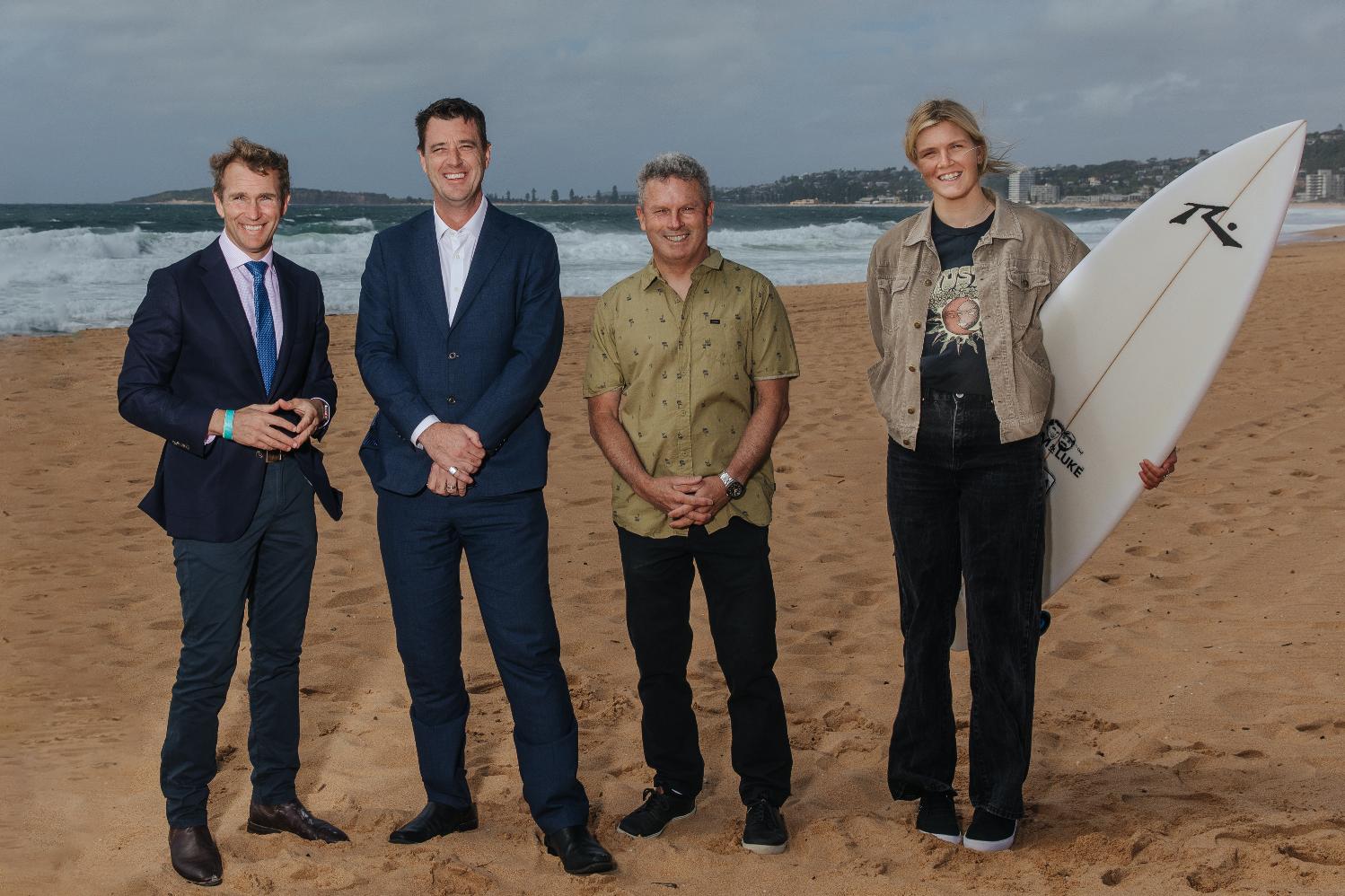 (L-R) Rob Stokes, Member for Pittwater, Northern Beaches Mayor Michael Regan, World Surfing Champion and North Narrabeen Boardriders President Damien Hardman and local surfer Kyla Whitfield.
Photo: WSL / Matt Dunbar
November 28, 2021
A NSW Government partnership with the World Surf League (WSL) will see the world's best surfers compete in the Sydney Surf Pro at the iconic break of North Narrabeen.
Secured through the NSW Government's tourism and events agency Destination NSW, the two-year agreement with the WSL will see one of Australia's premier surfing destinations return to the global stage as a world-class professional surfing location from 2023.
Minister for Jobs, Investment, Tourism and Western Sydney, and Minister for Trade and Industry Stuart Ayres said this was a great opportunity for the famous harbour city to also showcase its spectacular coastline.
"We are incredibly blessed in Sydney to have some of the most beautiful natural backdrops on the planet for hosting world-class sporting events, not least of which are our magnificent beaches," Mr Ayres said.
"The NSW Government is delighted to partner with the WSL in bringing the Sydney Surf Pro to North Narrabeen and the world's best surfers and their fans to an iconic Sydney surf break."
"Securing world-class events like the Sydney Surf Pro will showcase the natural beauty of our city to the world and help us achieve our goal of being the premier visitor economy of the Asia Pacific."
The Sydney Surf Pro will see an international field of over 150 elite male and female surfers descend on Sydney in a week-long battle for a spot on the Championship Tour.
Local Member for Pittwater Rob Stokes said the influx of competitors and support staff will provide a huge boost to the local economy and surf culture.
"North Narrabeen is regarded as one of the best beach breaks in Australia and has always been a spiritual home for surfers so it's only fitting to bring the Sydney Surf Pro to this beach," said Mr Stokes.
"The benefits to the local economy will be extraordinary and not to mention the experience for the young up and coming surfers from the area having the world's best back at their home beach."
The 2022 Sydney Surf Pro will be held at Manly from 17 – 24 May before relocating to North Narrabeen in 2023 and 2024, with dates to be announced later in 2022.
For more information please visit WorldSurfLeague.com
Pro Surfing To Make Triumphant Return To Australia In 2022
The World Surf League is excited to announce professional surfing's return at all levels to Australian shores in 2022 with a huge list of regional and international events commencing in February. It will be the biggest consecutive run of WSL events globally in nearly three years and will have the surfing world's eyes fixed firmly on Australia's coasts for 4 months.
"We're beyond happy to be welcoming professional competitive surfing back to Australian shores this summer," said WSL APAC General Manager Andrew Stark. "We had a good run of events earlier this year and are excited for even more action in the Summer and Autumn months of 2022. The spread across multiple tours is unprecedented with multiple junior, qualifying, Challenger Series and Championship Tour events taking place across four states in four months. It's going to be an exciting time not only for competitors, but for surf fans here in Australia and watching live around the world."
The 2022 Aussie Leg of WSL events will kick-off with a series of men's and women's regional Qualifying Series and Pro Junior events. These events will see the best up and coming talent from Australia and New Zealand duke it out for a spot at the Challenger Series and World Junior Championship levels respectively.
North Steyne Boardriders Take Out The Australian Boardriders Battle Central Qualifier At Warriewood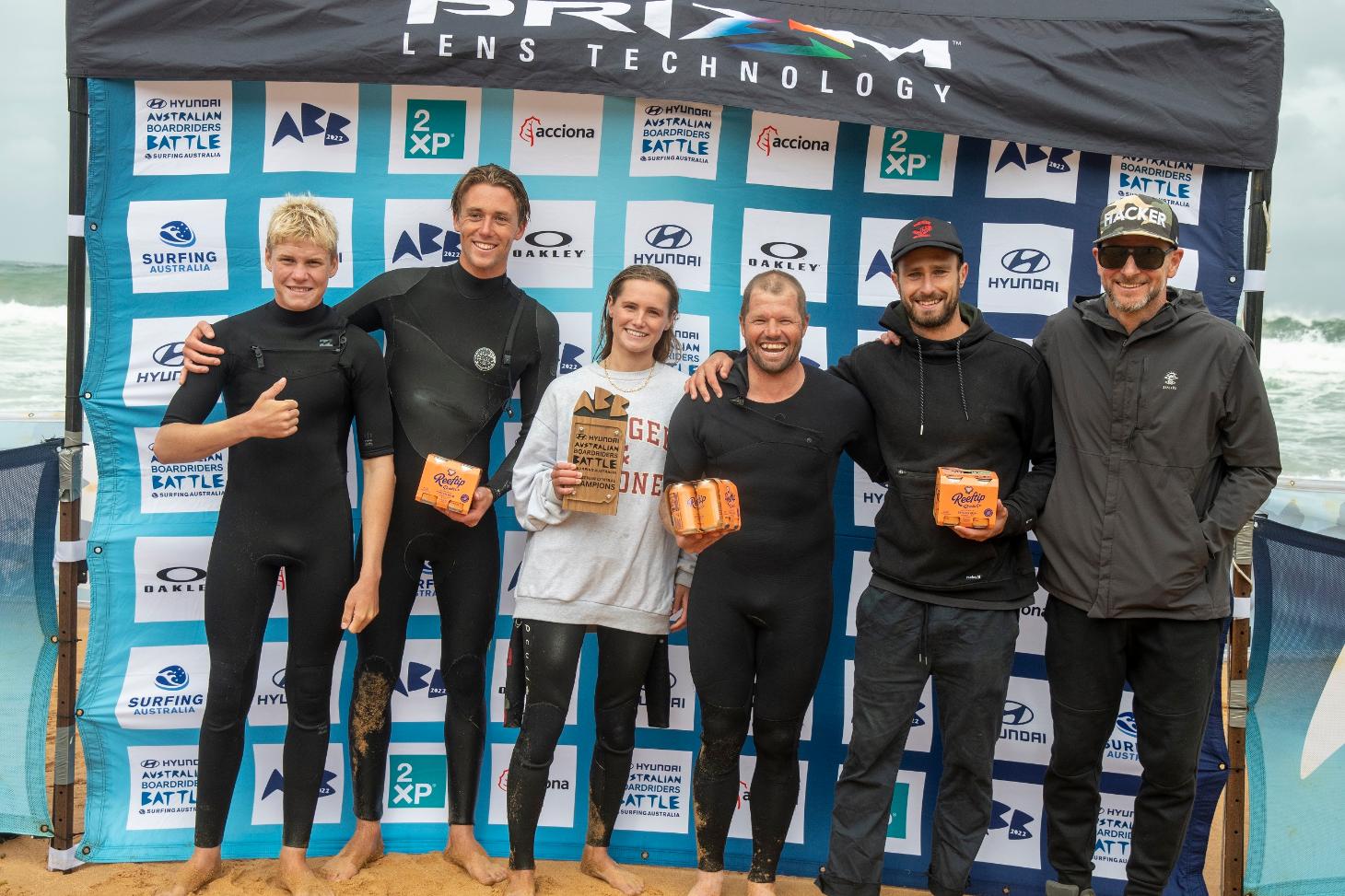 North Steyne Boardriders win. Photo: Ethan Smith/Surfing NSW
WARRIEWOOD BEACH: Saturday, 27 November 2021
Report by Surfing NSW
North Steyne Boardriders have taken out the Hyundai Australian Boardriders Battle Central NSW regional qualifier in stormy and wild conditions at Warriewood Beach.
The Manly based club blitzed the competition over the course of the day, thanks largely to the dominant performance of young local surfer George Pittar who posted multiple near-perfect scores over the course of his club's campaign.
In the all northern beaches final, reigning National Champions, North Narrabeen put up a valiant battle, finishing just behind North Steyne, while Long Reef took out third and North Avalon, finished in fourth.
All results can be seen here.

North Narrabeen Boardriders Club. Photo: Ethan Smith/Surfing NSW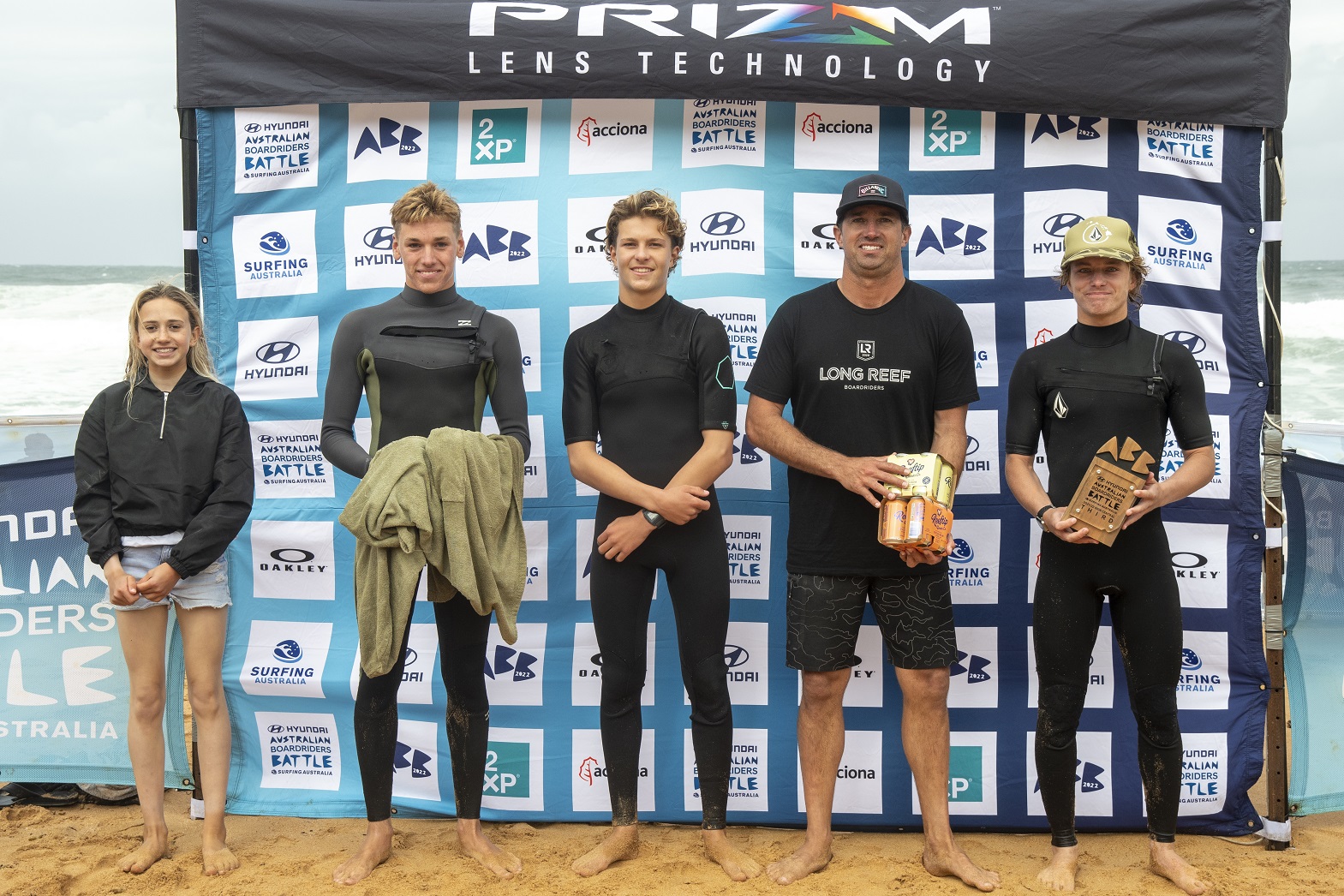 Long Reef Boardriders Association. Photo: Ethan Smith/Surfing NSW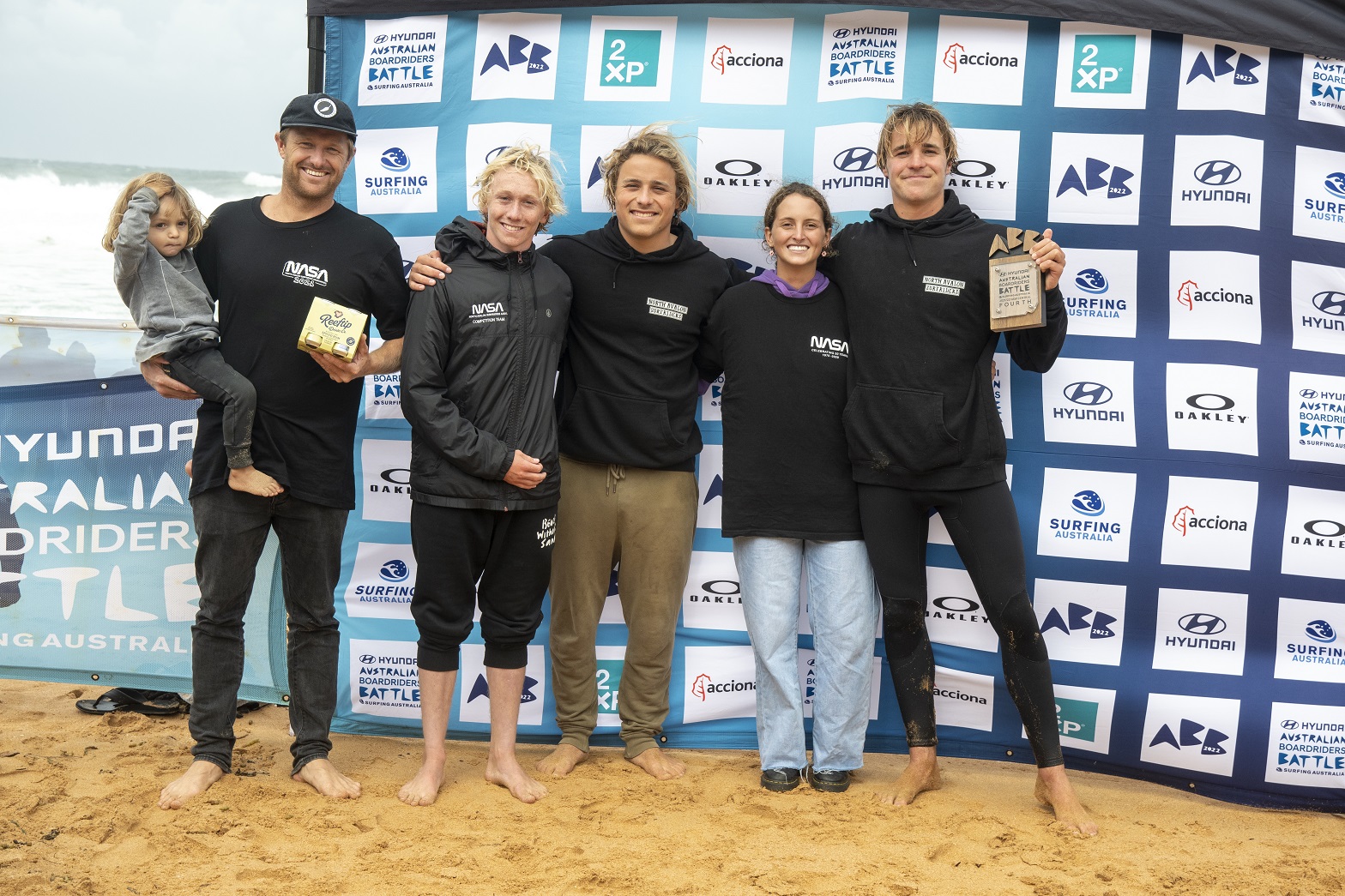 North Avalon Surfriders Association (NASA) Photo: Ethan Smith/Surfing NSW

North Steyne Club Captain and former World Tour surfer Richie Lovett attributes the teams success to a recent recalibration of tactics and an emphasis on simply having fun.
"There's not really an easy way to say this, but we've had so many shockers in this event over the years," said Lovett. "This year, we decided to regroup and refocus on the things that drive us as a club and basically it was to simply have fun with this event while still giving it our all. The club is full of so many talented surfers and I think I speak for all members when I say that we're over the moon to win this."
The Hyundai Australian Boardriders Battle saw 13 boardriders clubs competing for the chance to qualify for the national final which will take place in 2022.
Clubs that competed included North Narrabeen, Merewether, North Avalon, North Shelly, Queenscliff, Avoca, Mona Vale, Long Reef, East End, Curl Curl, Bungan, North Steyne and Freshwater.
Sydney Short Ocean Racing Championship 2021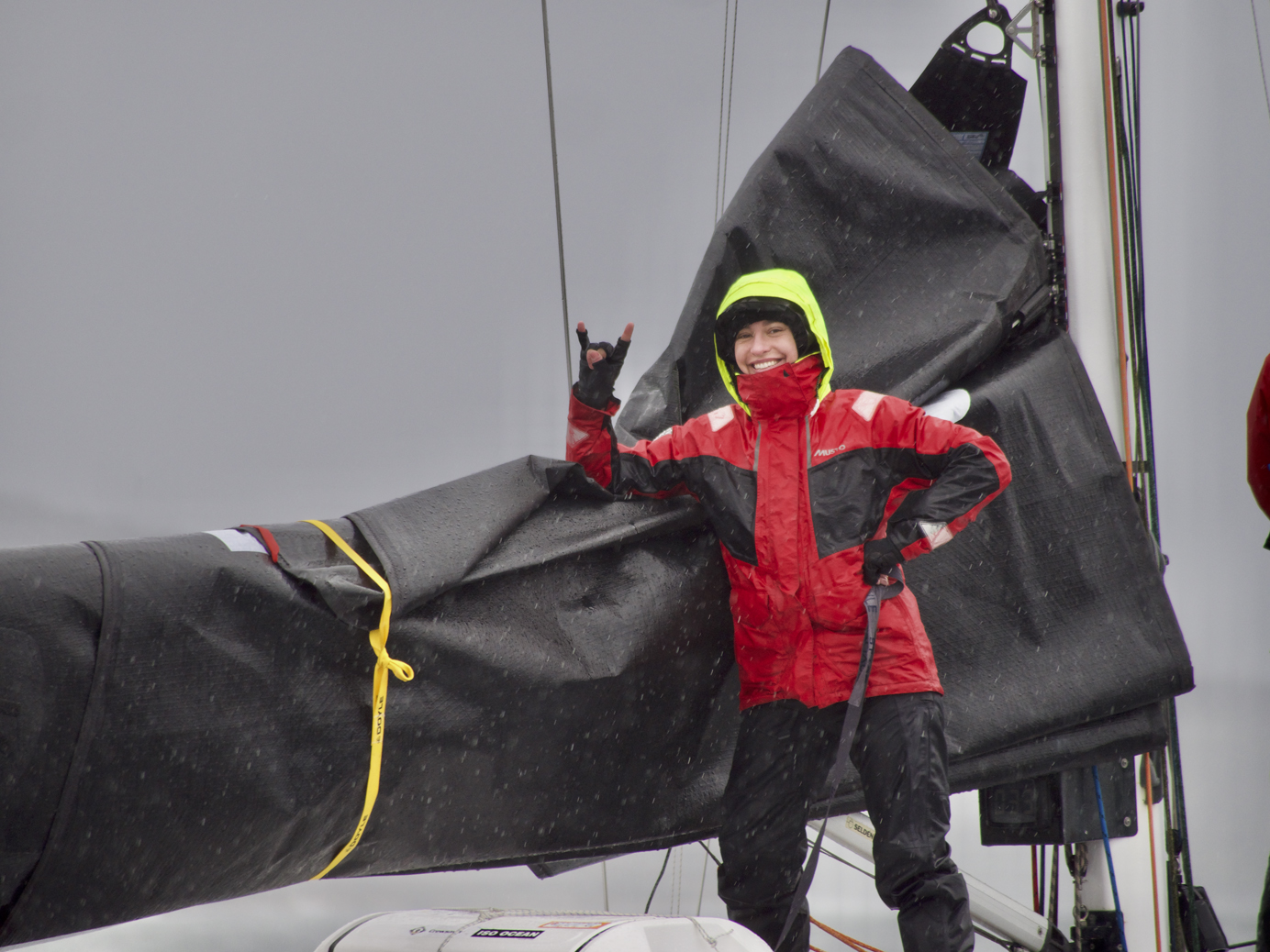 SSORC21 damp but happy crew. Photo: Tilly McKnight Media

Bushranger Holds Up To Brutal SSORC Day One
November 27, 2021
Big seas and strong winds offshore for the Premier Divisions contesting Middle Harbour Yacht Club's annual Sydney Short Ocean Racing Championship put the stress test on crews over the 24 nautical mile course, described as "brutal" by the Division 1 winning tactician.
Michael Fountain from Gerry Hatton's Mat 1245 Division 1 IRC, ORC and PHS corrected time winner, Bushranger, said: "brutal is the only way to describe it….very tough conditions with constant 27 knot southerlies gusting to 33 and seas 4 metres."
Video highlights thanks to @Tillymcknightmedia
John McConaghy and Steve Coates helmed the Royal Prince Alfred Yacht Club boat, Coates hitting a record downwind boat speed of 20.2 knots with a poled-out number 4 headsail. Fountain added: "We got a good start at the right end of the line, and we were up there getting out of the harbour into clear air and weather the boat likes. It's handy going into day two on top and in fact, we are better suited to windward/leewards."
Second on IRC was Bob Cox's DK46 Nine Dragons (MHYC) and third and the line honours victor, Seb Bohm's JV TP52 Smuggler (Cruising Yacht Club of Australia) made the most of the heavy weather outing a month out from the Rolex Sydney Hobart start.
Philosopher in big seas at Sydney Heads. Photo: Tilly McKnight Media

In Division 2, Paul Jenkins MHYC-based Sydney 38 Mille Sabords captured the treble of top boat under the three handicap systems and Neil Padden's Beneteau 40.7 Wailea had to be satisfied with second.
Conditions heading south to the waverider buoy off Kurnell proved too much for some – six withdrawals were recorded from a starting SSORC fleet of 16, due to low-level gear and sail damage.
Lisa Darmanin Female Sailor Of The Year For Record Fourth Time - Australian Sailing Awards 2021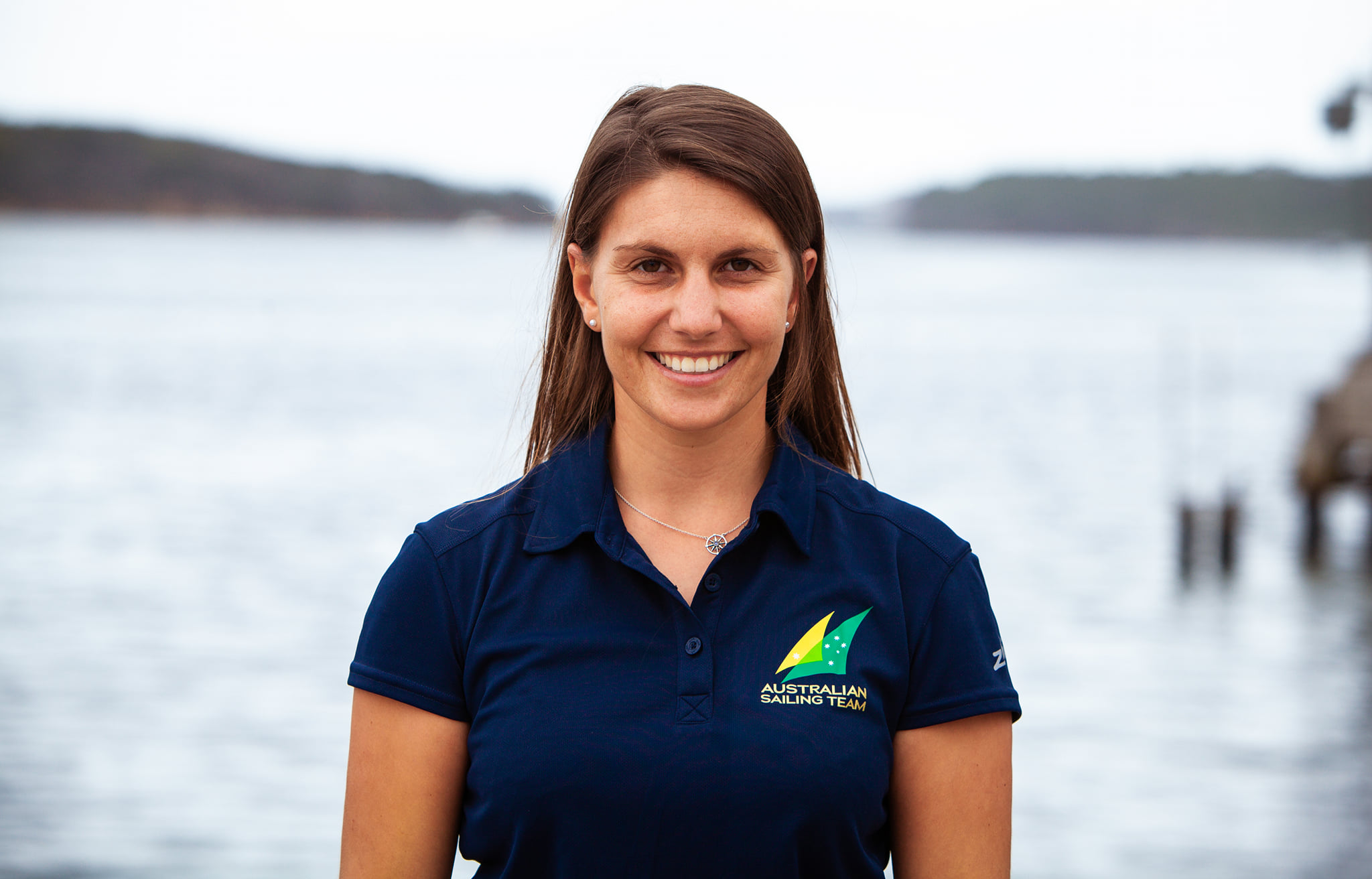 Photo: Australian Sailing Team.
Palm Beach Sailing Club and Manly 16' Skiff Club member Lisa Darmanin was awarded a record 4th Female Sailor of the Year at the Australian Sailing Awards on Thursday 25th November. Lisa has been the recipient of this top honour in 2015, 2016, 2020 and now 2021.
2021 ARIA Awards: Local Winners Include Lime Cordiale + Angus & Julia Stone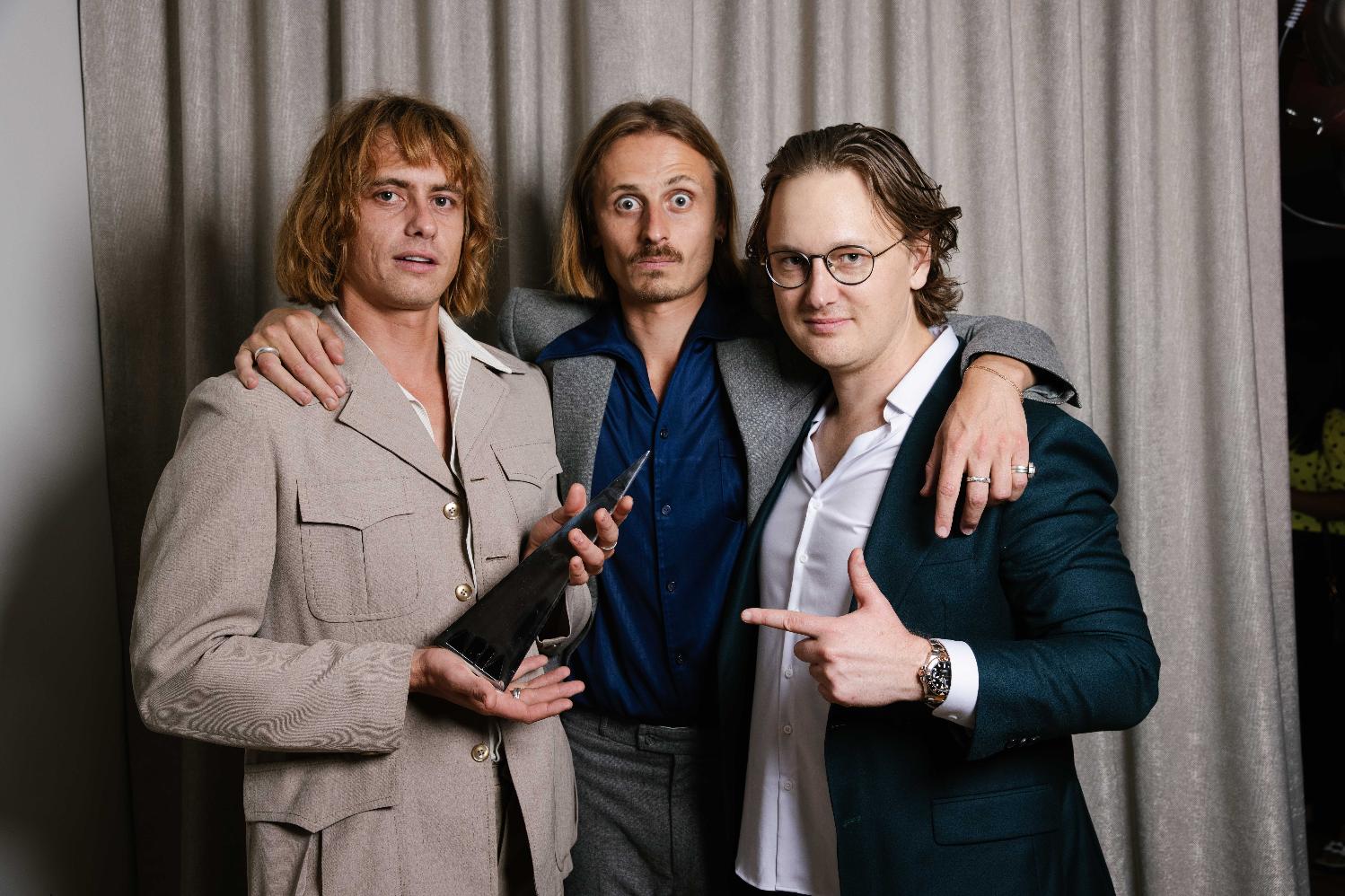 Louis and Oli Leimbach of Lime Cordiale and their manager Andrew Stone. Photo © ARIA - Australian Recording Industry Association Ltd.
The 2021 ARIA Awards in partnership with YouTube Music, was broadcast live from Sydney's iconic Taronga on Cammeraigal country and streamed around the world on YouTube on Wednesday November 24th.
This was a celebration of the incredible talent and diversity of this year's nominated artists, in what has been an extremely difficult year. Throughout the challenges and uncertainty 2021 has brought upon the music industry, Australian artists have continued to prove their extraordinary abilities to connect people through music.
For local artists its been a good ARIA's 2021 year.
Lime Cordiale won Best Australian Live Act presented by Heaps Normal for their 2021 Relapse Tour. The band played their biggest shows since the pandemic halted live music. Named after the deluxe edition of their 2020 album '14 Steps To A Better You (Relapse)', included six new songs or, as the band referred to them on social media, "6 more steps to better the you". This is Lime Cordiale's second ARIA Award after winning Best Breakthrough Artist in 2020.

In a nice twist, the award was presented by The Wiggles, with Anthony Field, Murray Cook and Jeff Fatt of former The Cockroaches fame, and sprung from Manly, beaming over the announcement. The newest member of The Wiggles, Tsehay Hawkins, 16, read out the winner.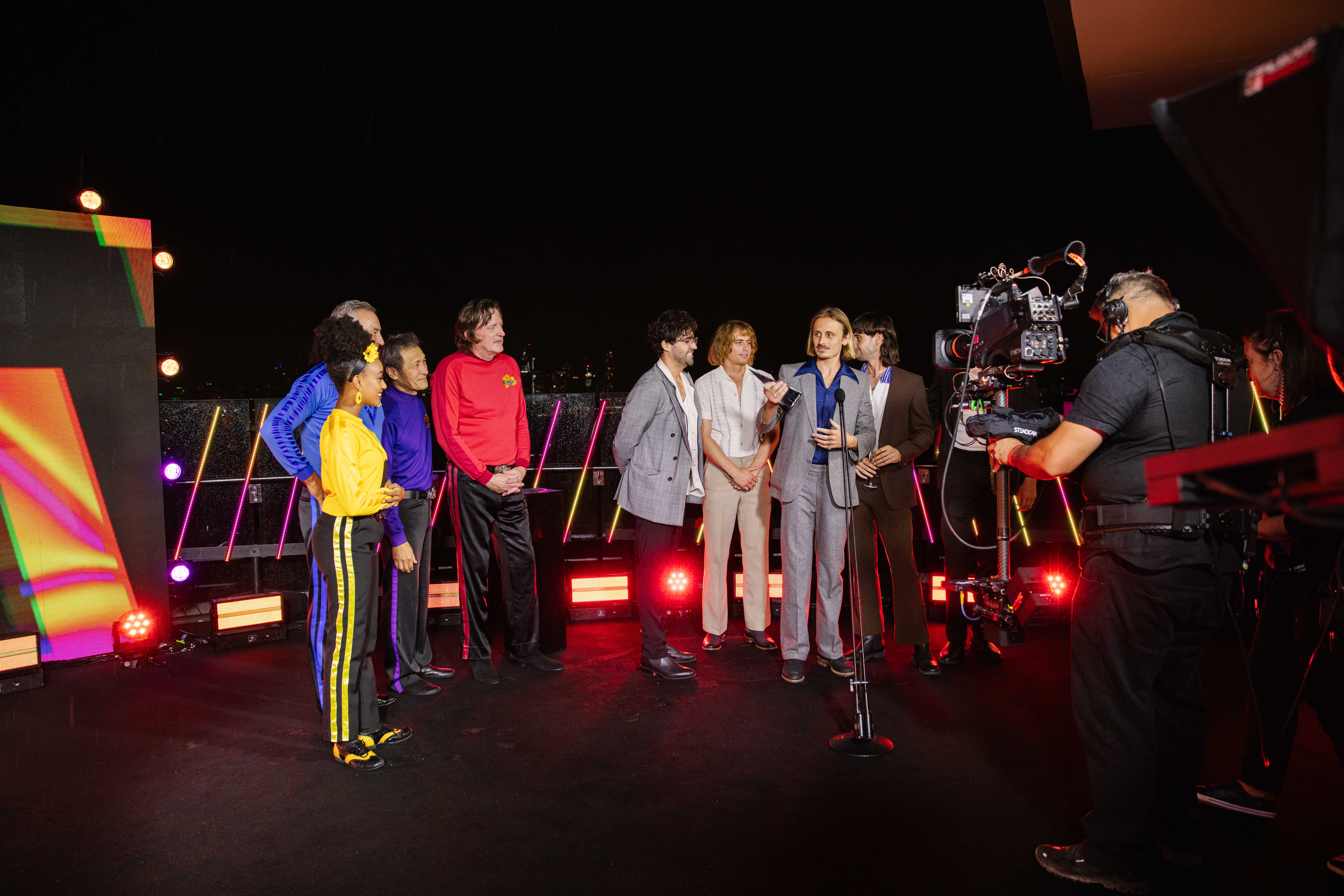 Photo © ARIA - Australian Recording Industry Association Ltd.

Angus and Julia Stone returned to the music scene together after almost four years and won Best Original Soundtrack or Musical Theatre Cast Album for their unexpected, unguarded, and unforgettable soundtrack to the Life Is Strange: True Colors video game. The sibling's hiatus allowed them to explore their own artistic endeavours, but their reunion on this soundtrack produced a piece that's a mix of their old and new work.
The In Memoriam segment of this Years' ARIAs featured Narrabeen-Collaroy Legend Doug Parkinson among other music luminaries such as Bert Newtown and the legendary Michael Gudinski and two members of the Party Boys, former Status Quo bassist Alan Lancaster and Warren McLean, Machinations, I'm Talking and the Divinyls, who used to rock out venues in our area.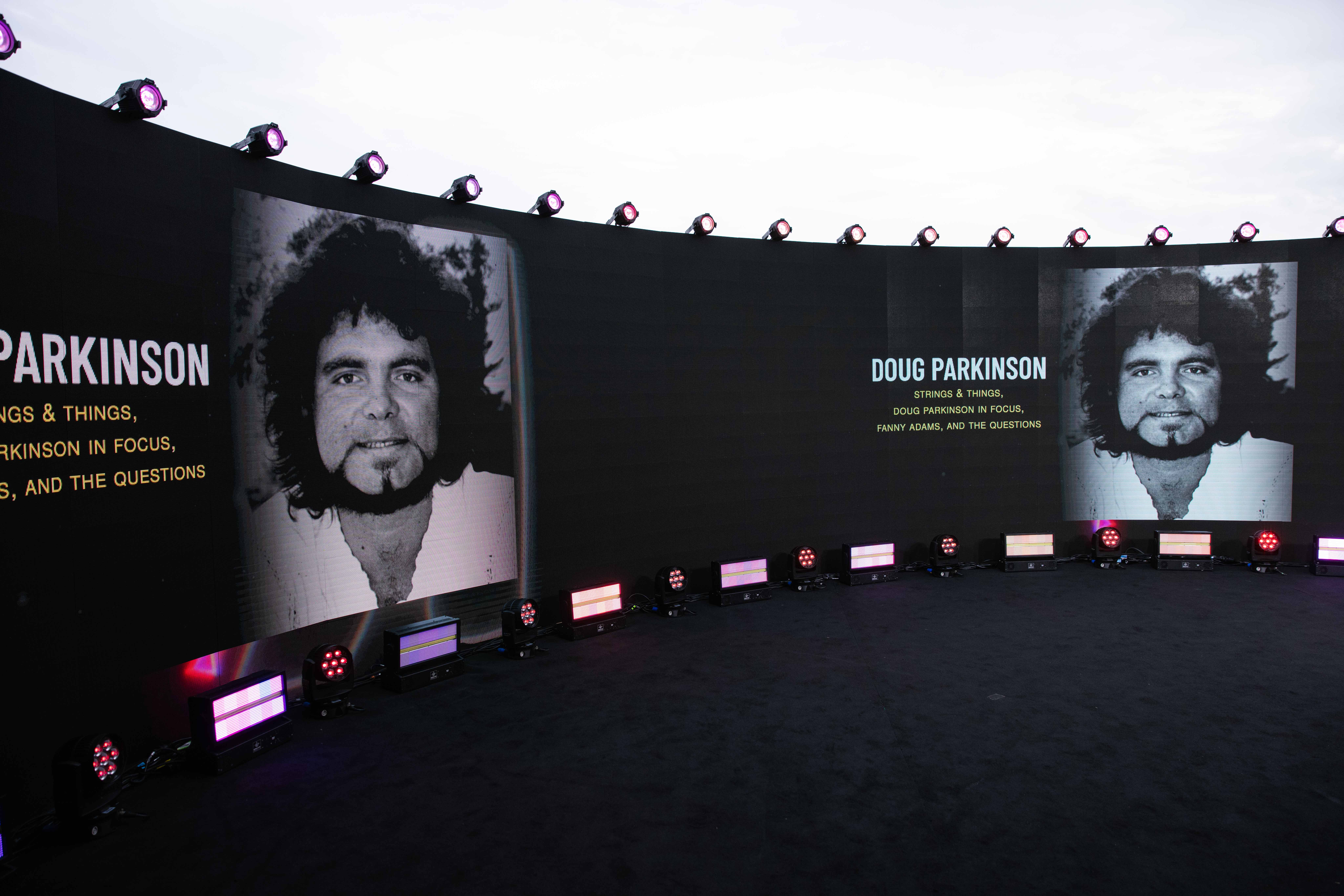 Photo © ARIA - Australian Recording Industry Association Ltd.
Milla Brown-Ruby Trew Win 2021 NSW Junior State Titles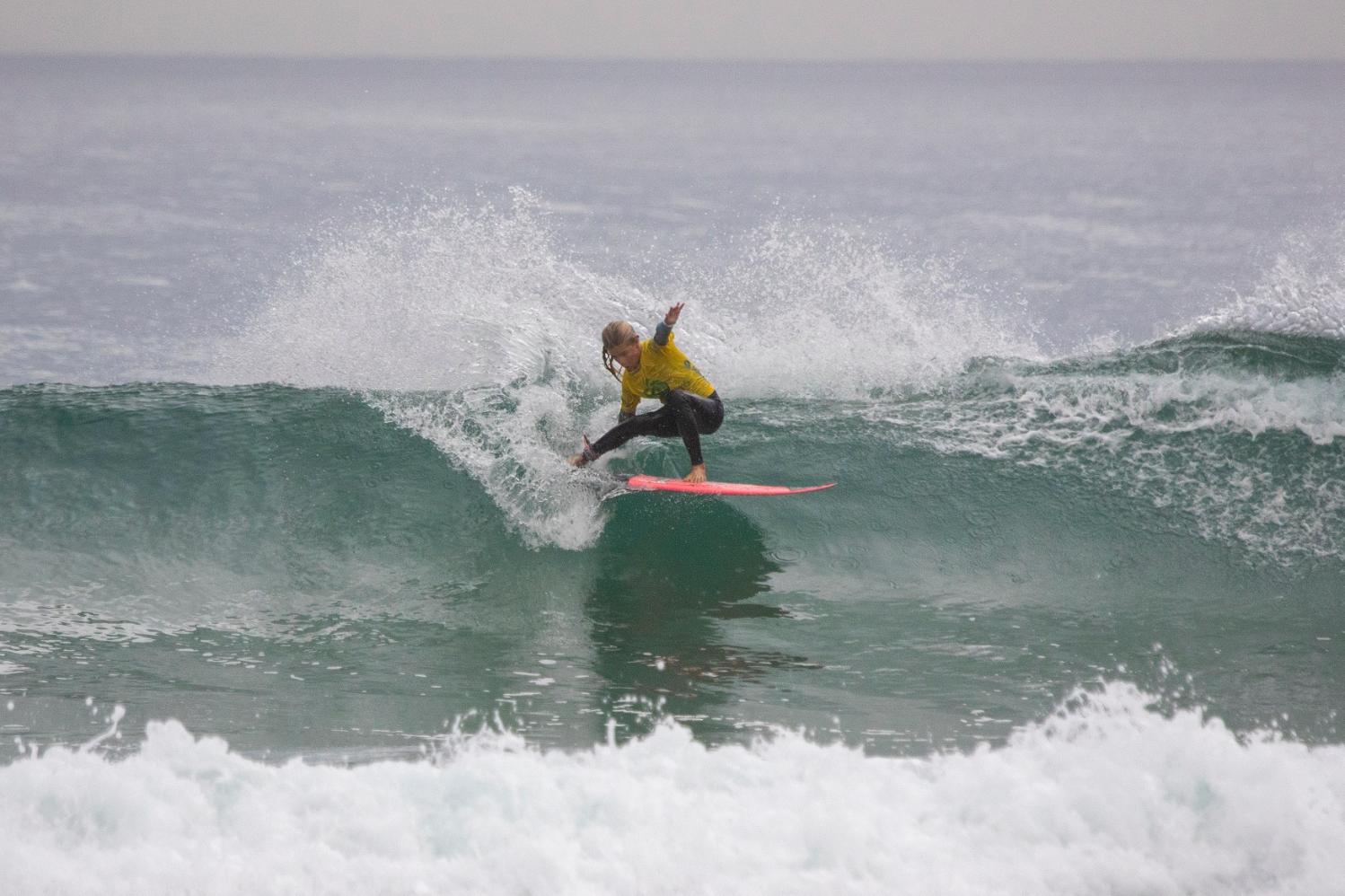 Milla Brown. Photo: Josh Brown/Surfing NSW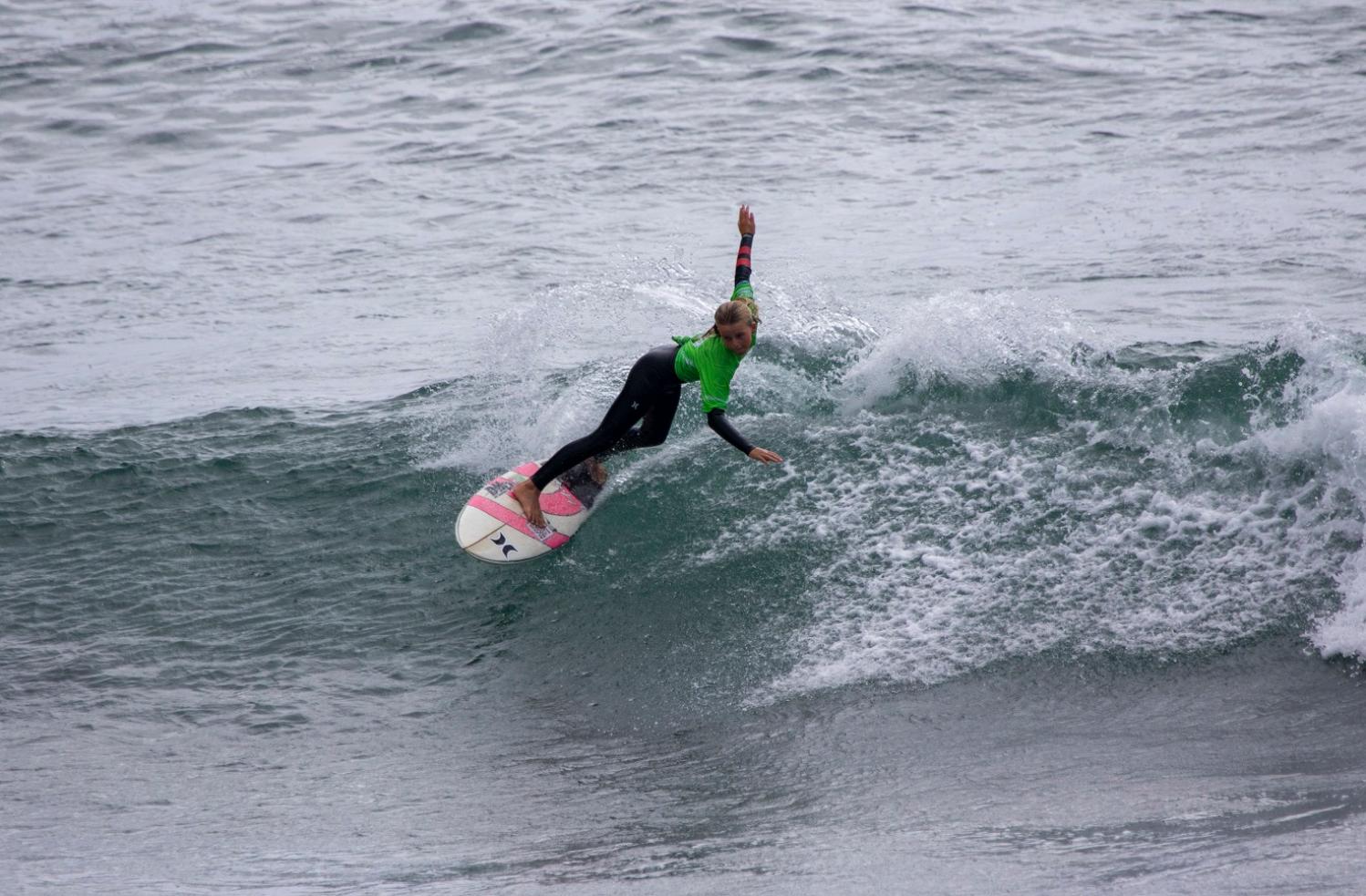 Ruby Trew. Photo: Josh Brown /Surfing NSW
Ruby Trew (Manly) and Kash Brown (Cronulla) claimed top honours in the Under-14 divisions at the Woolworths NSW Junior State Titles pres. by Ocean and Earth, following an action-packed day of surfing in dreamy Sandon Point conditions on Monday November 22nd.
Milla Brown (Newport) finished her State Title campaign with a bang as she took out the Under-16 Girls final on Saturday November 20th. Milla flared in the final exchange, nailing an array of decent and technical forehand hits to win the final with a 15.63 two-wave heat total. Milla shone throughout her heats and the final, posting great scores each time she took to the water.
Ruby Trew showed her star was continuing to rise as she claimed the Under-14 Girls final. As a goofy-footer, Trew used her sharp backhand repertoire to muster up a solid 16.56 total to claim the final. Trew gained the title from north coast standout Ocea Curtis (Lennox Head) who put on a valiant performance to finish the final with a 14.00 total.
The 2021 Woolworths NSW Junior State Titles pres by Ocean and Earth at Illawarra ran from 17th – 22nd November 2021 with junior surfers from across the state competing for a coveted title in Under-14, Under-16, and Under-18 age divisions.

"It has been a difficult year for surfing events in the latter part of 2021, so it comes as some comfort that we can still crown some junior state champions in the closing months of the year," said Surfing NSW CEO Luke Madden.
"Due to all competitors residing within NSW state borders and having no need to cross borders – as well as developing a thorough COVID safe plan – we feel the Woolworths Junior State Titles pres. by Ocean and Earth is the perfect event to run for our up-and-coming junior talent. We thank Destination Wollongong for their support and we can't wait to see who will claim a coveted NSW Title at the end of the event."

Earlier in the competition Oliver Heintz (Avalon) showed he will be a name to watch out for in future years as he nabbed a first-round victory over perennial event standout Winter Vincent (Manly) in the Under-18 Boys division. Heintz lit up the tiny righthanders on his way to the win, knocking out a chain of mammoth backside hits to amass a gigantic 18.60 two-wave heat total.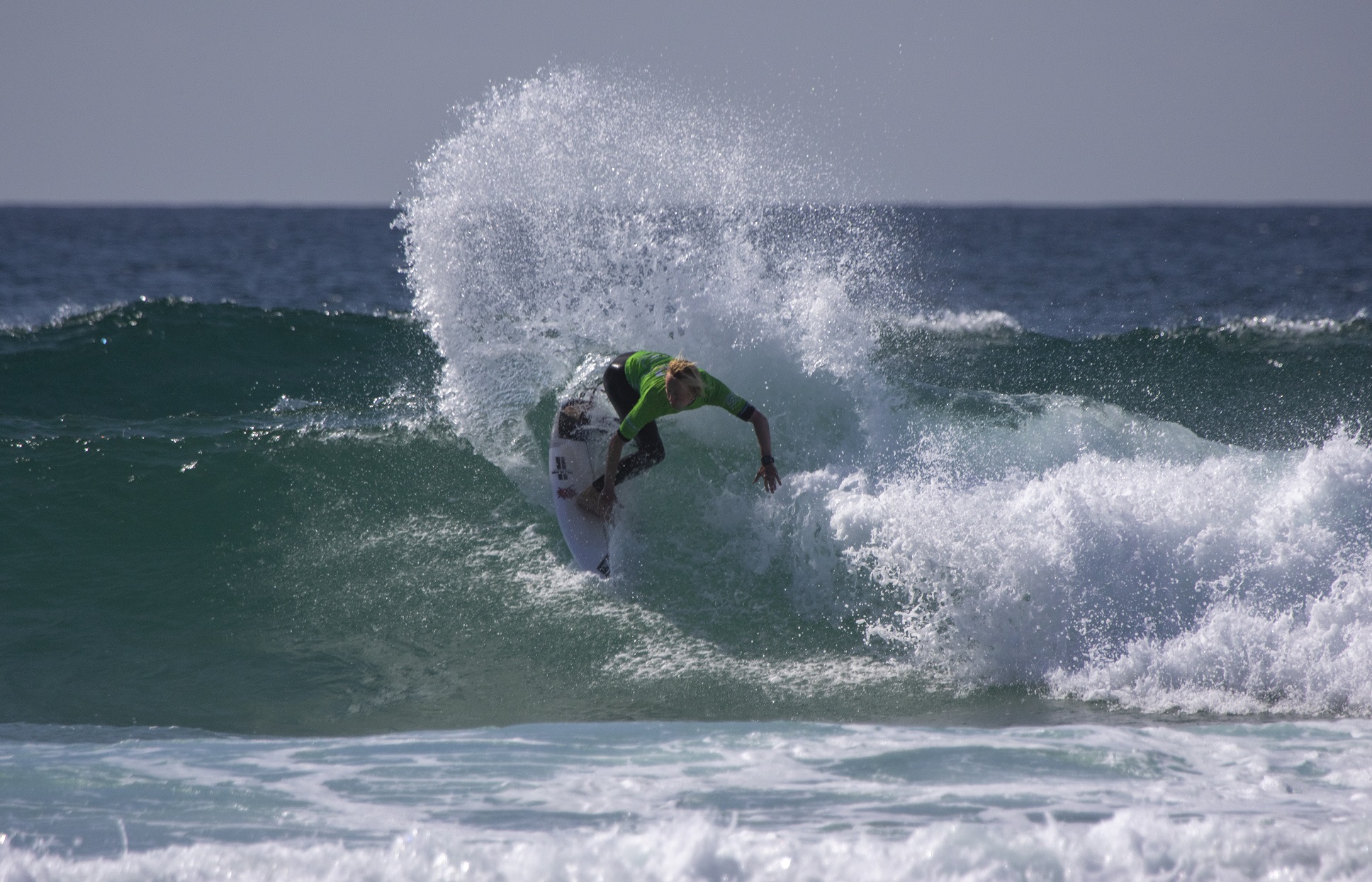 Oliver Heintz. Photo: Josh Brown /Surfing NSW

2021 Palm Beach Sailing Club Bullets Regatta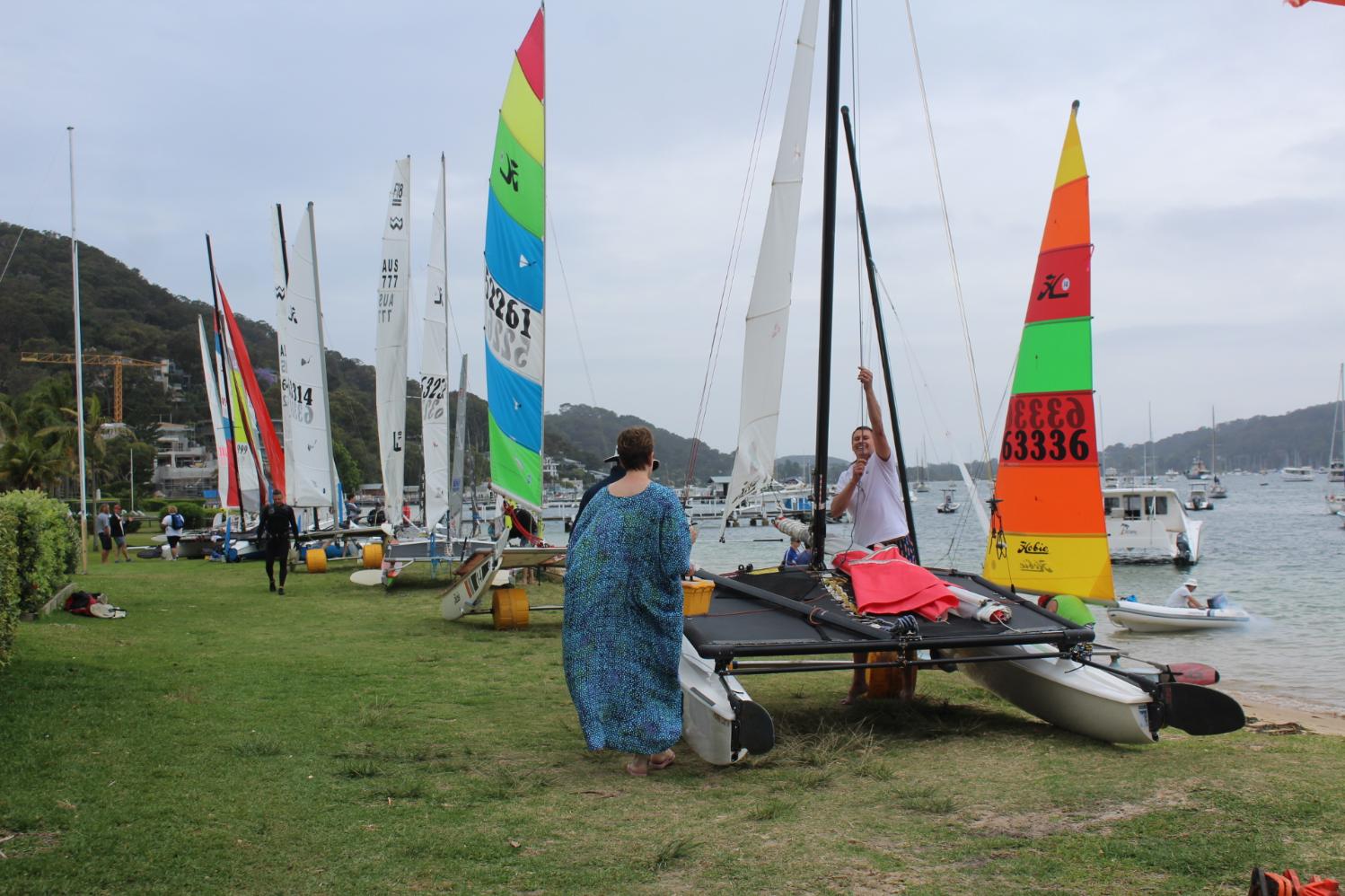 Thanks to all of the competitors who travelled to PBSC's "Bullets" regatta and braved the forecast for some great sailing. Great to see the line-up of boats on Sand Point beach. Saturday was cloudy (but no rain) with some good breeze - it was a thinking persons day with moderate but shifting breeze.

Nice to catch-up for a feed at the RSL (Club Palm Beach) Sat evening.
Sunday was wet but there was a great breeze and few "bullets".
Spring Becomes Summer In Pittwater
2021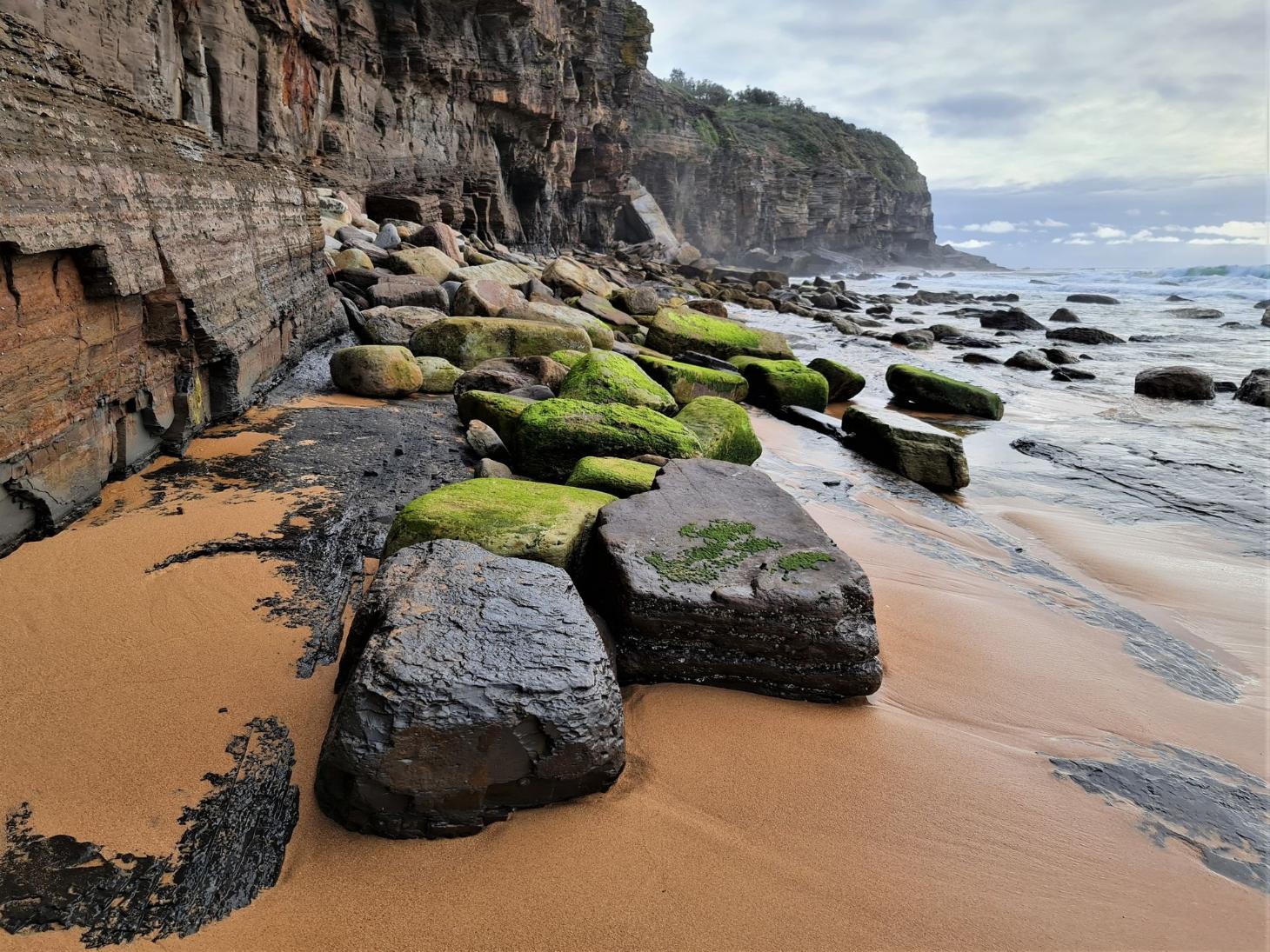 Turimetta Beach View, Tuesday November 23rd, 2021. Photo: Joe Mills
Past Features Archives (pre 2014)
Pittwater Online News was selected for preservation by the State Library of New South Wales and National Library of Australia. This title is scheduled to be re-archived regularly.
Archived Issues (2014 on) may be accessed here: pandora.nla.gov.au/tep/143700