October 21 - 27, 2018: Issue 380

Northern Beaches Vision Impaired Group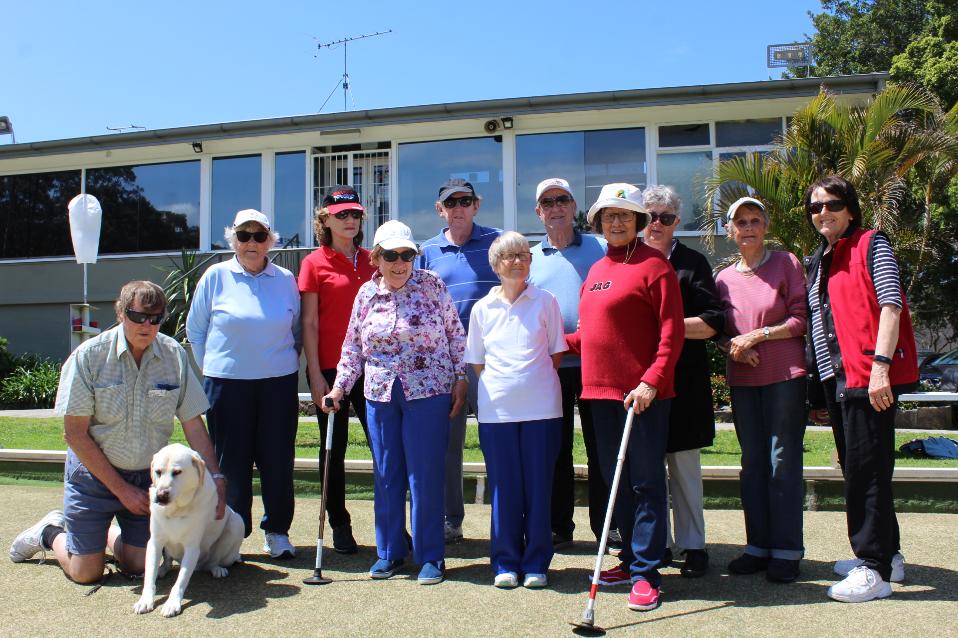 Avalon Vision Impaired Bowling Group this week at Avalon Bowling Club
Set up through Vision Australia as a Peer Support Group, the Northern Beaches Vision Impaired Group offers a great way to stay social and active in our local area. Every Tuesday members have some fun on the Avalon Beach Bowling Club greens, and once a month a Speaker addresses the group at Dee Why RSL.
This week we run some information on both these aspects of the Northern Beaches Vision Impaired Group.
Avalon Vision Impaired Bowling Group

Date: Every Tuesday
Location: Avalon Bowling Club, Bowling Green Lane, Avalon
Contact: Maureen Eves on 0412 092 771
Vision Impaired Bowls suits everyone who likes to get out and about and feel the sun on their face and the breeze over their bowling arm! It can be particularly enjoyable for men who find it frustrating when their eyesight reduces to the point where they are no longer able to drive. There's also the social aspect of enjoying Lawn Bowls.

The group meets at 10 a.m., has a coffee, then play until 12.30.
Maureen Eves, the lady who has volunteered much of her time for years, said "We approached Avalon Bowling Club and they readily agreed, stating they like supporting community focused groups to enjoy bowls."
"The group was originally started by Kay Butler over 12 years ago. When she passed away I began helping out."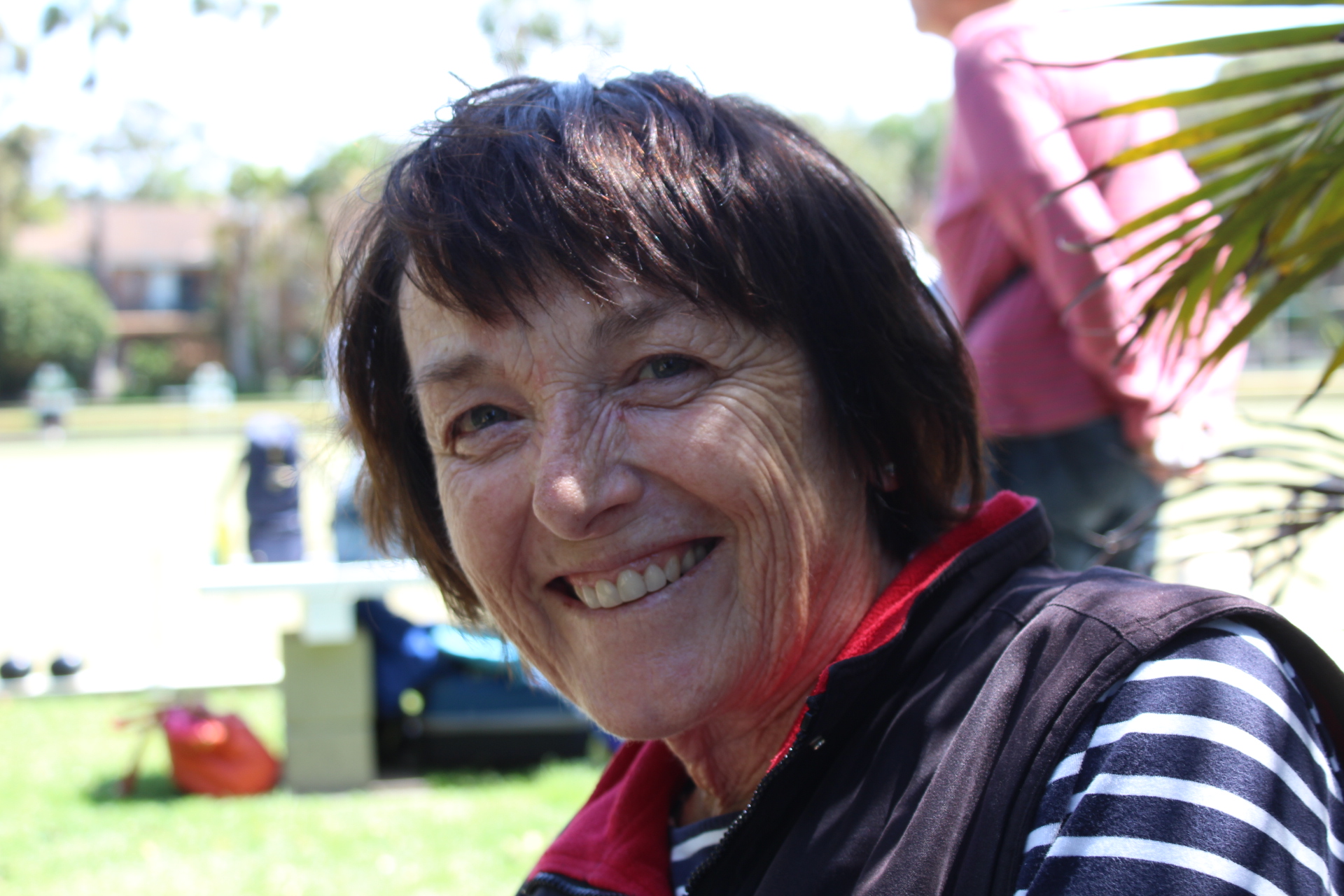 Maureen Eves

Vision Impaired bowls works like this:
The bowlers all have one person who helps to teach them to bowl. They are also allowed what is called a 'Director' to help them with how the bowl is delivered. The Director advises the player of the location of the jack in relation to the mat, and the bowls in relation to the jack.
Games can be singles (one player per team), pairs (two players per team), triples (three players per team) or fours (four players per team). At the Glasgow 2014 Commonwealth Games there were two Para-Sport events - Open Triples B6/B7/B8 for bowlers with a physical disability and Mixed Pairs B2/B3 for bowlers with a visual impairment.
The State Titles for NSW-ACT Blind Bowlers takes place on October 26th at Charlestown and three members from the Avalon Vision Impaired Bowling Group will be competing. Good Luck!
National championships are also held annually throughout Australia and International championships are held every 4 years in participating Commonwealth countries.
After the morning bowls sessions the group heads over to Avalon Beach RSL, another local club with a strong community support focus, and enjoy a delicious lunch prior to heading home.
The Northern Beaches Vision Impaired Peer Group

Date: Last Friday each month at 10:15am
Location: Dee Why RSL, 932 Pittwater Rd, Dee Why
Contact: Maureen Eves on 0412 092771 or Rob 02 9918 5853
This is a social group that has Speakers each month on a variety of subjects. Past Speakers have included one giving insights into Equipment for the Vision impaired, such as a device that makes letters larger when reading, and a Beekeeper. There are many other great subjects in a varied mix over the year.
Coming up on October 26th the Speaker is from the Macular Degeneration Foundation. On November 30th Judith Dunn has taken as her subject 'Colonial Christmas'.
While on Christmas, the group has a Christmas Party each year too.
Most members stay for lunch after the monthly meetings at Dee Why.
There are also regular bus trips to places of interest. Coming up is a visit to the Vision Australia shop at Parramatta. A recent past bus trip was a tour around the new Northern Beaches Hospital which everyone found very interesting. The bus trips usually run from 9.30 a.m. to 3.30 p.m., with members meeting at Dee Why RSL.
Vision Australia Community Groups
As stated above the local community groups have been made possible through the great work of Vision Australia.
Vision Australia is a leading national provider of blindness and low vision services in Australia. They work in partnership with Australians who are blind or have low vision to help them achieve the possibilities they choose in life.
Vision Australia support more than 27,500 people of all ages and life stages, and circumstances. They do this through 28 Vision Australia centres in Victoria, New South Wales, the Australian Capital Territory, Queensland, South Australia and Western Australia; 30 clinics; and through outreach programs in the Northern Territory and Tasmania.
Vision Australia are a not-for-profit organisation and a major participant and partner in the international blindness community.
Some History
In 2004 Vision Australia became Australia's first national blindness agency. Vision Australia was formed following the merger of the Royal Blind Society(RBS), the Royal Victorian Institute for the Blind (RVIB), Vision Australia Foundation (VAF), and the National Information Library Services (NILS) in July 2004.
The organisation was further expanded in December 2006 through the amalgamation of Royal Blind Foundation Queensland and November 2007, Hear a Book, a Tasmanian producer of audio books, also joined.
In July 2008 Seeing Eye Dogs Australia (SEDA) merged with Vision Australia. This made Vision Australia the only national provider of dog guide services.
Join a Vision Australia Community Group
Community Groups are a great way to meet other people who are blind or have low vision, share ideas and information, and gain support from members of your community.
Find out more or find a Group near you by visiting: www.visionaustralia.org/community/groups