July 10 - 16, 2011: Issue 14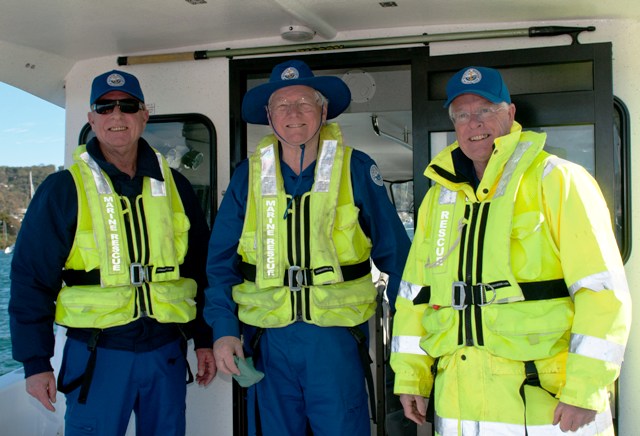 Above: Victor Lawrence, Alan Turner-Morris and Ron Carr of BBMR.
Below: The Peter E Weston. Images by Michael Mannington, 2011, of Volunteer Photography. Org.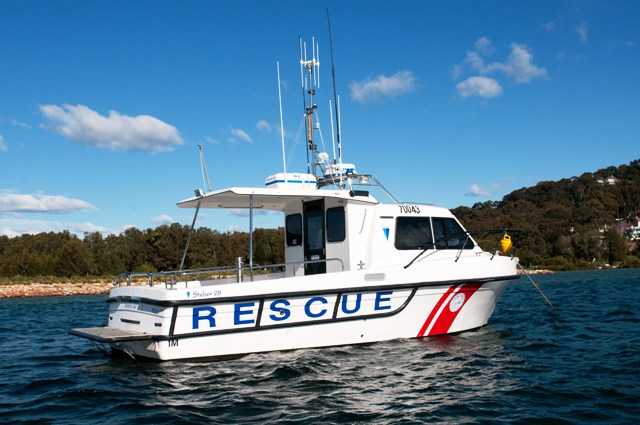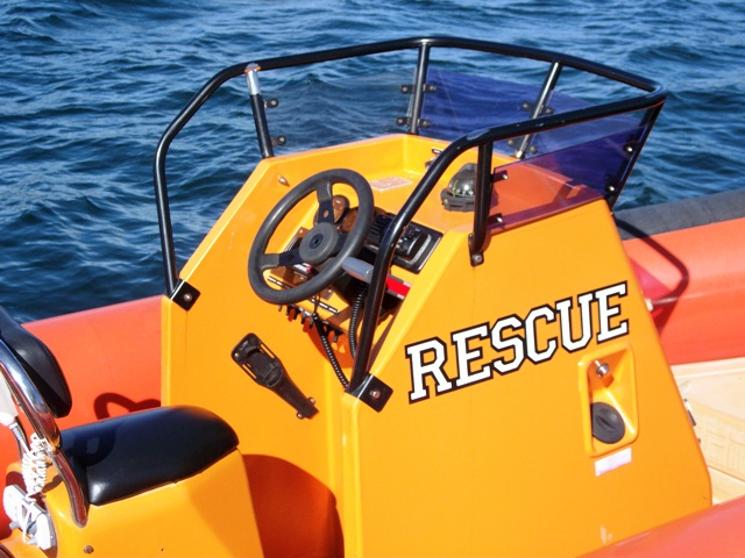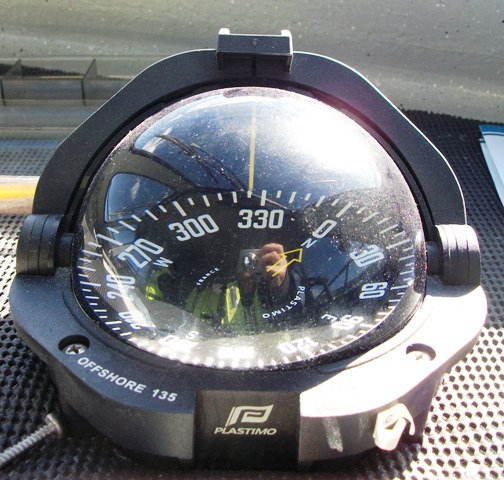 Broken Bay Marine Rescue
The Royal Volunteer Coastal Patrol is Australia's oldest marine rescue organisation. Founded on the 27th of March 1937 from merchant and naval seaman and yachtsmen by Captain Maurice Blackwood DSO RN, Messrs H W G Nobbs and W Giles, and Commander Rupert Long OBE, Director of Naval Intelligence, the Coastal Patrol served throughout WWII searching for submarines, charting waterways and coming to the rescue of those in peril.
In 1947 a separate Division named the Broken Bay was set up and initially operated from the members private vessels. Bases were set up at Church Point, the Royal Prince Alfred Yacht Club and Royal Motor Club at Newport. The Royal Motor Yacht Club not only provided two rooms to use as a Base they also gave the Broken Bay Division berthing facilities.
In 2005 the Division, with the help of Pittwater Council, finally had their own facilities at Bayview Boat Ramp. In January of 2010 the Royal Volunteer Coastal Patrol, Australian Volunteer Coast Guard and Volunteer Rescue Association were unified into one organisation, Marine Rescue NSW. Broken Bay Marine Rescue has assisted in setting up three other facilities at Gosford, the Hawkesbury and the Radio Room at Terrey Hills. Its members not only assist those in trouble on the water, they are also called out for other non-marine Emergency Situations in the community.
Due to their wearing of a blue uniform many of those whom they rescue think they are paid employees, an offshoot of the Water Police. This is incorrect. Broken Bay Marine Rescue is a 100% Voluntary Organisation.
Could you tell us a little about the Rescue Boats ?
Marine Rescue Broken Bay currently operates two vessels, a 5.5 metre Rigid Hull inflatable Boat (RIB) and a 28 foot twin diesel Steber. The RIB is used as our fast response vessel and has a limited towing capacity its call sign is Broken Bay One Zero. The Steber is our primary search and rescue vessel and is capable of towing vessels up to forty four foot. The vessel is named after a prominent member of the Broken Bay Unit, Peter Weston. Peter also held executive positions within the then Royal Volunteer Coastal Patrol. The Peter E Weston's call sign is Broken Bay two Zero. The call signs are designed to give a clear indication of the capability of the vessel to other rescue craft and the NSW Water Police. The Broken Bay Marine Rescue has been coming to the assistance of this in distress since 1947.
How many people has the organisation saved during that time?
The unit averages two assists per weekend however as we extend our hours of operation this average is steadily increasing. Currently our hours of operation is from 07:00 Friday until sunset on Sunday we also are on duty on all public holidays. With the commencement of the 2011 boating season we expect to include Monday in our hours of operation. The Unit's Business Plan is to achieve seven day operation by the end of 2012. According to my stat.s figures back to 2007; 955 persons.
Broken Bay Marine Rescue offers extensive Courses to educate boat users. What would you like ALL boat users to be aware of ?
All boat users should realise that when operating any vessel (power, sail or other) they are subject to regulations that places the responsibility for the safety of the vessel and any persons on the vessel squarely on the shoulders of the skipper or the master of the vessel.
The first priority is the Boat Licence Course, (on this course we teach the basics of the 'rules of the road' on the water and practice training in handling our vessels. A major benefit of this is that participants can complete their supervised handling of a small craft without actually needing to own one), closely followed by the Radio licence. We also offer to the public courses in seamanship, meteorology,and navigation. We train our own members in first aid, survival at sea, and levels in being skipper, ie being in command of vessels.
It is unfortunate that in recent times we have seen a number of deaths on our waterways. These deaths may have been prevented or aided in the recovery of the person by simply wearing a life jacket. Marine Rescue crews have spent many hours in the searching of large areas of ocean and waterways assisting the NSW Water Police in the recovery of these persons. While it is difficult to imagine the affect on the families of these victims the hours of searching for what is expected to be a deceased person does have an affect on the crews.
What are the main attributes/skills required by someone who wants to be a member of Marine Rescue?
We need a minimum level of fitness as the vessels we operate are not pleasure vessels but dedicated rescue craft. They do not have soft spots, LCD TVs or deck chairs. We have members from most walks of life from having no boating experience to over forty years of commercial sea faring experience. We do however, expect each member to commit to the training program and achieve a minimum standard of competency that allows them to actively participate in the crewing of a rescue vessel.
There are two main ones: the first one is a commitment to continuous improvement in competence the second one is a commitment to fundraising. We need to raise as much again as the government gives us for maintaining our vessels. Also at Broken Bay we need a bigger offshore vessel to assist in searches like we have just been doing (26/6/11). Broken Bay was a major participant in the recent search.
What is involved in training Volunteers?
We have our own trainers. These members have their own competences and give their time free. The costs of the training is better measured in hours of donated time and this is in the hundreds. At Broken Bay we have many highly qualified and competent trainers. BBMR relies on donations and skilled volunteers to fulfil its duties.
The current campaign to fund a new RIB; why it is needed, where it will be used ?
While the current RIB has provided stirling service as our fast response vessel and primary trainer, it is now twelve years old and on its third engine and nearing the end of its operational life. The new RIB will be utilised in the Broken Bay - Pittwater area and when needed for special events on Sydney harbour. A new RIB will allow us the remove the existing RIB from operational service and use it exclusively for training of our new members in boat handling. Also our RIB is a 'wet' boat in rough water which can lead to all sorts of problems with crew fatigue.
If you could describe the character of the Organisation in two sentences what would they be?
A group of dedicated people with a leaning towards working on the water for the benefit of the boating public. Members who recognise that working as a team is essential to each other's safety rather than winning a game.
What is Broken Bay Marine Rescue's motto?
Safety of life at sea
We achieve this through providing a marine search and rescue service and education to the boating public.
BBMR Maintence Day Article: here
BBMR Rescue Long Service Awards
Broken Bay Marine Rescue at: