December 12, 2021 - January 22, 2022: Issue 522
2021 Pismo Beach ISA World Para Surfing Championships; great fun had getting great results by local athletes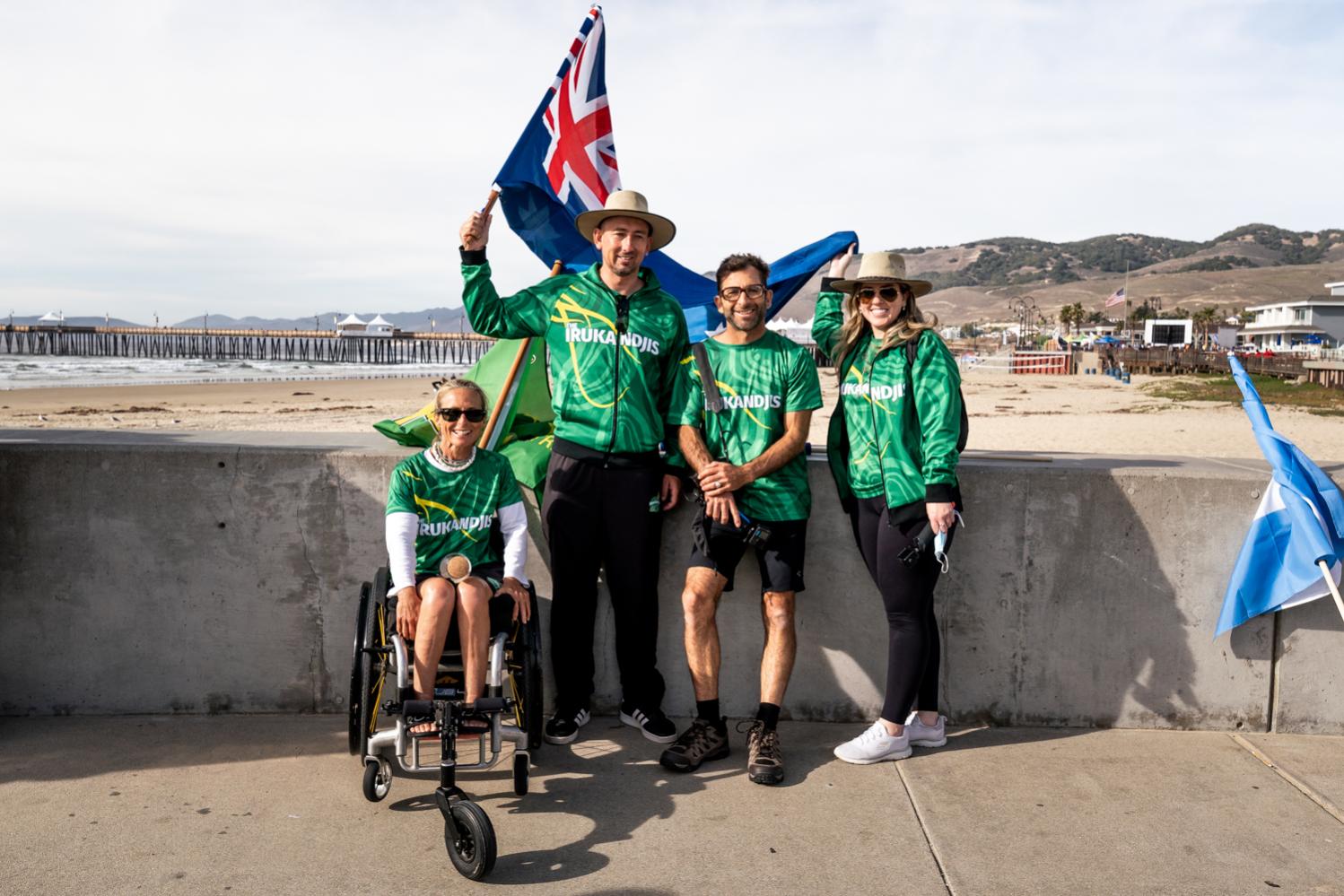 Some of the Australian team, The Irukandjis, at the Opening ceremony. Photo: ISA/Ben Reed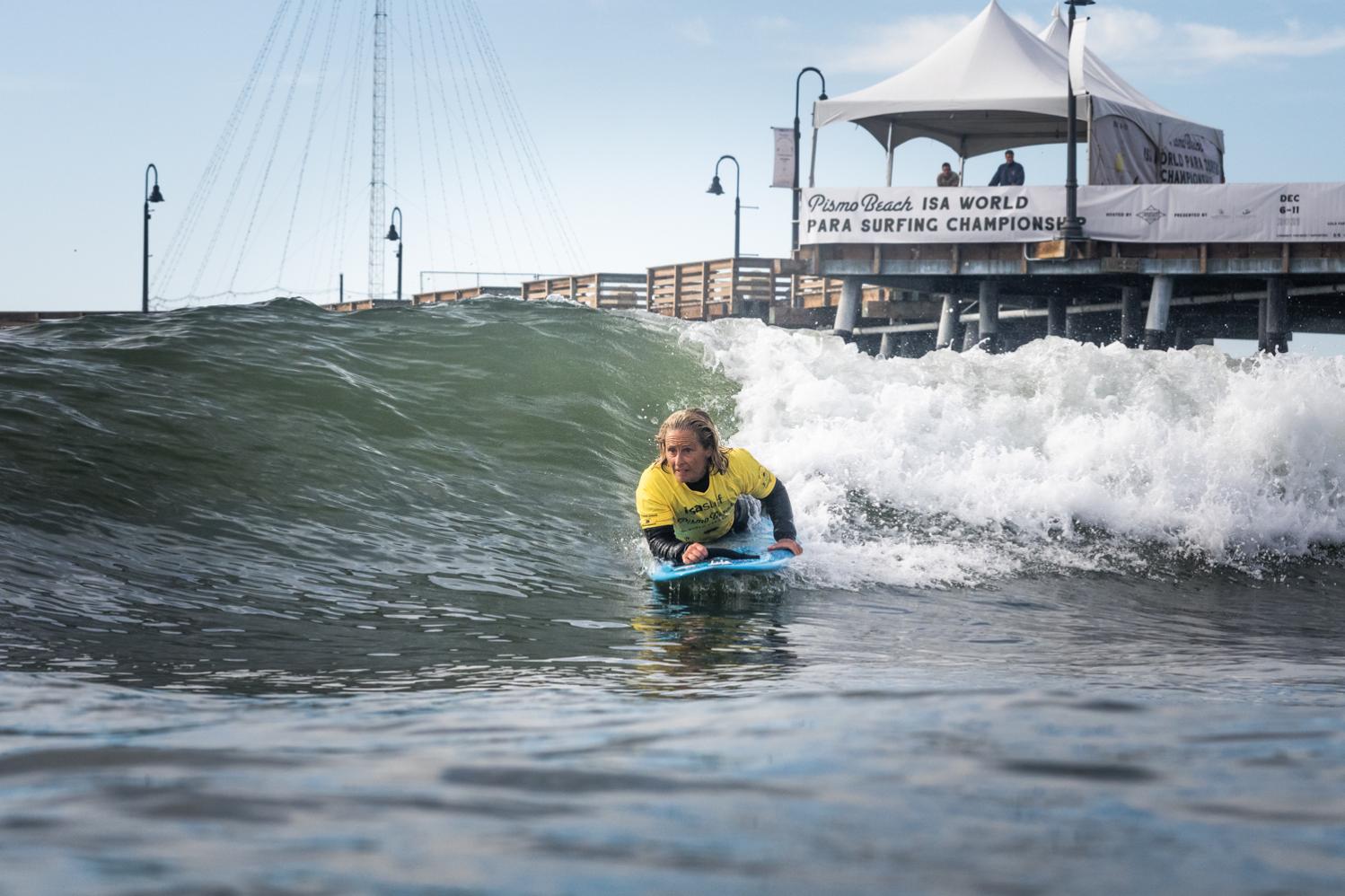 Newport's Samantha Bloom during her opening heat. Photo: ISA/Sean Evans
Sam Bloom and Jocelyn Neumueller are the first of The Irukandjis through to finals day at the 2021 Pismo Beach ISA World Para Surfing Championship after they both won their round two heats in the Women's Prone 2 division on December 9th.
Bloom and Neumueller nailed the two top heat scores of round two ( 15.86 points and 15.83 points respectively) to send a major warning shot to their competition ahead of finals day.
In the Men's Prone 2 division Jack Curphey's campaign was cut short when he placed third in his round three heat with a total of 7.44 points.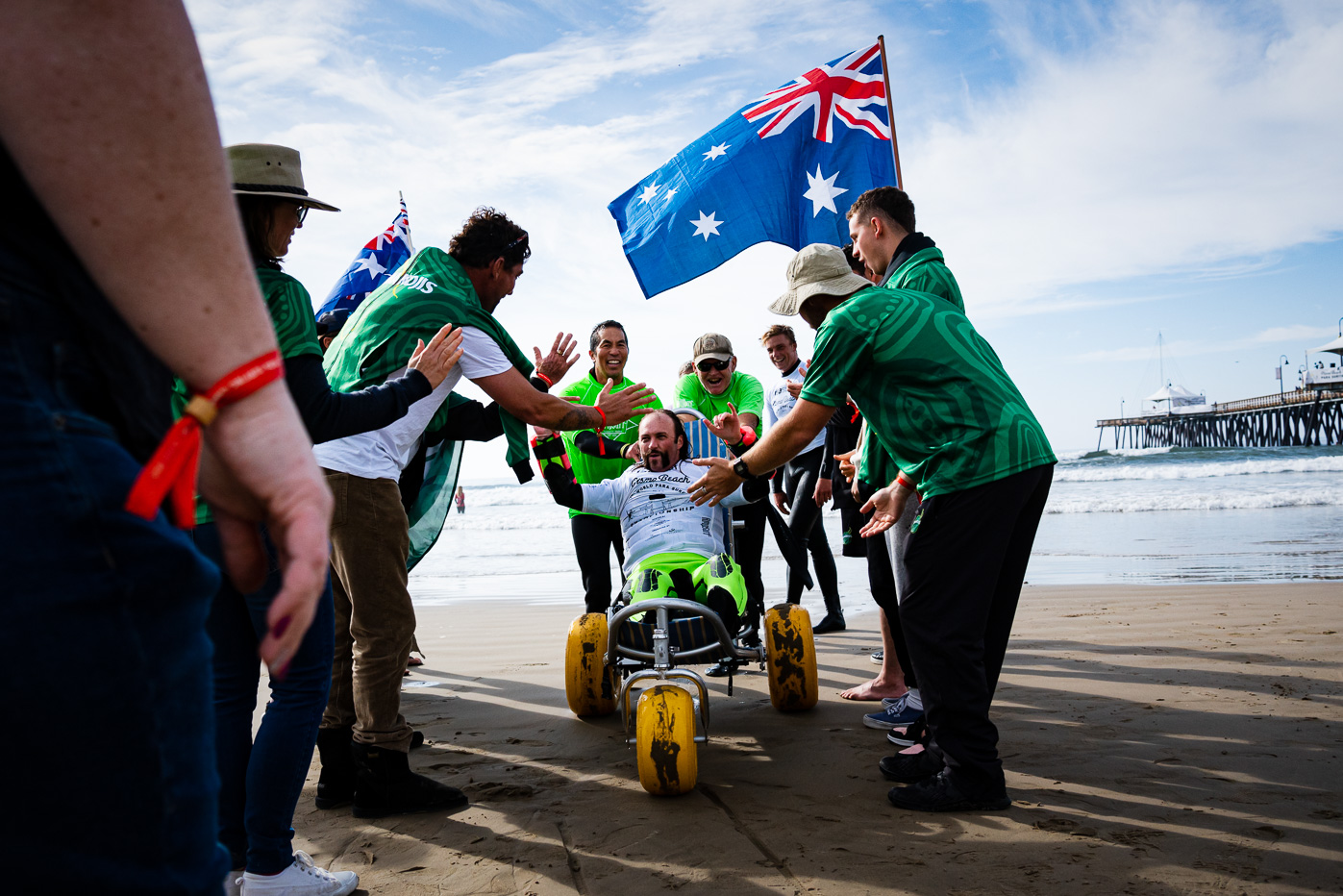 Jack Curphey. Photo: ISA/Ben Reed,

Kirk Watson placed second in his Vision Impaired 1 division round one heat to take a step closer to a gold medal.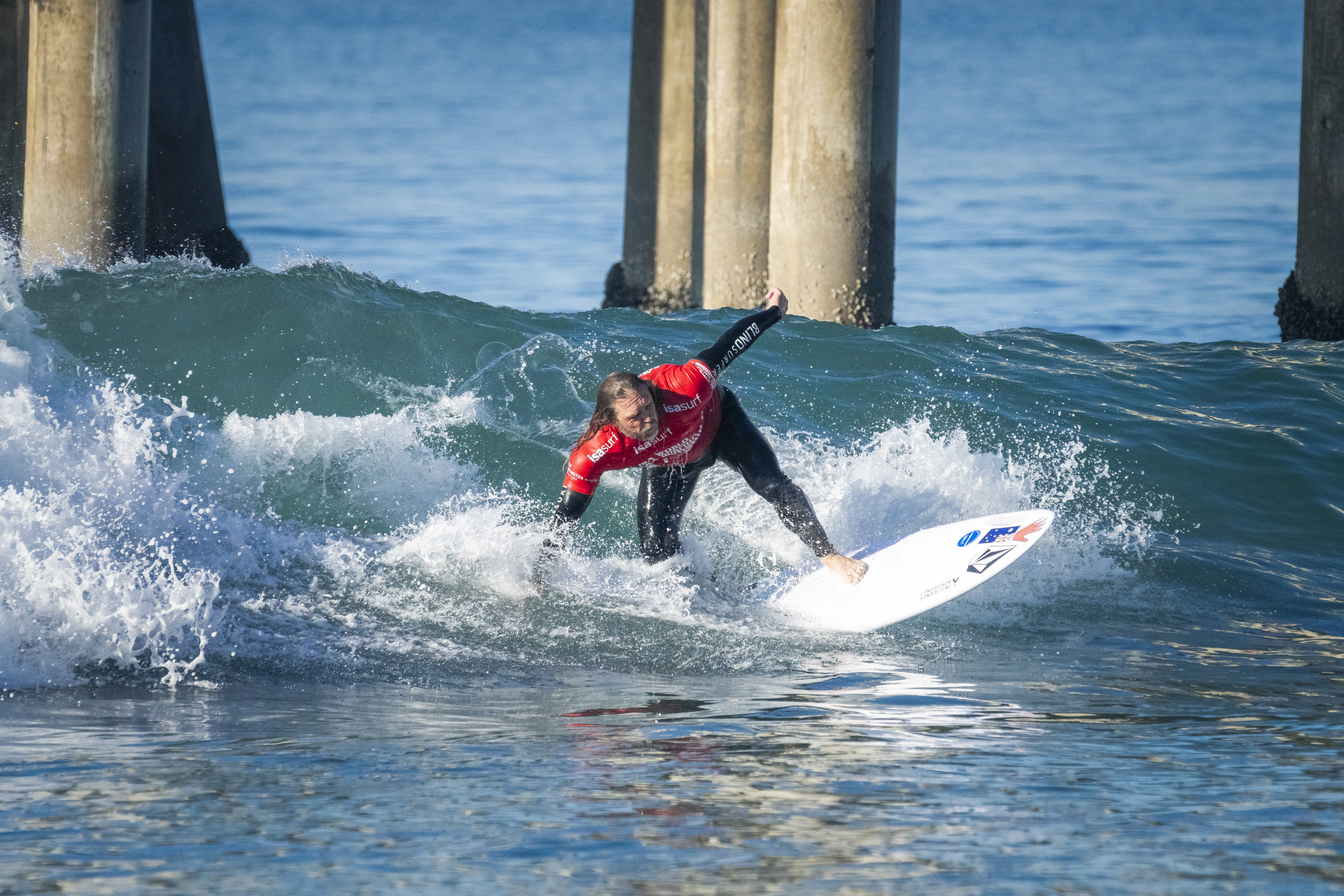 Kirk Watson. Photo: ISA/Sean Evans

Vision Impaired division 2 Irukandjis Matt Formston and Jack Jackson both placed second in their round one heats to, unfortunately, meet each other in round two, a heat they need to finish first and second to progress to the final.
Former Gold Medallist Mark 'Mono' Stewart charged through his Men's Kneel division round one heat with 16.4 points - the highest total of the division.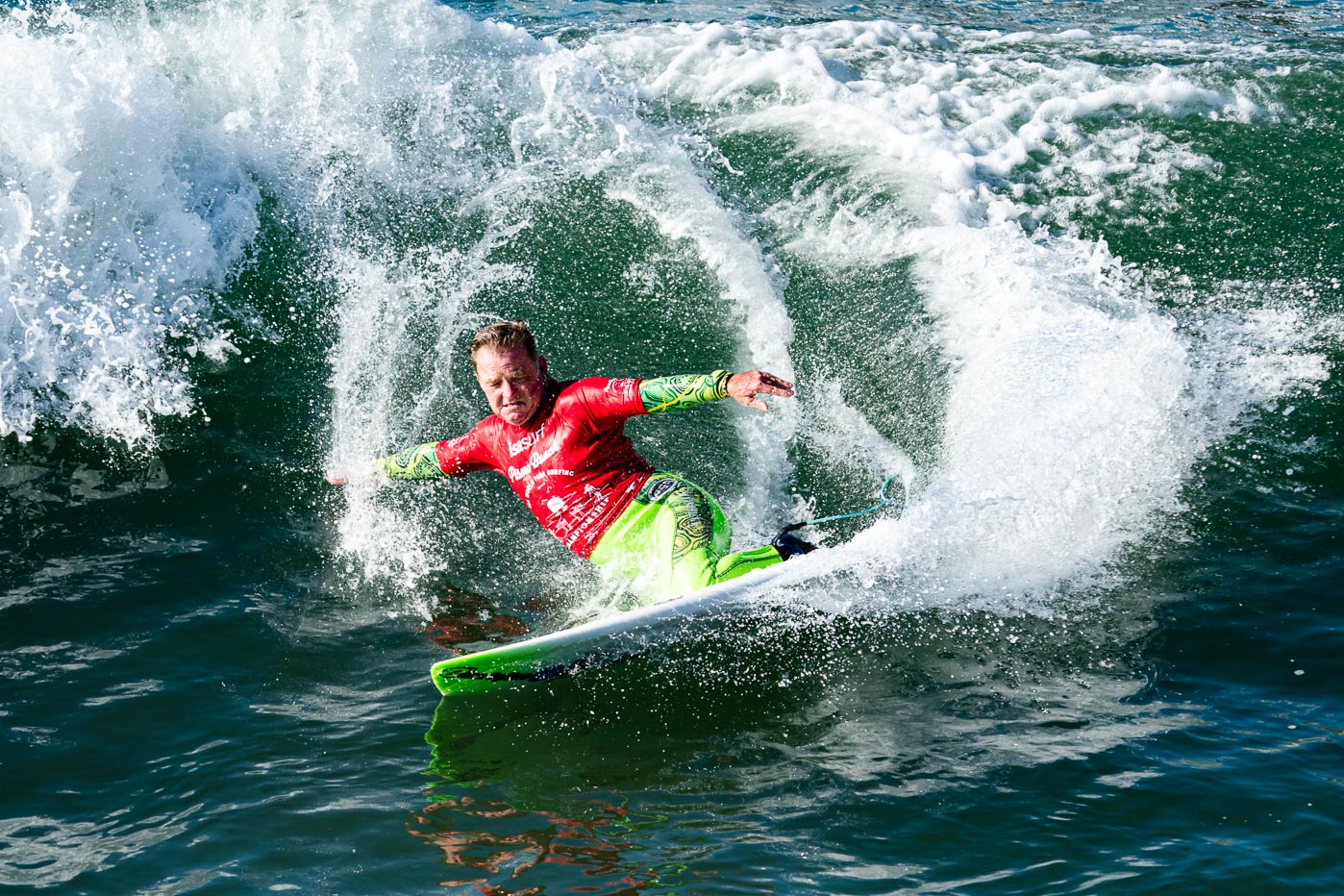 Mark Stewart. Photo: ISA/Ben Reed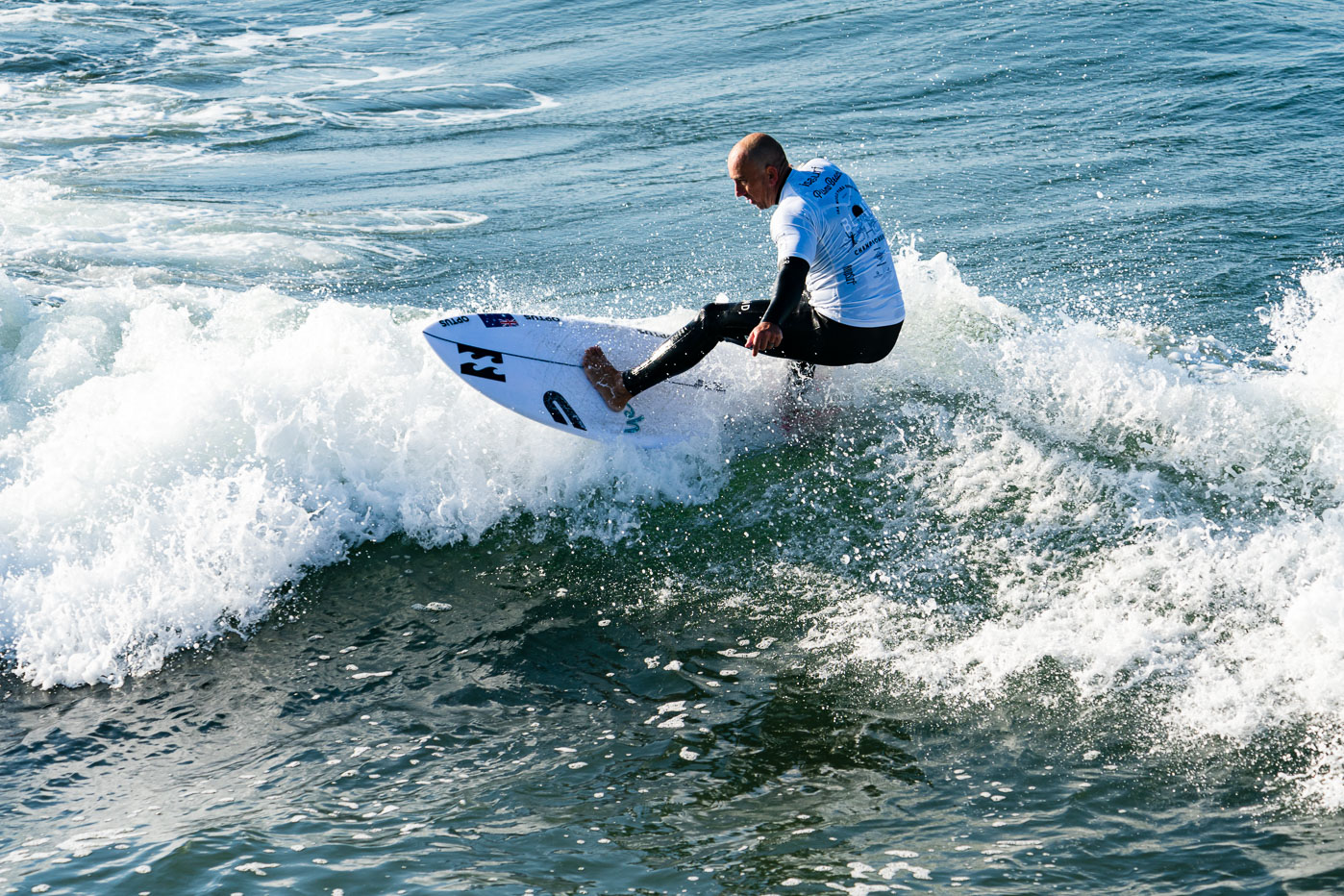 Matt Formston. Photo: ISA/Ben Reed

Sarah Jane Gibson put in a strong performance to finish second in her Women's Vision Impaired division round one heat with 10.23 points ( under 2 points behind 1st place).
In an intense day of competition, it was Matt Formston who first brought the heat to Pismo Beach on Friday December 10th, firing up the crowd with a massive two-turn combo. The visually impaired Australian received a 9.0 on a wave that easily could have been perfect 10 had he completed his third big hit. His two-wave total of 17.43 set the high mark for the day.
Jose Martinez (USA) matched the highest single wave score of the event with a 9.50 delivered in the final minutes of an extremely closely contested and exciting Men's Prone 2 semi-final.
Former gold medallist Davi Teixeira (BRA) was eliminated after an incredible buzzer-beating moment from Chile's Claudio Morales. Last minute heroics also saw Argentina's Nicolas Gallegos and Jesse Billauer of USA advance into their respective Prone 1 and Prone 2 finals in the dying seconds.
The most passionate performance of the event so far came from Adi Klang of Israel. Winning the first Men's Stand 2 semi-final, Klang progressed along with his teammate Nachman Balulu. His screams of joy could be heard across the entire area as he let spectators know exactly how excited he was. "I can't believe it, I'm in the final and I'm going to get another medal. Now it doesn't matter the color. I'm just so happy!"
Several former ISA World Champions vying to be first woman to win three gold medals
Across stacked women's fields, defending champions Sam Bloom (AUS), Victoria Feige (CAN) and Melissa Reid (ENG) are each the current top seeds of their classifications heading into finals day. Meanwhile Alana Nichols (USA) is looking strong as the only woman in the Sit classification, the sole Open division of the competition.
Any one of the four women could make history this week. Should one of them achieve their third gold medal and none of the others find success, that woman would officially mark their name in the record books.
Australia's Sarah Jane Gibson challenges the title in her first attempt
Losing most of her vision through diabetes at the age of 10, Sarah Jane Gibson of Australia began her surfing journey late in life.
"I didn't start surfing until I retired, which was in 2016, and a year after that I broke my hip. So I didn't get much of a good start," she said.
Her journey to the final of her first ISA World Para Surfing Championship has exceeded her expectations. "It's so supportive, everyone's just unreal, really friendly, really inclusive. I love it, it's really cool."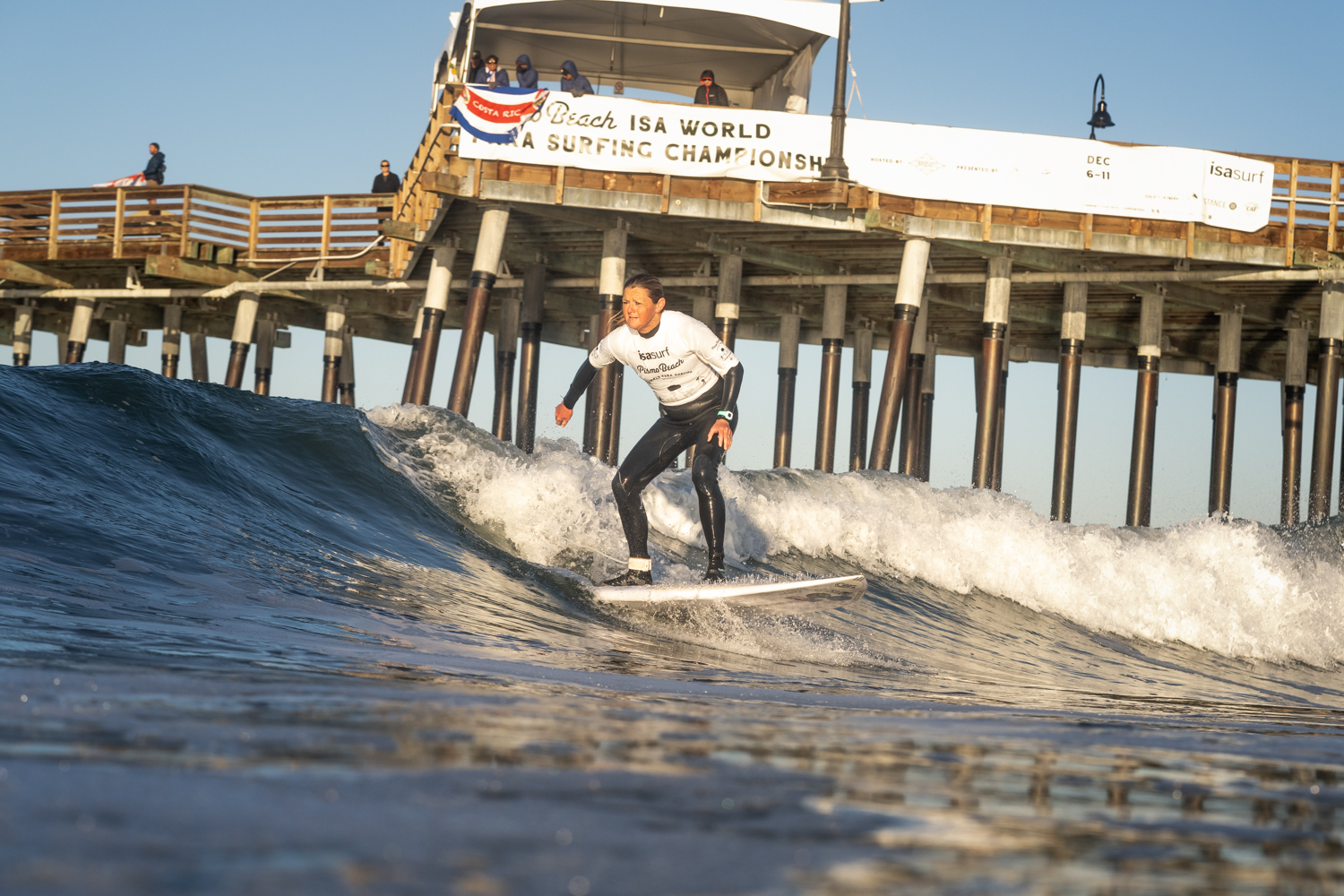 Sarah Jane Gibson from team Australia on a 7.0 score wave. Photo: ISA / Sean Evans
Elias Figue Diel declares this to be the year he brings home gold for Brazil
After multiple podium finishes, Brazil's Elias Figue Diel is confident he can claim his first Title. "This year the gold is mine," he stated.
A former junior surfing champion and black belt in Brazilian Jiu Jitsu, Diel stayed out of the ocean for 15 years following an accident that left him visually impaired at the age of 16.
Now Diel has found healing through his para surfing journey. "My recovery was very long. I started surfing again and I'm very happy to be in the water with friends having fun. That's the most important thing to me."
ISA President Fernando Aguerre said:
"It's great to know that the ISA is tearing down the old paradigm of who can and who can't surf. When we started the first Para Surfing World Championships in La Jolla a few years ago, there were just a handful of competitors from a few countries. That first event, and subsequent ones lit the flame of what we see today as the Para Surfing fire all over the world.
"I am very happy to see that this Para Surfing Movement is strong and flourishing and this event is a testament to its growth.
"As we head into finals day, these passionate performances from first class athletes are paving the way for future Paralympic glory."
134 athletes representing 24 nations and 9 different Para Surfing Sport Classes have descended on California's Central Coast with one goal in mind, to bring home gold for themselves and their teams. The men and women that make up the diverse field are set to showcase precisely why this championship is such an energizing and infectious gathering. A variety of physical abilities provide the platform for an incredible display of surfing as much more than just a sport.
Over the coming days, first-class athletes, including multiple previous world champions, will share their talent and their story. The sixth edition marks the first time the championship will see a change of venue after many successful years in La Jolla, California.
While the beach itself will provide an amazing backdrop for the event, a full live broadcast can be found online at isasurf.org for spectators from around the world, with the Finals running as we went to press on December 12th 2021 Australian time.
Results:
Women - V2 Final
1st Melissa Reid 12.90 ENG wins by 3.47
2nd Sarah Jane Gibson 9.43 AUS
3rd Ling Pai 8.73 CAN
4th Celia Gramse 6.37 ESP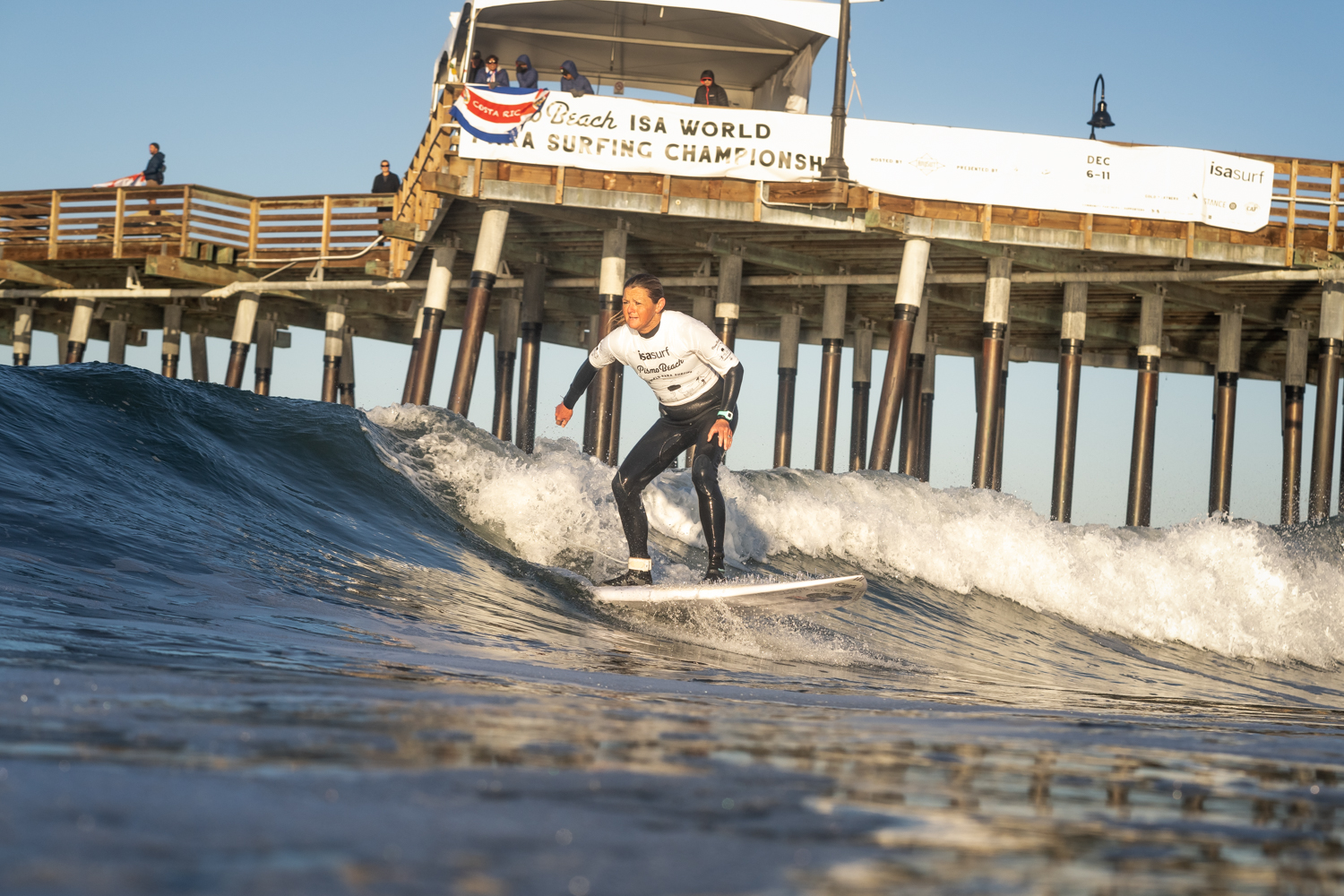 Sarah Jane Gibson. Photo: ISA / Sean Evans

Women - Prone 2 Final
1st Jocelyn Neumueller 15.50 AUS wins by 0.83
2nd Sarah Almargo14.67 ESP
3rd Samantha Bloom 13.73 AUS
4th Hannah Dines 9.03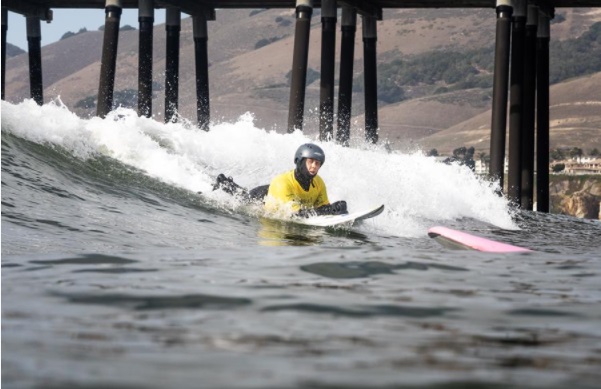 Jocelyn Neumueller; I am a sprint kayak Paralympian (RIO 2016) and World Champion. Shortly after being crowned VL1 200m World Champion in 2017, I paralysed my left arm during a training session, which forced me to retire from sprint kayak. Despite solely relying on the mobility of my right arm, I quickly fell in love with the freedom and enjoyment surfing brings to my life. I am a proud advocate for adaptive surfing inclusion within South Australia, AUS. I am debuting for 'The Irukandjis' (Team Surfing AUS) in the Prone assist 2 classification. I wouldn't be able to surf without the assistance of my amazing team in the water with me.
Right: Newly crowned World Champion Jocelyn Neumueller in action at the 2021 Pismo Beach ISA World Para Surfing Championship. Photo: ISA/Ben Reed
Sam Bloom; I have grown up on Sydney's northern beaches and have surfed ever since I was about 14. I used to be a Registered Nurse annd have travelled extensively particularly throughout Africa. I am married and have 3 boys. In 2013 whilst holidaying in Thailand I sustained a Spinal cord injury and stuggled with my new life. I got back on a board 5 years after my accident which brought happiness and a sence of freedom back into my life. My story has been made into a feature film callled Penguin Bloom which was released internationally in 2021.
Favourite surf break; North Bilgola
Men - Kneel Final
1st Mark Stewart 13.73 AUS wins by 4.53
2nd Altair Olivares 9.20 CHI
3rd Llywelyn 'Sponge' Williams 7.60 WAL
4th Henrique Saraiva 4.97 BRA
Mark Stewart; 1976, When 'Mono' was fifteen he was told he had Osteosarcoma; bone cancer. He went through 2 years of chemotherapy after the doctors removed his right leg above the knee. After he lost his leg he started to work out how he could surf again. He believes it was this passion to surf again that has been his driving force and determination in life. In September 2015, at the age of 53, he won the inaugural International Surfing Association World Adaptive Surfing Championship in La Jolla, California. Since then- He has Competed in 21 International Surfing events - making the final in all and WINNING 18 OF THEM.
"Surfing's kept me alive and kept me inspired — it's good for the body as well as the soul,'' he said. "It's such a leveller. You can surf with people and they don't even realise you've got one leg until you get out of the water. "I had a young boy come up to me in Indonesia not long ago who told me 'if I ever lose a leg, I want to surf just like you'. It was like wow, pretty heart-wrenching stuff.' Mono lives life to the fullest and his positivity and tenaciousness is infectious. "There are so many people that are worse off than me, that inspire me,'' Mono said. "I'm lucky; I'm only missing a leg."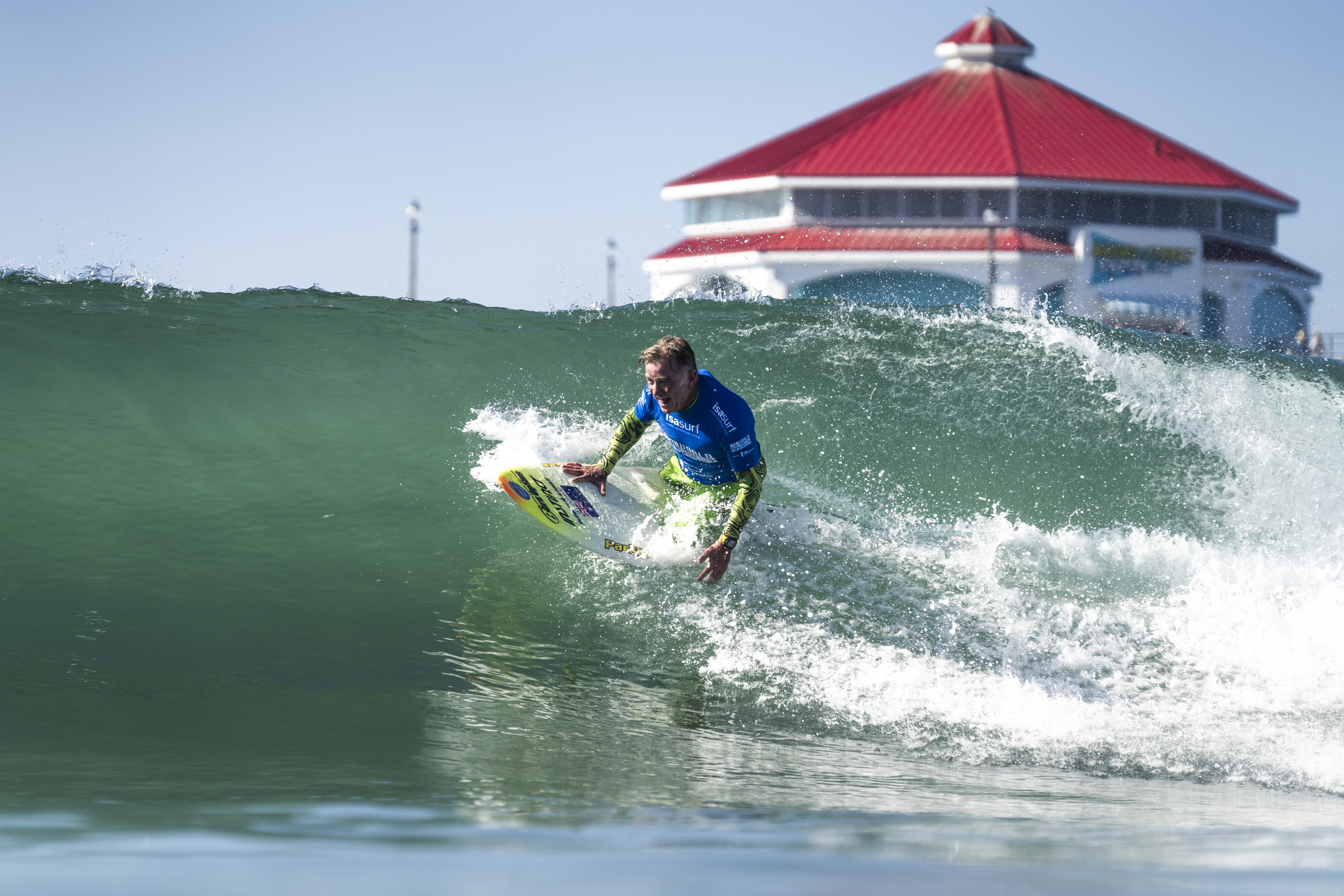 Mark Stewart. Photo: ISA/Ben Reed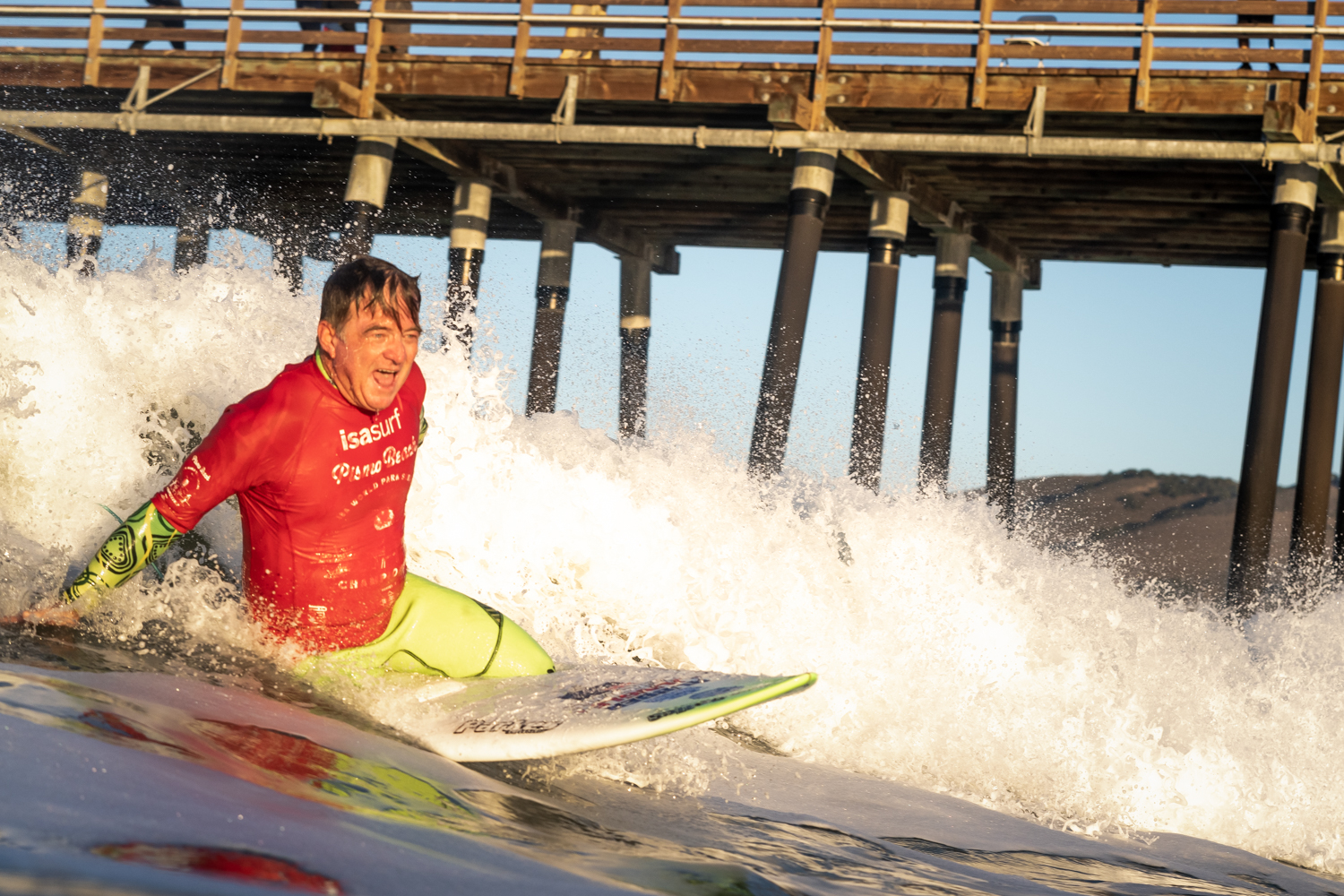 Mark Stewart. Photo: ISA/Ben Reed

Men - V1 - Final
1st Elias Figue Diel 14.07 BRA wins by 1.37
2nd Kirk Watson 12.70 AUS
3rd Ben Neumann 9.74 GER
4th Aitor Francesena 8.50 ESP
Kirk Watson; I grew up on an island on Sydney's Northern Beaches which is an absolute haven for watersports. I loved surfing and would get out there with my mates as often as possible. As a teen I started losing my night vision and peripheral vision. I was diagnosed with Retinitis Pigmentosa a degenerative condition. This progressively took things from my life not just my sight, my opportunity to drive a car, my independence, confidence, bike riding, surfing….. At this point I got into sailing and started to sail competitively, which gave me great freedom. Ocean racing taught me about everyone bringing their strengths to the team. I've competed in many campaigns including 10 Sydney to Hobarts. I would surf very occasionally with friends when out of Sydney. A friend who is an amputee surfer encouraged me to enter the Australian National para titles. This really inspired me, seeing others surfing despite their challenges. This has pushed me to get out there as much as I can and really work on improving my surfing. In 2019 I competed in the US open, where I won the bind (VS1) division. Unfortunately I was knocked out early in the 2020 ISA para world titles, and I've been training hard at every opportunity since then.
Favourite surf break: Bungan Beach
Men V2 - Final
1st Roy Calderon 14.00 CRC wins by1.33
2nd Miguel Flavio12.67 BRA
3rd Aaron Paulk12.07 HAW
4th Matt Formston 6.34 AUS
Matt Formston; Matt grew up like all other children playing Rugby League for the Narrabeen Sharks from 5-11 years, transferring to Rugby Union and playing until his late teens, including the first fifteen team for his high school and reps for Warringah Rats. He felt most at home playing sport and less different to others. In his teens, his love for surfing developed. He learnt to sail, played Ice Hockey, and was personally awarded the Sid Hamilton Shield state award by the Mayor of Sydney.
However, despite his success in sport, Matt faced constant bullying at school and challenges with the school system not being set up or equipped to support a child with a disability. To deal with the bullying, Matt responded with violence to those who wanted to put him down and it took until his late 20s to learn to not react with anger and physical confrontation when dealing with conflict.
"The word 'can't was banned in our home. I was taught that anything is possible as long as you have the focused desire and are willing to put in the hard work."
CYCLING
For a charity quest in 2009, despite not owning a bike, Matt rode a single bicycle on his own, 1,200 kilometres from Sydney to Melbourne. To this day, it is still the world record travelled by a blind person on a bike and what started Matt on his cycling journey. Today he is still one of the world's most accomplished professional blind cyclists.On this ride, he was noticed by Cycling Australia talent scouts and by 2011, he was riding for Australia. Matt went on to win cycling events worldwide from 2012-2016 and retiring at the Rio Paralympics. He also achieved an astounding 14 Australian Titles across four disciplines and was the driving force behind tandem bikes built from Carbon Fibre. This had never been done before and created new ways to measure power output for tandem riders.
Accomplishments;
2013 Tandem Road World Cup Gold Medallist (Matane, Canada)
Gold - 2014 Track World Championships Tandem 4 km Pursuit (Aguascalientes, Mexico) – setting new world record time, 4 mins and 11.213 secs at the same meet.
Matt won 12 Australian Titles during his cycling career and won gold medals all over the world for Australia. This was the fastest time in history for a tandem bike ride, not just for Para Cycling and the third-fastest time that anyone on any pushbike had completed the 4 km pursuit.
SURFING
As a blind surfer, Matt is pushing the limits off what is physically possible. A documentary is currently in production to capture Matt's journey chasing big barrels and him chasing his fourth ISA Para Surfing World Title. Today Matt gives back to the community by running clinics for blind and visually impaired children since 2018 teaching them how to use sound, touch, and other senses to enjoy the freedom of the ocean.
Achievements
3 X ISA Para Surfing World Champion
3 x Hawaiian Championships winner (Oahu, Hawaii)
2 x US Open Adaptive Surfing Championships winner (Oceanside, USA)
Huntington Adaptive Pro winner (Huntington, USA)
Team captain of the Australian Para Surfing team since 2018.
Chair of Para Surfing Australia
AMBASSADOR
Vision Australia
Invictus Australia)
SurfAid
BUSINESS EXECUTIVE
Business executive and a leader the sustainability and diversity, equity and inclusion spaces at Optus. Former Account Executive in Optus Enterprise Strategic Sales for 10+ years achieving pace setter Awards. Chair of Macquarie Business Park Community Partnership 2017-2021. Chair of Para Surfing Australia – Current Executive Director on the Board of Blind Sports and Recreation NSW ACT. Chair of Optus Disability Network
GIVING BACK
With authentic delivery and the ability to speak to many themes, Matt has been a professional speaker, commentator and facilitator for 10+ years. He has inspired many at events for many iconic brands and businesses across Australia but not limited to: Optus, Lendlease, Westpac, Pipsi co, The Commonwealth Bank, Tesla, Hewlett Packard
The ISA World Para Surfing Championship gathers the world's best para surfers to compete and display their talents in a Paralympic-style, World Championship competition.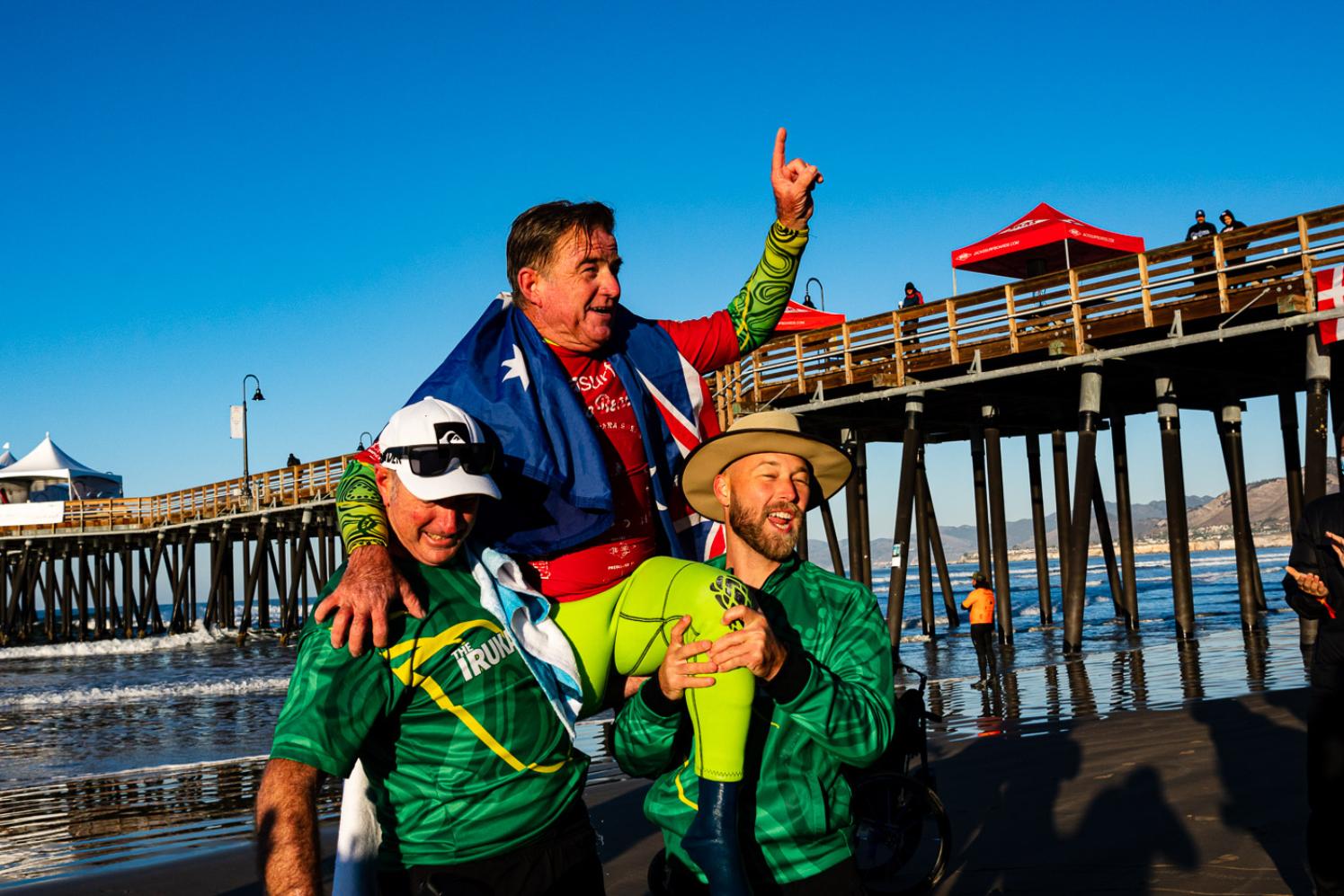 Mark Stewart. Photo: ISA/Ben Reed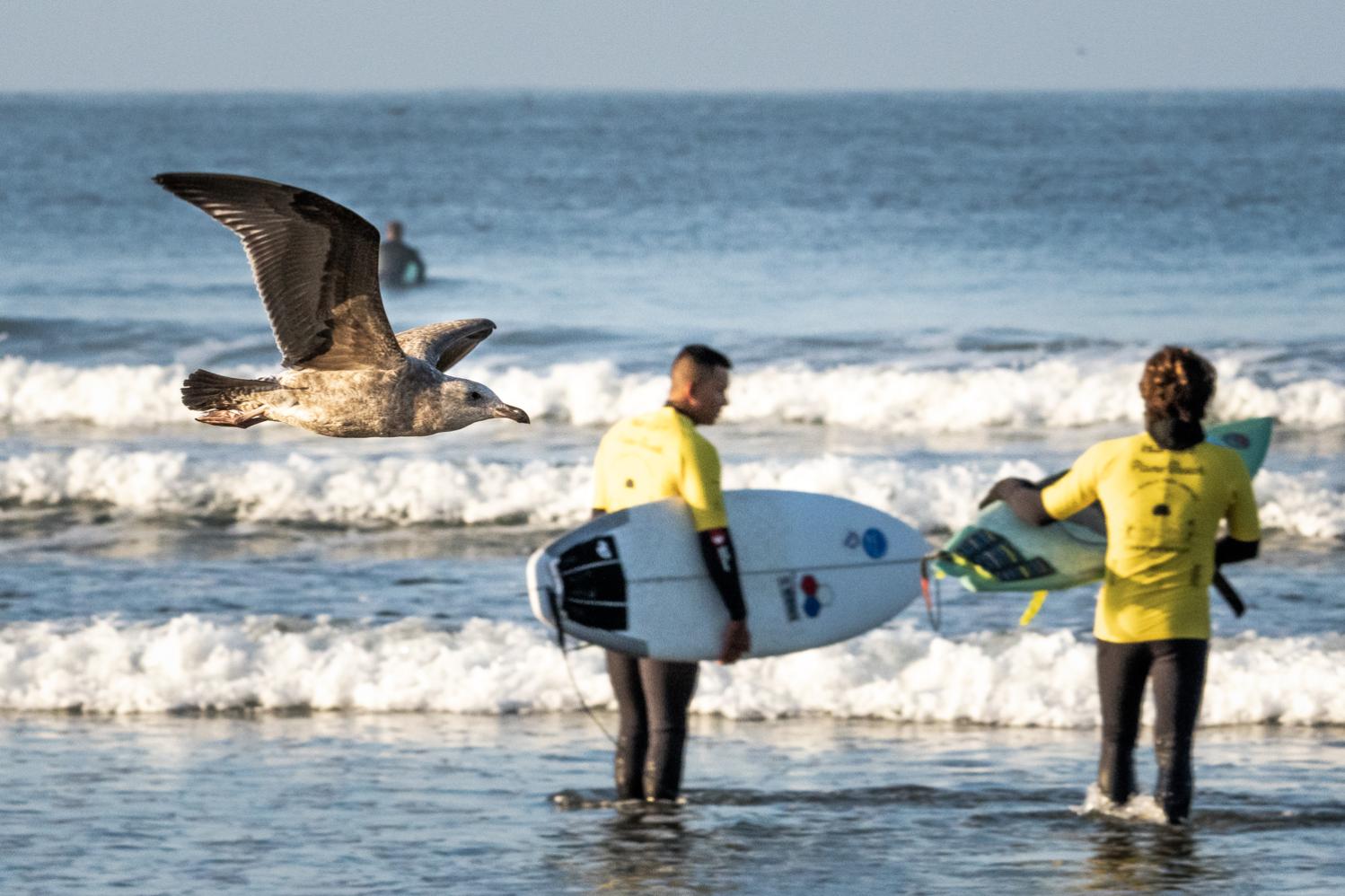 Lifestyle (+ bird!). Photo: ISA/Sean Evans