August 6 - 12, 2017: Issue 324

Clareville & Bilgola Plateau Residents' Association (CABPRA)

Clareville & Bilgola Plateau Residents' Association (CABPRA)
This week an insight into another of our local residents associations that ensure 'community' stays in our communities. Our thanks to Janet Forrester for all her help in putting this information together.
When was the Clareville & Bilgola Plateau Residents' Association formed?
Records indicate the Association was formed in the late 1970s.
Who and What is the Association for?
CABPRA is for residents living in 1,200 households covering all of the Clareville and some of the Bilgola Plateau area. It also includes Riverview Road, Paradise Ave and Trappers Way (see map).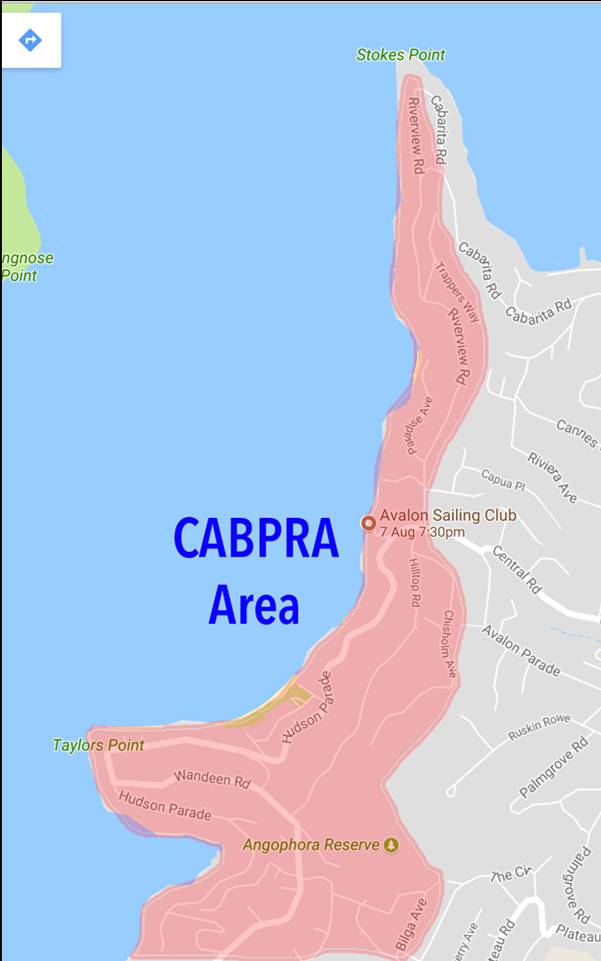 CABPRA's vision is:
To encourage residents to take an active interest in their community

To preserve and enhance the natural beauty of the area including native flora and fauna

To promote sound environmental planning and management sympathetic with Pittwater's natural beauty

To protect and enhance the residential amenity of the area including public reserves, access lanes, footpaths, cycle ways, beaches, wharves and foreshores

To speak with one voice and represent the interests and quality of life of the CABPRA community when in discussion with Council and other relevant government bodies
What activities does the Clareville & Bilgola Plateau Residents' Association engage in?
At our meetings we encourage residents to not only tell us of any issues but we also want to know what they love about the area. For example in 2015 we had a big meeting to gather our community's expertise:
https://cabpra.wordpress.com/community-expertise/
. This has been the basis for most of what we have done since.
For example many love the new footpath from Hilltop to Clareville Beach along Hudson Parade but want it extended to Taylors Point, so we are working with Council on how best to do that.
We also work with other community groups to ensure the area gets a fair go from the Council, the State Government and Federal Government. This is hard work at the moment.
We have two general meetings a year held at the Avalon Sailing Club. Our winter meeting will be this Monday 7 August 7:30 pm at the Avalon Sailing Club. All residents welcome.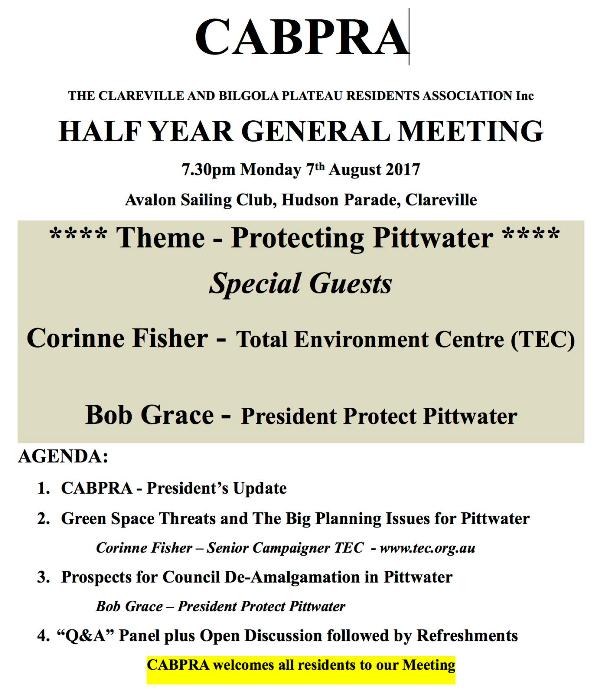 Who is on the Committee for the Clareville & Bilgola Plateau Residents' Association – and what are these roles overseeing?
There are 11 committee members.
David Owen is the President
Tony Tenney is the Secretary
Barbara Laird-Varley, the Treasurer
Janet Forrester, Communications
John Waring, our previous President was Pittwater Council's volunteer of volunteers at its 25th Anniversary. We are very proud of John and all the work he does for our area and Pittwater.
How can people get involved or become Members (and how much is this)?
The best and easiest way is to come to our meetings. Membership is by donation.
Do you have social activities as well?
We have the CABPRA Cuppa Club first Wednesday of every month 10:30 am at the Clareville BBQ area, weather permitting.
Do you work in conjunction with the Avalon Chamber of Commerce and Avalon Sailing Club on some matters?
We worked with the Avalon Chamber of Commerce on doing up Patterson Lane in Avalon. CABPRA sourced the $5,000 grant money to make it possible.
Many of our more artistic members were also involved with the Avalon Art Carnival in Avalon.
Avalon Preservation Association established a place plan for Avalon and we, with many other community groups, were involved.
We love holding all our meetings at the beautiful and historical Avalon Sailing Club and many of our members are also members of the club. We support the club in its fund raising activities and share events on social media.
What is unique about Clareville and Bilgola Plateau compared to the suburbs surrounding it?
Clareville is one of the newest and smallest suburbs in Australia. In reality it just consists of Hudson Parade and Delecta Ave but many who live close by will insist they also live in Clareville. And who would blame them with one of the most beautiful kid-friendly beaches in the world, our stunning gum trees which bring amazing wildlife and our beautiful views of Pittwater.
But let us not forget Bilgola Plateau. High on the plateau you do get the most beautiful views in the world. Here it is all about nature.
Preserving our beautiful nature has to be our highest priority - for residents and visitors alike.
Does the Clareville & Bilgola Plateau Residents' Association have a motto or phrase that epitomises its raison d'être ?
No - we should do something about that. Maybe "small is beautiful"?