Palm Beach Sailing Club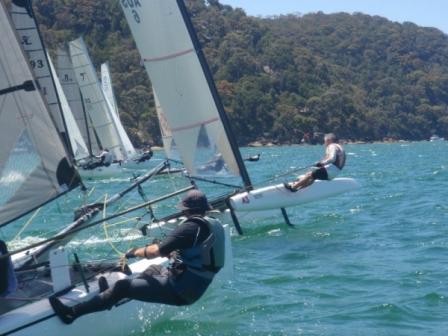 Palm Beach Sailing Club is a family oriented club, catering for absolute beginners right through to world champion catamaran sailors. We sail on Saturday afternoons from Spring, right through Summer and into Autumn. Pittwater provides not only a beautiful and safe sailing environment, it is also a wonderful training ground, having produced some of the worlds leading sailors, many from our club.
Racing is very social - you can take it as seriously as you like, but we always focus on the fun. Experienced members are always happy to share their knowledge with new sailors, offering advice on boat rigging and tuning, crew techniques and racing tactics. New sailors may choose to start sailing by crewing for an experienced sailor, or they can bring their boat along and just plunge in.
We have fairly equal numbers of men and women, and spread of ages from kids and teenagers to people in their 70s. We have people from all sorts of ethnic backgrounds, and we don't care where you live - you certainly don't have to live anywhere near Palm Beach! In fact, most of our members live in the more 'average' parts of Sydney. We don't care, we just belong here to have fun sailing with friends, old and new.
The club periodically holds Saturday morning sailing schools, where everything from basic knot tying to advanced racing techniques are taught. There is usually an informal barbeque at the clubhouse immediately after getting the boats off the water.

HISTORY
PBSC is 50 years old in 2012! We will be holding a celebration regatta and barbeque on Feb 11 at Sand Point, Palm Beach.
PBSC started in 1950 when it sailed mostly small monohulls however there were the odd catamaran. They mostly sailed from the southern end of Sandy Beach on Pittwater. In 1962 another club was formed, the Pittwater Catamaran Club which also sailed off Sandy Beach, but near the middle of the beach from Sand Point Lane. PCC was strictly for catamarans, of all types and was the breeding ground for State, National, World and Olympic champions. In 1999 the Palm Beach Sailing Club merged with the Pittwater Catamaran Club. The PBSC continues its long tradition but with a focus on catamaran sailing. While all types of cats are welcomed the most popular is the Hobie 16 - a boat that has had over 113,000 built to date, the largest class of catamaran in the World.
THE BOATS WE SAIL
While there is no requirement for people to sail any particular class of boat, all our current members sail catamarans of one type or another. The most populous is the Hobie 16, a world famous evergreen 16 footer sailed by two crew on trapeze. We also have A Class, a leading edge development class 5.4m long, that attracts America's Cup sailors like Jimmy Spithill and Glenn Ashby to its championship events. At the other end of spectrum, we see the Hobie 14, and have a fleet of Hobie Waves - a small trainer ideal for children to learn on. In between, we see F16s and F18s at our invitational regattas, and some Nacras and other classes.
Hobie 16s are a fun boat to sail in close match racing at club level. Being a 'one design' class means all the boats are pretty much the same, so it comes down to skipper and crew on the day. Some cynics reckon it's like racing HQ Holdens, but that is part of the attraction: they have their foibles, but every crew has to deal with them, and if you get it wrong, you swim! But that's all part of the fun!
A Class catamaran design is defined only by a simple set of rules on length, width, sail area, and minimum weight. Other than that - anything goes! This class has led the development of almost all new ideas seen on larger boats for the last 30 years. Foam sandwich epoxy construction, big head sails, kevlar and mylar sails, carbon fibre hulls and masts, curved and lifting foils - these ideas and many more first appeared in A Class cats. Needless to say, they are called the Formula One of single handed sailing. Older Mk4 boats (the class started in 1956, so there is a long history) can be purchased quite cheaply and are, surprisingly, very forgiving to sail. Newer Mk5 (and we are seeing the next evolution into what might become Mk6) boats will cost up to the price of a family sedan!
Hobie Waves are 4m long, 2.1m wide, and being roto-moulded are virtually indestructable. They are ideal for kids to learn on, and PBSC runs fun training sessions at regular intervals, and on demand. A masthead float means they are extremely easy to right if pushed too hard, and that is also part of the fun. Even experienced sailors enjoy a session on a Wave.
TRAINING
PBSC runs a number of training and mentoring programs throughout the year. These programs are free to members, and the first is also free to prospective members. The training programs are targeted and focused on increasing the skill levels of different groups.
We also have at least two "Try Sailing" days each year, when club members take visitors out for a real sailing experience.
Some examples of what we offer are;
- Beginners and kids: using the Hobie Wave, this is introductory training in the basics of boat handling and safety, and understanding wind and sails and how a sailing boat can sail into the wind.
- Crew Training Program: aimed at members wishing to become proficient at the sharp end of the boat. Good crews are always in demand so this program provides a path for people wanting to get on the water but not wanting to purchase their own boat.
- Skipper/ Boatowner Program: designed to assist boat owners and skippers to get the most from their boats.
- Elite Athlete Program: in conjunction with the Yachting Australia and NSW Institute of Sport. This program is aimed at developing our young sailors to the top level.
All programs are presented by experienced and highly motivated sailors. The course content is approved by a teaching professional. Some of the aspects of catamaran sailing you can expect to cover in these programs are;
- Boat preparation, rigging and tuning for performance;
- Boat handling, sail trimming and trapezing;
- Understanding the wind and how it affects your boat;
- Racing strategies and tactics.
All new members are assigned a mentor to assist them. Mentors are the more experienced members of the club, who help new members get the most out of their sailing experience, and that's always more fun!
ACHIEVEMENTS PAST, PRESENT AND FUTURE
PBSC turns 50 this year! On Saturday Feb 11, we will be holding a celebration regatta and social event. There will be some fun mock racing focusing on kids and families, some serious racing featuring Hobie 16s, F18s, and A Class cats, and a brunch barbeque on shore from 11:00am. All happening at Sand Point, Palm Beach (via Woorak Lane, off Iluka Road off Barrenjoey Road).
The club has bred many champion sailors over the years, and the 2011-12 season is no exception. Our hall of fame goes back to 1978, when one of women won both the NSW and National Hobie 14 Championships. Then the Waterhouse family began to make the record books, a trend continued in January 2012 by the next generation, Jason Waterhouse and his crew Lisa Darmanin took out the Hobie 16 National Titles in Qld. The sweep of years in between includes some standouts like Forbes and Booth in a Tornado at the Barcelona Olympics, more from Kerli and Ali Corlett in a Hobie 16, Upu Kila in the Papua New Guinea National Titles, and four time winners of the Volvo ISAF Youth World and National Championships. The full record can be found at http://www.pbsc.org.au/halloffame.html
What is PBSC's favourite place in Pittwater and Why?
We love Sand Point on land, because that's where we sail from. And on the water - anywhere the breeze is blowing!
What is the Club's 'Motto' or a phrase it tries to live by?
Sailing is fun, sailing on two hulls is twice the fun!