December 5 - 11, 2021: Issue 521
Ten Marine Rescue Broken Bay Members Receive Service Awards Equalling 65 Years Of Serving Our Community - Get Ready For Safety On The Water This Summer: Log On/Log Off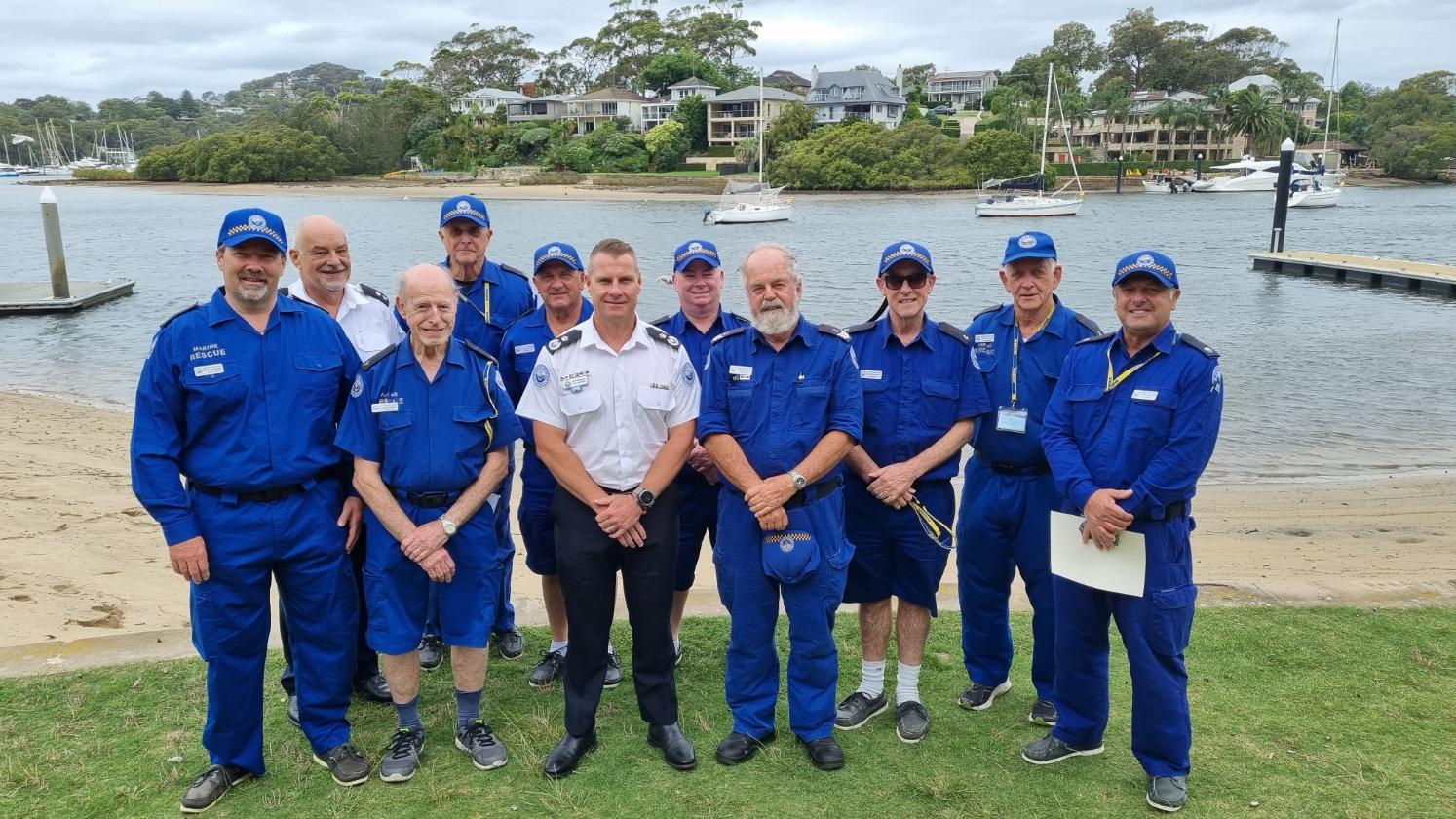 Marine Rescue Broken Bay photo.
On Saturday December 4th 2021 ten Marine Rescue Broken Bay members received service awards tallying up more than 65 years of volunteering to our community.
Marine Rescue New South Wales Deputy Commissioner Alex Barrell attended to congratulate the members individually and present the awards.
MRNSW Deputy Commissioner Barrell was appointed to his position in September 2020. Mr Barrell joined the NSW Police Force in 1994, initially serving in general duties before becoming a Police Diver. He then moved to the boats, being posted to the Eden Water Police before returning to Sydney, coordinating Botany Bay and Sydney Water Police sectors and leading Search and Rescue for the MAC.
He has spent time with the Police Emergency Management Unit, supporting the State Emergency Operations Controller and developing the Force's emergency management capacity.
Transferring across White Bay from MAC to NSW Maritime, he worked across recreational and commercial boating safety and legislation and policy areas, before stepping in as Acting Executive Director for MRNSW prior to becoming Deputy Commissioner.
"I was fortunate to grow up on and around the water and that's where I really got my passion for it. I didn't really join the police with the goal to get into marine but then I went into the Diving Unit and opportunities came to move and I find myself still in the maritime sector 25 years later," he said.
Mr Barrell is married with three children and lives in our area. He has a lengthy association with Surf Life Saving as a volunteer at the North Curl Curl and Pambula clubs and also worked as a lifeguard in Warringah and the Channel Islands, making him an excellent choice for understanding and supporting the work of our volunteers in Marine Rescue Broken Bay and all Marine Rescue units.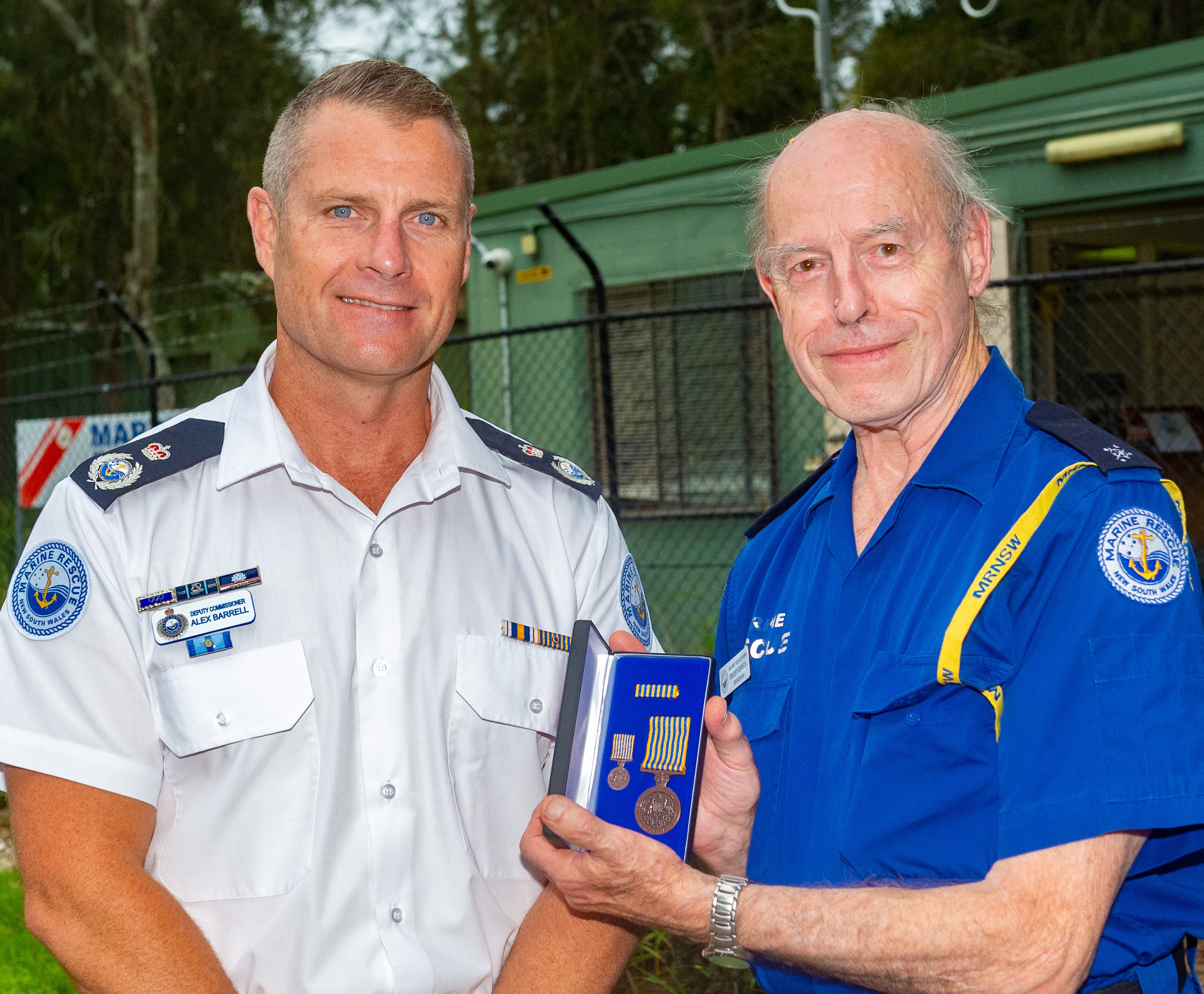 Congratulations to Gregory Robinson on achieving 15 years service medal and pin with MRNSW presented by Deputy Commissioner Alex Barrell. Photo: Michael Mannington, Community Photography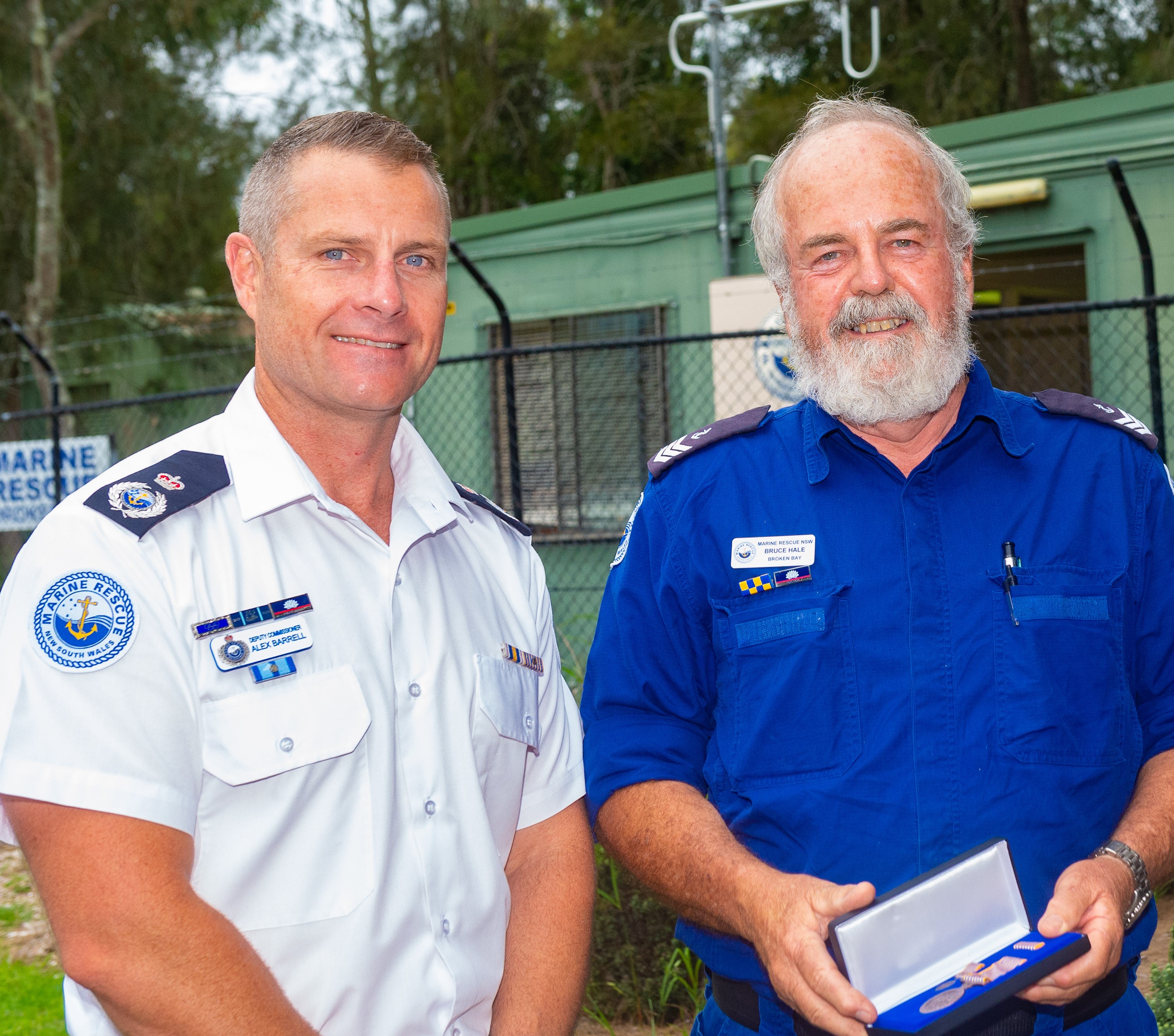 Congratulations to Bruce Hale on achieving 15 years service medal and pin with MRNSW, presented by Deputy Commissioner Alex Barrell. Photo: Michael Mannington, Community Photography
Congratulations to Tertius Bezuidenhout and John Weaver on receiving their 5 year service pins presented by MRNSW's Deputy Commissioner Alex Barrell.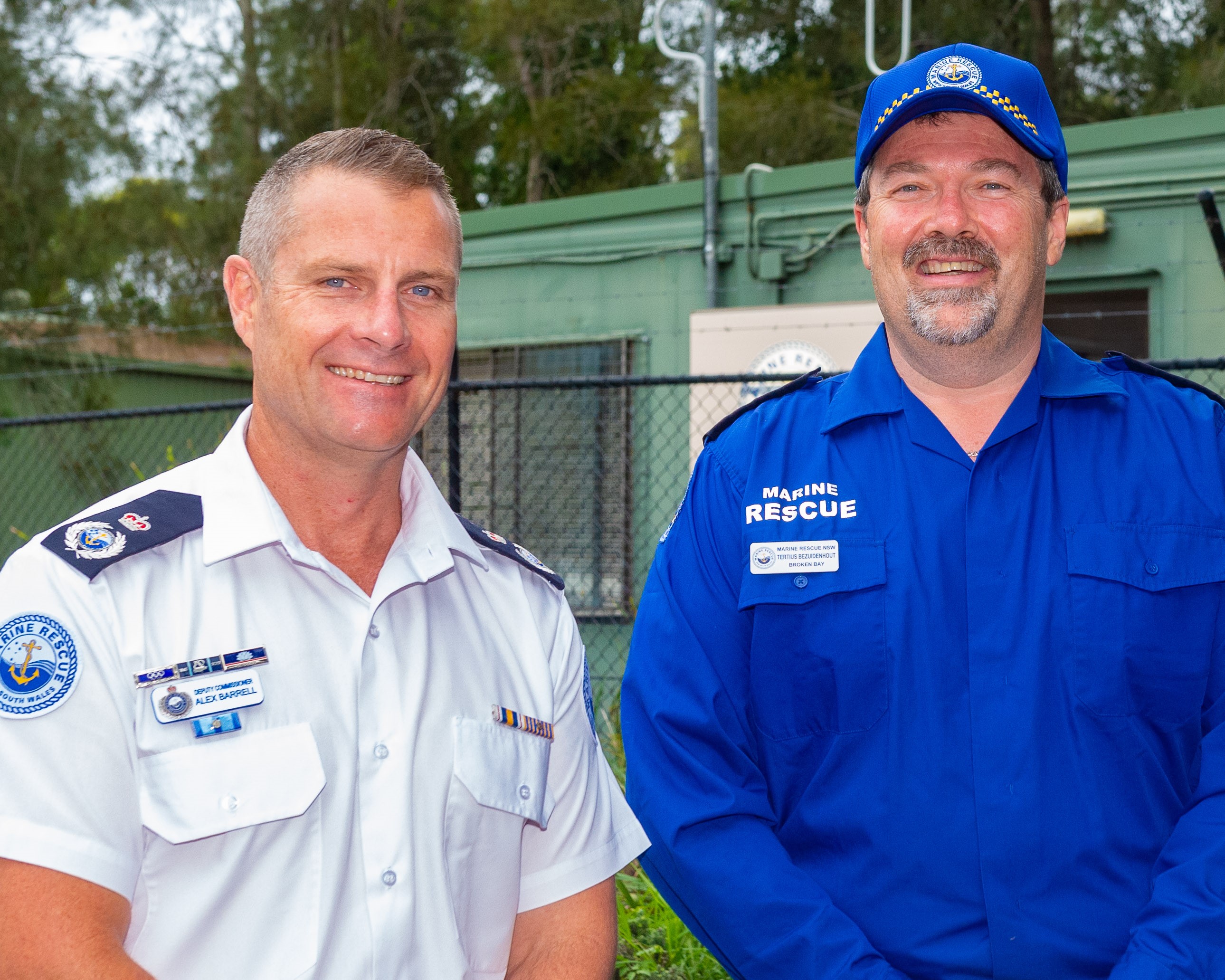 Tertius Bezuidenhout and Deputy Commissioner Alex Barrell. Photo: Michael Mannington, Community Photography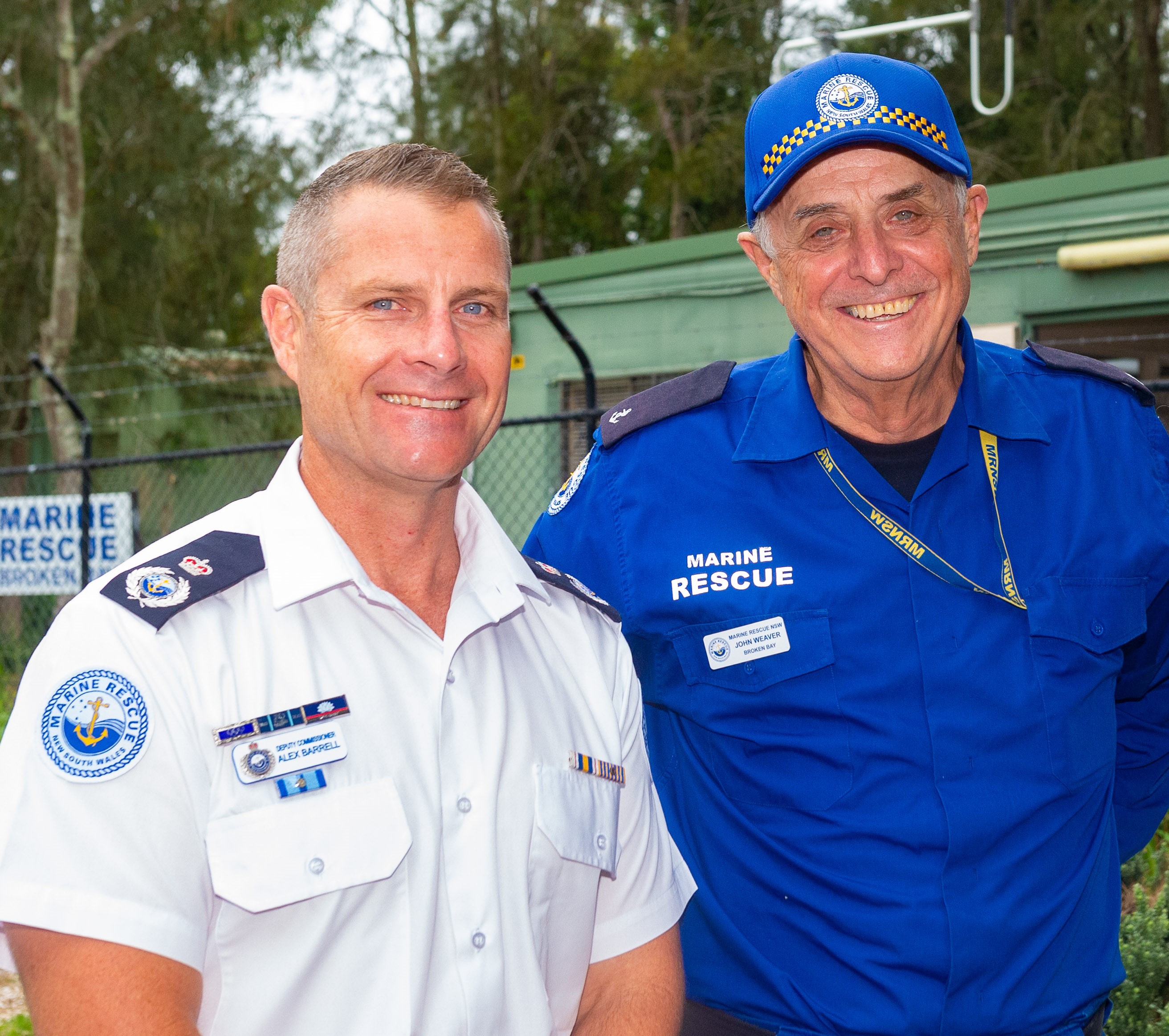 John Weaver and Deputy Commissioner Alex Barrell. Photo: Michael Mannington, Community Photography

Both members have not only contributed a large portion of their time volunteering with our Broken Bay unit, but helping our community keep safe and continually putting others first. Our members where lucky to have our Deputy Commissioner Alex Barrell (centre) available to present the awards. Thank you Gentlemen for your time and commitment.

Marine Rescue Broken Bay unit's new Competent Crew members David Calleja and Frank Costanzo were presented with their epaulettes.
Great work and thank you for your hard work to achieve your new rank.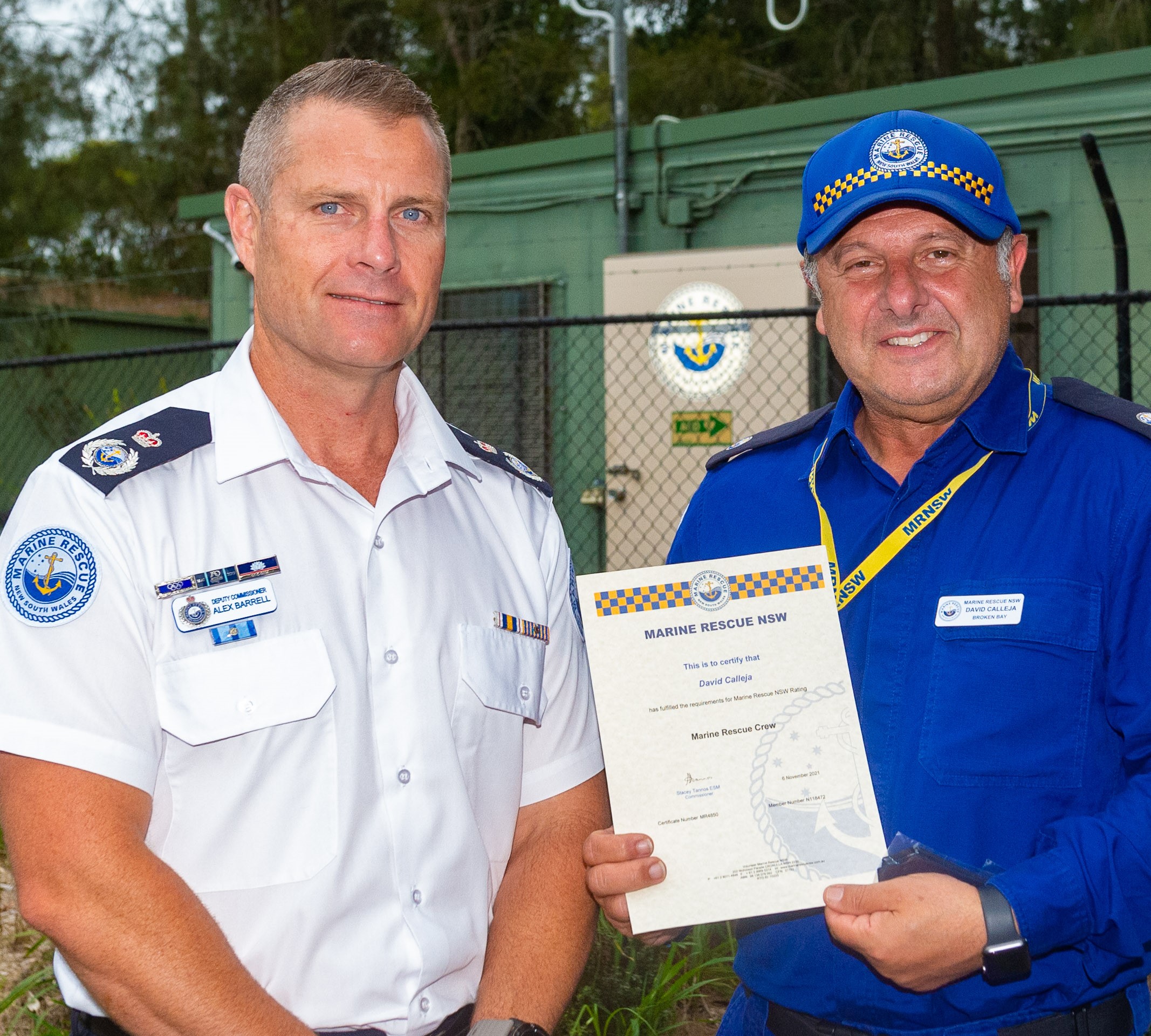 David Calleja and Deputy Commissioner Alex Barrell. Photo: Michael Mannington, Community Photography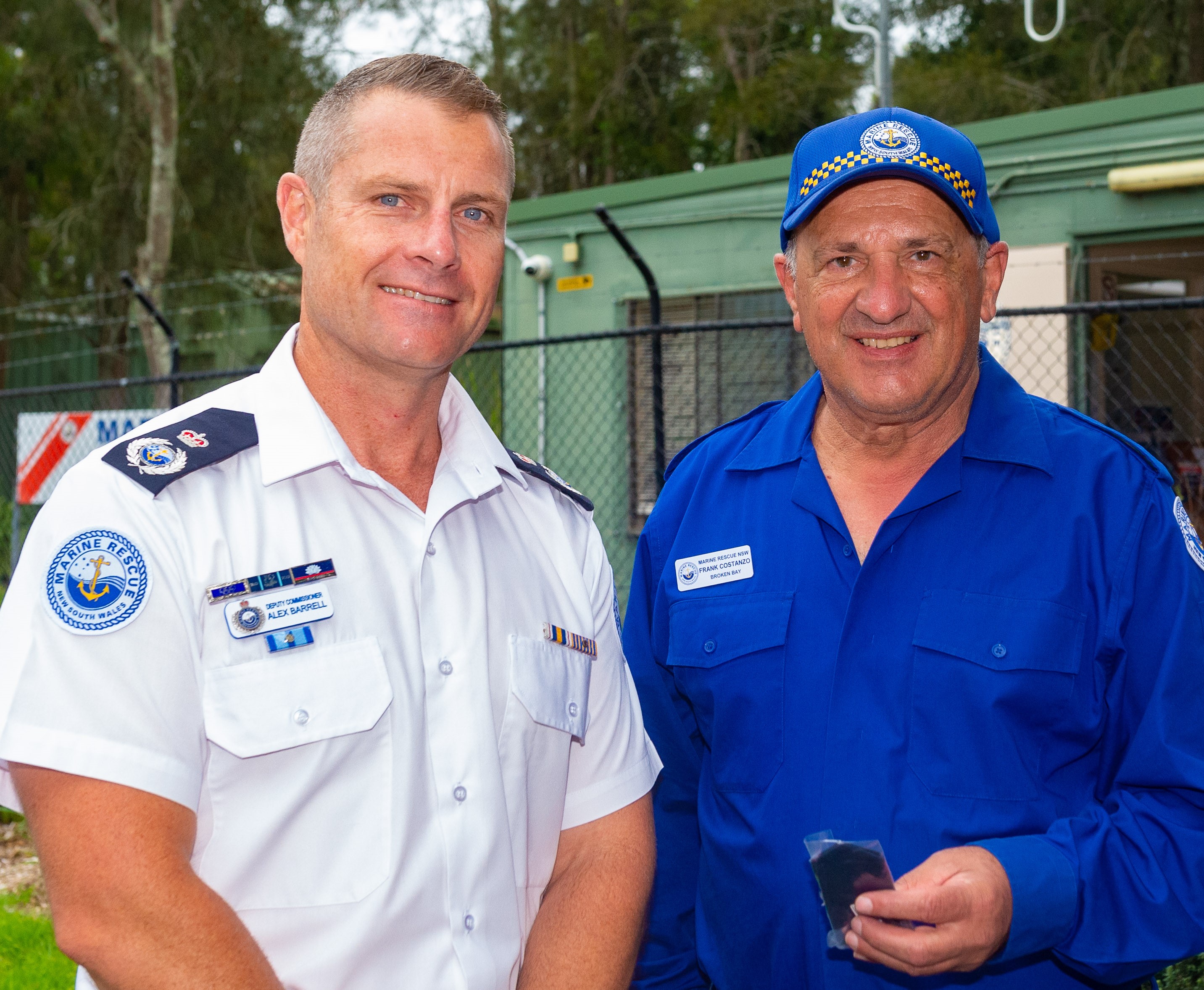 Frank Costanzo and Deputy Commissioner Alex Barrell. Photo: Michael Mannington, Community Photography

Jimmy Arteaga Unit Commander of Marine Rescue Broken Bay said:
''Thank you to all our 100 Broken Bay members who continually give up their time weekend after weekend, public holidays and miss those special family moments volunteering to keep our community safe by rescuing those in peril or providing assistance to ensure everyone gets back home to their loved ones. Your dedication and commitment to making sure everyone gets home safely is commendable.''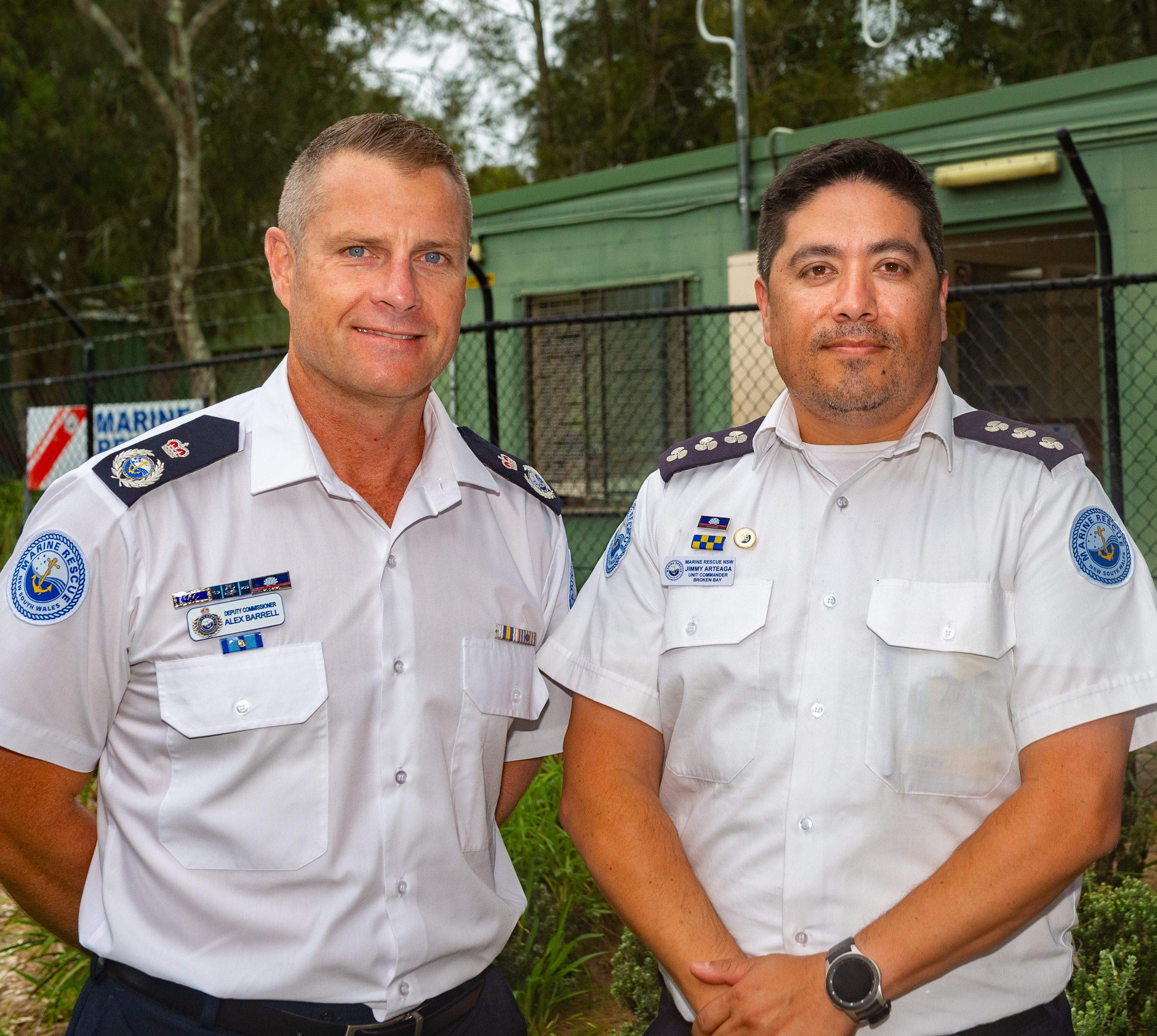 Deputy Commissioner Alex Barrell and Jimmy Arteaga. Unit Commander of Marine Rescue Broken Bay. Photo: Michael Mannington, Community Photography
Soon after these awards were presented the Marine Rescue vessel BB30 was activated to assist a disabled 30ft sailing vessel 1n.m. off Warriewood Beach, Due to poor sea conditions the tow back to safe harbour in Pittwater would be slow, estimated return back to safe harbour was 1800.
After a lumpy tow, BB30 rounded Barrenjoey Headland and made its way into Pittwater. The stricken vessel was towed to Scotland Island where it was be placed on its mooring.
Great work by the BB30 crew - thank you for your service.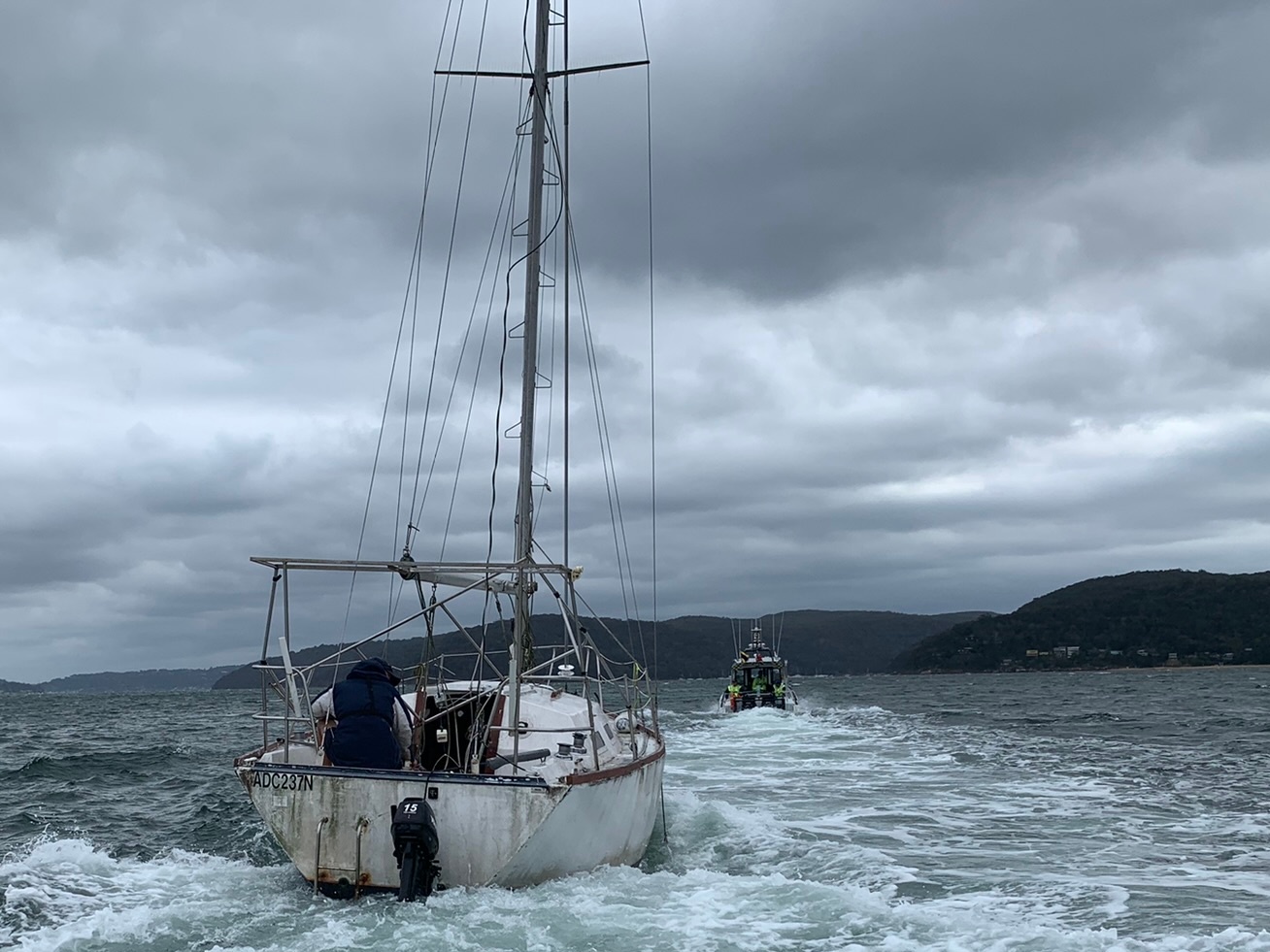 Rescued yacht being towed into Pittwater. Marine Rescue Broken Bay photo.
The rescue may one of several the Marine Rescue Broken Bay unit will be deployed to meet over the coming season and comes just days after Marine Rescue NSW Commissioner Stacey Tannos has urged boaters to be safer on the water at the 'Get Ready for Summer' media event hosted by the Minister for Police and Emergency Services on Wednesday December 1st, 2021 - the first day of Summer 2021-2022.
Avalon Beach 100th – Centenary Celebrations - Centenary Art Exhibition Opening Night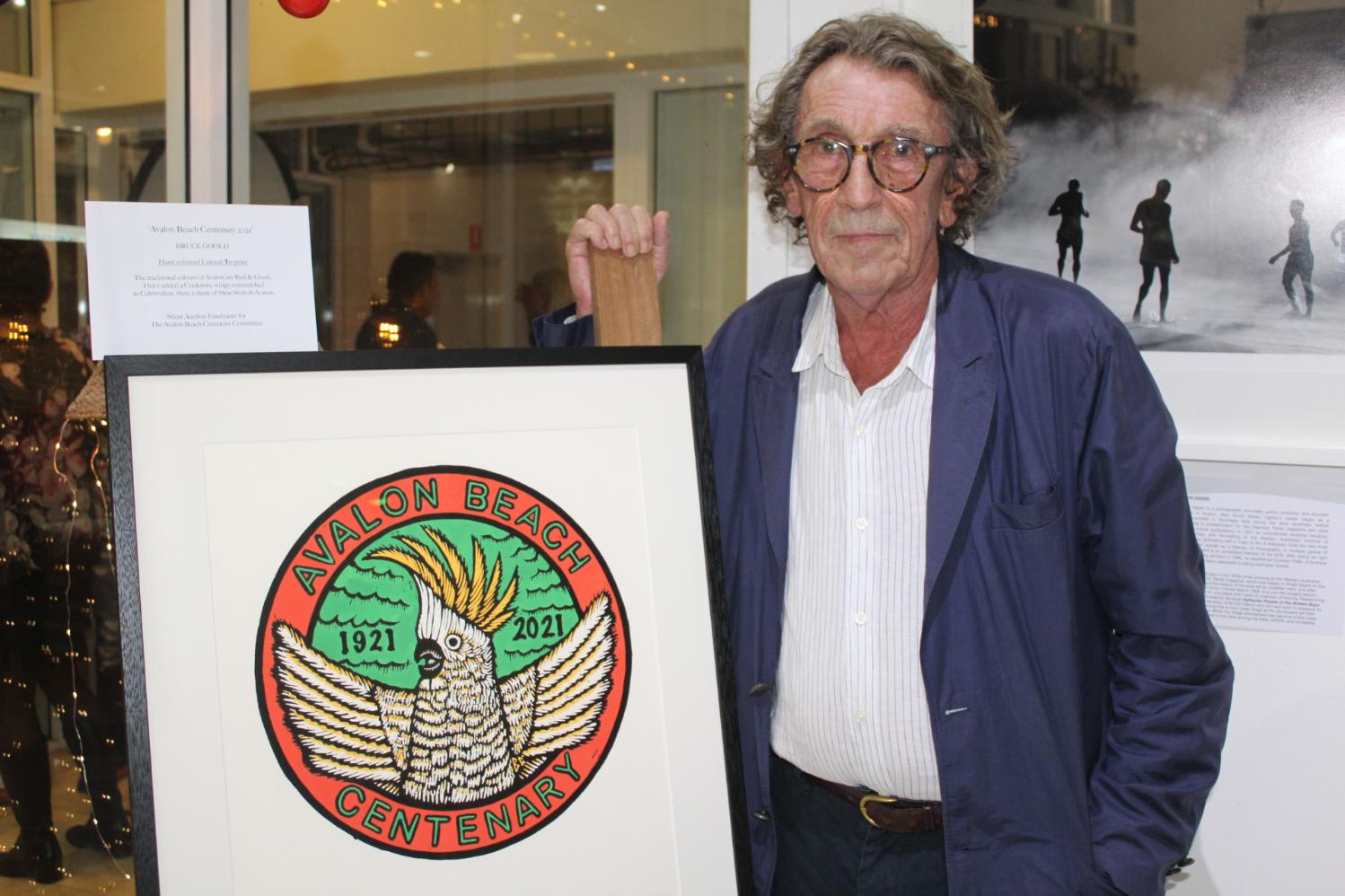 Artist Bruce Goold with the original No 1. Hand Coloured linocut.
Bruce says, ''The traditional colours of Avalon Beach are Red and Green. I have added a Cockatoo, wings outstretched, in Celebration. There are many of these birds in Avalon Beach.''
This No 1 print is a silent auction Fundraiser for the Avalon Beach Culture Collective Inc + Avalon Beach Centenary Committee.
The Committee says, ''The original Avalon Beach Centenary 2021 Logo linocut designed for The Avalon Beach Centenary Committee by Bruce Goold will be sold via a silent auction that will commence from Tuesday the 7th of December at Avalon Art Gallery in The United Cinema Arcade in the heart of Avalon.
This particular print is a one off as after it was printed and hand coloured, Bruce recut small sections of the Lino to lighten the wing section of the cockatoo.
Please come to the Exhibition to enter your bid or phone Jen at the Gallery on 0411 623 204 during business hours for more details.
The silent auction will run until the close of the Centenary Art Exhibition which finishes on the 19th of December. The money raised from this auction will go to the Centenary Committee in order to facilitate more events during the year long 100 year Celebrations.''
On the process, Bruce explained, ''These have been made using the Giclée method. Giclée is a French term meaning "to spray", referring to how an inkjet printer works and how giclée prints are usually produced. These large format inkjet printers use small spraying devices that can both match colour and apply ink precisely, giving artists a high-quality print of their original art with much more density in the colours.
I have hand-coloured these and this is an Edition of 100 from the original Linocut. These Archival Giclée prints, signed and numbered on 310 gsm Canson fine French etching paper, are available.''
Worth noting: To be able to make such a high-quality print, the camera or scanner used to capture or scan the art must be able to do so with a high level of resolution. To compare, most digital photos are recorded at a resolution of 72 DPI on the screen, or "dots per inch," and the image file of an art print needs to be at least 300 DPI—because the more dots of colour that can be printed in a small area, the more detailed your final image will appear.
As far as ink and paper go, they must be high quality and considered "archival." This is typically achieved using inks that are pigment-based instead of dye-based and any canvas, watercolour paper, or speciality printing paper designated as archival.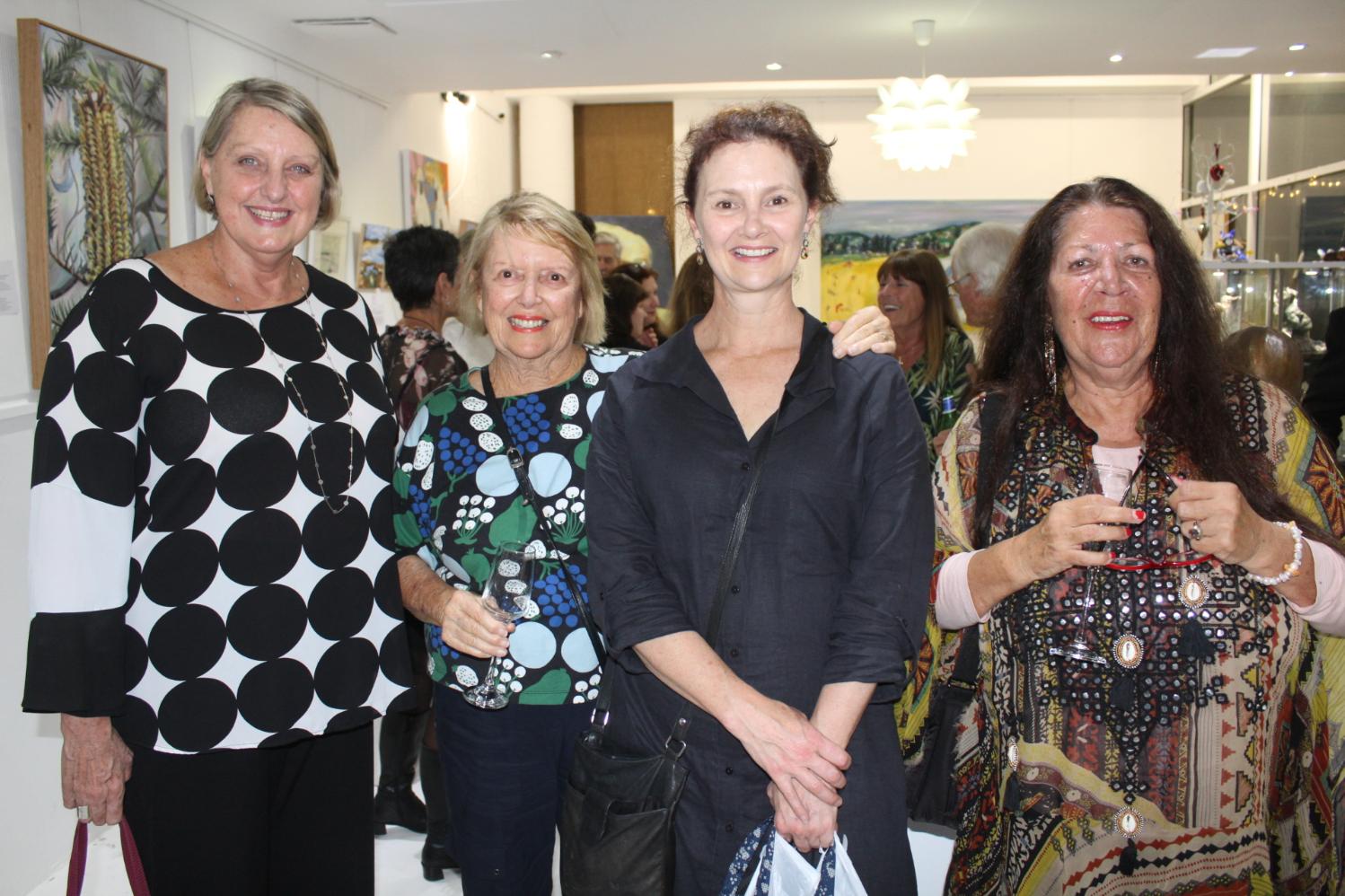 Music For Our Ears: Saturday December 4, 2021
The - Avalon Beach Culture Collective Inc + Avalon Beach Centenary Events committee hope to have some Music/singers and performers around the Village over Summer. They are also looking to roll out some music concerts.
Sam Shaw's son Oscar Browne, along with Sam Wilkins have been liaising with our local talent and we hope to launch at least 2 concerts in March 2022.
On Saturday December 4th Liz Player (Elizabeth) and Jacob Jayasena played outside the Avalon Beach picture theatre, enticing all to listen as well as visit the Avalon 100 Art Exhibition.
On Avalon's Village Green, Dunbar Park, Sam Shaw and The Big Sing members entertained those lining up to vote in local council elections.
Liz Player (Elizabeth) and Jacob Jayasena playing for residents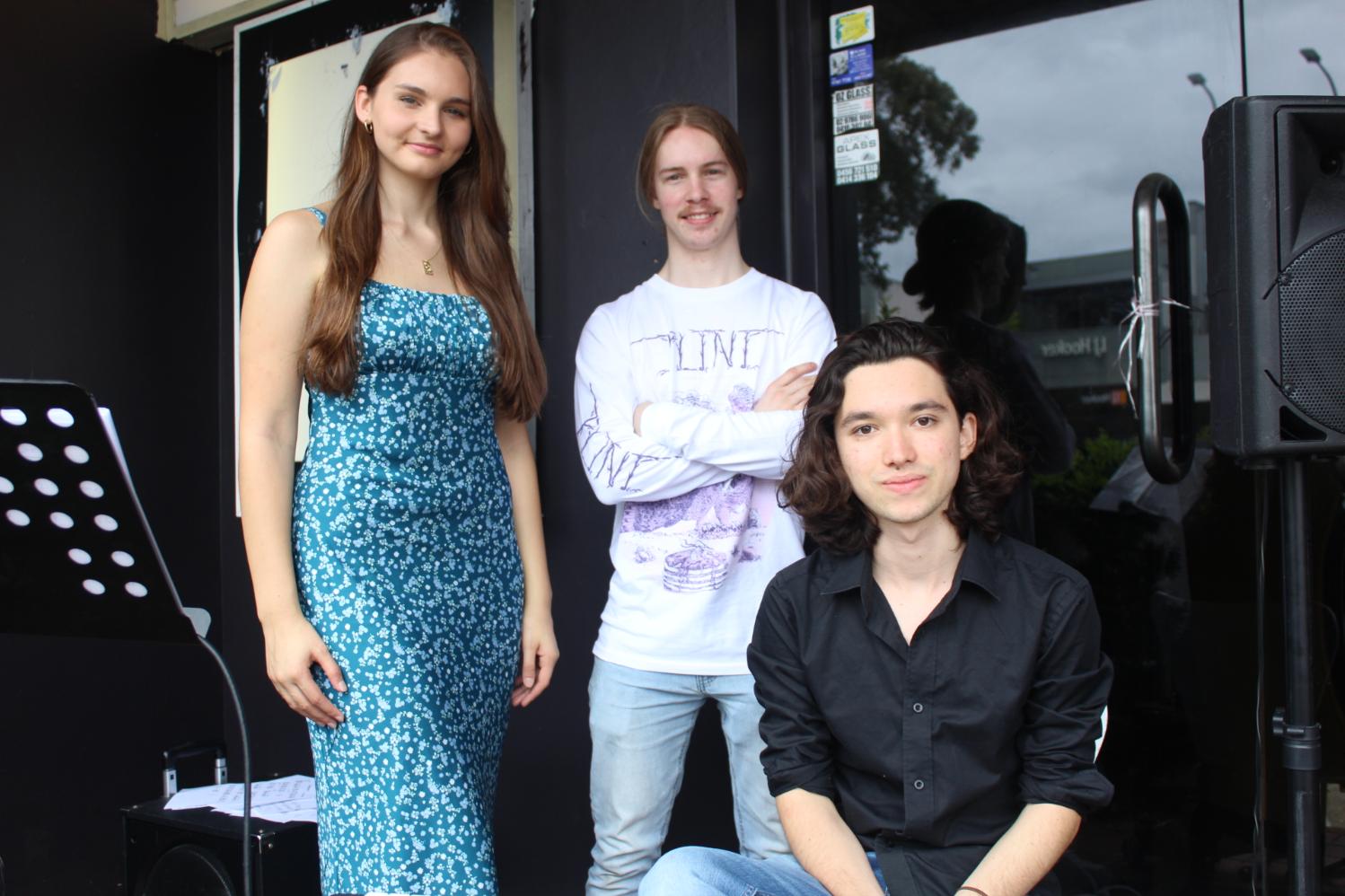 Liz Player (Elizabeth) and Jacob Jayasena with Oscar Browne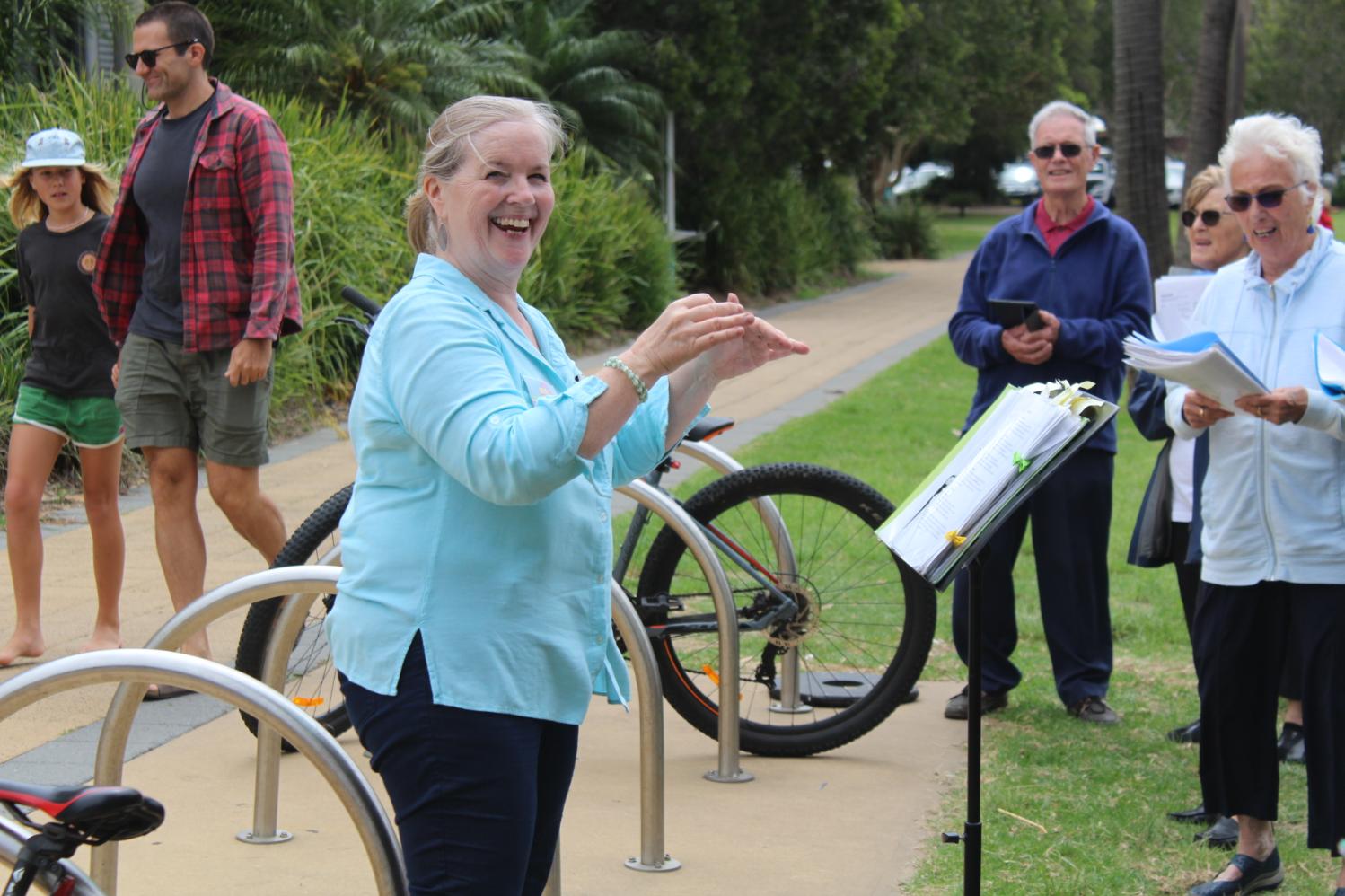 Sam Shaw in action on Saturday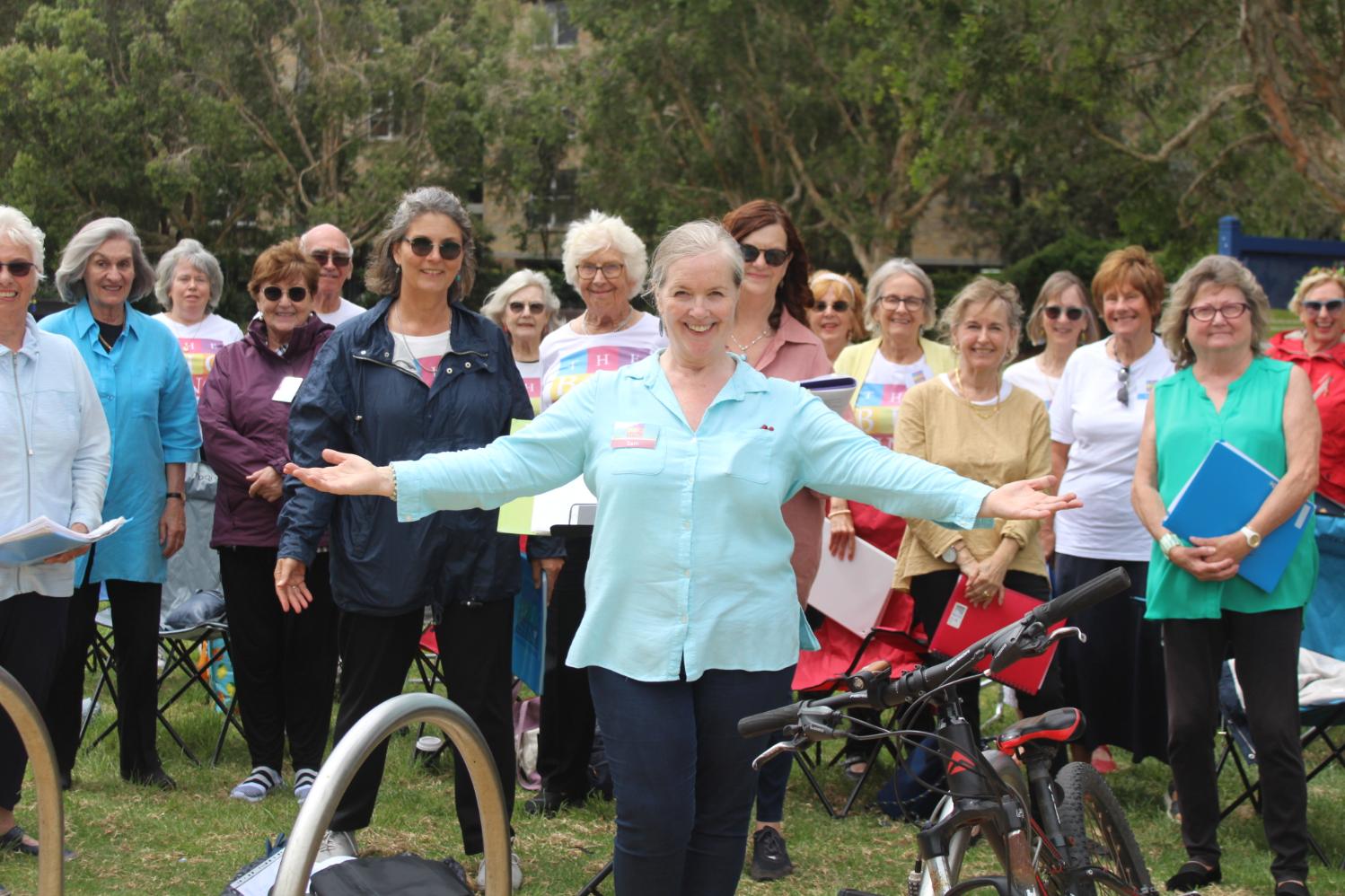 Sam Shaw and some of The Big Sing - post giving a few numbers (there were some wonderful gentleman singers as well - out of picture here)
Narrabeen Lakes Sailing Club Fire: Members Launch Fundraisers To Get The Kids Back On The Water After Loss Of Equipment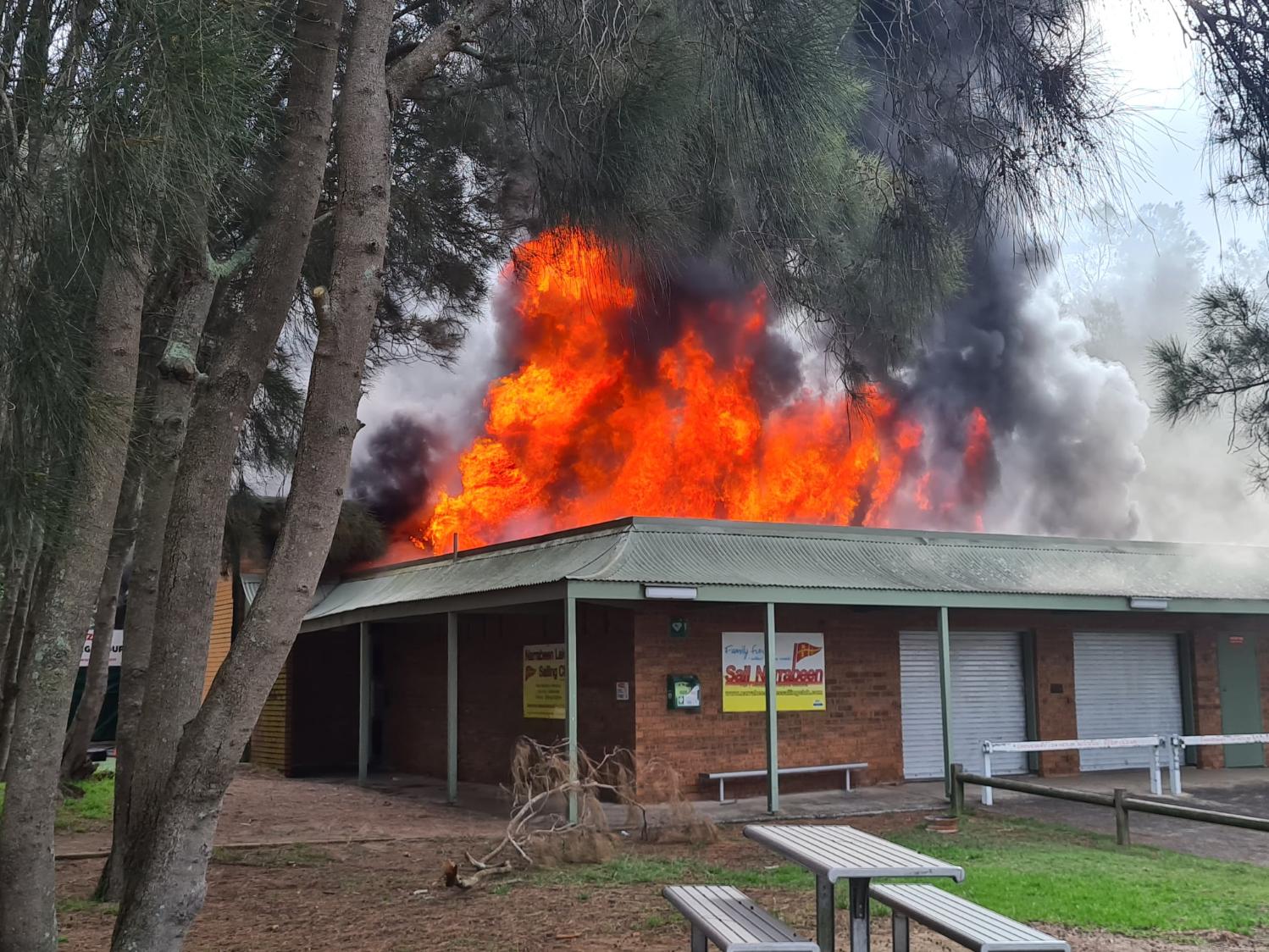 Around 5.30 pm on Saturday November 27th a fire broke out at the rear of the Narrabeen Lakes Sailing Club's facilities in Jamieson Park, on the lagoon.
Fire and Rescue NSW responders from the Narrabeen, Mona Vale and Avalon brigades attended. A
video posted on social media
by Ray Bush showed the extent of the blaze. The fire took around an hour for the responders to bring under control.
Narrabeen Lakes Sailing Club Statement

The NLSC committee and members of the club are deeply saddened by the fire at Jamieson Park. We are relieved that no one was injured in this tragic event.




We are working with authorities to understand the cause of the fire. It appears, at this stage, to have originated and significantly impacted the rear of the building which is occupied by Jamieson Park Paddle, a kayak hire business which is not affiliated with NLSC.




We do not yet know the extent of damage to NLSC and its equipment and while it's been reported on social media that the building housing the club is destroyed, we haven't been able to access the premises to confirm this reporting.
Since last
Issues' Notice
Engineers and Council staff have visited the site and fenced off the area due to the structural instability of the building and the presence of asbestos.
Council has installed four temporary toilets at the location and are working with the lessees to arrange storage for items that may be salvaged from the wreckage.
Council is also working with Police and NSW Fire and Rescue who are investigating the cause of the fire.
Once investigations are completed by authorities, and the extent of the damage is known, Council will liaise with its insurers to determine if the building will be demolished and re-built or repaired.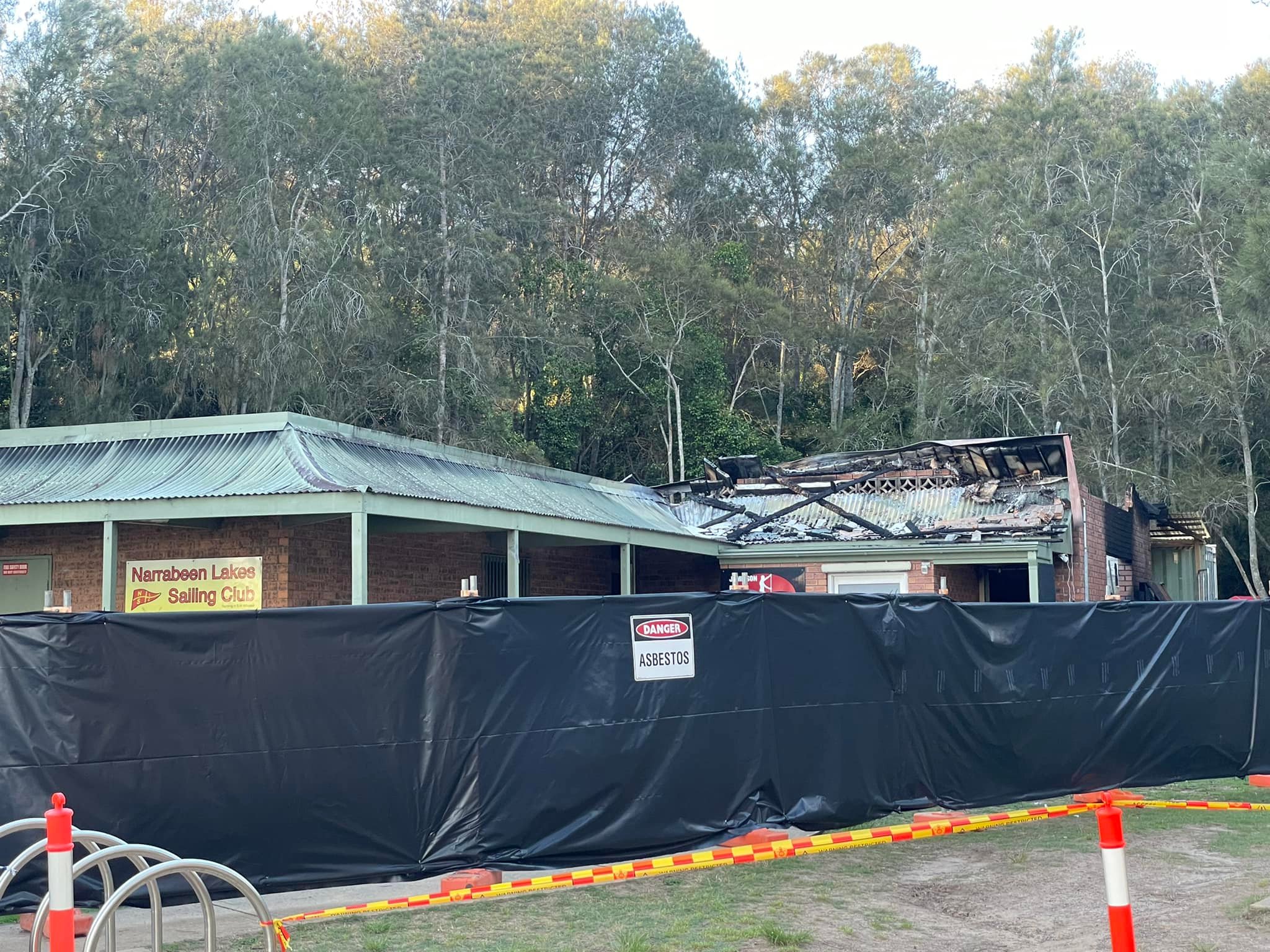 Narrabeen Lakes Sailing Club Clubhouse this week. Photo: Margaret Woods
On Monday, November 29th, the NSW Police Force stated that Police are appealing for public assistance following a building fire on Sydney's Northern Beaches at the weekend.
A crime scene has been established and as inquiries continue into the circumstances surrounding the fire, police are appealing for anyone who may have information to contact Northern Beaches Police on 02 9971 3399 or Crime Stoppers on 1800 333 000.
Anyone with information about this incident is urged to contact Crime Stoppers: 1800 333 000 or
https://nsw.crimestoppers.com.au
. Information is treated in strict confidence. The public is reminded not to report information via NSW Police social media pages.
Members of the
Narrabeen Lakes Sailing Club soon realised that
all of their equipment including safety boats and learn to sail boats had been destroyed.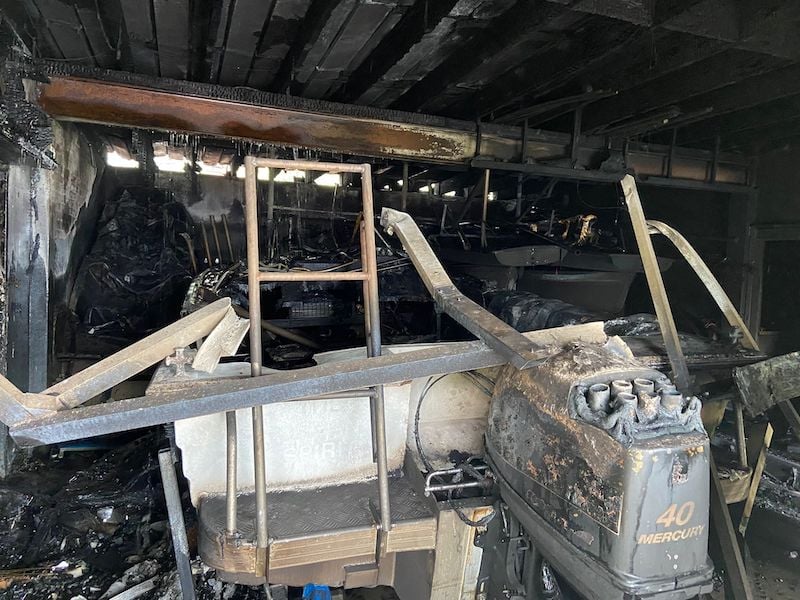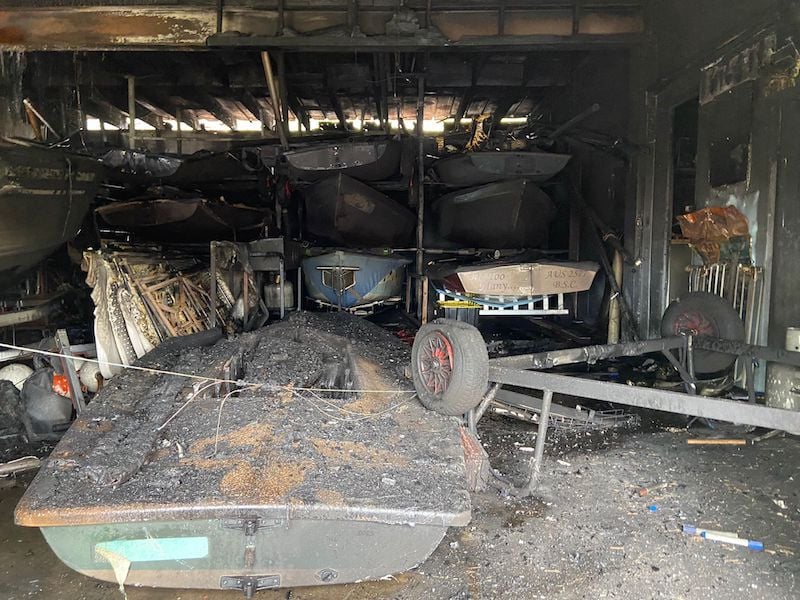 NLSC photos.
The club is entirely run and managed by volunteers, and is not-for-profit. It has a strong family ethos and a large kids learn to sail program.
Although the Council has insurance for the building the NLSC need help to get NLSC back on the water with new equipment so we can encourage the next generation of sailors through the club. They launched a
fundraiser page
which quickly accumulated donations of almost 17 thousand dollars.
Since then they have launched a tax deductible donations option via Australian Sports Foundation - see link below (Go Fund Me also still active if you prefer).
The funds raised will help the club to keep the club afloat until they can rebuild and to get an interim sailing solution in place for their junior sailors in particular.
The NLSC says: ''We've been incredibly moved as a club by the support and kindness of the local community, the broader sailing community, our members past and present and the Northern Beaches Council.''
''Although we have contents insurance, it will not be enough to rebuild the club from the ground up or help us cover current club costs and find alternative arrangements for the kids this Summer.''

Please help out if you can to keep the kids on the water this Summer and into Autumn to teach them about fitness, resilience and just having fun because, as we all know around here:
"Believe me, my young friend, there is nothing - absolutely nothing - half so much worth doing as simply messing about in boats."

― Kenneth Grahame,

The Wind in the Willows.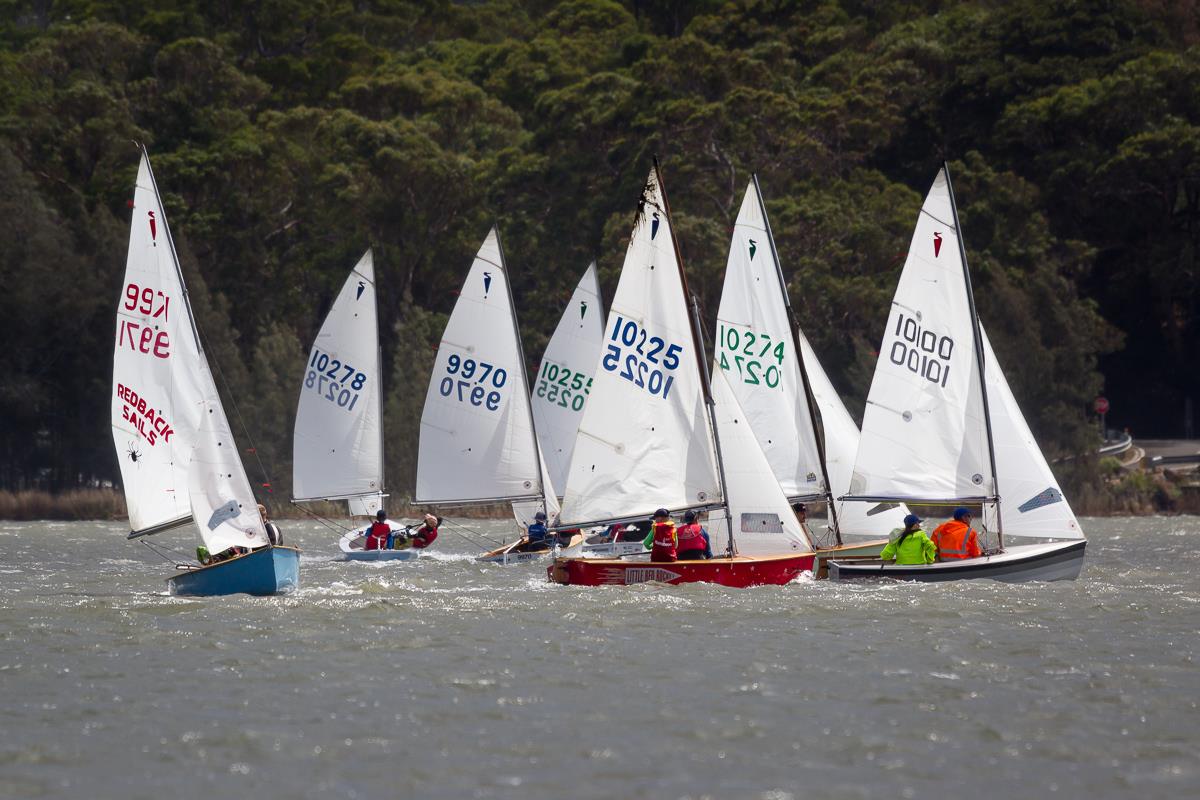 NLSC photo
Line In The Sand Demonstrators At Collaroy Sea Wall Call For A Better Solution Than Destroying This Public Beach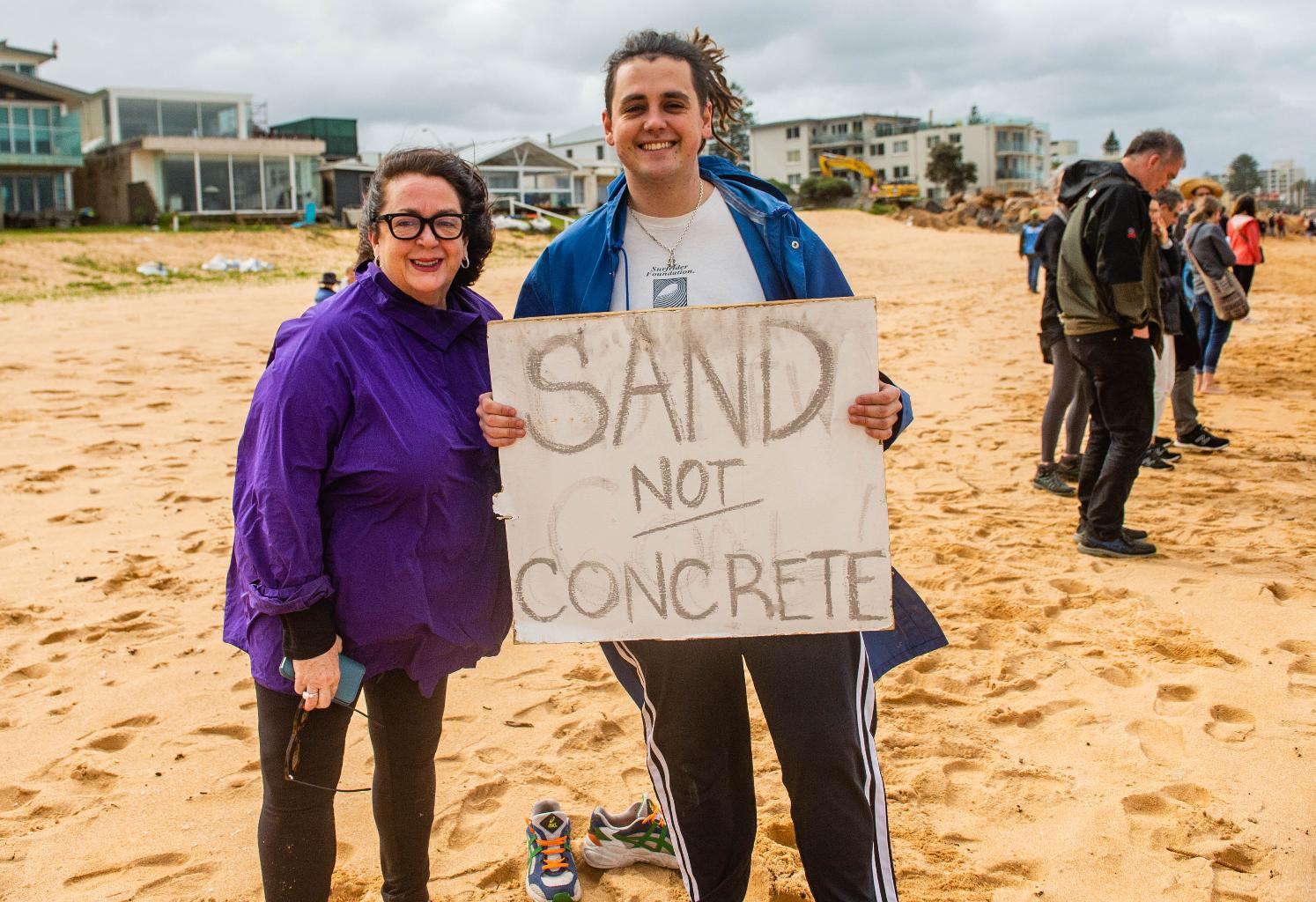 Wendy Harmer and son Marley Donohoe were part of the Line in the Sand II peaceful demonstration.
Photo: Michael Mannington, Community Photography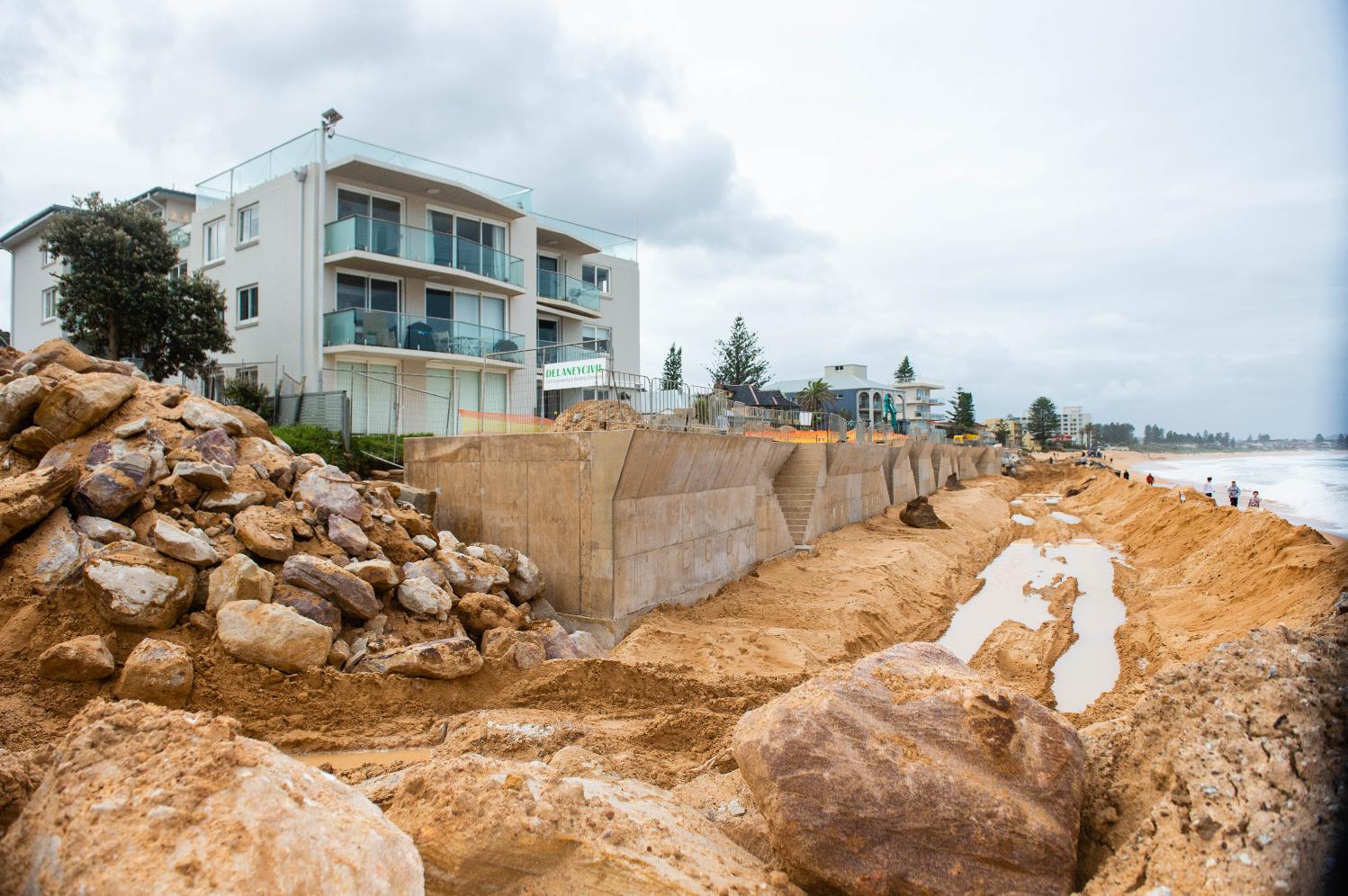 The Collaroy-Narrabeen beachfront at present.
Photo: Michael Mannington, Community Photography

On Saturday November 27th residents held a peaceful demonstration along the Collaroy-Narrabeen beachfront calling on the council and NSW Planning Minister to find some other solution other than continuing constructing the Collaroy sea wall further north.
Despite awful weather conditions people came onto the beach over the rocks, over the sand excavations, from both the north and the south. Their aim is to protect and preserve the beach.
''When humans build seawalls on beaches to protect private property and infrastructure, they harden the coast and remove its ability to recover naturally. One thing is absolutely certain according to coastal scientists worldwide: vertical seawalls protect land property in the short-term but, eventually, destroy beaches.
We are asking Northern Beaches Council to stop the construction of the vertical seawall, and consult with the broader community about more effective measures that protect private property but do not risk the loss of our precious beach system.'' Surfrider Foundation Northern Beaches states.
''Thank you again to all who braved the elements last Saturday to defend our beach and say NO to the vertical sea wall.
There is still much to do to sort out this mess locally, and also to prevent these horrible mistakes from happening elsewhere on our coast.
Please go to www.lineinthesandcollaroy.org to send a petition to Northern Beaches Council and an email to Rob Stokes
There are better solutions to protect property and preserve our beaches.'' the Foundation says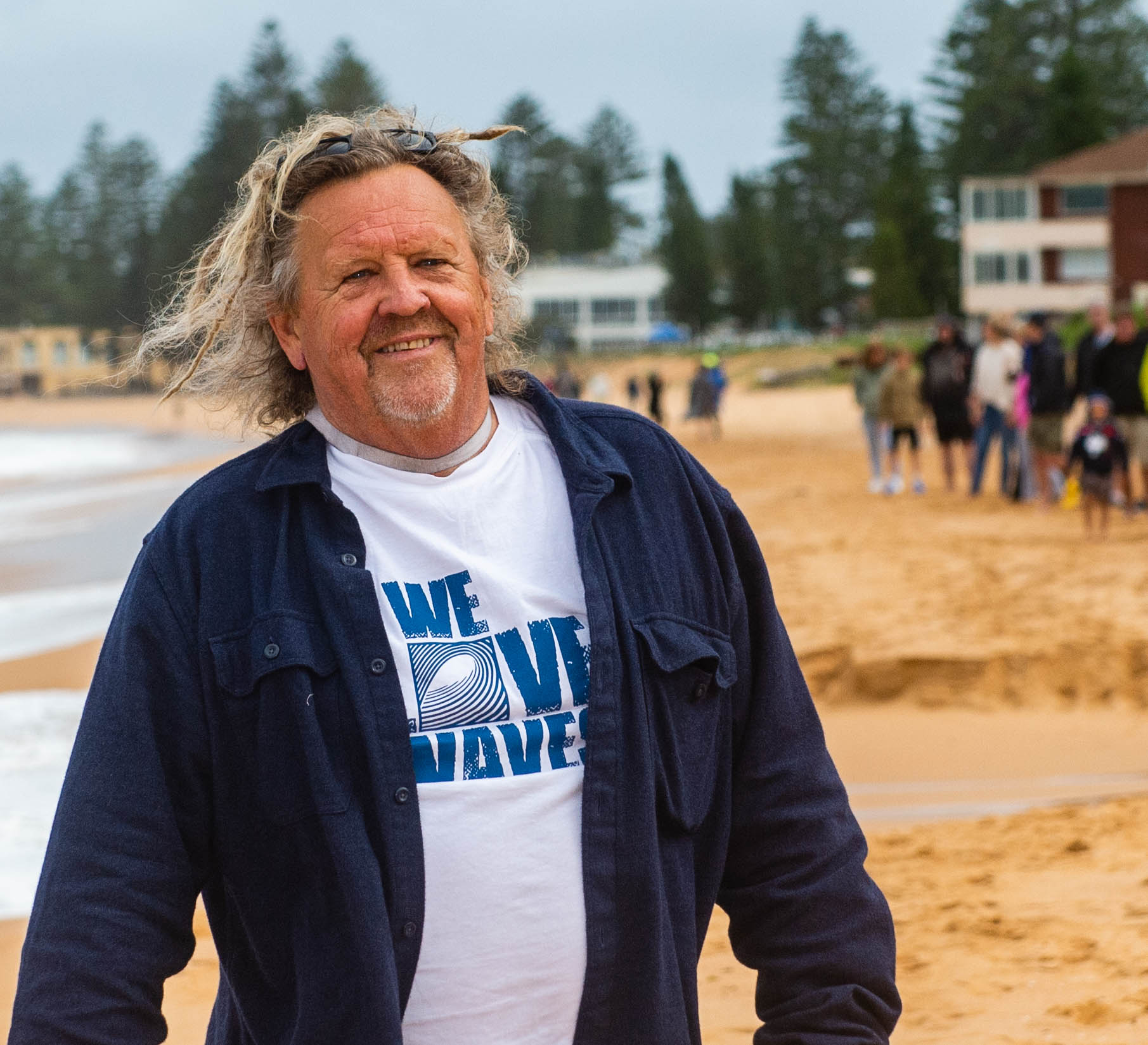 Brendan Donohoe, President of Surfrider Foundation Northern Beaches, at Line in the Sand 2021. Photo: Michael Mannington, Community Photography

Line in the Sand II demonstrators negotating the various obstacles currently in place along the Collaroy to Narrabeen beach
Photo: Michael Mannington, Community Photography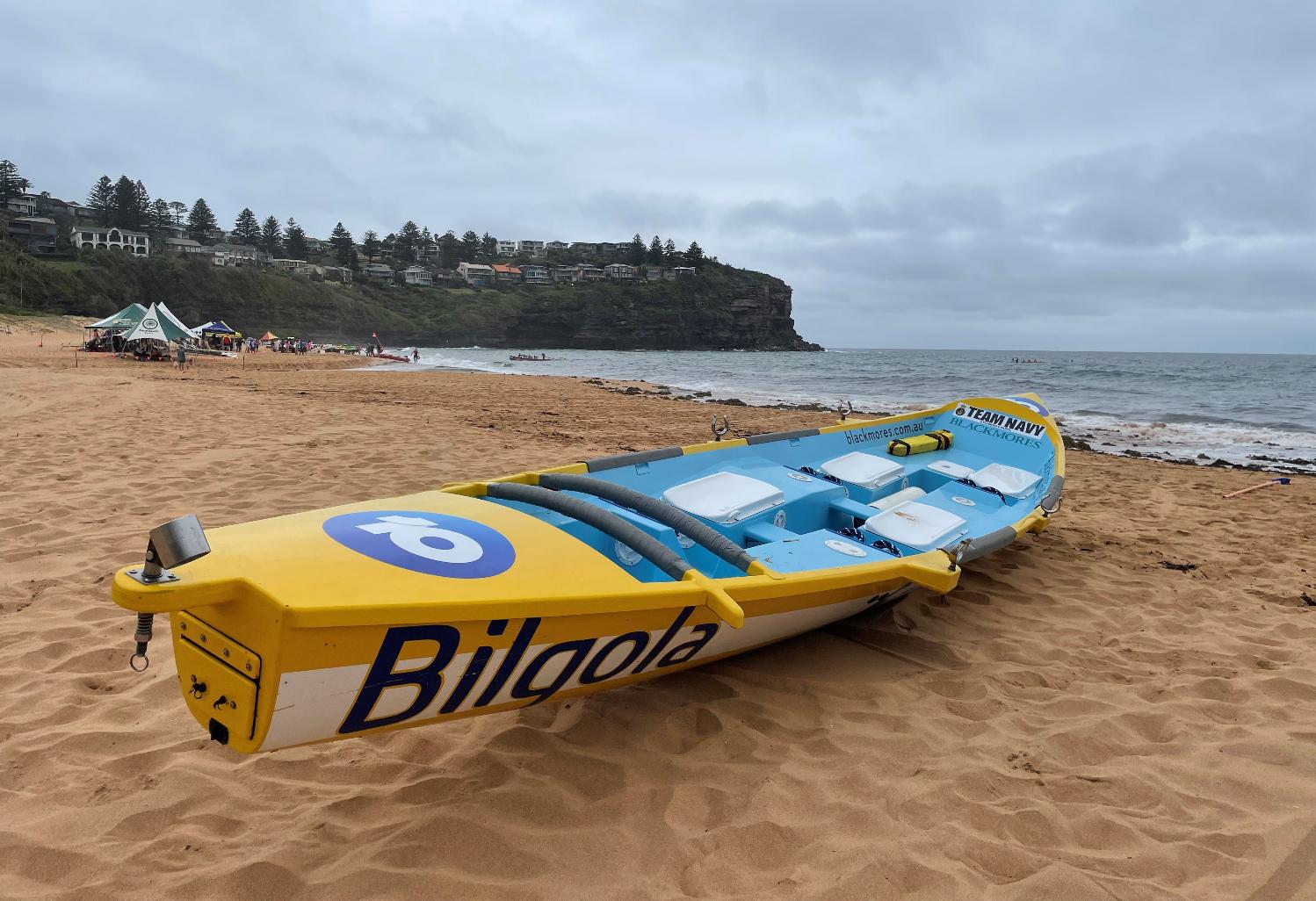 Bilgola Beach SLSC Hosted Round 3 of the SLSSNB Surf Boat Premiership on Saturday December 4th, 2021 - the last Surf Boat Carnival for the year. More next Issue - the last for 2021.
Photo: Romilly Madew AO FTSE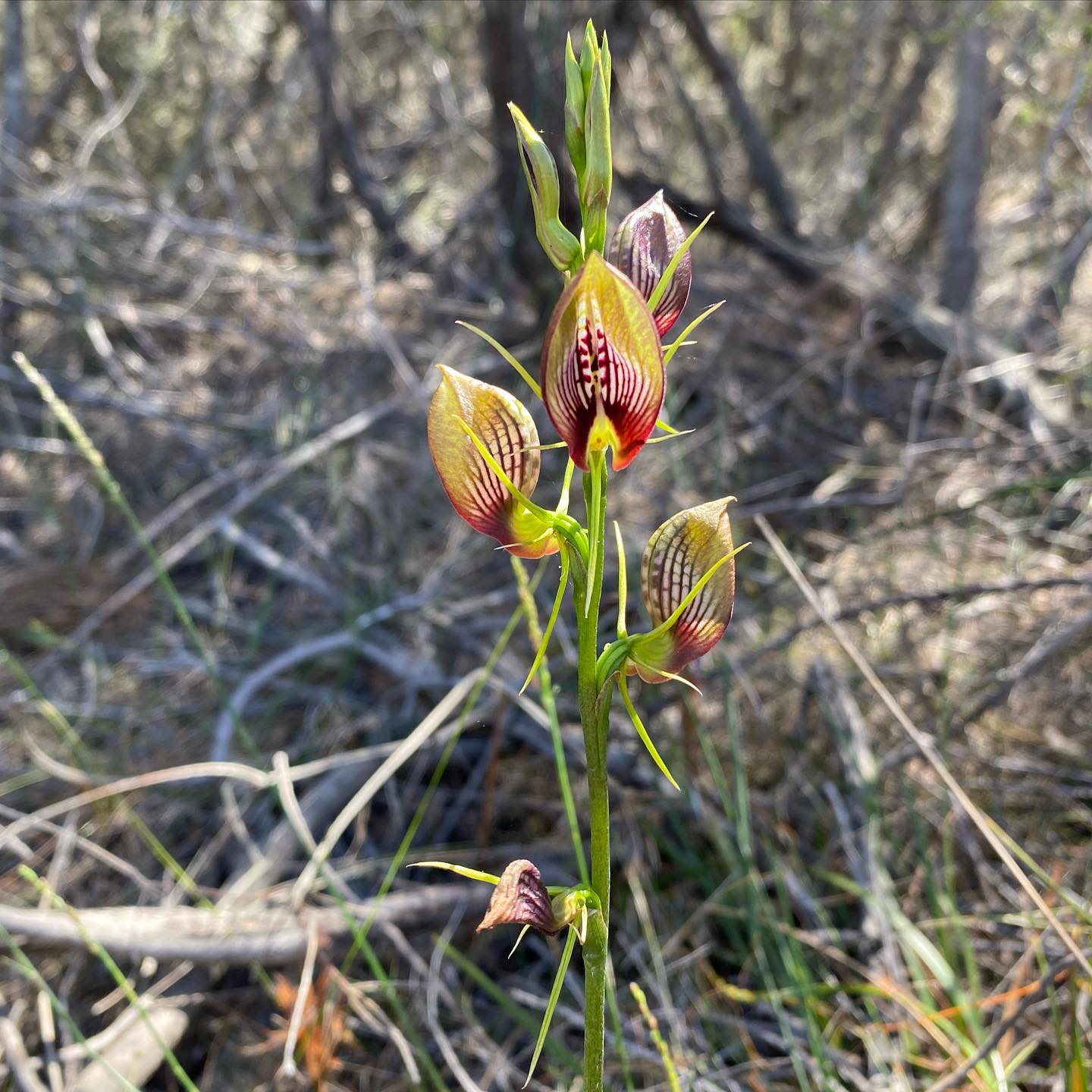 Bonnet orchid [Cryptostylis erecta] flowering at Manly Dam. Photo: Selena Griffith, December 2nd, 2021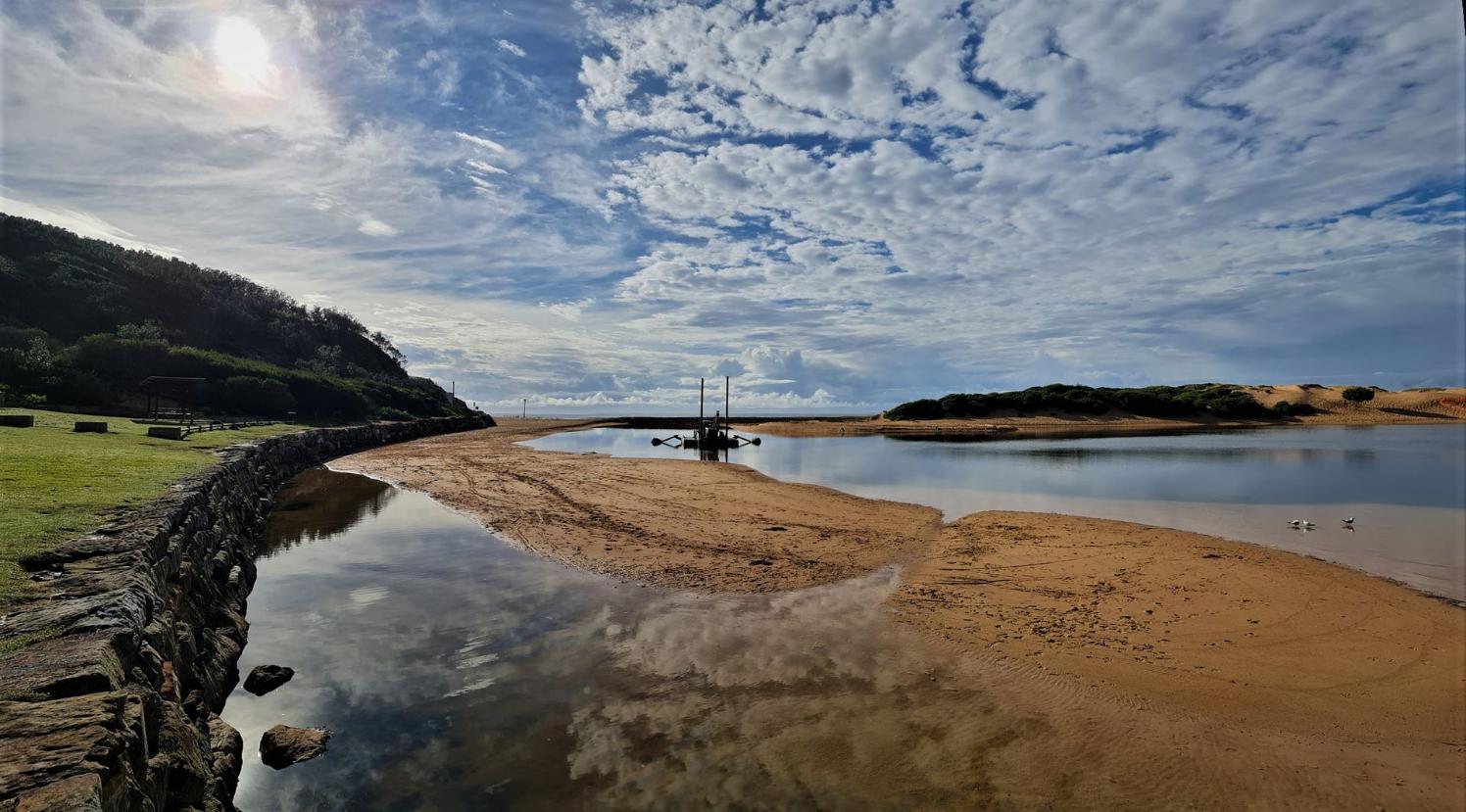 Narrabeen Lagoon Reflections - First Day of Summer 2021, December 1st. Photo: Joe Mills
Past Features Archives (pre 2014)
Pittwater Online News was selected for preservation by the State Library of New South Wales and National Library of Australia. This title is scheduled to be re-archived regularly.
Archived Issues (2014 on) may be accessed here: pandora.nla.gov.au/tep/143700