November 8 - 14, 2015: Issue 239
Computer Pals for Seniors Northern Beaches Inc.
Computer Pals for Seniors Northern Beaches
A club that helps interested seniors use their computers more effectively
Website www.compalsnb.org.au
The Tramshed 1395a Pittwater Road, NARRABEEN, NSW, Australia, 2101. Telephone: (02) 9913 1433
E-mail info@compalsnb.org.au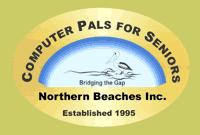 Hours of Opening
The club operates from The Tramshed Arts & Community Centre; 1395a Pittwater Road; Narrabeen overlooking Narrabeen Lake on Sydney's northern beaches; a most peaceful setting and very conducive to learning. We are open 9am-4pm Monday and Tuesday; 9am-1pm on Wednesday; Thursday and Friday. Wednesday; Thursday and Friday afternoons are reserved for meetings; courses and special events.
The Tramshed is about to be renovated and we need to be out of our home for 6 plus months (December 2015 to June 2016). Without the wise counsel of our treasurers, we would be facing the future with alarm. Happily we face the future with certainty and enthusiasm because we will have a temporary home with Dee Why RSL Club and yet a fourth location within the Tramshed.
We will be located in the Meehan Room at the Dee Why RSL from the 27th January 2016.
The club was formed in late 1995 and we have had over 2100 persons through our doors.
Currently we have over 180 members. We are members of ASCCA. Our elected President is Allan Burrowes and our vice Membership is open to seniors 55 and over and not working more than 20 hours per week.
We have wheelchair access to the clubroom. We have 30 trainers on duty during the week teaching; Windows 7, 8 and 10; Microsoft Office; CorelDraw; Internet and E-mail.
We have a CorelDraw group who meet on the 4th Wednesday of the month; run by Win Nielsen. If any 5th Wednesday is available we hold a lunch for Trainers to get together socially.
We also teach Apple on two iMac computers and more recently on Apple iPad2s. All the trainers teach the basics of the operating systems; plus word-processing; spreadsheets; photo editing using Picasa and the Internet. We have trainers who can help with Genealogy and tracing your family tree. If desktop publishing or accounting subjects are required; we can point members in the direction of the appropriate instructor.
Our clubroom is fully equipped with 6 up to date computers; laptops; printers; scanners and webcams. Our website is available at the address above and contains the current and past Newsletter; details of meetings etc. and any social dates coming up as well as tips and anything else the webmaster feels is of interest to visitors to the site.
President is Allan Burrowes.
Should you wish to enrol as a student or offer your assistance as a trainer please contact President, 9982 9829, email:aburrowes@optusnet.com.auAbout UsTo bridge the gap
Whether you want to send simple emails or edit a video, there will be a gap between your current knowledge and the skills you need to achieve a good result and enjoy the process.
Our club logo carries the words "Bridging the gap" and our aim is to help you bridge your knowledge gap whether it's small or large.
Computer Pals for Seniors Northern Beaches is a club which helps interested seniors use their computers more effectively. It is part of a popular and expanding network of similar computer clubs in Australia. The Northern Beaches club is a foundation member of the Australian Seniors Computer Clubs Association, (ASCCA) which was formed in 1998 to give these clubs a national voice.
Seniors have many reasons for wanting to become familiar with computers, particularly since they are used so widely in today's society. We can keep in touch with members of our family travelling anywhere in the world by e-mail or voice and video. We can manage our finances, do our banking, write our life histories and participate with our grandchildren who are using computers. The list is endless.
Computer Pals for Seniors is a non-profit organisation run by seniors for seniors. All members of the committee, and the trainers, are volunteers and pay to belong to the Club. Membership is open to people over the age of 55 years who have retired from full time work but may still be working up to 20 hours per week. In special circumstances membership may be offered to other people if they apply to the Committee.
Tuition takes place at the Tramshed Arts and Community Centre Narrabeen in the main building of The Tramshed. The clubroom is open Monday and Tuesday from 9am to 4pm and Wednesday, Thursday and Friday from 9am to 1pm.
The club is closed for general tuition during school holidays except for the Christmas period when we close for 4 weeks. Check the Clubroom or the website for details.
We do have special presentations and workshops during some of the holidays.
Tuition is mostly one to one so you can work at your own pace with no pressure to keep up with others.
We do, however, have some small group workshops and special interest groups: Corel with Win Nielsen on the 4th Wednesday every month.
The Club's Constitution and By-Laws are available to members on request. If you'd like a copy, contact the Secretary.
President: Allan Burrowes
Vice President: Nan Bosler
Secretary: Margaret Randall
Treasurer: Malcolm Raymond
Other Committee Members
Anne Matthews
Brian Mackie
John Peachey
Helen McHugh
What we Teach
Our clubroom is fully equipped with up to date computers including Apple Macs plus a large format printer and scanner card readers (for digital photography) and CD and DVD burners. We have a Digital Camera for club use, as well as a laptop, projector and a large LCD TV for presentations.
We are constantly revising and extending the list of applications and special interests we teach. Our original purpose was to teach enough of the "basics" to enable people to start using their computers effectively. The world doesn't stand still and technology moves at an incredible pace. Computer Pals Northern Beaches doesn't stand still either and new things are happening on a weekly basis. The following is not a complete list of all our activities so, if you don't find what you're after, please contact us and ask.
The club keeps up to date with the latest equipment and software but we can't cover everything and our lessons are generally limited to the equipment and software we have installed. Some people bring their laptops to the lesson and you are welcome to do that. We also have Apple Macs, ipads and trainers who can help you with their operation.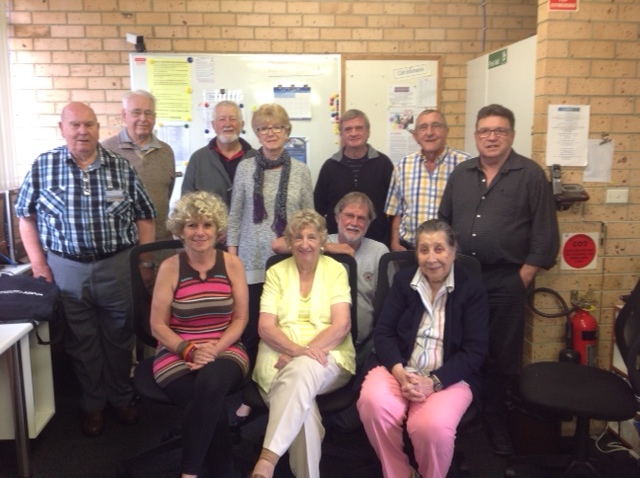 Our activities fall into three main groups:
1. How it works and how to look after it
General principles, operation, file management, maintenance and the computer's operating system (Windows 7, 8 & 10 and Mac operating systems) plus ipad operation.
2. Use of the more common software applications
How to use the applications that are included with the operating systems - email and Internet Explorer for the internet and those that are included in the Microsoft Office suite - Microsoft Word, Excel, Powerpoint.
3. Special interests - some trainers teach more advanced applications. Some of these are delivered individually, others in courses and some on particular days.
Some examples are:
Digital photography and image manipulation including photo restoration
Genealogy
Graphic design and creation
Video editing
Converting vinyl records to CDs
Using the internet to make telephone calls (VOIP)
Webpage design and creation
The software used includes, Picasa, Ezitree, Skype, Dreamweaver, CorelDraw and Photoshop.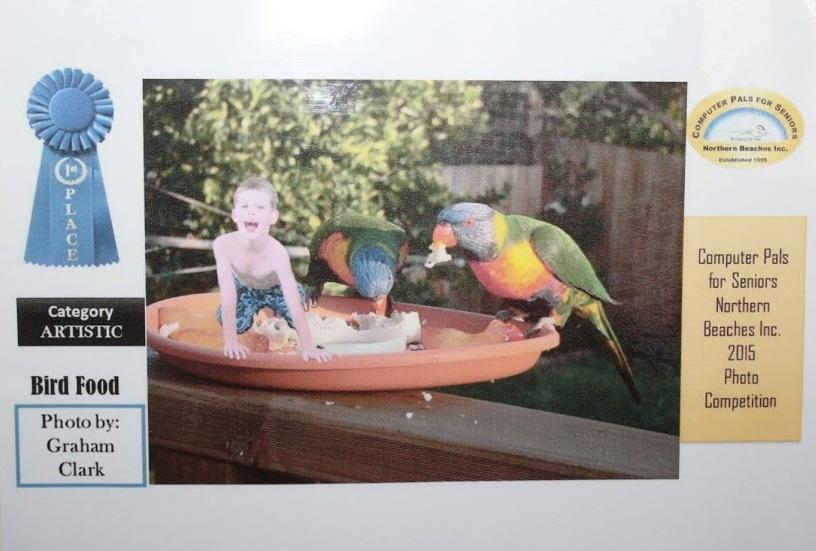 Procedure for Training Sessions
Each training session runs for one hour a week. The training roster is displayed in the Clubroom. Names can only be entered on the roster if fees have been paid.
All our trainers are volunteers and if you cannot attend a lesson, please let him or her know by phoning the day before if possible. Your trainer will give you a card with his or her phone number. If you do not come to class for 3 consecutive weeks without notification to the club, your name will be removed from the roster and your membership cancelled.
The Clubroom phone no. is 9913-1433. Please DON'T ring The Tramshed Community Arts Centre Office.
If any 5th Wednesday is available we sometimes have a social BBQ for members, or a workshop for the trainers.
Rosters
Current rosters are placed on the notice board. Your name is added for your one hour per week lesson when you join the club and pay the fees.
MembershipWho can join?
Membership is open to seniors aged 55 and over who are working no more than 20 hours per week.
We have wheelchair access to the clubroom.
How to join the Club
Complete and lodge the Application Form together with your Joining Fee and Quarterly Tuition Fee.
Download an application form
Fees
Annual Membership Fee - due 1st January: $25 (this also entitles students to enjoy groups, workshops and courses)
Quarterly Tuition Fee: $30 a term (3 calendar months per term - 4 terms per year excluding school and public holidays). This entitles students to one on one tuition for 1 hour per week.
New membership enrolments are taken Monday mornings only 9am-10am, by the enrolling officer on duty. Ongoing fees can be paid to your trainer in the Clubroom, notices are posted up in the club room.
Tuition fees can be paid up to a year in advance (this avoids the necessity to pay quarterly fees before the end of each term to keep your place on the roster). Refunds are not available.
Fees may be paid by cash or cheque only. We don't have credit card or eftpos facilities. Please bring the exact amount as we don't keep change on the premises.
Fees for each term must be paid at least seven days before the term ends. For example, if a term ends on Friday June 30, you need to pay the fees for next term by Friday 23 to keep your place on the roster. Once you have joined the club, you are entitled to four consecutive terms of tuition. You may wish to come for only one or two terms but, so that we can help as many people as possible, four consecutive terms of tuition is the maximum you can receive. At the end of the four terms, you are very welcome to continue your membership as a social member. The social membership fee is $30 a year. As a social member you can pay for and join any of the workshops the club presents during the year (many of these courses cost as little as $10, some a bit more).
You can also have access to the on-line Genealogy computer (no tuition), join extra activities such as Corel, Printmaster and special presentations, general meetings and extra activities which are free.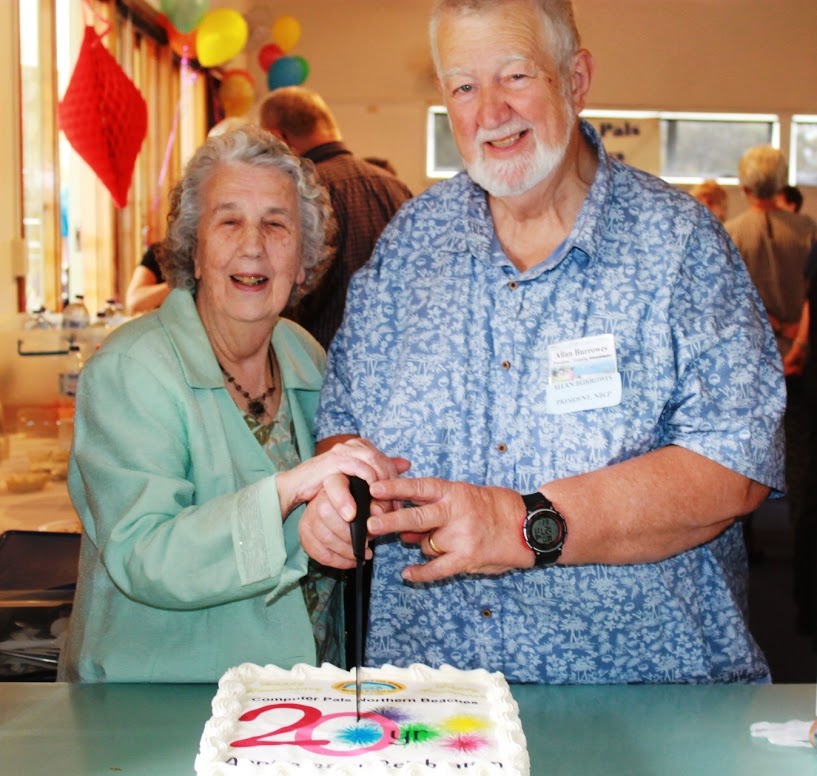 Nan Bosler OAM with current Computer Pals for Seniors Northern Beaches President Allan Burrowes at 20th Celebrations
Copyright Computer Pals for Seniors Northern Beaches, 2015.