July 1 - 7, 2012: Issue 65
Royal Motor Yacht Club Functions
We attended the 52nd Pittwater Rotary Changeover and Pride of Workmanship Awards presentations last night. More HERE.
Part of this great annual event is a sit down dinner at the Royal Motor Yacht Club of Broken Bay. The RMYC is also the meeting place for the Rotary Club of Pittwater and where members regularly eat in The Brassiere prior to listening to great speakers or attending to all the details that make this club's annual commitment to the community in Pittwater so successful.
Last evening, as in previous years, we ate some of the wonderful dishes prepared by the RMYC as part of the Functions Menu. The Mains were a choice between a Prime Eye Fillet served with Brandy and Green Peppercorn Jus on a creamy Mash with Seasonal Vegetables served alternately with a Crispy Skin Atlantic Salmon with Potato Dauphinoise and Green Salsa Verde. Both superb and living up to their descriptions!
For dessert we had Pear Tartin, ice cream and whipped cream served alternatively with a Flourless Chocolate Torte and a yummy chocolate ice cream on the side. Lord Muck tells me his Pear Tartin is as good (probably better) then those served to him at home. The mouthful I was allowed was as a Tartin should be; caramelised perfectly with the fruit still juicy and the pastry crisp at edge.
The Top Deck, a large room overlooking the beautiful estuary of Pittwater and all the yachts and boats that moor at the RMYC, is a great place to hold functions. There are smaller rooms at the RMYC should you require a more intimate setting. The standard of food and service from staff is how it should be everywhere; high standard of fresh produce and ingredients combined to create serious yum in the food and courteous, attentive with all eyes on ensuring those who visit the club have the best possible experience and memories to take home with them in the attending staff.
See more about RMYC Functions at www.royalmotor.com.au/conferences-a-functions.html
Or the Dining link is www.royalmotor.com.au/dining.html
Hayley Turner, a past Profile of the Week in Pittwater Online News, and known for her great food and own attention to detail, is currently overseeing Functions at the RMYC so if anyone needs any assistance or would like to book a function they can call her direct on 9998 5509 or 0404 893 859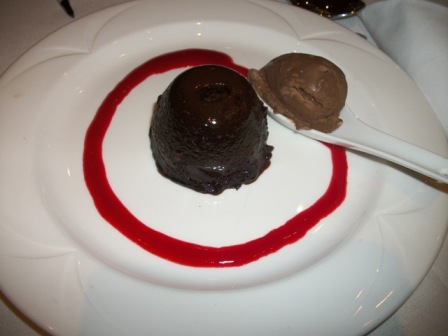 Above: Flourless Chocolate Tore. Right Pear Tartin
Copyright Pittwater Online News 2012. All Rights Reserved.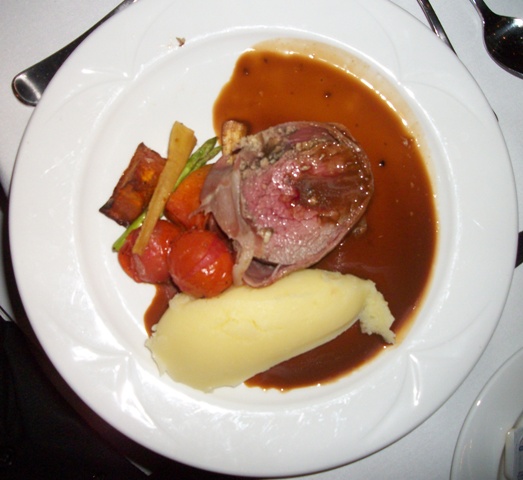 Above: The Prime Eye Fillet. Below: Crispy Skin Atlantic Salmon.