October 14 -20, 2012: Issue 80
Sage
There are a lot of herbs coming into season and those that taste best come from your own garden. Many of these, besides adding great taste to fish, vegetable and meat recipes, also have great health benefits. Sage has been known for a long time as a purgative herb and as we are in Spring it's also a good idea to give your body a Spring clean too. This week we offer some facts, history and a yummy recipe with which to utilise Sage Butter.
Pumpkin and pine nut ravioli with sage-butter sauce
Ingredients
500g Kent pumpkin, peeled, deseeded, coarsely chopped
1 tbs olive oil
55g (1/3 cup) pine nuts
1 garlic clove, crushed
2 tsp ground cumin
20g (1/4 cup) shredded parmesan
1 x quantity pasta sheets (see related article)
Sage-butter sauce
200g butter, chopped
1/4 cup small fresh sage leaves
2 tbs fresh lemon juice
Cook the pumpkin in a steamer basket over a saucepan of simmering water for 10 minutes or until tender. Transfer to a medium bowl. Use a fork to mash until smooth. Heat the oil in a small saucepan over medium heat. Add the pine nuts and cook, stirring, for 4-5 minutes or until lightly toasted. Add the garlic and cumin and cook, stirring, for 30 seconds or until aromatic. Add the pine nut mixture and parmesan to the pumpkin and stir until combined. Season with salt and pepper.
Construct Ravioli: Place 1 pasta sheet on a lightly floured surface. Place heaped teaspoonfuls of pumpkin mixture, in 2 rows, at 5cm intervals on the pastry sheet, leaving a 2cm border around the edges. Use a pastry brush to brush the pasta around the pumpkin mixture with water. Top with another pasta sheet and press the edges together to seal. Use a ravioli wheel or knife to cut between the pumpkin mixture to make squares. Repeat with the remaining pasta sheets and filling.
Sage Butter: To make the sage-butter sauce, melt the butter in a small frying pan over medium heat. Add the sage and cook, stirring occasionally, for 4-5 minutes or until the sage is crisp and the butter is light golden. Remove from heat and stir in the lemon juice.
Cook half the ravioli in a large saucepan of salted boiling water for 5-8 minutes or until al dente. Use a slotted spoon to transfer to a plate. Repeat with remaining pasta. Divide the ravioli among serving bowls and spoon over the sage-butter sauce. Serve immediately.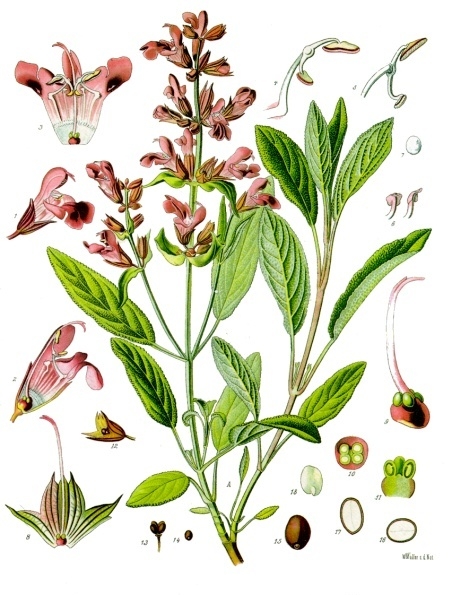 Illustration; Painting from Koehler's Medicinal Plants (1887) by Franz Eugen Köhler, Köhler's Medizinal-Pflanzen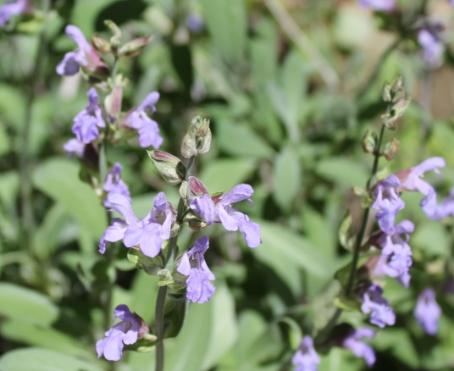 Salvia officinalis (garden sage, common sage) is a perennial, evergreen subshrub, with woody stems, grayish leaves, and blue to purplish flowers. It is a member of the family Lamiaceae and is native to the Mediterranean region, though it has naturalized in many places throughout the world. It has a long history of medicinal and culinary use, and in modern times as an ornamental garden plant. Salvia officinalis was described by Carl Linnaeus in 1753. It has been grown for centuries in the Old World for its food and healing properties, and was often described in old herbals for the many miraculous properties attributed to it. The specific epithet, officinalis, refers to the plant's medicinal use—the officina was the traditional storeroom of a monastery where herbs and medicines were stored.
History: Salvia officinalis has been used since ancient times for warding off evil, snakebites, increasing women's fertility, and more. The Romans likely introduced it to Europe from Egypt as a medicinal herb. Theophrastus wrote about two different sages, a wild undershrub he called sphakos, and a similar cultivated plant he called elelisphakos. Pliny the Elder said the latter plant was called salvia by the Romans, and used as a diuretic, a local anestheticfor the skin, a styptic, and for other uses. Charlemagne recommended the plant for cultivation in the early Middle Ages, and during the Carolingian Empire, it was cultivated in monastery gardens. Walafrid Strabo described it in his poemHortulus as having a sweet scent and being useful for many human ailments—he went back to the Greek root for the name and called it lelifagus.
The plant had a high reputation throughout the Middle Ages, with many sayings referring to its healing properties and value. It was sometimes called S. salvatrix(sage the savior), and was one of the ingredients of Four Thieves Vinegar, a blend of herbs which was supposed to ward off the plague. Dioscorides, Pliny, and Galen all recommended sage as a diuretic, hemostatic, emmenagogue, and tonic.
Uses: Common sage is grown in parts of Europe for distillation of an essential oil, though other species, such as Salvia fruticosa may also be harvested and distilled with it. In Britain sage has for generations been listed as one of the essential herbs, along with parsley, rosemary and thyme (as in the folk song "Scarborough Fair"). It has a savoury, slightly peppery flavour. It appears in many European cuisines, notably Italian, Balkan and Middle Eastern cookery. In British and American cooking, it is traditionally served as sage and onion stuffing, an accompaniment to roast turkey or chicken at Christmas or Thanksgiving Day. Other dishes include pork casserole,Sage Derby cheese and Lincolnshire sausages. Despite the common use of traditional and available herbs in French cuisine, sage never found favour there. Salvia and "sage" are derived from the Latin salvere (to save), referring to the healing properties long attributed to the various Salvia species. It has been recommended at one time or another for virtually every ailment by various herbals. Modern evidence shows possible uses as an antisweating agent, antibiotic, antifungal, astringent,antispasmodic, estrogenic, hypoglycemic, and tonic. In a double blind, randomized and placebo-controlled trial, sage was found to be effective in the management of mild to moderate Alzheimer's disease.
The strongest active constituents of sage are within its essential oil, which containscineole, borneol, and thujone. Sage leaf contains tannic acid, oleic acid, ursonic acid, ursolic acid, cornsole, cornsolic acid, fumaric acid, chlorogenic acid, caffeic acid, niacin, nicotinamide, flavones, flavonoid glycosides, and estrogenicsubstances. Investigations have taken place into using sage as a treatment for Alzheimer's disease patients. Sage leaf extract may be effective and safe in the treatment of hyperlipidemia
Salvia officinalis. (2012, October 10). In Wikipedia, The Free Encyclopedia. Retrieved from http://en.wikipedia.org/w/index.php?title=Salvia_officinalis&oldid=516926124
Copyright Pittwater Online News, 2012. All Rights Reserved.