August 4 - 10, 2013: Issue 122
Silver beet
Silver beet is coming into season now, and like all seasonal crops, rises to keep balance in all that may ail thee throughout every season of every year. High in Vitamin C as well as Vitamin A, this leafy green vegetable will support your immune system through the sniffle season and act as de-tox for all those other poisons that may arise during the last month of winter.
This week we offer a range of pure silver beet recipes which you can serve as mains or side dishes. The classic Spanikopita is also delicious cold.
Silverbeet and feta dip
1 bunch (about 825g) silverbeet
2 tbs olive oil
3 anchovy fillets, finely chopped
1 small brown onion, halved, finely chopped
500g fresh ricotta
2 tsp finely grated lemon rind
1 250g container light Philadelphia spreadable (Kraft brand)
2 tbs fresh lemon juice
150g creamy feta (South Cape brand), crumbled
Salt & freshly ground black pepper
2 (about 40cm long) Turkish bread, cut crossways into fingers to serve
Wash silverbeet. Use a sharp knife to cut down sides of stems. Discard stems. Finely shred the leaves.
Combine oil and anchovies in a large frying pan over medium heat. Cook, stirring, for 6-7 minutes or until the anchovies almost dissolve in the oil.
Add the onion and cook, stirring occasionally, for 12 minutes or until onion is soft. Add the silverbeet and cook, covered, shaking the pan occasionally, for 5-6 minutes or until the silverbeet is bright green and just wilts. Transfer to a large heatproof bowl. Set aside for 5 minutes to cool.
Use an electric beater to beat the ricotta and lemon rind in a large bowl until smooth and creamy. Add the Philadelphia and lemon juice, and beat until just combined. Stir in the feta.
Add the ricotta mixture to the silverbeet mixture and stir until combined. Taste and season with salt and pepper.
Transfer to a large serving bowl and serve with the Turkish bread fingers.
Mushroom and Silver Beet Cannelloni
1 bunch (1.3kg) silver beet
500 grams of field mushrooms
2 tablespoons olive oil
2 cloves garlic, crushed
600g fresh ricotta cheese
salt and freshly ground black pepper
4 fresh lasagne sheets
2 cups (500g) passata (classic tomato cooking sauce)
½ cup (125ml) vegetable stock
1/3 cup (25g) finely grated parmesan cheese
Preheat oven to moderate (180°C/160°C fan-forced).
Remove silver beet leaves from stalks. Wash silver beet and drain well; pat dry. Heat the oil in a large saucepan and cook garlic, stirring, until fragrant. Add chopped mushrooms, silver beet leaves and stir to coat in garlic mixture. Cook, covered, turning occasionally, until the silver beet is wilted. Drain the silver beet; cool slightly. Squeeze to extract as much moisture as possible. Chop silver beet finely. Combine chopped silver beet with ricotta in a large bowl with salt and pepper to taste. Cut the lasagne sheets in half crossways. Divide silver beet and mushroom mixture among short sides of lasagne sheets; roll up firmly to enclose the filling. Arrange the cannelloni in a single layer in a lightly greased ovenproof dish (12-cup capacity). Pour over the combined pasta sauce and stock; sprinkle with cheese. Bake, uncovered, in a moderate oven for about 30 minutes or until heated through. You can also prepare this dish prior to and just pop it in the oven when you get home on cold nights. Serve with a fresh green salad and hot bread for all those juices.
Spanikopita (spinach pie)
1kg (about 1 bunch) silverbeet, washed
160mls (2/3 cup) olive oil
3 medium brown onions, finely chopped
250g feta, crumbled
200g cottage cheese
4 eggs, lightly whisked
2 tbs finely chopped fresh Continental parsley
1 tbs finely chopped fresh dill
1/4 tsp freshly grated or ground nutmeg
Ground black pepper, to taste
9 sheets filo pastry
1 tbs water
Preheat oven to 180°C. Remove stems from the silverbeet leaves and chop the stems finely. Coarsely Shred the leaves. Place the stems and leaves in a metal colander over a saucepan of boiling water, cover and steam for about 10 minutes or until wilted. Drain well and cool.
Meanwhile, heat 3 tbs of the olive oil in a saucepan over medium heat and cook the onion for 5-8 minutes or until soft. Squeeze the cooled spinach with your hands, to remove excess liquid. Add onions, feta, cottage cheese, eggs, parsley, dill and nutmeg to the spinach and mix. Season with pepper.
Brush a 20 x 30cm (2-1itre/8-cup) ovenproof dish with a little of the olive oil. Lay filo pastry flat on a work surface. Cover with a clean tea towel and then with a damp tea towel. Brush one half of a pastry sheet with the olive oil and then fold it in half. Place over the base of greased dish. Repeat with 2 more pastry sheets, brushing with a little olive oil between each layer.
Spread 1/2 the spinach mixture evenly over the pastry. Top with 3 more doubled pastry sheets, brushing with oil between each. Spread with the remaining spinach mixture and then top with another 3 doubled pastry sheets, brushing between each. Tuck any overhanging pastry down the side of the dish and brush with a little oil. Score the top with a sharp knife and sprinkle with the water. Bake in preheated oven for 45 minutes or until the pastry is crisp and golden.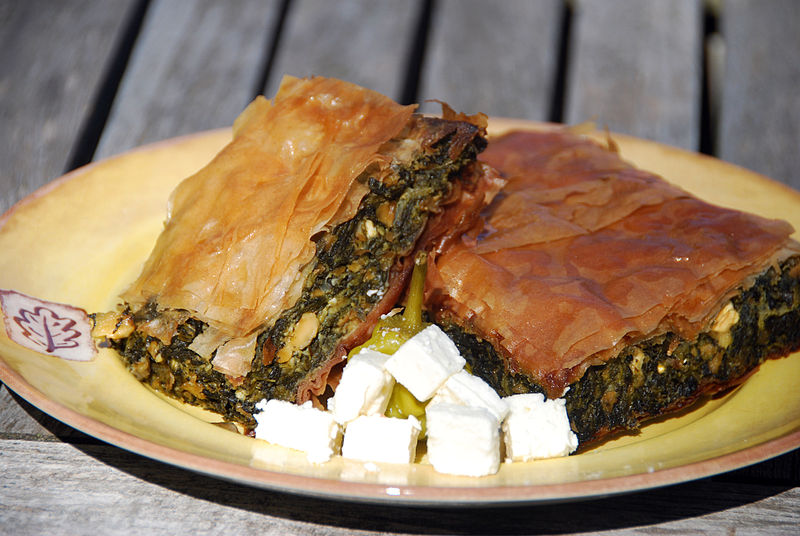 Silverbeet, classically known as Chard (Beta vulgaris subsp. cicla), is a leafy green vegetable often used in Mediterranean cooking. The first varieties have been traced back to Sicily. The leaves can be green or reddish in color like Bib Lettuce, chard stalks also vary in color. Chard has been bred to have highly nutritious leaves at the expense of the root (which is not as nutritious as the leaves). Silverbeet is considered to be one of the healthiest vegetables available, and is a valuable addition to a healthy diet (like other green leafy vegetables). Chard has been around for centuries, but because of its similarity to beets it is difficult to determine the exact evolution of the different varieties of chard. Chard and the other beets are chenopods, a group which is either its own family Chenopodiaceae or a subfamily within the Amaranthaceae. Although the leaves of chard are eaten, it is in the same species as beetroot (garden beet), which is grown primarily for its edible roots. Both are cultivated descendants of the sea beet, Beta vulgaris subsp. maritima, but they were selected for different characteristics. It is rich in minerals, dietary fiber and protein and high in Vitamins A C and K. All parts of the plant contain Beta-carotene, a strong anti-oxidant that helps to protect the eyes against sun damage and your body against heart disease and cancer.
Red Chard growing in the garden of Slow Food Nation by mercedesfromtheeighties
Spanikopita with cubed feta cheese on yellow dish by Tanya Bakogiannis
Copyright Pittwater Online News, 2013. All Rights Reserved.