October 20 - 26, 2013: Issue 133
Green Beans
These Spring vegetables are now in season and as with all in season fruits or vegetables, the crop coming in brings the price down and the quality up. Many of us know the little song for children 'Green beans are good for your heart, the more you eat the more you…." and refers to the fibre content of green beans along with other legumes that help keep a healthy heart. These power packed pods of green contain Vitamins C, K, and A along with other antioxidants that help you to maintain health or heal if you are suffering from any ailment. Recent studies have confirmed the presence of lutein, beta-carotene, violaxanthin, and neoxanthin in green beans. The concentrated chlorophyll content of green beans will also provide you with a bit of a "Spring Clean'.
Our favourite recipes to enjoy these Green Sprung Beans, Salad Nicoise, a French cold salad dish that combines steamed green beans with tuna fish and potatoes and a Three Bean Salad: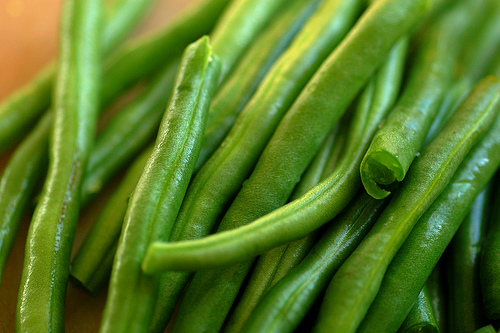 Niçoise salad
INGREDIENTS:
1 small baguette (1-2 days old preferably)
2 tablespoons extra-virgin olive oil
salt and pepper
1 garlic clove, peeled
2 large eggs
20 green beans, trimmed and tailed
4 small tomatoes (fresh, semi-dried or confit)
4 small kipfler potatoes, boiled and sliced into discs
4 teaspoons small capers
1 red onion, cut into 5 mm rings
50 g olives
200 ml olive oil
40 ml sherry vinegar
4 x 100 g tuna Fillets (substitute red mullet, kingfish or other substitute if tuna at same price as a gram of gold)
4 tablespoons baby rocket
1 lemon, halved
10 anchovy fillets, cut lengthwise into 2 or 3 thin slivers each
Preheat the oven to 180ºC . Slice the baguette into 1 cm (1/2 in) thick slices and lay on a flat baking tray. Brush with olive oil and sprinkle with salt. Bake for 5-6 minutes, then remove from oven and rub slices with the garlic clove. Put the eggs in a saucepan, cover with water and bring to the boil. Take out after 6 minutes, when the yolks will still be soft. Set aside and keep warm. Place another pan on the stove, fill with 2 litres (5 pints) of salted water and bring to the boil. Add the beans and blanch for 2 minutes. Remove beans and refresh by placing in iced water for 2 minutes, until cold. In a bowl combine the croutons, tomatoes, beans, potatoes, capers, onion and olives, season well. In a separate bowl or jar, mix the 200 ml olive oil and sherry vinegar well.
Preheat a non-stick pan over medium heat. Season the fish and brush with more olive oil. Reduce heat low, place the fish skin side down in the pan and cook for 2-3 minutes. Turn fish over and cook for a further minute. Toss the salad together with the dressing (traditions states this should actually be laid out on a bed of lettuce or tomatoes and in layers with topping ingredients being the eggs and anchovies). To serve, set out 4 flat bowls or plates and place a fillet in the centre of each. Arrange the salad neatly around the fish. Peel the eggs carefully, cut in half, season them and arrange on top of the salad. Scatter baby rocket over and serve with a wedge of lemon on the side.
Marinated Three Bean Salad
Courtesy The World's Healthiest Foods
This is a great dish to add to your Healthiest Way of Eating because you can keep in your refrigerator for 3-4 days and its flavour gets better each day! Prep and Cook Time: 25 minutes
Ingredients:
2 TBS minced onion
3 medium cloves garlic, pressed
2 cups fresh green beans cut into 1-inch lengths
2 cups or 1 15 oz can (BPA-free) lima beans, drained and rinsed
2 cups or 1 15 oz can (BPA-free) kidney beans, drained and rinsed
1 large ripe fresh tomato, chopped
2 TBS chopped fresh basil (or 2 tsp dried basil)
1 TBS chopped fresh oregano (or 1 tsp dried oregano)
1 TBS chopped fresh parsley (or 1 tsp dried parsley)
3 TBS fresh lemon juice
2-3 TBS extra virgin olive oil
salt and cracked black pepper to taste
Mince onion and press garlic and let sit for 5 minutes to bring out its health-promoting benefits. Fill the bottom of a steamer with 2 inches of water. While steam is building up in steamer cut green beans. Steam for 5 minutes. A fork should pierce them easily when they are done. Drain and rinse canned beans. Let beans sit in colander for another couple of minutes to drain excess water.
Mix all ingredients together. If you have the time, let it marinate for at least 15 minutes. It can keep in the refrigerator for a few days. Keep on hand for a quick meal. Serves 4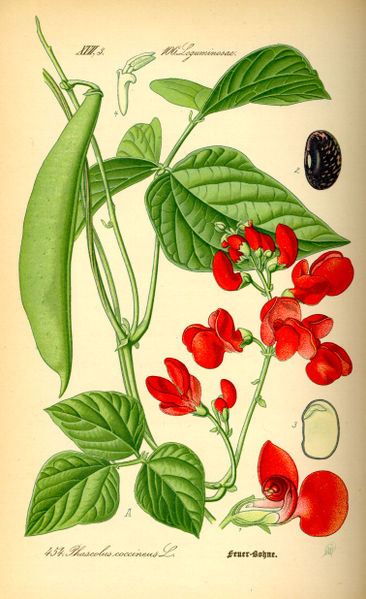 Green beans and other beans, such are kidney beans, navy beans and black beans are all known scientifically as Phaseolus vulgaris. They are all referred to as "common beans," probably owing to the fact that they all derived from a common bean ancestor that originated in Peru. From there, they spread throughout South and Central America by migrating Indian tribes. They were introduced into Europe around the 16th century by Spanish explorers returning from their voyages to the New World, and subsequently were spread through many other parts of the world by Spanish and Portuguese traders. Green beans are found in two major groups, bush beans and pole beans. Bush beans are short plants, growing to approximately two feet in height, without requiring supports. They generally reach maturity and produce all of their fruit in a relatively short period of time, then cease to produce. Gardeners may grow more than one crop of bush beans in a season. Pole beans have a climbing habit and produce a twisting vine . Runner beans have a similar habit but are a different species of bean. Over 130 varieties of green bean are known. Beans contain high concentrations of lectins and may be harmful if consumed in excess in uncooked or improperly cooked form.
Phaseolus coccineus; Original book source: Prof. Dr. Otto Wilhelm Thomé Flora von Deutschland, Österreich und der Schweiz 1885, Gera, Germany. Permission granted to use under GFDL by Kurt Stueber
Phaseolus coccineus, known as runner bean, scarlet runner bean, or multiflora bean, is a plant in theFabaceae family. Runner beans have also been called "Oregon Lima Bean", and in Nahuatl "ayocotl" or in Spanish "ayocote". It differs from the common bean (P. vulgaris) in several respects: the cotyledons stay in the ground during germination, and the plant is a perennial vine with tuberous roots (though it is usually treated as an annual). This species originated from the mountains of Central America. Most varieties have red flowers and multicolored seeds (though some have white flowers and white seeds), and they are often grown as ornamental plants.
The vine can grow to two meters (6 feet) or more in length. The green pods are edible whole before they become fibrous, and the seeds can be used fresh or as dried beans.
Copyright Pittwater Online News, 2013. All Rights Reserved.