January 14 - 20, 2018: Issue 343

Summer Vegetable: Beetroot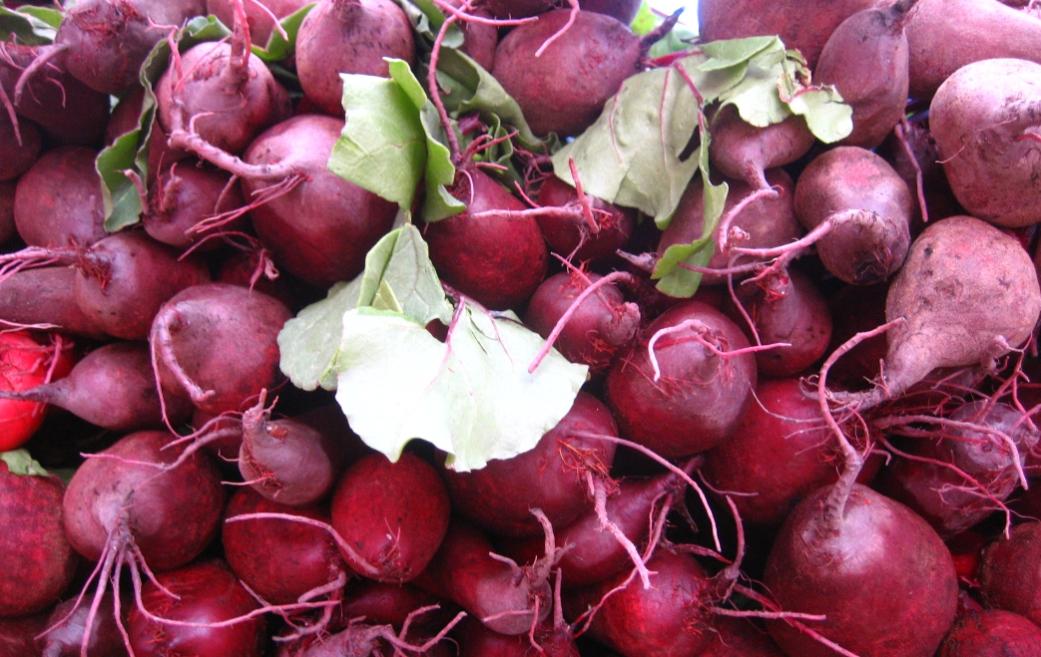 For all those who like to amp up that healthy Summer feeling that comes with more visits to the beach and bush during this season, changing your diet to reflect and support these activities flows on as a natural consequence. Salads, Summer fruits, lighter cheeses such as ricotta and goats are all on the menu, as is freshly caught fish.
For those who like a good dose of vegetables as part of that diet, in season capsicums, whether roasted, stuffed with rice or simply chopped up to add to a Greek salad, green beans, also great value at present and a great addition to any green salad or a feature in Nicose salads, or eggplant made into Baba Ganoush or as a feature in a vegetarian version of Parmigiana are all in peak condition at present and readily available.
The other vegetable currently in season which will give you extra vim is the humble and ancient beetroot. Great for digestion, high in folate, famous for making the Aussie Burger even better, whether roasted, raw in a juice or steamed and added to your salad, these red-purple bulbs which health professionals are citing as a way to help lower blood pressure, boost exercise performance and prevent dementia, form part of many an Australian Summer menu.
If you can't get enough of them and are looking for some new ways to enjoy them, a few ideas follow. Always choose heavier smaller beetroots for recipes - bigger ones are best kept for juices.
Carrot and beetroot fritters
1 tablespoon olive oil
1 medium onion
1 garlic clove
2 large carrots
2 medium beetroots
2 teaspoons cumin
2 tablespoons chopped coriander

1 cup wholemeal flour
2 large eggs
Hommous or Minted Yoghurt to serve with
Grate the carrots and beetroot. Squeeze out as much liquid as you can, then put on a plate between triple-thickness kitchen roll. Leave to rest for 20 minutes.
Put the onion and herbs in a bowl and add the grated veg. Sprinkle over the flour, stir well, then add the eggs. Mix together, ensuring mix is neigther too wet or dry, then shape into 12 thin fritters.
Heat the oil in a large pan and fry the fritters for 2-3 minutes on each side. Drain on kitchen roll and serve with the salad and yogurt or Hummus.
Beetroot, Goats Cheese & Walnut Salad
6 medium beetroot bulbs
2/3 cup walnuts
1/2 small red onion
1/3 cup roughly chopped parsley
70g washed baby spinach leaves
1/4 cup olive oil
2 tbs lemon juice
1 tsp Dijon mustard
120g goats cheese
Preheat oven to 200°c. Trim 6 beetroot bulbs and wrap in foil. Roast for about 40-60 minutes until tender. Allow to cool then peel and cut into quarters and then quarter again. While cooking beetroot, p
lace walnuts on a baking tray and roast for last 8 minutes until golden. Finely slice red onion.
Combine onion, beetroot, walnuts and parsley in a bowl with baby spinach. Whisk olive oil with lemon juice and dijon mustard. Drizzle over salad. Toss gently. Crumble goats cheese over and serve with thick slabs of hot bread.
1 x 400g/can chickpeas, drained and rinsed
250g cooked beetroot
1/2 tsp salt
Juice 1/2 lemon
1 garlic clove, crushed
2 tbsp tahini
2 tsp ground cumin
100ml extra virgin olive oil
2 tbsp creamy horseradish
Finely chopped parsley to garnish
Method
Place all the ingredients except the horseradish, parsley and in a food processor and process until smooth.
Transfer to a serving dish then using a knife, swirl through the creamed horseradish to create a marble effect.
Garnish with the chopped parsley and serve with flatbreads or your choice of accompaniment on the side for dipping.
250g cooked beetroot, pureed
3 eggs
1/2 teaspoon vanilla extract
250ml vegetable oil
300g caster sugar
225g self raising flour
6 tablespoons cocoa powder
Preheat oven to 180 degrees C. Grease and flour your cake tin.
In a large bowl, combine pureed beetroots, eggs, vanilla, oil and sugar. Mix with an electric mixer until well combined.
In a separate bowl, mix together flour, salt and cocoa. Add to the beetroot mixture, folding together well. Pour batter into prepared tin.
Bake for 25 to 30 minutes until skewer inserted in centre comes out clean. Cool and cover with melted chocolate - bliss!
New Research Finds Sweet Cherries Can Help Reduce Weight Gain
Monday 18 December 2017: University of Tasmania
New research has found the bioactive compound anthocyanin, found in high
concentrates in sweet cherries, can help reduce weight gain.
Melanie Blackhall from the University of Tasmania's Faculty of Health conducted
clinical trials to determine the efficacy of sweet cherry anthocyanins as a treatment
and preventative therapy in high-fat diets.
"There is emerging evidence on the benefits of sweet cherry anthocyanins," she
said.
"The majority of work carried out on anthocyanins has been in other fruits, and in
tart cherry varieties, but not in sweet cherries.
"Dark, sweet cherries are extremely high in anthocyanin.
"There is growing evidence that anthocyanins have a positive impact on many
diseases but only limited research on their potential anti-obesity actions has been
conducted.
"Obesity is a major risk factor for cardiovascular disease, type 2 diabetes and some
cancers, so we wanted to examine the effect of anthocyanin on a high-fat diet."
Industry partners Reid Fruits and Essential Oils of Tasmania supported the
research, which enabled Ms Blackhall to develop a methodology to extract
anthocyanins.
Trials were carried out with mice being fed a high-fat diet and split into two trial
groups – a six-week prevention trial and a 10-week reversal trial.
Anthocyanin was included at the start of the prevention trial, and at the end of week
six in the reversal trial.
Results showed mice in the prevention trial gained 19% less weight with six weeks
of supplementation of anthocyanin.
"The study also found that anthocyanin can help reduce inflammation," Ms
Blackhall said.
Ms Blackhall said they were now aiming to carry out further research in human
trials.
"Obesity is a global health concern where people take a range of drug regimens and
we would hope that anthocyanin could be included as part of treatment," she said.
"We are also wanting to help consumers make the right choices about what they
are consuming to prevent weight gain."
Reid Fruits Managing Director Tim Reid said collaborating with the University's
Faculty of Health had helped to provide practical outcomes for the industry.
"We have always known cherries have special health benefits, and the research
reaffirms this belief and allows our company to explore new opportunities," he said
Recipe Ideas - Seasonal Fruits and Vegetables
Apricot - January Summer Fruits
Artichoke – The Flower Vegetable that Crops in Spring
Australian and Native Cherries (Summer Fruits) - the Duntroon Connection - Marrianne Collinson Campbell
Autumn Feast of Fresh Fruits and Vegetables for a Healthy Body
Cherry - Australian summer Fruit

Chick Pea Burgers with Homemade Hummus

Easter Feast - modern and historic
Edible Weeds Eggs: Five Ways - Savoury
Full Fruit Bowl for Seasonal Health
Green Beans - Spring Vegetables
Healthful Cordials And Cleansing Tonics Hogmanay (New Year) Dinner - Australian Style
Make Your Own Treats For Christmas Gifts - Jaffa Rum Balls, White Christmas, Gingerbread People, Spicy Nut Mix, Strawberries Dipped in Christmas, Scottish Shortbread, Spanish Polverones, Melomakarona (Greek Christmas Honey Cookies), Kourabiedes (Greek Butter Biscuits), Italian Lemon Shortbread Squares (Shortbread con crema al limone)
Mandarins Spring Fruits Mandarins Winter Fruits
Mum'€™s Vegetable Soup with Macaroni
Nectarines - Summer crop Nicoise Salad: An Autumn Salad
Packham's Triumph Pears - The Australian Pear
Parsnip - Winter Vegetables Pear - Autumn Fruits
Potato Gnocchi Pumpkin Pumpkin Season 2015
Sage - the 'saving' herb Remembrance Day 2012 Food
Self-Saucing Winter Puddings Silverbeet - Winter Vegetable
Spring Salad Season Spring Strawberries Spring Salads
Summer Lilli Pillis Summer Passionfruit Summer Peaches, Quandongs (Wild Peach) - Marian Rowan Ellis
Summer Raspberries Native Ones - Adam Forster
Ten Minute Spring Salads; Spring Fare
Winter Crops Winter Vegetable Pies Zucchini Strawberries

To list your business, have a Pittwater Online News Food page run, or place a logo on the Pittwater Online News Food page, please contact us with details of your requirements. Logos may be embedded to redirect to your own website. Full pages include an overview of menus as well as beautiful images to make the food sampled look its best. Pages are archived into Permanent pages past their week of Issue.
Permanent pages in Pittwater Online News average 800 thousand visits per annum past their week of Issue ensuring diners will continue to view your eatery as a potential venue for breakfast, lunch or dinner or as the place to hold their larger functions.
For Rates and Packages Contact us at: pittwateronlinenews@live.com.au