June 26 - July 2, 2022: Issue 544

Winter Warmers 2022: Leek And Potato Soup, Coq Au Vin + Apple, Date And Walnut Cake With Caramel Sauce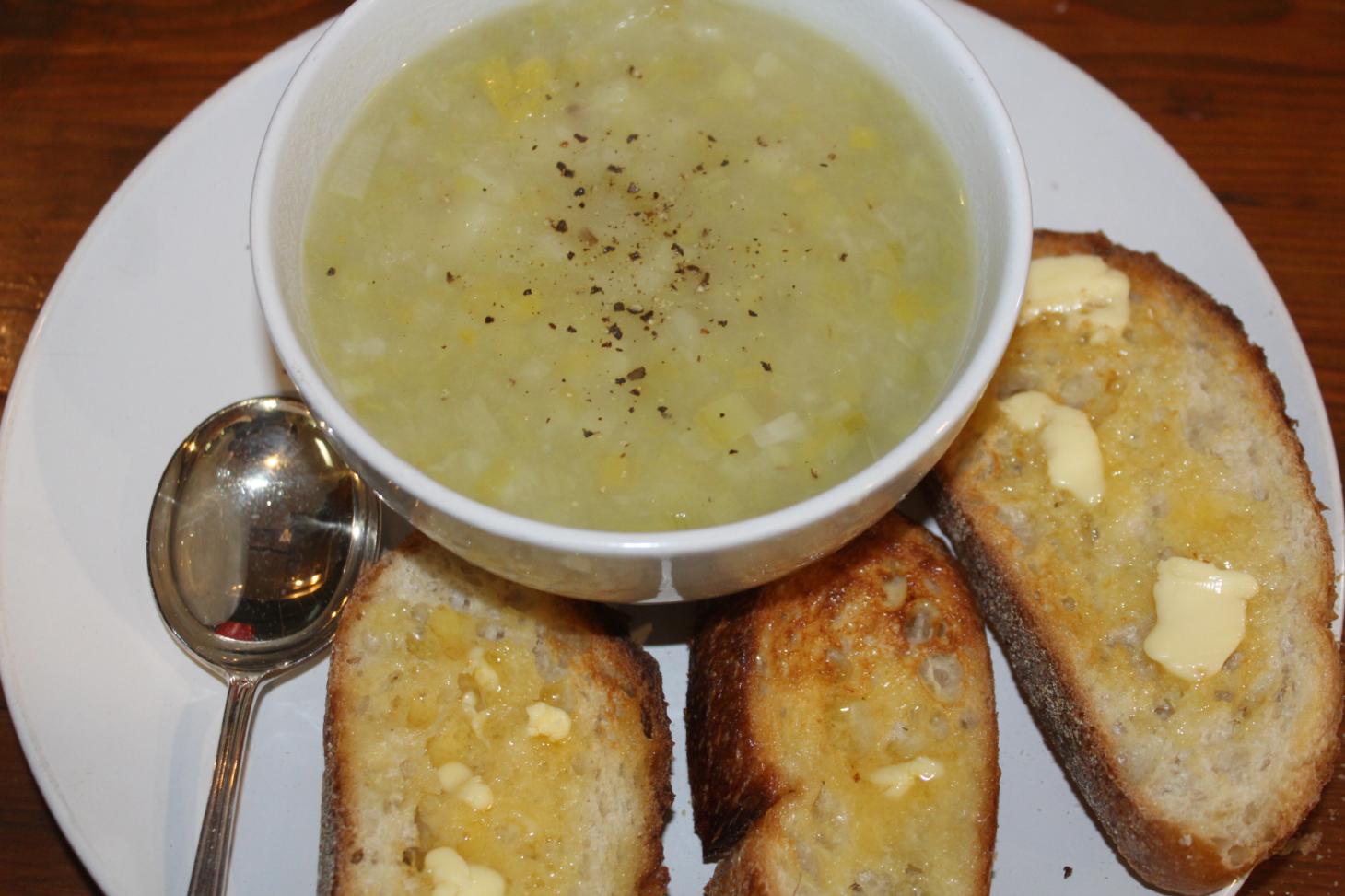 It's that time of year when you want something hot and substantial - 'rib sticking' food in other words.
With food prices having increased an average of 25% over the past few months, choosing seasonal ingredients, that usually come at a better price, and items grown not too far from home to eliminate a lot of the charges on top caused by transporting goods, this Issue a few of the dishes we've been making lately to feed a hungry family without breaking the budget.
Leek and potato soup
3 large leeks (about 3 cups, chopped)
2 tablespoons butter
4 cups vegetable broth
1 kilo potatoes peeled, diced into 5cm pieces
1 teaspoon sea salt, less or more to taste
Pinch dried marjoram
1 or 2 sprigs fresh thyme, or 1/2 teaspoon dried thyme
1 bay leaf
1/4 cup chopped fresh parsley
Sprinkle of Tabasco sauce or other red chile sauce
White or black pepper to taste
Cut off the roots of the leeks. Cut the leeks lengthwise, open them under running water to dislodge any dirt or mud hiding inside. Cut off the tough dark green tops and discard (either compost or freeze for making stock).
Slice the white and light green parts of the leeks crosswise into 1cm thick slices. Place the slices in a bowl of cold water and agitate them with your hands to dislodge any remaining dirt.
Melt butter on medium heat in a 2 to 4 litre thick-bottomed pot. Add the chopped leeks, stir to coat with the butter.
Cover the pot and reduce the heat to low, cook for 10 minutes until the leeks are softened. Make sure you keep checking to ensure the leeks are not browning.
Add the broth, diced potatoes, bay leaf, marjoram, thyme, and a teaspoon of salt to the pot. Increase the heat to high to bring to a simmer, then lower the heat to maintain a low simmer, and cook for 20 minutes, until the potatoes are cooked through.
Remove and discard the bay leaf and thyme sprig. Use a blender to blend about half of the soup if you want a chunky soup, or all of it if you would like your soup to be more smooth.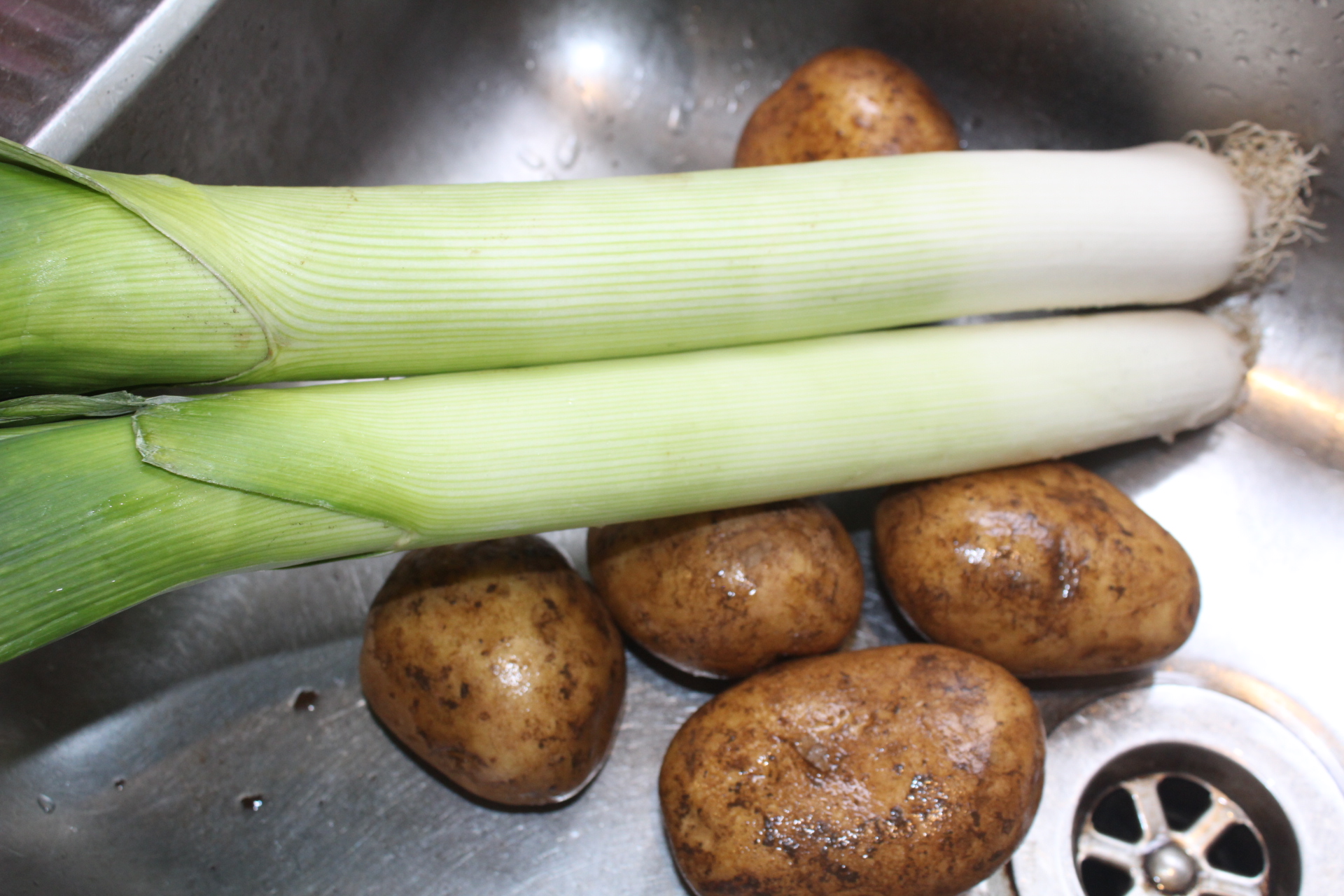 Coq au vin
This classic dish is a real Winter Warmer and you can leave out or substitute some ingredients to suit your taste and budget. This version will serve 4-6 easily. Present it alongside a nice pile of mashed potatoes to sop up all that beautiful sauce.
2 tbsp olive oil
90 gm butter, coarsely chopped at room temperature
1.6 kg free-range chicken, jointed
150 grams of bacon, cut into 1 cm pieces
12 small pickling onions
125 ml brandy, warmed (½ cup)
750 ml Beaujolais (3 cups)
500 ml chicken stock (2 cups)
3 parsley stalks
2 fresh bay leaves
2 sprigs of thyme
2 small heads garlic, halved lengthways
1 tbsp plain flour
200 gm mixed small mushrooms, trimmed
¼ cup coarsely chopped flat-leaf parsley
Preheat oven to 160C. Heat oil and 20gm butter in a large casserole over medium-high heat, add chicken pieces and cook for 10 minutes, turning until golden, then transfer to a plate and keep warm. Add bacon and onions and cook for 5 minutes or until golden, drain off excess fat. Return chicken to pan, pour over brandy and ignite with a long match. When flames are extinguished, add wine, stock, herbs and garlic and season to taste with sea salt and freshly ground black pepper. Bring to the boil, cover and place in oven for 1 hour or until chicken is tender and cooked through. Transfer chicken, onions and bacon to a warm dish, cover with foil and keep warm.
Strain cooking liquid through a fine sieve, discarding herbs and garlic. Heat sauce in clean casserole over medium heat and simmer for 30 minutes or until reduced to 2 cups. Combine flour and 20gm butter into a paste, whisk into sauce and cook, stirring, for 5 minutes or until sauce has thickened and coats the back of a spoon.
Meanwhile, heat 50gm butter in a frying pan over medium heat, add mushrooms and cook for 5 minutes or until golden, season to taste and set aside.
To serve, return chicken, bacon, onions and mushrooms to sauce and cook for 5 minutes, turning to coat and warm through. Serve chicken and sauce scattered with parsley, with mashed potato on the side.
Apple, Date and Walnut Cake with Caramel Sauce
We've been making this cake for decades now and it always disappears shortly after coming out of the oven. Pair it with some good vanilla ice cream or yoghurt and you have Winter bliss on your spoon. It also serves well when you have very special guests over for a meal and want to serve them something extraordinary.
NB: you can use any kind of in season apple you want – even use pears if they're cheaper.
Tip: we always put the vanilla essence into the butter/sugar mix as this enhances its flavour.
For the Cake

1 1/4 cup dates, chopped – boil the jug and let them soak in the hot water for 10 minutes
½ cup of sultanas
½ walnuts, roughly chopped
1 cup yoghurt
250g butter, softened
2 cups self raising flour
Good Pinch of salt
1 cup brown sugar
4 eggs
2 tsp cinnamon
2 tsp vanilla extract
2-4 royal apples – peeled, cored, diced into 1cm pieces
For the caramel sauce
1 cup brown sugar
6 tablespoons (85g) butter (salted or unsalted)
1/2 cup (120ml) heavy cream
Heat your oven to 160 °C and line a deep cake tin. This is one tall cake!
Cream your butter and sugar together. Add in the vanilla essence to this mix as this will make a smoother cake that tastes more vanillary. Add the eggs, one at a time, beating in well before adding the next.
Sift your dry ingredients, flour, cinnamon and salt together - remember to add in that bit of salt so you don't have a cake that 'sticks' on the palate; that bit of salt is important to how your flour will mix with the other ingredients.
Add the dry ingredients to the creamed butter mix, pile in the dates (after straining water off), sultanas, walnuts, apple chunks and the cup of yoghurt.
Gently mix until all the ingredients are just combined – do not overmix or you will make your cake tough.
Place in your cake tin and bake at the low 160 degrees for 1-1 ½ hours.
Allow the cake to sit in the tin for 5-10 minutes before turning it out.
While it's cooking make your caramel sauce; simply combine these three ingredients in those measurements in a saucepan and allow to heat and then bubble for around 1 minute. Remove from heat and allow to stand.
Drizzle over some caramel sauce and a bit of ice cream, whipped cream, or yoghurt on the side. Leftovers, should there be any, make good lunchbox food for those heading back to school.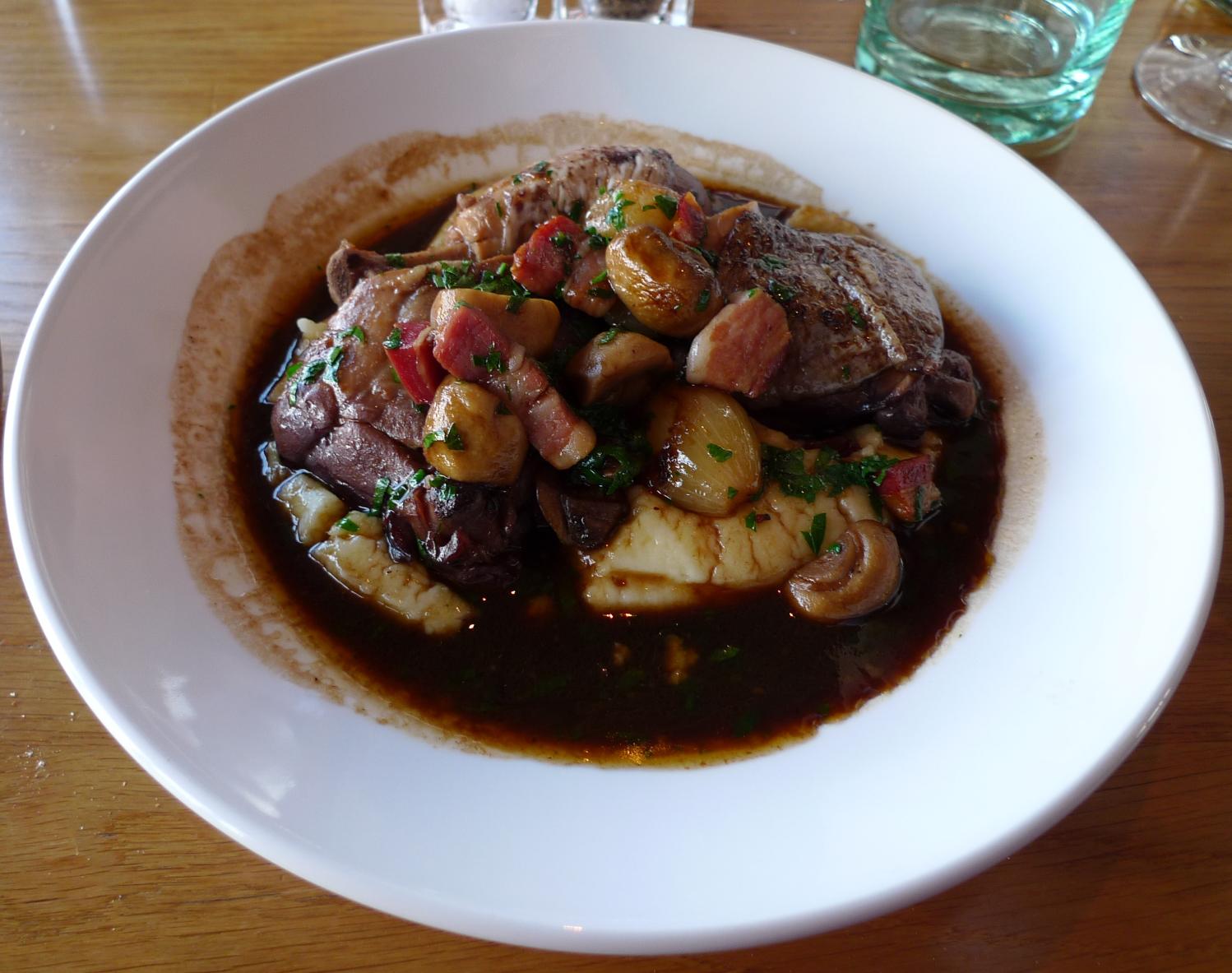 Coq au vin at The Swan at the Globe, New Globe Walk. London. Photo: Ewan Munro