July 21 - 27, 2013: Issue 120
Cabbage
Although not popular with some due to overcooked experiences when young, cabbage is in season now and full of what your body needs in snow winds. Cabbage is a good source of beta-carotene, vitamin C and fiber and, along with other cole crops, cabbage is a source of indole-3-carbinol, a chemical that boosts DNA repair in cells and appears to block the growth of cancer cells. Although research suggests boiling these leafy green vegetables will reduce these properties, nutritionists suggest you only cook the leaves for five minutes in a minimum amount of water which can then be used to flavour a sauce or gravy! Or you can roast sections by simply sprinkling with oil, salt and pepper and opping into an oven on a clean tray. There are white, purple, green, Chinese and Savoy versions; something for every taste and every recipe.
Winter cabbage and bean soup by Carolyn Coxe
Serves 4
1 tbsp olive oil
1 small onion, chopped
200g January King cabbage, shredded
1 clove of garlic, thinly sliced
1 glass dry white wine (about 150ml)
2 tbsp fresh thyme leaves
400g can peeled plum tomatoes
600ml vegetable stock
400g can cannellini beans or butter beans, drained
4 thick baguette slices
50g mature cheddar, grated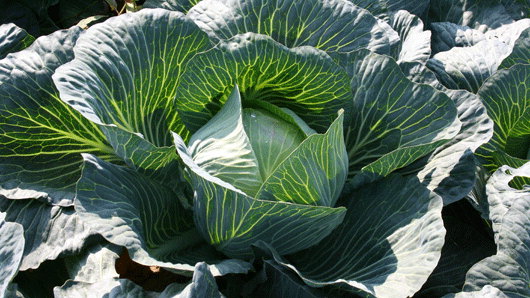 Heat the oil in a saucepan, add the onion and cook over a medium heat for three to five minutes until softened. Add the cabbage and garlic and stir-fry for two minutes. Add the wine and thyme and simmer for one minute. Add the tomatoes and stock and bring to the boil. Simmer for 15 minutes, then stir in the beans. Season and simmer for two minutes. Set aside. Arrange the baguette slices on a baking tray. Toast under a hot grill on one side, then turn over and top the untoasted side with the cheese. Return to the grill for two to three minutes, until the cheese is golden and bubbling. Ladle the soup into bowls and serve with the cheesy toasts.
Baked Stuffed Cabbage Leaves
This recipe is taken from Frugal Food
Serves 4-5
2-3 lb (900 g-1.35 kg) head of green cabbage
1 tablespoon oil
1 tablespoon butter
1 onion, peeled and finely chopped
1 clove garlic, crushed
1 lb (450 g) lean minced chuck steak
2 oz (50g) rice, cooked (that's 2 oz/50 g uncooked weight)
1 tablespoon tomato puree
1 tablespoon chopped parsley
½ teaspoon ground cinnamon
1 x 14 oz (400 g) can Italian tomatoes
Salt and freshly milled black pepper
1/2 teaspoon Herbes de Provence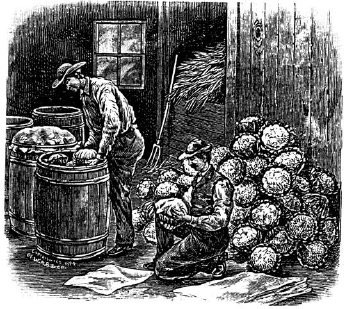 Method
First bring a large saucepan of salted water to the boil and place the cabbage in the water, stalk end up. Next bring the water back to the boil and simmer for about 8 minutes; then remove the cabbage and leave it to cool. Working with the cabbage still stalk end up, take a sharp knife and cut the large outer leaves from the main stalk and peel them off one by one. Drain the leaves on kitchen paper – you'll need about 15 leaves altogether. Then centre can be used for something else. Now heat the oil and butter together and fry the chopped onion with the garlic gently until the onion is soft and golden. Then add the minced beef and brown it, turning the heat up a bit. Then mix in the rice, parsley, cinnamon, Herbes de Provence and tomato puree, seasoning well. Remove the pan and let the mixture cool. Now make a V-shaped cut to remove the thickest part of the stalk from the base of each leaf, place about a tablespoon of stuffing in the centre of each leaf, fold in the sides and roll the leaf up tightly. Then pack the rolled leaves closely together in a casserole and pour the can of tomatoes over; cover and cook in the oven for 1and a half to 2 hours.
Cabbage
Cabbage (Brassica oleracea or variants) is a leafy green biennial, grown as anannual vegetable for its dense-leaved heads. Closely related to other cole crops, such as broccoli, cauliflower, and brussels sprouts, it descends from B. oleraceavar. oleracea, a wild field cabbage. Cabbage heads generally range from 1 to 8 pounds (0.5 to 4 kg), and can be green, purple and white. Smooth-leafed firm-headed green cabbages are the most common, with smooth-leafed red and crinkle-leafed savoy cabbages of both colors seen more rarely.
It is difficult to trace the exact history of cabbage, but it was most likely domesticated somewhere in Europe before 1000 BC. By the Middle Ages, it was a prominent part of European cuisine, although savoys were not developed until the 16th century. The Food and Agriculture Organization of the United Nations (FAO) reports that world production of cabbage and other brassicas (these plants are combined by the FAO for reporting purposes) for calendar year 2010 was almost 58,000,000 metric tons (57,000,000 long tons; 64,000,000 short tons). Almost half were grown in China. Cabbages are prepared in many different ways for eating, althoughpickling, in dishes such as sauerkraut, is the most popular. Cabbage is a good source of beta-carotene, vitamin C, and fiber.
The wild ancestor of cabbage was originally found in Britain and continental Europe. It was probably domesticated later in history than Near East crops such as peas and summer wheat. Because of the wide range of crops developed from the wild B. oleracea, multiple domestications of cabbage may have occurred in the same time period throughout Europe. Nonheading cabbages and kale were probably the first to be domesticated, sometime before 1000 BC, and the Greeks and Romans had some variety of cabbage, although whether it was more closely related to today's cabbage or to one of the other Brassica crops is unknown.
The Greeks and Romans claimed medicinal usages for their cabbage variety that included relief from gout, headaches and the symptoms of poisonous mushroom ingestion. Rounded cabbages made a definite appearance during the Dark Ages, and illustrations show their prominence in the cuisine of the Middle Ages. French naturalist Jean Ruel made what is considered the first mention of head cabbage in his 1536 botanical treatise De Natura Stirpium, referring to it as capucos coles ("head-stem"). Cabbages spread from Europe into Mesopotamia and Egypt, and later followed trade routes throughout Asia and the Americas.
Cabbage. (2013, June 23). In Wikipedia, The Free Encyclopedia. Retrieved from http://en.wikipedia.org/w/index.php?title=Cabbage&oldid=561162815
Antique Cabbage Illustrations from 1887 Breck's Seed Catalogue: The varieties of cabbage featured here are the: American Improved Savoy Cabbage, Early Jersey Wakefield Cabbage, Pottler's Brunswick Cabbage, Peerless Early Cabbage, and Henderson's Early Summer Cabbage.