January 30 - February 6, 2016: Issue 249
_______________________________________________________________________________________________

Chick Pea Burgers with Hummus
Light Summer Lunch
_______________________________________________________________________________________________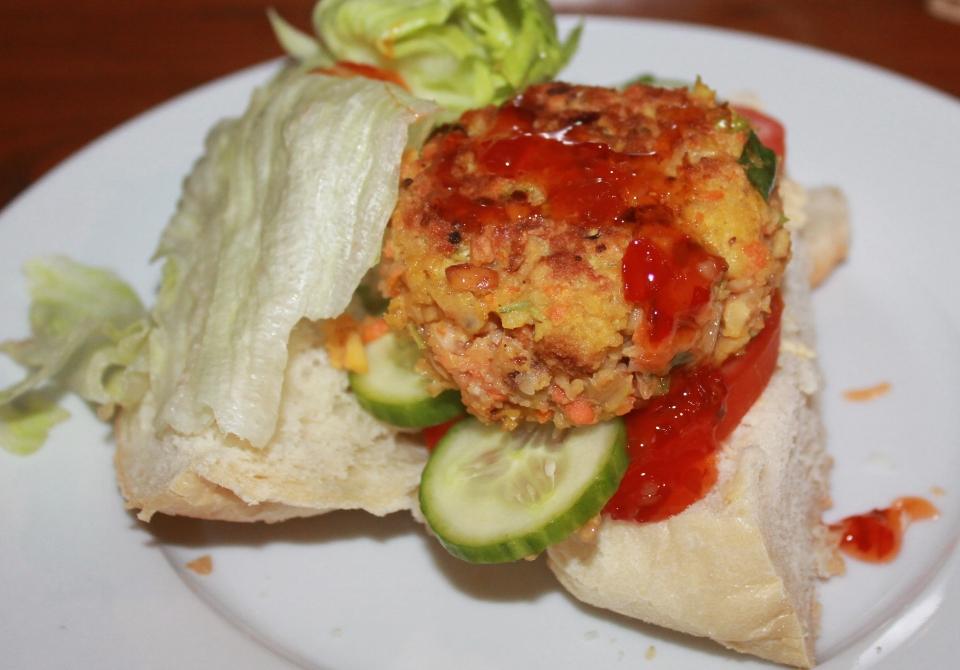 Chick Pea Burgers with Hummus: Light Summer Lunch

A Summer glow without sunburn from eating wholefoods suits the season and will give you energy to burn without that heavy 'too much meat' feeling. You can substitute canned ready cooked chick peas although we buy dried legumes and soak them prior to cooking for even better results.

The Ingredients may be varied to suit your own tastes (zucchini instead of celery for instance).

Chick Pea Preparation
Soak 250 gram packet of dried chick peas – cover with water and allow to sit for 6-8 hours.
Cook in unsalted water until soft (approx 40-55 minutes) – do not allow to overcook. Do not salt the water.
This makes approx 550 grams cooked chick peas.
Allow to cool, reserving some of the water cooked in.

Chick Pea Burgers
Makes 7-9

350 grams chickpeas, drained and rinsed
4 spring onions,
3 slices wholemeal bread
2/3 grated carrot
2 sticks celery
1/2 teaspoon ground cumin
1 tablespoon fresh ginger, chopped
Coarse salt and ground pepper
2 large eggs
Olive oil
Your choice of rolls
lettuce, tomato, cucumber – salad of your choice to serve with burgers

Heat grill or fry pan (these may also be cooked in an oven). In a food processor, combine chickpeas, spring onions, bread, carrot, celery, cumin, and ginger; season with salt and pepper. Pulse until roughly chopped. Remove half the mixture to a bowl; add eggs to food processor. Process until smooth. Add smooth mix to reserved mixture in bowl, and mix well. If your mixture is too dry add a little of the reserved liquid the peas were cooked in.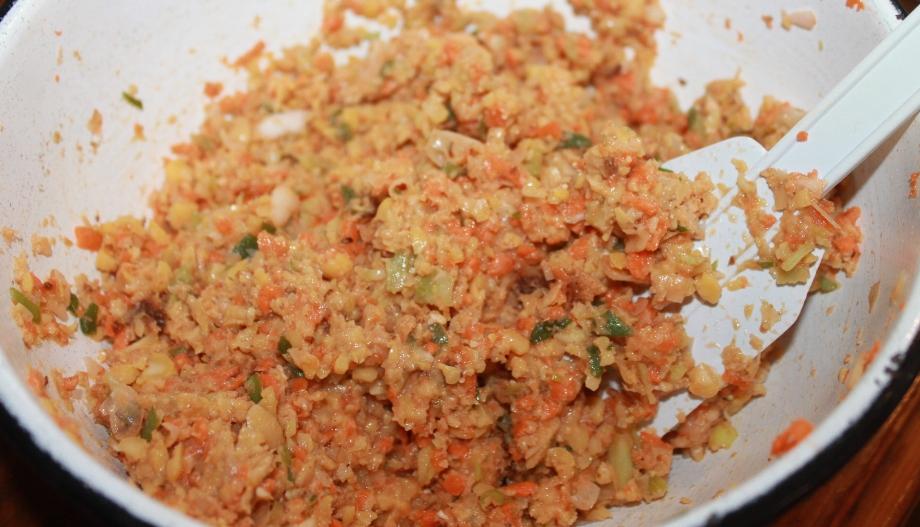 Form the mixture into four 3cm-thick patties. Brush each side generously with oil; grill until charred, 3 to 5 minutes per side.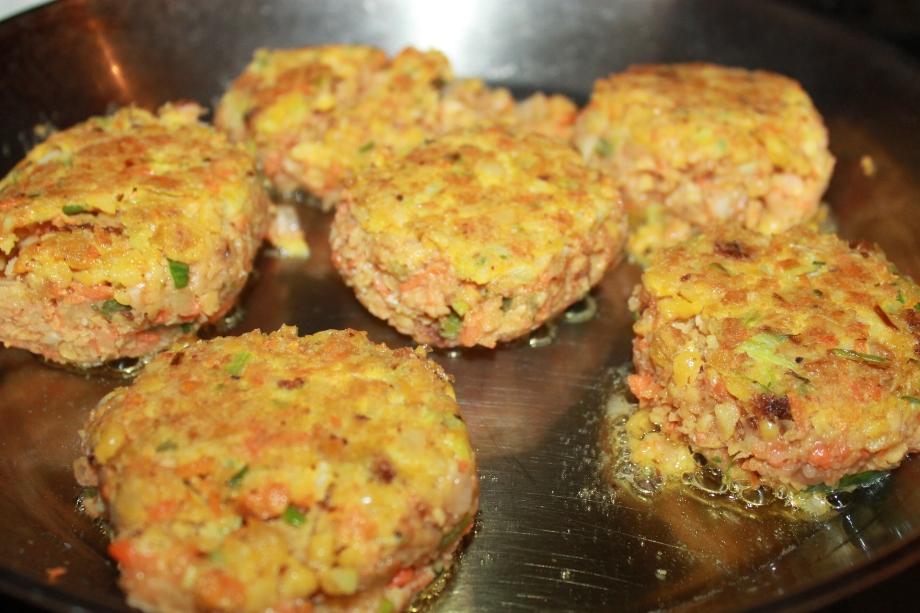 Serve the burgers on rolls with salad and hummus. You can also add some sweet chili sauce - this brings out the flavours even more.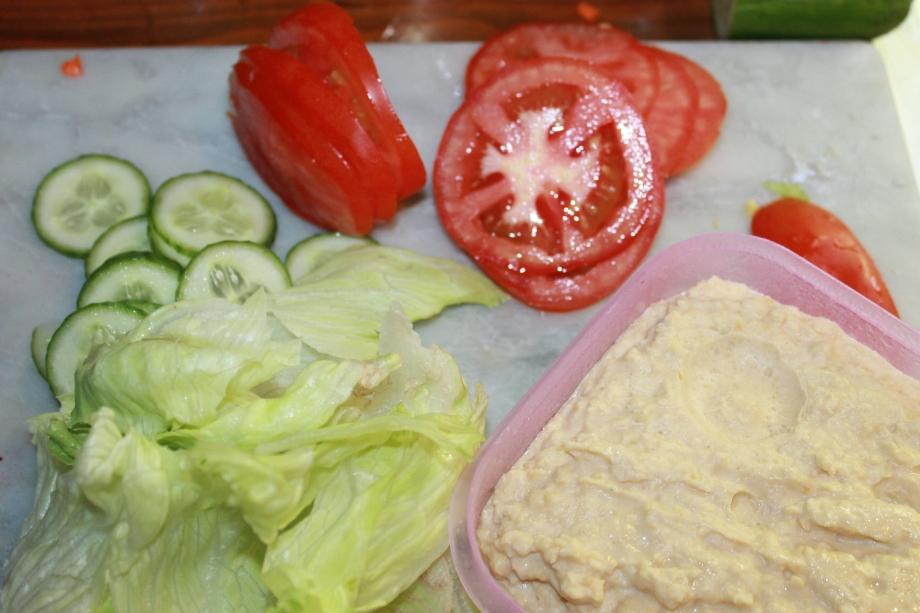 Hummus
250g cooked chickpeas
3 garlic cloves, crushed
75ml olive oil
1 tablespoons tahini paste (see note)
½ teaspoon ground cumin
Juice of 1 lemon
1/4 cup (60ml) water chick peas were cooked in
Toasted Turkish bread or flat bread to serve

Place the chickpeas, garlic, olive oil, tahini paste, cumin and lemon juice in a food processor and process until combined. Add 1/4 cup (60ml) of water and process again until quite smooth.
Place hummus in a bowl and use on burgers instead of butter or as a dip served with bread.
Recipe Ideas - Seasonal Fruits and Vegetables
Apricot - January Summer Fruits
Artichoke – The Flower Vegetable that Crops in Spring Australian and Native Cherries (Summer Fruits) - the Duntroon Connection - Marrianne Collinson Campbell Autumn is Apple Season
Cherry - Australian summer Fruit
Easter Feast - modern and historic
Green Beans - Spring Vegetables
Hogmanay (New Year) Dinner - Australian Style
Make Your Own Treats For Christmas Gifts - Jaffa Rum Balls, White Christmas, Gingerbread People, Spicy Nut Mix, Strawberries Dipped in Christmas, Scottish Shortbread, Spanish Polverones, Melomakarona (Greek Christmas Honey Cookies), Kourabiedes (Greek Butter Biscuits), Italian Lemon Shortbread Squares (Shortbread con crema al limone)
Mandarins Spring Fruits Mandarins Winter Fruits
Mum'€™s Vegetable Soup with Macaroni
Nectarines - end of Summer crop
Packham's Triumph Pears - The Australian Pear
Parsnip - Winter Vegetables Pear - Autumn Fruits
Potato Gnocchi Pumpkin Pumpkin Season 2015
Sage - the 'saving' herb Remembrance Day 2012 Food
Self-Saucing Winter Puddings Silverbeet - Winter Vegetable
Spring Salad Season Spring Strawberries Spring Salads
Summer Passionfruit Summer Peaches, Quandongs (Wild Peach) - Marian Rowan Ellis Summer Raspberries Native Ones - Adam Forster
Ten Minute Spring Salads - fresh Spring Fare Tomato
Winter Crops Winter Vegetable Pies
Pittwater Restaurants, Cafés and Bistros

To list your business, have a Pittwater Online News Food page run, or place a logo on the Pittwater Online News Food page, please contact us with details of your requirements.
Logos may be embedded to redirect to your own website.
Full pages include an overview of menus as well as beautiful images to make the food sampled look its best.
Full pages are archived into Permanent pages past their week of Issue.
Permanent pages in Pittwater Online News average 800 thousand visits per annum past their week of Issue ensuring diners will continue to view your eatery as a potential venue for breakfast, lunch or dinner or as the place to hold their larger functions.
For Rates and Packages Contact us at: