May 2 - 8, 2021: Issue 492

Cook A Mother's Day Feast - Give Mum The Day Off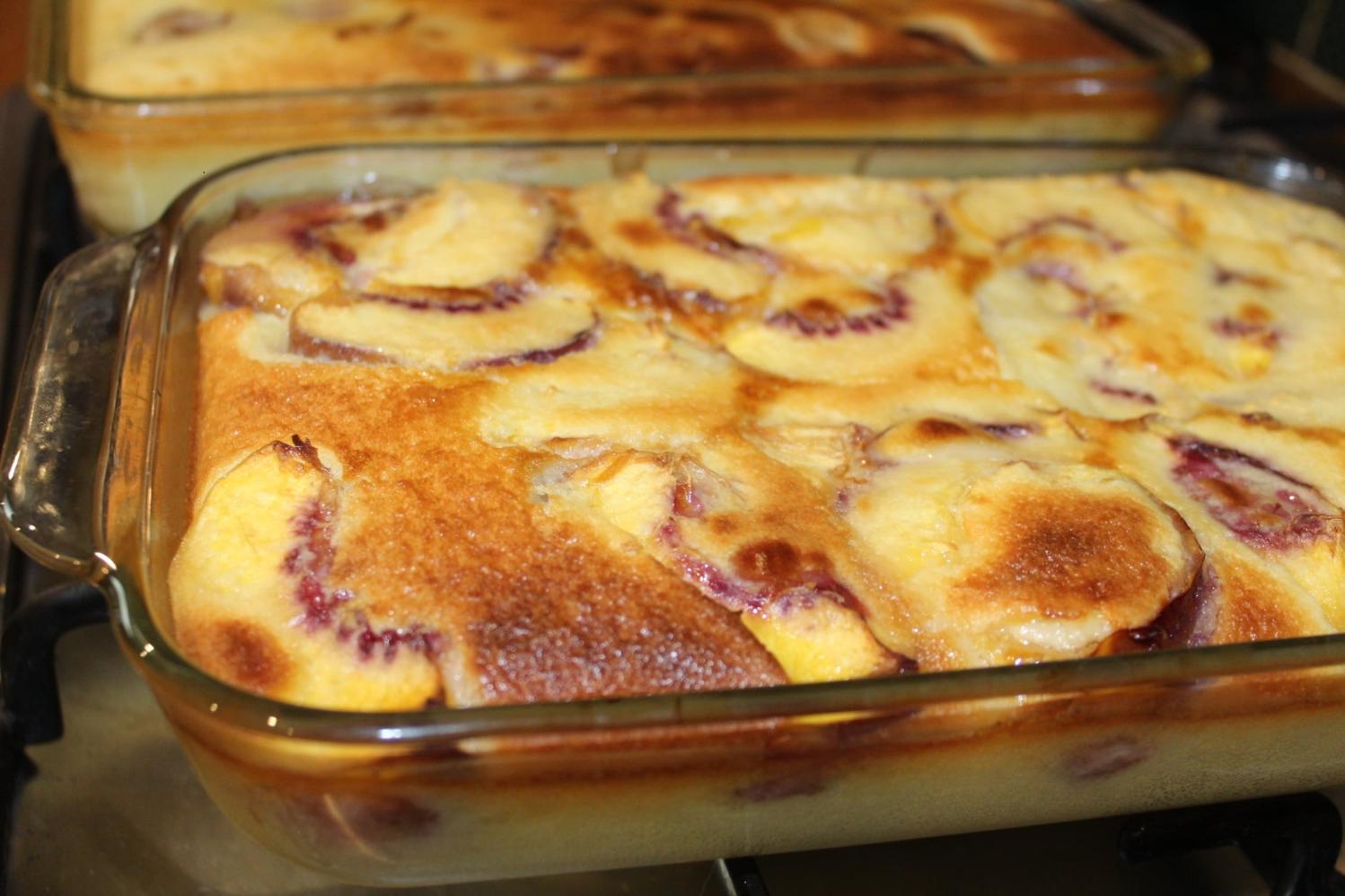 Clafoutis - easy to make, tastes specauclar
I love cooking - I cook every day all week long and make food that keeps the family healthy and running on all cylinders. The best of seasonal produce is served up in a variety of dishes and if there's leftovers, these are usually grabbed for lunch the next day - vegetable bhaji, a mix of besan flour with cumin powder, mushrooms, pumpkin, carrot, spring onions, zucchini and whatever else is in season, continues to be popular and tastes great warm or cold.
One thing anyone who cooks all week long can tell you though - sometimes it's good to get a break from all that preparation, cooking, serving and then cleaning up afterwards. Unfortunately getting a break from the cooking around here has meant being served up burnt eggs on cold soggy toast or a coffee wherein half the jar seems to have been poured into the cup before lukewarm water was added - nice gesture; you can't eat it though. NB husband: for golden hot toast put the bread on when you put the 3 minute eggs on - not three weeks or even 10 minutes prior to. Coffee?; you only need one scoop per person and one scoop for the plunger pot prior to adding water, not all the coffee recently harvested from the continent of Africa.
As it's easy to do great food with what's available - cook off some pasta, while it's boiling toss some crumbled goats cheese, olives, avocado and tomatoes into a bowl, add hot pasta and garlic with olive oil and stir - a few ideas this week for those husbands and youngsters who want to keep it at home and keep it real this Mother's Day.
The great part about getting youngsters involved in the cooking is that they'll find out why maths is useful (measure/weigh), and they learn about the food ingredients they're cooking which is likely to increase their appetite for all the good stuff. Reviews of classroom healthy eating interventions found active learning activities such as cooking, food preparation and school gardening had the biggest impact on improving nutrition knowledge and dietary patterns. This was especially the case when it came to getting children to eat more fruit and vegetables and reduce their intake of sugar.
Let's cook!
Eggs - These Make A Great Brunch Or Lunch Too
Eggs Florentine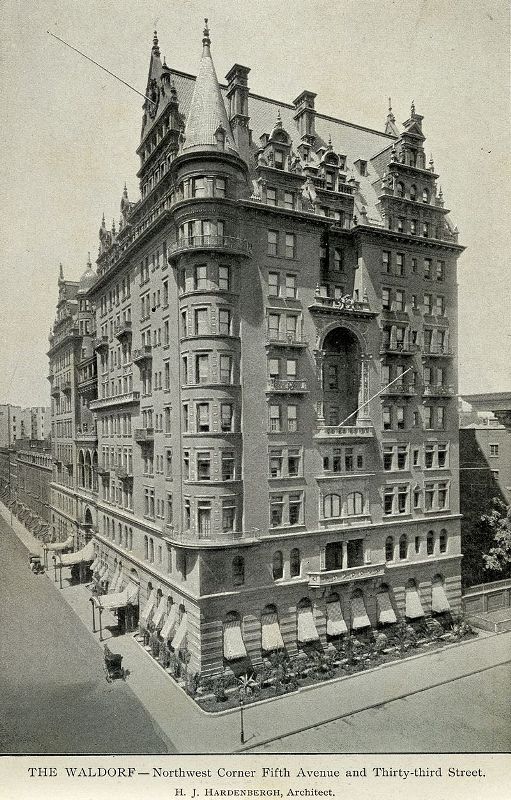 There are conflicting accounts as to the origin of Eggs Benedict.
In an interview recorded in the "Talk of the Town" column of The New Yorker in 1942, the year before his death, Lemuel Benedict, a retired Wall Street stock broker, claimed that he had wandered into the Waldorf Hotel in 1894 and, hoping to find a cure for his morning hangover, ordered "buttered toast, poached eggs, crisp bacon, and a hooker of hollandaise". Oscar Tschirky, the famed maître d'hôtel, was so impressed with the dish that he put it on the breakfast and luncheon menus but substituted ham for the bacon and a toasted English muffin for the toast. Right: Waldorf Hotel, New York City (1893).
Another claim to the creation of Eggs Benedict was circuitously made by Edward P. Montgomery on behalf of Commodore E. C. Benedict. In 1967 Montgomery wrote a letter to then The New York Times food columnist Craig Claiborne which included a recipe he claimed to have received through his uncle, a friend of the commodore. Commodore Benedict's recipe — by way of Montgomery — varies greatly from chef Ranhofer's version, particularly in the hollandaise sauce preparation — calling for the addition of "hot, hard-cooked egg and ham mixture" -Wikipedia

8 thin bacon rashers
20g butter
2 bunches English spinach, trimmed, washed, dried
Dash of white vinegar
4 fresh eggs, at room temperature
4 slices ciabatta, sourdough or English muffins, toasted
Hollandaise sauce
3 egg yolks
1 tablespoon lemon juice
60g butter, cut into 1.5cm cubes
To make the hollandaise sauce
Step 1: Whisk egg yolks and lemon juice in a heatproof bowl.
Step 2: Place bowl over a saucepan of simmering water over low heat. Whisk for 3 minutes or until mixture becomes thick and pale. Add 1 cube butter. Whisk until melted. Repeat with remaining butter (this will take about 10 minutes). Remove from heat. Season with salt and pepper and set aside.
Step 3: Heat a large frying pan over high heat. Add the bacon rashers and cook for 2 minutes each side or until crisp. Transfer to a plate. Melt the butter in the pan until foaming. Add the spinach and cook, stirring, for 3-4 minutes or until spinach wilts. Season to taste with salt and pepper.
Step 4: Add vinegar to a deep frying pan filled with water and bring to the boil over high heat. Reduce heat to low and bring to a gentle simmer. Crack 1 egg into a small cup. Use a large spoon to stir the water to create a whirlpool. Gently slide the egg into the water and poach for 1-2 minutes for a soft egg, or until cooked to your liking. Use a slotted spoon to transfer to a plate. Cover loosely with aluminium foil to keep warm and repeat with the remaining eggs.
Step 5: Place the toast on the serving plates. Spoon the spinach and bacon over the toast slices. Top with the poached eggs and drizzle with hollandaise sauce. Season with freshly ground black pepper and serve immediately.

Three Cheese Soufflé
A classic dish this makes a very special breakfast, lunch or supper. Serve with bread and a salad for a whole meal. Always ensure you dust your ramekins with either breadcrumbs or some dried Parmesan to give the mixture something to climb by and cling to – makes for a soufflé that won't 'fall'.
melted butter, to grease
2 tbsp dried breadcrumbs or Parmesan to coat dishes
2 ½ tbsp butter
2 ½ tbsp plain flour
250 ml(1 cup) milk
50 g vintage cheddar, finely shredded
50 g Gruyère, finely shredded
50 g Parmesan, finely grated
2 tsp Dijon mustard
½ tsp cayenne pepper
2 tbsp chopped chives
2 tbsp chopped flat leaf parsley
salt and freshly ground black pepper, to taste
4eggs, at room temperature, separated

Preheat oven to 190°C. Brush four individual 250 ml (1 cup) ramekins or soufflé dishes with the butter to grease well and then sprinkle with the breadcrumbs, turning to coat the dishes to coat well, tapping out any excess breadcrumbs – this helps the soufflé to rise or 'climb'. Place on an oven tray and set aside.
Combine the cheddar, Gruyère, Parmesan and set aside 2 tablespoons of this mixture for sprinkling the tops of the soufflés.
Melt the butter in a medium saucepan over a medium heat until foaming. Add the flour and stir with a balloon whisk for about 1 minute until the mixture is bubbling and leaves the sides of the pan.
Remove the pan from the heat and gradually add half the milk, stirring constantly with the whisk until smooth. Gradually add the remaining milk, stirring until smooth. Return the pan to a medium heat, and stir constantly with the whisk until the sauce thickens and starts to simmer. Reduce the heat to low and simmer, stirring frequently, for 3 minutes.
Transfer the sauce immediately to a heatproof bowl and stir in the cheddar, Gruyere and Parmesan mixture, the Dijon mustard, cayenne, chives and parsley. Season well with salt and pepper. Add the egg yolks and stir until well combined. Stir in the chives and parsley.
Use an electric mixer with a whisk attachment to whisk the egg whites with a pinch of salt until firm peaks form. Add about a quarter of the whisked egg whites to the cheese sauce and use a large metal spoon or spatula to fold together until just combined to loosen the mixture. Fold in the remaining egg whites until just combined (the mixture should appear to have streaks of egg whites through it but there should be no large clumps of egg white).
Divide the mixture evenly among the prepared dishes. Sprinkle with the reserved 2 tablespoons of the cheese mixture. Bake in preheated oven for 20 minutes or until the soufflés are well risen and cooked through (they should still wobble slightly when the dishes are tapped and an inserted skewer should come out clean but slightly moist). Serve immediately.

Spicy Baked Spanish Eggs
250g Chorizo sausage, sliced
2 shallots
1 clove garlic
¼ teaspoon smoked paprika
¼ teaspoon cayenne pepper
2 tablespoons sherry or red wine vinegar
400g tinned diced tomatoes
1 teaspoon baby capers, rinsed (optional)
2 anchovy fillets, chopped (optional)
2-4 eggs depending on fry pan size
Small bunch fresh parsley for garnish
Crusty bread to serve
Pre-heat oven to 190C (170C for a fan-forced oven).
Cook the chorizo in a small ovenproof frying pan over medium heat until the oil is released and the chorizo is caramelised, about 2-3 minutes. Add the garlic and saute for a further 2 minutes. Add the paprika, cumin and cayenne pepper and sauté for a further minute or until fragrant.
Add the vinegar and deglaze the pan, cooking until the liquid has almost evaporated. Add the tomatoes, capers and anchovies (if using), stir well to combine and continue to cook for another minute. If you want to serve the eggs in individual dishes, transfer the mixture to two 300ml ovenproof dishes, otherwise you can just leave the mixture in the frying pan. Make a small indentation in the mixture in the pan or each dish, and break an egg into it. Bake in the oven for 8-10 minutes, depending on how runny you want your yolk. Sprinkle with fresh shallots. Serve with fresh or toasted bread.

Cheesy egg and bread bake with roasted tomato
300 g white thick sliced bread, crusts removed
200g cheddar cheese, grated
100g parmesan cheese, grated
2 tablespoon parsley, chopped
2 tablespoon chives, chopped
8 eggs
3/4 cup lite pouring cream
40g butter, melted
1 punnet baby tomatoes
1 tablespoon olive oil
This is a savoury variation on baked sweet bread custard. Cut the bread into small chunks. Place into a large bowl a long with the cheeses and herbs. Whisk the eggs and cream together. Season well. Pour egg mix over bread, leave to soak for 30 minutes.
Preheat oven to 180o Celsius. Place the tomatoes in a baking dish, lightly brushed with the oil and seasoned. Place in the oven, for 10 minutes, until just soft. Lightly grease a 1 litre ceramic baking dish with the butter. Pour in the bread mix, drizzle over the remaining butter. Place in the oven for 30 - 40 minutes until puffed and golden. Serve immediately with the roast tomatoes.

Pumpkin, Spinach and Fetta Frittata
The frittata is one of the most versatile egg dishes – you can serve it either hot or cold, take it on picnics, and it makes great school lunches. The ingredients are what you like too, leftover vegetables will do as well as fresh ones prepared. This is a tasty one we've had a few times served with a green salad and chunks of fresh crusty bread – a perfect brunch meal
4 cups cubed fresh pumpkin
2 medium potatoes, peeled and coarsely chopped
1/2 bunch spinach, chopped and washed thoroughly
150g crumbled feta cheese
3/4 cup (90g) grated cheddar cheese
8 eggs, lightly beaten
1 small red onion, thinly sliced
Preheat oven to 180ċ°. Lightly grease a 25cm square baking dish. Cook the pumpkin and potato until tender. Combine the pumpkin and potato in a large bowl. Add the spinach, feta, cheddar and eggs; stir. Transfer mixture to prepared dish; top with sliced onion.
Bake in preheated oven until firm, about 25 minutes. Allow to rest 5 minutes before serving.
Lunch And Dinner Ideas
Vegetable Bhajis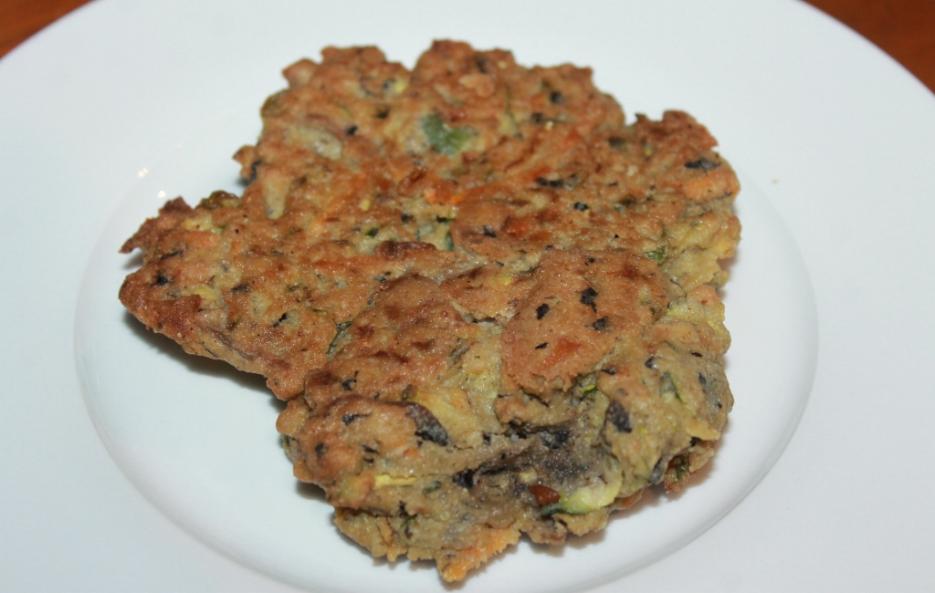 500 grams of Besan Flour (chick pea flour – available in health food section of supermarkets or in good fruit ad veg. stores)
4 zucchini (grated)
1 large onion (sliced thin)
4 large mushrooms (sliced)
2 carrots (grated)
2 handfuls fresh green beans - chopped
3 spring onions – chopped
Salt and pepper to season Besan flour
Cold water to mix – or 2 x eggs plus water
Vegetable oil
Spices as below in Onion Bhaji alternative or omit if making for children

Put oven on to 180 degrees and two flat trays in at same time to heat up (this will keep bhajis hot while you cook others – it is also a way to shallow fry them and finish off cooking process in oven, minimising oil use). Place all your prepared vegetables in a bowl, add in the Besan flour and mix so all ingredients are coated. Add your wet ingredients – when adding the water you want to form a sticky fairly thick mixture otherwise you will have problems flipping the Bhaji. We only shallow fry these rather then deep frying so we get the taste of the vegetables and besan flour instead of the oil predominating. Heat a frying pan and place about 1cm of oil in. Dollop a tablespoon of mixture in and allow to flatten slightly; stir with spoon to flatten if required. Allow to brown and then flip. Once other side has browned, place on your heated tray in oven to finish cooking and begin next batch. Continue this process until all are cooked. Serve with a nice crisp green salad and fresh hot bread.

Sides
Tamarind Chutney
1/2 lb tamarind, seeded
2 1/2 cups sugar
2 cups boiling water
1 1/2 tablespoons roasted ground cumin seeds
1 tablespoon salt
1 teaspoon black salt
1 teaspoon red chili powder
1 teaspoon ground black pepper
1/2 teaspoon ginger powder
Break the tamarind into small pieces and soak in boiling water for one hour. Mash it into a pulp and strain, pressing the tamarind into the strainer to remove all the pulp. Add sugar to the pulp. Mix well. Add the remaining ingredients. Mix and taste. Add more sugar, salt or pepper as needed. Chutney can be refrigerated for two to three months.
Serving suggestion:
Tamarind chutney is delicious with samosas, pakoras, and bhajis.

Cucumber Raita
2 Lebanese cucumbers - peeled and thinly sliced
2 cups Greek yoghurt
3 tablespoons lemon juice
2 tablespoons chopped fresh mint
1/2 teaspoon white sugar
1/4 teaspoon sea salt
Stir together the cucumber, yoghurt, lemon juice, mint, sugar, and salt in a bowl. Cover and refrigerate at least 3 hours, preferably overnight.

Onion Bhaji
100g (4oz) chickpea flour or gram flour
1/4 tsp chilli powder
1/2 tsp turmeric
1/2 tsp baking powder
Salt
1/2 tsp ground cumin
1 large onion, halved and thinly sliced
1 green chilli, deseeded and finely chopped
25g (1oz) fresh coriander, finely chopped
Cold water, to mix
Vegetable oil, for deep frying

Sift the flour, chilli, turmeric, cumin, baking powder and salt into a large mixing bowl. Add the chopped coriander, onions and chillies and mix well. Preheat the frypan and add oil. Gradually add enough water to the flour mixture to form a thick batter, mixing very well so the onions are well coated. Very carefully drop spoonfuls of the mixture into the hot oil and fry until golden brown. Drain well on paper towels. Keep warm whilst you cook the remaining bhajis on your oven trays. Serve hot.

Mum's Vegetable Soup with Macaroni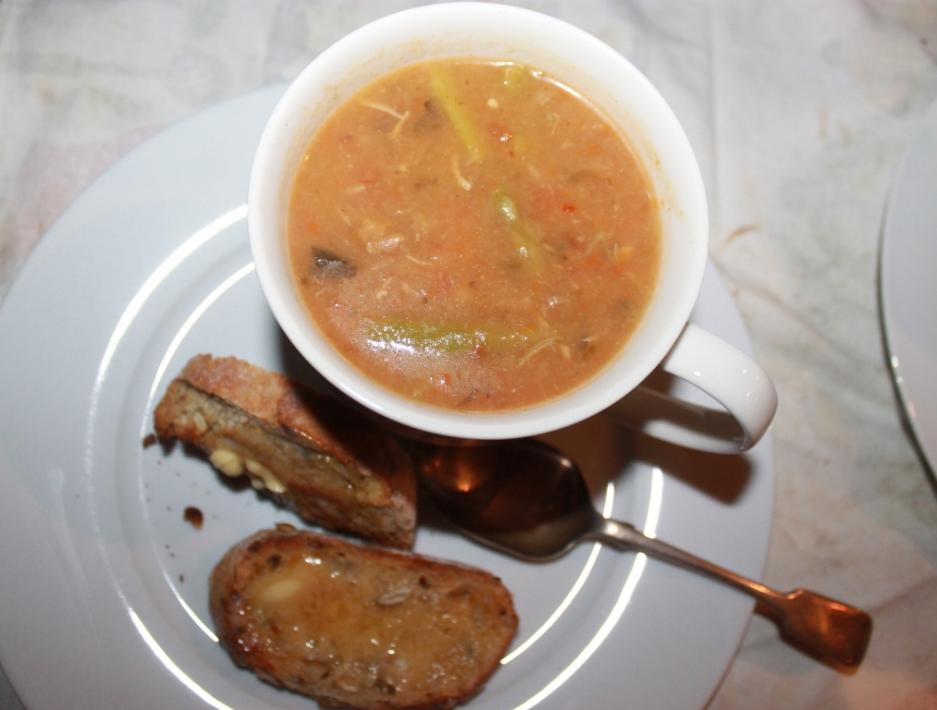 When it's snowing, when Antarctica seems to have moved north, it's time to greet those shivering through the front door with a hot bowl of soup. This is fairly simple recipe and we make up a big stockpot of it, freeze some, and this makes for quick meals when you arrive home and something quick, nutritious and already done is what you want.

Adding macaroni when reheating-simmering, can turn an entrée into a meal by adding a side of fresh slabs of buttered toast or fresh bread. Don't place the pasta in (or risoni as an alternative) until 10-15 minutes prior to serving so it stays 'al dente'. If you have littlies, a little more chicken added in and using noodles makes it Chicken Noodle Soup!

As with all our family-friendly based on seasonal produce recipes, this may be adapted to suit personal tastes, what is in season, or even what needs using in your refrigerator. When adding stock powder remember you can't take out salt once you have put it in – we recommend for this 10 litre pot, that will be two thirds full prior to leaving room for ingredients, that you only add three tablespoons of stock powder and add more if your taste requires it.

Mum's Vegetable Soup – with Macaroni
(for 10 litre stockpot)

3 x chicken carcasses – fresh
2 onions
1 leek – sliced thin
4 cloves of garlic - crushed
3 x sticks of celery
2 large carrots
2 x tins of roma tomatoes
1 x cup of dried chick peas
3 x potatoes
1 x parsnip or swede/turnip
Shredded spinach – ½ bunch
150-200 grams of pumpkin
3 tablespoons salt free vegetable stock powder

To serve
1/3 cup of macaroni to 2-3 litres of soup
Bunch of fresh asparagus – chopped into 3cm lengths.

Fill stockpot two thirds full with cold water – add chicken carcasses. Dice all hard vegetables and add into stock. Allow to simmer until meat left on carcass is soft -= removed carcasses, strip what meat is there, return this to pot – discard carcass. Allow to simmer for 30 minutes – add in macaroni to portion needed for meal (one third a cup. We also add in a bunch of fresh asparagus five minutes prior to serving to give the soup a bit of a lift of freshness and for added goodness.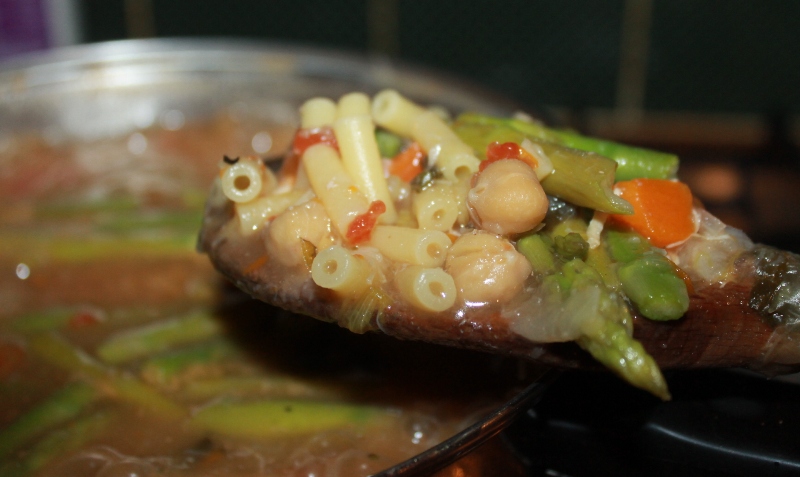 Sweets For The Sweet
Upside down Banana Cake
You can also use pineapple rings from a tin for this one if bananas get a bit too expensive during cooler months, or any other fruit for that matter - in season pears go well. We also use yoghurt in the place of milk for this recipe - it makes for a richer and healthy cake with a denser quality.

1 oil spray
2 tbs soft brown sugar
1 banana sliced
1 cup self raising flour
1 cup caster sugar
2 egg lightly beaten
175 grams of butter
1/4 cup skim milk
2 bananas ripe
2 tsp vanilla extract

Method
Preheat oven to 170C and lightly grease a 20 cm springform cake pan. Line the base with baking paper. Mix 50 grams of softened butter with the brown sugar onto base of pan and arrange sliced banana in a single layer on top. If you want a gooier version double the proportions and make this layer thicker.

Combine flour and caster sugar in a large bowl. Combine eggs, 125grams of melted butter, milk, mashed bananas and vanilla in another bowl. Pour egg mixture into flour mixture and combine with a large spoon.
Pour into prepared cake pan and bake for 50 minutes or until skewer inserted into centre of the cake comes out clean. Stand cake for a few minutes before turning onto a plate and serve while still warm with oodles of fresh whipped cream.

Self Saucing Chocolate Pudding
1 cup self-raising flour
2 tablespoons cocoa powder
1/2 cup brown sugar
80g butter, melted, cooled
1/2 cup milk
1 egg, lightly beaten
thick cream, ice cream and mixed winter berries, to serve
Sauce
3/4 cup brown sugar
2 tablespoons cocoa powder, sifted
1 1/4 cups boiling water
Preheat oven to 180°C or 160C fan-forced. Grease an 8-cup capacity ovenproof baking dish. Sift flour and cocoa into a large bowl. Stir in sugar.
Combine butter, milk and egg in a jug. Slowly add to flour mixture, whisking until well combined and smooth. Spoon into baking dish. Smooth top gently.
Combine the sugar and cocoa and sprinkle over the pudding batter.
Slowly pour boiling water over the back of a large metal spoon to cover pudding. Place dish onto a baking tray. Bake for 35 to 40 minutes or until pudding bounces back when pressed gently in centre. Serve hot with cream and berries.
Made last night all gone this morning - for those extra peaches or other seasonal fruits. This is an easy recipe and tastes so good it may become a permanent part of your repertoire dad.
Prepare your fruit by washing and cutting into halves or quarters. Bear in mind you can use practically any in season fruit; nectarines, pears, plums or peaches. But not lemons or apples - one may curdle the other may not cook in time - if you want to celebrate this seasons' best apples in a desert dish a simple Apple Crumble will please young palates and mum alike.
Serves 6
115g (3/4 cup) plain flour, sifted
Pinch of salt
155g (3/4 cup) caster sugar
6 eggs, lightly whisked
3 cups pouring cream - [I used 'light' cream as we're already rotund]
2 teaspoons vanilla essence
Melted butter, to grease
6 peaches, halved, stone removed, cut into wedges
40g unsalted butter, melted
200ml pouring cream, extra
Icing sugar, to dust
Preheat oven to 180°C. Brush six 375ml (1 1/2-cup) capacity shallow ovenproof dishes or two larger flat dishes with melted butter to lightly grease. Divide the peach among the prepared dishes.
Combine the flour, salt and sugar in a bowl. Whisk together the egg, milk, cream and vanilla in a large jug. Make a well in the centre of the flour mixture. Gradually add the egg mixture, whisking until a smooth batter forms. Cover with plastic wrap and set aside for 30 minutes to rest.
Add the melted butter to the flour mixture. Stir until well combined. Pour over the peach. Bake for 20-25 minutes or until just set. If using larger dishes as i did it will take around 25-30 minutes until they are golden brown and still a bit wobbly in the centre.
Whip the extra cream until soft peaks form. Dust each clafoutis with icing sugar and top with a dollop of the cream to serve.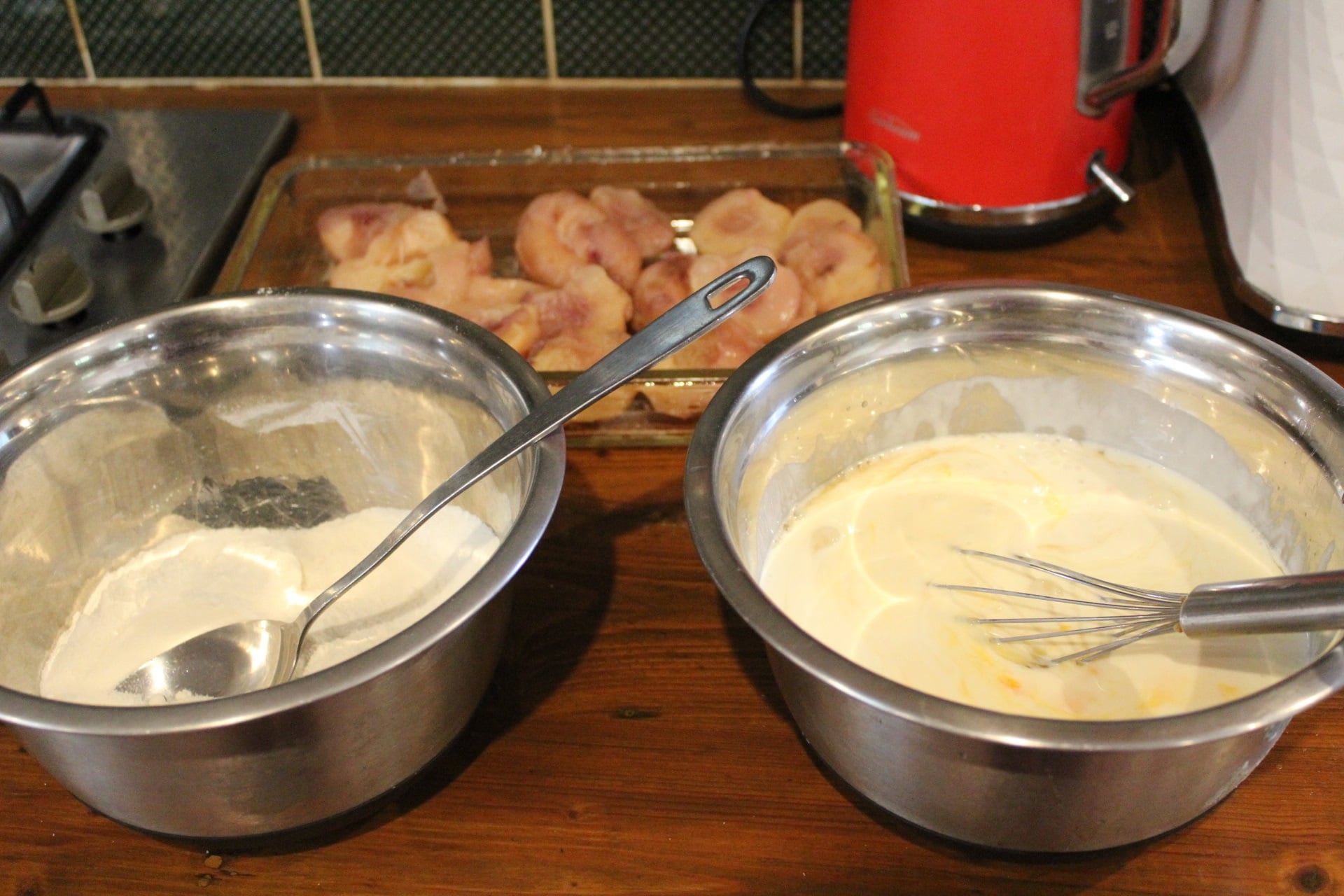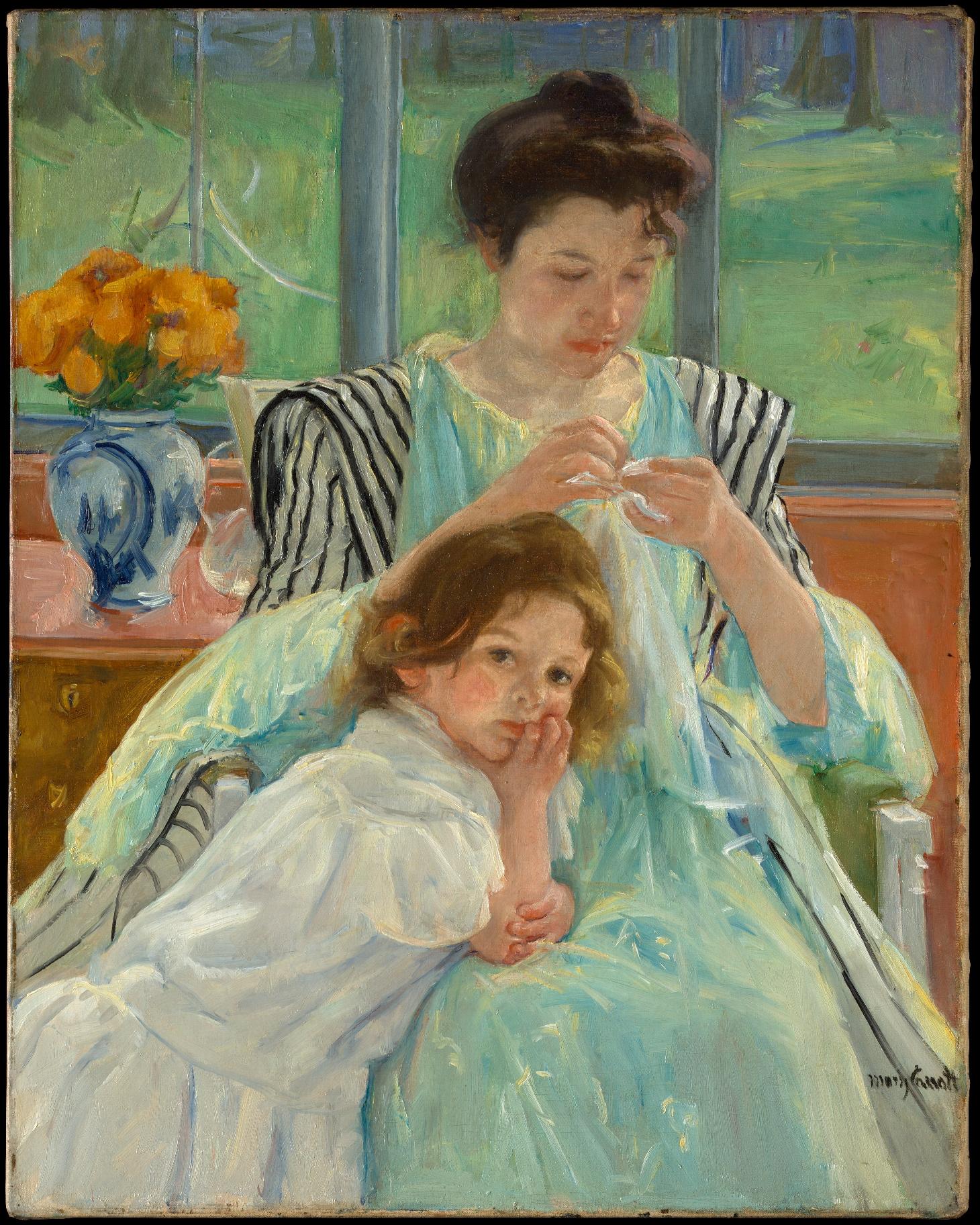 Young Mother Sewing aka Little Girl Leaning on her Mother's Knee is a 1900 painting by Mary Cassatt. It is in the collection of the Metropolitan Museum of Art.