November 29 - December 5, 2020: Issue 476
Premier's Visit Highlights support for local restaurants and cafes: Dine & Discover NSW ( & Pittwater) Commences late january 2021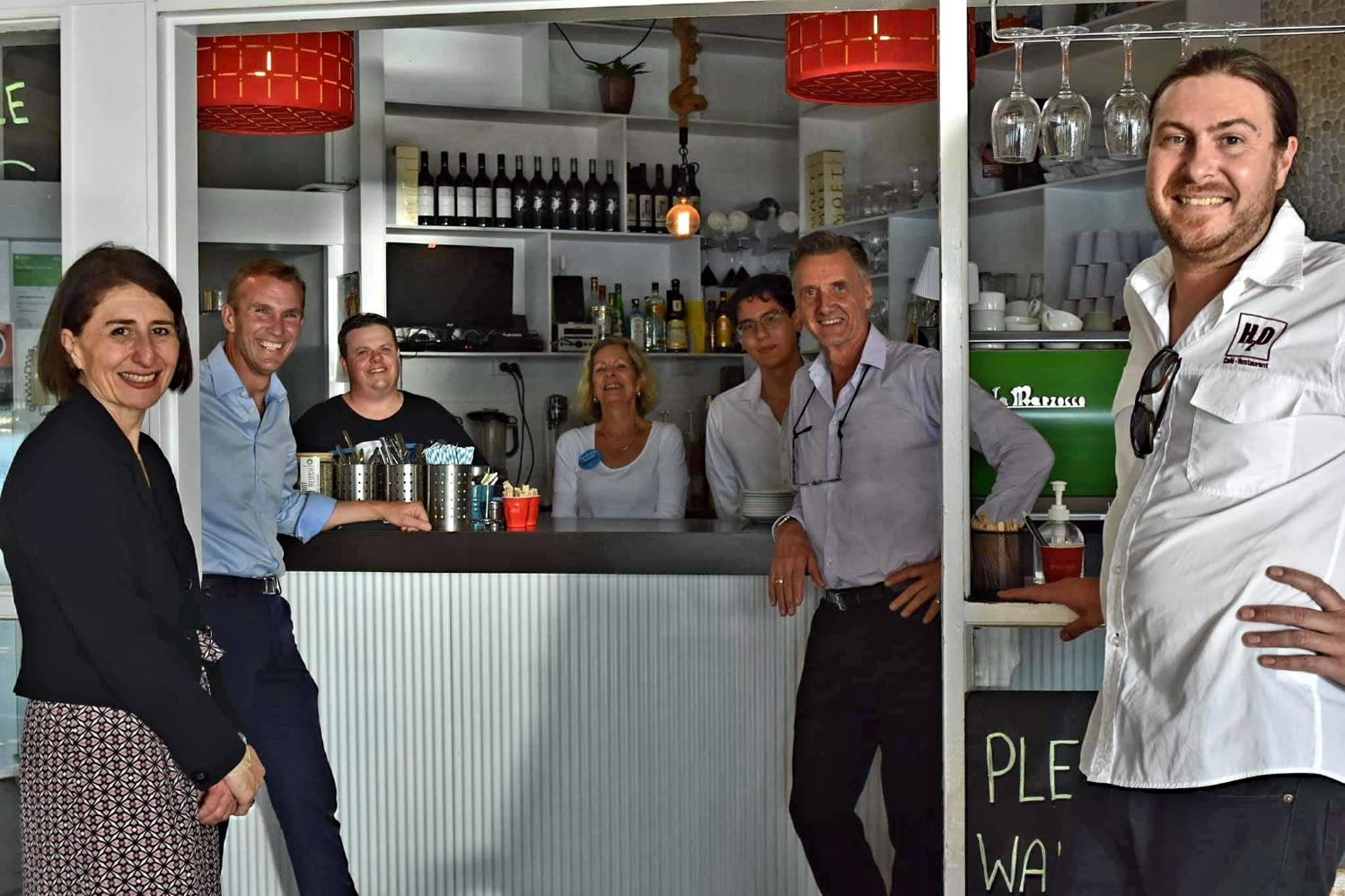 Pittwater MP Rob Stokes and NSW Premier Gladys Berejiklian visiting staff at H20 Restaurant in Narrabeen.
Member for Pittwater Rob Stokes and NSW Premier Gladys Berejiklian have visited H20 Restaurant at Narrabeen to discuss the importance of the NSW Government's upcoming 'Dine and Discover' voucher program.
The program is part of a NSW Government stimulus package targeted towards key employment sectors hardest hit by Covid-19.
From early next year, all adults will be eligible for four $25 vouchers. Two vouchers can be used at food service venues, and two can be used for entertainment and recreation.
The program is administered by Service NSW and will provide a vital boost for small businesses as they survive and recover from the pandemic.
"Cafes and restaurants are an absolutely vital part of our local economy," Rob Stokes said this week
"There are thousands of people employed in cafes and restaurants throughout our community and they've faced some really tough times this year.
"This program is aimed at kick-starting the economic rebound for this vital sector – and helping ensure they can keep people employed.
"We've got amazing cafes and restaurants in our community, in great locations. These vouchers will make a visit even more enjoyable, and you'll be supporting our local economy at the same time.
"I was delighted to show the Premier around some of the best parts of our community and explain just how important the restaurant and café sector is to our local economy," Rob Stokes said.
In early December, the scheme will invite 500 customers to use their vouchers with participating COVID Safe businesses as part of a trial in The Rocks. This scheme will then be rolled out across NSW from late January 2021.
Businesses in The Rocks will be invited to register their business to participate in the trial. The trial will then  expand to the Sydney CBD and Broken Hill throughout  December. A test run will help gauge participation and resolve any issues ahead of the full rollout across NSW in January.
NSW residents can apply for vouchers from late January 2021.
Eligible businesses can provide an expression of interest before registrations open in late January.
Please note that to participate in the scheme, you must:
have an active ABN and be registered for GST
operate in NSW
be registered as COVID Safe and have a COVID-19 Safety Plan in place
operate in one of these eligible industries:
cafés and restaurants
pubs, taverns, bars and clubs
scenic and sightseeing transport
cinemas
museums, galleries and historic sites
zoos, botanic gardens, wildlife parks and nature reserves
performing arts operations, theatres and entertainment centres
amusement, theme and water parks
recreational activities such as go-karting, indoor climbing, mini-golf, billiards, bowling or ice-rinks
outdoor adventures
travel agencies and tours.
Find out more at https://www.service.nsw.gov.au/campaign/dine-discover-nsw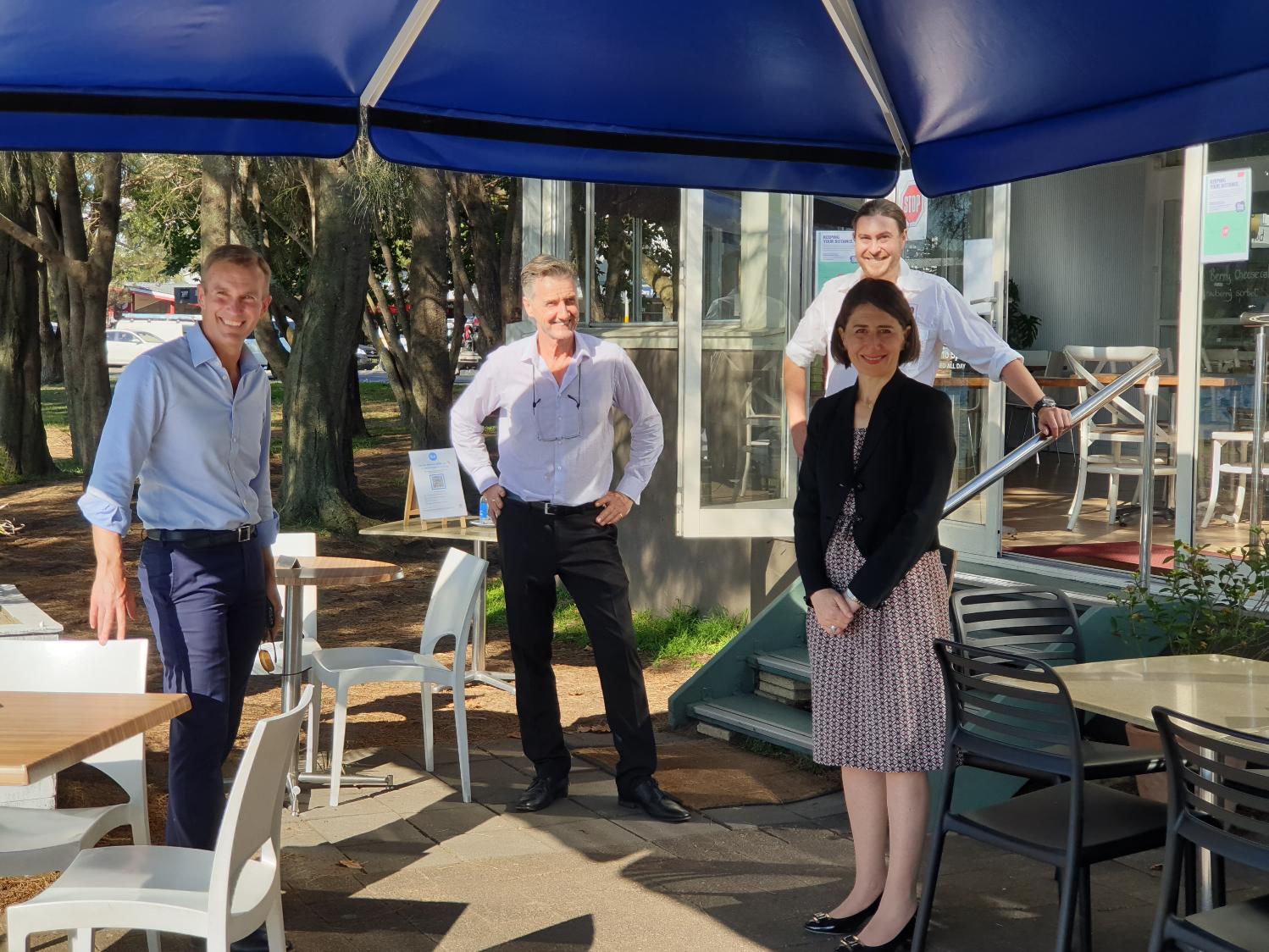 Pittwater MP Rob Stokes and NSW Premier Gladys Berejiklian visiting staff at H20 Restaurant in Narrabeen.