July 13 - 19, 2014: Issue 171
Mum's Vegetable Soup with Macaroni

When it's snowing, when Antarctica seems to have moved north, it's time to greet those shivering through the front door with a hot bowl of soup. This is fairly simple recipe and we make up a big stockpot of it, freeze some, and this makes for quick meals when you arrive home and something quick, nutritious and already done is what you want.
Adding macaroni when reheating-simmering, can turn an entrée into a meal by adding a side of fresh slabs of buttered toast or fresh bread. Don't place the pasta in (or risoni as an alternative) until 10-15 minutes prior to serving so it stays 'al dente'. If you have littlies, a little more chicken added in and using noddles makes it Chicken Noodle Soup!
As with all our family-friendly based on seasonal produce recipes, this may be adapted to suit personal tastes, what is in season, or even what needs using in your refrigerator. When adding stock powder remember you can't take out salt once you have put it in – we recommend for this 10 litre pot, that will be two thirds full prior to leaving room for ingredients, that you only add three tablespoons of stock powder and add more if your taste requires it.
Mum's Vegetable Soup – with Macaroni
(for 10 litre stockpot)
3 x chicken carcasses – fresh
2 onions
1 leek – sliced thin
4 cloves of garlic - crushed
3 x sticks of celery
2 large carrots
2 x tins of roma tomatoes
1 x cup of dried chick peas
3 x potatoes
1 x parsnip or swede/turnip
Shredded spinach – ½ bunch
150-200 grams of pumpkin
3 tablespoons salt free vegetable stock powder
To serve
1/3 cup of macaroni to 2-3 litres of soup
Bunch of fresh asparagus – chopped into 3cm lengths.
Fill stockpot two thirds full with cold water – add chicken carcasses. Dice all hard vegetables and add into stock. Allow to simmer until meat left on carcass is soft -= removed carcasses, strip what meat is there, return this to pot – discard carcass. Allow to simmer for 30 minutes – add in macaroni to portion needed for meal (one third a cup. We also add in a bunch of fresh asparagus five minutes prior to serving to give the soup a bit of a lift of freshness and for added goodness.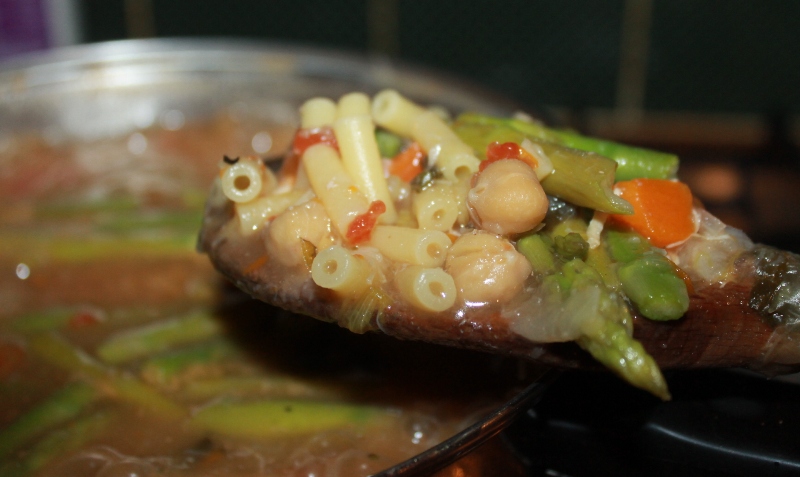 Allow the rest cool in freezer proof plastic and you have one extra warmer ready against mid-Winter chills.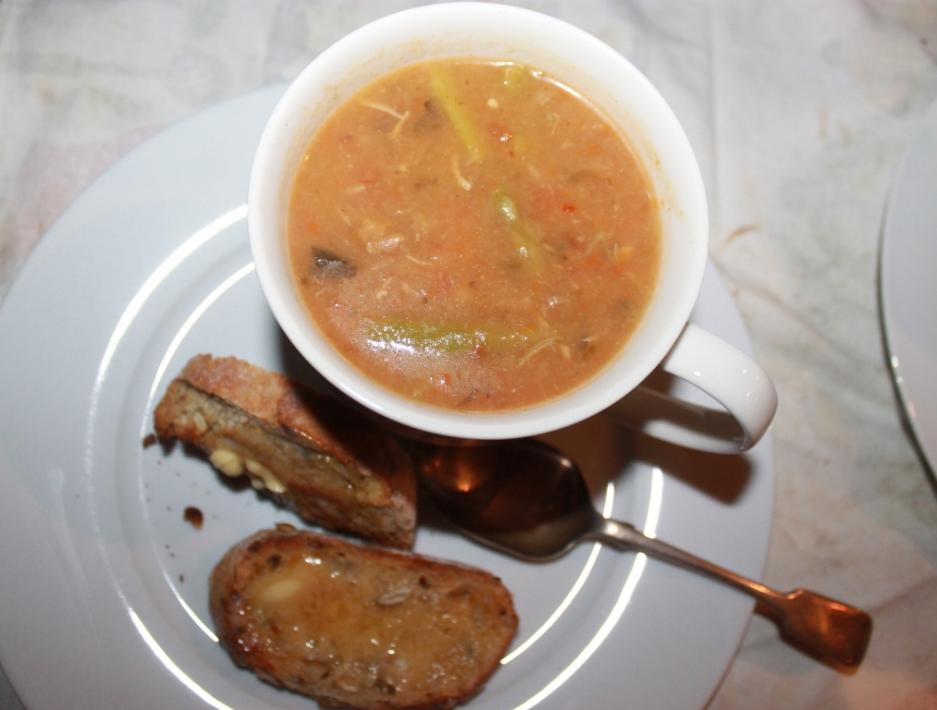 Copyright Pittwater Online News, 2014. All Rights Reserved.