May 26 - June 1, 2019: Issue 406

Riva Bar And Kitchen Autumn Lunch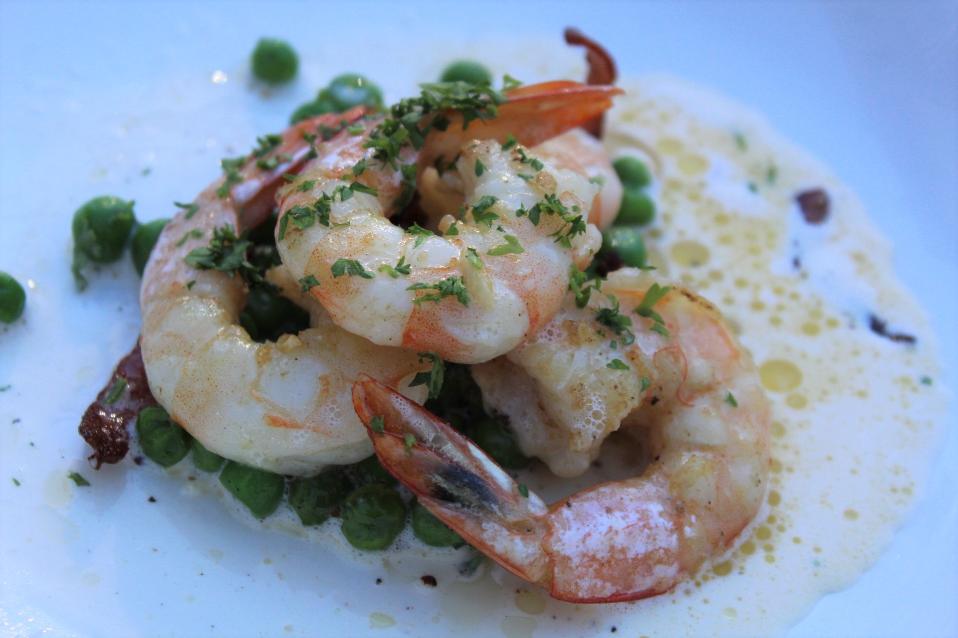 Riva Bar and Kitchen
8/57 Avalon parade
Avalon Beach
Ph: 9918 4007
Open
Thursday to Sunday - 11:30 AM - 9:30 PM
Tuesday & Wednesday - 5.30 PM -930 PM
Closed Mondays
On Facebook: www.facebook.com/rivabarandkitchen
Website: rivabarandkitchen.com.au
Enjoying Autumnal sun and a slow few hours is always made more pleasant with a sunny courtyard to do it in and a great refreshing drink to sip whilst doing so.
On Saturday a visit to Riva Bar and Kitchen to check out their Autumn Menu was a delight to the palate. Having been good little vegemites and eaten our weet-bix for breakfast something light was called for and so three of the Starters on the Lunch menu were selected so there would be room for Dessert.
Chicken and cabbage dumplings with Peking duck consomme ( $16) was three superb plump dumplings stuffed with a savoury mix of poultry and cabbage with just a slight tender crunch - the consomme, with a hint of heat, complimented the dough and filling.
The Salt and pepper calamari with garlic aioli and mix leaf salad ($16) is a dish you can get at Riva during warmer months too, Crunchy tempura thin batter allows the seafood to shine - easily one of the best of this popular dishes around.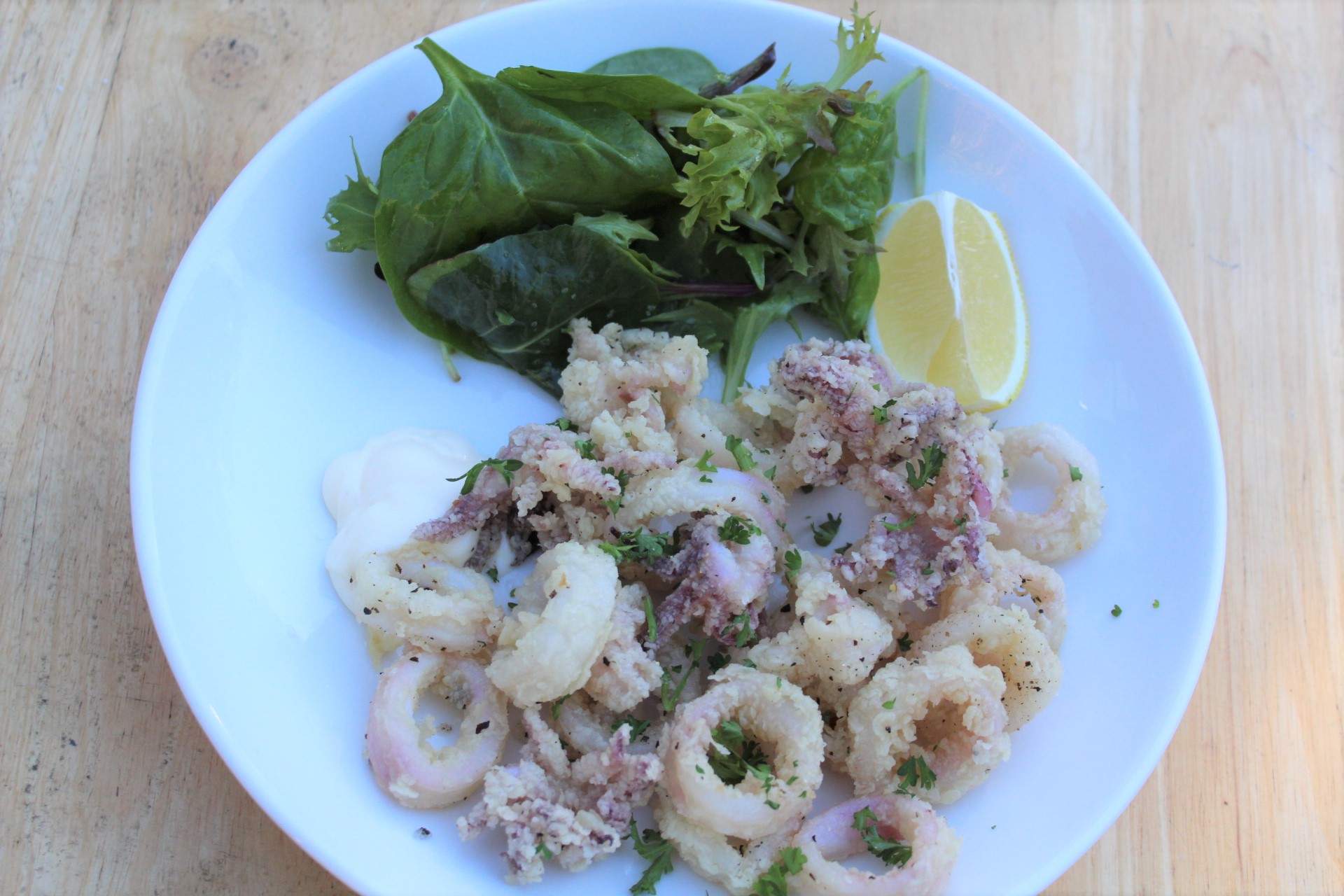 Salt and pepper calamari ala Riva!

A third was the Garlic prawns with peas, bacon, confit garlic and lemon myrtle veloute ($18) - prawns still tender, real fresh peas, just the right amount of garlic - and that sauce! Luckily we ordered a portion of Beer Battered Chips with Aioli ($8) to swab up the extras.
For those who skipped breakfast the Mains Lunch Menu is also superb - try Heirloom tomato salad with buffalo mozzarella, black olives, pickled onions and vincotto dressing ($20), Pumpkin and cottage cheese ravioli with sage burnt butter ($26), Beer battered flathead and chips with tartare sauce ($28), Pure Angus sirloin 200gm, kipfler potatoes, caramalised onions, spinach served with choice of red wine jus or gratinated café de paris ($30), Slow poached salmon, fennel and orange salad, dried olives and ginger froth ($30) or Duck and mushroom ragout with sour cream and spaghettini ($30).
With a great wine menu, yummy cocktails, expert barista on hand - lunch is served!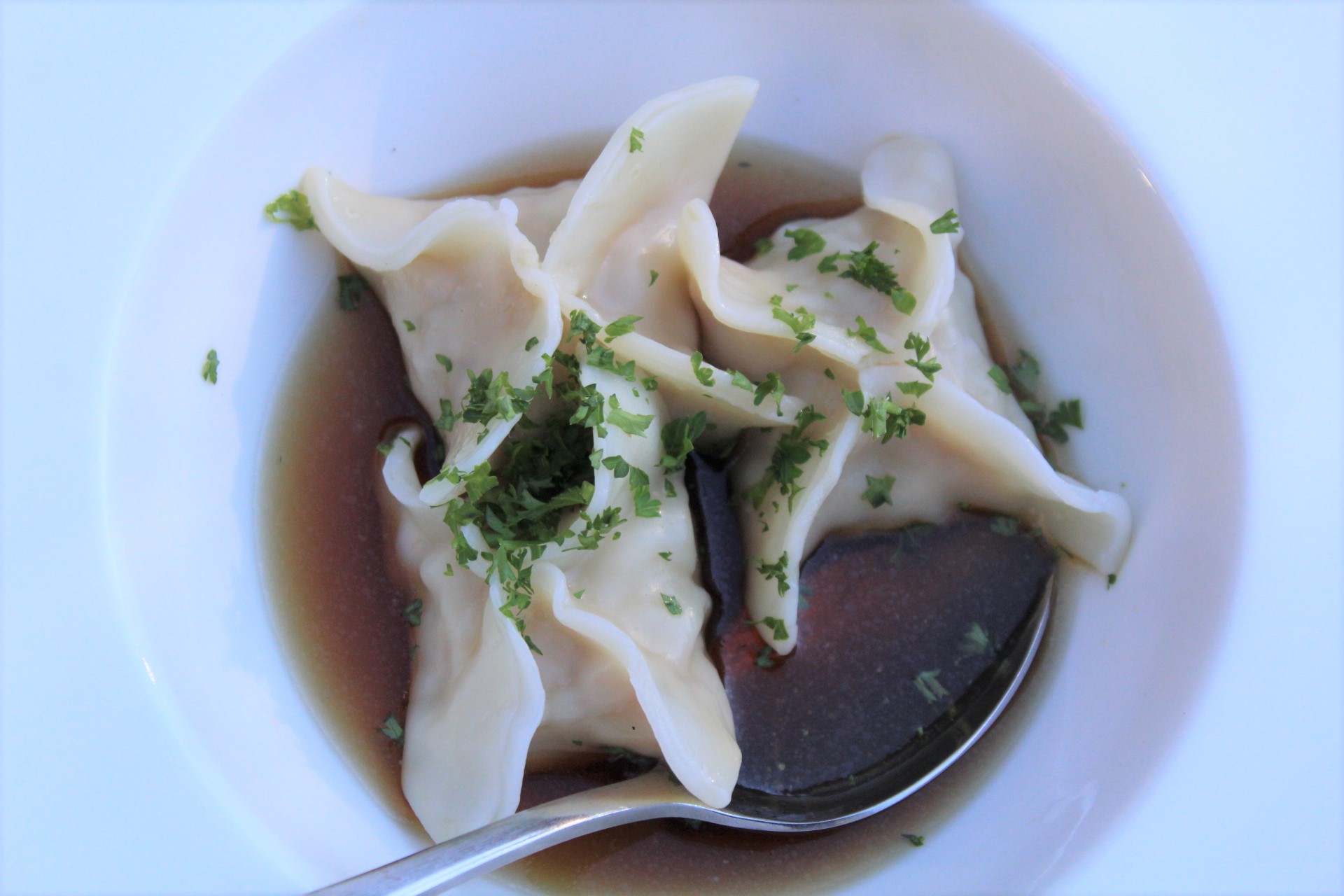 Chicken and cabbage dumplings

For dessert we were leaning towards the Banana dulce de leche flambe with honey macadamia ice cream ($14) but the Chocolate Tart with Raspberry sorbet, berry coulis and mascarpone ($14) won out - pure chocolate in a thin crunchy case with palate refreshing sorbet and just enough mascarpone to do that deep earthy dark bean justice - brilliant!
Riva currently have a 'Kids Eat Free' on Thursday night special (*must arrive by 6.30 PM) - so pop in and give yourself a break from all those dishes after sports training or find a babysitter and enjoy a great spot in the sun for lunch or something fresh, seasonal and scrumptious for dinner.
Highly recommended!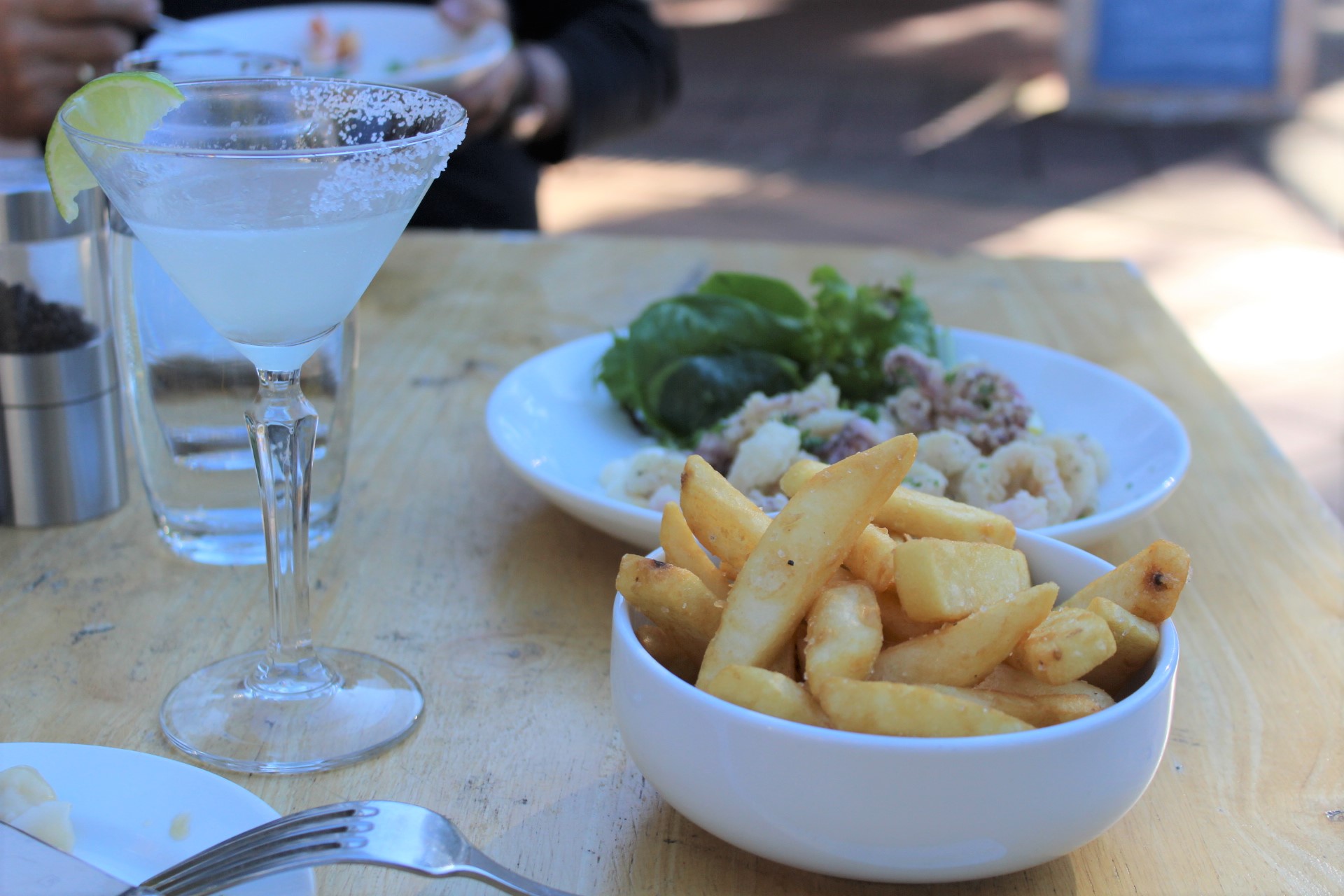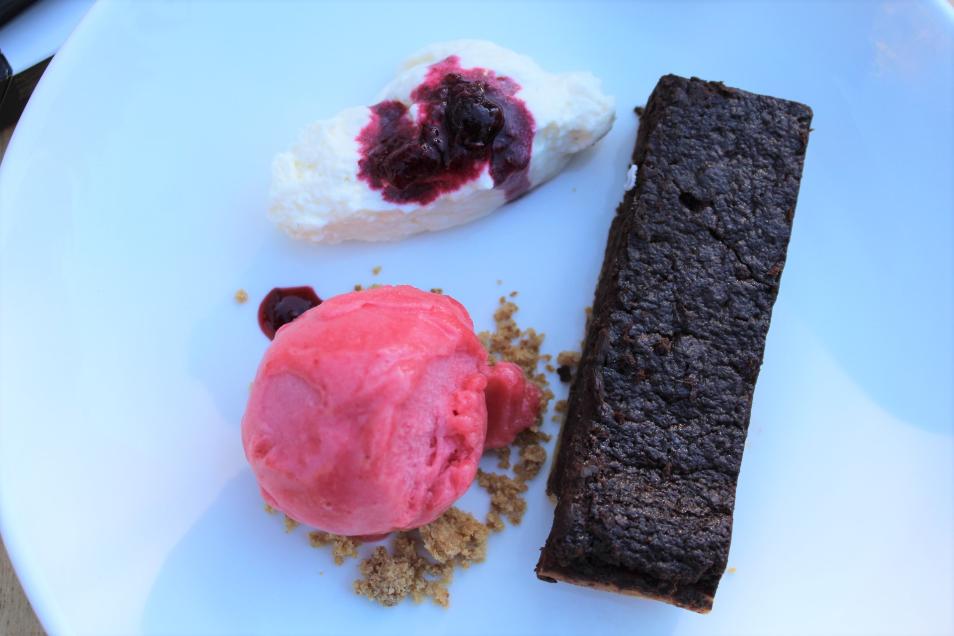 Riva's Chocolate Tart - made for Autumn!