January 6 - 12, 2013: Issue 92
Summer Peaches
Summer peaches are now in season and cheap, plentiful, very sweet with a wide variety to choose from. This ancient fruit from China, where it is regarded as a Tree of Life, is sumptuous eaten as is but can also be tweaked to make great salads or served as a special desert. Australian peaches are available between October and April and around 100, 000 tonnes are produced during the growing season.
The bush food 'peach' the Quandong, is fruiting at present too and, if you can get some fresh ones or even the freshly dried variety, you can make a high in vitamin C biscuit to keep you glowing with health.
Rocket, Peach, Proscuitto And Parmesan Salad
Serves 4
120g baby rocket
70g parmesan, shaved
100g finely sliced prosciutto
4 white peaches, halved with stones removed
cracked black pepper
extra virgin olive oil
1. Arrange rocket, parmesan shavings, prosciutto curls and peach halves onto plates. 2. Top with cracked black pepper and drizzle with extra virgin olive oil.
Grilled Peaches with Vanilla Ricotta
Prep time: 10 minutes
Cooking time: Five minutes
Serves: Four
Eight yellow peaches, halved and stones removed
Two tablespoons caster sugar
Two tablespoons maple syrup
Two teaspoons butter
100g fresh ricotta cheese
One teaspoon vanilla paste or vanilla extract
1. Place peach on a grill tray cut side up, pour a little syrup over each peach and dot with a little butter
2. Cook under a hot grill until bubbling and heated through
3. Mix together ricotta, sugar and vanilla
4. Serve immediately with the grilled peaches
Recipes courtesy of Summerfruit Australia: http://www.summerfruit.com.au/Home.aspx
Wattleseed & Quandong Cockles
* 325gm Unsalted Butter, softened
* 120 gm Icing Sugar
* 2 Tbsp Australian Honey
* 1/4 tsp Cinnamon
* 2 cups of SR Flour
* 1 cup of Custard Powder
* 1 tsp wattleseed
These gorgeous biscuits literally melt in your mouth.
1. Cream butter and sugar for 5 mins. Add Honey and Cinnamon and beat for another minute. 2. Sift flour, wattleseed and custard powder, add to butter mixture.
3. Roll into small balls and place on lined trays. Press down with a fork. 4. Bake at 180°C for 15 to 20 mins, until just golden. Don't over cook. 5. Transfer to wire cooling racks. 6. When biscuits are cool, join with Outback Pride Quandong Jam.
Quandong Jam
100gm Dried Quandong, 2 granny smith apples, 600gm castor sugar, 1 lemon or lime, juiced
Put the quandong in a bowl, cover with water and leave to soak for about 8 hours or overnight. (Yields just about 500gm of fruit)
Peel, core and roughly chop the granny smith apples and then place the apple and the quandong in a pan with the quandong soaking water and lemon juice. Simmer for about 30 minutes until soft, stirring from time to time. Remove the pan from the heat and add the sugar, Stir until sugar has dissolved. Bring to the boil, boil rapidly for 20 to 25 minutes stirring frequently to prevent sticking. Remove from the heat, blend if required, but be sure to leave chunky pieces of apples and quandong in the jam. Pot and cover as usual.
Recipes courtesy of Taste Australia Bush Tucker: http://tasteaustralia.biz/bushfood/
Copyright Pittwater Online News, 2013. All Rights Reserved.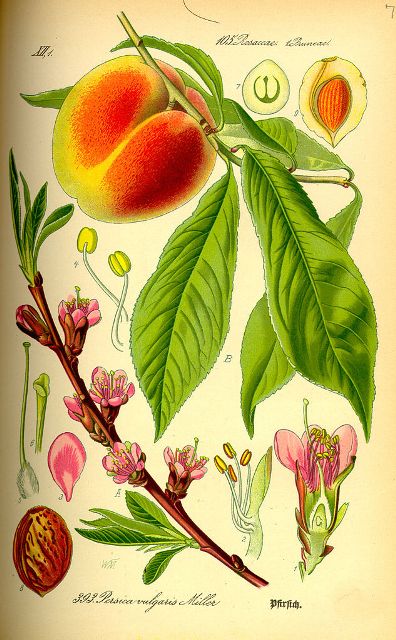 The peach, Prunus persica, is a deciduous tree, native to China and South Asia, where it was first cultivated. It bears an edible juicy fruit also called a peach. The species namepersica refers to its widespread cultivation in Persia, whence it was transplanted to Europe. It belongs to the genus Prunus which includes the cherry and plum, in the family Rosaceae. The peach is classified with the almond in the subgenus Amygdalus, distinguished from the other subgenera by the corrugated seed shell.
Peaches and nectarines are the same species, even though they are regarded commercially as different fruits. Nectarines have smooth skin, while peaches have fuzzy skin; genetic studies suggest nectarines are produced due to a recessive allele, whereas peaches are produced from dominant allele for fuzzy skin.
The scientific name persica, along with the word "peach" itself and its cognates in many European languages, derives from an early European belief that peaches were native to Persia. The Ancient Romans referred to the peach as malum persicum "Persian apple", later becoming French pêche, hence the English "peach". Although its botanical name Prunus persica refers to Persia (present Iran) from where it came to Europe, genetic studies suggest peaches originated in China, where they have been cultivated since the early days of Chinese culture, circa 2000 BCE. Peaches were mentioned in Chinese writings as far back as the 10th century BCE and were a favoured fruit of kings and emperors. As of late, the history of cultivation of peaches in China has been extensively reviewed citing numerous original manuscripts dating back to 1100 BCE.
Peaches are not only a popular fruit, but are symbolic in many cultural traditions, such as in art, paintings and folk tales such as Peaches of Immortality. Peach blossoms are highly prized in Chinese culture. The ancient Chinese believed the peach to possess more vitality than any other tree because their blossoms appear before leaves sprout. When early rulers of China visited their territories, they were preceded by sorcerers armed with peach rods to protect them from spectral evils. On New Year's Eve, local magistrates would cut peach wood branches and place them over their doors to protect against evil influences. Peach kernels (táo rén) are a common ingredient used in traditional Chinese medicine to dispel blood stasis, counter inflammation and reduce allergies.
A medium peach weighs 75 g (2.6 oz) and typically contains 30 Cal, 7 g of carbohydrate (6 g sugars and 1 g fibre), 1 g of protein, 140 mg of potassium, and 8% of the daily value (DV) for vitamin C. Nectarines provide twice the vitamin A, slightly more vitamin C, and are a richer source of potassium than peaches. As with many other members of the rose family, peach seeds contain cyanogenic glycosides, including amygdalin (note the subgenus designation: Amygdalus). These substances are capable of decomposing into a sugar molecule and hydrogen cyanide gas. While peach seeds are not the most toxic within the rose family--that dubious honour going to the bitter almond--large doses of these chemicals from any source are hazardous to human health. They are rich in many vital minerals such as potassium, fluoride and iron. Iron is required for red blood cell formation. Fluoride is a component of bones and teeth and is essential for prevention of dental caries. Potassium is an important component of cell and body fluids that help regulate heart rate and blood pressure. Peaches contain health promoting flavonoid poly phenolic antioxidants such as lutein, zea-xanthin andß-cryptoxanthin. These compounds help act as protective scavengers against oxygen-derived free radicals and reactive oxygen species (ROS) that play a role in aging and various disease processes.
Peach. (2012, December 31). In Wikipedia, The Free Encyclopedia. Retrieved from http://en.wikipedia.org/w/index.php?title=Peach&oldid=530674889
Illustration: Peach flower, fruit, seed and leaves as illustrated by Otto Wilhelm Thomé (1885). Original book source: Prof. Dr. Otto Wilhelm Thomé Flora von Deutschland, Österreich und der Schweiz 1885, Gera, Germany. Permission granted to use under GFDL by Kurt Stueber
Quandong (Wild Peach)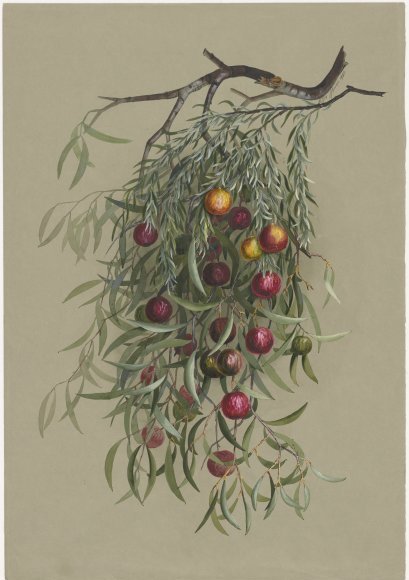 Santalum acuminatum (R.Br.) A.DC, the Quandong or Native Peach and Santalum murrayanum (T.Mitch.) C.A. Gardner, Bitter Quandong, family Santalaceae, 1886 [picture] by Ellis Rowan, 1848-1922.. Courtesy National Library of Australia: nla.pic-an6730573 Part of Flower and bird paintings [picture] [ca. 1870-ca. 1921].
Quandong, quandang or quondong is a common name for the species, a small desert tree up to 4 metres high, with rough dark bark and pale green elongated hanging leaves. The Wiradjuri people of New South Wales used the name guwandhang, from which the name quandong was adapted. Other indigenous names include; gutchu (Wotjobaluk, Western Victoria); wanjanu or mangata (Pitjantjatjara, Uluru), and goorti (Narungga). Quandong trees have been classified as belonging to the santalum genus of plants, the Santalum Acuminatum,and are a hemiparasitic plant in the Sandalwood family Santalaceae. They are widely dispersed throughout the central deserts and southern areas of Australia.. The fruit is referred to as a drupe and ripens from green to a shiny red in late spring or summer. Quandong trees use the root system of other trees, shrubs and grasses to supplement their own supply of nutrients and water, and will therefore usually be found growing from the base of another tree. The cream flowers are small and cup shaped, in clusters at the ends of the outer branchlets. The shiny, bright scarlet fruit is about 2cm in diameter and contains one large nut or kernel, which is sometimes only marginally smaller than the fruit.
Quandongs have been an important traditional aboriginal fruit, which is, although somewhat tart, highly nutritious and contains twice the vitamin C of an orange. The kernel is also very nutritious but indigenous Australians tended to use this mainly for medicinal purposes. The fruit, containing vitamin C, and the kernel of the nut, containing complex oils, were used by the peoples in whose countries the species occurred. Antibacterial qualities are present in the wood of this, and all the Santalum spp., especially in the roots. A known application of the extract was to heal ailments of the skin. The wood is also prized for the making of traditional bowls – pitti or coolamons. The seed is very high in flammable oils, like a candlenut, so it is able to be burnt as an illuminant. The wood is also oily, useful for starting a fire as a friction stick. The Quandong fruit feature heavily in aboriginal mythology across all the desert regions of Australia.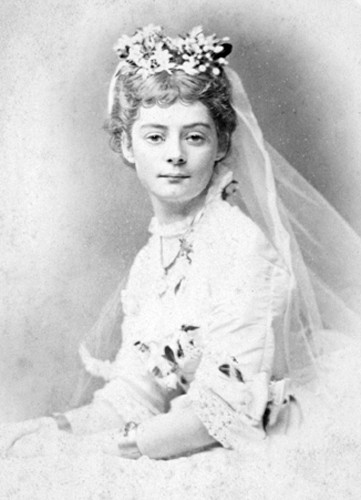 Marian Ellis Rowan (c. 1847 – 4 October 1922), known as Ellis Rowan, was a well-known Australian botanical illustrator. She also did series of illustrations on birds, butterflies and insects. Marian, the daughter of Marian and Charles Ryan, principal of stock agents Ryan and Hammond, was born at "Killeen" near Longwood, Victoria, one of her father's pastoral stations in Victoria. Her family was well-connected: sister Ada Mary married Admiral Lord Charles Scott, son of the Duke of Buccleuch; brother Sir Charles Ryan was a noted Melbourne surgeon and for a time Turkish consul in London (and whose daughter becameBaroness Casey). She was educated at Miss Murphy's private school in Melbourne, and in 1873 married Captain Charles Rowan, who had fought in the New Zealand wars. Her husband was interested in botany and he encouraged her to paint wild flowers. She had had no training but working conscientiously and carefully in water-colour; her work is noted for being botanically informative as well as artistic. Rowan returned to Melbourne in 1877, and for many years travelled in Australia painting the flora of the country, at times in the company of her painting companion, Margaret Forrest. She published in 1898 A Flower-Hunter in Queensland and New Zealand, largely based on letters to her husband and friends.
About this time she went to North America and provided the illustrations, many in colour, to A Guide to the Wild Flowers, by Alice Lounsberry, published in New York in 1899 as well asGuide to the Trees (1900), and Southern Wild Flowers and Trees (1901) also by Lounsberry. It was while in America, traveling with Lounsberry, that Rowan received news that her son Russell (called "Puck") had been killed in the Second Boer War. In 1905 she held a successful exhibition in London. She returned to Australia and held exhibitions of her work which sold at comparatively high prices. In 1916 she made a trip to New Guinea, the first of several during which she produced a huge volume of illustrations. She contracted malariaduring these journeys. In 1920 she held the largest solo exhibition seen in Australia at the time, when she exhibited 1000 of her works in Sydney. She died at Macedon, Victoria, her husband and her only son having died many years earlier
DEATH OF MR. CHARLES RYAN
With the death of Mr Charles Ryan, at Mt Macedon, on Saturday, passes away out of the oldest colonists and one of the few who, without taking part in public affairs, have become widely known are respected Mr Ryan leaves behind him a widow and several children, including Mr Charles Ryan, the well-known surgeon, Mr Henry Ryan, of the firm of Ryan, Hammond, and Mates, of Queen-street; Lady Charles Scott, and Mrs Ellis Rowan whose paintings of Australian Flowers have earned a worldwide reputation. He was a native of Kilfera in the county of Kilkenny but left Ireland when still in his first youth to make Australia his home. He arrived here as early as 1839 and when the country surrounding Melbourne was but primaeval forest ventured out into what was then the heart of the bush and took, up a tract of country on the Broken River, where he commenced squatting. His station he named Kilfera, after his native town, but it was far less civilised than his Irish namesake for only two days before Mr Ryan's arrival two shepherds who had preceded him were murdered by the blacks. Not withstanding the unfavourable outlook, Mr Ryan stuck to his ground, and turned the station into one of the most successful of the district, relinquishing it only after some years to take up his better known place at Longwood. This spot he called Killeen and it was there that most of his children were born. This property is now in the hands of Mr Chomley, a brother of the chief commissioner of police, to whom Mr Ryan sold it on moving to Brighton in the early seventies. But for continuous life in the city Mr Ryan had no love and soon he left Brighton for Macedon, where be has resided for the last 24 years. The residence at Macedon which he occupied until his failing health forced him to seek another less extensive, six months ago, was surrounded with gardens which for variety of plants and beauty of arrangement, is said to be unsurpassed in any private grounds in Australia. As the founder of Ryan and Hammond, Mr Ryan has a reputation among those those associated with pastoral pursuits extending over the length and breadth of the country and there were few better known men in Victoria. During the early days of the colony Mr Ryan was a participant in many a stirring adventure and was present at the capture of the notorious Captain Gepp and his gang of bushrangers at the Plenty Ranges. The bushrangers had stuck up a homestead in the locality, and, surprising the men on the station at breakfast, had carried off all the arms in the place, in addition to the rest of their loot. The owner of the property, indignant at the insult more than the loss, visited Melbourne in haste, and after stating his case, a party headed by the late Mr Peter Snodgrass, a brother in law of Mr Ryan, and including that gentleman himself set out to capture or fight the gang. DEATH OF MR. CHARLES RYAN. (1898, September 12). The Argus (Melbourne, Vic. : 1848 - 1956), p. 6. Retrieved from http://nla.gov.au/nla.news-article9851177
Photo of Ellis Rowan on her Wedding Day: Date 1873, Source http://www.nla.gov.au/exhibitions/ellisrowan/officers_wife.html Author John Botterill, Portrait Painter and Photographer (1817-1881). Ellis Rowan. (2012, December 5). In Wikipedia, The Free Encyclopedia. Retrieved from http://en.wikipedia.org/w/index.php?title=Ellis_Rowan&oldid=526518497