March 27 - April 2, 2016: Issue 257
Eggs: Five Ways - Savoury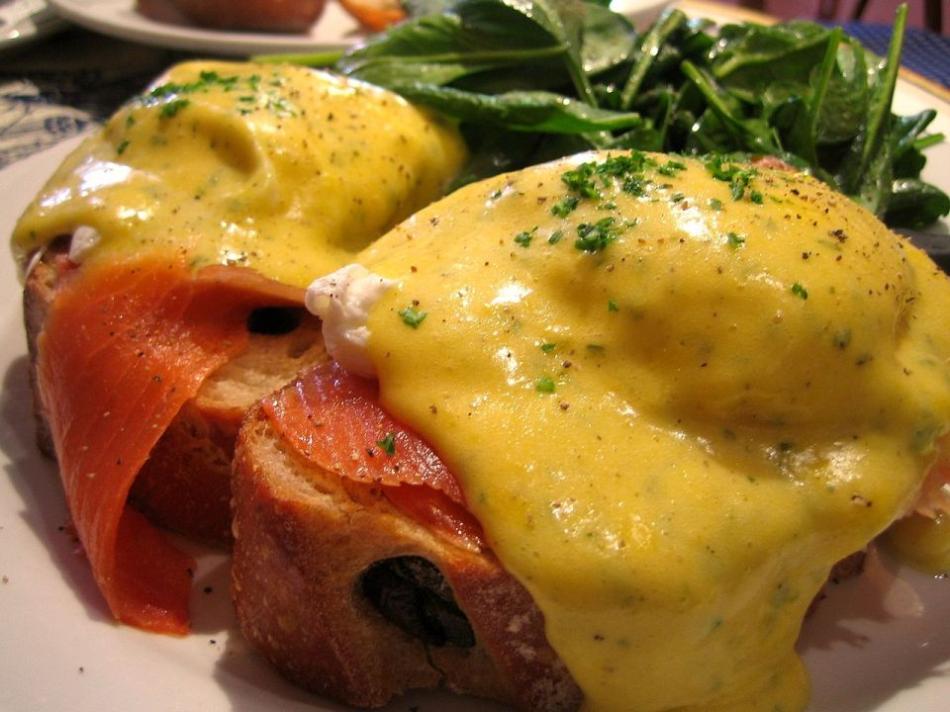 Eggs Benedict with smoked salmon in place of bacon, also known as Eggs Royale – photo by and courtesy of Masayoshi Sekimura from Tokyo, Japan

Easter makes many think of the chocolate Easter egg and perhaps eat a few too many.
The hen egg is another great way to celebrate Easter, either boiling them and allowing the children to decorate them or using them to make tasty dishes for brunch or supper that are not only easy and quick, but very good for you as eggs are crammed with vitamins and minerals. In the US they are classified as a 'meat' due to their protein properties.
This week a few ideas for the long celebrated and sometimes forgotten versatile and simple egg.

Eggs Florentine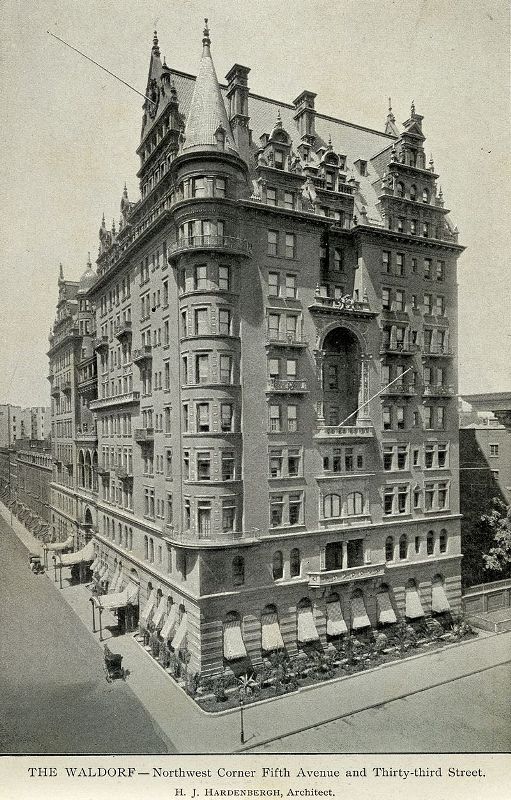 There are conflicting accounts as to the origin of Eggs Benedict.
In an interview recorded in the "Talk of the Town" column of The New Yorker in 1942, the year before his death, Lemuel Benedict, a retired Wall Street stock broker, claimed that he had wandered into the Waldorf Hotel in 1894 and, hoping to find a cure for his morning hangover, ordered "buttered toast, poached eggs, crisp bacon, and ahooker of hollandaise". Oscar Tschirky, the famed maître d'hôtel, was so impressed with the dish that he put it on the breakfast and luncheon menus but substituted ham for the bacon and a toasted English muffin for the toast.
Right: Waldorf Hotel, New York City (1893).
Another claim to the creation of Eggs Benedict was circuitously made by Edward P. Montgomery on behalf of Commodore E. C. Benedict. In 1967 Montgomery wrote a letter to then The New York Times food columnist Craig Claiborne which included a recipe he claimed to have received through his uncle, a friend of the commodore. Commodore Benedict's recipe — by way of Montgomery — varies greatly from chef Ranhofer's version, particularly in the hollandaise sauce preparation — calling for the addition of "hot, hard-cooked egg and ham mixture" -Wikipedia

8 thin bacon rashers
20g butter
2 bunches English spinach, trimmed, washed, dried
Dash of white vinegar
4 fresh eggs, at room temperature
4 slices ciabatta, sourdough or English muffins, toasted
Hollandaise sauce
3 egg yolks
1 tablespoon lemon juice
60g butter, cut into 1.5cm cubes
To make the hollandaise sauce
Step 1: Whisk egg yolks and lemon juice in a heatproof bowl.
Step 2: Place bowl over a saucepan of simmering water over low heat. Whisk for 3 minutes or until mixture becomes thick and pale. Add 1 cube butter. Whisk until melted. Repeat with remaining butter (this will take about 10 minutes). Remove from heat. Season with salt and pepper and set aside.
Step 3: Heat a large frying pan over high heat. Add the bacon rashers and cook for 2 minutes each side or until crisp. Transfer to a plate. Melt the butter in the pan until foaming. Add the spinach and cook, stirring, for 3-4 minutes or until spinach wilts. Season to taste with salt and pepper.
Step 4: Add vinegar to a deep frying pan filled with water and bring to the boil over high heat. Reduce heat to low and bring to a gentle simmer. Crack 1 egg into a small cup. Use a large spoon to stir the water to create a whirlpool. Gently slide the egg into the water and poach for 1-2 minutes for a soft egg, or until cooked to your liking. Use a slotted spoon to transfer to a plate. Cover loosely with aluminium foil to keep warm and repeat with the remaining eggs.
Step 5: Place the toast on the serving plates. Spoon the spinach and bacon over the toast slices. Top with the poached eggs and drizzle with hollandaise sauce. Season with freshly ground black pepper and serve immediately.

Three Cheese Soufflé
A classic dish this makes a very special breakfast, lunch or supper. Serve with bread and a salad for a whole meal. Always ensure you dust your ramekins with either breadcrumbs or some dried Parmesan to give the mixture something to climb by and cling to – makes for a soufflé that won't 'fall'.
melted butter, to grease
2 tbsp dried breadcrumbs or Parmesan to coat dishes
2 ½ tbsp butter
2 ½ tbsp plain flour
250 ml(1 cup) milk
50 g vintage cheddar, finely shredded
50 g Gruyère, finely shredded
50 g Parmesan, finely grated
2 tsp Dijon mustard
½ tsp cayenne pepper
2 tbsp chopped chives
2 tbsp chopped flat leaf parsley
salt and freshly ground black pepper, to taste
4eggs, at room temperature, separated

Preheat oven to 190°C. Brush four individual 250 ml (1 cup) ramekins or soufflé dishes with the butter to grease well and then sprinkle with the breadcrumbs, turning to coat the dishes to coat well, tapping out any excess breadcrumbs – this helps the soufflé to rise or 'climb'. Place on an oven tray and set aside.
Combine the cheddar, Gruyère, Parmesan and set aside 2 tablespoons of this mixture for sprinkling the tops of the soufflés.
Melt the butter in a medium saucepan over a medium heat until foaming. Add the flour and stir with a balloon whisk for about 1 minute until the mixture is bubbling and leaves the sides of the pan.
Remove the pan from the heat and gradually add half the milk, stirring constantly with the whisk until smooth. Gradually add the remaining milk, stirring until smooth. Return the pan to a medium heat, and stir constantly with the whisk until the sauce thickens and starts to simmer. Reduce the heat to low and simmer, stirring frequently, for 3 minutes.
Transfer the sauce immediately to a heatproof bowl and stir in the cheddar, Gruyère and Parmesan mixture, the Dijon mustard, cayenne, chives and parsley. Season well with salt and pepper. Add the egg yolks and stir until well combined. Stir in the chives and parsley.
Use an electric mixer with a whisk attachment to whisk the egg whites with a pinch of salt until firm peaks form. Add about a quarter of the whisked egg whites to the cheese sauce and use a large metal spoon or spatula to fold together until just combined to loosen the mixture. Fold in the remaining egg whites until just combined (the mixture should appear to have streaks of egg whites through it but there should be no large clumps of egg white).
Divide the mixture evenly among the prepared dishes. Sprinkle with the reserved 2 tablespoons of the cheese mixture. Bake in preheated oven for 20 minutes or until the soufflés are well risen and cooked through (they should still wobble slightly when the dishes are tapped and an inserted skewer should come out clean but slightly moist). Serve immediately.

Spicy Baked Spanish Eggs
250g Chorizo sausage, sliced
2 shallots
1 clove garlic
¼ teaspoon smoked paprika
¼ teaspoon cayenne pepper
2 tablespoons sherry or red wine vinegar
400g tinned diced tomatoes
1 teaspoon baby capers, rinsed (optional)
2 anchovy fillets, chopped (optional)
2-4 eggs depending on fry pan size
Small bunch fresh parsley for garnish
Crusty bread to serve
Pre-heat oven to 190C (170C for a fan-forced oven).
Cook the chorizo in a small ovenproof frying pan over medium heat until the oil is released and the chorizo is caramelised, about 2-3 minutes. Add the garlic and saute for a further 2 minutes. Add the paprika, cumin and cayenne pepper and saute for a further minute or until fragrant.
Add the vinegar and deglaze the pan, cooking until the liquid has almost evaporated. Add the tomatoes, capers and anchovies (if using), stir well to combine and continue to cook for another minute. If you want to serve the eggs in individual dishes, transfer the mixture to two 300ml ovenproof dishes, otherwise you can just leave the mixture in the frying pan. Make a small indentation in the mixture in the pan or each dish, and break an egg into it. Bake in the oven for 8-10 minutes, depending on how runny you want your yolk. Sprinkle with fresh shallots. Serve with fresh or toasted bread.

Cheesy egg and bread bake with roasted tomato
300 g white thick sliced bread, crusts removed
200g cheddar cheese, grated
100g parmesan cheese, grated
2 tablespoon parsley, chopped
2 tablespoon chives, chopped
8 eggs
3/4 cup lite pouring cream
40g butter, melted
1 punnet baby tomatoes
1 tablespoon olive oil
This is a savoury variation on baked sweet bread custard. Cut the bread into small chunks. Place into a large bowl a long with the cheeses and herbs. Whisk the eggs and cream together. Season well. Pour egg mix over bread, leave to soak for 30 minutes.
Preheat oven to 180o Celsius. Place the tomatoes in a baking dish, lightly brushed with the oil and seasoned. Place in the oven, for 10 minutes, until just soft. Lightly grease a 1 litre ceramic baking dish with the butter. Pour in the bread mix, drizzle over the remaining butter. Place in the oven for 30 - 40 minutes until puffed and golden. Serve immediately with the roast tomatoes.

Pumpkin, Spinach and Fetta Frittata
The frittata is one of the most versatile egg dishes – you can serve it either hot or cold, take it on picnics, and it makes great school lunches. The ingredients are what you like too, leftover vegetables will do as well as fresh ones prepared. This is a tasty one we've had a few times served with a green salad and chunks of fresh crusty bread – a perfect brunch meal
4 cups cubed fresh pumpkin
2 medium potatoes, peeled and coarsely chopped
1/2 bunch spinach, chopped and washed thoroughly
150g crumbled feta cheese
3/4 cup (90g) grated cheddar cheese
8 eggs, lightly beaten
1 small red onion, thinly sliced
Preheat oven to 180ċ°. Lightly grease a 25cm square baking dish. Cook the pumpkin and potato until tender. Combine the pumpkin and potato in a large bowl. Add the spinach, feta, cheddar and eggs; stir. Transfer mixture to prepared dish; top with sliced onion.
Bake in preheated oven until firm, about 25 minutes. Allow to rest 5 minutes before serving.

Chicken egg; whole, hard-boiled
Nutritional value per 100 g
Energy 647 kJ (155 kcal)
Carbohydrates 1.12 g
Fat 10.6 g
Protein 12.6 g
Tryptophan 0.153 g
Threonine 0.604 g
Isoleucine 0.686 g
Leucine 1.075 g
Lysine 0.904 g
Methionine 0.392 g
Cystine 0.292 g
Phenylalanine 0.668 g
Tyrosine 0.513 g
Valine 0.767 g
Arginine 0.755 g
Histidine 0.298 g
Alanine 0.700 g
Aspartic acid 1.264 g
Glutamic acid 1.644 g
Glycine 0.423 g
Proline 0.501 g
Serine 0.936 g

Vitamins
Vitamin A equiv.; (19%) 149 μg, Thiamine (B1); (6%) 0.066 mg, Riboflavin (B2); (42%) 0.5 mg, Niacin (B3); (0%) 0.064 mg, Pantothenic acid (B5); (28%) 1.4 mg, Vitamin B6
(9%), 0.121 mg, Folate (B9); (11%), 44 μg, Vitamin B12; (46%)1.11 μg, Choline; (60%)
294 mg, Vitamin D; (15%) 87 IU, Vitamin E; (7%) 1.03 mg, Vitamin K; (0%) 0.3 μg.

Minerals
Calcium; (5%) 50 mg, Iron; (9%) 1.2 mg, Magnesium; (3%) 10 mg, Phosphorus; (25%)
172 mg, Potassium; (3%) 126 mg, Sodium; (8%) 124 mg, Zinc; (11%)1.0 mg

Cholesterol; 373 mg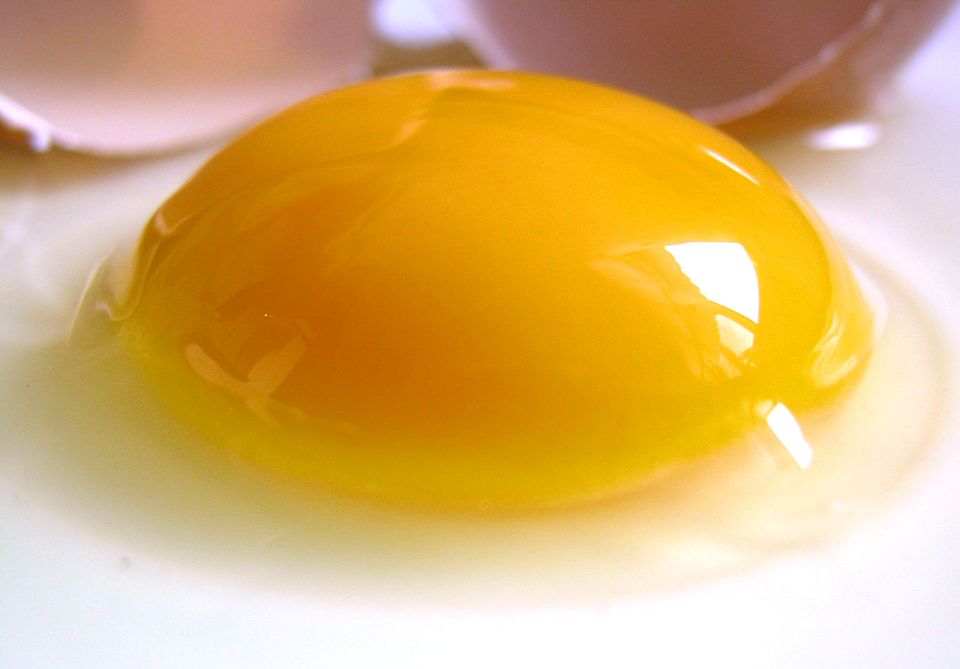 Recipe Ideas - Seasonal Fruits and Vegetables
Apricot - January Summer Fruits
Artichoke – The Flower Vegetable that Crops in Spring Australian and Native Cherries (Summer Fruits) - the Duntroon Connection - Marrianne Collinson Campbell Autumn is Apple Season
Cherry - Australian summer Fruit

Chick Pea Burgers with Homemade Hummus

Easter Feast - modern and historic
Green Beans - Spring Vegetables
Hogmanay (New Year) Dinner - Australian Style
Make Your Own Treats For Christmas Gifts - Jaffa Rum Balls, White Christmas, Gingerbread People, Spicy Nut Mix, Strawberries Dipped in Christmas, Scottish Shortbread, Spanish Polverones, Melomakarona (Greek Christmas Honey Cookies), Kourabiedes (Greek Butter Biscuits), Italian Lemon Shortbread Squares (Shortbread con crema al limone)
Mandarins Spring Fruits Mandarins Winter Fruits
Mum'€™s Vegetable Soup with Macaroni
Nectarines - end of Summer crop
Packham's Triumph Pears - The Australian Pear
Parsnip - Winter Vegetables Pear - Autumn Fruits
Potato Gnocchi Pumpkin Pumpkin Season 2015
Sage - the 'saving' herb Remembrance Day 2012 Food
Self-Saucing Winter Puddings Silverbeet - Winter Vegetable
Spring Salad Season Spring Strawberries Spring Salads
Summer Lilli Pillis Summer Passionfruit Summer Peaches, Quandongs (Wild Peach) - Marian Rowan Ellis Summer Raspberries Native Ones - Adam Forster
Ten Minute Spring Salads - fresh Spring Fare Tomato
Winter Crops Winter Vegetable Pies Zucchini

To list your business, have a Pittwater Online News Food page run, or place a logo on the Pittwater Online News Food page, please contact us with details of your requirements.
Logos may be embedded to redirect to your own website.
Full pages include an overview of menus as well as beautiful images to make the food sampled look its best.
Full pages are archived into Permanent pages past their week of Issue.
Permanent pages in Pittwater Online News average 800 thousand visits per annum past their week of Issue ensuring diners will continue to view your eatery as a potential venue for breakfast, lunch or dinner or as the place to hold their larger functions.
For Rates and Packages Contact us at: