May 16 - 22, 2021: Issue 494

Permanora Honey - Tom's Pure Honey From Elanora Heights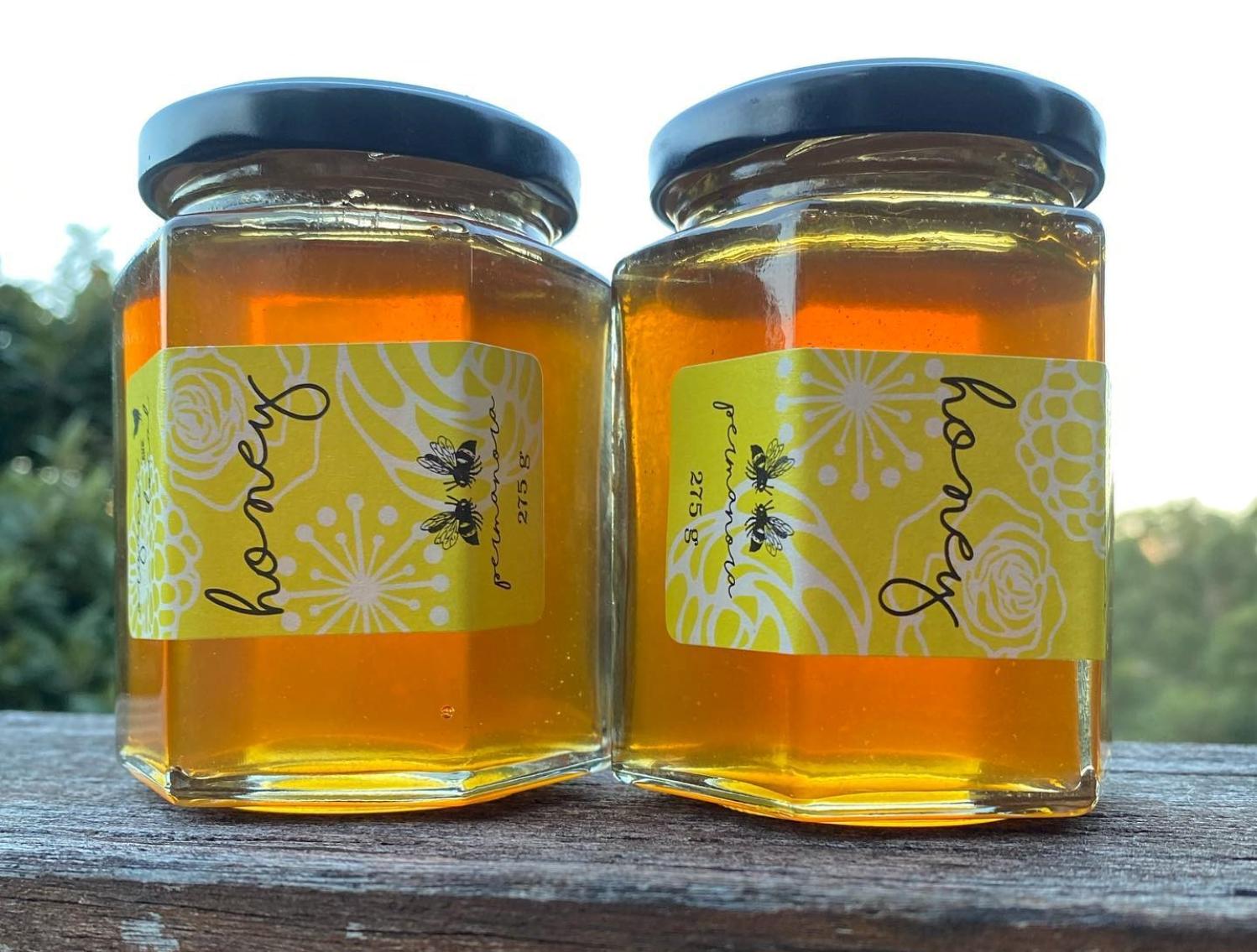 Years ago Selena Griffith established 1200 sq.m permaculture garden with a sustainable house. In the grounds are chooks, worm farms, composting, native bees, native bush tucker and medicine plants, edible fruit, vegetable and medicinal plants, water features, a citrus grove, raised and no-dig garden beds, herb spiral, aquaponics, a green wall, rain water tanks, gravity fed watering.
Selena has also been a proponent of native bee hives. Past features on local insects for younger readers have showcased her images of insects and among these, the bees that live in her garden. Those needing to 'split' a hive have called on her knowledge to help with the process. When you have a large, healthy hive, it is possible to create a new colony from it by making what is called a split. In basic terms a split is taking a portion of an established colony and transfer it to a separate hive thereby creating two colonies.
Native bees are a vital part of local ecosystems and maintain the health of our environment through 'naturally promoting biodiversity.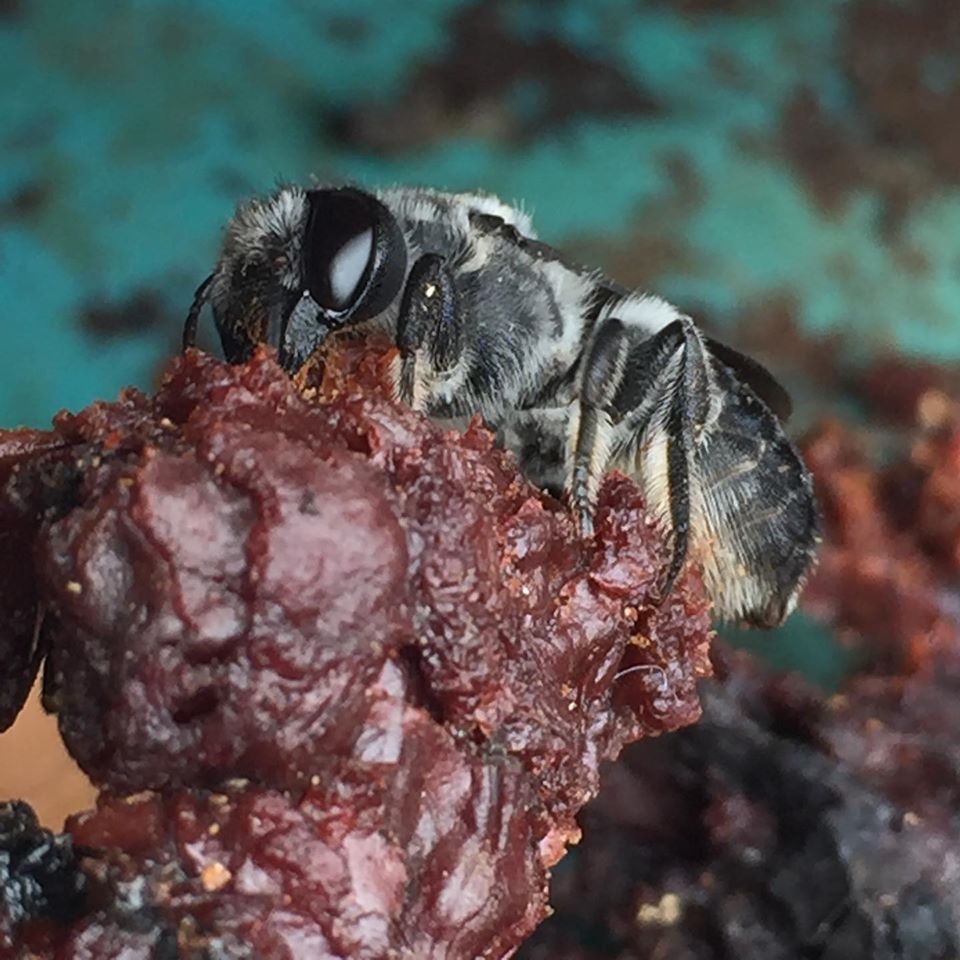 Carpenter bee (male) making use of excess wax from my trigonula hive - photo by Selena Griffith, January 16, 2020, Elanora Heights
This suburban miniature 'farm' has formed part of the local permaculture community and been a feature of the Sydney Edible Garden Trail since its commencement and formed part of the Permaculture Northern Beaches branch's May 2nd 2021 annual Permaculture day as 'Permanora'.
Permaculture is a design system for creating sustainable human environments. It is about designing households and communities that are productive, sustaining and largely self reliant and have minimal impact on the environment. Permaculture Day started right here in Australia and is now celebrated all over the world.
Permanora is an evolving garden designed around the principles of Permaculture. Tucked in a quiet gully in Elanora Heights, Selena's protection of native vegetation on the site also makes this a perfect habitat for native animals and insects. The yard is populated with resident kookaburras, and other birds including owls, fruit bats, several species of frogs, lizards and the occasional snake, and plenty of insects!
The terraced slope affords a number of garden 'rooms' each with its own character and function. Selena Griffith won Pittwater Council's 2011 award for Sustainability in Landscaping for this garden.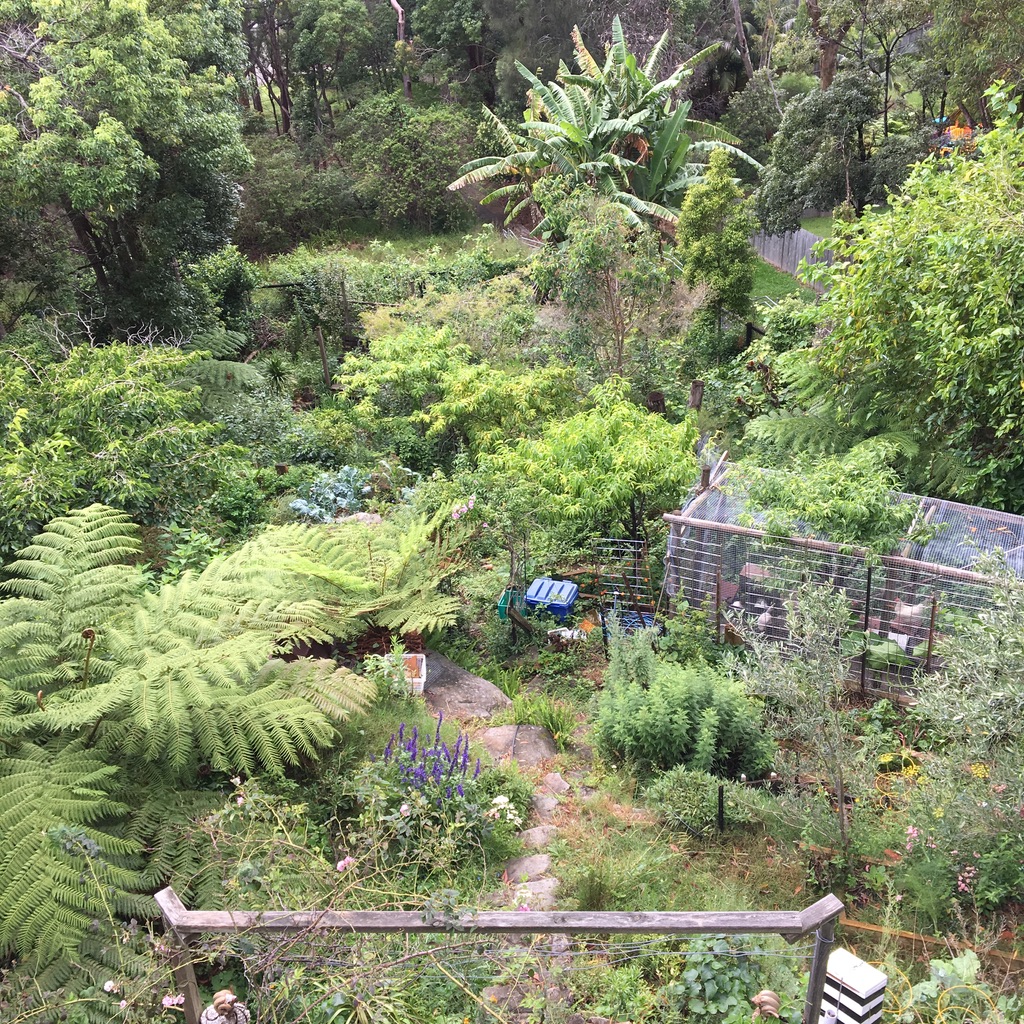 'Permanora'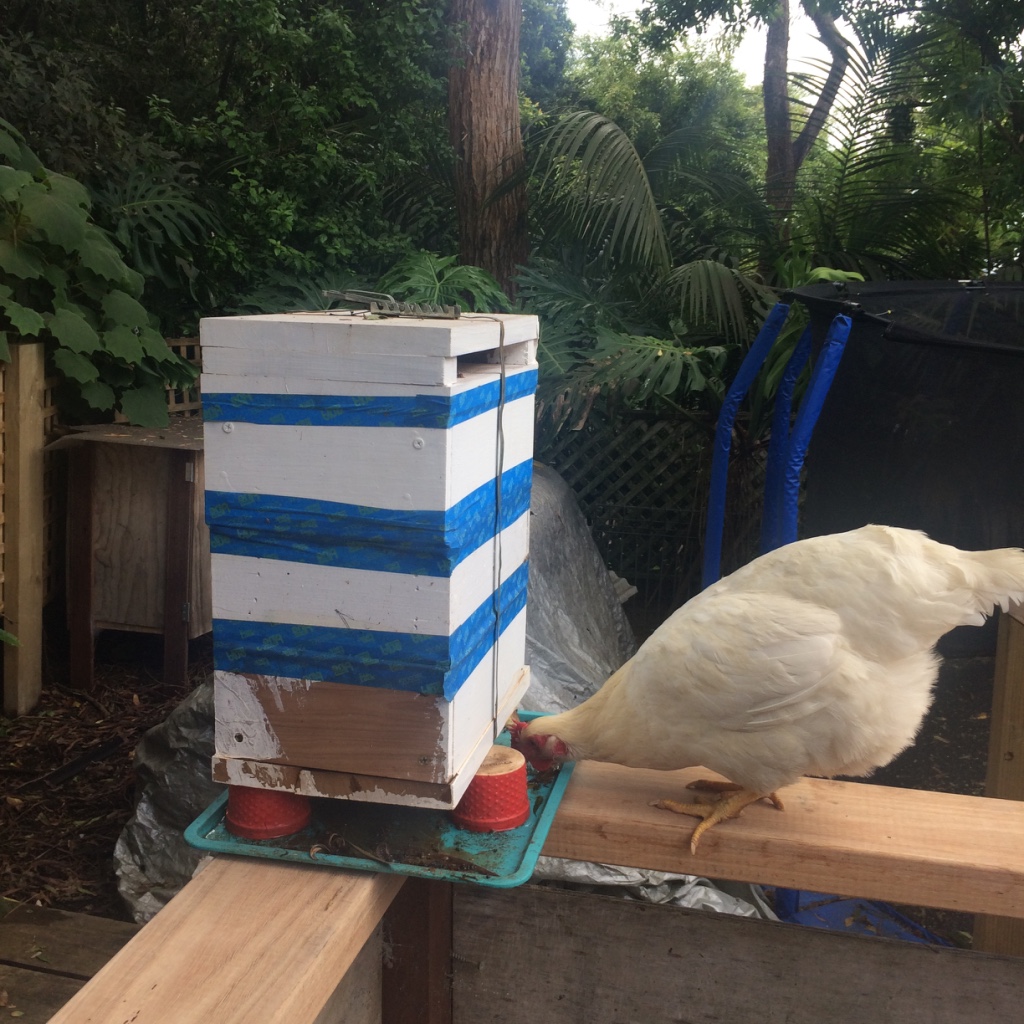 'Permanora' chook and hive

At this years' Permaculture Day some newly arrived labels for her son Tom's native bee honey allowed visitors to buy jars of this from Tom's hives with funds raised being dedicated to STEM education in Africa. Tom has also worked to earn a new bicycle.
This young entrepreneur is proof that many of our local teenagers don't expect a handout - they will create for themselves the opportunities and follow through to establish something that didn't exist prior to them making that effort.
Pittwater Online News spoke to apiarist Tom and his mum Selena this week to find out more about Permanora Honey.
When did this enterprise launch?
In December last year Tom got his first hive, a flow hive. A Flow Hive is a beehive designed to allow honey to be extracted simply by turning a knob: the hive does not have to be opened and the bees are not disturbed or stressed as in normal extraction. His first Harvest was in February on Valentines Day!
What's involved – do you look after the hives, source the jars, do the bottling?
He has now saved enough for a second hive which he has just assembled and we have a new brood arriving next week.
Tom orders jars, sterilises them, then decants the honey directly from the hive into the jars.
What sort of flowers are the bees gathering their honey from?
Bees can range from 3 km to 8 km to forage. That means our bees are collecting from flowers in Elanora, Narrabeen, Garrigal National Park and Ingleside – so lots of native and fruit plants. The hive is under a large loquat tree.
Having tasted this honey, it reminds me of pure Tasmanian honey – how is it that something from a suburb can taste so pure?
The honey is pure, no additives, no heat treatment and bees are great selectors of the best quality materials – so we have the perfect situation.
Eating local honey is really good for you as it is full of all the local pollens. It can help with immunity and desensitisation to allergies.
Are there any other products you're making?
Tom is hoping to add a number of products such as seasonal jams, chutneys and sauces.
Where can people get a jar of this honey?
You can buy from The Meat Emporium at Elanora Heights.
So, do your health a favour and taste this pure local honey.
Tom's Permanora local, organic, raw honey is now available from the Meat Emporium, 1/69 Kalang Rd, Elanora Heights - Sydney's only Demeter Organic Certified butcher.
Way to go Tom! Well done!!!