March 13 - 19, 2016: Issue 255
Autumn Vegetables: Zucchini

In season now are beautiful green zucchinis. The humble zucchini can be fried, baked, boiled, or deep fried, alone or in combination with other ingredients. Lightly pan-fried with just some butter, salt and pepper is a favourite here as it won't overpower their delicate flavour.
The flowers are edible as well, and these too may be stuffed with herbed soft cheeses such as a mascarpone and then deep-fried or baked. Zucchinis go well with a with tomato, herb and garlic sauce. Stuffed with meat or with other fruits such as tomatoes or bell peppers in a dish called courgette farcie (stuffed zucchini) these tasty Autumn vegetables are versatile as a side dish, as zucchini soup or the feature of a vegetarian main meal as shared in an earlier Bhaji alternative page.
These end of Summer beginning of Autumn vegetables are a good source of manganese, vitamin C, and dietary fibre as well as vitamin A, magnesium, potassium, copper, and phosphorus – all great for lowering blood pressure or maintaining a healthy immune system.
A few Recipe Ideas: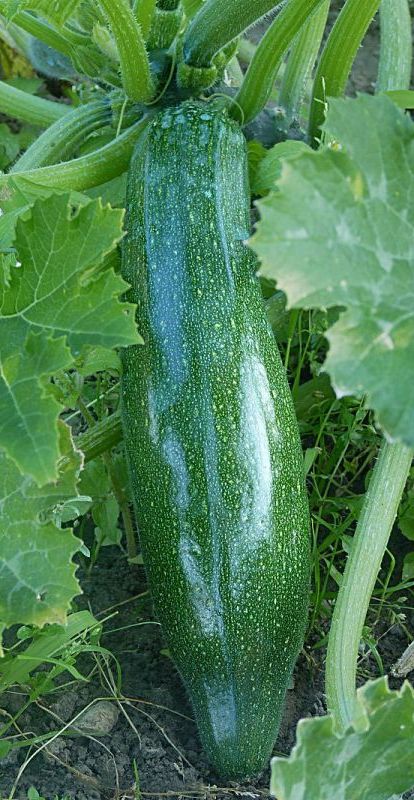 Zucchini stuffed with Herbed Fetta
Made in 10 minutes, with a half hour cooking time, herbed stuffed zucchini are an easy and great example of how just a few ingredients can produce something scrumptious. The key is to use fresh herbs, although dried will suffice if these are unavailable.
Ingredients
4 medium zucchini
Salt
Pepper
1 tablespoon fresh thyme leaves
1 tablespoon fresh oregano leaves
2 tablespoons fresh parsley, roughly chopped
8 ounces (weight) feta cheese, drained and cubed
2 tablespoons cream or milk
½ cup of bread crumbs
Preheat your oven to 180 C.
Scoop out the centre of the zucchini being careful to leave the skin intact. Add this to the bowl you will mix your cheese, herbs and bread crumbs in – no sense in wasting that goodness! Sprinkle each zucchini with a pinch of salt and set aside.
Place the herbs in food processor and pulse until finely chopped. Add the feta, cream and some pepper if wanted and process until smooth.
Spoon 1 to 2 spoonfuls of the feta mixture into the zucchini "boats." Top feta with a large pinch of bread crumbs and transfer to a baking dish. Place in the oven and bake for 30 minutes or until the zucchini are tender. If the top is pale you may grill for a few minutes until golden – but be careful not to burn them. Serve hot with a nice green salad and crusty bread to mop up those juices.
Dad's Zucchini Soup
This has been a favourite for decades. A simple mix of basic ingredients once again which can be made a bit fancier with a dash of cream. This version may also be frozen if you're lucky and get a box of in season zucchini and want to make up a batch of soup for use in the months ahead.
Ingredients
1 onion
3 large zucchini
3 large potatoes
3 chicken stock cubes
3 tablespoons cream
1 tablespoon butter
2½ cups water, to cover
salt and pepper to taste
Chop the onion, potato and zucchini roughly. Sauté onion with a tablespoon of butter.
Add enough water to cover, add stock cubes and cook until tender. Blend and mash the vegies (with fluid still in pot). Add some cream to taste (put more in if you prefer it creamier). Serve with salt and pepper.
If you want to keep it strictly vegetarian substitute stock vegetable cubes for chicken ones.
Zucchini and Corn Fritters
These are great for children and as corn is now in season too, adding some fresh kernels will add extra goodness. Served with a dollop of plain yoghurt or sour cream, these make a nice appetizer to go with drinks as well. Some cooks recommend some chopped dill in with the accompaniment for extra taste.
Ingredients
2 large zucchinis, grated
1 teaspoon salt
1 large egg, beaten
1 small onion, chopped finely
1/2 cup fresh corn kernels
1/2 cup self raising flour
salt and pepper to taste
oil for shallow frying

Place the grated zucchini in a bowl with 1 teaspoon salt. Allow to sit for 5 minutes to draw some of the liquid from the zucchini. Place the zucchini in a colander and squeeze out moisture. Place the beaten egg in a large bowl and add the zucchini, onion, corn and flour. Season with salt and pepper and mix well until combined.
Heat a frypan on medium-high heat, placing enough oil in the pan for shallow frying. Carefully place a tablespoon of the mixture in the pan for each fritter. Fry on each side until golden brown. Drain on clean tea towel and serve immediately.

About Zucchinis
Zucchini, or courgette, in a culinary context, is treated as a vegetable; it is usually cooked and presented as a savoury dish or accompaniment. Botanically, zucchinis are fruits, a type of botanical berry, being the swollen ovary of the zucchini flower.
Zucchini, like all squash, has its ancestry in the Americas. The varieties of squash typically called "zucchini" were developed in Italy, many generations after their introduction from the Americas.
Zucca is the Italian word for pumpkin/squash and zucchino/zucchina (zucca + ina = little) are diminutive forms, becoming zucchini/zucchine in the plural. Zucchino, the masculine form (zucchini in the plural), is the first form to be documented in writing. An Italian dictionary called loZingarelli 2015, Zanichelli Editore, gives both forms, as does the Devoto-Oli published by Le Monnier, but the Accademia della Crusca, the most important research institution on Italian language, defines zucchino as the preferable form. The Treccani, Istituto dell'Enciclopediaitaliana, another highly respected linguistic authority, gives zucchina as the main Italian word, and the masculine form as Tuscan dialect. Zucchini is used in Italy, Australia, Canada, and the United States. Zucchini is one of the plural forms in English (along with zucchinis), as well as the singular form. The alternative name "courgette" is the French word for the vegetable, and is commonly used in France, the Netherlands, Ireland, and the United Kingdom. It is adiminutive of courge, French for squash.
Zucchini is one of the easiest vegetables to cultivate in temperate climates. As such, it has a reputation among home gardeners for overwhelming production. One good way to control overabundance is to harvest the flowers, which are an expensive delicacy in markets because of the difficulty in storing and transporting them. The male flower is borne on the end of a stalk and is longer-lived.
The longest zucchini was 2.52 m (8 ft 3 in) long and was grown by Giovanni Batista Scozzafava (Italy) in Niagara Falls, Ontario, Canada, as measured on 28 August 2014.
Photos courtesy Evan Amos and Jamain.
Zucchini. (2016, March 5). In Wikipedia, The Free Encyclopedia. Retrieved from https://en.wikipedia.org/w/index.php?title=Zucchini&oldid=708358549
Recipe Ideas - Seasonal Fruits and Vegetables
Apricot - January Summer Fruits
Artichoke – The Flower Vegetable that Crops in Spring Australian and Native Cherries (Summer Fruits) - the Duntroon Connection - Marrianne Collinson Campbell Autumn is Apple Season
Cherry - Australian summer Fruit

Chick Pea Burgers with Homemade Hummus

Easter Feast - modern and historic
Green Beans - Spring Vegetables
Hogmanay (New Year) Dinner - Australian Style
Make Your Own Treats For Christmas Gifts - Jaffa Rum Balls, White Christmas, Gingerbread People, Spicy Nut Mix, Strawberries Dipped in Christmas, Scottish Shortbread, Spanish Polverones, Melomakarona (Greek Christmas Honey Cookies), Kourabiedes (Greek Butter Biscuits), Italian Lemon Shortbread Squares (Shortbread con crema al limone)
Mandarins Spring Fruits Mandarins Winter Fruits
Mum'€™s Vegetable Soup with Macaroni
Nectarines - end of Summer crop
Packham's Triumph Pears - The Australian Pear
Parsnip - Winter Vegetables Pear - Autumn Fruits
Potato Gnocchi Pumpkin Pumpkin Season 2015
Sage - the 'saving' herb Remembrance Day 2012 Food
Self-Saucing Winter Puddings Silverbeet - Winter Vegetable
Spring Salad Season Spring Strawberries Spring Salads
Summer Lilli Pillis Summer Passionfruit Summer Peaches, Quandongs (Wild Peach) - Marian Rowan Ellis Summer Raspberries Native Ones - Adam Forster
Ten Minute Spring Salads - fresh Spring Fare Tomato
Winter Crops Winter Vegetable Pies

To list your business, have a Pittwater Online News Food page run, or place a logo on the Pittwater Online News Food page, please contact us with details of your requirements.
Logos may be embedded to redirect to your own website.
Full pages include an overview of menus as well as beautiful images to make the food sampled look its best.
Full pages are archived into Permanent pages past their week of Issue.
Permanent pages in Pittwater Online News average 800 thousand visits per annum past their week of Issue ensuring diners will continue to view your eatery as a potential venue for breakfast, lunch or dinner or as the place to hold their larger functions.
For Rates and Packages Contact us at: