February 17 - 23, 2013: Issue 98
Passionfruit – Summer Fruit
February in Australia brings in our locally grown passionfruit crops. An evergreen vine, which can become a pest in your garden if not trained onto a trellis and regularly pruned, the fruit is full of phyto-nutrients such as carotenes, vitamin A, and vitamin C. In a smoothie as a traditional topping for pavlovas they're hard to beat. We'd like to share a more unsual recipe to enjoy this wonderful Summer fruit as a main or side dish.
Passionfruit, Avocado and Spinach salad
Courtesy Sanitarium
2 avocado, sliced
1 cup papaw, sliced thinly
100g baby spinach leaves
4 stalks celery, sliced
1 small Spanish onion, sliced
Dressing
1 lemon, juiced
1 orange, juiced
3 teaspoons olive oil
4 passionfruit
2 tablespoon chopped fresh mint
Place avocado, pawpaw, baby spinach, celery and onion into a salad bowl. In a separate bowl, mix dressing ingredients. Pour over salad. Serve chilled.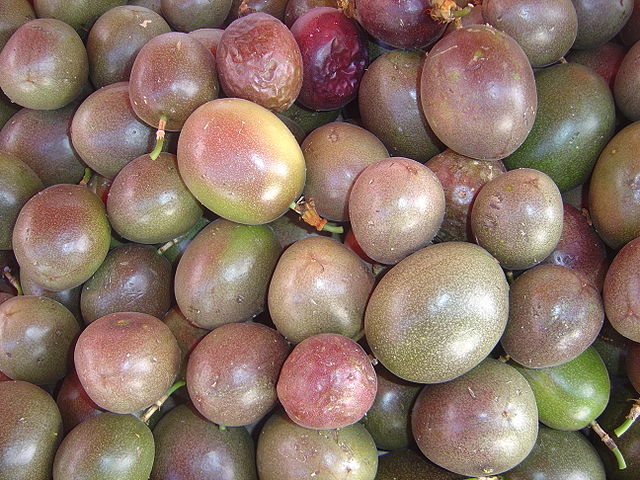 The passionfruit was introduced to Australia in the early 1900s. Australian farmers are now among the largest producers of purple passionfruit.
Passiflora edulis is a vine species of passion flower that is native to Brazil, Paraguay and northern Argentina (Corrientes and Misiones provinces, among others). Its common names include passion fruit (UK and US), passionfruit (Australia and New Zealand), and purple granadilla (South Africa). Passion fruit juice is a good source of ascorbic acid (vitamin C), and good for people who have high blood pressure. Some research is showing that purple passion fruit peel may help with controlling asthma symptoms. The fruit contains Lycopene in the mature and immature pericarp.
The Passion fruit is so called because it is one of the many species of Passion Flower. ("Passion Flower" being the literal English translation of the Latin genus name, Passiflora).
The name was given by Spanish missionaries to South America as an expository aid while trying to convert the indigenous inhabitants to Christianity. One ingenious expository device was using parallels between the parts of this common South American flower and elements of the account of the torture (the Passion) of Christ prior to his crucifixion.
The missionaries said that:
The three stigmas reflect the three nails in Jesus's hands and feet. The threads of the passion flower resemble the Crown of Thorns. The vine's tendrils are likened to the whips. The five anthers represented the five wounds. The ten petals and sepals regarded to resemble the Apostles (excluding Judas andPeter). The purple petals representing the purple robe used to mock Jesus' claim to kingship (Mt. 27:28)
The flower of the passion fruit is the national flower of Paraguay.
Purple passionfruit when harvested photo Copyright © 2005 David Monniaux. Passiflora edulis. (2013, February 14). In Wikipedia, The Free Encyclopedia. Retrieved from http://en.wikipedia.org/w/index.php?title=Passiflora_edulis&oldid=538140584
Copyright Pittwater Online News, 2013. All Rights Reserved.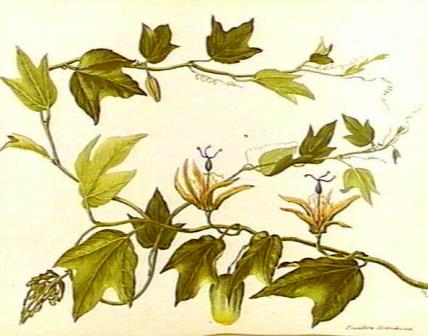 Native Passion Fruit, Passiflora herbertiana, Family Passifloraceae is a climber with hairy leaves and axillary tendrils. It is not considered edible for human consumption but is eaten by larval stages of the Glasswing Butterfly. Its flowers, yellow, orange and sometimes red, appear in late Summer through to mid-Autumn. It's fruit is a Green spotted berry to 5 cm long.
Ecology: Moist forest in partial shade. Probably resprouts after fire. Reported to be frost tolerant. Ants reported to feed on petiolar glands near base of leaf. This species is suspected of poisoning stock. Everist (1974). Food plant for the larval stages of the Glasswing Butterfly. Common & Waterhouse (1981).
Passiflora herbertiana [picture] by Adam Forster October 4th, 1918. nla.pic-an6174498 courtesy National Library of Australia.
AN INTERESTING NATIVE FRUIT. (1933, December 27).Townsville Daily Bulletin (Qld. : 1885 - 1954), p. 10. Retrieved February 17, 2013, from http://nla.gov.au/nla.news-article61704813