April 30 - May 6 2023: Issue 581

Barrenjoey House Late Autumn Lunch 2023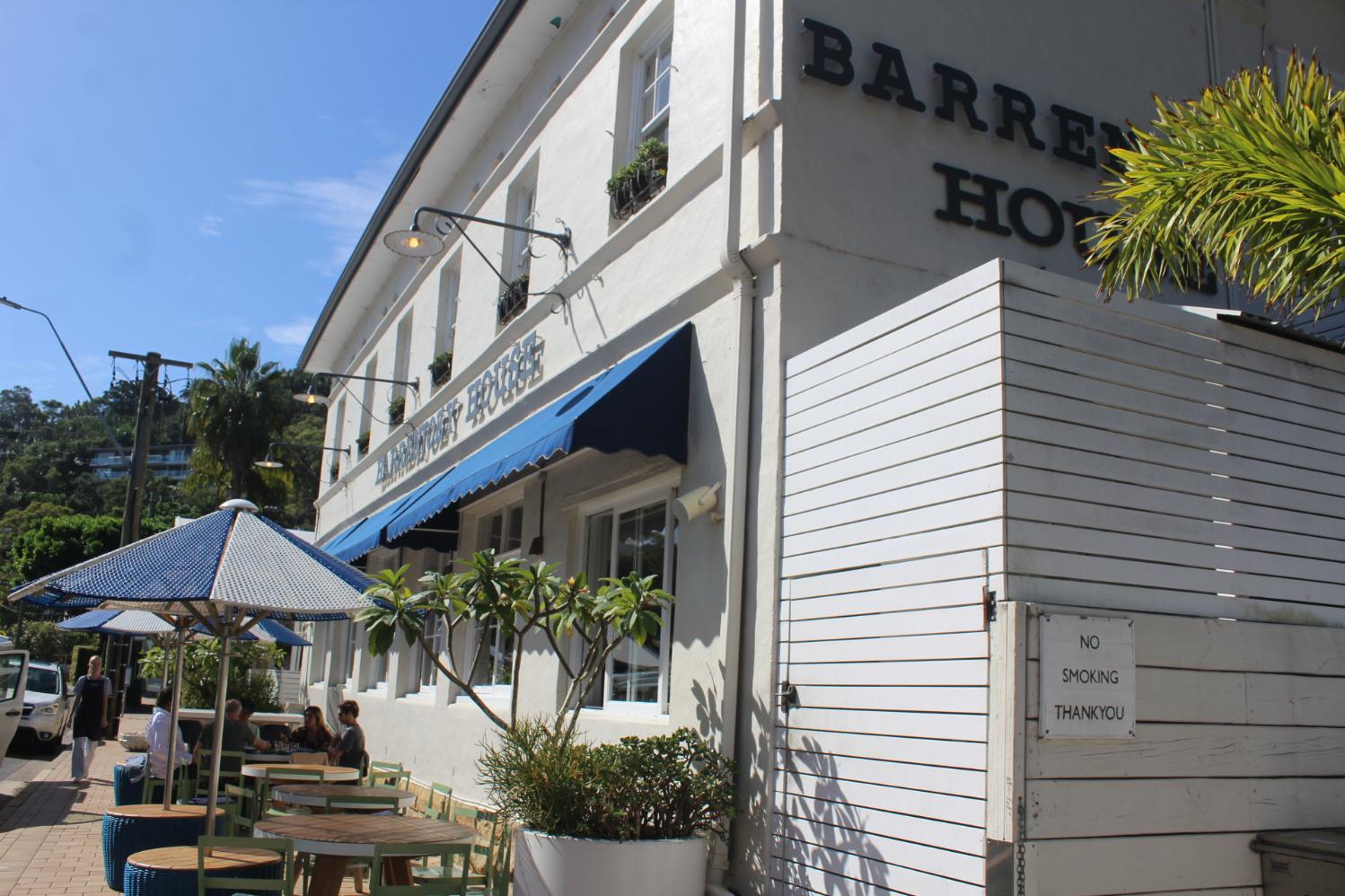 Barrenjoey House
1108 Barrenjoey Rd, Palm Beach
Phone: (02) 9974 4001
Website: www.barrenjoeyhouse.com.au
Monday - Sunday 11.30am - 9pm
Happy Hour available weekdays 4-6pm
Afternoon Menu 3-5pm daily
After a few years break a midweek late Autumn return to lunch at Barrenjoey House was a welcome return to enjoying pavement eating with a view to Snapperman Beach and the Pittwater estuary. Celebrating a confirmed 100 years of operation as a Restaurant
and
Guest House in 2023, this iconic and heritage listed building has remained at the centre of foodie heaven since opening as a simple afternoon tea place under the
Verrills family after they first bought the block today's building stands on December 17th 1915
.
The food has always been the very best you could get, whatever the seasonal or current culinary taste of the nation was celebrating with, naturally, a focus on seafood. Palm Beach wharf historically was an offloading point for fishermen in the area, some of whom also had a connection with Barrenjoey House - that caught that morning would be the melt in your mouth deliciousness with unbeatable freshness for lunch or dinner.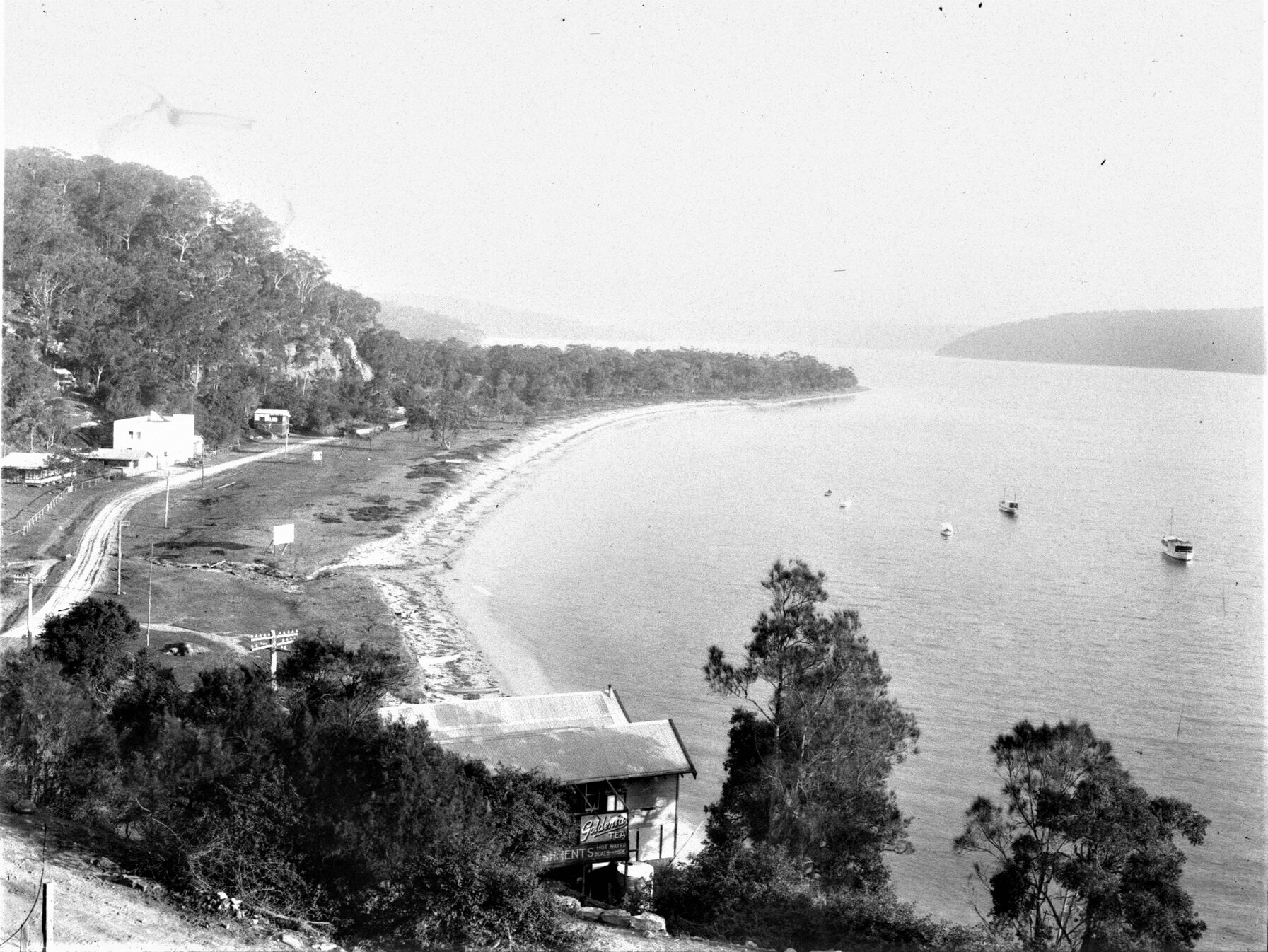 From road to Barrenjoey, Palm Beach - [From NSW Government Printer series: Palm Beach views]'. Contents Date Range. 01-01-1925 to 31-12-
1925
,
courtesy NSW State Records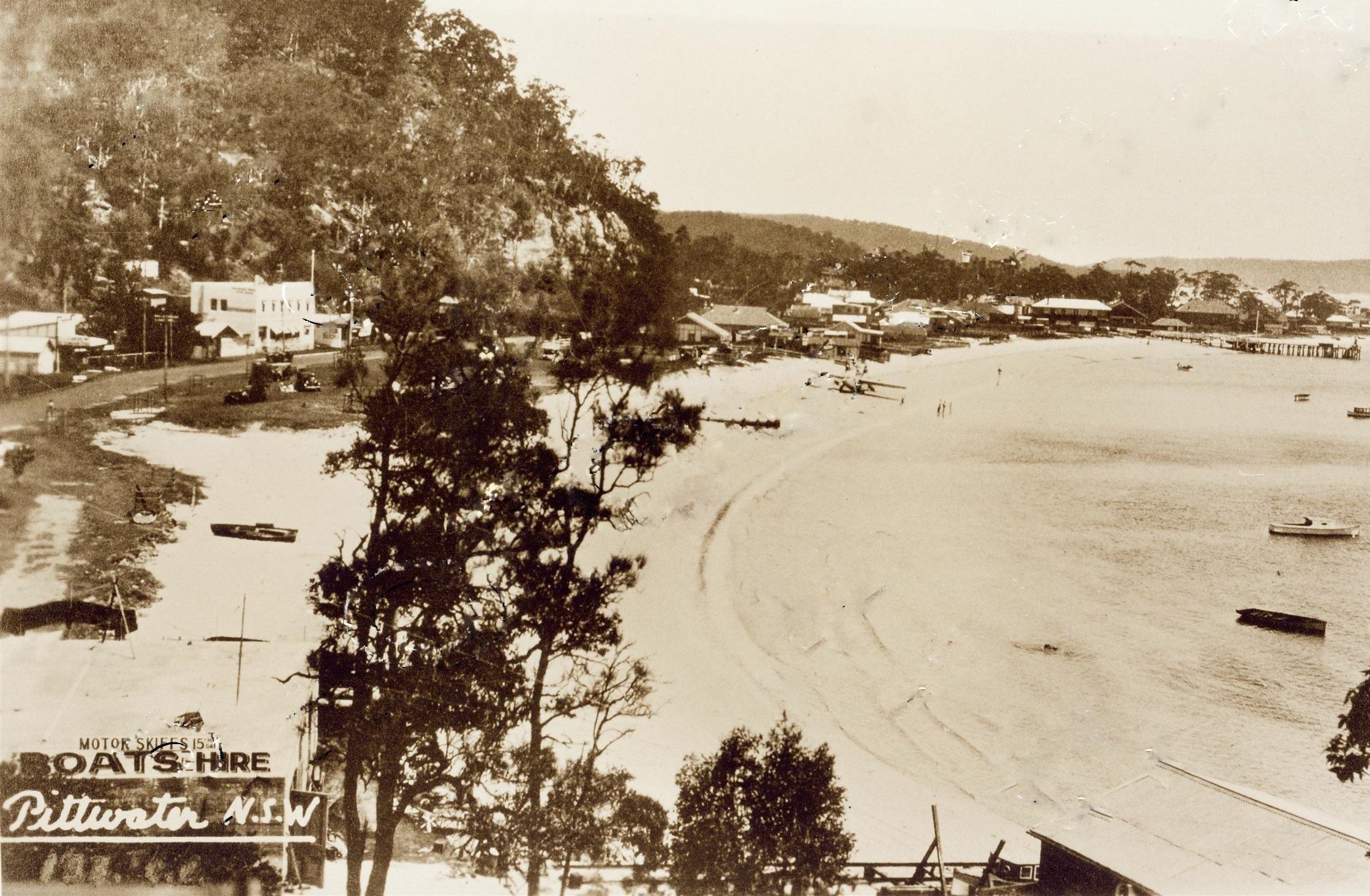 Pittwater Park on Snapperman Beach the view south circa 1930-35. NB: the plane on Snapperman beach and no Palm Beach ferry wharf as yet - Gow's Jetty and later, Goddard's wharf (visible in this photo) were the ways to access Pittwater via ferry/larger vessel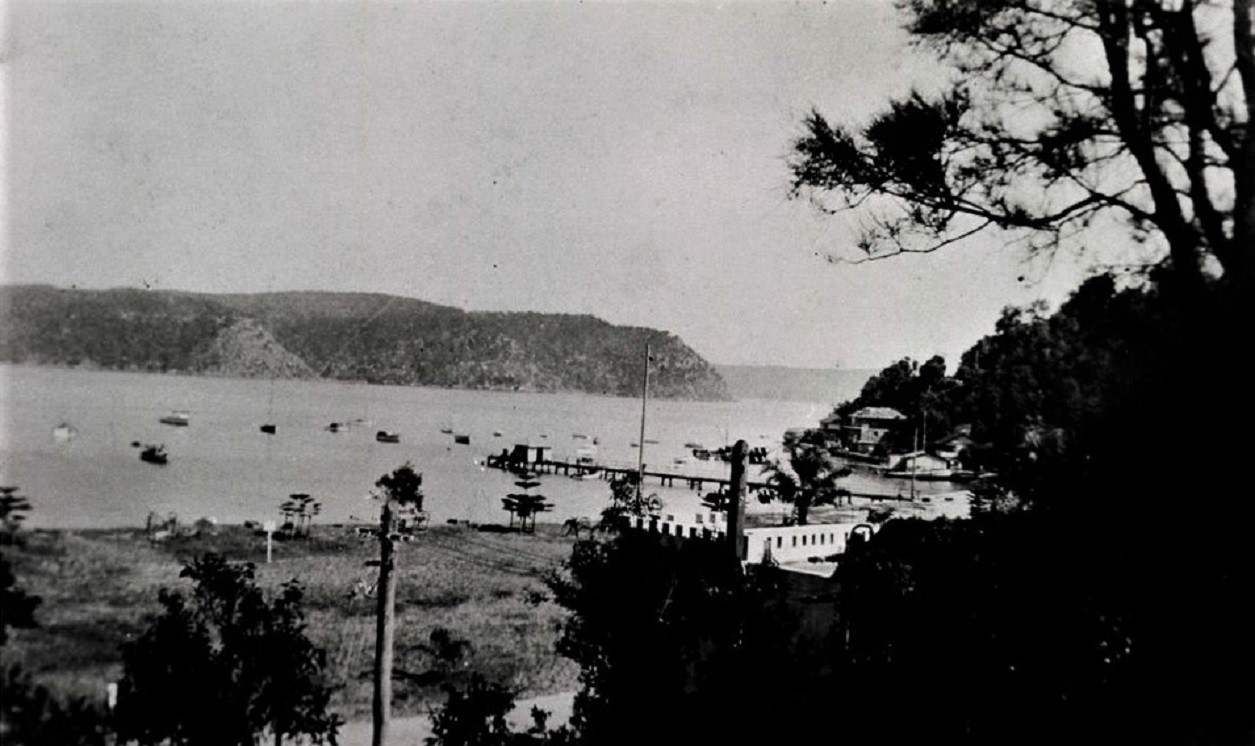 Palm Beach Ferry wharf and Pittwater Park circa 1938 from beside Barrenjoey House. Crowley family photo; Crowley Family records state Mr Crowley was allowed to plant a vegetable garden in the land behind Barrenjoey House and did so for a few years, which is the aspect from which this image has been taken. NB: The Norfolk pines have recently been planted - and are still in place.
The current menu has been refreshed since the last visit with some always popular staples kept - such as flathead in beer batter served with really hot and crisp chips, while others are a new addition well worth adding to your list of 'BJ House favourites'.
We had French visitors to treat to the best of Australia and in usual practice, ordered a range of starters and entrees for the table for all to share.
Fresh Oysters served with an Apple mignonette, Calamari with a Citrus aioli, togarashi + lime, Seared Scallops with Butternut pumpkin, daikon + green chilli and a 'house special'; Crab Toast with Butter + chives.

The ocean could still be tasted in the oysters such was their freshness, the calamari was piping hot with a crisp dusting of salt and pepper flour on the outside, superb, the scallops had been treated with due respect when seared, and the matching of the pumpkin and daikon with a smidgen of green chilli all worked to enhance the shellfish. The Crab toast with butter, on a brioche sandwich base, added two pounds to your hips just looking at it - scrumptious.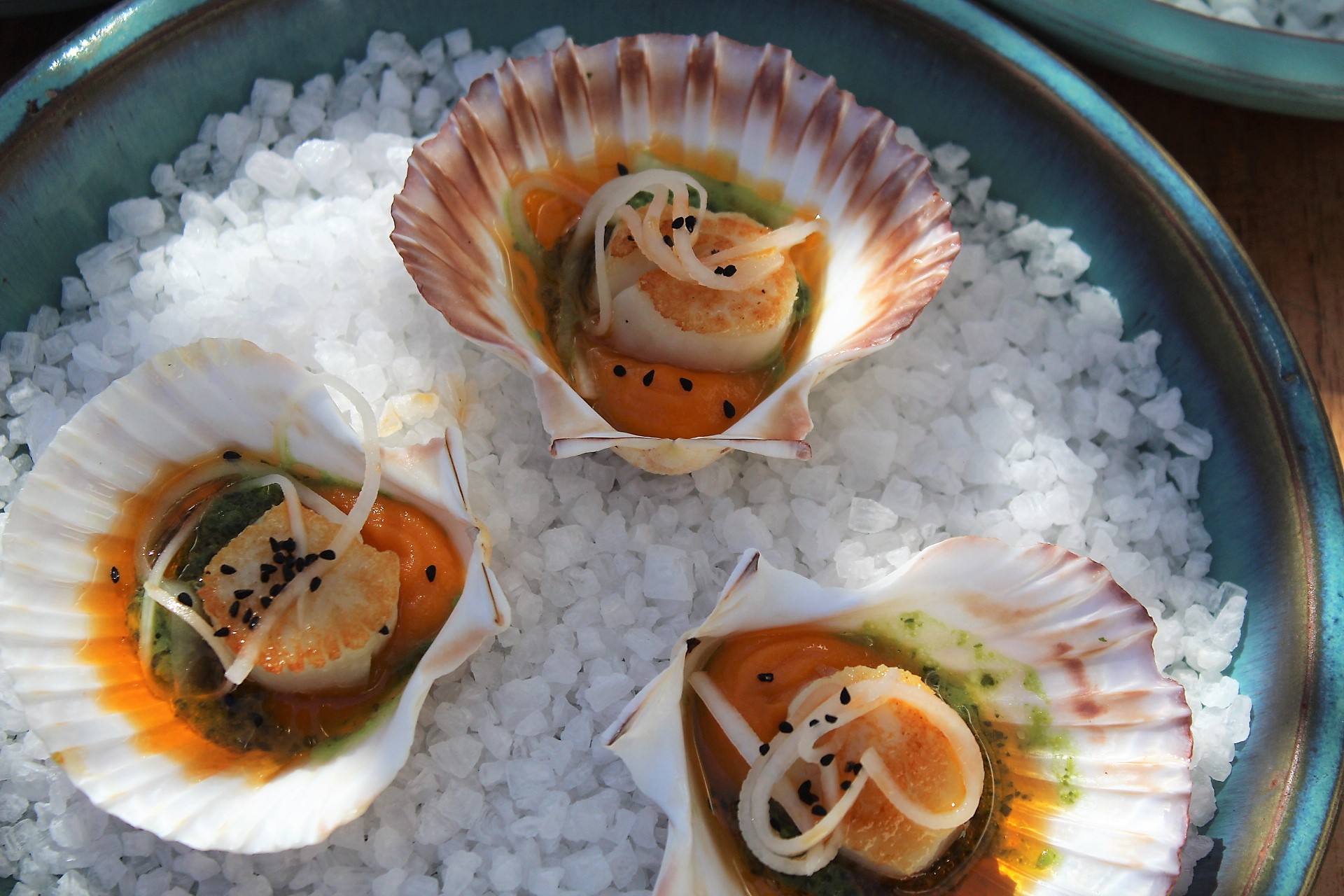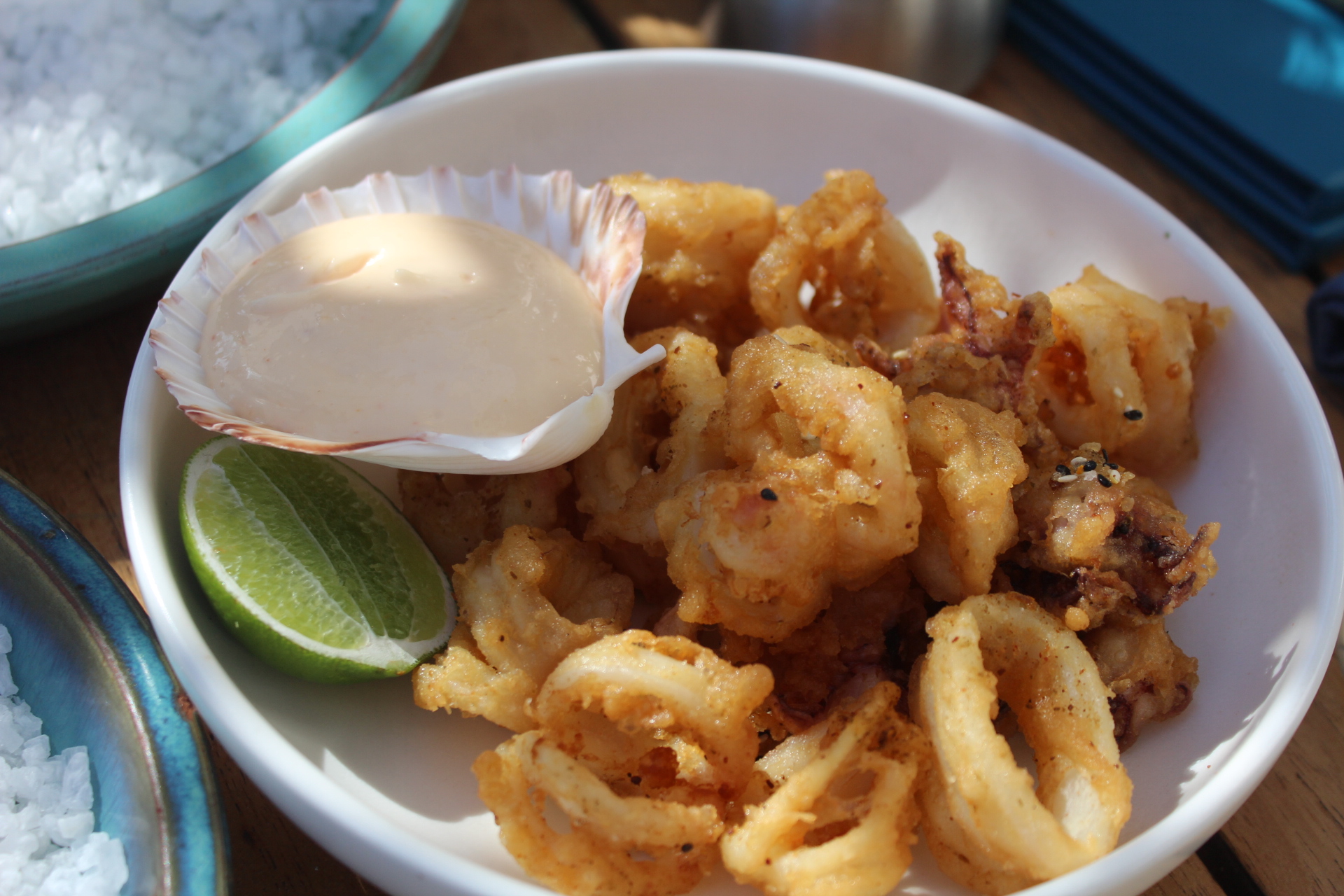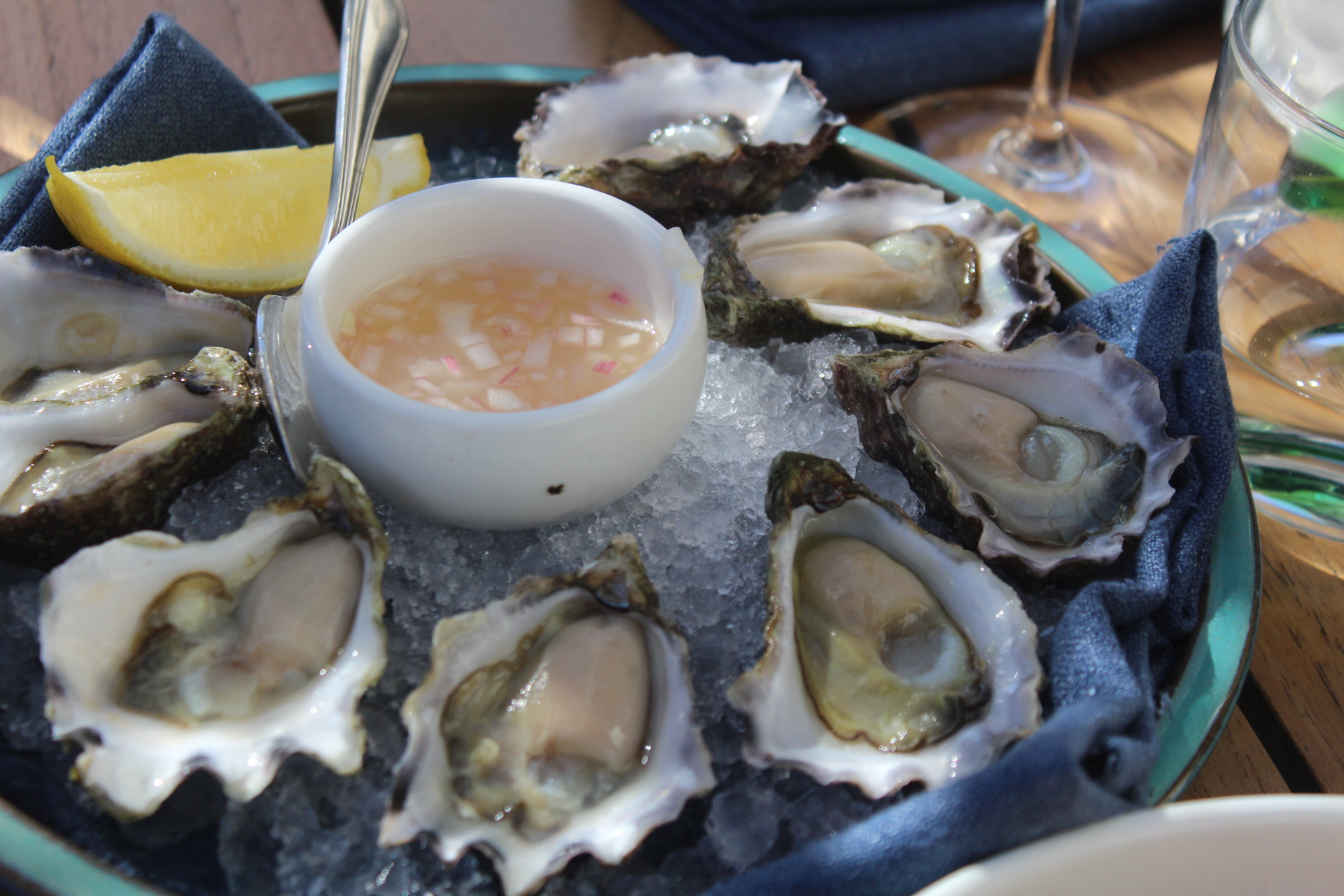 For mains one traditionalist went with the Beer Battered Flathead served with chips, tartare sauce + fresh lemon. The guests chose the Rare Tuna Linguine; line caught Yellow Fin Tuna, capers, rocket, olive oil, lemon + chilli and the King Prawn Risotto, the seafood from Skull Island, NT, with a crustacean bisque, saffron + caviar. Our 'must eat steak' man went with a 200 gram Eye Fillet from the Riverine, NSW, served with potato mash + cafe de paris butter and a red wine jus (you can also choose chermoula) while one of the other 'B J House in late Autumn lunch crew' also chose the King Prawn Risotto and Ōra King Salmon from Waitata Bay, NZ, with beetroot, crème fraîche, horseradish + salmon caviar.
Sides chosen were Fries with seaweed salt, we didn't need two bowls - the portions are generous, should have only ordered one, and a Leaf salad with a seeded mustard vinaigrette - which was really fresh crisp leaves lightly dressed.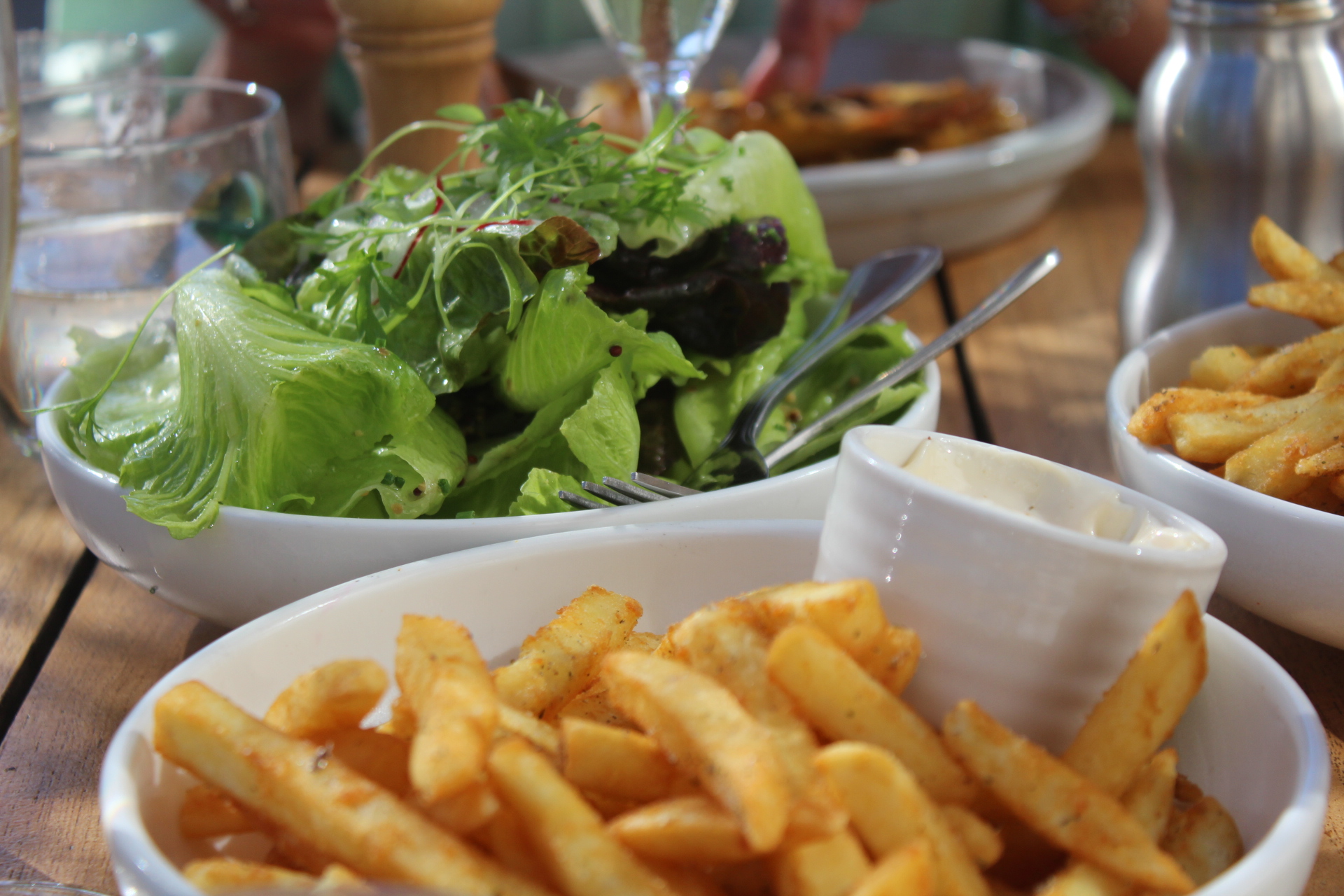 The Beer Battered Flathead served with chips remains a great meal at Barrenjoey House; the batter is always crisp, the chips always hot and piled up, the tartare sticking to the correct recipe.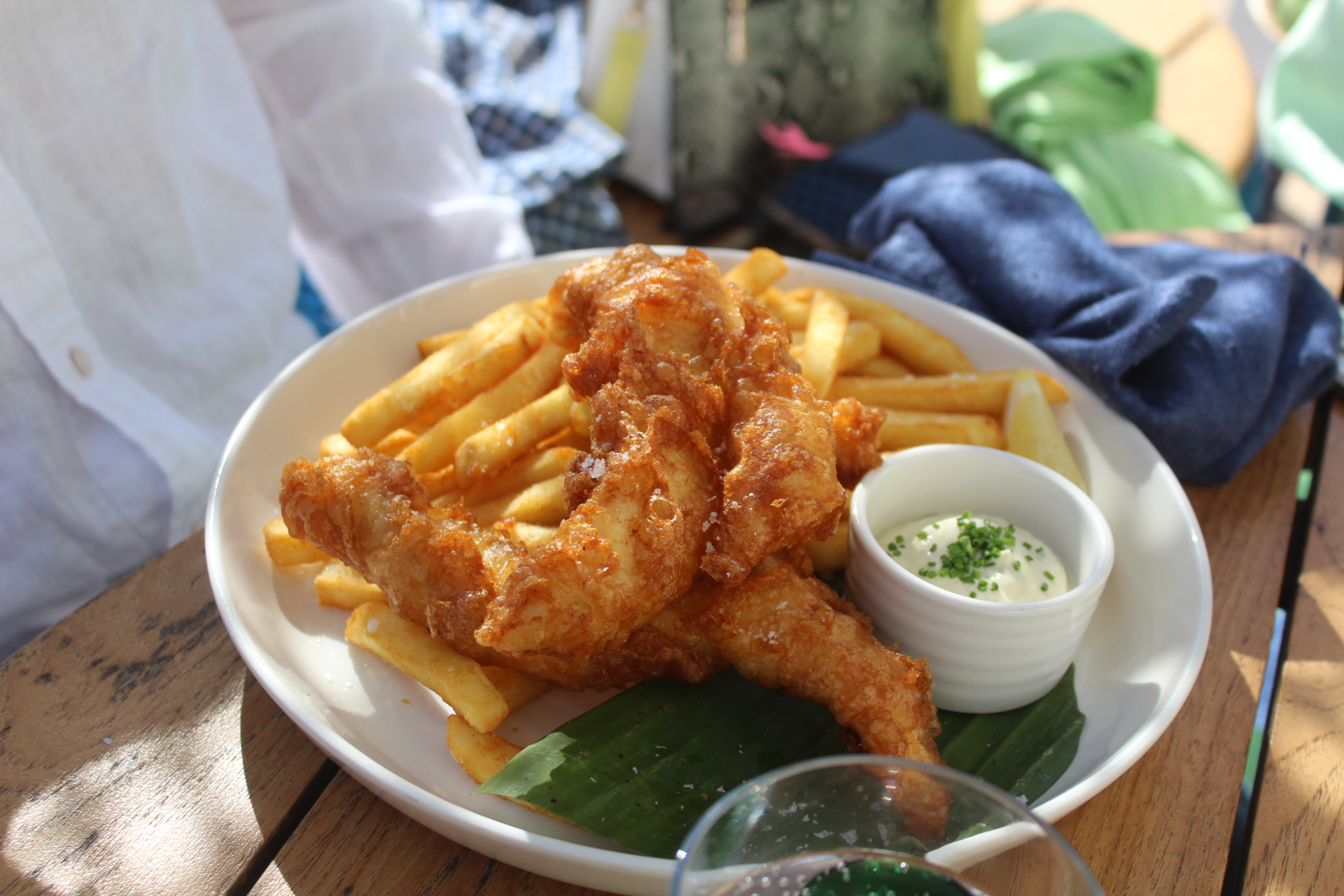 Line caught Yellowfin Tuna in Australia range along both the east and west coasts. Often served raw as sashimi and in sushi, indicating its quality, Yellowfin tuna has a mild, meaty flavour and is bright red when raw. There are catch limits on how much can be caught in Australian waters. Our guest really enjoyed his dish.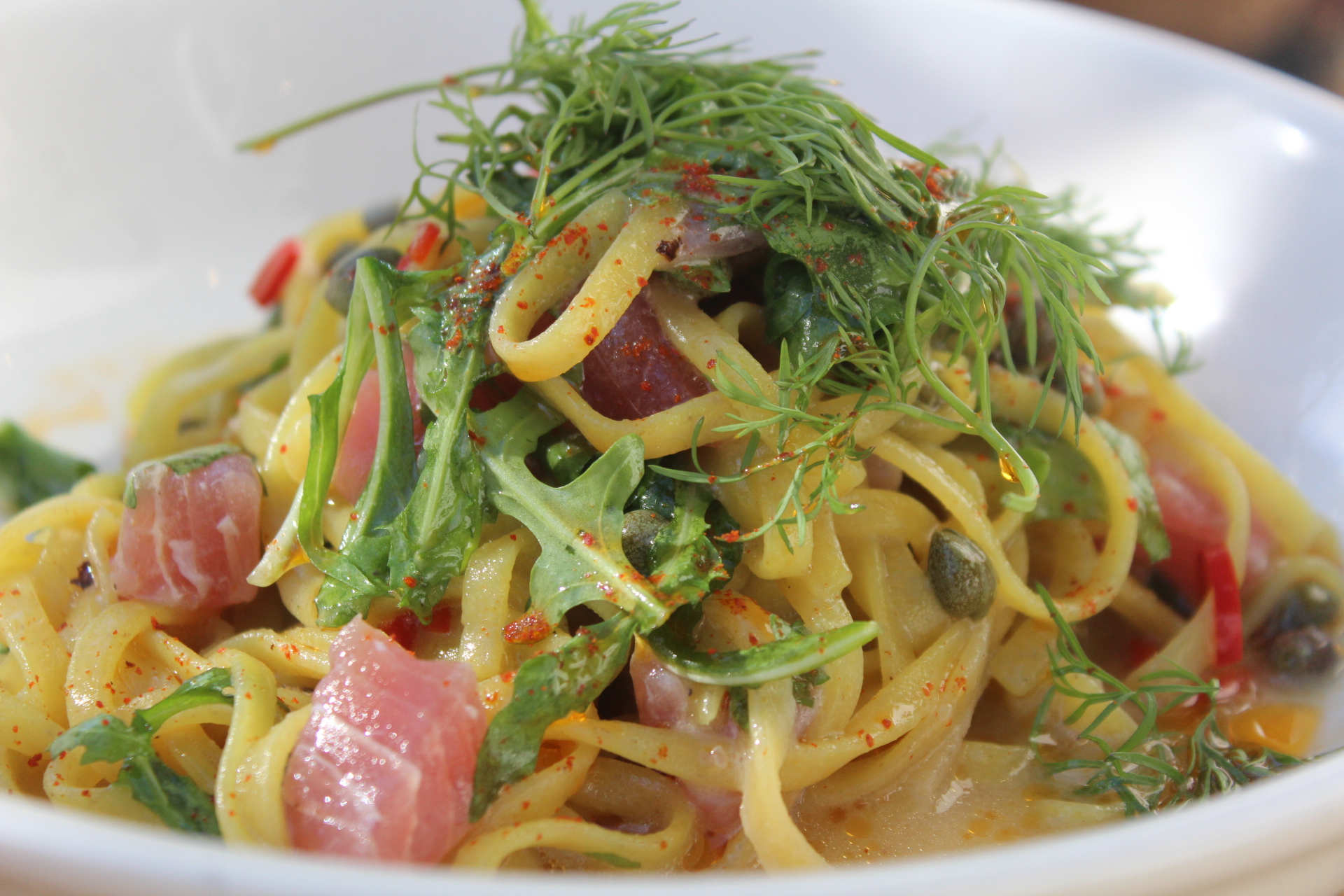 Skull Island is an island located in the Gulf of Carpentaria, and part of the Sir Edward Pellow Group of Islands in King Ash Bay at the mouth of the McArthur River. Certified 'sustainable' by the Marine Stewardship Council (MSC), Skull Island prawns are the world's first certified sustainable tropical prawn.

Austral fisheries tell us the 'King prawns from Skull Island in the Gulf of Carpentaria are the biggest you can find in Australia. Measuring up to 26cm in length and 100g in weight, these juicy behemoths of the prawn underworld are truly the king on the plate. The Skull Island Tiger is a wild Brown Tiger Prawn which carries a unique and distinctive flavour and texture, reflective of the environment from which it comes.
It is characterised by a rich, savoury and intensely shellfish flavour with light mushroom notes and a lingering, deep umami aftertaste.'
What did those who had the King Prawn Risotto think? 'Sooo good - really yummy'.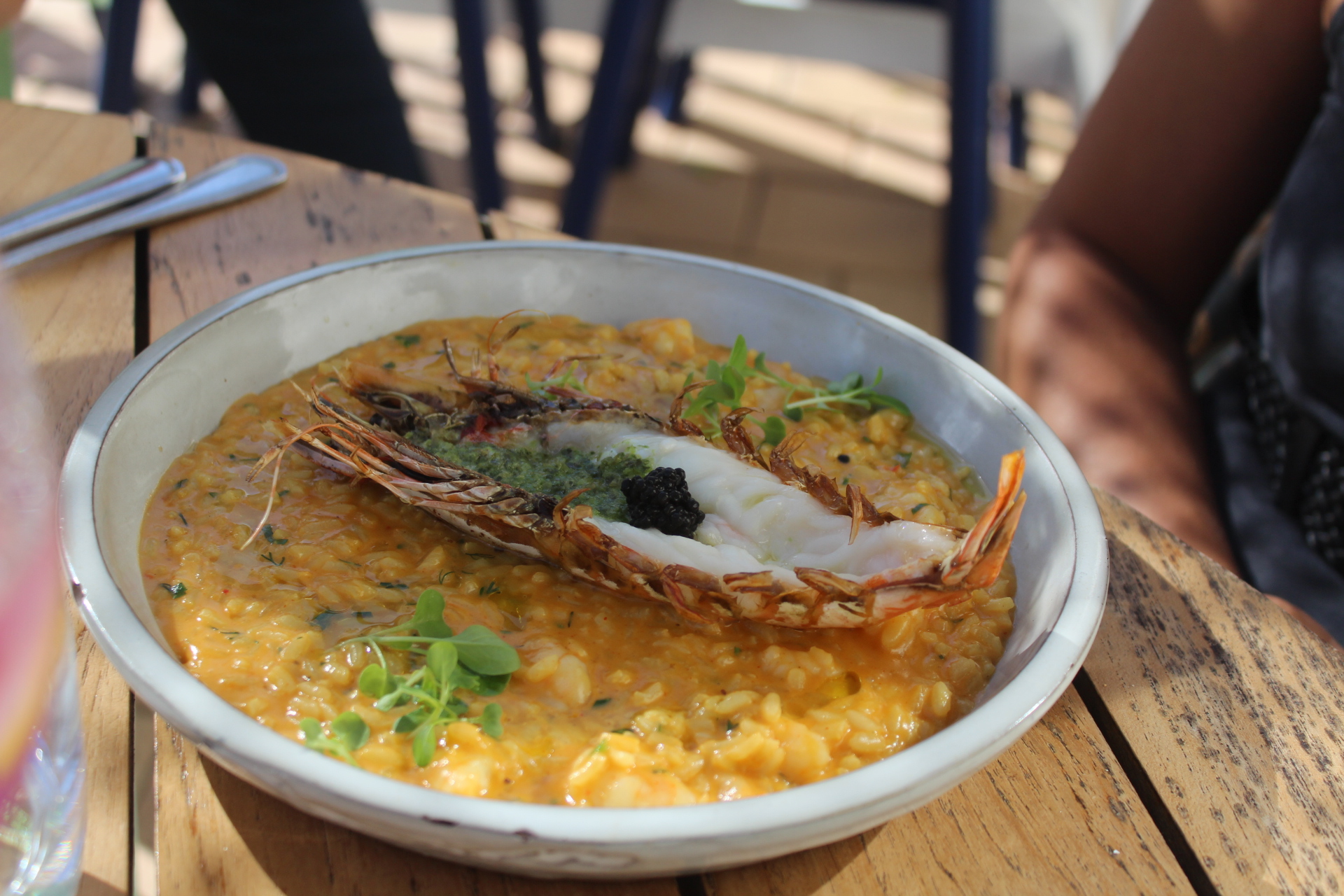 Riverine beef is an award-winning product from carefully selected cattle that are raised on natural pastures and then finished on a balanced diet of cereal grains creates beef with rich flavour and even marbling. Underpinned by the Meat Standards Australia (MSA) grading system, this is an exceptional quality product and this was an exceptional meal.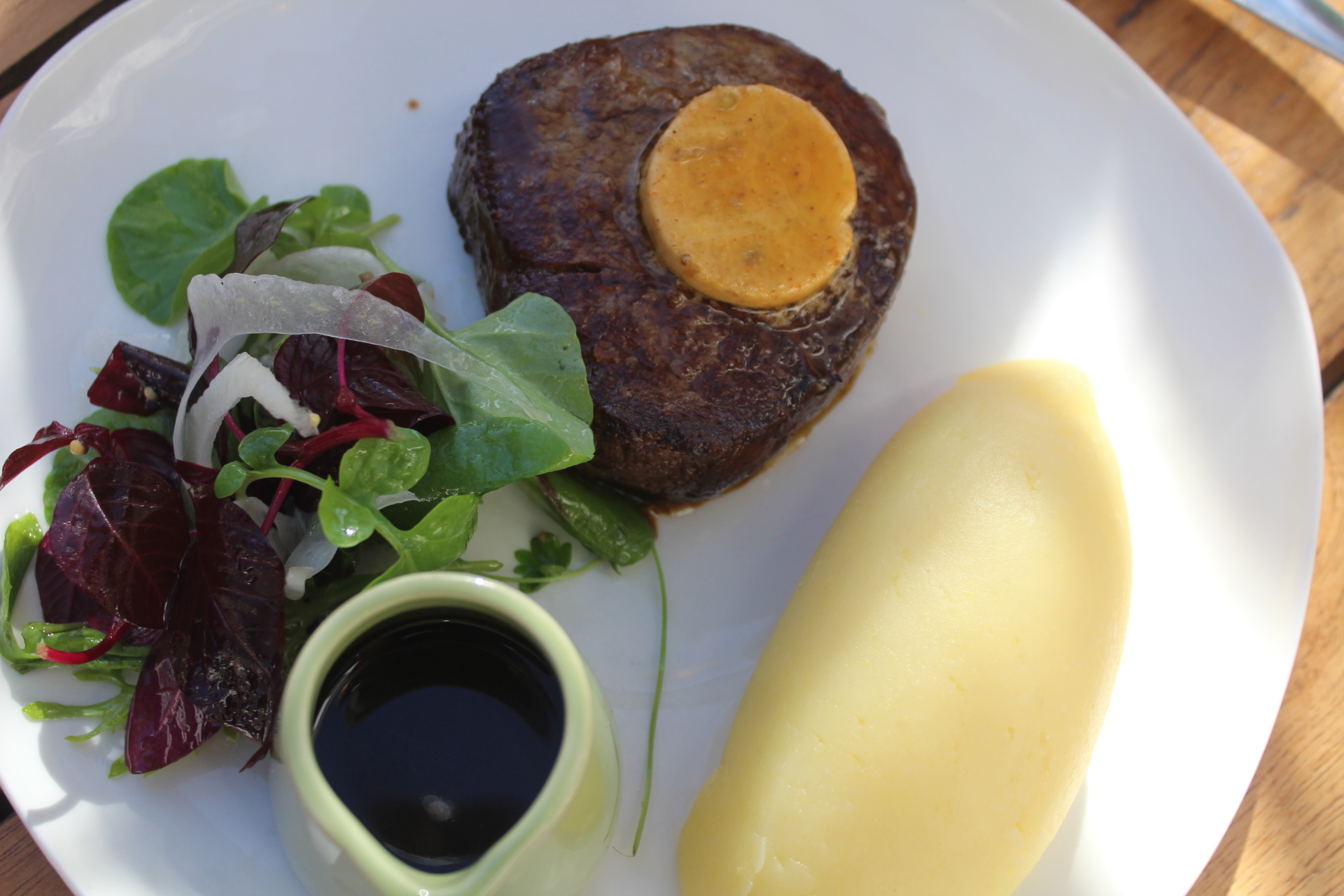 Waitata Bay is located in the outer Pelorus Sound in the Northern tip of the South Island of New Zealand. The Ōra King Salmon from Waitata Bay, is known as the Wagyu of the Sea, it's rich and clean taste are indicative of the pristine water it's raised in. You can actually taste this - a subtle taste of those other waters is in this fish and a creaminess you don't get in other salmon.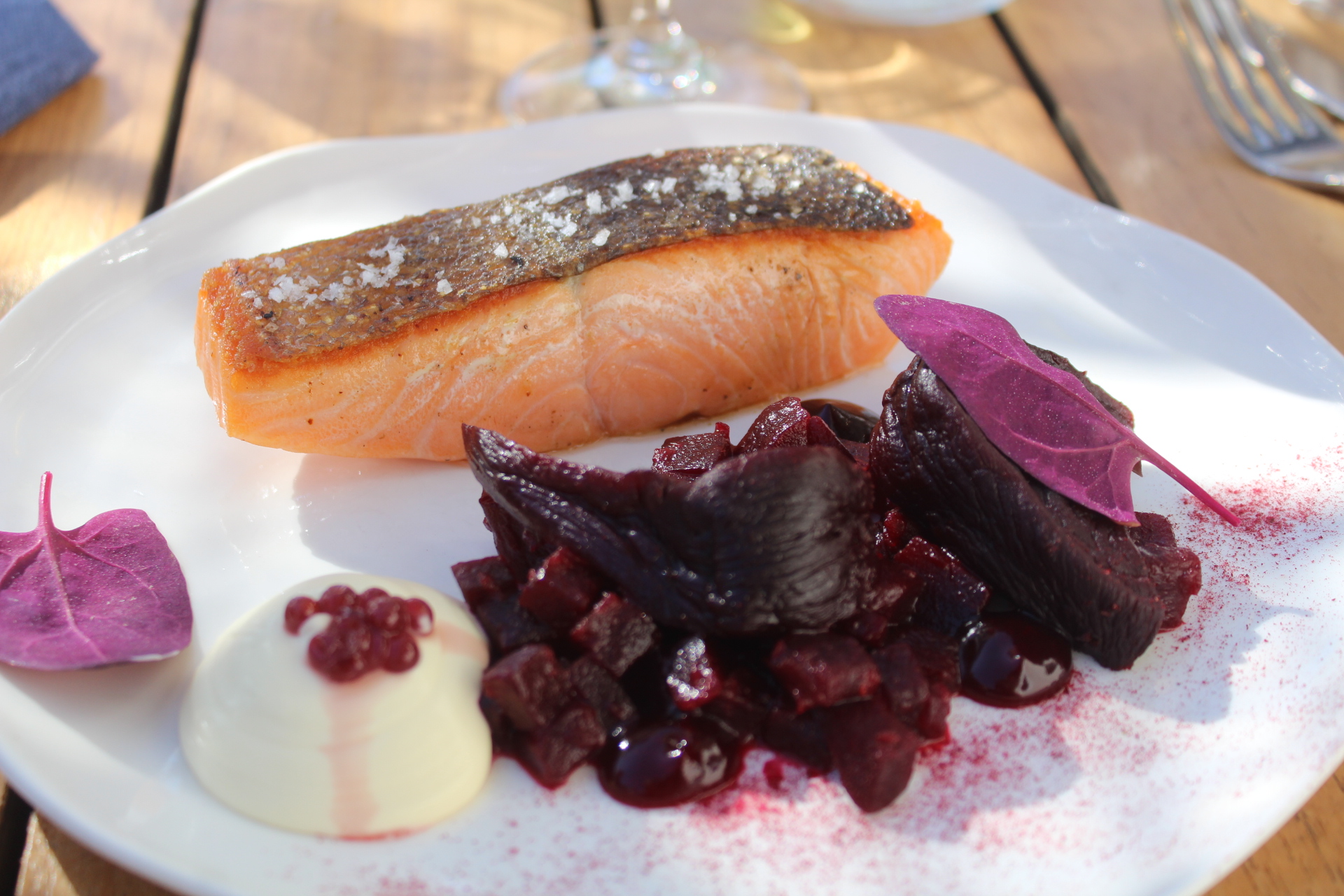 The producers of this salmon explain that New Zealand King Salmon's classical breeding programme has produced nine generations of King salmon, creating over 100 distinct salmon families, chosen so that only the finest examples — with the most appealing taste, texture, colour and size — are carried forward to the next generation. Through this programme they have created a unique breed, called Ōra King, genetically distinct from any other King salmon found in New Zealand or the world.
It all begins at our freshwater facility in Takaka, where King salmon eggs are nurtured in crystal clear waters flowing from Te Waikoropupū Springs — water that has been verified as some of the clearest in the world. Fertilised eggs are hatched at a freshwater facility in Tentburn where the alevin are carefully reared in a constant supply of fresh spring water. Within their first year, smolt are transported to the Marlborough Sounds to mature in fast flowing sea waters, thus emulating the lifecycle of wild King salmon. The highest quality salmon are hand selected by a master grader and branded Ōra King. These unique salmon are individually numbered for traceability. Visit: orakingsalmon.co.nz

The word 'Ōra' in the Polynesian Māori language of New Zealand literally means "Be Well" - and you certainly feel as though you have eaten something wonderful after a slice of this fish. Once again, the chef at Barrenjoey House had chosen a product that is not only the best you can get and celebrates the unique cold water fish of our region, this is also a sustainable product with no iffy reports of seals being harmed to go with it.
For desert, for those who could fit it in, one chose the Citrus Pavlova; rice milk gelato, citrus Chantilly, orange, compressed mandarin and coconut meringue was a scrumptious palate cleanser, while for those who must have chocolate, the Boathouse Rocher; hazelnut mousse, gianduja chocolate creameux + hazelnut and almond praline will drench your senses in what will become yet another BJ House favourite.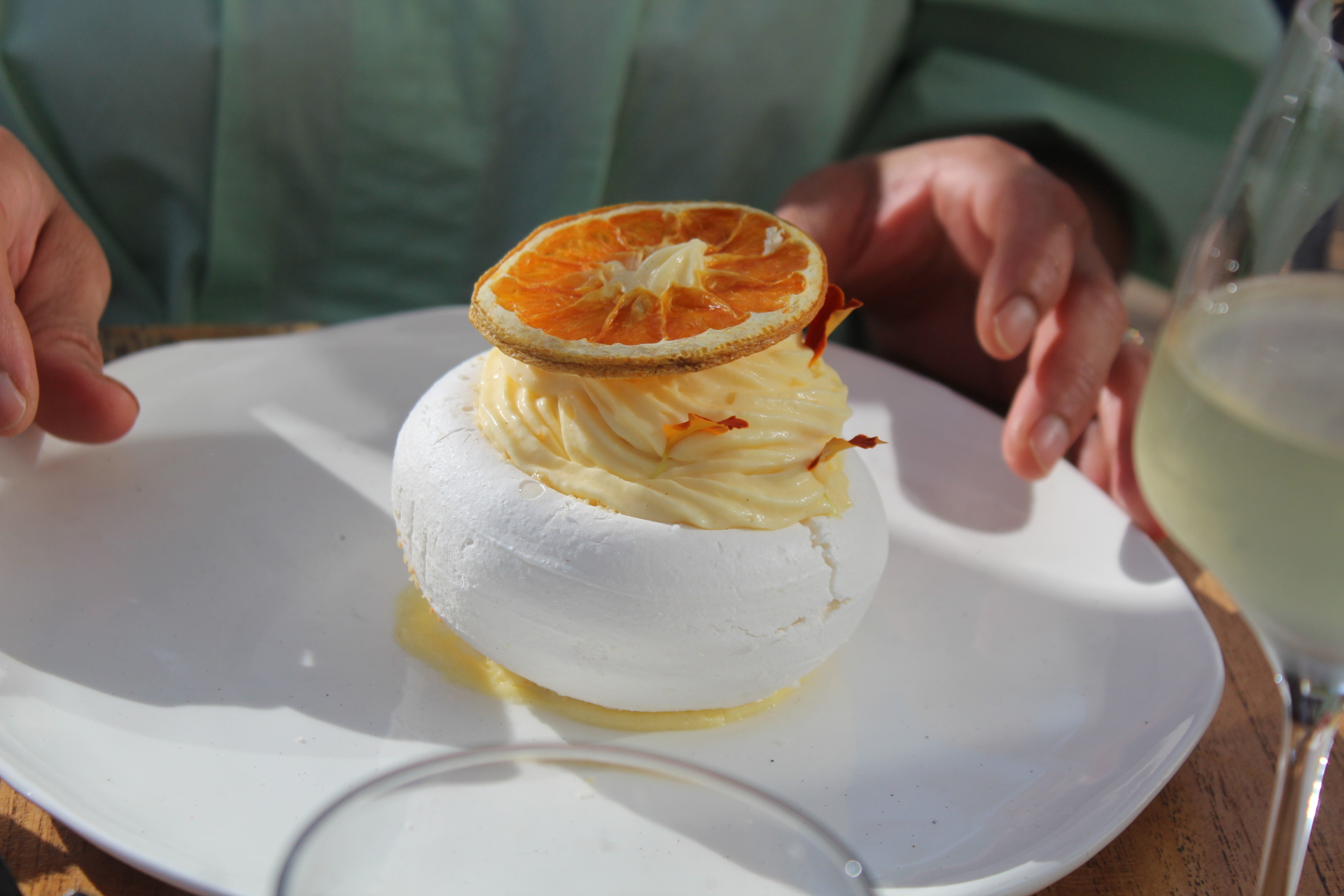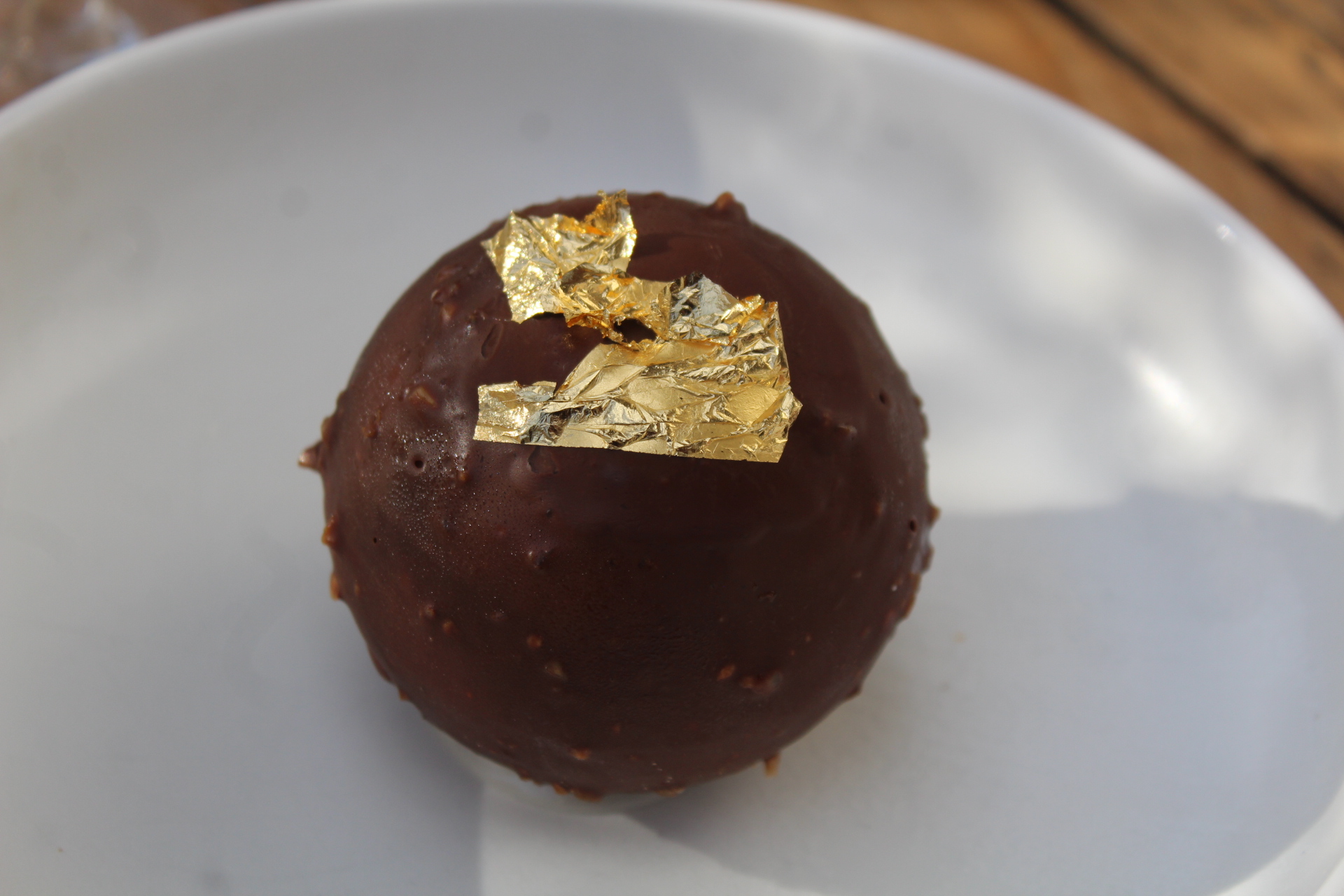 Starting off with a round of margaritas and continuing with a few bottles of Tasmanian bubbles, we all rated our latest Barrenjoey House Autumn luncheon as 11 out of 10.
Pop down soon while the Summer crowds are absent and you can enjoy some midweek peace and serenity.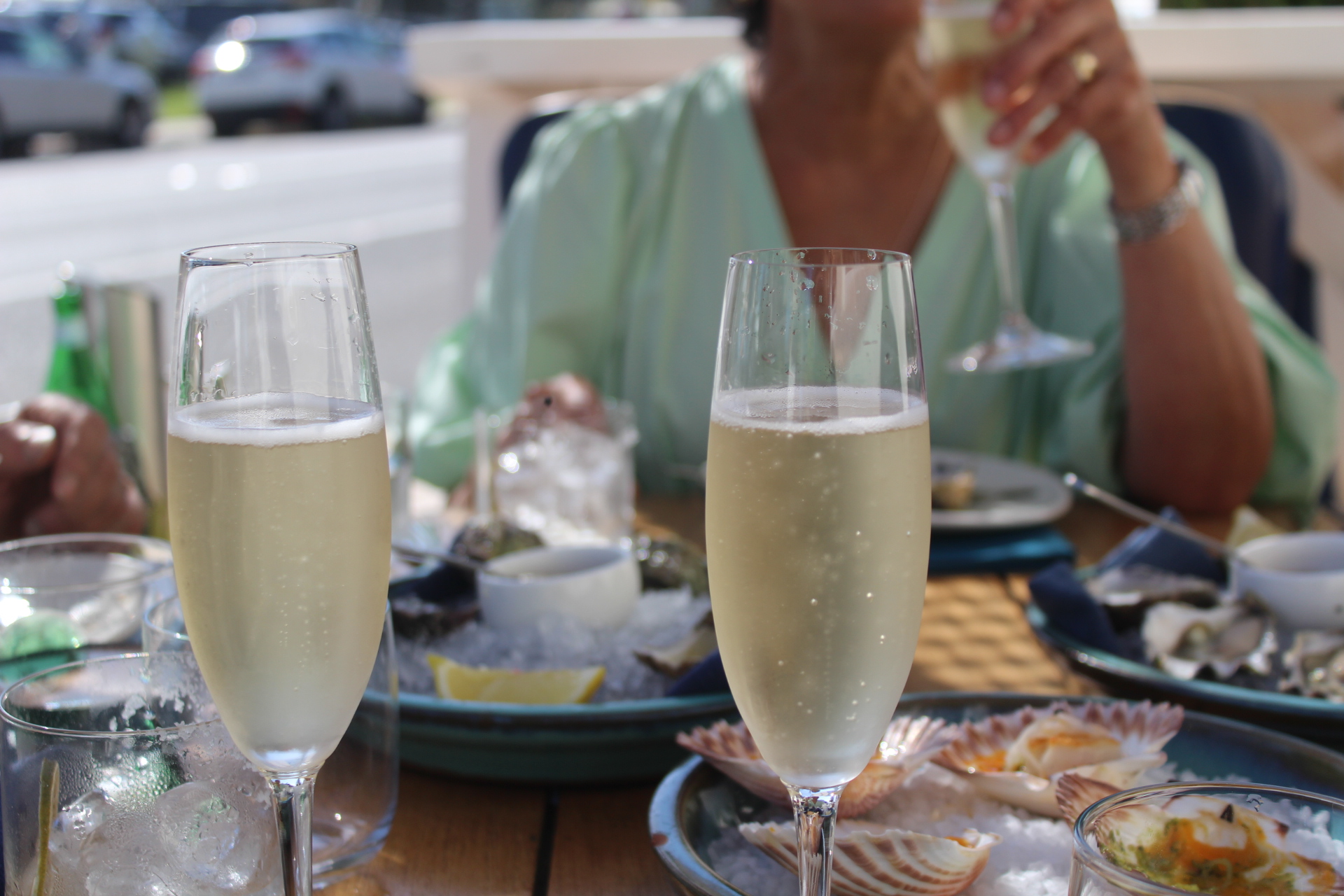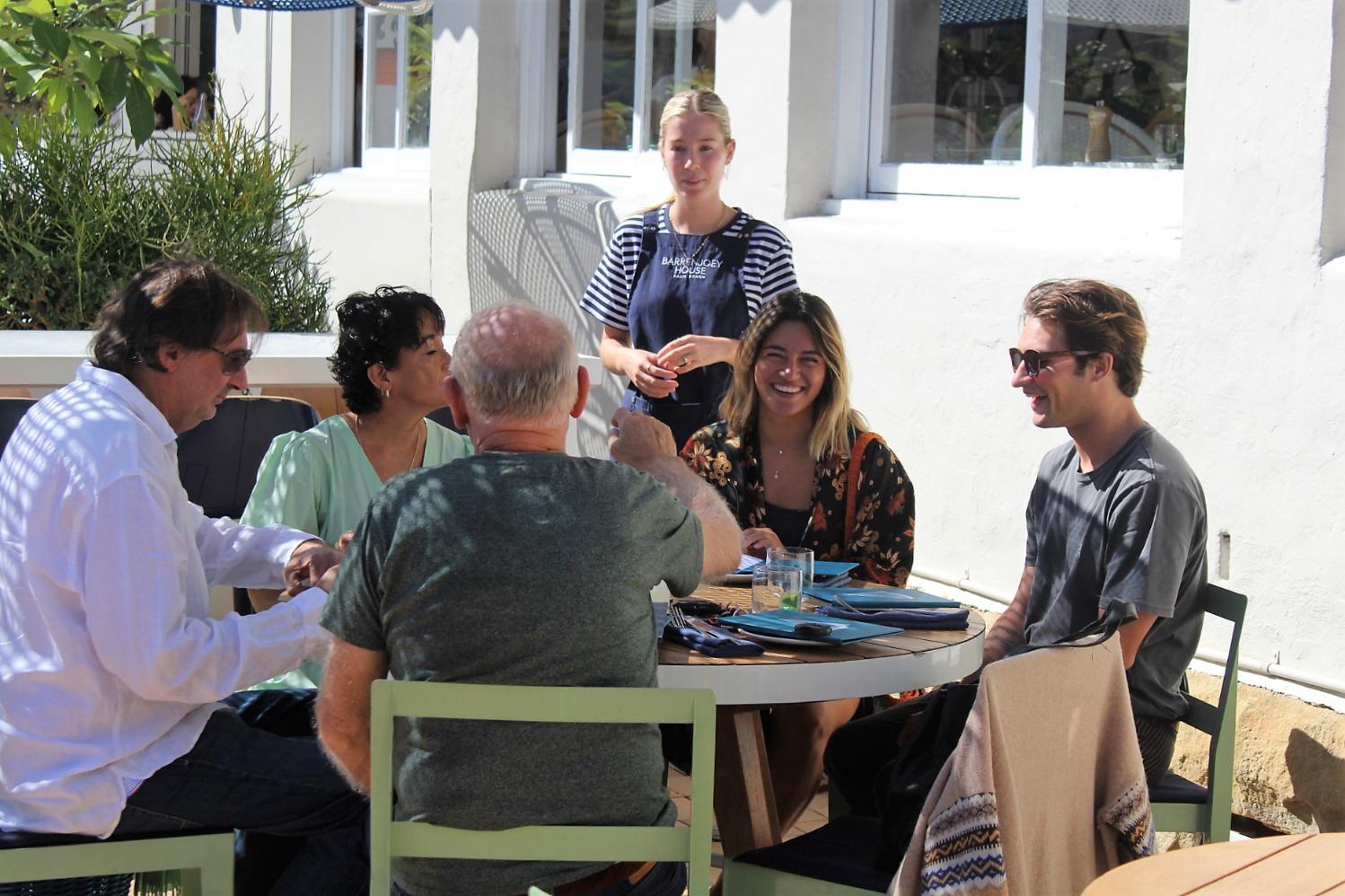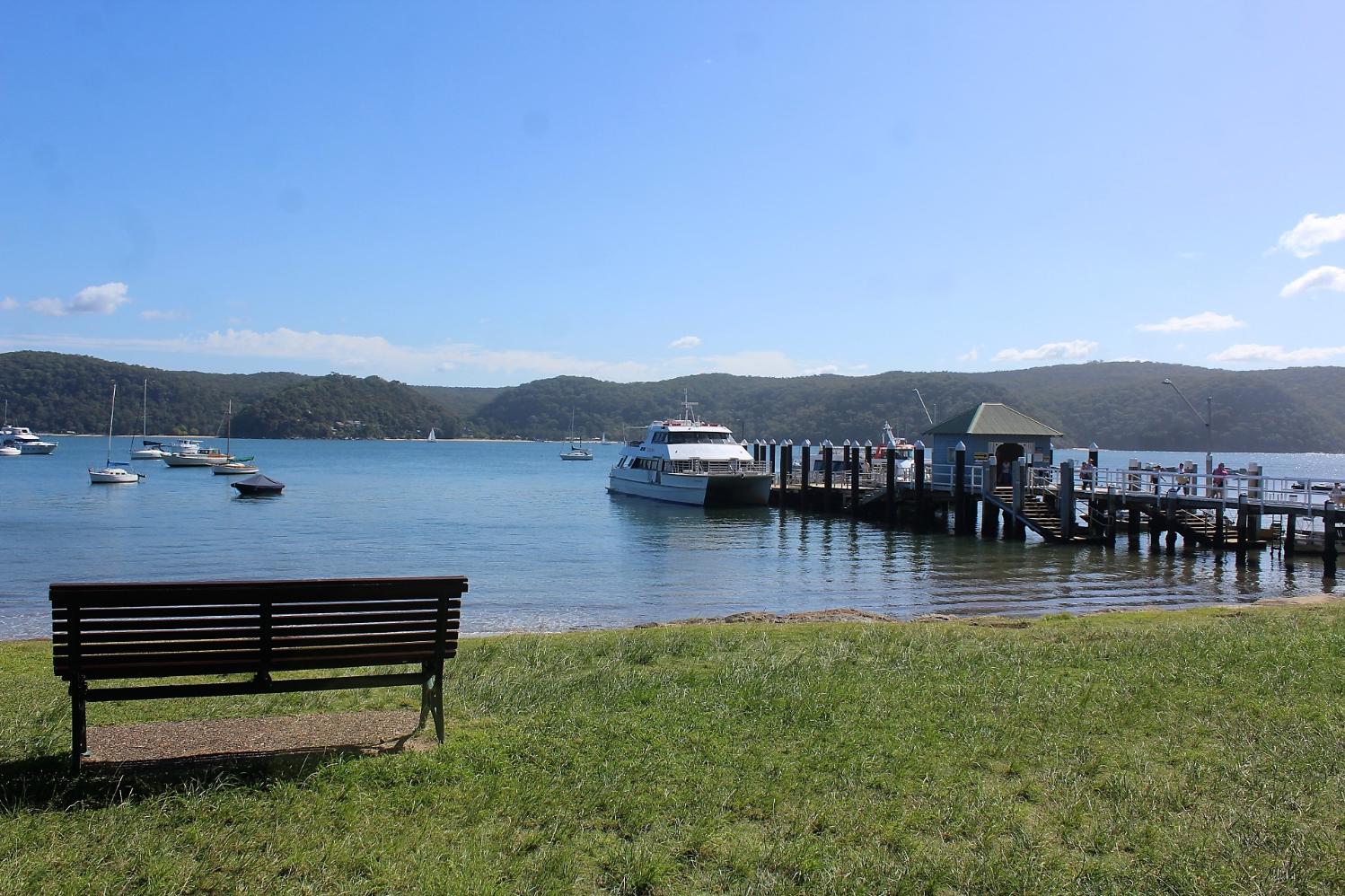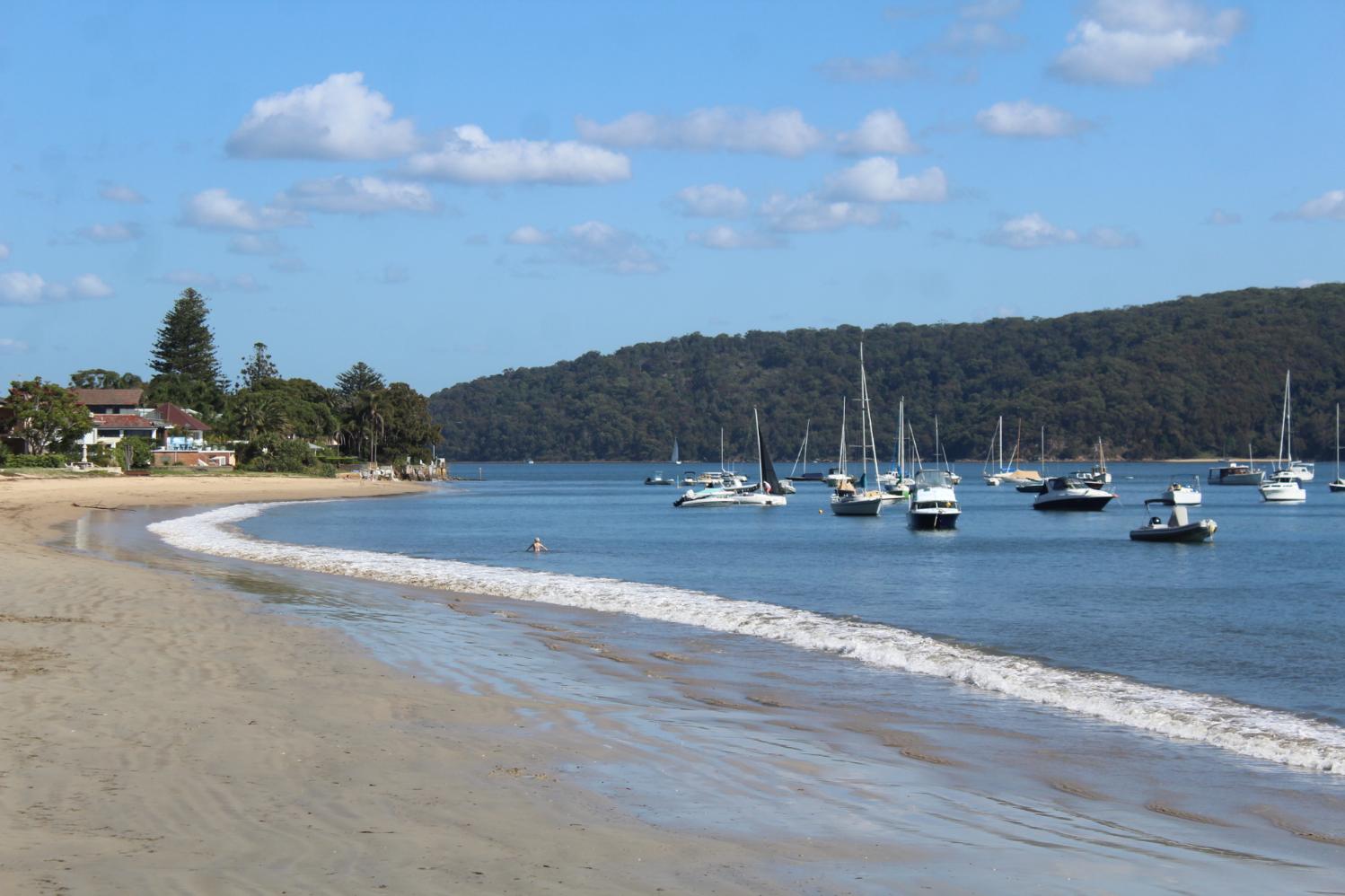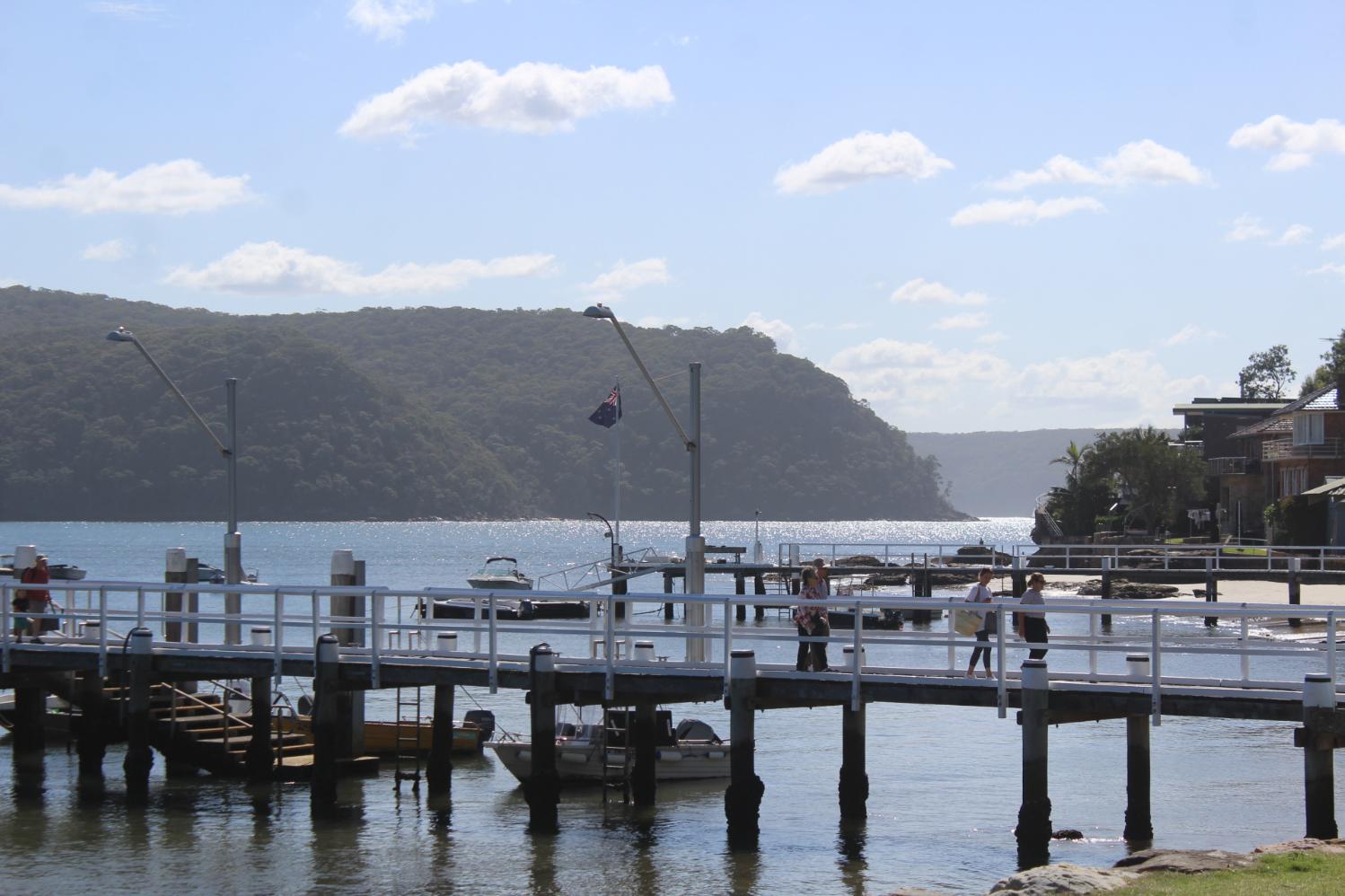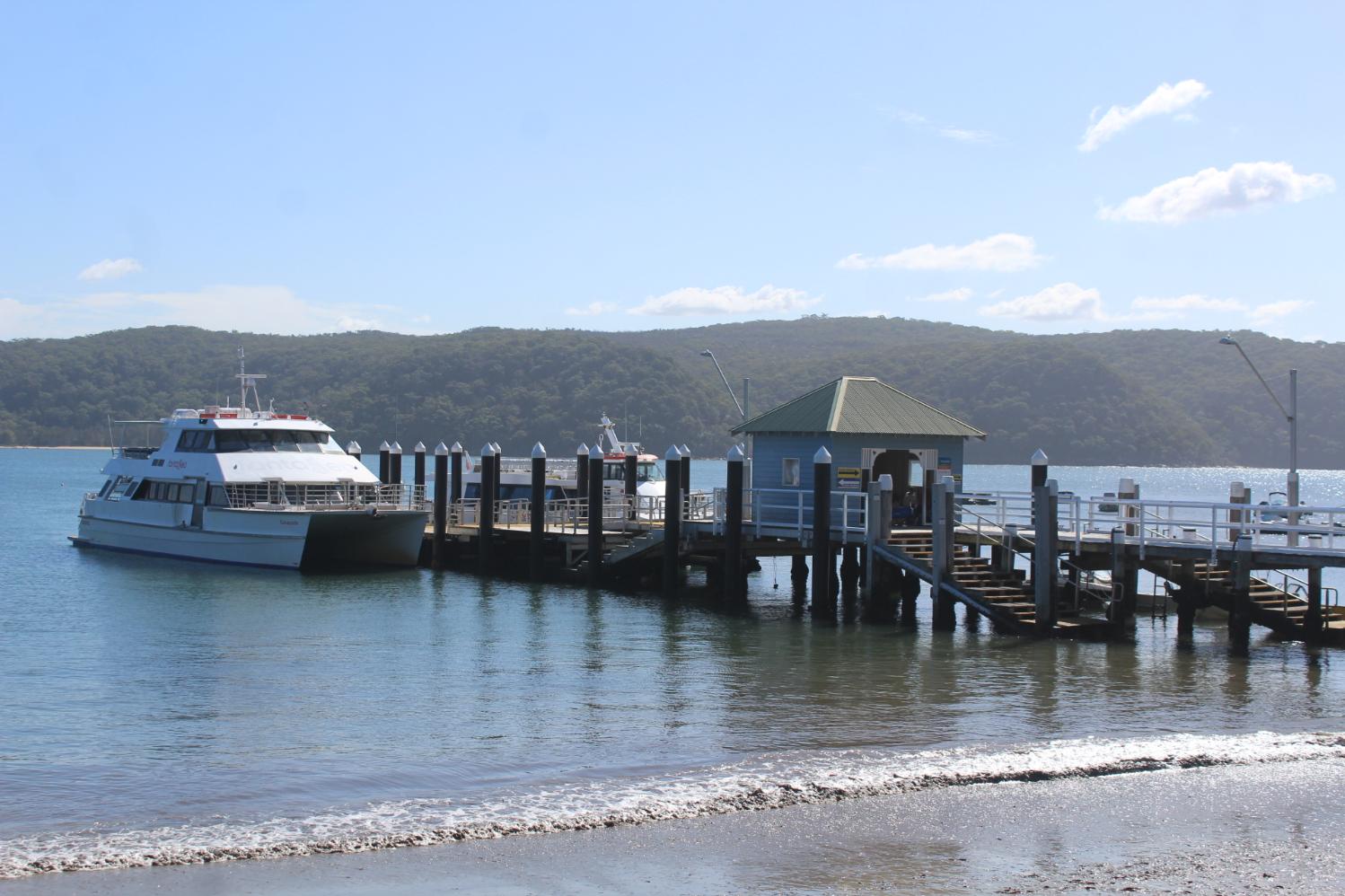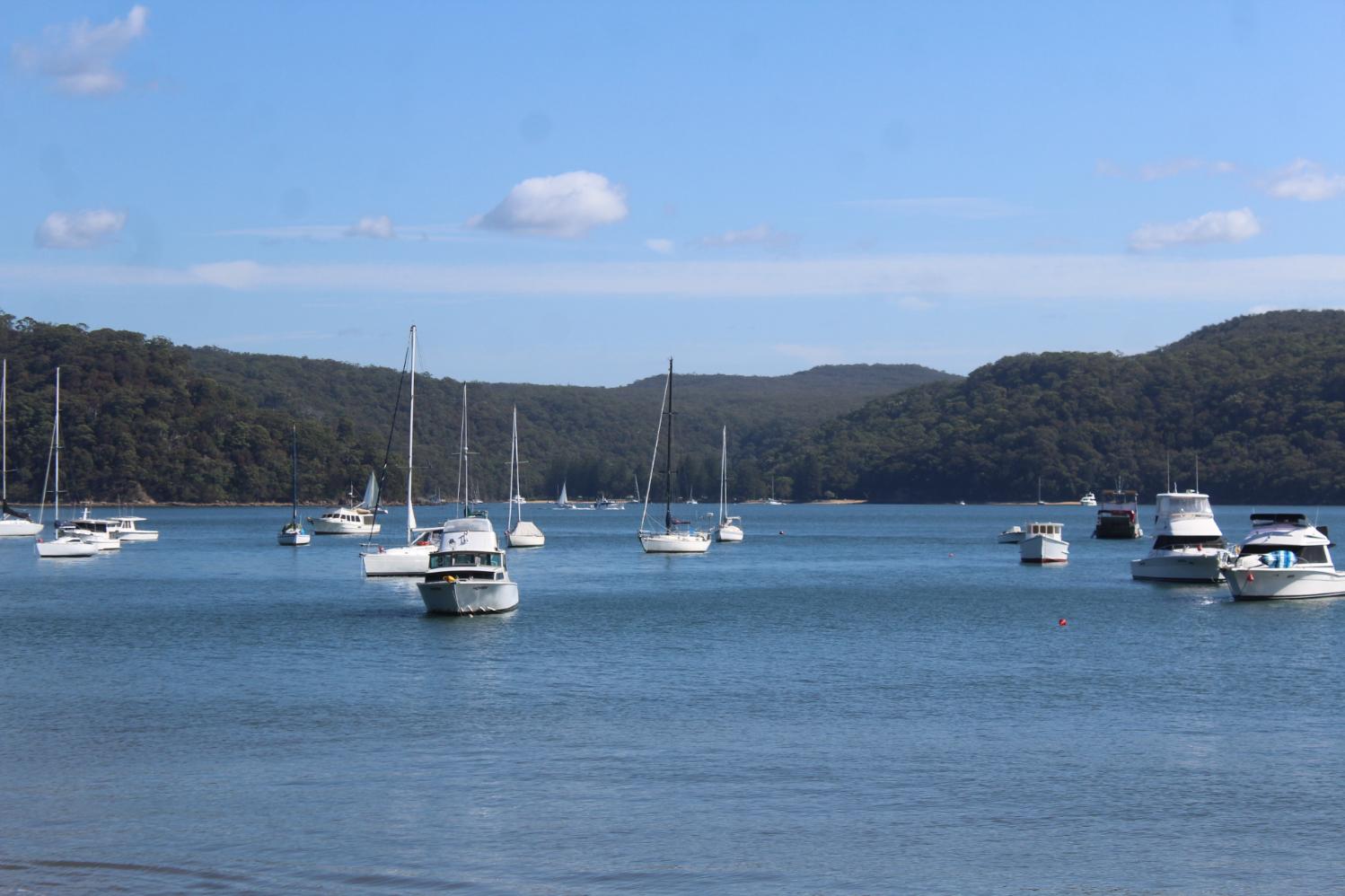 Snapperman Beach, Pittwater - late Autumn calm. Photos/report: A J Guesdon