August 20 - 26, 2023: Issue 595

Classic Trifles May Be For Sale At Country Womens Association Manly's Edible Exhibition: 100 Bakers To Celebrate 100 Years Of Our Local CWA On Saturday August 26th - Starts At 12:30pm


Pierre-Auguste Renoir - Luncheon of the Boating Party (1880–81)
The very special
Country Women's Association - Manly Edible
Exhibition
- 100 bakers celebrating the 100 years of the CWA Manly - takes place next Saturday August 26th.
It will be well worth a visit to St Matthews on The Corso to see the incredible creations, a day you really don't want to miss!
On the day all baked goods, handicraft including aprons and tea cosies will be for sale. Details are: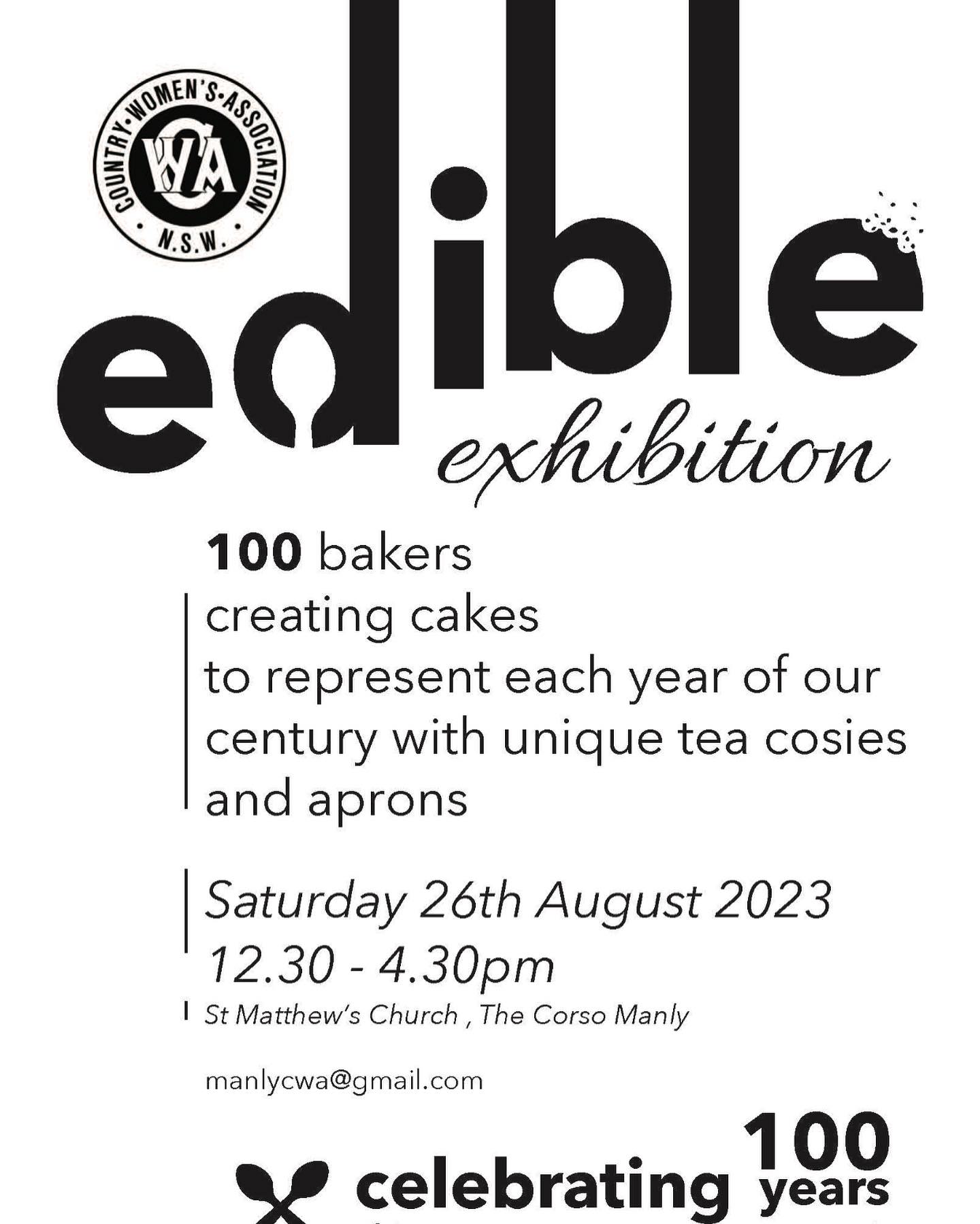 One example that may well be on offer is an Australian trifle.
Mum's homemade trifle has always been a favourite around here - especially with dad and always soaked the cake part generously with lashings of Sherry or Madeira. The practice of eating sponge cake dipped in sweet wine dates back to around 1600 A.D. when sponge cakes were brought from Spain and Italy into English kitchens.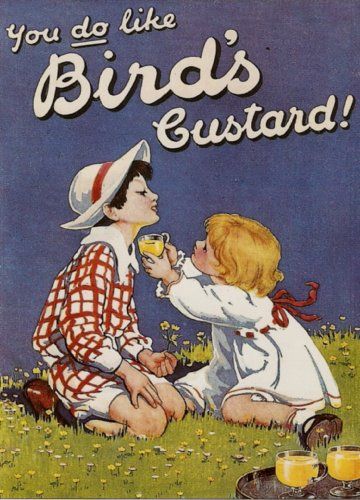 Trifle (the pudding not the practice) dates back to 1750 A.D.. The earliest use of the name trifle was in a recipe for a thick cream flavoured with sugar, ginger and rosewater, in Thomas Dawson's 1585 book of English cookery The Good Huswifes Jewell. Trifle evolved from a similar dessert known as a fool, and originally the two names were used interchangeably.
The earliest known recipe for sponge cake (or biscuit bread) from Gervase Markham's The English Huswife (1615) is prepared by mixing flour and sugar into eggs, then seasoning with anise and coriander seeds. 19th century descriptions of avral vary from place to place but it sometimes described as "sponge biscuits" or a "crisp sponge" with a light dusting of sugar "

Jelly is first recorded as part of the recipe in later editions of Hannah Glasse's eighteenth century book The Art of Cookery. In her recipe she instructed using hartshorn or bones of calves feet as the base ingredient (to supply gelatin) for the jelly. The poet Oliver Wendell Holmes wrote of trifles containing jelly in 1861.
In the modern trifle, we use strawberry or raspberry jam, but historically a jam was used along with sponge cake dipped in wine. This was similar to today's Swiss rolls.
Alfred Bird (1811-1878) invented custard powder in 1837 in his chemist shop in Birmingham as an egg-free version of custard as his wife was allergic to eggs. After he discovered his custard was popular, Bird formed Alfred Bird and Sons Ltd. in Birmingham.
By 1843, the company was also making the newly invented baking powder and, by 1844, was promoting custard powder nationally.
By 1895, the company was producing blancmange powder, jelly powder, and egg substitute. In World War I, Bird's Custard was supplied to the British armed forces. The company was one of the early users of promotional items and colourful advertising campaigns.
BIRD'S CUSTARD POWDER.
FORTUNE AMASSED.
A message from London states that custard powder amassed the investor, Alfred Bird, a fortune of £571,371. The death duties, amounted to £180,000. BIRD'S CUSTARD POWDER. (1922, April 11). Advocate (Burnie, Tas. : 1890 - 1954), p. 1. Retrieved from http://nla.gov.au/nla.news-article66589114
This pudding really came into its own with the invention of custard powder and today traditionally combines sponge cake with good splashes of sweet sherry or Madeira, jam, jelly, fresh or tinned fruits, custard and oodles of whipped cream.
Of course there are many variations on this basic recipe to suit the tastes of those eating it.
While researching the historic basis of what was needed to bring these ingredients all together recipes for Pineapple Jelly Trifle, Orange Trifle, Peach Trifle an Australian Wartime Trifle as well as Ginger, Coffee and Lemon Trifles were read with interest. This one has no custard and no whipped cream:
This Week's Recipe: Trifle Marshmallow.
TAKE- one packet raspberry Jelly crystals and dissolve In one scant pint boiling water. Stir veil and add a tablespoon port wine. Rinse out a recess cake tin and pour into It an inch of the jelly. Cut sufficient small squares of sponge cake and arrange them on the Jelly. Now pour In remainder of Jelly and place in refrigerator to firmly. When set make marshmallow thus:—
Into a saucepan put one cup of water, a cup sugar, one tablespoon powdered gelatine. Stir-over low beat until dissolved and bring to boiling point. Cool, then beat-until thick and white.
Stir, in two tablespoons lemon juice and when nearly setting, fold evenly through the mixture two stiffly beaten egg whites. Unmould the red Jelly. Pile the marshmallow into centre and sprinkle over it a teaspoon ground almonds or a cube dark chocolate finely grated. Week's Recipe (1953, December 17). Queensland Country Life (Qld. : 1900 - 1954), p. 12. Retrieved from http://nla.gov.au/nla.news-article100667705
Trifle (the word) is from Middle English trifle, trifel, triful, trefle, truyfle, trufful, from Old French trufle ("mockery"), a byform of trufe, truffe ("deception"), of uncertain origin.
As a Noun
An English dessert made from a mixture of thick custard, fruit, sponge cake, jelly and whipped cream.
Coordinate terms: tiramisu, bread pudding
Anything that is of little importance or worth.
Synonyms: bagatelle, minor detail, whiffle; see also Thesaurus:trifle
An insignificant amount of money.
A very small amount (of something).
Synonyms: smidgen; see also Thesaurus:modicum
A particular kind of pewter.

(uncountable) Utensils made from this particular kind of pewter.
It's a perfect late winter early Spring dessert.
This version uses chocolate sponge cream filled Swiss roll and frozen raspberries because we like chocolate.and raspberries!
Chocolate Raspberry Trifle
Ingredients
1 cup Madeira
1 1/2 Litres Custard made with custard Powder
2 c. heavy (whipping) cream
1 chocolate-marble loaf cake or pound cake (or chocolate Swiss roll cut into rounds
1 bar bittersweet chocolate
3 baskets red raspberries or 1/2 a packet frozen raspberries (reserve 8 berries for garnish)
1 packet raspberry jelly - make and place in fridge to set
Arrange half the cake slices in bottom of trifle bowl; drizzle with 1⁄2 the liqueur mixture. Spread with 1⁄2 the pudding mixture; sprinkle with 1⁄3 the chocolate shavings. Top with 1⁄2 the raspberries, then 1⁄2 the whipped cream. Repeat layers (reserve remaining shavings for top). Cover bowl with plastic wrap. Refrigerate at least 8 hours or up to 1 day.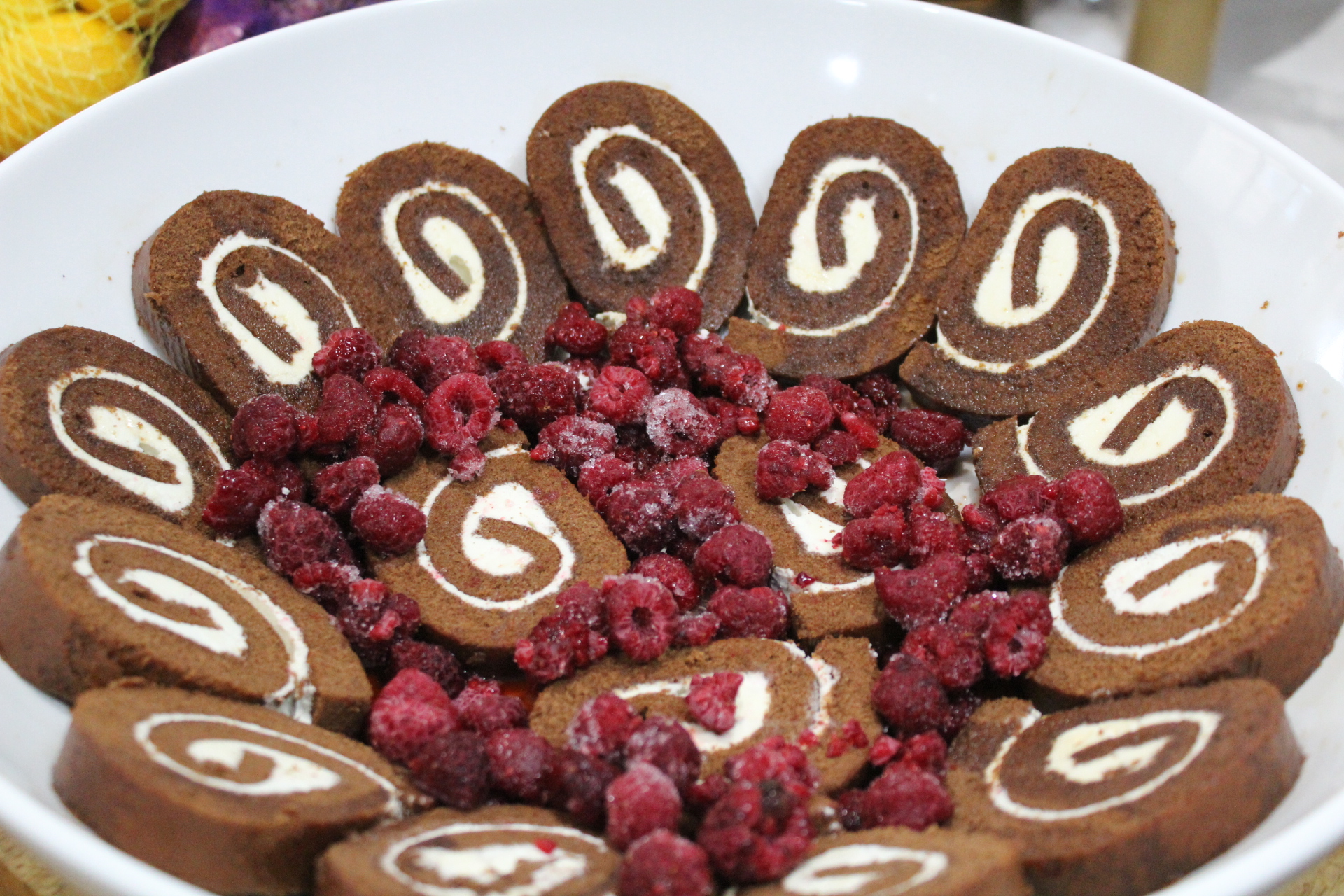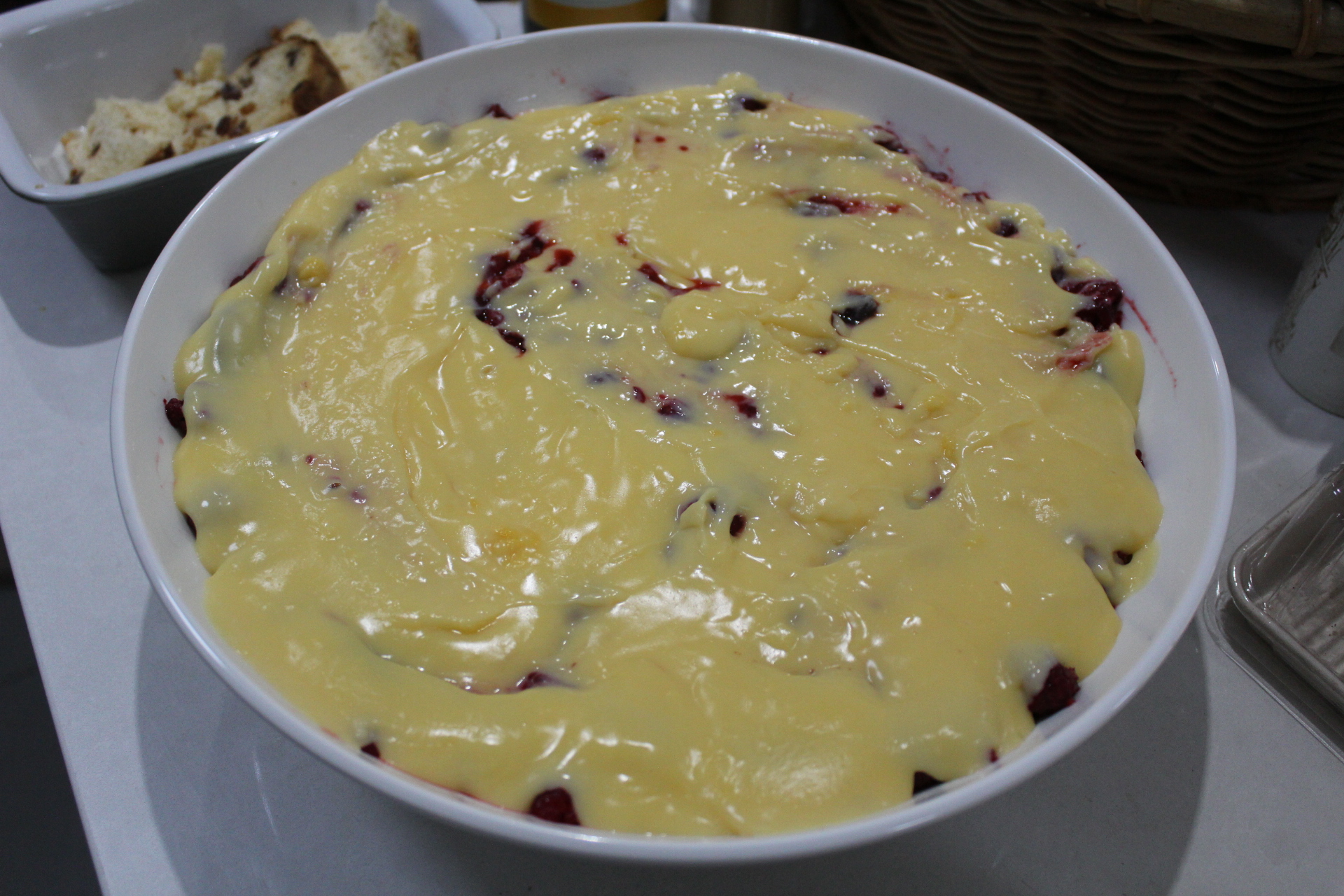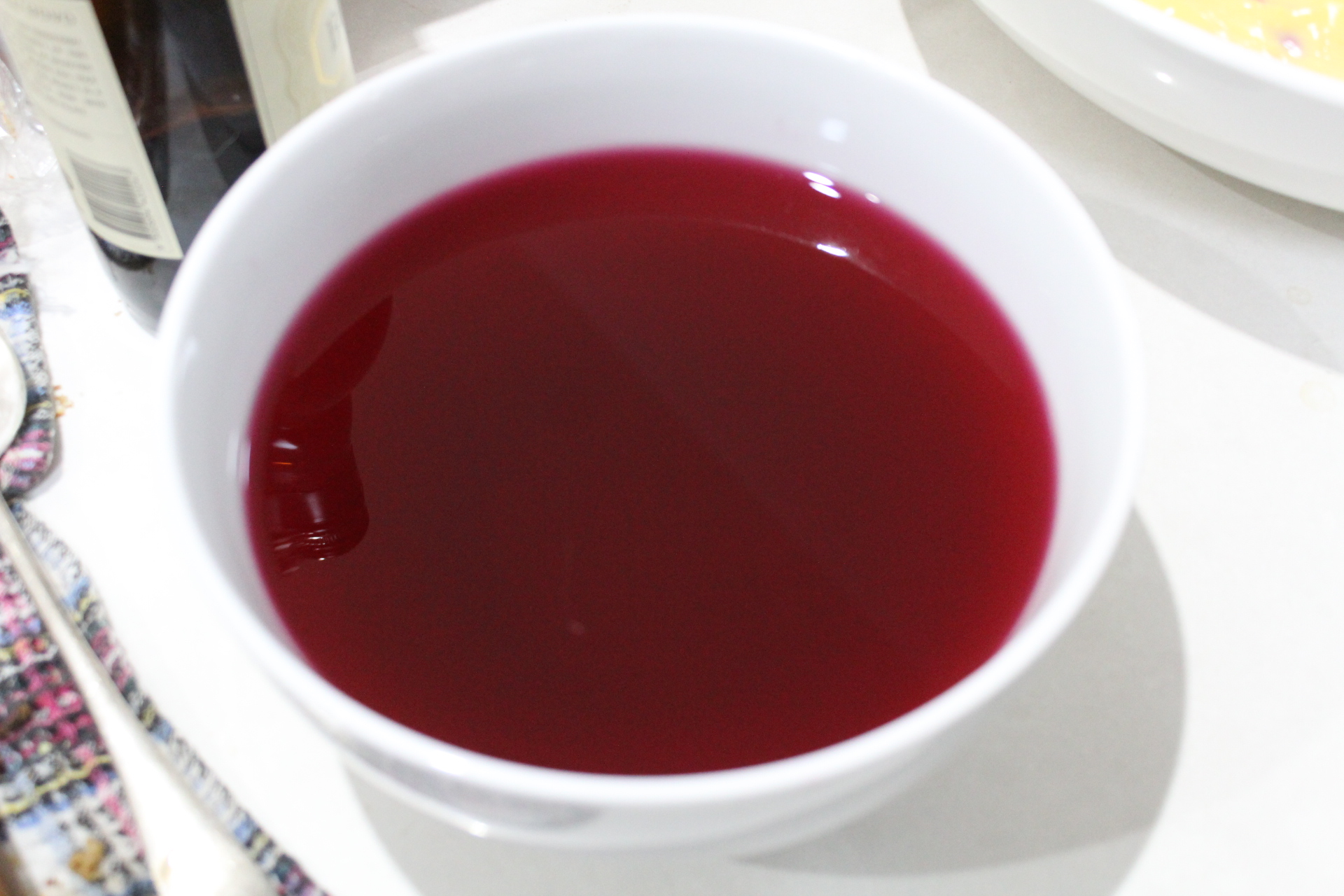 To serve - layer the raspberry jelly over the top, layer another layer of fresh whipped cream over this, top with pure chocolate shavings and raspberries and serve. Bliss!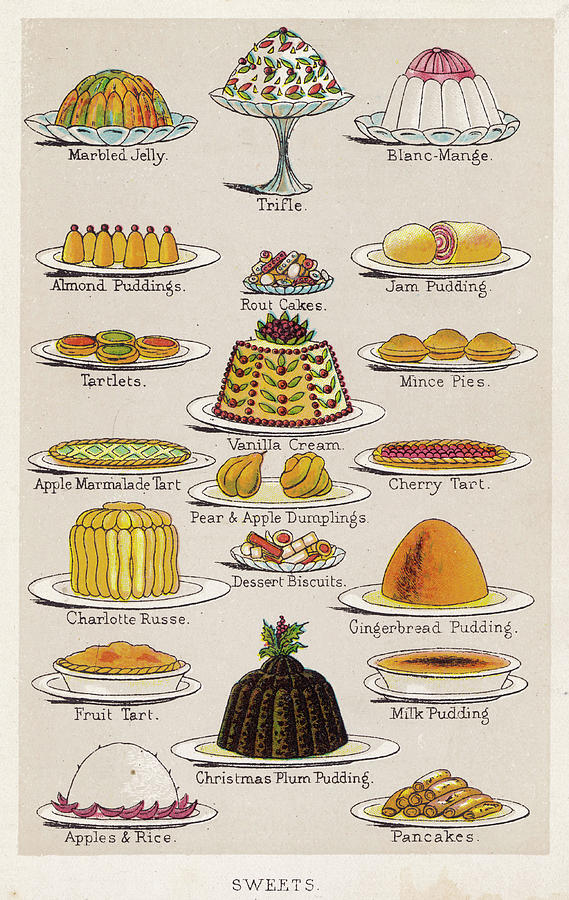 1890's Desserts - from Mary Evans Pictures Library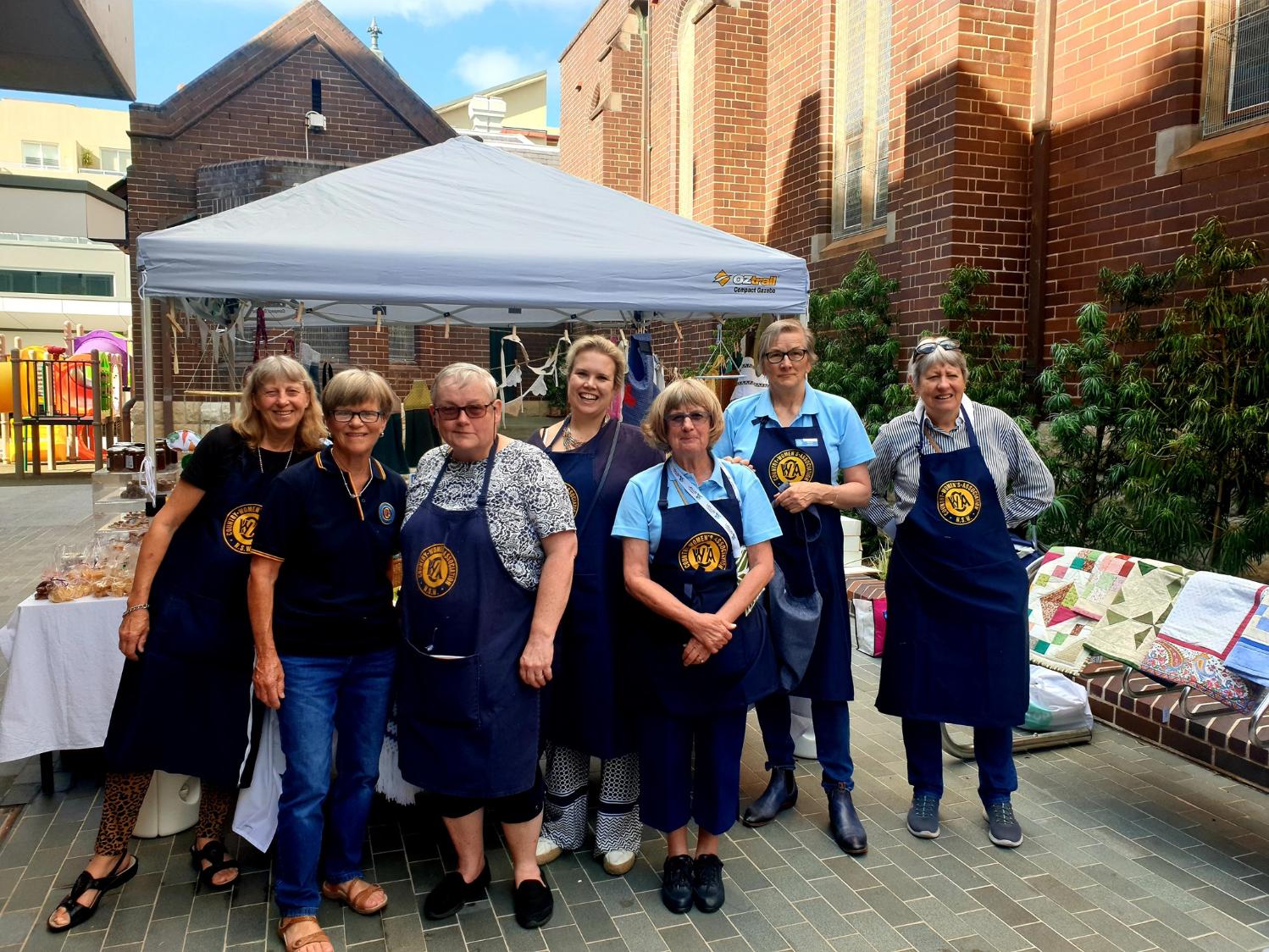 Manly CWA Mother's Day stall 2021 workers - CWA Manly's Mother's Day Stall in Manly excited a lot of interest from people looking for unique handmade gifts for "Mum" and many people enjoyed their famous scones at the Devonshire Tea raising money for the Cancer Council's Biggest Morning Tea program.