June 16 - 22, 2019: Issue 409

Winter Warmers: Cauliflower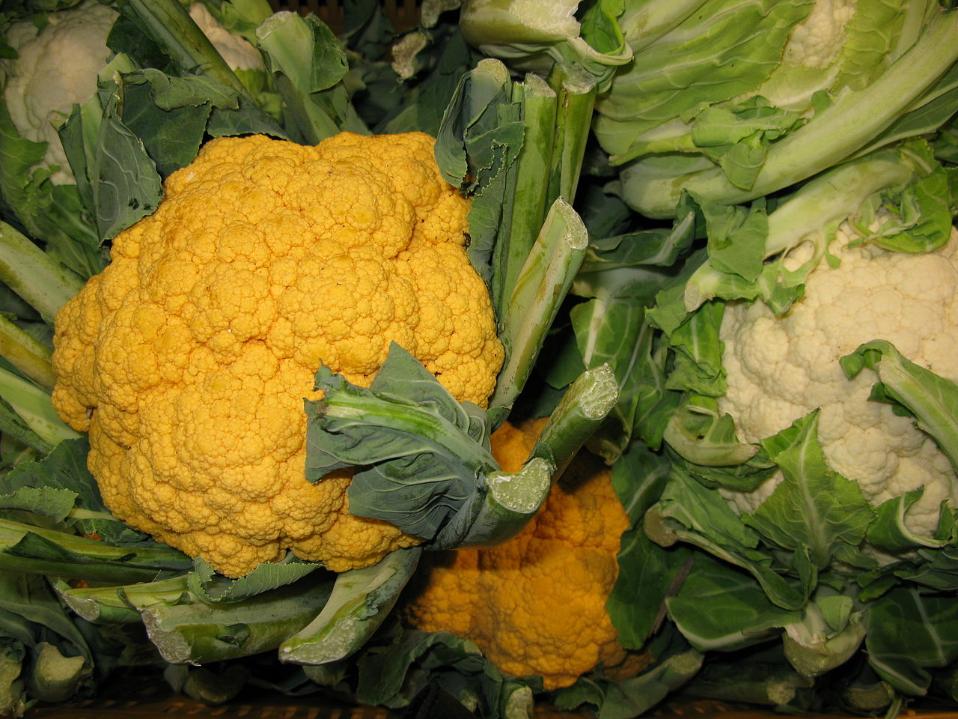 With icy mornings and evenings our thoughts turn to 'rib sticking' food from in season vegetables. One favourite of many that can be used in soups, stews, in breads, as cauliflower cheese or even the feature item in a baked vegetable dish with a touch of spice is this humble brassica family veggie.
Cauliflower is one of several vegetables in the species Brassica oleracea in the genus Brassica, which is in the family Brassicaceae. It is an annual plant that reproduces by seed. Typically, only the head is eaten – the edible white flesh sometimes called "curd" (with a similar appearance to cheese curd). The cauliflower head is composed of a white inflorescence meristem. Cauliflower heads resemble those in broccoli, which differs in having flower buds as the edible portion. Brassica oleracea also includes broccoli, brussels sprouts, cabbage, collard greens, and kale, collectively called "cole" crops, though they are of different cultivar groups.
History
In the 1st century AD, Pliny included what he called cyma among his descriptions of cultivated plants in Natural History: "Ex omnibus brassicae generibus suavissima est cyma," ("Of all the varieties of cabbage the most pleasant-tasted is cyma").
Pliny's descriptions likely refer to the flowering heads of an earlier cultivated variety of Brassica oleracea, but comes close to describing modern cauliflower. In the Middle Ages early forms of cauliflower were associated with the island of Cyprus, with the 12th- and 13th-century Arab botanists Ibn al-'Awwam and Ibn al-Baitar claiming its origin to be Cyprus. This association continued into Western Europe, where cauliflowers were sometimes known as Cyprus colewart, and there was extensive trade in western Europe in cauliflower seeds from Cyprus, under the French Lusignan rulers of the island, until well into the sixteenth century.
François Pierre La Varenne employed chouxfleurs in Le cuisinier françois. They were introduced to France from Genoa in the 16th century, and are featured in Olivier de Serres' Théâtre de l'agriculture (1600), as cauli-fiori "as the Italians call it, which are still rather rare in France; they hold an honorable place in the garden because of their delicacy" but they did not commonly appear on grand tables until the time of Louis XIV. It was introduced to India in 1822 from England by the British.
Etymology
The word "cauliflower" derives from the Italian cavolfiore, meaning "cabbage flower". The ultimate origin of the name is from the Latin words caulis (cabbage) and flōs (flower) - from Wikipedia.
Nutrition
Raw cauliflower is 92% water, 5% carbohydrates, 2% protein, and contains negligible fat (table). A 100 gram reference amount of raw cauliflower provides 25 calories, and has a high content (20% or more of the Daily Value, DV) of vitamin C (58% DV) and moderate levels of several B vitamins and vitamin K (13-15% DV; table). Contents of dietary minerals are low (7% DV or less). To maintain these when cooking don't boil until too soft - choose dishes that will maintain what's there naturally.
Phytochemicals
Cauliflower contains several non-nutrient phytochemicals common in the cabbage family that are under preliminary research for their potential properties, including isothiocyanates and glucosinolates. Boiling reduces the levels of cauliflower glucosinolates, while other cooking methods, such as steaming, microwaving, and stir frying, have no significant effect on glucosinolate levels.
Cauliflower, raw
Nutritional value per 100 g (3.5 oz)
Energy 104 kJ (25 kcal)
Carbohydrates 5 g
Sugars 1.9 g
Dietary fiber 2 g
Fat 0.3 g
Protein 1.9 g
Vitamins Quantity %DV†
Thiamine (B1) 4% 0.05 mg
Riboflavin (B2) 5% 0.06 mg
Niacin (B3) 3% 0.507 mg
Pantothenic acid (B5) 13% 0.667 mg
Vitamin B6 14% 0.184 mg
Folate (B9) 14% 57 μg
Vitamin C 58% 48.2 mg
Vitamin E 1% 0.08 mg
Vitamin K 15% 15.5 μg
Minerals Quantity %DV†
Calcium 2% 22 mg
Iron 3% 0.42 mg
Magnesium 4% 15 mg
Manganese 7% 0.155 mg
Phosphorus 6% 44 mg
Potassium 6% 299 mg
Sodium 2% 30 mg
Zinc 3%
This year's cauliflower crop is beginning to appear in local grocery stores at prices ranging from a few dollars up to four dollars and although small at this stage of the season, the compact heads of creamy white are very tasty while the discarded eaves cam be added to stockpots, not discarded, as suggested by some.
Cauliflowers can be boiled, baked, steamed, fried, grilled, pickled and even eaten raw.
To warm you up - a few cauliflower inspired dishes:
Cauliflower soup
Ingredients
1 tablespoon olive oil
1 large brown onion, chopped
2 garlic cloves, crushed
1 head (1.3kg) cauliflower, cut into florets
500g sebago potatoes, peeled, chopped
1 litre Massel chicken style liquid stock (see notes)
1/2 cup pure cream
Heat oil in a large saucepan over medium-high heat. Add onion and garlic. Cook, stirring, for 3 minutes or until onion has softened. Add cauliflower and potato. Cook, stirring, for 5 minutes.
Add stock. Season with pepper. Cover. Bring to the boil. Reduce heat to medium-low. Simmer for 15 to 20 minutes or until potato is tender. Set aside for 5 minutes to cool slightly.
Blend, in batches, until smooth. Return to pan over low heat. Add pure cream. Cook, stirring, for 2 minutes or until heated through. Serve with hot crusty bread. NB: if you don't like cream, simply substitute the same amount of stock for this.
Cauliflower cheese
Ingredients
Melted butter, to grease
800g cauliflower, cut into small florets
50g butter
40g (1/4 cup) plain flour
600ml milk
80g (1 cup) coarsely grated cheddar
White pepper
55g (3/4 cup) fresh breadcrumbs (made from day-old bread)
25g butter, extra, melted
Prepare a 1.25L (6-cup capacity) ovenproof dish by brushing with melted butter. Heat oven to 180C.
Cook the cauliflower in a saucepan of salted boiling water for 5 minutes or until tender. Alternatively, steam to preserve vitamins in vegetable. Drain. Transfer to the prepared dish.
For the sauce: heat the butter in a medium saucepan over medium heat until foaming. Add flour and cook, stirring, for 2 minutes or until the mixture bubbles. Remove from heat. Gradually add the milk, stirring constantly, until smooth. Place over medium-high heat and cook, stirring, for 5 minutes or until sauce thickens. Remove from heat. Stir in three-quarters of the cheddar. Season with salt and white pepper. Pour over the cauliflower.
Sprinkle the breadcrumbs over the cauliflower mixture. Drizzle over the extra butter and sprinkle with remaining cheddar. Place the dish in the oven and cook until golden.
Cauliflower, pumpkin and pea korma
Ingredients
20g ghee or butter
2 brown onions, coarsely chopped
2 garlic cloves, crushed
1 tablespoon finely grated ginger
1 tablespoon smoked paprika
2 teaspoons ground coriander
1 teaspoon ground turmeric
1 teaspoon ground cardamom
1 teaspoon ground cinnamon
1 teaspoon ground cumin
1/2 teaspoon ground black pepper
1/2 teaspoon ground cloves
4 ripe tomatoes, coarsely chopped
1 head cauliflower, cut into florets
500g butternut pumpkin, peeled, seeded, cut into 4cm pieces
1 cup (250ml) water
1 cup (250g) Greek-style yoghurt
1 cup (150g) frozen peas
Toasted flaked almonds, to serve
Steamed Basmati rice, to serve
Heat the ghee in a large saucepan over medium heat. Add the onion and cook, stirring occasionally, for 5 minutes or until lightly golden. Add the garlic, ginger, paprika, coriander, turmeric, cardamom, cinnamon, cumin, pepper and cloves and cook, stirring, for 1-2 minutes or until aromatic. Add the tomatoes and cook, stirring, for 5 minutes or until tomatoes become pulpy.
Add the cauliflower, pumpkin, water and yoghurt and bring to a simmer. Reduce heat to low and cook, covered, stirring occasionally, for 30 minutes or until cauliflower and pumpkin are tender and sauce thickens slightly. Add the peas and stir to combine. Remove from heat. Taste and season with salt and pepper.
Spoon the korma dish among serving bowls and sprinkle with almonds. Serve immediately with steamed rice.
Roasted Cauliflower and Chickpea Korma
Ingredients
1 tablespoon olive oil
2 cloves garlic, crushed
1/2 teaspoon salt
1/4 teaspoon ground black pepper
400g sliced cauliflower
300g cherry tomatoes
300g sliced capsicum
300g cubed pumpkin
1 (400g) can chickpeas, rinsed, drained
1 lime, cut into wedges
1 tablespoon chopped fresh coriander
1 jar Korma curry paste
Preheat oven to 230 degrees and grease a baking tray.
Combine olive oil, garlic, salt and pepper in a bowl. Add cauliflower, tomatoes and chickpeas and other vegetables and then Korma paste; toss until well coated. Spread in a single layer on the prepared baking tray. Add lime wedges.
Roast in the preheated oven until vegetables are caramelised, about 25 minutes. Remove lime wedges and top with fresh coriander. YUM!
Aloo gobi
Ingredients
2 tbsp. vegetable oil
1 red chilli, diced
2 cloves garlic, minced
1 tbsp. minced ginger
1 tsp. garam masala
1/2 tsp. dried turmeric
1/4 tsp. cayenne pepper
3 russets, peeled and chopped into 1" pieces
1 medium head cauliflower, cut into florets
1 c. low-sodium vegetable broth
Kosher salt
Freshly ground black pepper
Freshly chopped cilantro, for serving
Put a large skillet over medium-high heat, heat oil. Add chilli, garlic, and ginger and cook until fragrant, 1 minute. Add garam masala, turmeric, and cayenne and cook until toasted, 1 minute more.
Add potatoes, cauliflower, and vegetable broth and season with salt and pepper. Reduce heat and cook, covered, until potatoes and cauliflower are tender, 15 minutes. Garnish with cilantro to serve.