January 4 - 10, 2015: Issue 196
Cherry

Now that Christmas Day has been celebrated, along with some fantastic food, seasonal fruits and vegetables can be had without taking out a second mortgage on your home.
One of the best of Summer's end of year fruits is the Australian cherry, a prehistoric fruit that has inspired many a story relating to its seasons and even one of our favourite treats, the Cherry Ripe!
If you find you can get a case, and wish to enjoy them in some other form other then washed and straight into the mouth, we offer a few very special treats for a New Year's feast – well, the dessert part of it in any case.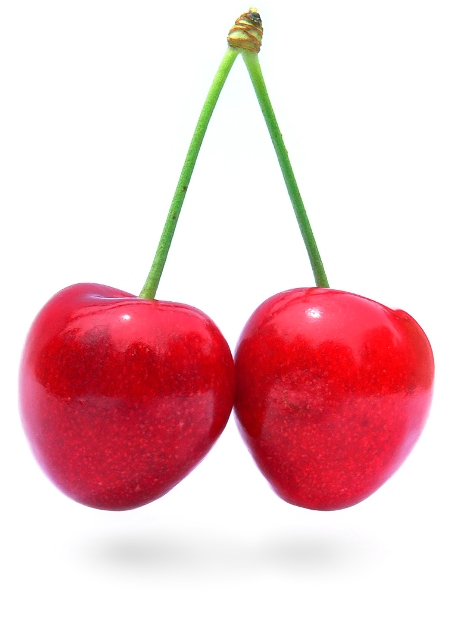 Cherry ClafoutisIngredients - Serves: 4
850g stoned cherries in syrup
1⁄2 cup (70g) plain flour
1⁄3 cup (55g) dark brown sugar
1 cup (250ml) low-fat milk
3 eggs
1 teaspoon vanilla essence
icing sugar to dust (optional)
Preheat oven to 200 degrees C. Wash the cherries, then tip onto kitchen paper and pat dry. Divide cherries equally among four 300ml individual flan dishes, or other ovenproof dishes, spreading them in an even layer. Set aside.
Sift the flour into bowl and add the sugar. In jug, beat the milk and eggs together and stir in the vanilla essence. Whisk the egg mixture into the flour mixture to make a smooth batter. (Alternatively, combine the ingredients in a food processor and process until smooth.)
Pour the batter slowly over the fruit. Bake for 20 minutes or until lightly set and pale golden. Dust with icing sugar and serve warm.
Cherry Ripe chocolate mudcakeIngredients

200g dark eating chocolate, chopped
250g unsalted butter
380g caster sugar
400ml coconut milk
1 tablespoon instant coffee powder
120g plain flour, sifted
110g self-raising flour, sifted
30g cocoa, sifted
80g desiccated coconut
2 eggs, at room temperature
1/4 cup rum or cherry liqueur (e.g. kirsch) (optional)
170g glace cherries, chopped coarsely
150g dark eating chocolate, chopped quite finely
1/2 cup thickened cream (35% fat)
Preheat the oven to 150C and grease a 22-23 cm cake tin. Line the base and sides with baking paper.
Melt the butter in a saucepan over a low heat. Add the chopped up chocolate, caster sugar, coconut milk and coffee powder. Stir, still over a low heat, until the sugar has dissolved, the chocolate has melted, and the mixture is a smooth, uniform brown colour. Remove from the heat and let it cool for about 10 minutes.
Stir in the sifted flours and cocoa, then the desiccated coconut. Stir in the eggs one at a time, making sure everything is well incorporated. If using, stir in the rum or liqueur. Finally, stir in the chopped glace cherries, ensuring they are evenly distributed throughout the mixture.
Pour the mixture into the cake tin and bake for about 1 ¾ - 2 hours. It varies depending on the temperature of the oven. When a skewer inserted right into the middle comes out fairly clean, take the cake out of the oven. Leave in the ten for about 15 minutes before turning, top side up, onto a wire rack to cool.
When the cake has cooled completely, make the chocolate ganache. Heat the cream in a small saucepan until it is almost about to boil (small bubbles will be appearing around the edges) and the remove it from the heat. Stir in the chocolate slowly until it has all melted and the ganache is completely smooth and shiny. Spread it over the top and sides of the cake. Sprinkle with desiccated and fresh cherries – yum!
Cherry Gelato
Gourmet | June 2008
by Viviane Bauquet Farre
Ingredients
For gelato:
1/2 vanilla bean, halved lengthwise
3 1/2 cups whole milk
1/2 cup turbinado sugar such as Raw Sugar
2 tablespoons cornstarch
For cherries:
250grams cherries (1 1/2 cups), pitted
2 tablespoons turbinado sugar
1 teaspoon pure almond extract
1 teaspoon pure vanilla extract
Equipment:
an ice cream maker
Make gelato:
Scrape seeds from vanilla bean with tip of a paring knife into a small heavy saucepan. Add milk and a pinch of salt and bring just to a boil, then remove from heat.
Meanwhile, whisk together sugar and cornstarch, then add 1/2 cup hot milk, whisking until smooth. Whisk into milk in saucepan. Bring to a simmer, whisking, then simmer, whisking, 3 minutes. Immediately pour through a fine-mesh sieve into a metal bowl set in an ice bath. Cool to room temperature, stirring occasionally, about 10 minutes.
Remove from ice bath and chill, covered, 1 hour.
Prepare cherries:
Pulse cherries, sugar, and extracts in a food processor until finely chopped, then chill, covered, 1 hour.
Make ice cream:
Stir cherries with their juices into gelato mixture and freeze in ice cream maker. Transfer to an airtight container and put in freezer to harden, at least 2 hours.
_____________________________________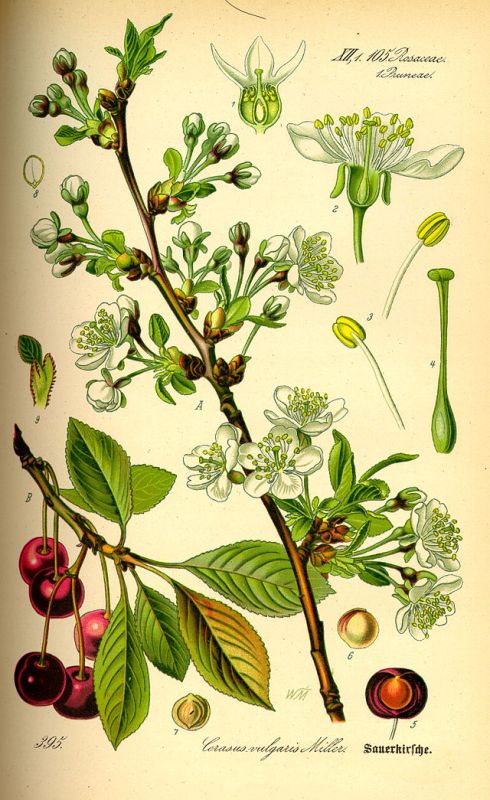 The indigenous range of the sweet cherry extends through most of Europe, western Asia and parts of northern Africa, and the fruit has been consumed throughout its range since prehistoric times. A cultivated cherry, as well as the apricot, is recorded as having been brought to Rome by Lucius Licinius Lucullus from northeastern Anatolia, also known as the Pontus region, historic Armenia, in 72 BC.
A form of cherry was introduced into England at Teynham, near Sittingbourne in Kent by order of Henry VIII, who had tasted them in Flanders.
The English word cherry, French cerise, Spanish cereza, and Turkish kiraz all derive from the classical Greek (κέρασος) through the Latin cerasum, which referred to the ancient Greek place name Cerasus, today the city of Giresun in northern Turkey in the ancient Pontus region, from which the cherry was first exported to Europe. The ancient Greek word κερασός "cherry" itself is thought to be derived from a pre-Greek Anatolian language.
Australia
In Australia, cherries are grown in all the states except for the Northern Territory and are in season December through to the end of January. The major producing regions are located in the temperate areas within New South Wales, Victoria, South Australia and Tasmania. Western Australia has limited production in the elevated parts in southwest of the state. Key production areas includeYoung, Orange and Bathurst in New South Wales, Wandin, the Goulburn and Murray valley areas in Victoria, the Adelaide Hills region in South Australia, and the Huon and Derwent Valleys in Tasmania. Key commercial varieties in order of seasonality include 'Empress', 'Merchant', 'Supreme', 'Ron's seedling', 'Chelan', 'Ulster', 'Van', 'Bing', 'Stella', 'Nordwunder', 'Lapins', 'Simone', 'Regina', 'Kordia' and 'Sweetheart'. New varieties are being introduced, including the late season 'Staccato' and early season 'Sequoia'. The Australian Cherry Breeding program is developing a series of new varieties which are under testing evaluation.
The New South Wales town of Young is called the "Cherry Capital of Australia" and hosts the National Cherry Festival early each December.
65th National Cherry Festival 5th – 7th December 2014
Young receives thousands of visitors from Australia and beyond during the three day festival, providing the opportunity to the community of Young – also known as the Cherry Capital of Australia – to celebrate not only the cherry season and harvest (November-December), but the strong sense of pride that exists within the town. The festival is full of exciting events throughout the weekend as well as many fringe events held in the build up to the festival.
The 2014 program included live music, the crowning of the 2014 Cherry Queen and Charity Queen and the National Cherry Festival Fireworks display.
The National Cherry Festival Street Parade was held on the Saturday, 6th of December. Other highlights of the festival include the Pipe & Drum Bands, Bush Poets, Market stalls, National Cherry Festival Car Show, Festival Food at Anderson Park, Hilltops Wine Tasting and much more. There are also many fringe events being held in the build up to the main festival.
http://www.getitalldoneinyoung.com.au/Events/national-cherry-festival
Cherry. (2014, November 30). In Wikipedia, The Free Encyclopedia. Retrieved from
http://en.wikipedia.org/w/index.php?title=Cherry&oldid=635994419
Cherry Illustration: Original book source: Prof. Dr. Otto Wilhelm Thomé Flora von Deutschland, Österreich und der Schweiz 1885, Gera, Germany. Photo pf Cherries - by Stella 444.
Copyright Pittwater Online News, 2015. All Rights Reserved.