August 9 - 15, 2020: Issue 461

Whole Pumpkin Stuffed With Chorizo, Rice And Goat Cheese: Winter Food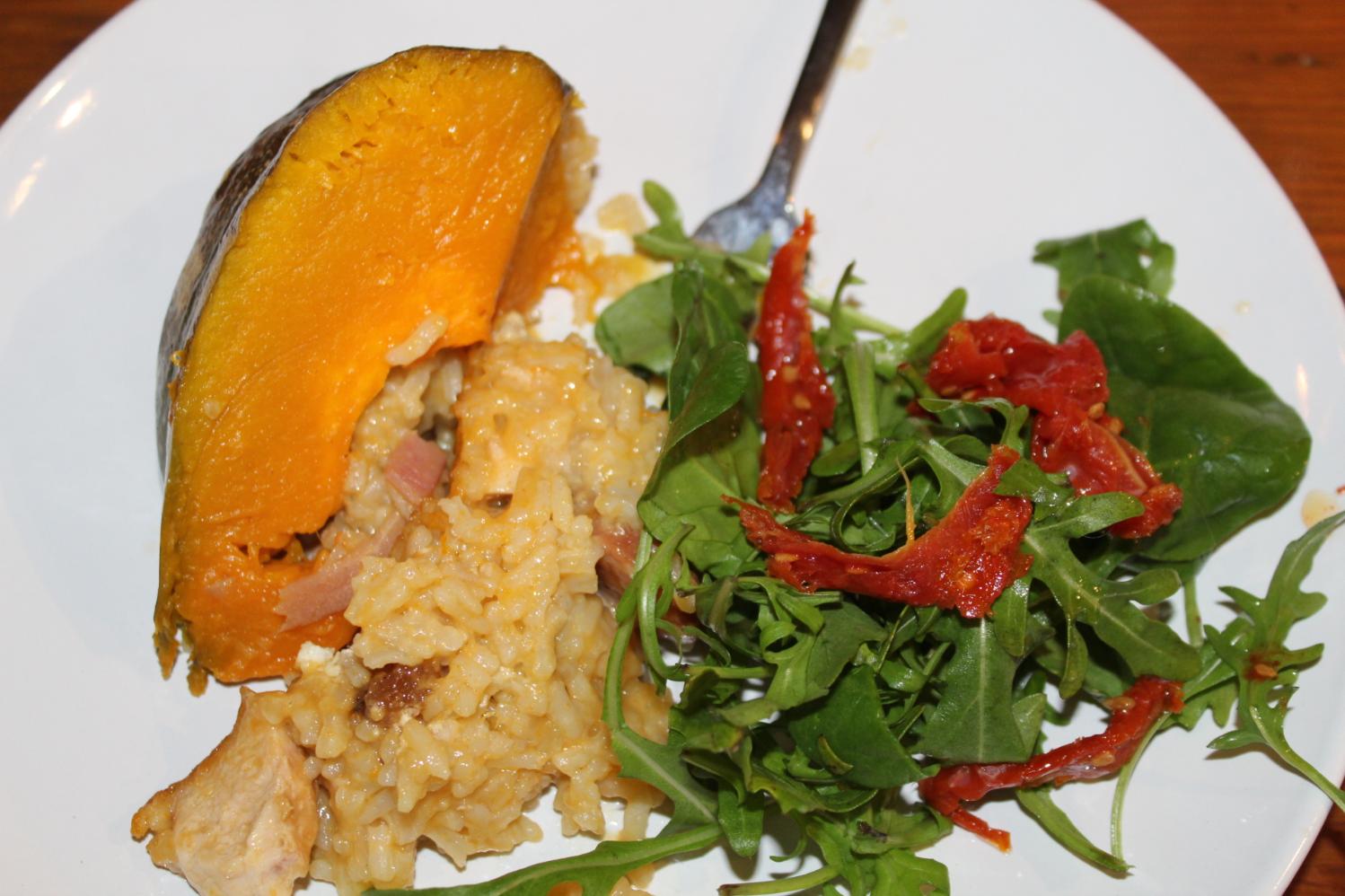 The pumpkin crops are coming in, as shown by the freshness and quality of the product and its price – at around $1.50 a kilo this week. This recipe we first ran a few years ago and have tweaked it to suit our own tastes, as can you, a few times since. When we have vegetarian guests the meat is substituted with mushrooms, zucchini and capsicums – all also in season and just superb at present.
As one of those dishes that's easy to do, tastes wonderful and is great for sharing when you have a family dinner or lunch, this alternative to making pumpkin soup this Winter will have many a home cook receiving requests for an encore of 'that stuffed pumpkin dish'.
Ingredients
1 tablespoon olive oil
1 large onion, diced
2x Mexican chorizo
1 x chicken breast
2 x bacon rashers
1 x corn cob
1 x capsicum
1 x carrot
3 cloves garlic, chopped
1 1/2 cups basmati or other long grain rice
3 1/2 cups vegetable broth
1 x 3kg whole pumpkin
100 grams goat cheese
1/3 cup sultanas
Method
Heat oven to 180°c and arrange a rack in the middle. Heat oil over medium heat in a large, deep pot – the one you may use when making a Risotto would work best. Add onion and season with salt and pepper. Cook, stirring occasionally until onion starts to soften.
Add chorizo, diced chicken and bacon and garlic and cook, breaking up sausage with a wooden spoon. Cook until chorizo melts in with the onion (it won't brown) about 5 minutes. Add diced capsicum, carrot and corn kernals removed from cob. Add rice and broth and bring to a boil, scraping up any browned bits stuck to the bottom. Reduce heat to a low simmer, cover and let cook until rice has soaked up all the liquid, about 40 minutes. Rice might not be completely soft, it will cook more in the pumpkin, however if you want to be sure, add in a little more liquid until it is completely cooked. Remove from heat and let rice cool slightly.
While rice is cooling, cut the top off the pumpkin as you would if you were carving a jack-o-lantern. Keep the top, it will act as the lid. Scrape out all the seeds and stringy bits and discard, or save the seeds and roast them, or dig them into the garden for late Winter pumpkins from home. Season the inside of the pumpkin with salt and pepper.
When the rice has cooled a bit, fold in the cheese and sultanas. Taste the filling and add more salt and pepper to taste.
Pack the filling into the pumpkin fairly tightly - you may have some filling leftover depending on the size of the pumpkin – keep this for serving with the dish once the pumpkin is cooked.
Place the stuffed pumpkin on a parchment or foil-lined baking sheet or an oven-safe frying pan that is large enough for it. Put the top back on and roast the pumpkin in the oven for 2 hours or until everything is bubbly and the flesh of the pumpkin can be easily pierced with a fork. Remove the top for the last 20 minutes to get a nice crisp crust on top.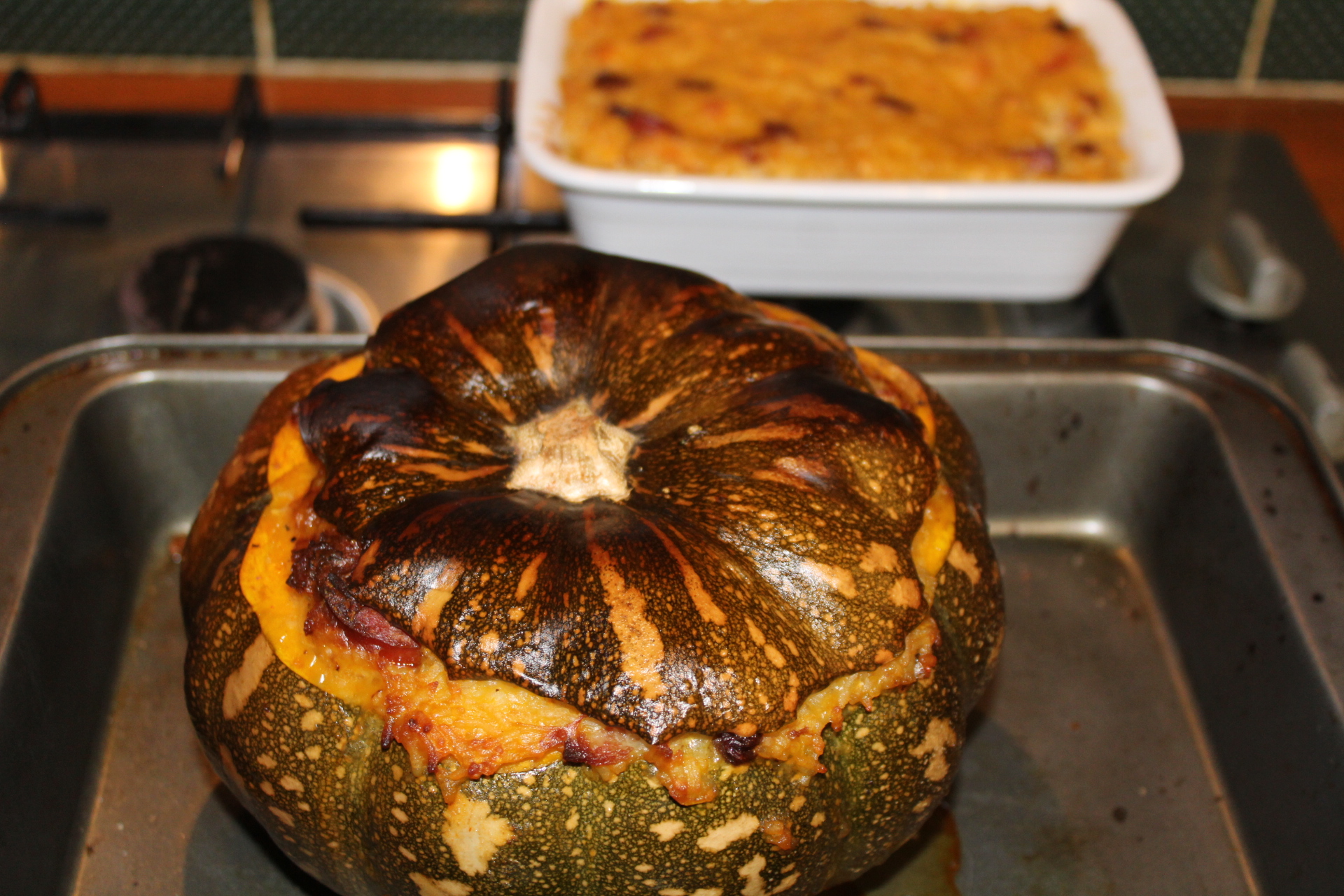 Remove from the oven, cut into wedges, and serve with a fresh green salad and hot crusty bread on the side.