December 29, 2013 - January 4, 2014: Issue 143
Hogmanay Dinner – Australian Style
Entrée
Melon and Prawn Salad
Ingredients
For the dressing
1 garlic clove
a handful of coriander stems or roots
1 tsp golden caster sugar
1 red chilli, deseeded, plus 1 tsp chopped to garnish
2cm/¾in piece of root ginger, peeled and roughly chopped
juice of 3 limes and 1½ oranges
For the salad
1 small watermelon, weighing about 1.8kg
24 large cooked and peeled tiger prawns
4 spring onions, finely sliced
2 trimmed stems of lemongrass, finely sliced
4cm/1½in root ginger, peeled, cut into fine matchsticks
zest of 1 lime
3 lime leaves, shredded (optional)
a handful each of coriander and mint leaves, chopped
100g roasted salted peanuts or cashews, to garnish
Three hours before serving: make the dressing. Put the garlic and coriander in a food processor with 1 tsp salt and the sugar, then pulse to a pulp. Add the chilli, ginger and citrus juices and pulse until smooth. Cover and chill. Two hours before serving: cut the watermelon into segments, remove the skin and seed the flesh. Cut into lozenges about 3cm wide. Mix the melon and prawns and add the spring onions, lemongrass, ginger, lime zest and lime leaves. Chill. To serve: toss the dressing and herbs into the salad and scatter with chilli and peanuts.
Main Course
Hogmanay Pie
Prepare to ceilidh (dance) with the homemade pie of your choice served with a selection of freshly steamed vegetables. Pescetarian en Croute - fillet of salmon baked in puff pastry topped with a Hollandaise Sauce or Spinach and Ricotta Vegetarian Crusty in a herb pastry tart accompanied by homemade salsa or Goats cheese roast pepper and tomato tart
For the Salmon En Croûte: Serves 2
Salmon en Croûte is typically made with homemade short-crust pastry (similar to puff pastry) but many home cooks use store-bought puff pastry instead.
Ingredients:
1/2 recipe yogurt dough, above (or use homemade shortcrust pastry or puff pastry or an all-butter store-bought puff pastry)
6 oz. wild salmon
2 large handfuls baby arugula (or spinach or watercress)
3/4 cup plain yogurt
2 Tb. mascarpone cheese (or organic cream cheese)
Sea salt and fresh ground pepper
1 egg, beaten with a fork- for egg wash
Preheat oven to 180ºC. Put the yogurt and mascarpone or cream cheese in a food processor or blender with the arugula and blend until you have a creamy green purée. Season with salt and pepper. Roll the dough out so you can wrap the salmon in it completely (approx. 2-3 mm thick). Put the salmon in the middle. Spoon some of the sauce onto the salmon. Fold the pastry over into a neat parcel (the seam will be at the top, so trim the edge neatly), making sure you don't have any thick lumps of pastry as these won't cook through properly. Trim off any excess, but make sure it is sealed or it may open up when cooking. Make 3 neat cuts in the pastry to allow steam to escape and make some decorations with the leftover pastry to disguise the seam if you like. Bake for 30 minutes or until the pastry is crisp and browned. To test whether the salmon is cooked, push a sharp knife through one of the cuts into the flesh, wait for 3 seconds then test it against the inside of your wrist; if it is hot, the salmon is cooked. Serve with more of the arugula puree as a sauce.
Dessert
Carmelised Nectarines or Peaches with Crannachan Meringue – serve with Ice Cream
Place the nectarines on a roasting tray, sprinkle half a teaspoon of soft brown sugar on each nectarine half and roast in a pre-heated oven (180 degrees) for 15 minutes until the nectarines are soft and the sugar has turned gold brown.
Cranachan is a traditional Scottish dessert. In modern times it is usually made from a mixture of whipped cream, whisky,honey (preferably heather honey), and fresh raspberries, with toasted oatmeal soaked overnight in a little whisky. Atholl brose is a drink using similar ingredients but does not contain raspberries. Earlier recipes used crowdie cheese rather than (or as well as) cream, and were sometimes calledcream-crowdie. Other earlier recipes are more austere, omitting the whisky and treating the fruit as an optional extra.
One traditional recipe for cranachan is 85 g pinhead oatmeal, 280 ml double (or whipping) cream, and 2 tablespoons (35 ml) of whisky. The oatmeal should be toasted in a pan over a high heat then dust should be sifted out. The oatmeal is soaked in whisky overnight and then added to the whipped cream, with a little more whisky added to the mixture. Some raspberries are placed in the bottom of the serving glass before adding the cream mixture. An option is to break up some of the raspberries and gently blend into the mixture.
Picture by Saskia van de Nieuwenhof from Edinburgh, United Kingdom.
New Years – Hogmanay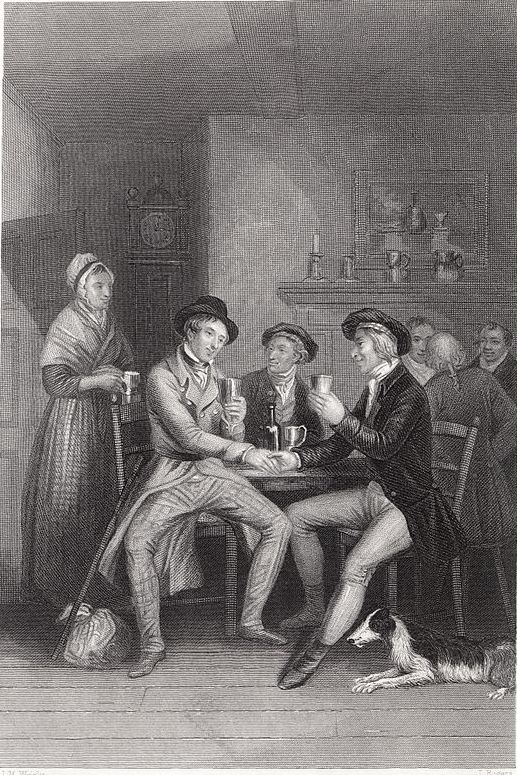 Hogmanay is the Scots word for the last day of the year and is synonymous with the celebration of the New Year(Gregorian calendar) in the Scottish manner. However, it is normally only the start of a celebration that lasts through the night until the morning of New Year's Day (1 January) or, in some cases, 2 January—a Scottish Bank Holiday. The etymology of the word is obscure. The three main theories derive it either from a French, Norse or a Goidelic (Insular Celtic) root. The word is first recorded in 1604 in the Elgin Records as hagmonay (delatit to haue been singand hagmonayis on Satirday) and again in 1692 in an entry of the Scotch Presbyterian Eloquence, "It is ordinary among some plebeians in the South of Scotland to go about from door to door upon New-years Eve, crying Hagmane".
Possible French etymologies
It may have been introduced to Middle Scots through the Auld Alliance. The most commonly cited explanation is a derivation from the Northern French dialect word hoguinané, or variants such as hoginane, hoginono and hoguinettes, those being derived from 16th century Old French aguillanneuf meaning either a gift given at New Year, a children's cry for such a gift, or New Year's Eve itself. This explanation is supported by a children's tradition, observed up to the 1960s in some parts of Scotland at least, of visiting houses in their locality on New Year's Eve and requesting and receiving small treats such as sweets or fruit. The second element would appear to be l'an neuf (the New Year), with some sources suggesting a druidical origin of the practice overall. Compare those to Norman hoguinané and the obsolete customs in Jersey of cryingma hodgîngnole, and in Guernsey of asking for an oguinane, for a New Year gift (see also La Guiannee). In Québec, "la guignolée" was a door-to-door collection for the poor.
Possible Goidelic etymologies
Fraser and Kelley report a Manx new-year song that begins with the line To-night is New Year's Night, Hogunnaa but did not record the full text in Manx. Other sources parse this as hog-un-naa and give the modern Manx form as Hob dy naa. Manx dictionaries though give Hop-tu-Naa, generally glossing it as "Hallowe'en", same as many of the more Manx-specific folklore collections. In this context it is also recorded that in the south of Scotland, for example Roxburghshire, there is no <m>, the word thus being Hunganay, which could suggest the <m> is intrusive. However, in spite of these recorded Manx forms, no satisfactory etymology has been proposed for Hop-tu-Naa within Goidelic. Another theory occasionally encountered is a derivation from the phrase thog mi an èigh/eugh I raised the cry, which, in pronunciation, resembles Hogmanay, as part of the rhymes traditionally recited at New Year but it is unclear if this is simply a case of folk etymology. Overall, Gaelic consistently refers to the New Year's Eve as Oidhche na Bliadhn(a) Ùir(e) "The Night of the New Year" and Oidhche Challainn"The Night of the Calends".
Possible Norse etymologies
Some authors reject both the French and Goidelic theories, and instead suggest that the ultimate source both for the Norman French, Scots, and Goidelic variants of this word have a common Norse root. It is suggested that the full forms
Hoginanaye-Trollalay/Hogman aye, Troll a lay (with a Manx cognate Hop-tu-Naa, Trolla-laa)
Hogmanay, Trollolay, give us of your white bread and none of your gray
invoke the hill-men (Icelandic haugmenn, cf Anglo-Saxon hoghmen) or "elves" and banishes the trolls into the sea (Norse á læ "into the sea"). Repp furthermore makes a link between Trollalay/Trolla-laa and the rhyme recorded in Percy's Relics Trolle on away, trolle on awaye. Synge heave and howe rombelowe trolle on away, which he reads as a straightforward invocation of troll-banning.
There are many customs, both national and local, associated with Hogmanay. The most widespread national custom is the practice of first-footing, which starts immediately after midnight. This involves being the first person to cross the threshold of a friend or neighbour and often involves the giving of symbolic gifts such as salt (less common today), coal, shortbread, whisky, and black bun (a rich fruit cake) intended to bring different kinds of luck to the householder. Food and drink (as the gifts) are then given to the guests. This may go on throughout the early hours of the morning and well into the next day (although modern days see people visiting houses well into the middle of January). The first-foot is supposed to set the luck for the rest of the year. Traditionally, tall dark men are preferred as the first-foot.
Auld Lang Syne"
The Hogmanay custom of singing "Auld Lang Syne" has become common in many countries. "Auld Lang Syne" is a traditional poem reinterpreted by Robert Burns, which was later set to music. It is now common to sing this in a circle of linked arms that are crossed over one another as the clock strikes midnight for New Year's Day, though it is only intended that participants link arms at the beginning of the final verse, co-ordinating with the lines of the song that contain the lyrics to do so. Typically, it is only in Scotland this practice is carried out correctly.
John Masey Wright and John Rogers' c. 1841 illustration of Auld Lang Syne. Illustration to Robert Burns' poem Auld Lang Syne by J.M. Wright and Edward Scriven. Hogmanay. (2013, December 27). In Wikipedia, The Free Encyclopedia. Retrieved from http://en.wikipedia.org/w/index.php?title=Hogmanay&oldid=587987742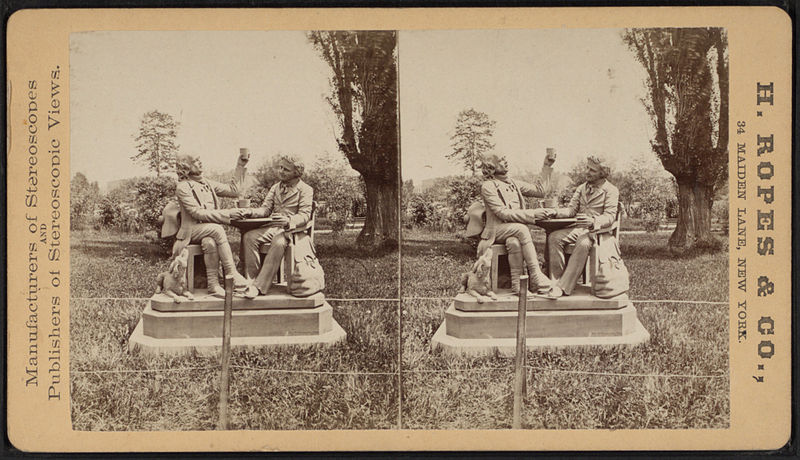 Auld Lang Syne
"Auld Lang Syne" is a Scots poem written by Robert Burns in 1788 and set to the tune of a traditional folk song (Roud # 6294). It is well known in many countries, especially in the English-speaking world, its traditional use being to celebrate the start of the New Year at the stroke of midnight. The song's Scots title may be translated into English literally as "old long since", or more idiomatically, "long long ago", "days gone by" or "old times". Consequently "Forauld lang syne", as it appears in the first line of the chorus, might be loosely translated as "for (the sake of) old times". The phrase "Auld Lang Syne" is also used in similar poems by Robert Ayton (1570–1638), Allan Ramsay (1686–1757), and James Watson (1711) as well as older folk songs predating Burns. Matthew Fitt uses the phrase "In the days of auld lang syne" as the equivalent of "Once upon a time..." in his retelling of fairy tales in the Scots language.
Burns' original Scots verse
Should auld acquaintance be forgot,
and never brought to mind ?
Should auld acquaintance be forgot,
and auld lang syne* ?
CHORUS:
For auld lang syne, my jo,
for auld lang syne,
we'll tak a cup o' kindness yet,
for auld lang syne.
And surely ye'll be your pint-stowp !
and surely I'll be mine !
And we'll tak a cup o' kindness yet,
for auld lang syne.
CHORUS
We twa hae run about the braes,
and pu'd the gowans fine ;
But we've wander'd mony a weary fit,
sin auld lang syne.
CHORUS
We twa hae paidl'd i' the burn,
frae morning sun till dine ;
But seas between us braid hae roar'd
sin auld lang syne.
CHORUS
And there's a hand, my trusty fiere !
and gie's a hand o' thine !
And we'll tak a right gude-willy waught,
for auld lang syne.
CHORUS
English translation
Should old acquaintance be forgot,
and never brought to mind ?
Should old acquaintance be forgot,
and old lang syne ?
CHORUS:
For auld lang syne, my dear,
for auld lang syne,
we'll take a cup of kindness yet,
for auld lang syne.
And surely you'll buy your pint cup !
and surely I'll buy mine !
And we'll take a cup o' kindness yet,
for auld lang syne.
CHORUS
We two have run about the slopes,
and picked the daisies fine ;
But we've wandered many a weary foot,
since auld lang syne.
CHORUS
We two have paddled in the stream,
from morning sun till dine† ;
But seas between us broad have roared
since auld lang syne.
CHORUS
And there's a hand my trusty friend !
And give me a hand o' thine !
And we'll take a right good-will draught,
for auld lang syne.
CHORUS
Auld Lang Syne. (2013, December 27). In Wikipedia, The Free Encyclopedia. Retrieved from http://en.wikipedia.org/w/index.php?title=Auld_Lang_Syne&oldid=587896303
Photo: Auld Lang Syne, Central Park - circa 1865 - 1898; Robert N. Dennis collection of stereoscopic views. / United States. / States / New York / New York City / Stereoscopic views of sculpture in Central Park, New York City.