June 20 - 26, 2021: Issue 499

Winter Warmers: Parsnips, Pumpkin Soup Variations, Chocolate Self Saucing Pudding, Avocado Season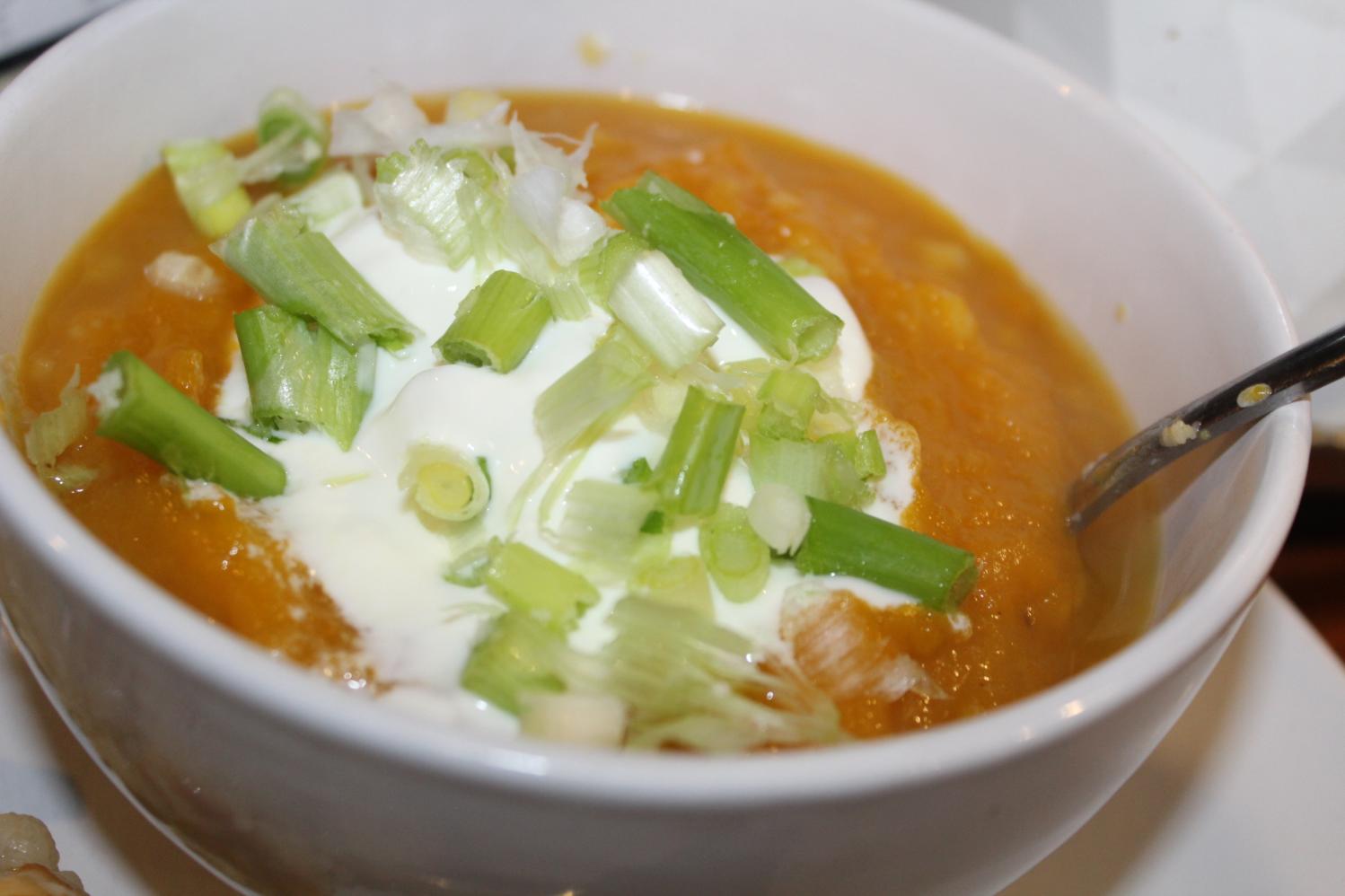 Each Season's fruits and vegetables arrive to guard and boost your health against any ailments those same seasons may make you more susceptible to as well as boost overall health.
Winter vegetables include: beetroot, broccoli, brussels sprouts, cabbage, carrots, cauliflower, celeriac, celery, fennel, Jerusalem artichokes, kale, kohlrabi, leeks, onions, parsnips, potatoes, pumpkin, radicchio, silverbeet, spinach, swede, sweet potato, turnips.
Winter fruits include: apples, avocados, banana, custard apples, dates, grapefruit, kiwifruit, lemons, mandarins, nashi, oranges, pomelo, quince, rhubarb, strawberries, tangelos.
One of the vegetables familiar to us but sometimes forgotten is the parsnip - roasted and tossed in parmesan, this cousin of the carrot is superb. What you may not know is the parsnip is rich in vitamins and minerals, and is particularly rich in potassium with 375 mg per 100 g. Several of the B-group vitamins are present and they contain antioxidants such as falcarinol, falcarindiol, panaxydiol, and methyl-falcarindiol, which may potentially have anticancer, anti-inflammatory and antifungal properties. Add to this the dietary fibre in parsnips, partly of the soluble and partly the insoluble type, and which comprises cellulose, hemicellulose, and lignin, this may help prevent constipation and reduce blood cholesterol levels.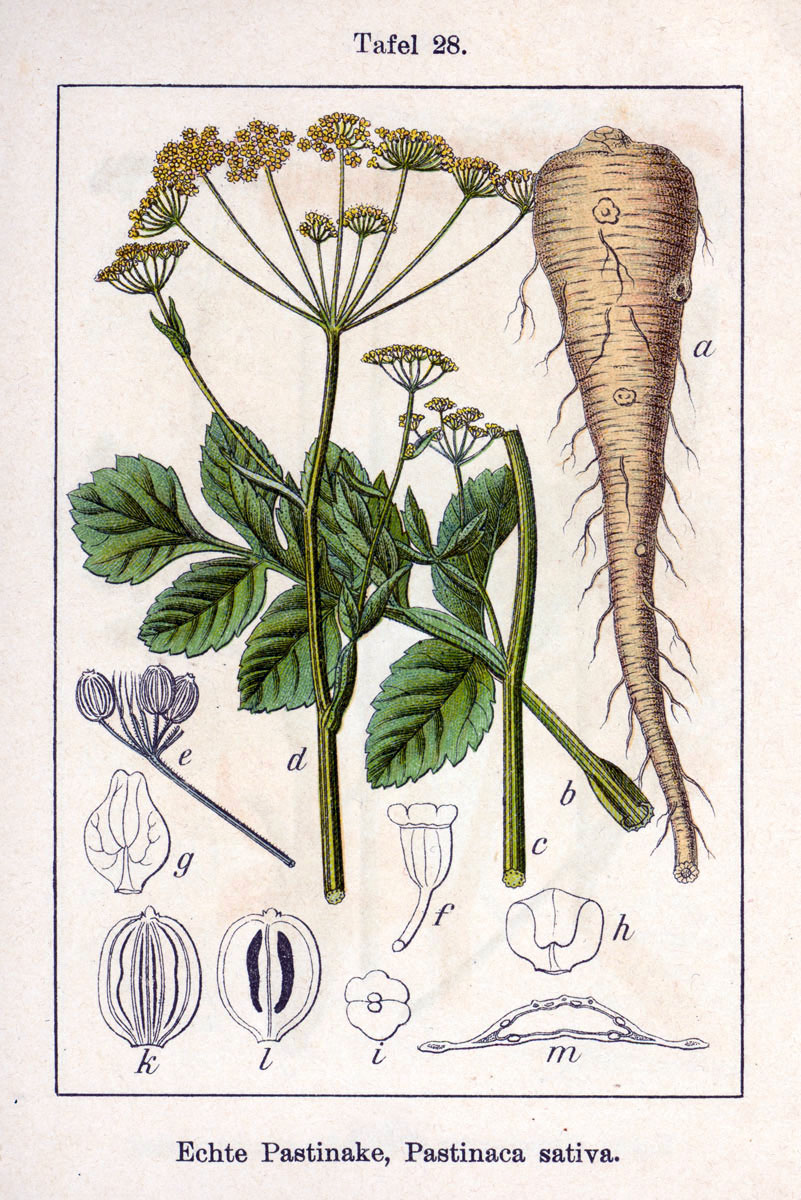 Illustration from Johann Georg Sturm's 1796 Deutschlands Flora in Abbildungen

Another winter favourite is the roasted beetroot - just tossed in seasoned olive oil and roasted, these are superb as part of any roast dinner and leftovers can be used in a salad - they're much crunchier and sweeter than any canned version. Of course, you can simply use them in your morning juice as all vegetables and fruits are better for you raw. They are high in folate and manganese and have been shown in studies to reduce blood pressure - all in keeping with a Season that has long cold nights when we're probably meant to relax and 'hibernate' a little ourselves.
Pumpkin soup is an easy one, just chop up the pumpkin, add an onion and vegetable stock and cook until soft and serve with hot crusty bread, a good dollop of sour cream or yoghurt and a generous sprinkling of chives or spring onions. You can also spice it up a bit by doing some variations - we like to choose a Kent pumpkin as the base then cut into 1cm cubes a butternut pumpkin and roast that with strips of capsicum to top the base soup recipe off with.
The roasting makes the butternut a little sweeter and brings out the flavour of the capsicum too to make for a double pumpkin celebration.
Other sensational tweaks you could try out are a Moroccan pumpkin soup, another whole meal in a bowl:
Ingredients
1/4 cup (60ml) olive oil
1 leek, white part only, thinly sliced
3 cloves garlic, finely chopped
1 red chilli, finely chopped
1 cinnamon stick
3cm piece ginger, peeled, thinly sliced
1 1/2 tsp cumin seeds
2 carrots, peeled, coarsely chopped
1.5kg butternut or Queensland blue pumpkin, peeled, cut into 3cm pieces
1/3 cup yellow split peas or chickpeas
Juice of 1/2 lemon
Coriander sprigs, to serve
Heat oil in a large saucepan over low-medium heat and cook leek, garlic and 2 teaspoons salt, stirring occasionally, for 3 minutes or until soft. Add chilli, cinnamon, ginger and cumin and stir for 1 minute or until fragrant. Add carrots, pumpkin and split peas. Stir to coat in onion mixture. Add 1.5 litres water to saucepan and bring to the boil, then simmer for 50 minutes or until split peas are soft. Remove and discard cinnamon stick from soup. Add lemon juice then process or blend soup, in small batches, in a food processor or blender until smooth. Return soup to pan and reheat over medium heat. Serve topped with coriander sprigs.
Pumpkins have been shown to have beneficial qualities for prostrate health, especially the seeds - same again for lentils, specifically red ones - so a soup that's a combination of pumpkin and lentils, along with topping the same with some crunchy pumpkin seeds (pepitas - which actually come from specific types of pumpkins such as oilseed pumpkins and Styrian pumpkins) and you have something delicious which is also a medicine food.
The avocado is very cheap at present due to a bumper crop. This fruit is a rich source of several B vitamins (such as 28% DV in pantothenic acid) and vitamin K (20% DV), with moderate contents (10-19% DV) of vitamin C, vitamin E, and potassium. Avocados also contain phytosterols and carotenoids, such as lutein and zeaxanthin. This fruit contains 'good' monounsaturated fat, which protects against heart disease and helps lower blood pressure - more relax during Winter benefits.

Have them on good bread topped with tomatoes, or toss cubes through your favourite pasta dish just prior to serving and you will not only boost your health, you will have something tasty made even better.
Colder months also will allow us to indulge desserts we'd not go near when warmer months make us think about getting into that swimsuit. One of the ultimate indulgences that rolls out when it gets too darn cold here is the chocolate self saucing pudding served with big scoops of ice cream. This is a relatively easy dessert to make but looks and tastes as though it belongs in your favourite restaurant.
Chocolate self-saucing pudding
Ingredients
1/2 cup milk
1 egg
80g salted butter, melted, cooled
1 cup self-raising flour
2 tbsp cocoa powder, plus extra to serve
1/2 cup brown sugar
50-100grams grated dark cocolate
Thick cream or ice cream to serve
Sauce
2 tbsp cocoa powder, sifted
3/4 cup brown sugar
1 1/4 cups boiling water
Preheat oven to 180°C or 160C fan-forced. Grease a 1.5L, 6 cups, capacity ovenproof baking dish. Combine milk, butter and egg and lightly whisk.
Sift flour and cocoa into a large bowl. Stir in sugar. Grate in 50-100 grams of dark chocolate. Slowly add milk mixture to flour mixture, whisking until well combined and smooth. While you're combining those dry ingredients, get your sauce combination ready too: combine cocoa powder and brown sugar for sauce in a bowl.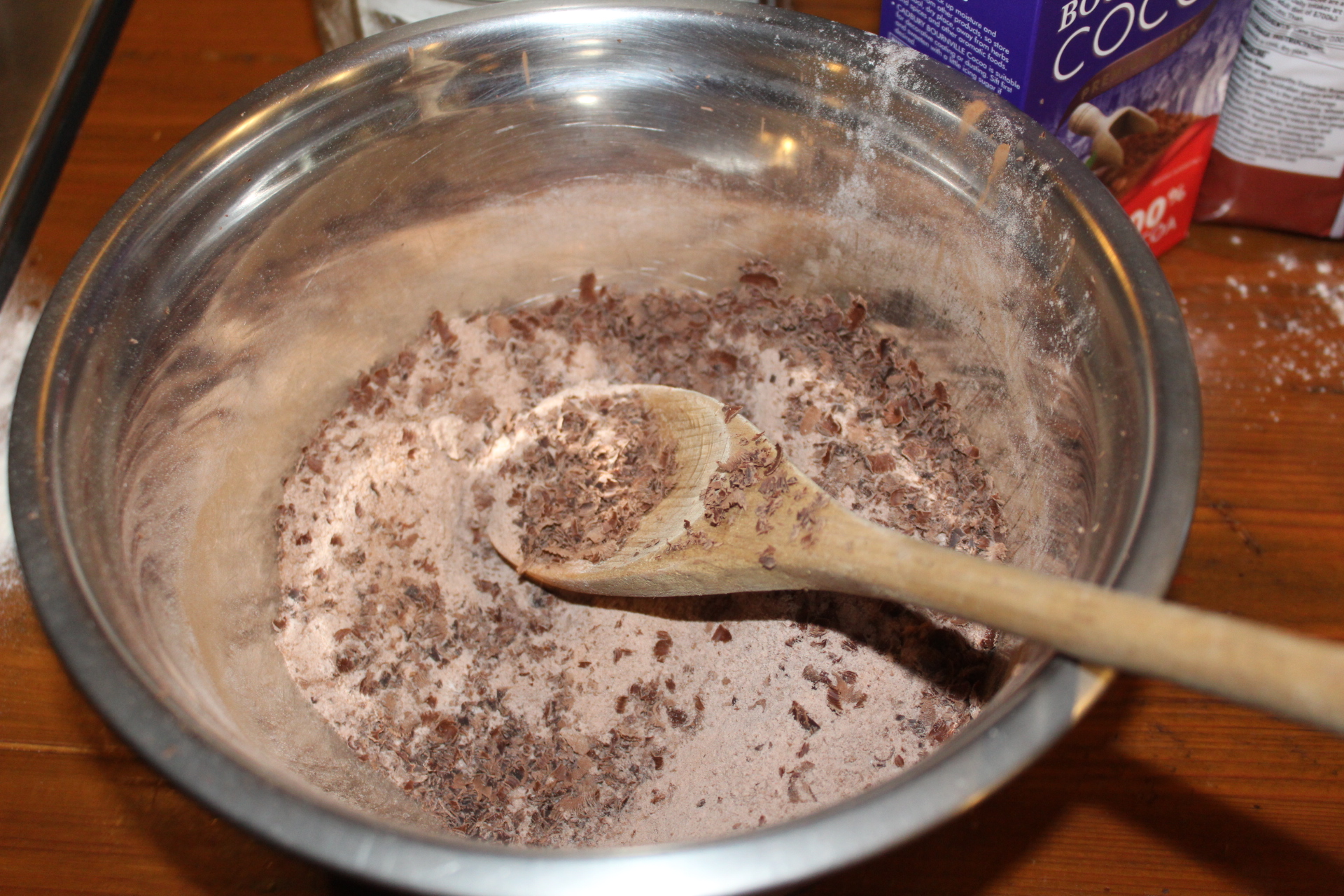 Spoon pudding mix into baking dish and smooth so it sits evenly. Sprinkle combined sugar and cocoa over pudding. Pour the boiling water over the back of a large metal spoon to cover pudding. Place dish onto a baking tray just in case some spills over into your oven. Bake for 35 to 40 minutes or until pudding bounces back when pressed gently in centre. Serve hot with whipped cream or ice cream - bliss!
Chocolate is believed to contain high levels of antioxidants with some studies showing chocolate could lower cholesterol levels and prevent memory decline - so, as long as you don't have this winter warmer every week, you are also helping your body to be at its peak.