December 30, 2012 - January 5, 2013: Issue 91
Australian Cherries
On Christmas Eve our local fruit and vegetable supplier was encouraging all to taste test the varieties of Australian cherries on offer currently. Three varieties, one from Queensland, one from Tassie and another from NSW resulted in selecting a Black Douglas from E B Batinich and Co in Wombat N.S.W.. The Black Douglas is a large black cherry with firm, meaty flesh available late in the season. Cherries are the richest sources of certain anthocyanins, a type of antioxidant responsible for the deep red colour that has been linked to a variety of health benefits including boosting your immune system or reducing inflammations.
As you may, like us, have come home with a few kilos of these great Aussie fruits, we offer a few recipes from the excellent Australian Cherries website this week just in case you still have some left.
Black Forest Cupcakes (Serves: 12)
Preparation Time: 15 minutes
Cooking Time: 40 minutes
Ingredients:
Cupcake Mixture
125g butter or margarine
1/2 cup caster/raw sugar
1/2 cup plain yoghurt
2 eggs
2 cups self-raising flour
1 teaspoon baking powder
1/3 cup dark cocoa, sifted
1/2 cup milk
200g pitted cherries, halved
Icing & Decoration
125g butter
1 cup icing sugar mixture
1 teaspoon vanilla paste
1 tablespoon milk
12 whole cherries with stem on

Method:
Preheat oven to 180◦C and place 12 cupcake wrappers in a muffin tin.
Place butter and sugar in a bowl and beat together until creamy. Add eggs and beat well until incorporated.
Stir in yoghurt and then gently fold in flour, baking powder, cocoa, cherries and milk until combined.
Spoon mixture into prepared muffin tins and bake for 40 minutes or until cooked. Remove from the muffin tin and allow to cool.
Make the icing by combining the butter, sugar and vanilla paste. Add milk as required to achieve a rich, creamy, spreadable consistency.
Sift the icing sugar over each cupcake and top with a cherry.
Cherry Quinoa Salad with Lamb (Serves: 4)
Ingredients:
1 cup tri-colour or white quinoa, rinsed and drained
1/3 cup (80ml) olive oil
6 lamb tenderloin fillets
¼ cup (60ml) lemon juice
1½ cups pitted fresh cherries, halved
3 spring onions, thinly sliced
½ cup finely chopped parsley
¼ cup finely chopped mint
½ cup toasted pistachios, coarsely chopped
200g Greek feta
3 cups water
Method:
Combine water and quinoa in a saucepan and bring to the boil.
Reduce heat to a simmer, cover and cook for 15 minutes or until grains are tender.
Drain, then transfer to a large bowl and set aside to cool.
Lightly coat the lamb fillets in 2 tablespoons oil; season well with salt and freshly ground pepper.
Heat chargrill pan over high heat then cook lamb for 6 minutes turning or until cooked to your liking.
Transfer to a plate and cover loosely with foil. Set aside to rest for 5 minutes.
Meanwhile, whisk remaining oil and lemon juice until combined, then add to the quinoa and toss to coat.
Add remaining ingredients to bowl and toss well to combine.
Slice lamb and serve on top of salad.
*For a vegetarian option, omit lamb and replace with zucchini.
Recipes courtesy Australian Cherries: http://australiancherries.com.au/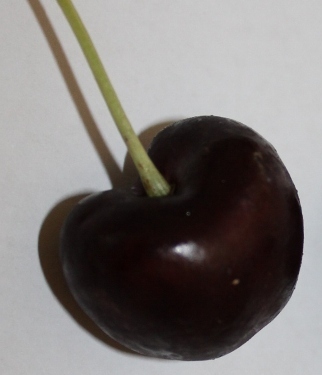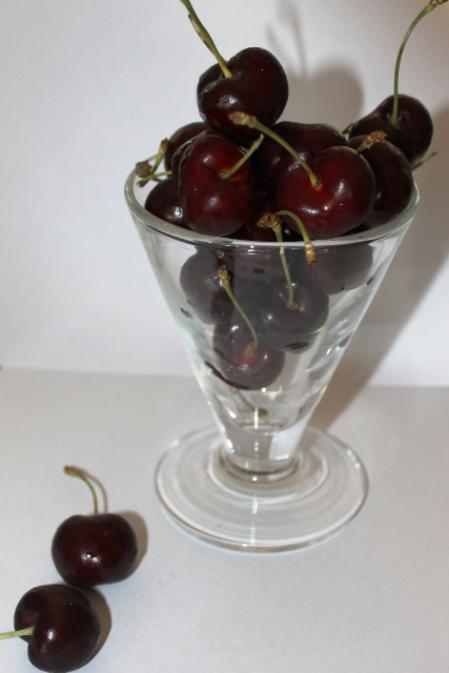 The cherry is the fruit of many plants of the genus Prunus, and is a fleshy drupe (stone fruit). The cherry fruits of commerce are usually obtained from a limited number of species, including especially cultivars of the wild cherry, Prunus avium. The name 'cherry' also refers to the cherry tree, and is sometimes applied to almonds and visually similar flowering trees in the genus Prunus, as in "ornamental cherry", "cherry blossom", etc. The majority of eating cherries are derived from either Prunus avium, the wild cherry (sometimes called the sweet cherry), or from Prunus cerasus, the sour cherry. Prunus serotina, commonly called black cherry, wild black cherry, rum cherry, or mountain black cherry, is a woody plant species belonging to the genus Prunus. This cherry is native to eastern North America: from eastern Canada through southern Quebec and Ontario.
The native range of the wild cherry extends through most of Europe, western Asia and parts of northern Africa, and the fruit has been consumed throughout its range since prehistoric times. A cultivated cherry is recorded as having been brought to Rome by Lucius Licinius Lucullus from northeastern Anatolia, modern day Turkey, also known as the Pontus region, in 72 BC. A form of cherry was introduced into England at Teynham, near Sittingbourne in Kent by order of Henry VIII, who had tasted them in Flanders. The English word cherry, French cerise and Spanish cereza all come from the classical Greek (κέρασος) through the Latin cerasum, thus the ancient Roman place name Cerasus, today a city in northern Turkey Giresun from which the cherry was first exported to Europe.
P. serotina timber is valuable; perhaps the premier cabinetry timber of the U.S., traded as "cherry". It is known for its strong red color and high price. Its density when dried is around 580 kg per cubic meter. P. serotina trees are sometimes planted ornamentally. P. serotina is a pioneer species. In the Midwest, it is seen growing mostly in old fields with other sunlight-loving species, such as black walnut, black locust, and hackberry. Gleason and Cronquist (1991) desribe P. serotina as "[f]ormerly a forest tree, now abundant as a weed-tree of roadsides, waste land, and forest-margins." It is a moderately long-lived tree, with ages of up to 258 years known
Australia
In Australia, cherries are grown in all the states except for the Northern Territory. The major producing regions are located in the temperate areas within New South Wales, Victoria, South Australia and Tasmania. Western Australia has limited production in the elevated parts in southwest of the state. Key production areas include Young, Orange and Bathurst in New South Wales, Wandin, the Goulburn and Murray valley areas in Victoria, the Adelaide Hills region in South Australia, and the Huon and Derwent Valleys in Tasmania.
Key commercial varieties in order of seasonality include 'Empress', 'Merchant', 'Supreme', 'Ron's seedling', 'Chelan', 'Ulster', 'Van', 'Bing', 'Stella', 'Nordwunder', 'Lapins', 'Simone', 'Regina', 'Kordia' and 'Sweetheart'. New varieties are being introduced, including the late season 'Staccato' and early season 'Sequoia'. The Australian Cherry Breeding program is developing a series of new varieties which are under testing evaluation. The New South Wales town of Young is called the "Cherry Capital of Australia" and hosts the National Cherry Festival.
Prunus serotina. (2012, December 26). In Wikipedia, The Free Encyclopedia. Retrieved from http://en.wikipedia.org/w/index.php?title=Prunus_serotina&oldid=529780552
Health benefits; Cherries, both sweet and tart, have anti-inflammatory properties. A study by R.A. Jacob, published in the June 2003 issue of the "Journal of Nutrition" found that cherries inhibit inflammatory pathways and, thus, decrease inflammation. Black cherries contain polyphenols, which are organic compounds with antioxidant properties. A study by N.P. Seeram published in the February 2008 issue of the "Journal of Agricultural and Food Chemistry" conducted tests on the antioxidant potency of different fruit juices such as black cherry, pomegranate, acai, blueberry, cranberry and concord grape juice. The study tested the juices' ability to inhibit low-density lipoprotein-cholesterol (LDL) oxidation and total polyphenol content. Black cherry juice was in the top four juices for antioxidant capacity.
Gout is a type of arthritis. Crystals form in the joints from a buildup of too much uric acid in the body. This causes the joints to become inflamed. Men and women both suffer from gout. One of the treatments for gout is drinking 8 to 16 oz.of any cherry juice, including black cherry juice, daily. After two weeks, this lowers the uric acid, preventing gout attacks, according to the University of Maryland Medical Center.
A 2003 study by the U.S. Department of Agriculture at the ARS Western Human Nutrition Research Center at the University of California at Davis followed 10 healthy women consuming sweet cherries and found that plasma urate decreased 5h, which supports the anti-gout efficacy of black cherries. Black cherries contain serotonin, which produces beneficial effects on sleep. A study by M. Garrido and colleagues published in the September 2010 issue of "The Journals of Gerontology" performed a sleep study with volunteers. They found cherries from the Jerte Valley in Spain, such as black cherries, had a positive effect on sleep and sleep duration.
According to a study funded by the Cherry Marketing Institute, presented at the Experimental Biology 2008 meeting in San Diego, rats that received whole tart cherry powder mixed into a high-fat diet did not gain as much weight or build up as much body fat, and their blood showed much lower levels of inflammation indicators that have been linked to heart disease and diabetes. In addition, they had significantly lower blood levels of cholesterol and triglycerides than the other rats.
Copyright Pittwater Online News, 2013. All Rights Reserved.
An Extra Australian Cherry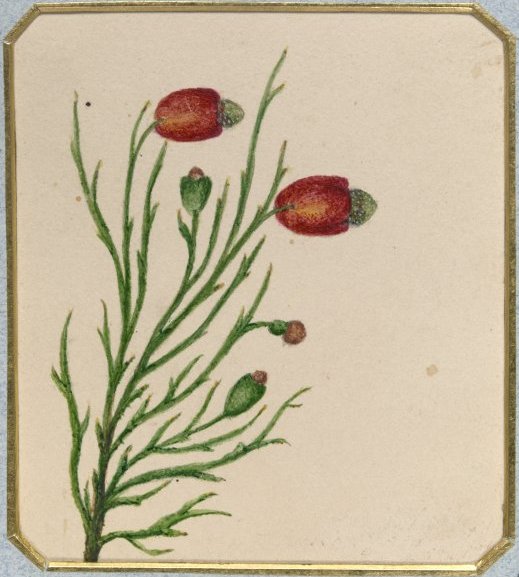 Exocarpos cupressiformis (native cherry) circa 1844 by Marrianne Collinson Campbell (1827-1903) watercolour 8x7cm. Courtesy of National Library of Australia; nla.pic-vn3621801. Part of Wild flowers, fruit and butterflies of Australia [picture album] [ca. 1843-1883]
Native Cherry - Exocarpos cupressiformis
Derivation of Name: Exocarpos from Greek exo, outside and carpos, a fruit, referring to the apparent location of the seed outside of the fruit. cupressiformis; similar in appearance to the conifer Cupressus. The genus Exocarpos is a genus of about 26 species, 10 of which occur in Australia. Other species occur throughout the Pacific islands and in New Zealand. The members of this genus are at least partly root parasites in that their roots attach themselves to the roots of other plants and gain part of their growth requirements from the host species. Exocarpos cupressiformis is the best known and most widespread species. It has the general appearance of a conifer with attractive weeping foliage of yellowish-green to dark green colour. It will often be seen growing along roadsides close to eucalypts which it apparently uses as hosts. The small cream flowers are inconspicuous and are followed by the fruit which is a small nut about 0.5 cm in diameter. The nut is attached to a fleshy fruit-like structure which is actually an enlarged, succulent section of the flower stalk. The enlarged stalk (which is edible) is usually bright red and gives rise to the common name of the species.
Marrianne Collinson Campbell (1827 - 1903)
Marrianne Close was born on 30 June 827 in the village of Green Hills in the Hunter Valley of New South Wales. She was one of nine children and the only surviving daughter of Lieutenant Edward Close and his wife, Sophia. Marrianne had a passion for flora and fauna and, with an eye for detail, she recorded many Australian wildflowers. Lieutenant Close, a talented watercolour artist, gave his daughter lessons in drawing and painting, while Marrianne's great-aunt Sophia nurtured her work. In her early teens, Marrianne took lessons from the artist Conrad Martens, who influenced her meticulous painting style.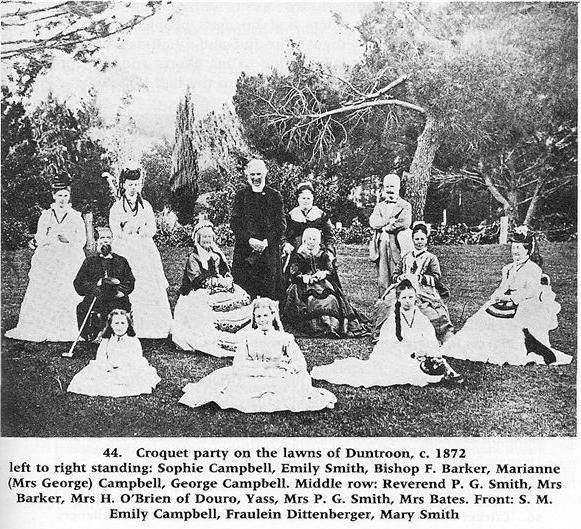 About 1843, at age 16, Marianne began compiling an album, Wildflowers, Fruit & Butterflies of Australia held at the National Library of Australia. The gold embossed, leather-covered album with its hand-painted title page contains many of her exquisite flower and natural history paintings. Marianne continued to add paintings to the album until 1883.
In 1854, Marrianne married her second cousin, 36-year-old George Campbell, who had inherited the family home of Duntroon, near what is now Canberra, in 1846. They lived at Wharf House in Campbell's Cove, now part of The Rocks area of Sydney, until 1857, when Marrianne, George and their two children moved to Duntroon. Marrianne transformed the home into an imposing, two-storey Gothic revival house. The gardens were redesigned and planted with numerous exotic and rare blooms, as well as various trees from England and trees collected on Marrianne's travels. The Australian native plants Telopea speciosissima, variousEucalyptus and Callistemon species grew on the estate.
Marrianne painted native plants from Western Australia, the Blue Mountains in New South Wales and Moreton Bay in Queensland. Many species from one location were often featured in a single painting. The majority of her work, however, was accomplished in and around Duntroon and Sydney.
As a widow in her late fifties, Marrianne devoted much of her time to painting. Many of her albums are still treasured as valuable heirlooms among family in Australia and Scotland.Marrianne died at Duntroon on 2 May 1903, at the age of 75, and was buried among other Campbell family members in a dedicated enclosure at St John's Church in Canberra, of which she was a benefactor.
The house at Duntroon did not remain in the Campbell family after Marrianne's death. After the creation of Canberra as the national capital, the Australian Government acquired the estate and 370 acres (1.5 km2) of land. In 1911, the Royal Military College of Australia was founded at Duntroon, and the original house became the Officers' Mess.
Source: Extracted from: Women of Flowers, by Leonie Norton (2009), National Library of Australia