August 31 - September 6, 2014: Issue 178
Spring Strawberries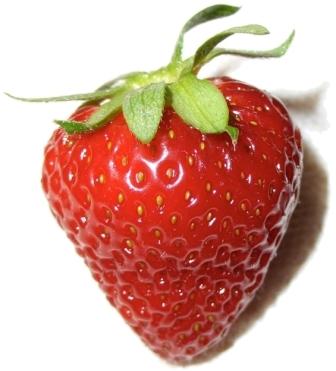 Ahh, the bliss of early Spring, when a young man's fancy turns to love and a young lady's to….strawberries!
Dipped in chocolate…
Or in a soufflé…
Or just piled high on a dinner plate!
And as the first Spring varieties are arriving in our grocers, ridding of us of out-of-season mid-Winter expense, it is time to indulge your senses.
Strawberry Mousse Pots
Serves 8
180g quality white cooking chocolate, chopped
1 cup thickened cream
500g strawberries, stalks removed
½ cup sifted pure icing sugar, plus 1 tablespoon extra for topping
¼ cup orange liqueur (Cointreau or Grand Marnier), plus 1 teaspoon extra for topping
2 teaspoons powdered gelatine
1 tablespoon water
8 ready-made chocolate dessert cups*
mint leaves, to garnish
Place chocolate and ¼ cup cream in a medium size heat proof bowl; place over simmering water, stirring occasionally, until smooth. Remove from heat. Reserve 250g strawberries for topping. Place remainder in a food processor along with icing sugar and liqueur; process until pureed. Gradually stir into chocolate mixture. Combine gelatine and water in a small glass jug or bowl. Fill sink about 2cm deep with boiling water; stand jug or bowl in sink and stir until gelatine dissolves. Stir into strawberry mixture. Refrigerate, stirring occasionally, for about 30 minutes or until just starting to thicken. Beat remaining cream until thick. Whisk ¼ of the cream into the strawberry mixture, then fold in remainder.
Place chocolate cups on a tray. Divide strawberry mixture between cups and refrigerate for about 3 hours or until set (once set, the pots can be stored in the fridge, loosely covered with clingwrap for up to 24 hours). Just before serving, slice reserved strawberries and place in a bowl. Add extra icing sugar and extra liqueur; stir gently. Set aside for about 3 minutes. Top mousse with strawberries and garnish with mint leaves.
Spinach and Strawberry Salad
Serves 8
2 bunches spinach, rinsed and torn into bite-size pieces
2 punnets of strawberries
½ cup roughly chopped walnuts
1/2 cup vegetable oil
1/4 cup white wine vinegar
1/4 cup white sugar
1/4 teaspoon paprika
2 tablespoons sesame seeds
1 tablespoon poppy seeds
In a large bowl, toss together the spinach, strawberries and walnuts. Then in a medium bowl, whisk together the oil, vinegar, sugar, paprika, sesame seeds, and poppy seeds. Pour over the spinach, strawberries and walnuts, and toss to coat.
Courtesy aussiestrawberries.com.au
Strawberry Soufflé
Serves 8
Nonstick vegetable oil spray
2 punnets of strawberries, hulled
7 tablespoons caster sugar
1 tablespoon cornflour
3/4 teaspoon grated orange peel
4 large egg whites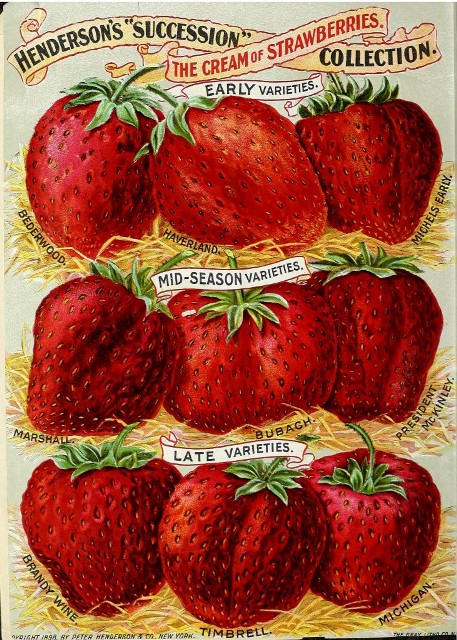 Preheat oven to 180°C. Spray 6-cup soufflé dish with vegetable oil spray and shake a little caster sugar around sides (this gives mixture something to climb on and stick to). Coarsely puree half of berries with 3 tablespoons sugar and cornflour in processor or by hand. Transfer to small saucepan and stir over medium heat until mixture boils and thickens, about 3 minutes. Whisk in peel. Allow to cool completely. Slice remaining berries. Transfer to medium bowl. Add 1 tablespoon sugar; toss to blend. Beat egg whites in a sepearte large bowl until soft peaks form. Gradually add 3 tablespoons sugar; and beat until stiff but not dry. Fold puree into whites in 3 additions. Transfer to prepared dish. Bake until soufflé is puffed and golden, about 18 minutes. Serve immediately with sliced berries and fresh cream. Bliss!
______________________________________

The first garden strawberry was grown in France during the late 18th century. Prior to this, wild strawberries and cultivated selections from wild strawberry species were the common source of the fruit. One serving (100 g; see Table) of strawberries contains approximately 33 kilocalories, is an excellent source of vitamin C, a good source of potassium and manganese, and provides several other vitamins and dietary minerals in smaller amounts.
Strawberries contain a modest amount of essential unsaturated fatty acids in the achene (seed) oil. Half a punnet Strawberries (125g) will provide almost 10 percent of your daily folate needs. Studies have indicated that strawberries (as part of a healthy low-fat diet) may help decrease blood pressure, which may reduce the risk of heart disease. Strawberries are also found to enhance memory function. Their anti-bacterial and anti-inflammatory qualities suggest strawberries may help keep the kidneys and bladder in top health. Strawberries have a low GI, so can help stabilise your blood sugar levels, important in diabetes.
Strawberries contain several classes of phytochemicals - naturally occurring compounds found in plant foods. Phytochemicals have been shown to act as antioxidants, providing protection by neutralizing free radicals or substances in the body that can damage cells and lead to disease. Strawberries are an excellent source of ellagic acid, a phytochemical that helps combat carcinogens. Cooking does not destroy ellagic acid meaning that with many cooked recipes will still be beneficial.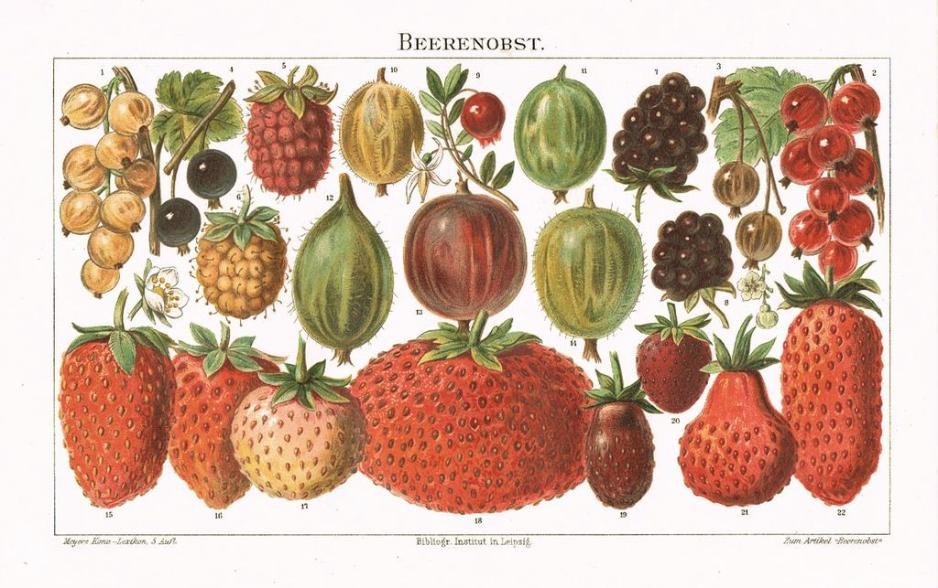 Berries: Old Chromo Lithograph. 1898.
Copyright Pittwater Online News, 2014. All Rights Reserved.