May 1 - 7 2016: Issue 261
Parkview Restaurant: Avalon Beach RSL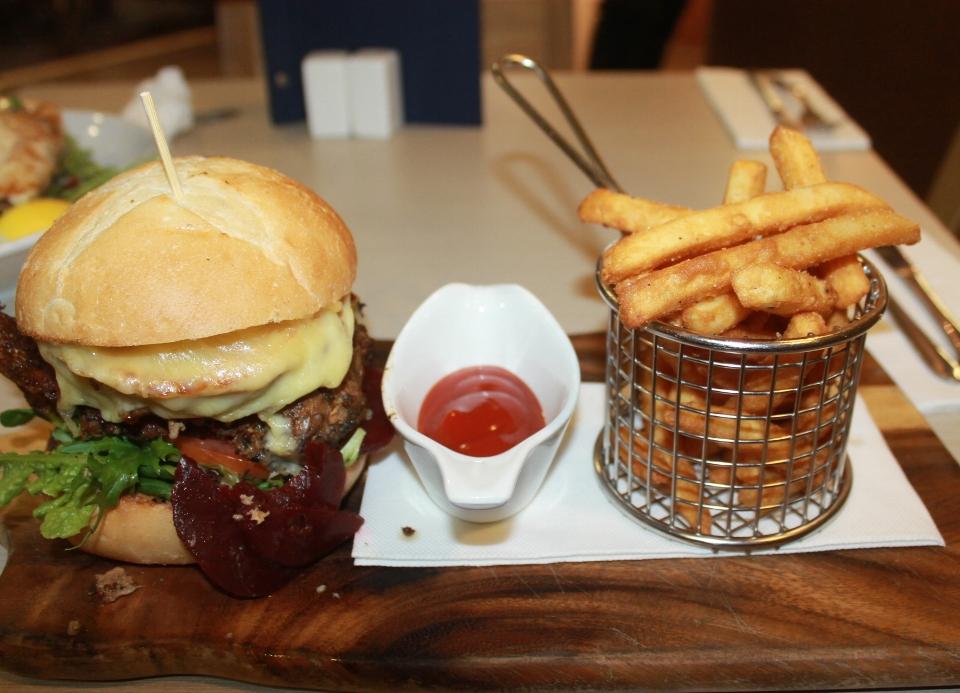 The Parkview Wagyu Beef Burger: 220 wagyu with salad, pickles and cheese on a brioche bun and a serving of hot beer battered chips - bliss!

Parkview Restaurant – Avalon Beach RSL Club
Having tried the Mexicana Parmigiana ($28/25), the fresh Flathead with chips, Salad and Aoili, a few of the steaks available – the Rib Eye Steak ($29/32) and Black Angus Sirloin ($25/23) specifically over the past few months, just to do a consistency and quality assurance check, we can highly recommend treating yourself to a day away from the kitchen by dining or lunching at the Parkview Restaurant in Avalon Beach RSL Club.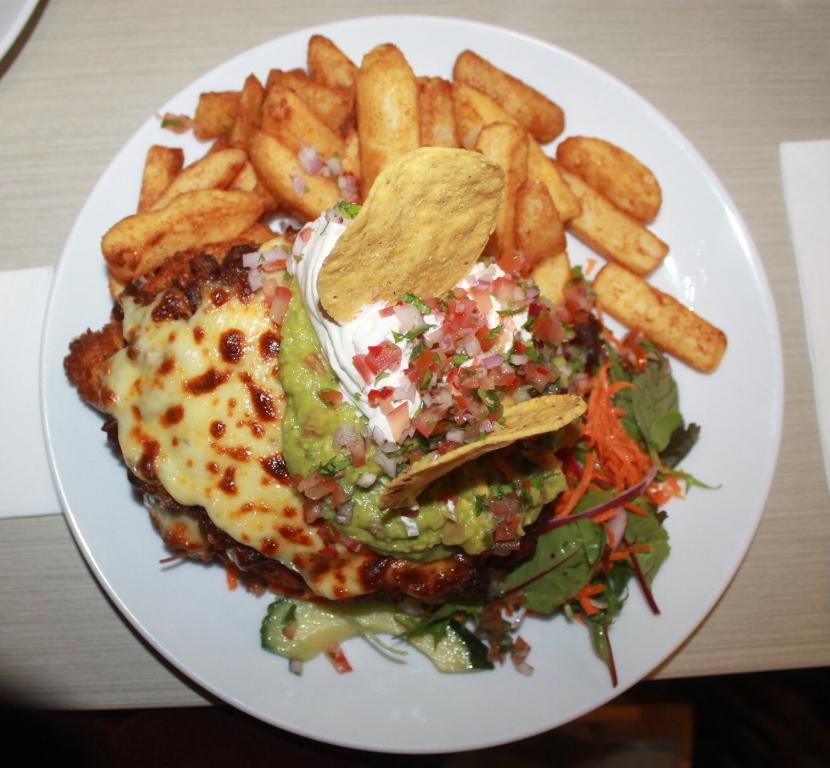 Mexican Parmagiana: fresh chicken schnitzel topped with nachos mix (mild chilli con carne and melted cheese), guacamole and sour cream plus fresh slas, served with yummy fresh salad and beer battered chips
The Parkview Restaurant located at Avalon Beach RSL Club offers a wide range of delicious & fresh food ranging from their $12 lunches, salads as meals, which include a Quinoa Salad with almonds, kale and cranberries, or the Handmade Ravioli or roasted butternut pumpkin, goats cheese and sage with a Napoli sauce, delicious pizzas, a Bucket of Prawns or Steak Sandwich and Burgers for those who want these, and a $10 Children's Menu with a bonus of children eating for free on Tuesdays and Sundays from 5.30pm with each Main purchased.
If you haven't been for a while, go and try this old favourite venue once more.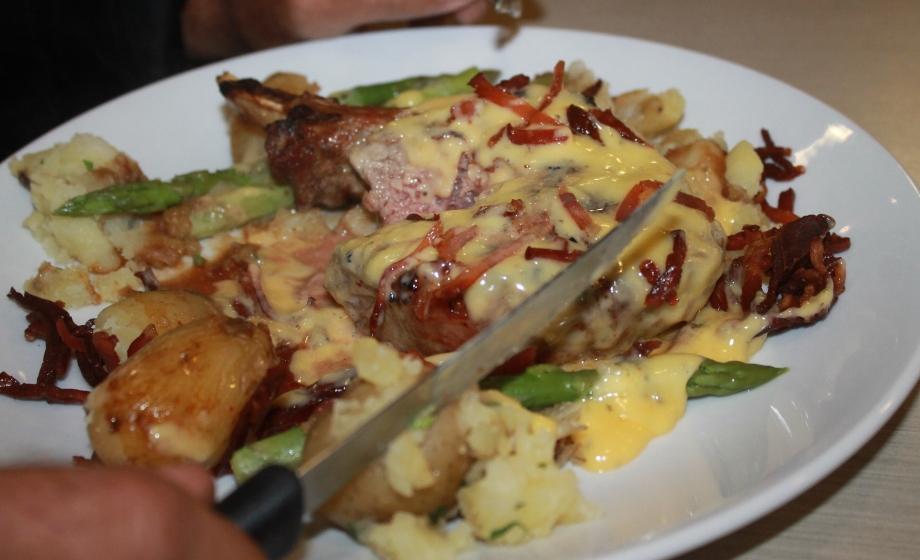 Rib-Eye Steak: 300g served with baby chats, fresh asparagus and bacon with fresh made Bernaise sauce
The portions are generous (so much so that we haven't finished one of the three Mexicana Parmigianas ordered yet!), the food a creative mix of Modern Australian cuisine which showcases some flavours from many of the cultures that have enriched all we can now eat here, and with specials of Steaks on Mondays or a pretty great Schnitzel on Wednesdays, and a seniors Flathead and Chips available all the time, the club is keeping it real by keeping it for Families.
There's even a Gelato Bar for something sweet for the little members of the family or to cleanse the palate after your meal.
If you are or become an Avalon Beach RSL member you will receive a discount on the Menu prices: Silver: 3% off Bronze Members Price, Gold: 15% off Bronze Members Price, Diamond: 30% off Bronze Members Price.
There's an extensive outdoor dining areas with a relaxed casual dining atmosphere with a play area for youngsters while you eat.
Treat mum this Mother's Day to a scrumptious meal - if you visit for lunch, stay on for the Mother's Day Raffle.
Parkview Restaurant is open for lunch and dinner every day.
Lunch from 12pm & Dinner from 5:30pm.
Avalon Beach RSL Club
1 Bowling Green Lane, Avalon Beach
Bookings: 9918 220
1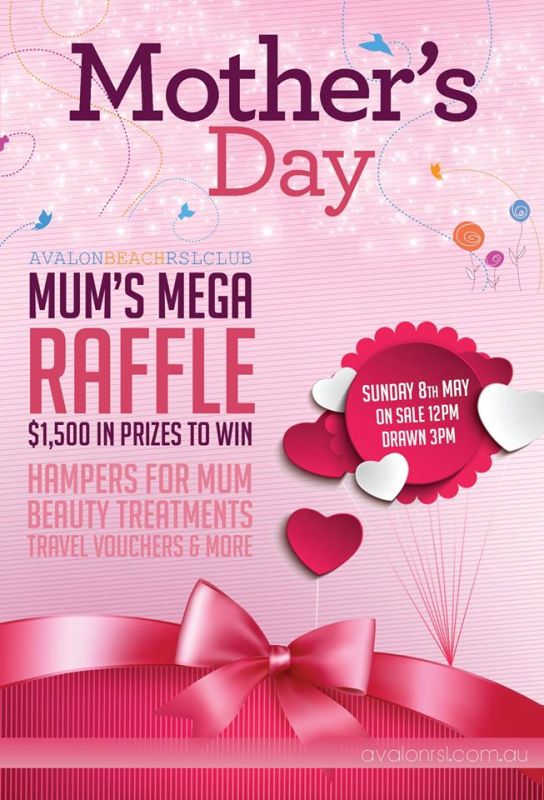 Recipe Ideas - Seasonal Fruits and Vegetables
Apricot - January Summer Fruits
Artichoke – The Flower Vegetable that Crops in Spring Australian and Native Cherries (Summer Fruits) - the Duntroon Connection - Marrianne Collinson Campbell Autumn is Apple Season
Cherry - Australian summer Fruit

Chick Pea Burgers with Homemade Hummus

Easter Feast - modern and historic
Edible Weeds Eggs: Five Ways - Savoury
Green Beans - Spring Vegetables
Hogmanay (New Year) Dinner - Australian Style
Make Your Own Treats For Christmas Gifts - Jaffa Rum Balls, White Christmas, Gingerbread People, Spicy Nut Mix, Strawberries Dipped in Christmas, Scottish Shortbread, Spanish Polverones, Melomakarona (Greek Christmas Honey Cookies), Kourabiedes (Greek Butter Biscuits), Italian Lemon Shortbread Squares (Shortbread con crema al limone)
Mandarins Spring Fruits Mandarins Winter Fruits
Mum'€™s Vegetable Soup with Macaroni
Nectarines - end of Summer crop
Packham's Triumph Pears - The Australian Pear
Parsnip - Winter Vegetables Pear - Autumn Fruits
Potato Gnocchi Pumpkin Pumpkin Season 2015
Sage - the 'saving' herb Remembrance Day 2012 Food
Self-Saucing Winter Puddings Silverbeet - Winter Vegetable
Spring Salad Season Spring Strawberries Spring Salads
Summer Lilli Pillis Summer Passionfruit Summer Peaches, Quandongs (Wild Peach) - Marian Rowan Ellis Summer Raspberries Native Ones - Adam Forster
Ten Minute Spring Salads - fresh Spring Fare Tomato
Winter Crops Winter Vegetable Pies Zucchini
Pittwater Restaurants, Cafés and Bistros

To list your business, have a Pittwater Online News Food page run, or place a logo on the Pittwater Online News Food page, please contact us with details of your requirements.
Logos may be embedded to redirect to your own website.
Full pages include an overview of menus as well as beautiful images to make the food sampled look its best.
Full pages are archived into Permanent pages past their week of Issue.
Permanent pages in Pittwater Online News average 800 thousand visits per annum past their week of Issue ensuring diners will continue to view your eatery as a potential venue for breakfast, lunch or dinner or as the place to hold their larger functions.
For Rates and Packages Contact us at: