October 8 - 14, 2023: Issue 600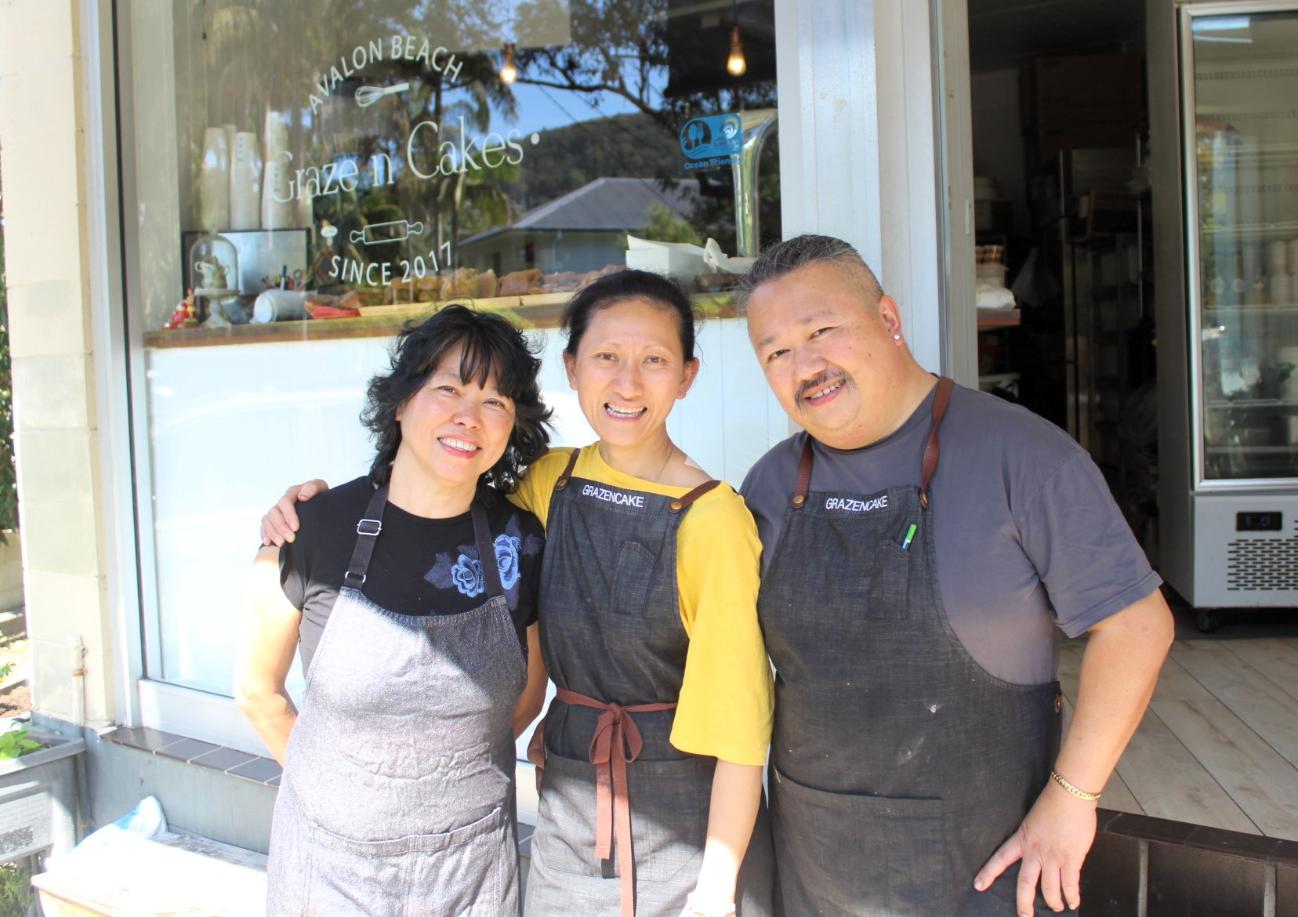 3/38 Burrawong Rd, Avalon Beach,
(02) 8919 0058
Open six days a week
Email: grazencakes@gmail.com
Custom made cakes since 2008.
Sandy and Viet Dang opened Graze N Cakes in mid-September 2017 meaning they have just commenced their 7th year as one of Avalon's favourite places to get the best food going.
As a means of dodging making at least one lunch that week for the boys, and having sampled the cake the Dangs made for the Avalon Community Library 40th year celebrations just days before, pure melt in your mouth deliciousness, I slyly told this lovely couple how quickly their cake evaporated, that we should run a 'catch-up' food page and that I'd be around with my camera and tape recorder, again, in the morning.
While Sandy and the delightful Lili filled the order for the boys, a chat with Viet was an opportunity to gain insights into why they do it the way they do and how they do it.
Would you term the food (lunch menu) Vietnamese?
Viet: no, we try to get it as close to the traditional Vietnamese flavour as possible although that is difficult as sourcing the produce, when we are using everything seasonal and as fresh as it can be got, is difficult. We use whatever ingredients are available fresh and try to get it as close to that flavour as possible.
If you go down to Cabramatta or Bankstown you can source those ingredients, but here is too far for using those sourced each morning. We try and get is as close to that as possible but it would be termed more Australian Vietnamese.
If you look for a specific ingredient that comes from southeast Asia you don't know how long that ingredient has been getting to you. Some people do use those to get that authentic taste, but we tend to source what is fresher and closer to this place and as close as we can get to the required ingredient.
Your pork belly and pulled pork along with the tofu Bánh mì have legendary status in Avalon – where did you learn how to cook?
Viet: I'm classically trained, a Pastry Chef. I'm an Industrial Baker by Trade. So we make bread and pastries that we used to deliver everywhere. The bread here we make and then half freeze it as a preservative process rather than putting preservatives in there. We then take it out and bake it fresh as we need it.
People think fresh is a state of mind but it's also a state of texture and taste. A loaf of bread shouldn't be able to be sitting on a shelf for ages, that just means there's too many preservatives in it.
It sounds a little alike the Japanese umami response to preparing food?
Viet: Similar but I don't think there's a theory behind what we do, it's just a way to deal with feeding people sensibly to ensure what is produced is of the best quality possible. This is a small space, around 20 square metres, so we try to optimise what we do here so it flows to meet the standard we wish to deliver and so that there is nothing left at the end of each day.
That is the freshness we want to give to customers and why we worked to learn how to ensure that happens.
When we first started out we were learning about the variation of demographics in Avalon. We learned what people want and that adjusted what we'd deliver so that everything is fresh each day. When something doesn't sell we won't make it as if it is waste to be thrown out.
In Avalon you have a variety of tastes; vegans, vegetarians, those who want only a little sugar in anything, those who are eating solely from a freshness point of view and others. If you cater for everything it makes it hard, so what you want to do is allow for those times when those who don't usually want sugar will decide they do want something with their coffee that day. We aim for that balance, to meet what will be wanted each day with, for us, the focus on ensuring it is the freshest and highest quality ingredients from our bread to what is placed in it, and that way everything is that day's food.
Sandy your cakes are sought in the community for functions and you have the capacity to make larger ones, such as that served at the celebration of the 40th year at the Avalon Community Library?
Sandy: yes, we like to provide something for the community that brings everybody together, and that is also what we're trying to do through Graze n' Cakes as well.
You were also formerly making cakes at Cammeray people would queue out the door for our Mosman friends tell us. You are much missed there - how did that start?
Sandy: At that time there were not a lot of people making novelty cakes on the lower North Shore and that was the beginning for us with providing those.
Viet: These are more of a bespoke product where we're making it especially for that person. So, once again, we don't have cakes lying around.
Before Covid we were getting into the wedding trade, providing cakes for places like Jonah's and other private functions. That's fallen off. There is a lot of home bakers in our area who, for their size, know how many are coming and can make the cakes to suit those requests. So we stay away from that and do the things that they can't do. So the cake that you saw Di (Cutrie) couldn't do as there's no space for her to do it, it's a larger one.
We've done Harry Potter Cakes, Ninja Turtles and we can do those because we've got a cool-room and we've got the equipment. It would take Di twice as much effort and she steers away from that size anyway – so if she gets a cake that's like that she will send it through to us and if we get a cake that would suit what she does, we send the people who come in ask for those to her.
How much lead time do you need on a cake of that size?
Viet: A week is normal for an order of that size, depending on the decoration wanted and how elaborate that is. If it's a wedding cake you need to request those a month in advance.
Sandy: That way we can organise the products and ingredients as we're trying to make everything as fresh as possible and can meet everyone's expectations that that is how it will be. If someone comes midweek for something they want that weekend, filling that order alongside our schedules for what is being done for Graze n Cakes each day becomes difficult.
Are you both enjoying living in Avalon Beach?
Viet: is there any other place to be? We're part of this community – we're with the soccer club, our daughter used to dance here; we're sort of in the tapestry. It's kind of effortless with the people around here, we all have the same focus; it's a very family-orientated place, very peaceful. The kids come in here and they're working in the afternoon helping sweep up and make cookies and stuff like that. It's only been six year but we know a lot of the kids from when they were bubs and have seen them grow taller – it's nice. I don't think you get to experience that kind of snapshot and connection in a lot of places and a lot of industries you can work in.
I ordered the Pork Belly Bánh mì for those boys toiling at home with all that hard yakka Tradie stuff, along with 3 of the custard filled donuts the Dangs make.
I'm very choosy about what to feed the boys – it has to be fresh, it has to be natural, it has to be the best you can get.
Although it would have been possible to determine the verdict just by the beatific smiles that appeared during the eating, along with the happy humming that rose between bites, you need to ask anyway.
The response?
'Beautiful – oh my goodness that was so great – where did you get them?'
Where do you get it?:
Just around the corner from Careel Head road foodies – just make sure you get there before it all goes because Graze n Cakes does sell out – every single day.
You can't beat the freshness and the excellence.
Menu below – but don't forget those donuts and cronuts and croissants; you deserve that scrumptiousness – you know you do!