July 16 - 22, 2017: Issue 321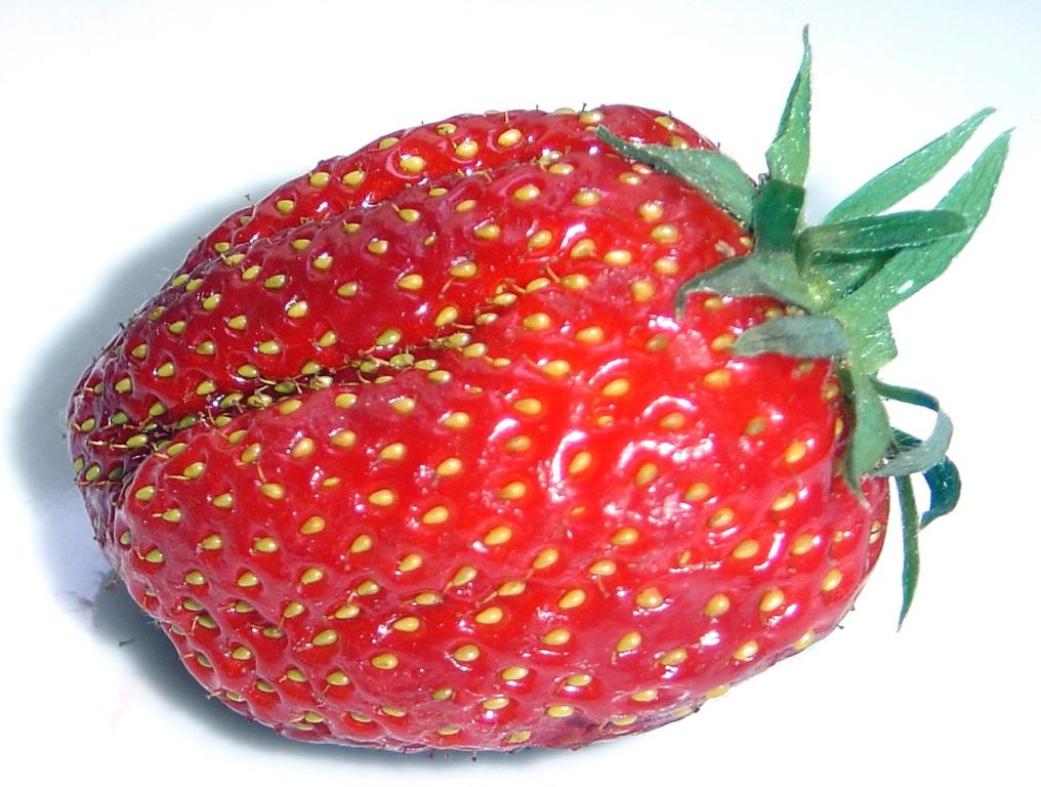 Fragaria × ananassa 'Gariguette,' a cultivar grown in southern France - photo Copyright © 2005 David Monniaux
One serving (100 g) of strawberries is an excellent source of vitamin C, a good source of manganese, and provides several other vitamins and dietary minerals in lesser amounts.
Eaten fresh or turned into a Winter dessert, these glorious crimson treats will keep the sniffles at bay.
Harris farms founder, berry guru and strawberry lover, David Harris states Winter strawberries are perfect, and winter is a great time to eat them
"Growing conditions are absolutely perfect in Queensland during winter. Warm days with temps around 27, 28 and really cold nights are perfect. People often think of strawberries as a summer fruit, but these varieties are my favourite and they thrive in winter. They're picked early in the morning and get to our stores when they're really fresh so that means they'll keep better for longer."
Here's his tips on how to select and store your strawberries:
"Look at the calyx (the green stalks on the end) and if it's nice and green, that's a great indication of freshness. If these look dry / not too green / getting brownish in colour, the strawberry won't last long and isn't fresh."
"Don't assume bigger is better. Generally speaking, sizes vary depending on the time of the season - and are not an indication of quality. Quite often early on there is very big fruit which can be beautiful and later on at the end of the season can be quite small fruit which can be equally as good."
"Look for a nice deep red colour in the fruit, those ones are going to have the better flavour."
"Store your strawberries in the fridge - they should go in there as soon as you get them home. Eat them within 3 days max."
"Don't eat them straight from the fridge though, for the best flavour, they've got to be at room temperature. If I'm having them for breakfast for example, I'll take them out of the fridge AND out of the punnet a half hour before eating."
"Like all fruit, it's so important to enjoy them when they're at their best. These will be good from the end of June, right through July and the first half of August"
Strawberry Sponge finger slice
1 punnet (250g) fresh strawberries, hulled, thickly sliced
2 tablespoons caster sugar
185ml (3/4 cup) strawberry flavoured topping
1 250g container mascarpone
1 egg
80ml (1/3 cup) hot water
12 savoiardi sponge finger biscuits
Combine strawberries, 1 tablespoon each of the sugar and strawberry topping. Toss to combine. Set aside until required. Use an electric beater to beat mascarpone, egg and remaining sugar in bowl until firm peaks form.
Place water and 125ml (1/2 cup) of strawberry topping in saucepan over medium heat. Simmer, stirring, for 1-2 minutes or until heated through.
Line a 12 x 22cm loaf pan with plastic wrap, allowing plastic to overhang sides. Arrange 6 sponge fingers, in a single layer, over base of pan. Drizzle half the warm strawberry syrup evenly over biscuits and top with half the strawberry slices, pressing down firmly with back of a spoon. Use a spatula to spread half the mascarpone mixture over strawberries. Repeat with another layer of biscuits, warm strawberry syrup and mascarpone. Use the back of a spoon to press down firmly and smooth surface. Cover with plastic wrap and place in fridge for at least 10 minutes to chill.
Use plastic wrap to carefully lift slice out of pan onto a plate. Cut into slices and serve immediately drizzled with remaining syrup.
Strawberry and Basil tart
Adopted from recipe idea by Tom Kerridge
For the pastry (if pastry making isn't your keenest skill, purchase ready made shortcrust)
125g butter
200g plain flour, plus extra for dusting
60g caster sugar
1 egg yolk
400ml whole milk
70g caster sugar
½ a vanilla pod, seeds scraped
4 eggs
20g plain flour
20g cornflour
50ml double cream
400g strawberries
5 tbsp strawberry jam
small handful small basil leaves
Make the pastry by putting the butter and flour in a food processor and pulsing to a crumbly mixture. Tip in the sugar and egg yolk, and pulse to a dough. Wrap in cling film and chill in the fridge for at least 1 hr. Roll out the dough on a floured surface to the thickness of a £1 coin, then drape over a 12 x 35cm rectangular tart tin, press into the sides, and chill for 30 mins.
Heat oven to 180C. Line the pastry case with parchment and baking beans. Bake for 25 mins until the pastry is a light biscuit colour. Remove the beans and parchment; if needed, bake a little longer just to crisp up the base.
Bring the milk, sugar and vanilla to the boil. Whisk the eggs and flours together, then pour over the milk, whisking as you pour. Return the mix to the pan and cook until it becomes a thick custard. Pass it through a fine sieve and leave to cool.
Once cooled, whisk the cream until it holds its shape. Fold the cream and custard together.
When the tart case is cool, spread the custard over the base. Slice the strawberries and arrange them over the top. Bring the jam to the boil with a few tbsp water, simmer to a smooth glaze, then brush over the strawberries. Scatter over the basil leaves and serve.
Pastry for double-crust pie
Combine 2-1/2 cups all-purpose flour and 1/2 tsp. salt; cut in 1 cup cold butter until crumbly. Gradually add 1/3 to 2/3 cup ice water, tossing with a fork until dough holds together when pressed. Divide dough in half. Shape each into a disk; wrap in plastic wrap. Refrigerate 1 hour or overnight.
1/2 cup plus 1 tablespoon sugar, divided
1/4 cup all-purpose flour
1/2 teaspoon ground cinnamon
4 cups fresh strawberries, sliced
Pastry for double-crust pie (9 inches)
2 tablespoons of a light milk
Preheat oven to 180°. In a large bowl, mix 1/2 cup sugar, flour and cinnamon; add strawberries and toss to coat.
On a lightly floured surface, roll one half of pastry dough to a 1/8-in.-thick circle; transfer to a 9-in. pie plate. Trim pastry even with rim. Add filling.
Roll remaining dough to a 1/8-in.-thick circle. Place over filling. Trim, seal and flute edge. Cut slits in top. Brush with milk; sprinkle with remaining sugar.
Bake 35-40 minutes or until crust is golden brown and filling is bubbly. Cover edge loosely with foil during the last 20 minutes if needed to prevent overbrowning.
Cool on a wire rack 1 hour before serving.
The first garden strawberry was grown in Brittany, France during the late 18th century. Prior to this, wild strawberries and cultivated selections from wild strawberry species were the common source of the fruit.
The strawberry fruit was mentioned in ancient Roman literature in reference to its medicinal use. The French began taking the strawberry from the forest to their gardens for harvest in the 14th century. Charles V, France's king from 1364 to 1380, had 1,200 strawberry plants in his royal garden. In the early 15th century western European monks were using the wild strawberry in their illuminated manuscripts. The strawberry is found in Italian, Flemish, and German art, and in English miniatures. The entire strawberry plant was used to treat depressive illnesses.
By the 16th century, references of cultivation of the strawberry became more common. People began using it for its supposed medicinal properties and botanists began naming the different species. In England the demand for regular strawberry farming had increased by the mid-16th century.
The combination of strawberries and cream was created by Thomas Wolsey in the court of King Henry VIII. Instructions for growing and harvesting strawberries showed up in writing in 1578. By the end of the 16th century three European species had been cited: F. vesca, F. moschata, and F. viridis. The garden strawberry was transplanted from the forests and then the plants would be propagated by cutting off the runners.
Two subspecies of F. vesca were identified: F. sylvestris alba and F. sylvestris semperflorens. The introduction of F. virginiana from Eastern North America to Europe in the 17th century is an important part of history because this species gave rise to the modern strawberry. The new species gradually spread through the continent and did not become completely appreciated until the end of the 18th century. When a French excursion journeyed to Chile in 1712, it introduced the strawberry plant with female flowers that resulted in the common strawberry that we have today.
The strawberry is not, from a botanical point of view, a berry. Technically, it is an aggregate accessory fruit, meaning that the fleshy part is derived not from the plant's ovaries but from the receptacle that holds the ovaries. Each apparent "seed" (achene) on the outside of the fruit is actually one of the ovaries of the flower, with a seed inside it.
In text: Allen's descriptive catalogue of choice strawberry plants : grown and for sale by W. F. Allen, Jr. 1896
Natural Plant Compound May Reduce Mental Effects Of Aging
Salk scientists have found further evidence that a natural compound in strawberries
reduces cognitive deficits and inflammation associated with aging in mice. The work, which appeared in the
Journals of Gerontology Series A
in June 2017, builds on the team's previous research into the antioxidant fisetin, finding it could help treat age-related mental decline and conditions like Alzheimer's or stroke.
"Companies have put fisetin into various health products but there hasn't been enough serious testing of the compound," says Pamela Maher, a senior staff scientist in Salk's Cellular Neurobiology Laboratory and senior author of the paper. "Based on our ongoing work, we think fisetin might be helpful as a preventative for many age-associated neurodegenerative diseases, not just Alzheimer's, and we'd like to encourage more rigorous study of it."
Maher, who works in the lab of David Schubert, the head of Salk's Cellular Neurobiology Lab, has been studying fisetin for over a decade. Previous research by the lab found that fisetin reduced memory loss related to Alzheimer's in mice genetically modified to develop the disease. But that study focused on genetic (familial) AD, which accounts for only 1 to 3 percent of cases. By far the bigger risk factor for developing what is termed sporadic AD, as well as other neurodegenerative disorders, is simply age. For the current inquiry, Maher turned to a strain of laboratory mice that age prematurely to better study sporadic AD. By 10 months of age, these mice typically show signs of physical and cognitive decline not seen in normal mice until two years of age.
The Salk team fed the 3-month-old prematurely aging mice a daily dose of fisetin with their food for 7 months. Another group of the prematurely aging mice was fed the same food without fisetin. During the study period, mice took various activity and memory tests. The team also examined levels of specific proteins in the mice related to brain function, responses to stress and inflammation.
"At 10 months, the differences between these two groups were striking," says Maher. Mice not treated with fisetin had difficulties with all the cognitive tests as well as elevated markers of stress and inflammation. Brain cells called astrocytes and microglia, which are normally anti-inflammatory, were now driving rampant inflammation. Mice treated with fisetin, on the other hand, were not noticeably different in behavior, cognitive ability or inflammatory markers at 10 months than a group of untreated 3-month-old mice with the same condition. Additionally, the team found no evidence of acute toxicity in the fisetin-treated mice, even at high doses of the compound.
"Mice are not people, of course," says Maher, "But there are enough similarities that we think fisetin warrants a closer look, not only for potentially treating sporadic AD but also for reducing some of the cognitive effects associated with aging, generally."
Next, Maher hopes to partner with another group or company in order to conduct clinical trials of fisetin with human subjects.
Antonio Currais, Catherine Farrokhi, Richard Dargusch, Aaron Armando, Oswald Quehenberger, David Schubert, Pamela Maher.
Fisetin Reduces the Impact of Aging on Behavior and Physiology in the Rapidly Aging SAMP8 Mouse.
The Journals of Gerontology: Series A, 2017; DOI:
10.1093/gerona/glx104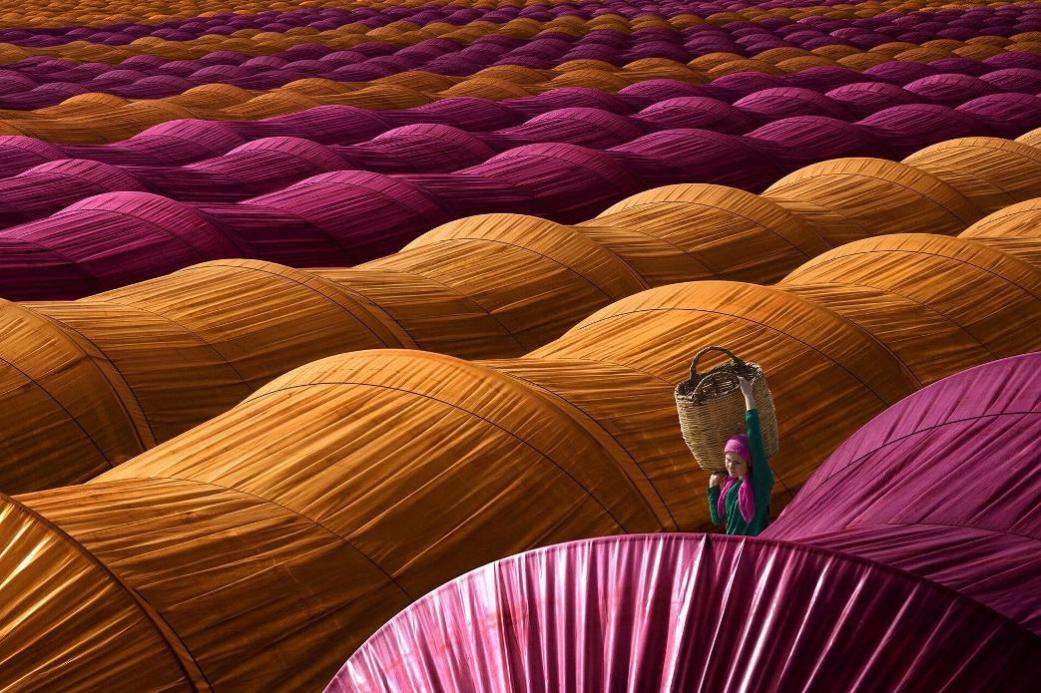 Leyla Emektar,
Strawberry Greenhouses
, Turkey (1st Place In Travel Category)
Siena International Photo Awards, 2016
- A strawberry-picker walks between colourful greenhouses near Nazilli, in the Aydın province of Turkey. This is where their winter strawberries come from!
Recipe Ideas - Seasonal Fruits and Vegetables
Apricot - January Summer Fruits
Artichoke – The Flower Vegetable that Crops in Spring
Australian and Native Cherries (Summer Fruits) - the Duntroon Connection - Marrianne Collinson Campbell
Autumn Feast of Fresh Fruits and Vegetables for a Healthy Body
Cherry - Australian summer Fruit

Chick Pea Burgers with Homemade Hummus

Easter Feast - modern and historic
Edible Weeds Eggs: Five Ways - Savoury
Full Fruit Bowl for Seasonal Health
Green Beans - Spring Vegetables
Healthful Cordials And Cleansing Tonics Hogmanay (New Year) Dinner - Australian Style
Make Your Own Treats For Christmas Gifts - Jaffa Rum Balls, White Christmas, Gingerbread People, Spicy Nut Mix, Strawberries Dipped in Christmas, Scottish Shortbread, Spanish Polverones, Melomakarona (Greek Christmas Honey Cookies), Kourabiedes (Greek Butter Biscuits), Italian Lemon Shortbread Squares (Shortbread con crema al limone)
Mandarins Spring Fruits Mandarins Winter Fruits
Mum'€™s Vegetable Soup with Macaroni
Nectarines - Summer crop Nicoise Salad: An Autumn Salad
Packham's Triumph Pears - The Australian Pear
Parsnip - Winter Vegetables Pear - Autumn Fruits
Potato Gnocchi Pumpkin Pumpkin Season 2015
Sage - the 'saving' herb Remembrance Day 2012 Food
Self-Saucing Winter Puddings Silverbeet - Winter Vegetable
Spring Salad Season Spring Strawberries Spring Salads
Summer Lilli Pillis Summer Passionfruit Summer Peaches, Quandongs (Wild Peach) - Marian Rowan Ellis
Summer Raspberries Native Ones - Adam Forster
Ten Minute Spring Salads; Spring Fare
Winter Crops Winter Vegetable Pies Zucchini

To list your business, have a Pittwater Online News Food page run, or place a logo on the Pittwater Online News Food page, please contact us with details of your requirements. Logos may be embedded to redirect to your own website.
Full pages include an overview of menus as well as beautiful images to make the food sampled look its best. Pages are archived into Permanent pages past their week of Issue.
Permanent pages in Pittwater Online News average 800 thousand visits per annum past their week of Issue ensuring diners will continue to view your eatery as a potential venue for breakfast, lunch or dinner or as the place to hold their larger functions.
For Rates and Packages Contact us at: pittwateronlinenews@live.com.au