April 5 - 18, 2015: Issue 209
Pear

Pear crops have been coming into local produce stores during the last few weeks and this year's fruit is sweeter than it has been for a few seasons. With many health benefits related to these wonderful Autumn fruits, as well as ensuring you get your daily fiber intake for good digestive health, and with prices that reflect a bumper crop this year and freshness straight from the farm, a big bowl of pears for the youngsters to help themselves to this holidays may be a good idea.
If you find you can purchase a whole boxful relatively cheaply, you can stew and freeze them or try out the Pear Chutney recipe – a great addition to any cheese plate or on the side of vegetables or freshly caught fish.
Warm Pear, Walnut and Fresh Ricotta Salad
Serves 4 as a side dish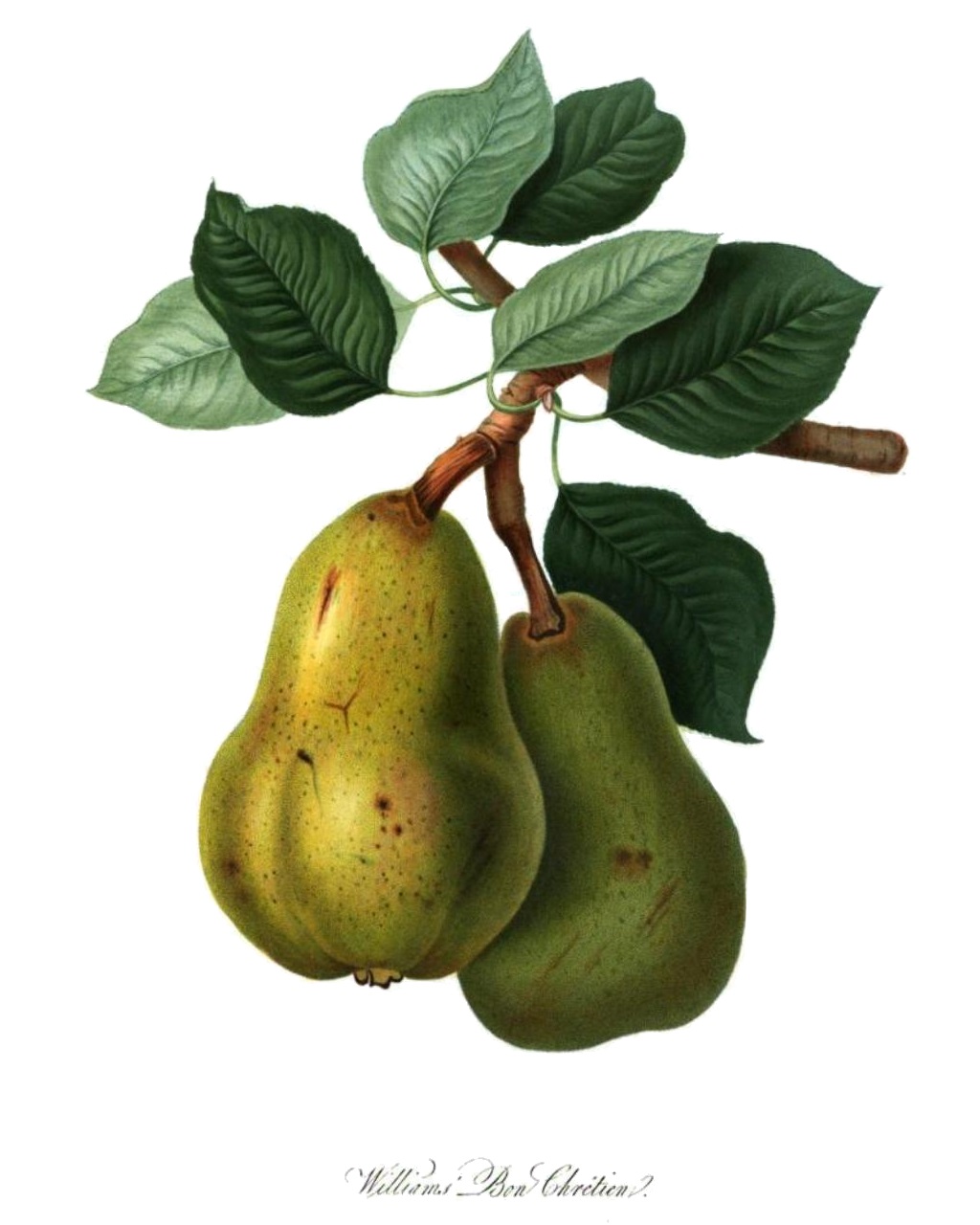 80g walnut halves
2 ripe pears
1 witlof, leaves separated
2 handfuls rocket
2 handfuls mixed salad leaves
200 grams fresh Ricotta
2 tablespoon extra virgin olive oil
2 tablespoons red wine or balsamic vinegar
sea salt
freshly ground pepper
Spread the walnut halves on an oven tray and toast them for 5 minutes in a moderate oven until crisp.
Halve the pears lengthwise, remove the cores. Then cut each half into three even pieces. Place the pear pieces, in a single layer, in a baking dish. Drizzle over the vinegar and oil. Sprinkle with the sugar. Roast, turning occasionally, for 45 minutes or until the pear is soft and golden. Mix the oil, vinegar, salt and pepper in a salad bowl. Add the witlof, rocket and mixed salad leaves and toss well.
Divide the salad between four plates. Add half a pear's worth of slices to each plate and sprinkle with crumbled Ricotta and toasted walnuts.
Pear Chutney
12 – 18 large pears ( about 1.5 kg)
3 large onions, coarsely chopped
2 cups apple cider vinegar
1 1/4 cups packed brown sugar
1 onion
1 cup golden raisins
2 teaspoons ground cinnamon
1 teaspoon ground cloves
1 teaspoon cayenne pepper
250 grams dry mustard
1 tablespoon salt
10 x (600 ml) glass jars with matching lids – if you have these as bought, the seal will keep your chutney fresh as long as you seal it soon after making
Peel the pears with a vegetable peeler or a paring knife. Remove and discard the core and stems. Dice the pears into 3/8- to 1/2-inch pieces.
Place the vinegar and brown sugar in a large stock pot. Bring the mixture to a boil over medium-high heat. Stir to dissolve the sugar. Finely chop the onion and add this the pears, raisins, cinnamon, cloves, and cayenne pepper to your sugar mix. Stir to combine.
Return the mixture to a boil.
Reduce the heat, simmering the mixture until it thickens and the liquid reduces by 1/3 to ½. This will take about 2 to 2 ½ hours.
Prepare your jars by heating in low heat oven. Keep the jars hot.
Ladle the hot chutney into the prepared jars, leaving 1/2 inch from top.
Release any air bubbles by running flat knife around jar of needed.
Wipe the jar rims. Seal the jars with cellophane wrapper, rubber band and leave matching lid until mix has cooled. Place them on a clean kitchen towel or paper towels away from drafts. After the jars cool completely, place lid on firmly.
Store in a cool dark cupboard or refrigerate them.
Most jams and chunteys should be potted as soon as setting point is reached. The exception are marmalades which can be left to cool slightly as this will stop the peel from floating to the top. Pour or ladle your preserve into warm jars – this prevents the preserve from cooling before you've had chance to seal it. Always fully-fill jars and seal straight away. With chutneys and other 'chunky' preserves tap the side of the jar to remove any air pockets.
Find cellophane seals at:
fowlersvacola.com.au/shop/preserving-aids/kleerview-covers
One of our Favourites – Pear Upside Down Cake
Great with a small pile of fresh whipped cream or Ice cream
180g brown sugar
270g unsalted butter, softened
4 ripe pears, peeled, cored, cut into 2cm-thick slices
300g caster sugar
3 eggs
1 2/3 cups (250g) self raising flour
1 teaspoon ground cinnamon
1/2 teaspoon ground nutmeg
80g almond meal
1 cup (250ml) buttermilk
Heat your oven to 180 °C. Butter the bottom and sides of a 26cm cake pan with baking paper. Sprinkle brown sugar over base. Melt 100g butter and pour over brown sugar. Top with overlapping pear slices. Place remaining butter and caster sugar in bowl of electric mixer, beat for 5 minutes until light and fluffy.
Add eggs one at a time, beating well after each addition. Sift together flour, baking powder and spices, fold into egg mixture with almond meal. Stir in buttermilk, then mix to form a smooth batter. Carefully spread over pears.
Place pan on a baking tray, cook for 1 hour and 20 minutes.
Cover loosely with foil if cake begins to brown too quickly. Remove and cool for 30 minutes. Run a knife around sides of pan and carefully invert onto a plate.
Serve with whipped cream or ice cream while warm.
The pear is any of several tree and shrub species of genus Pyrus in the family Rosaceae. It is also the name of the pomaceous fruit of these trees. Several species of pear are valued for their edible fruit, while others are cultivated as ornamental trees.
The English word "pear" is probably from Common West Germanic pera, probably a loanword of Vulgar Latin pira, the plural of pirum, akin to Greek ἄπιος apios (from Mycenaean ápisos),[2] which is of Semitic origin (Aramaic/Syriac "pirâ", meaning "fruit", from the verb "pra", meaning "to beget, multiply, bear fruit"). The place name Perry can indicate the historical presence of pear trees. The term "pyriform" is sometimes used to describe something which is pear-shaped.
The pear is native to coastal and mildly temperate regions of the Old World, from western Europe and north Africa east right across Asia. It is a medium-sized tree, reaching 10–17 metres (33–56 ft) tall, often with a tall, narrow crown; a few species are shrubby.
The cultivation of the pear in cool temperate climates extends to the remotest antiquity, and there is evidence of its use as a food since prehistoric times. Many traces of it have been found in the Swiss lake-dwellings. The word "pear", or its equivalent, occurs in all the Celtic languages, while in Slavic and other dialects, differing appellations, still referring to the same thing, are found—a diversity and multiplicity of nomenclature which led Alphonse de Candolle to infer a very ancient cultivation of the tree from the shores of the Caspian to those of the Atlantic.
The pear was also cultivated by the Romans, who ate the fruits raw or cooked. Pliny's Natural History recommended stewing them with honey and noted three dozen varieties. The Roman cookbook attributed to Apicius, De re coquinaria, has a recipe for a spiced, stewed-pear patina, or soufflé. A certain race of pears, with white down on the under surface of their leaves, is supposed to have originated from P. nivalis, and their fruit is chiefly used in France in the manufacture of perry (see also cider). Other small-fruited pears, distinguished by their early ripening and apple-like fruit, may be referred to as P. cordata, a species found wild in western France and southwestern England. Pears have been cultivated in China for approximately 3000 years.
The genus is thought to have originated in present-day western China in the foothills of the Tian Shan, a mountain range of Central Asia, and to have spread to the north and south along mountain chains, evolving into a diverse group of over 20 widely recognized primary specie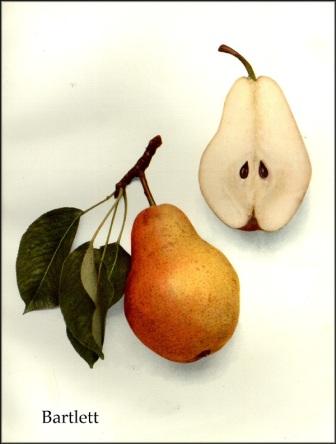 The Williams' bon chrétien pear, commonly called the Williams pear or the Bartlett pear in the United States and Canada, is the most commonly grown variety of pear in most countries outside Asia. The origins of this variety are uncertain. "Bon Chrétien" (Good Christian) is named after Francis of Paola, a holy man whom King Louis XI of France had called to his deathbed as a healer in 1483. Francis offered the king a pear seed from his native Calabria with instructions to plant and care. Hence the pear tree was called "Good Christian". The Williams pear is thought to date from 1765 to 1770 from the yard of an Aldermaston, England, schoolmaster named Mr. Stair or Mr. Wheeler, giving rise to the now-obscure synonyms Aldermaston pear and Stairs pear. A nurseryman named Williams later acquired the variety, and after introducing it to the rest of England, the pear became known as the Williams Pear. However, the pear's full name is Williams' Bon Chretien, or "Williams' good Christian."
Health Benefits
Pears are a good source of antioxidants and anti-inflammatory nutrients (for example, vitamin E or omega-3 fatty acids), and if the skin is eaten, the phytonutrient category is where this fruit excels. In the last Baltimore Longitudinal Study of Aging (1,638 participants, average age range 62-69 years), the combination of apples/pears ranked as the second highest source of flavonols among all fruits and vegetables - partly due to the epicatechin richness of pears. Average flavonol intake in the study was about 14 milligrams per day, and one pear can provide about half of this amount all by itself.
Pears are also a good way to get your daily intake of fibre, reducing the risk of developing Diabetes Type 2. The ability of pear fibres (and other fruit fibers) to bind bile acids has actually been compared to the cholesterol-lowering drug cholestyramine, with pears showing about 5% of the ability of the drug to accomplish this result.
Excessive amounts of secondary bile acids in the intestine can increase our risk of colorectal cancer (as well as other intestinal problems). By binding together with secondary bile acids, pear fibers can help decrease their concentration in the intestine and lower our risk of cancer development. In the case of stomach cancer, intake of pears has been shown to lower cancer risk. Here the key focus has not been on pear fiber, however, but on pear phytonutrients, especially cinnamic acids (including coumaric acid, ferulic acid, and 5-caffeoylquinic acid). A recent study from Mexico City sowed it took approximately 2 total fruit servings per day and 4 daily vegetable servings to accomplish a decrease in gastric cancer risk. Pears and mangos were among the key foods determined to provide cinnamic acids in this study.
References
Aguedo M, Kohne S, Rabetafika N et al. Composition of by-products from cooked fruit processing and potential use in food products. Journal of Food Composition and Analysis, Volume 27, Issue 1, August 2012, Pages 61-69.
Freedman ND, Park Y, Subar AF et al. Fruit and vegetable intake and esophageal cancer in a large prospective cohort study. Int J Cancer. 2007 Dec 15;121(12):2753-60.
Hernandez-Ramirez RU, Galvan-Portillo MV, Ward MH et al. Dietary intake of polyphenols, nitrate and nitrite and gastric cancer risk in Mexico City. Int J Cancer. 2009 Sep 15;125(6):1424-30.
Pear. (2015, April 1). In Wikipedia, The Free Encyclopedia. Retrieved from
http://en.wikipedia.org/w/index.php?title=Pear&oldid=654505605
Williams pear. (2015, January 3). In Wikipedia, The Free Encyclopedia. Retrieved from
http://en.wikipedia.org/w/index.php?title=Williams_pear&oldid=640823807
Illustrations:
The Williams pear. An 1822 print from the Horticultural Society of London
Bartlett pear, from The Pears of New York (1921) by Ulysses Prentiss Hedrick
Copyright Pittwater Online News, 2015. All Rights Reserved.