May 20 - 26, 2018: Issue 360

Honey, Honey:
Inaugural World Bee Day
Honey Cake Recipes Around the World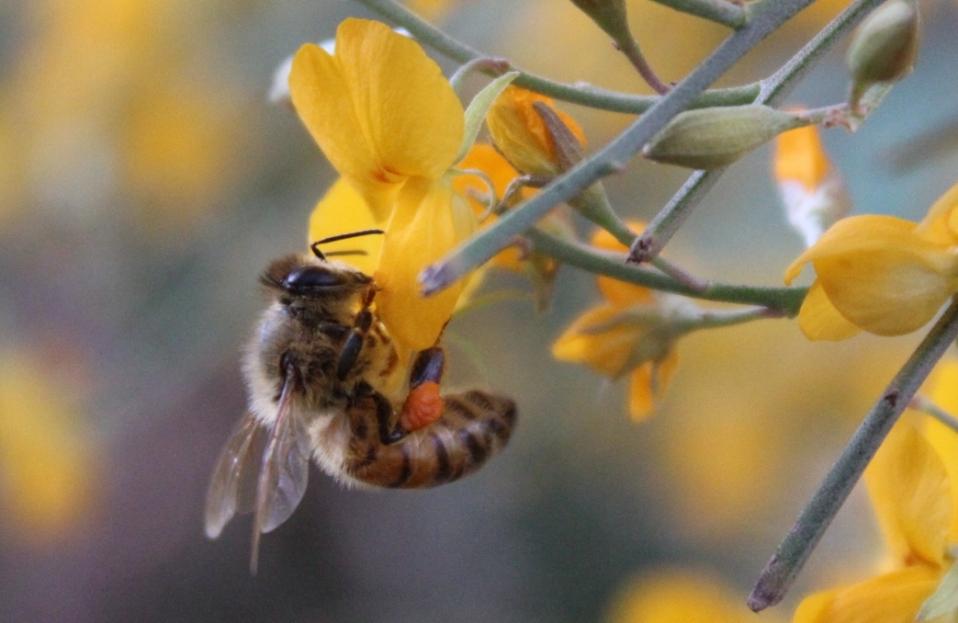 World Bee Day was declared by the UN General Assembly in December last year to raise awareness of the importance of bees and apicultural products; which is pretty much everything we eat. We believe it will play an important role in protecting bees and the beekeeping sector, in contributing to poverty alleviation and hunger eradication as well as preserving a healthy environment and its biodiversity. The First World Bee Day will be celebrated around the world on May 20th, today, and in Australia with Canberra hosting some great events which are sure to spread nation wide in coming years.
Slovenia proposed the celebration of World Bee Day in the month of May, when bees in the northern hemisphere are most active – here such activity takes place during September. Visit this Issue's
Inaugural World Bee Day 2018: Some Local Knowledge
to find out more about local bee groups, information and activities.
As this ancient product from these glorious insects was the original sweetener for many peoples, and this is Issue '360', it seems a good way to celebrate this step forward into a genuine inheritance for all who come to share a few sweet inspirations:
Lekach: Nana's honey cake
A super easy recipe for honey cake, which is traditionally eaten on the Jewish holiday of Rosh Hashanah, Jewish New Year. The honey symbolises the hope for a sweet year ahead.
4eggs, separated
1 cup sugar
1 cup honey
1 cup vegetable oil
3½ cups self-raising flour
1 cup strong black tea (made using 3 tea bags in 1 cup boiling water)
icing sugar, to serve (optional)
Preheat the oven to 180°C. Grease a 24 cm chiffon cake tin, then mould some foil onto the bottom of the tin to prevent leaking and sticking.
Beat the egg yolks and sugar using an electric mixer until pale and fluffy. Add the honey and beat well, then beat in the oil.
In a separate bowl, beat the egg whites until stiff peaks form.
Alternating the ingredients, gradually beat the flour and tea into the egg yolk mixture, the fold the egg whites into the batter.
Pour the batter into the cake tin and bake for 1 hour. Remove from the oven and leave to cool. If the cake does not come out easily, put hot water onto a tea towel and put it on the base of the cake to ease it out. Sift icing sugar over it before serving, if desired.
Recipe from Cooking From The Heart: A Journey Through Food by Hayley Smorgon and Gaye Weeden, with photographs by Mark Roper. Published by Hardie Grant.
Medovnik: Homemade honey cake recipe
* 1 (14-ounce) can sweetened condensed milk
* 3 eggs, beaten
* 2 tablespoons honey
* 1/4 cup butter
1/2 cup sour cream
2 eggs
3/4 cup sugar
1 teaspoon baking soda
1 tablespoon liquid honey
1 stick margarine or butter
2 cups flour
1 cup crushed plain sweet biscuit crumbs, for coating
1/2-1 cup ground walnuts
Preheat oven to 180°C.
Beat eggs well with sugar; add baking soda and liquid honey (warm).
Melt the margarine/butter in a casserole or pot; add the mixture (margarine should not be too hot).
Put the casserole on a low heat, add the flour while mixing and mix until the mass is without lumps (the mixture will be very thick and very hard to stir). Remove from heat and cool.
Dip the dough in flour, divide, roll each layer very thin (1-2mm), cut circles as round as possible (approx 18cm diameter), and bake at 180°C for 2-4 minutes or until golden brown in colour; repeat with remaining dough and allow to cool before assembling in layers.
cream filling:
In a large saucepan over medium heat, combine sweetened condensed milk, eggs, honey, and butter. Stirring constantly, bring to a boil; boil until it thickens. Remove from heat and cool prior to spreading between layers of cake. This cake is best left a day prior to eating and keep in fridge for flavour to come through. Bring to room temperature prior to serving.
Melomakarona (walnut syrup biscuits)
1 cup vegetable oil
1/2 cup white sugar
2 oranges, juiced
1/2 lemon, juiced
1 egg yolk
1 tablespoon ouzo liqueur
3 cups self-raising flour
3/4 teaspoon ground cinnamon
1 1/3 cups walnuts, finely chopped
SYRUP
1 cup white sugar
1/2 cup honey
1/2 cup boiling water
1 cinnamon stick
4 cloves
1/2 lemon, juiced
Preheat oven to 180°C. Line 2 flat baking trays with baking paper.
Using an electric mixer, beat oil, sugar, 1/2 cup orange juice and 2 tablespoons lemon juice on high speed for 10 minutes or until thick and creamy (see tip). Add egg yolk and ouzo. Beat for 5 minutes. Sift flour and 1/4 teaspoon cinnamon over oil mixture. Fold gently to combine (mixture should be a light, doughy texture).
Using hands, roll tablespoons mixture into oval shapes. Place on prepared trays. Bake for 25 minutes or until firm to touch. Allow to cool on trays.
Make syrup Combine ingredients in a saucepan over medium-high heat. Cook, stirring, for 5 minutes or until sugar has dissolved. Bring to the boil. Reduce heat to medium-low. Simmer for 4 minutes or until syrup thickens slightly.
Using a slotted spoon, dip cooled biscuits, 1 at a time, into hot syrup for about 30 seconds, turning over often until well coated. Return to trays. Combine walnuts and remaining ground cinnamon. Sprinkle over biscuits. Allow to cool. Serve.
Ingredients For one loaf of bread
1 1⁄4 cups all-purpose flour
1⁄2 cup granulated sugar
1⁄2 cup sour cream
1⁄2 cup honey
1 egg
1 tablespoon canola oil
1⁄2 teaspoon baking soda
1⁄8 teaspoon ground nutmeg
1⁄8 teaspoon ground allspice (or ground cloves)
1⁄4 teaspoon ground ginger
1⁄2 teaspoon ground cinnamon
2 tablespoons sliced almonds
Preheat the oven to 180 degrees Celsius.
Coat a loaf pan with nonstick cooking spray.
In a large bowl, combine all the ingredients except the almonds and beat until well blended.
Pour the batter into the loaf pan and sprinkle with the almonds.
Bake for 45 to 55 minutes or until a wooden toothpick inserted in the center comes out clean.
Allow to cool for 10 minutes then remove from pan to wire rack to cool completely.
Banana Cinnamon and Honey Loaf
1 3/4 cups self-raising flour
2 bananas ripe mashed
1 cup hot water
2 tbs honey good quality
1 tsp vanilla extract
1 tsp bicarbonate of soda
1 tsp ground cinnamon
60 g salted butter
Preheat oven to 180 C. Add 1 cup of boiling water to butter, stir together in a large bowl until the butter has melted.
Add sifted flour and bicarb of soda.
Add Vanilla extract, ground cinnamon, honey and mashed bananas.
Pour into loaf tin and cook at 180 degrees in preheated oven for 40 minutes.
Honey:
History And Culture
Honey collection is an ancient activity. Humans apparently began hunting for honey at least 8,000 years ago, as evidenced by a cave painting in Valencia, Spain. The painting is a Mesolithic rock painting, showing two honey hunters collecting honey and honeycomb from a wild bee nest. The figures are depicted carrying baskets or gourds, and using a ladder or series of ropes to reach the wild nest.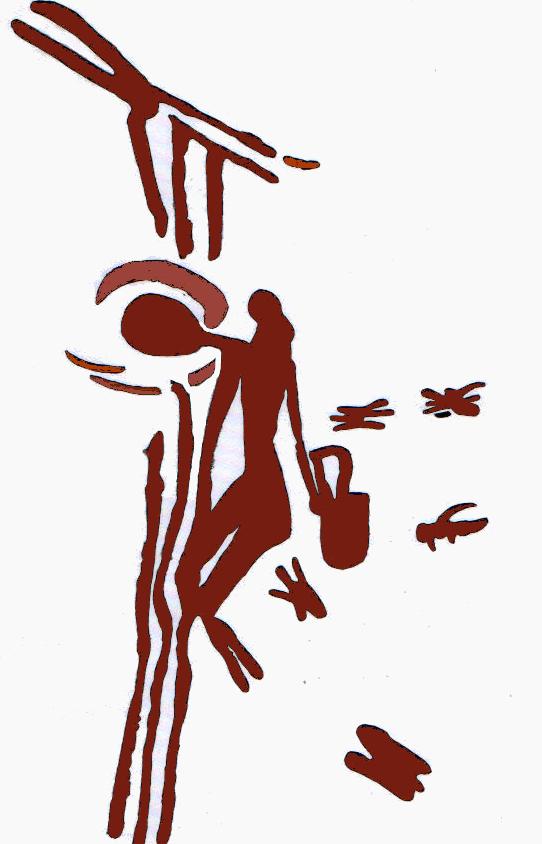 Honey seeker depicted in an 8000-year-old cave painting at Araña Caves in Spain

The greater honeyguide bird guides humans to wild bee hives and this behavior may have evolved with early hominids.
The oldest known honey remains were found in the country of Georgia. Archaeologists found honey remains on the inner surface of clay vessels unearthed in an ancient tomb, dating back some 4,700–5,500 years. In ancient Georgia, several types of honey were buried with a person for their journey into the afterlife, including linden, berry, and meadow-flower varieties.
In ancient Egypt, honey was used to sweeten cakes and biscuits, and was used in many other dishes. Ancient Egyptian and Middle Eastern peoples also used honey for embalming the dead. The fertility god of Egypt, Min, was offered honey.
In ancient Greece, honey was produced from the Archaic to the Hellenistic periods. In 594 BC, beekeeping around Athens was so widespread that Solon passed a law about it: "He who sets up hives of bees must put them 300 feet (91 metres) away from those already installed by another". Greek archaeological excavations of pottery located ancient hives. According to Columella, Greek beekeepers of the Hellenistic period did not hesitate to move their hives over rather long distances to maximise production, taking advantage of the different vegetative cycles in different regions.
In the absence of sugar, honey was an integral sweetening ingredient in Greek and Roman cuisine. During Roman times, honey was part of many recipes and it is mentioned in the work of many authors, such as Virgil, Pliny, Cicero, and others.
The spiritual and therapeutic use of honey in ancient India is documented in both the Vedas and the Ayurveda texts, which were both composed at least 4,000 years ago.
Beekeeping in ancient China has existed since ancient times and appears to be untraceable to its origin. In the book Golden Rules of Business Success written by Fan Li (or Tao Zhu Gong) during the Spring and Autumn period, some parts mention the art of beekeeping and the importance of the quality of the wooden box for beekeeping that can affect the quality of its honey.
Honey was also cultivated in ancient Mesoamerica. The Maya used honey from the stingless bee for culinary purposes, and continue to do so today. The Maya also regard the bee as sacred (see Mayan stingless bees of Central America).
Some cultures believed honey had many practical health uses. It was used as an ointment for rashes and burns, and to help soothe sore throats when no other practices were available.
Folk medicine and wound research
In myths and folk medicine, honey has been used both orally and topically to treat various ailments including gastric disturbances, ulcers, skin wounds, and skin burns by ancient Greeks and Egyptians, and in Ayurveda and traditional Chinese medicine.
Proposed for treating wounds and burns, honey may have antimicrobial properties as first reported in 1892 and be useful as a safe, improvisational wound treatment. Though its supposed antimicrobial properties may be due to high osmolarity even when diluted with water, it is more effective than plain sugar water of a similar viscosity. Definitive clinical conclusions about the efficacy and safety of treating wounds, however, are not possible from this limited research.
The flora that bees use to make the honey may have a role in its properties, particularly by bees foraging from the manuka myrtle,Leptospermum scoparium, as proposed in one study.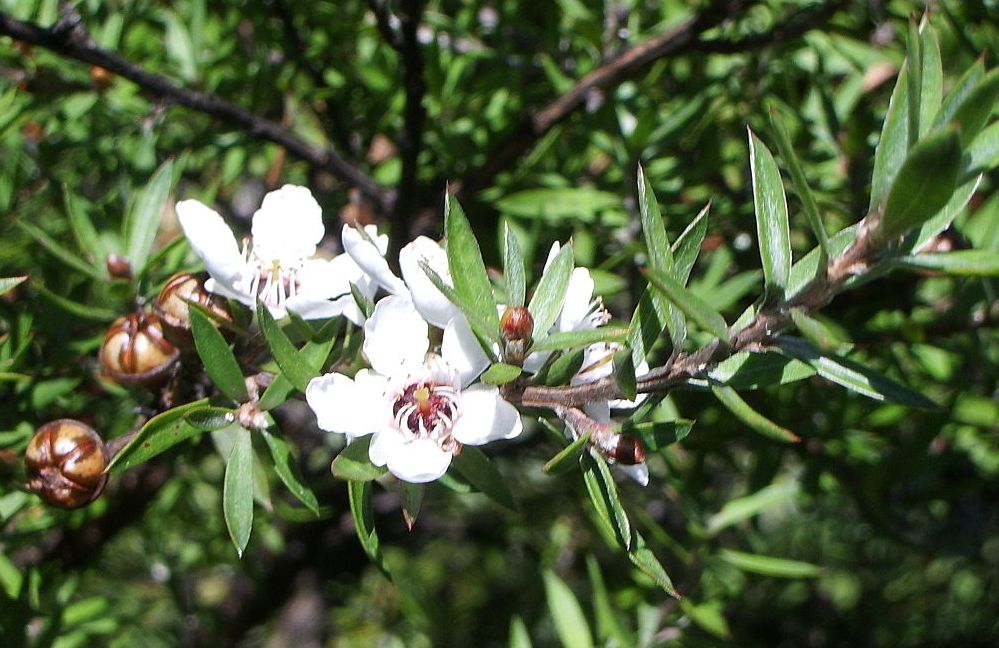 Ancient Greeks Religion
In ancient Greek religion, the food of Zeus and the 12 Gods of Olympus was honey in the form of nectar and ambrosia.
Hinduism
In Hinduism, honey (Madhu) is one of the five elixirs of immortality (Panchamrita). In temples, honey is poured over the deities in a ritual called Madhu abhisheka. The Vedas and other ancient literature mention the use of honey as a great medicinal and health food.
Judaism
In Jewish tradition, honey is a symbol for the new year, Rosh Hashanah. At the traditional meal for that holiday, apple slices are dipped in honey and eaten to bring a sweet new year. Some Rosh Hashanah greetings show honey and an apple, symbolizing the feast. In some congregations, small straws of honey are given out to usher in the new year.
The Hebrew Bible contains many references to honey. In the Book of Judges, Samson found a swarm of bees and honey in the carcass of a lion (14:8). In Old Testament law, offerings were made in the temple to God. The Book of Leviticus says that "Every grain offering you bring to the Lord must be made without yeast, for you are not to burn any yeast or honey in a food offering presented to the Lord" (2:11). In the Books of Samuel, Jonathan is forced into a confrontation with his father King Saul after eating honey in violation of a rash oath Saul has made. Proverbs 16:24 in the JPS Tanakh 1917 version says "Pleasant words are as a honeycomb, Sweet to the soul, and health to the bones." Book of Exodus famously describes the Promised Land as a "land flowing with milk and honey" (33:3). However, most Biblical commentators write that the original Hebrew in the Bible (דבש devash) refers to the sweet syrup produced from the juice of dates (silan). In 2005 an apiary dating from the 10th century B.C. was found in Tel Rehov, Israel that contained 100 hives and is estimated to produce half a ton of honey annually. Pure honey is considered kosher, though it is produced by a flying insect, a non-kosher creature; other products of non-kosher animals are not kosher.
Buddhism
In Buddhism, honey plays an important role in the festival of Madhu Purnima, celebrated in India and Bangladesh. The day commemorates Buddha's making peace among his disciples by retreating into the wilderness. The legend has it that while he was there, a monkey brought him honey to eat. On Madhu Purnima, Buddhists remember this act by giving honey to monks. The monkey's gift is frequently depicted in Buddhist art.
Christianity
In the Christian New Testament, Matthew 3:4, John the Baptist is said to have lived for a long period of time in the wilderness on a diet consisting of locusts and wild honey.
Islam
In Islam, an entire chapter (Surah) in the Qur'an is called an-Nahl (the Bees). According to his teachings (hadith), Muhammad strongly recommended honey for healing purposes. The Qur'an promotes honey as a nutritious and healthy food. Below is the English translation of those specific verses:
And thy Lord taught the Bee to build its cells in hills, on trees, and in (men's) habitations; Then to eat of all the produce (of the earth), and find with skill the spacious paths of its Lord: there issues from within their bodies a drink of varying colours, wherein is healing for men: verily in this is a Sign for those who give thought [Al-Quran 16:68–69].
World Bee Day
Background
On December 20th, 2017, the United Nations General Assembly adopted by consensus a resolution declaring 20 May as World Bee Day. Every year on this day, the attention of the global public will be drawn to the importance of preserving bees and other pollinators. People will be reminded of the importance of bees for the entire humanity and invited to take concrete action to preserve and protect them. The resolution was co-sponsored by 115 UN Member States, including the USA, Canada, China, the Russian Federation, India, Brazil, Argentina,
Australia
and all the European Union Member States.
Dejan Židan – head of the World Bee Day project and Deputy Prime Minister of the Republic of Slovenia, the country that proposed the proclamation of World Bee Day to the UN in response to an initiative of the Slovenian Beekeepers' Association – expressed his satisfaction at the outcome:
"After three years of efforts both in terms of the official
procedures at the UN and with regard to the intensive process of informing countries around the world, we have succeeded with this initiative. Bees and other pollinators finally have the place they deserve in view of their importance for the world and for humanity. The proclamation of World Bee Day proves that the will to take action does exist. I am happy that realisation of the importance of bees for sustainable development and the future of humanity in general has reflected in the consensual support to the resolution."
Mr Židan also took the opportunity to thank all countries for their support, but ended with a warning:
"This is just the beginning of the difficult process of the protection of bees and other pollinators. In order to be successful, we must bring on board the governments of all countries, the business community and civil society. Awareness of the vital importance of saving the bees must reach every individual. And we must do more than just talk – we must undertake concrete activities to increase care for bees and promote the development of beekeeping – everywhere, including in developing countries."
Carla Mucavi, Director of the Food and Agriculture Organization of the United Nations (FAO) Liaison Office in New York, commented: "Bees play a crucial role in increasing crop yields and promoting food security and nutrition. Without them, we could lose a variety of food such as potatoes, pepper, coffee, pumpkins, carrots, apples, almonds, tomatoes, just to name a few. In short, without bees, FAO cannot achieve a world without hunger. World Bee Day recognises the importance of these tiny helpers and will increase awareness of the need to protect them."
"I believe we all agree that every human being on this planet deserves food every day. We have to produce more food every day, and every day more food is dependent on pollinators – with honey bees in the lead. To talk about reducing global hunger without ensuring conditions for the survival of bees and other pollinators, is simply throwing sand in people's eyes! It is time for everyone to listen to bees, in particular leaders and those who make decisions," said Boštjan Noč, promoter of the World Bee Day initiative and president of the Slovenian Beekeepers' Association, adding: "From today on, 20 May will be a worldwide celebration of bees and beekeepers. I believe that with the proclamation of World Bee Day, the world will begin to think more broadly about bees, in particular in the context of ensuring conditions for their survival, and thus for the survival of the human race."
More detailed information about 20th May and the importance of bees
Slovenia proposed the celebration of World Bee Day in the month of May, when bees in the northern hemisphere are most active and begin to reproduce. This is also the period in which the need for pollination is greatest. In the southern hemisphere it is autumn, a time for harvesting bee products and days and weeks of honey. The chosen day, 20 May, is also the birthday of Anton Janša (1734–1773), a pioneer of modern beekeeping and one of the greatest experts in this field in his day. He was the first teacher of modern beekeeping anywhere in the world, appointed by the Empress Maria Theresa as a permanent teacher at the new beekeeping school in Vienna.
Studies of United Nations and the International Union for Conservation of Nature show that bee populations and the populations of other pollinators have significantly decreased, making them more and more endangered. This is affected by numerous factors which are the consequence of human activity: intensive agriculture, widespread use of pesticides and pollution caused by waste. Bees are exposed to new diseases and pests. The living environment of bees is shrinking due to the ever-increasing number of the global population.
Their survival and development are also threatened by climate change.
The extinction of bees will not only deprive the world of a species, but it may have drastic consequences for entire ecosystems and human race. The data of the Food and Agriculture Organization of the United Nations show that bees and other pollinators are priceless when it comes to ensuring the global safety of the food supply chain. A third of all food produced in the world, i.e. every third spoon of food, depends on pollination. The international study of Intergovernmental Science-Policy Platform on Biodiversity and Ecosystem Services (IPBES) in 2016 estimated that between US$ 235 billion and US$ 577 billion worth of annual global food production relies on direct contributions by pollinators.
In addition, agricultural plants which require pollination are an important source of jobs and income for farmers, particularly for small and family farms in developing countries. Last but not least, bees have an important role in the preservation of the ecological balance and biodiversity in nature. Bees as good bioindicators of environmental conditions inform us that something is happening to the environment and that we must take action. Prompt protection of bees and other pollinators will significantly contribute to solving problems with global food supply and eliminating hunger. It will also contribute to efforts to halt further loss of biodiversity and degradation of ecosystems, as well as to the objectives of sustainable development defined in the 2030 Agenda for Sustainable Development.
Slovenian initiative to declare World Bee Day
In 2015 these considerations led the Republic of Slovenia, at the initiative of the Slovenian Beekeepers' Association, to begin procedures at the Food and Agriculture Organization of the United Nations (FAO) for the declaration of World Bee Day and to propose a resolution underlining the importance of bees and other pollinators. The initiative has been endorsed by the Conference of the Food and Agriculture Organization of the United Nations at its 40th Session in Rome on 7 July 2017; and the the procedure was successfully concluded today with the consensual adoption of the World Bee Day Resolution by the UN General Assembly.
Slovenia is one of the top countries in the world in terms of the number of beekeepers per
capita, with every 200th inhabitant a beekeeper. For tens of thousands of Slovenian citizens, beekeeping is a way of life with a long tradition. The bee, in particular the indigenous Carniolan honey bee, is part of Slovenian national identity. Slovenia is the only country in the European Union to have introduced legal protection for its bees. In 2011 it became one of the first countries in the EU to prohibit the use of certain pesticides harmful to bees.