October 16 - 22, 2022: Issue 558

Dione Lucas: first female graduate of Le Cordon Bleu and first woman to give a cooking demonstration on Australian Television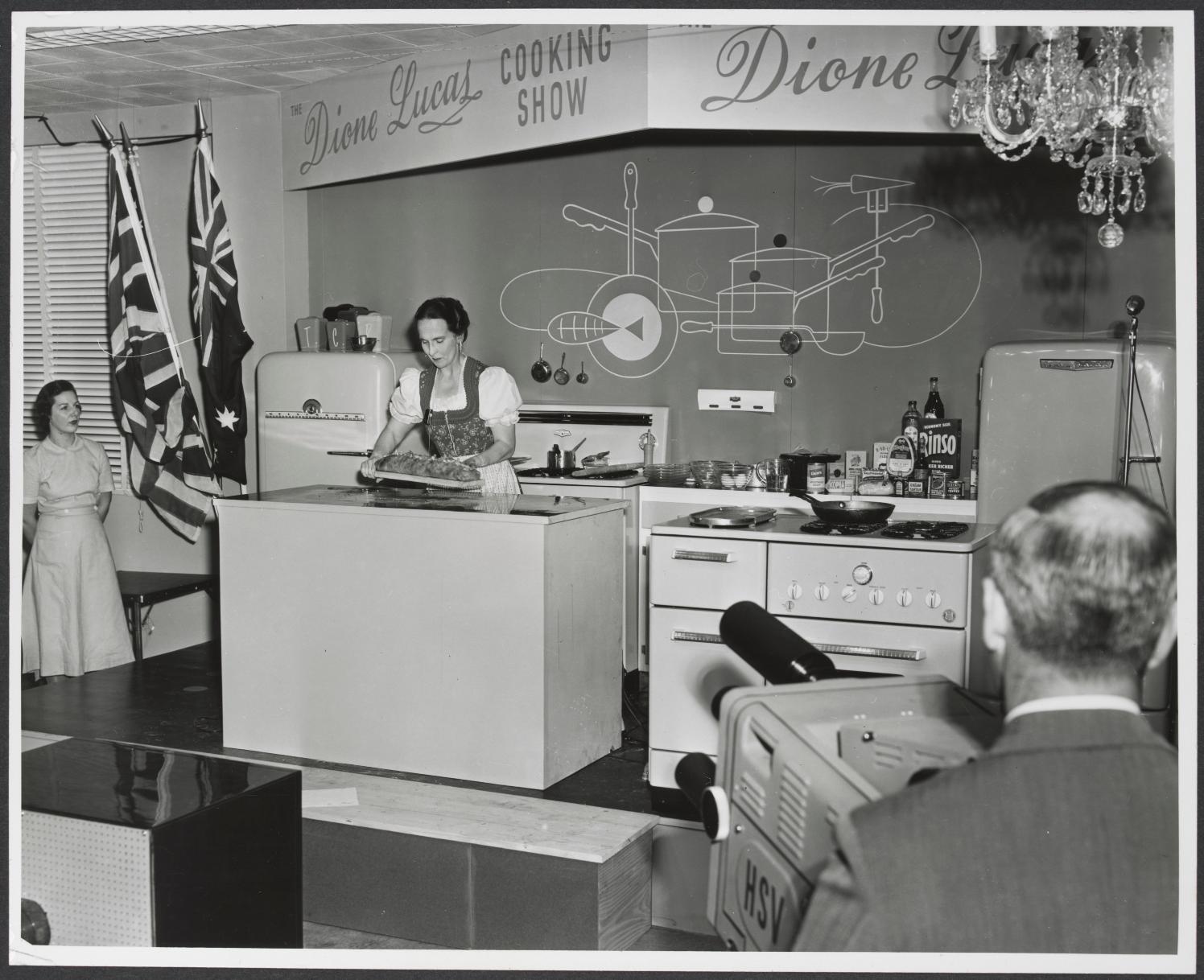 Dione Lucas during one of her television shows broadcast on the then HSV 7 - the lady to her left is the 1950's The Australian Women's Weekly 'cooking expert' Leila C. Howard. Her Australian cooking demonstrations were also broadcast on channel 9. Image: Central Queensland University Archives.
"The Preparation Of Good Food Is Merely Another Expression Of Art, One Of The Joys Of Civilized Living." -

Dione Lucas
Fans of the movie Julie & Julia may be interested in the work of Dione Lucas, who toured Australia in the 1950s and 1960's.
A 1956 supplement to The Australian Women's Weekly includes dishes still popular today, such as Caesar salad, cheese soufflé or Lemon Meringue Pie, along with endorsement style advertisements for everything cooking related from products to machines, although some you may wonder about as true Cordon Bleu ingredients – for instance – chicken stock powder or chicken noodle soup from Continental. No true chef or cook uses stock powder! You make your own stock. Tinned ham? No..... definitely not.
DIONE LUCAS COOK-BOOK
NEXT WEEK 64-PAGE LIFT-OUT
Next week's issue brings you a 64-page book for cooks by Dione Lucas, America's Blue Ribbon cook.
It contains all the recipes for dishes to be demonstrated by Mrs. Lucas during her Australian tour of four capital cities.
It is a real lift-out book and comes to you. IN ADDITION to your complete 80-page issue of The Australian Women's Weekly.
Mrs. Lucas will be at David Jones' George Street store on July 2, 3, 4, 5, and 6, where she will demonstrate the recipes for 10 complete menus. DIONE LUCAS COOK-BOOK (1956, June 27). The Australian Women's Weekly (1933 - 1982), p. 26. Retrieved from http://nla.gov.au/nla.news-article41858225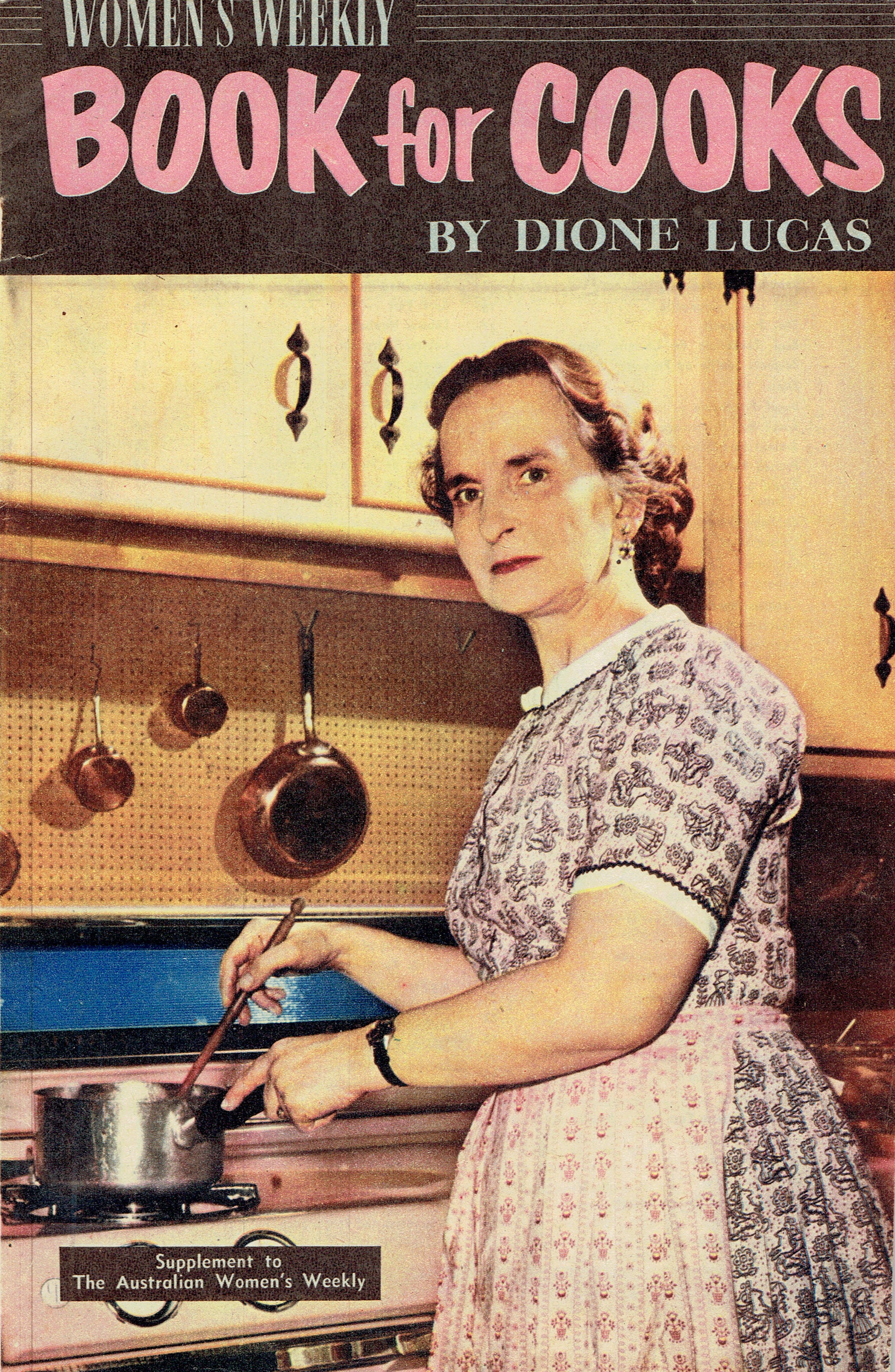 This 'style' of food and product promotion featured from the outset where Dione's career in cooking stemmed from though. French culinary magazine, La Cuisinière Cordon Bleu, founded by French journalist Marthe Distel, was filled with advertisements for products to ensure the viability of what they were doing.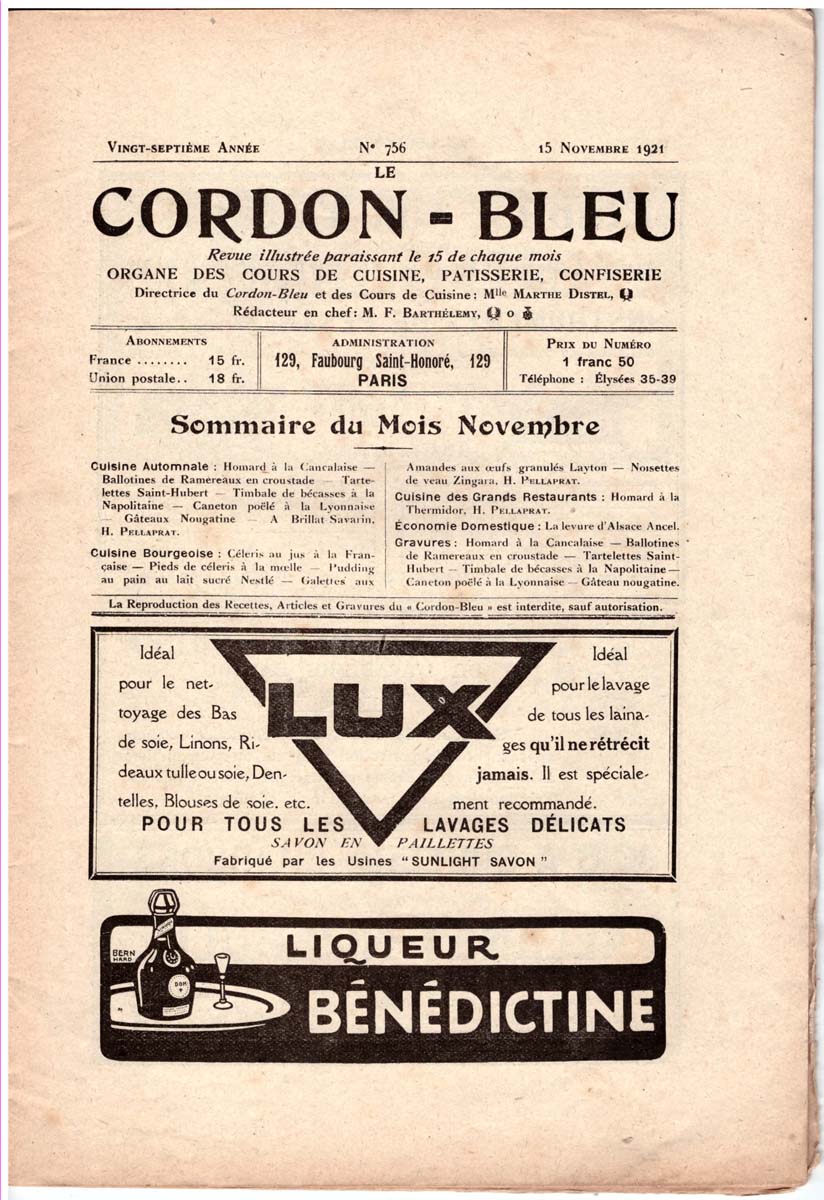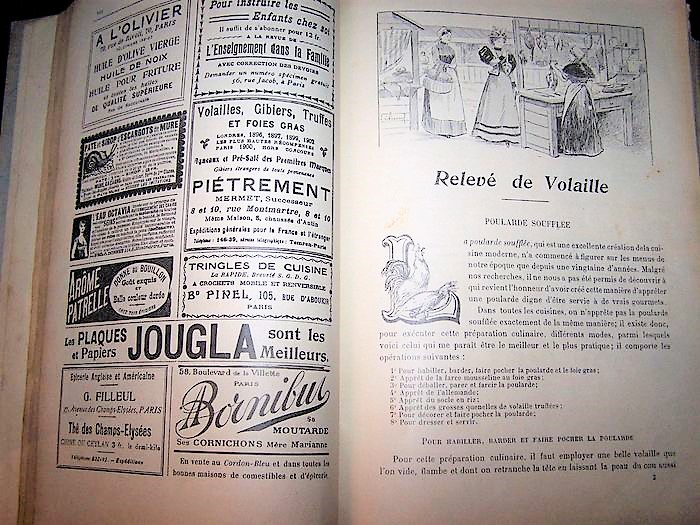 Still, as with the later Julia Childs, the idea was to infuse French cooking methods into simpler everyday recipes the home cook could achieve and by doing so shifted the dynamics of what people ate - the days of meat and 3 veg could be supplemented by wonderful dishes because the measurements or quantities of ingredients and the method of how to create a dish were provided through the recipes.
All those cooking books by the likes of the wonderful Margaret Fulton published by The Australian Women's Weekly many of us still have in our cookbooks library, along with similar magazines focused on women which run contemporary recipes and food ideas also contain and are kept viable through the complimentary advertisements for products aligned with the same. The market is a growing one as all of us like to eat and eat well, to savour 'what's next'.
The other aspect of Dione Lucas's career in the culinary world is her own on television demonstrations from the mid 1940's on and her visit here just prior to the official commencement of television broadcasting on September 16, 1956.

Whole channels are devoted to cooking shows today, the range of what is on offer showcases not only the cuisines of many countries but also those places where these dishes originate from. A whole other language and 'common ground' that extends across the world was created through this.
There is also the aspect of women using their traditional roles to make their way in the world in a post WWII society where marriages made during the stresses of wartime fell apart afterwards and these women, who had 'manned' the factories during that conflict, building the ships and weapons, now had children to raise, sometimes just on their own income. They would not all be sent back to the 'housewife' role they were expected to take up once more after fulfilling a similar role in WWI.
In her paper, 'Dione Lucas and the beginnings of television in Australia', Jillian Adams states:
English-born, American television celebrity chef Dione Lucas, toured Australia in 1956, 1958 and 1960, each time sponsored by The Australian Women's Weekly (AWW), a magazine that at that time boasted weekly sales of 750,000 copies. On the surface, Lucas's 1956 Australian visit is in line with the magazine's practice of bringing high profile international guests to Australia to promote the magazine and increase sales. But there was a more compelling reason for her to travel to Australia. With the launch of television just weeks away, and the knowledge that women controlled 90 per cent of household spending, her cooking demonstrations were closely linked to the promotion of the sale of television sets and television viewing. This article uses a culinary lens along with archival material, magazine and newspaper articles and personal stories to add Lucas's cooking demonstrations, and Australian women, and their interest in cooking, to the history of the start of television in Australia. It thus challenges the static narratives, about both this event and the 1950s housewife, embedded in our popular memory.
The Australian Women's Weekly ran:
Mrs. Lucas at work an "eye - opener"
By LEILA C. HOWARD, Our Food and Cookery Expert (above right, with Mrs. Lucas), who assisted in Dione Lucas' demonstrations in Sydney.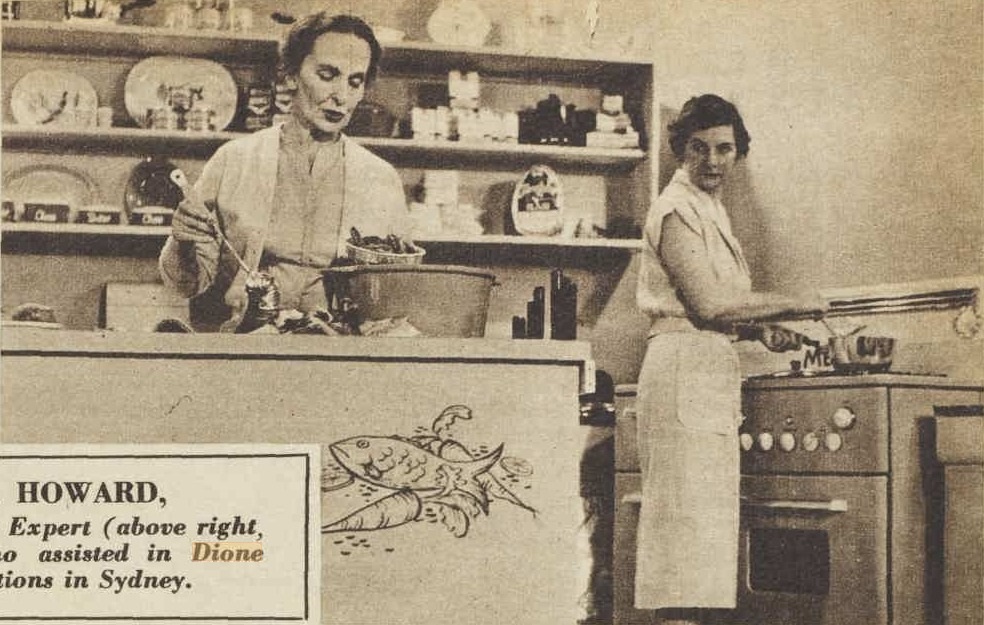 You'd never think, working with Dione Lucas, Cordon Bleu and television chef, that you'd be hungry. But when I helped her for the week of her Sydney demonstrations, I was.
NORMALLY I'm in charge of The Australian Women's Weekly test kitchen, but during Mrs. Lucas' tour I helped in the backstage kitchen, and then in front of the cameras in the afternoon shows.
We simply didn't have time to eat - and this in the kitchen, where the air smelt of duck casserole and baking brioches, where basins were filled with frosting for maple layer cake, and ovens held puff pastry for Napoleons.
The TV shows started at Mark Foy's store at 2 p.m., but the preparations began hours before.
I used to get into town by 9, having risen at 5.30 a.m., prepared breakfast for my husband and family, cut lunches for my three boys, Peter, who's 12, Alan 10, and Graham, 8.
DIONE LUCAS with the floral number 9 presented to her by the crew of Channel 9 TCN, who televised her demonstrations in Sydney.
But Mrs. Lucas always had three hours' start on me.
At 6 a.m. the watchman let her into the store, and by the time I showed up the day's menu was well under way. For instance, she would have: Made layer cakes. . De-veined 3lb. prawns. Prepared ducks for the casserole. Made the brioche dough and set it aside to rest. Made puff pastry for the Napoleons.
She would have had no breakfast. In fact, she hardly eats. She says that you lose the desire for food when you cook it all the time.
And why were we so frantically busy if the show didn't go on until the afternoon?
On a TV show you can't mix a cake, put it in the oven and wait for it to cook. You have to eliminate time.
If you put a cake mixture into the oven you have to have a cooked cake ready to take out to show the audience.
Dough has to be made in advance, for instance, flour sifted, some prawns crumbled ready for frying, other prawns left in their naked state to show how you dredge them in flour, then in egg, and then in breadcrumbs and paprika.
What would happen if a basin broke at the critical moment - and you didn't have another and its contents ready? If someone dropped the Napoleons or smeared the top of the chocolate cake?
In case of accident, most dishes are in triplicate.
The old saying is that two women can't work together in a kitchen. With Mrs. Lucas you can. She's charming and patient, and witty, too.
Two others helped in the kitchen - young Coral Luxford, of our staff, and Mrs. Dorothy Lenton.
Each evening Mrs. Lucas would draw up orders for the following day's supplies - for poultry, cream, fresh eggs, and vegetables.
Tidy kitchen
During the morning I'd be peeling beans, dicing onions (I never cry, neither does she), chopping red peppers, cooking rice.
Both Mrs. Lucas and I like a tidy kitchen. We both keep damp and dry cloths handy to wipe over knives, pastry boards, or tables, and clean as we go.
I'd certainly like to see her New York kitchen, where pupils pay only 50 dollars (about £A24) a course, choose whatever dishes they like to make, and eat the food themselves.
Sometimes we tasted her cooking. I took home a magnificent strawberry flan which my family raved about. (Other times the camera crews or people who had helped received the dish.)
The morning would rush by. Suddenly, in the middle of it, the make-up girl would be there, and we'd have to drop everything, have our faces, eyebrows, lips made up for TV.
The audience would be filing in when I'd be giving the stage kitchen a final check over. Was everything there?
Each "course" of the menu would be on a special tray, set in order of use. That last half-hour was always a nightmare, yet Mrs. Lucas never lost composure.
Then we'd be on.
Mrs. Lucas, trailing a length of flex from the hidden microphone tucked inside her dress, would walk into the kitchen as if it were her own at home. I'd be there, pass-ing things, removing others, marvelling at the way she would talk so naturally, and yet do everything perfectly for the camera to catch.
I thought I knew a good deal about cooking, but she showed me more. For instance:
To prevent sauces forming a skin, cover them with aluminium foil immediately they are cooked.
To get perfectly smooth whipped cream, beat it in a metal bowl over another bowl containing ice cubes. The results are amazing.
After straining cooked potatoes place them back over the fire for a few seconds to dry out all the water - they will then mash easier and be more creamy.
Add a few drops of vinegar to the water when cooking white turnips; it helps retain their colour.
If there are whole egg yolks over, add a few drops of oil, then carefully cover them with water, and they can be stored for quite a while in the refrigerator.
Greaseproof paper placed inside the lid of a stewing pan or casserole reduces condensation, and so does not alter the consistency of the sauce.
When cooking choux pastry puffs, don't grease the oven slide as this tends to make small holes in the base of the puffs.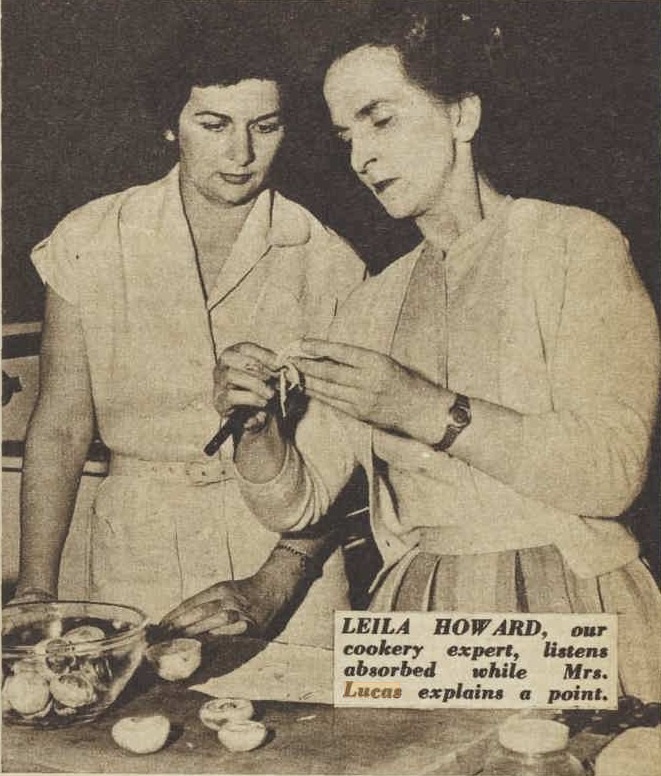 LEILA HOWARD, our cookery expert, listens absorbed while Mrs. Lucas explains a point.
One thing I would like to stress about Mrs. Lucas' recipes: all her foods are well flavoured but not heavily seasoned. She made me aware of the subtle difference. Mrs. Lucas at work —an "eye- opener" (1958, August 13). The Australian Women's Weekly (1933 - 1982), p. 7. Retrieved from http://nla.gov.au/nla.news-article46470503
Leila Howard's experience at the elbow of Dione Lucas was not an isolated one - the lady was known for only taking on six students per class so she could personally help them with their learning. This was no stand at the front of the classroom and instruct you method, she was beside you all the way.
Dione Lucas (born Dione Wilson, October 10th 1909 in Italy – December 18th, 1971) (pronounced dee-OH-nee) was an English chef, and the first female graduate of Le Cordon Bleu. Her father was the architect, jeweller and designer Henry Wilson, and her sister was the violinist Orrea Pernel (1906-1993). Dione was the third of four children and grew up in Venice, London and Paris. In Paris she first studied the cello at the Conservatoire and then took up the culinary art at L'Ecole du Cordon Bleu under Henri‐Paul Pellaprat.
Dione married another architect, Colin Lucas (1906-1984) on April 9th 1930. Although this union produced two children, it later ended in divorce. He had joined her after WWII in America but struggling to find work, returned to England. Dione stayed in America. His career spans the first uses of concrete and steel in buildings in the U.K. and he was awarded an O.B.E. in 1972 for his work.
Dione Lucas was fundamental in establishing an extension of the famous Paris culinary school in London in the 1930s. In 1931 she and Rosemary Hume (with whom she has trained in Paris), set up a cookery school in Sloane Street, London, the interior of which was designed by husband Colin Lucas. They had a flat in Chelsea and they would reputedly serve their students' creations to passing trade at chairs and tables on the pavement. Hume and Lucas opened l'Ecole du Petit Cordon Bleu in 1933.
Lucas worked as a hotel chef in Hamburg before World War II and claimed that Adolf Hitler often dined there and had a taste for stuffed squab. She later opened a Cordon Bleu restaurant and a cooking school in New York - on the ground floor of 117 E. 60th St. She also ran the Egg Basket restaurant by Bloomingdale's in New York.
One of the earliest television cook-show hosts, Lucas's To The Queen's Taste was broadcast on CBS in 1948-1949 from the restaurant. She had another show in the 1950s. Dione Lucas was also the first woman featured in a cooking show on television on WPIX-11 in New York. In one of her New York restaurants, The Gingerman, Lucas helped to introduce the omelette to the American palate. Many see her as a predecessor and influence to Julia Child.
Rosemary Hume MBE is renowned for being the creator of 'Poulet Reine Elizabeth', later known as Coronation Chicken for the coronation menus of June 2nd, 1953. Mrs. Lucas is thought to have helped Hume create this dish, along with her first cookery book, as Hume's spelling was known to be poor. Dione Lucas authored several cookbooks on French cuisine herself.

In the Introduction to the 1956 The Australian Women's Weekly booklet, Mr. Henri Pellaprat, co-director of the Cordon Bleu is credited with teaching Dione and Rosemary Hume 'extra' skills which would allow them to teach at their own cooking school in London.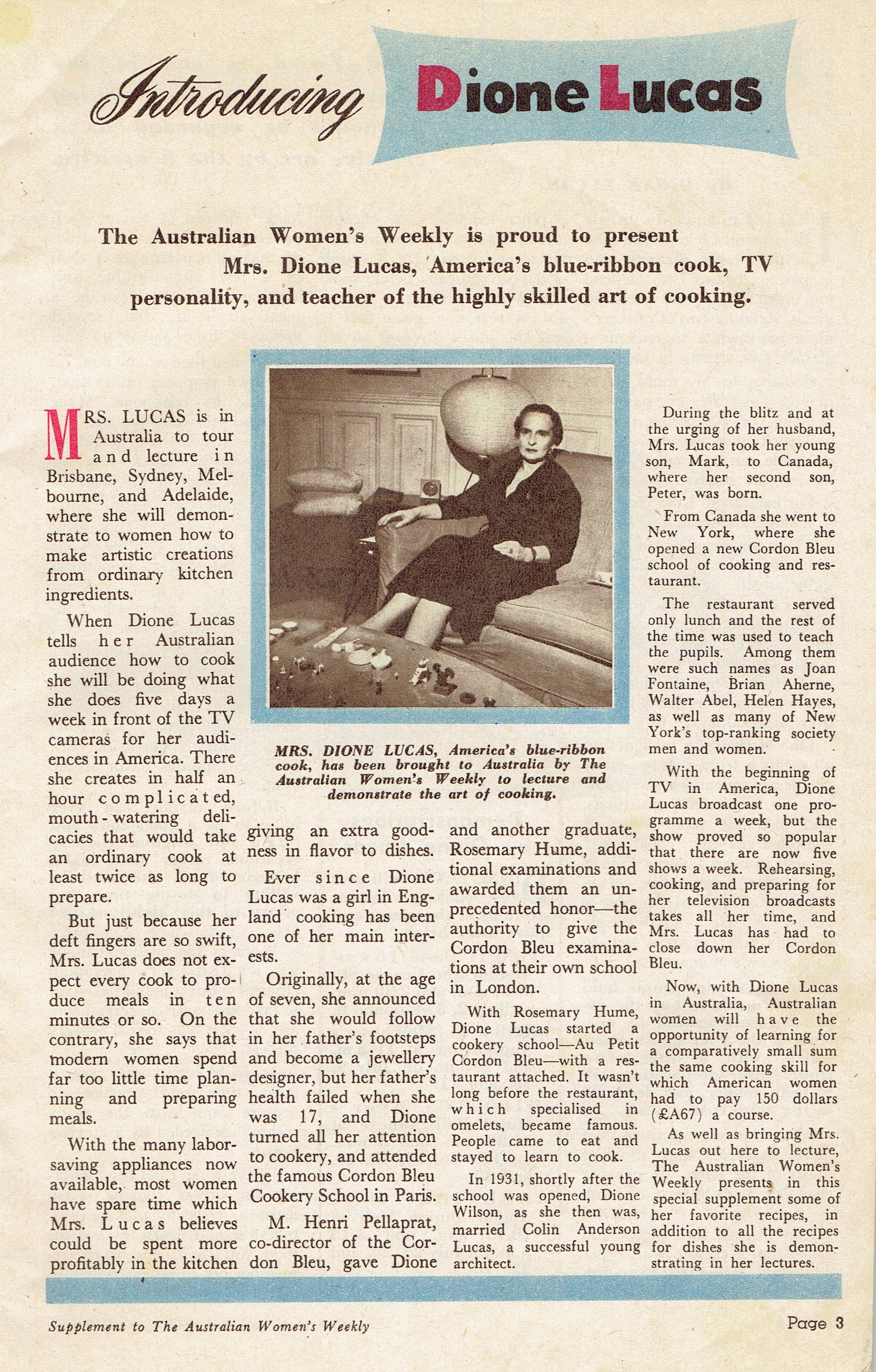 Henri-Paul Pellaprat (pronounced Saint-Maur-des-Fossés, 1869–1954) was a French chef and founder, with the journalist Marthe Distel, of Le Cordon Bleu cooking school in Paris. He was the author of La cuisine familiale et pratique and other classic French cookery texts. He worked from the age of twelve as a pastry boy and then cooked at many of the most famous restaurants of the La Belle Époque Paris such as the Maison Dorée. He taught at l'École du Cordon bleu for 32 years; his students including Maurice Edmond Sailland, later known as Curnonsky, and Raymond Oliver.
In 1966, after his death, his book L'Art Culinaire Moderne was translated into English and published for the American market under the name Modern French Culinary Art. It contained 2030 recipes and many colour photos, covering everything from everyday casual French cooking to haute cuisine. Discussing this translation, the New York Times wrote, "one could not hardly ask for a better or more sumptuous one", adding that this book "demonstrates one again that cooking can be among the higher arts."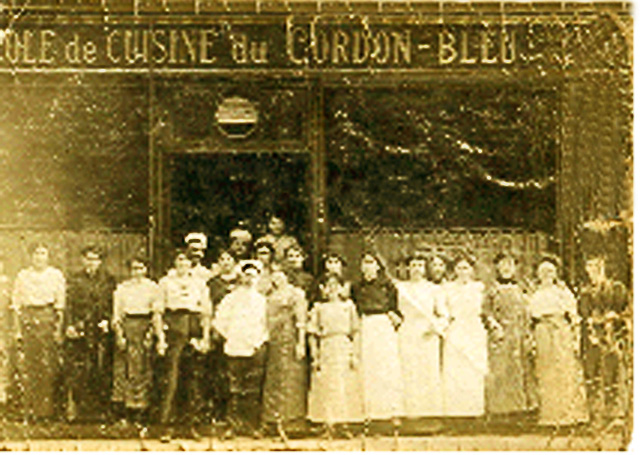 Marthe Distel and Henri-Paul Pellaprat with their students in front of l'École du Cordon Bleu in 1896
Le Cordon Bleu (French for "The Blue Ribbon") is an international network of hospitality and culinary schools teaching French haute cuisine. Its educational focuses are hospitality management, culinary arts, and gastronomy. The institution consists of 35 institutes in 20 countries and has over 20,000 students of many different nationalities.
The origin of the school name derives, indirectly, from the French Royal and Catholic Order of the Holy Spirit. This was a select group of the French Nobility that had been knighted. The first creation of Royal Knights at the French Court was performed in 1576. The French Order of the Holy Spirit was for many centuries the highest distinction of the French Kingdom. Each member was awarded the Cross of the Holy Spirit, which hung from a blue silk ribbon. According to one story, this group became known for its extravagant and luxurious banquets, known as "cordons bleus". At the time of the French Revolution, the monarchy and the Order were abolished, but the name remained synonymous with excellent French cooking. By the nineteenth century the blue ribbon had become synonymous with excellence. The name was adopted by a French culinary magazine, La Cuisinière Cordon Bleu, founded by French journalist Marthe Distel.
The magazine developed into the original Le Cordon Bleu that Distel and Henri-Paul Pellaprat established in 1895 in Paris, France. To promote readership, Distel offered subscribers cooking lessons with professional chefs. The first class was held in January 1895 in the kitchens of the Palais Royal. The classes led to the development of a more formal school, now known as Le Cordon Bleu
In 1945, after the end of WWII, Madame Elisabeth Brassart purchased what remained of the struggling school from a Catholic orphanage which had inherited it after Distel died in the late 1930s. Brassart managed the school until 1984; at the age of 87 she retired and sold the school to André J. Cointreau, a direct descendant of the founding family of the Cointreau liqueur and Rémy Martin Cognac.
Dione Lucas passed away aged just 62 on December 18th, 1971. Her death had been preceded by a series of surgeries. In September 1971 she returned to London to live near one of her sons
The Australian Women's Weekly supplement of Dione Lucas's meals contains 28 full Menus with recipes of an entrée, main and desert. This may still be accessed online through the great work of digitising Australian records The National Library of Australia provides through TROVE.
Dione Lucas' impact on Australian cooking continues - my own mother still has her full set of Cordon Bleu folders filled with recipes from when she attended classes in the 1970's, and she was a lady who grew up in a rural setting, with generations of knowledge of how to make cream, butter, or jam, relish and bottle fruit. Her pavlovas remain legendary in certain quarters. Not that she stopped learning there. We siblings have counted at least one thousand cooking books in her collection and it is still growing, with new ideas regularly tried out, along with old favourites.
As this is the 'food' page, a few recipes more suited to Spring Fare from this originator of great food making:
LEEK TART
Cheese Pastry: One and a half cups plain flour, 1/2 cup finely grated Parmesan cheese, 2 well- beaten egg-yolks, 40z. chilled butter, 1 teaspoon dry mustard, 1 teaspoon salt, pinch cayenne pepper, 2 dessertspoons iced water.
Filling: Three ounces butter, 1 cup hot milk, 2 slices onion, 2 slices carrot, small piece of celery, 1 bay leaf, peppercorns, and salt, 4 dessertspoons flour, cup finely grated local Swiss cheese, 1 cup coarsely grated local Swiss cheese, 1/2 cup grated Parmesan cheese, 1 1/2 cups of the white part of leeks, cooked until tender in salted water and well drained (or substitute large shallots or small onions), 2 dessert-spoons finely chopped onion, 2 dessertspoons whipped cream, 1 dessertspoon French mustard.
Cheese Pastry: Sift the flour, salt, and mustard. Mix in the grated Parmesan cheese. Cut up the chilled butter in small pieces and rub it into the flour. Add the well-beaten egg-yolks and the water and work up a firm dough. Chill for half an hour. Remove and roll out into din. thickness. Line a 10in. flan-ring or tart-plate. Trim off neatly and prick the bottom well with a fork. Completely line with a piece of greased, waxed paper. Scatter over the top a little raw rice or dried beans. Bake for 30 minutes in a moderate oven until lightly browned around edge. Remove, carefully take the paper and rice or beans out. Fill with the following:
Filling: Melt in a pan 1 1/2oz. butter. Stir in the flour off the fire and season with salt and cayenne pepper. Bring the milk to the boil with the onion, carrot, celery, peppercorns, bay leaf, and a little salt: Strain on to the thickening stir over the fire until it just comes to the boil; then add the finely grated Swiss cheese and the French mustard. Simmer 5 minutes and add the whipped cream. Put a layer of the sauce on the bottom of the flan. Drain the white leeks well and reheat them in the rest of the butter. Arrange them on the top of the sauce; scatter the coarsely grated Swiss cheese on the top of the leeks; fill the flan with the rest of the sauce; sprinkle well with Parmesan cheese; dot the surface with a little butter; and place the flan in a hot oven to brown for a few minutes just before serving.
CAESAR SALAD
Two small lettuces, 1 cup fried bread croutons, 1 dessertspoon lightly sautéed garlic, 12 fillets of anchovy, 4 cup shredded sauteed bacon, watercress, 2 hard-boiled eggs, 2 dessertspoons tarragon vinegar, 4 dessertspoons olive oil, 8 dessertspoons vegetable oil, 1 teaspoon salt, 1/2 teaspoon crushed black pepper, 2 dessertspoons chopped parsley, 1/2lb. grated Parmesan cheese, 1/2 teaspoon French mustard, 2 coddled eggs.
Wash the salad greens and dry thoroughly. Crisp them in the refrigerator for 2 hours. Break up the lettuce and put into the bowl with the watercress. Scatter the croutons, cheese, and the bacon on the top. Put the fillets of anchovy crisscross on the top. In the holes put the hard-boiled eggs, cut into six. Sprinkle the top with chopped parsley and garnish round the edge of the bow! with lettuce leaves. Put into a screw-top jar the garlic, salt, pepper, mustard, vinegar, olive oil, vegetable oil, and coddled eggs. Shake it thoroughly; pour over the salad at the last moment, and, at the table, toss well before serving.
STUFFED TROUT OR BREAM
Four small trout or bream, onions, 1/2 cup finely chopped cooked prawns, 1/2 cup finely chopped cooked mushrooms, 1 chopped clove of garlic, 1/2 cup fried breadcrumbs, 2 dessertspoons chopped parsley, salt and paprika to taste, white dried breadcrumbs, a little flour, beaten egg, 1 lemon, 2oz. butter.
Sauce: Two egg-yolks, 1/2 cup red wine, salt and cayenne pepper, 4oz, butter, a little cream.
Wash the trout in a little lemon juice and water, dry well, remove the heads, and carefully remove the bones, or leave bone in and heads on, but remove eyes, clean out the inside well, and season with salt and pepper.
Mix well in a bowl the onions, prawns, mushrooms, garlic, breadcrumbs, parsley, and salt and pepper. Fill this stuffing carefully into the fish. Reshape them and then lightly dust them with a little four, then brush them with a little beaten egg, and lastly dust them with the white dried breadcrumbs. Heat the butter lightly in a heavy shallow pan and then carefully brown the fish in the butter. Cover the pan and finish cooking them for 5 minutes. Remove and arrange them on a hot, flat serving-dish and garnish them with a few sprigs of fresh watercress.
Serve the following sauce apart: Boil the red wine down to half,-then mix into the well-beaten egg-yolks, season with a little salt and pepper and add 2 tablespoons of cream. Beat over a slow fire in a double-boiler until it thickens and then add the butter bit by bit.
If the sauce should be too thick, add a little more cream.
FRESH STRAWBERRY TART
Pastry: Two cups flour, 40z. sweet butter, 2 or 3 tablespoons sugar, 2 beaten egg-yolks, 1/2 teaspoon salt, grated rind of lemon, 2 sieved hard-boiled egg-yolks.
Filling: One egg, 1 egg-yolk, 3 dessertspoons flour, 3 dessertspoons sugar, 2 teaspoons gelatine, 4 cup milk, 2 teaspoons vanilla essence, pinch salt, 1 1/2 cups whipped cream, 3 cups hulled strawberries, 1 cup red-currant jelly, little confectioners' sugar, 1 stiffly beaten egg-white.
Pastry: Sift flour, sugar, salt together. Cut in butter; add lemon rind, sieved hard-boiled egg-yolks, and beaten egg-yolks; work up quickly to a firm paste. Chill for an hour, remove, and roll out a little over 1/4in. thick. Line into flan-ring, trim off neatly, prick bottom well with fork. Chill for an hour, bake in hot oven for 30 minutes.
Remove, cool.
Filling: Put egg and egg-yolk in bowl with flour and sugar; beat until light and fluffy. Stir in gelatine, beat vanilla and milk and pour on to this mixture, stir until smooth, and bring to a boil. Cool. Add the stiffly beaten egg-white and the whipped cream. Fill into pie-shell, cover with strawberries. Brush all over with red-currant jelly and sift a little confectioners' sugar around edge before serving. Serve very cold.
References:
TROVE - National Library of Australia
Wikipedia
Papers of Dione Lucas, ca.1930-1995. Schlesinger Library, Radcliffe Institute, Harvard University.

Family copy of Dione Lucas Cookbook - 1956 supplement to The Australian Women's Weekly
Dione Lucas, TV Cooking Teacher, 62 by Burton Lindheim, Dec. 19, 1971 - New York Times. From: https://www.nytimes.com/1971/12/19/archives/dione-lucas-tv-cookin-teacher-62.html

Jillian Adams. Dione Lucas and the beginnings of television in Australia' The Journal of Popular Television, Volume 1, Number 2, 1 September 2013, pp. 157-173(17) -DOI: https://doi.org/10.1386/jptv.1.2.157_1
A Man for All Seasons: The Career of Colin Lucas, Modernism in Metro Land, 2021. From: https://www.modernism-in-metroland.co.uk/blog/a-man-for-all-seasons-the-career-of-colin-lucas
Colin Lucas (1906 - 1984). Dennis Sharp Archive, Paul Mellon Centre, Yale University. From: https://www.paul-mellon-centre.ac.uk/archives-and-library/sharp-biographies/colin-lucas
Dione Lucas Books
Au Petit Cordon Bleu: an array of recipes from the 'École du Petit cordon bleu (1936, with Rosemary Hume) (29 Sloane Street, London)
The Cordon Bleu Cook Book (1947)
The Dione Lucas Meat and Poultry Cook Book (1955, with Anne Roe Robbins) 324 pages. Illustrated.
Good Cooking. (1960) 64 pages. Illustrated. (

Australian Consolidated Press, Sydney

)
Gourmet Cooking School Cookbook (1964) (Bernard Geis Associates)
The Dione Lucas Book of French Cooking (1973 with Marion Gorman)
The Dione Lucas Book of Natural French Cooking (1977, with Marion & Felipe Alba)
Gourmet Cooking School Cookbook (1982 with Darlene Geis)
Television
To The Queen's Taste (December 1946 - 1948) ABC
The Dione Lucas Cooking School (February 25, 1948-December 29, 1949) CBS
The Dione Lucas Cooking Show (1950-1956) CBS
The Dione Lucas Hour (1956-1958) Syndicated
Dione Lucas's Gourmet Club (1958-1960) Syndicated
Dollars and Sense Cooking (1960-1962) Syndicated
And again in June 1960: DIONE LUCAS COOKBOOK (1960, June 15). The Australian Women's Weekly (1933 - 1982), p. 2. Retrieved from http://nla.gov.au/nla.news-article46233893

COOKING ON TV: AN ARGUS SOUVENIR
She began by peeling 100lb of onions
COOKING is an art says Dione Lucas, America's blue ribbon cook. And that statement sums up Mrs. Lucas' whole attitude towards food and the way she prepares and cooks it.
This slight, gentle yoked woman means whatever she says about cooking. She weighs each statement she makes, although her sense of humour makes many of her statements as light and as delicious as one of her famous omelettes.
She is a blend of a number of Continental and artistic factors.
Born in Italy in 1909 of English parents, she was educated in France.
Her father, Henry Wilson, was a noted architect, sculptor, painter, and jewellery maker, who made his reputation in the U.S. as the designer of the beautiful bronze doors for the Cathedral of St. John the Divine.
As a seven-year-old, Dione began making jewellery, and decided to make a career of this talent. But soon she was absorbed in the kitchen of the huge servantless family house in Kent.
Later the family moved to Paris, and Dione, after showing musical talent, was placed in the Conservatoire.
ACCEPTED
Her Interest in cooking grew with her. Through parental influence she got a job in the Duraunt, a famous Paris restaurant.
Because she was a girl, she was resented, and her first job was the weepy one of having to skin and-chop up a 1001b. bag of onions.
She says: "When I managed that the men knew I was sincere in my approach, and accepted me."
Later she enrolled at the world famous cooking school, L'Ecole Cordon Bleu.
Her father's health failed when she was 17, so to help out she went to London to demonstrate cookery. Before she left, she did special examinations, and was given the unprecedented honor and authority to give the Cordon Bleu examinations at her own school.
A wealthy friend backed the school and it succeeded - on the rather flimsy basis of a feather light omelet.
The omelets were part of an advertising scheme to boost enrolment. To make the school better known, she decided to serve some of her food to the public.
Because the school stoves were pretty much in constant demand. Dione decided the restaurant's specialty would have to be omelets. There was room for nothing else.
The omelets were a hit. Those who came to eat stayed to cook, and the school flourished.
The war came and curtailed the restaurant business.
To US.
In 1940 she was expecting her second child, and her husband decided she should go to America. To save space for packing her beautiful copper pots and pans and her two treasured omelet pans, she left most of her wardrobe behind. She realised the tools of her art would be her only method of supporting her family In America.
In the U.S. she had a variety of jobs-most were a little better than the one she had cooking for cow boys on a large Wyoming ranch. So she decided to start a new Cordon Bleu school of cooking in New York. She bought a second-hand range and opened the school and a restaurant.
Among the more notable of her pupils were film stars Joan Fontaine, Brian Aherne, and Helen Hayes.
Housewives were charged 150 dollars a course. (So, via those TV sets, you will be getting the same practical demonstrations free of charge.)
Mrs. Lucas' culinary career took its next major step in 1947 when she be came a television cookery star. Her show was the first cooking demonstration ever to appear regularly on TV.
At first it was a weekly evening demonstration. For the first 18 months the network brought the TV equipment to her restaurant and televised her actually at work in her kitchen.
But as the demonstrations gained popularity more and more people wrote asking for their favourite recipes to be demonstrated by Mrs. Lucas The show got too big for the restaurant and was switched to the TV studio.
After another 18 months the demonstrations became so popular that the show was put on five days a week.
It was switched to a local, and smaller, New York station and filmed then syndicated all over the U.S. It was, and is, sponsored by the American Gas Company.
When the show became a daily demonstration Mrs. Lucas reluctantly closed her Cordon Bleu restaurant. She just did not have the time. Besides her TV work she also edited and wrote for a number of food and cooking magazines.
"Why so much hard work?" you ask Mrs. Lucas. She says with that beautiful smile, "I have two wonderful sons being educated in England. And television pays better than the restaurant,"
Her American television programmes run for 30 minutes and are prepared for hours beforehand so all waste time is completely eliminated.
HUMOR
Throughout the 30 minutes she explains in detail what she is doing, and why, and always tries to inject a pinch of humour.
Trained in the traditional French methods of cooking, Mrs. Lucas' TV dishes are often way out of the price range of many of her viewers.
Yet most of her fan mail of 3,000 to 4,000 letters a week come from people who could never manage to make the dishes they see.
"In Paris, at the Sorbonne," says Mrs. Lucas, "Cooking is regarded as one of the seven arts.
"That is how I have looked at, and practised, cooking all my life. I love it.
"Even now I get nervous before doing a demonstration, so I am still far from being blasé." She adds happily. "Cooking will never pall for me."
DIONE LUCAS puts the finishing touches to a chocolate cake, decorating the top with butter cream through a pastry bag and rose tube.
This show is the poetry of (perpetual) motion.
THERE'S far more than meets the eye and ear in the smooth running, lucidly-explained Dione Lucas cooking show.
By the medium of the television sets placed at strategic points throughout the Myer Emporium you will see a skilled craftswoman in a dream kitchen using her deft fingers to create mouth watering delicacies in a matter of minutes.
But you will probably wonder how Dione Lucas creates a dish in 10 minutes when it would take you at least half an hour or more. ;
It is no secret. It is just common-sense and hours of hard, exacting pre-show preparation and work.
It is the work not only of a skilled cook but polished, expert television star.
Let's look at a typical working day of this cooking expert.
To prepare for her 11.30 a.m. demonstration, Mrs Lucas will arrive at the store at 7 a.m.
Her menu has been planned far in advance and all the materials required are on hand. With the aid of assistants - never seen on the show - she gathers the materials required for each dish and prepares them.
Her prime requirement on the show is time. All waste time must be eliminated. Here is how it is done.
If she is to make a cake in front of the cameras she will prepare to make three cakes.
The first mixture is placed In an oven long enough before the show to be cooked in time for her to take it out during the show. The second batch is popped into the oven in time for it to reach the stage where it can be taken out completely cooked and used to demonstrate the last stage.
So on the television set you will see Mrs. Lucas whip the batter for the cake and put it in the oven.
Seconds later she takes out a cake already baked. Of course this is one of the "planted" mixtures.
When she has used the baked cake it goes back to the oven for the final cooking. Within seconds or minutes she reaches inside the magic oven again and out comes the completed cake - the third mixture which has been in there well before the demonstration started.
It is this cake which she uses for the final touches icing or frosting.
NO DELAY
This ls how she can go through the procedure, of a roast dinner well within her TV time, not miss out a stage and yet produce the completed dish. (Using yeast dough the procedure might go through seven or eight stages),
There is never any waiting around, boredom or dull moments. Throughout the demonstration Mrs, Lucas comments on what she ls doing, what she is using, and why.
In front of her ls a "monitor" TV set in which she can see how she appears to the people watching her on the 42 television sets. In this way she quickly corrects her stance if she is hiding any part of the procedure from the audience.
As soon as the demonstration is over it is back to work again for the after-noon show.
When that comes to an end it is back to work be-hind the scenes once more, planning and preparing for the next day. Never off her feet, never a wasted moment, Mrs. Lucas finally leaves her beloved kitchen at 7 p.m.
A 12-hour day, five days a week.
Drudgery over a hot stove, you may think. But not Mrs. Lucas.
Like an actor playing the lead In a long-run, smash-hit, she cannot imagine any other way of life. COOKING ON TV: AN ARGUS SOUVENIR (1956, July 16). The Argus (Melbourne, Vic. : 1848 - 1957), p. 13. Retrieved from http://nla.gov.au/nla.news-article71646182
You'll be seeing world's latest in TV sets.
WHEN you see the Dione Lucas cooking show you will be seeing it on television sets just as up to-date as the latest on the U.S. market.
They are made by Admiral of Australia Pty. Ltd., whose, parent company, Admiral International, of Chicago, are the world's largest manufacturers of TV sets.
That is why the sets being distributed in Australia are the latest.
Every Improvement and Innovation introduced for the huge and selective U.S. market is incorporated in the Australian sets at the same time.
But the sets which will transmit the Dione Lucas demonstrations are not made in America.
They are made at one of Australia's most modern electronic factories — the Admiral company's Australian branch at Bankstown, Sydney.
About 12 months ago the site on which the new factory now stands was bush land. Now Admiral sets are being distributed in both Sydney and Melbourne, and by the end of the year the factory will be in full production.
Admiral produce four models at present. Two have 21in. screens and two have 24in. screens.
An Admiral spokesman said: "There has been controversy over 17in and 21in. screens, but it is quite obvious from the experienced American market that the majority of viewers favor the bigger screens.
"Also, because Australia will use the 625-line standard, bigger screens can be used here than in England, where a 405-line standard is used."
He explained that Australian TV should have the best definition in the world because of its bigger line standard. (America has a 525-line standard.)
Admiral's Melbourne office distributes the sets made in Sydney and transported here by road.
It also has a special staff of highly trained technicians who will service Admiral sets.
Two of the Admiral models have swivel bases, an innovation that saves any shifting when you change your seat during a programme.
At the moment the company is being, continually asked for information about its sets and television service Since it began releasing its models three weeks ago Interest in the company has grown enormously.
So if there is anything puzzling you about tele-vision sets or reception, have a look at the trans mission of the Dione Lucas show and make up your own mind about the possibilities of TV.
You will not only be seeing a first-class cook in (action) you will also be seeing an acknowledged world leader in television going through its paces. You'll be seeing worlds; latest in TV sets (1956, July 16). The Argus (Melbourne, Vic. : 1848 - 1957), p. 13. Retrieved from http://nla.gov.au/nla.news-article71646183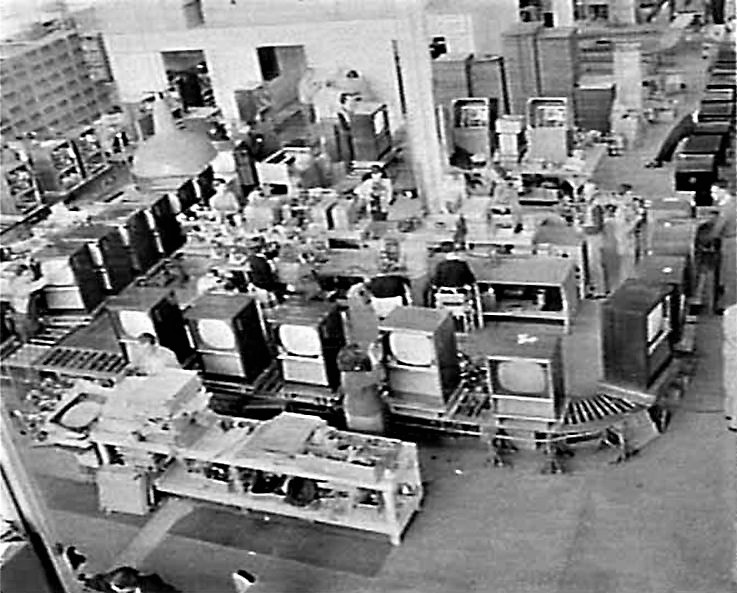 Admiral television assembly line at Bankstown, July 3rd, 1957. Photo: Jack Hickson, Australian Photographic, courtesy the State Library of New South Wales. Image: d7_03618r.
General Indust. TV plan
General Industries Ltd. (Metters and Metters K.F.B.) has arranged with an American company to make radio and television receivers at Bankstown (N.S.W.).
Mr. R. A. Spring, chairman, said yesterday the American company was Admiral Corporation, of Chicago, the world's largest manufacturer of television equipment.
The two companies will jointly own Admiral of Aus-tralia Pty. Ltd.
Admiral Corporation is also a large manufacturer of re-frigerators in the U.S.
Under the agreement, it will also provide technical assistance to General Industries' refrigerator manufacturing subsidiary. General Indust. TV plan (1955, February 18). The Argus (Melbourne, Vic. : 1848 - 1957), p. 10. Retrieved from http://nla.gov.au/nla.news-article71633976
ADMIRAL DEFENDED
SYDNEY, Friday.- The intermediate frequency used on Admiral television, sets being produced in Australia did not make way for bad reception in these sets, the managing director of Ad-miral T.V. of Australia Ltd., Mr. J. B. Clarkson. said to-day.
Mr. Clarkson was replying to statements made in the House of Representatives last night by the Post-master-General, Mr. Davidson.
Mr. Davidson said that people, buying a television set should be warned against buying an Admiral set, as they were subject to interference because of the frequency used.
He said the Government was taking steps to ban the importation of certain, parts of these sets because their sale could not be banned.
Mr. Clarkson charged that the pressure being brought to bear was more of a political nature than a technical one.
He would not say where the pressure was coming from, ''but there "are interested parties," he said. ADMIRAL DEFENDED T.V. SETS (1956, September 1). The Canberra Times (ACT : 1926 - 1995), p. 3. Retrieved from http://nla.gov.au/nla.news-article91221997
Admiral T.V. To Conform To Standards
The manufacturers of Admiral television sets have agreed to conform with Intermediate frequency standards laid down by the Australian Broadcasting Control Board.
They have advised the Postmaster - General, Mr. Davidson, that any inter-mediate frequency components to be imported for use in Australian-built receivers will be 30.5 mega-: cycles for sound and 86 megacycles for vision, as laid down by the board.
Davidson, who announced this yesterday, said these standards had been adopted by all other T.V. manufacturers.
"Receivers produced from this point on by the Admiral company will not be subject to interference disclosed by tests carried out by the board in the past." Mr. Davidson said.
"If the company's decision is adhered to, my purpose in safeguarding the interests of viewers has been achieved, and no further action by me will be needed," he said. Admiral T.V. To Conform To Standards (1956, September 6). The Canberra Times (ACT : 1926 - 1995), p. 8. Retrieved from http://nla.gov.au/nla.news-article91222406
TELEVISION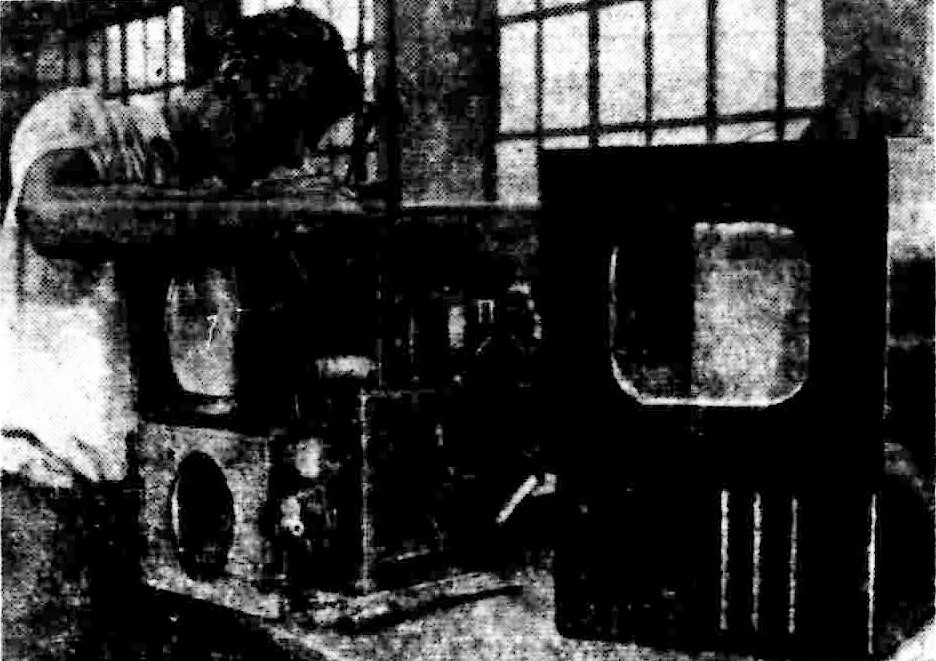 Britain is said to be far ahead of any other country in television research. As the British Broadcasting Corporation widens the scope of its television programmes, production of receivers in the factories is being in-creased as rapidly as possible to meet the great demands for the new post-war sets. This picture taken in a factory near London shows a new television set undergoing final tests before despatch. —U.K. Information Office (Sydney) photo. TELEVISION (1947, February 4). Maryborough Chronicle, Wide Bay and Burnett Advertiser (Qld. : 1860 - 1947), p. 1. Retrieved from http://nla.gov.au/nla.news-article151573568
London Letter: Television Sets
Better, Cheaper
The lifting of hire purchase restrictions has made television sets easier, and cheaper, to buy in Britain.
COMPARED with last year they are better and cheaper by £1, but compared with 1950 the difference is really striking— a set with a 12 in. screen is down from £68 to £56; 14 in. screens from £155 to £66 and a projection model from £170 to £123.
An even bigger boost for TV is round the corner. The commercial programmes ("Sellivision") start up next year. Then many new strange shapes will appear on Britain's roof-top horizon.
Viewers who want to look in at the second programme will need a new aerial with more elements. The original H-shaped aerials will be joined by a cluster of other types— one has three rods pointing in different directions; another has four arms in the shape of an elongated U; and some manufacturers are offering a double-H aerial.
These additional aerials will cost £15 to £20 for people living some distance from a transmitting station. This cost, announced at the just concluded Radio and TV Show was a shock for viewers. They had been told they would need to spend £5 to adapt their present sets to receive the new commercial programmes.
Even so, interference from motor cars is going to be a big problem on the commercial wavelength; car supressors now in use have been found to be virtually fussier. But it will take a lot of reception "snow-storms" to take Britain's eyes from the hypnotic TV screen. In parts of the North hardly anything can be made out at all on the screens at times, but the viewers gaze on.
Whether the new commercial programmes themselves will be worth the extra £15 for aerial adjustments is anybody's guess at the' moment; entertaining agents who will put on shows for advertisers arc at .work in secret preparing their programmes. And the independent board which I will keep a watch on the | quality of the entertainment has been having a look at the Radio Show—some of these new arbiters of TV taste have not got a TV set.
The most admired model at the show was the new coffee table TV which turns into a bright projector throwing a picture 4 ft. x 3 ft. on to a wall for £145; there was a set of the future for £110 incorporating 17 in. television and the new interference-free sound radio, and also the first third-dimensional TV for which, like 3-D cinema pictures, you need polarised spectacles. America, it is admitted, leads Britain in TV development, but not to be outdone, the BBC took a leaf out of America's book. It displayed the biggest TV screen in the world—21 ft. x 16 ft.
BASHFUL
'TELEVISION may be gripping the nation but the Labour Party is having none of it. Its annual delegate conference is at Scarborough by the sea but the Labour executive turned down an offer from the B.B.C. to televise the proceedings.
Last year the Labour delegates themselves decided in conference to forego the chance of stardom. The view then was that the presence of TV cameras might unnerve and disturb the delegates. But this year the BBC offer was to televise, not the actual proceedings, but only an edited version in the evening after the day's debates.
So the public is left receptive to suggestions that the real reason for this bashfulness is the fact that the Labour conference turns into such a bear garden that it would do the Labour Party little good to be revealed in its lair. And the Conservative Party whose conferences are more sedate (and less important) has accepted the TV offer with alacrity. London Letter (1954, September 18). Northern Star (Lismore, NSW : 1876 - 1954), p. 6. Retrieved from http://nla.gov.au/nla.news-article99090507
Henry Wilson (12 March 1864 – 7 March 1934) was a British architect, jeweller and designer. He was born at 91 Red Rock Street in West Derby near Liverpool on 12 March 1864. He studied at the Kidderminster School of Art before being articled to the architect Edward James Shrewsbury in Maidenhead. He then worked and was trained in the practices of John Oldrid Scott, John Belcher and J. D. Sedding.
After Sedding's death in 1891 Wilson completed many of Sedding's schemes. He followed Sedding's ideals, but his designs were often more original and grander in scale.
From about 1895 Wilson designed metalwork, church plate and furnishings, jewellery and sculpture, becoming a gifted craftsman in the Arts and Crafts Movement. He was in business at 17 Vicarage Gate, Kensington, London from 1896 to 1899. In 1892 he joined the Art Workers Guild.
From 1896 he taught in London at the Central School of Arts and Crafts, and from 1901 taught metalwork at the Royal College of Art. He was the first editor of the Architectural Review, from 1896 to 1901.
In 1902 he became associated with the circle of William Richard Lethaby in the Liverpool Cathedral Scheme. In 1903 his practical manual, Silverwork and Jewellery, was published. In 1905 he designed the bronze doors for the Cathedral of St. John the Divine in New York.
Wilson selected the British jewellery for the Paris Exhibition of 1914. He served as President of the Arts and Crafts Exhibition Society from 1915 to 1922, organised the major Arts and Crafts Exhibition at the Royal Academy in 1916, and in 1917 became Master of the Art Workers Guild. He was a member of the International Society of Sculptors, Painters and Gravers. After World War I, he again selected British jewellery for the Paris Exhibition of 1925.
In 1901 he married Margaret Ellinor Morse, the daughter of Francis Morse, Vicar of St. Mary's Church, Nottingham. They had three daughters, Fiammetta, Pernel (later known as the violinist Orrea Pernell, 1906–1993), and Dione (later known as the television chef Dione Lucas) and one son, Guthlac.
In 1922 he emigrated to Paris with his wife, and after her death 1931 he moved to Menton. Wilson died in Menton on 7 March 1934.
Architectural works
Holy Trinity Sloane Street London, - commissioned to finish the church after Sedding died in 1891
Welbeck Abbey chapel and library 1890 - 1896
Church of Our Most Holy Redeemer, Exmouth Market, Islington, London, 1892 - 1895
Public Library, Ladbroke Grove, London, 1891
St Peter's Church, Ealing, London, 1892
Douglas Castle, Lanarkshire, - Refitting of chapel, 1894
Holy Trinity Church, Ilfracombe, lychgate and vestry, 1894
Church of St Mary the Virgin, Norton Sub Hamdon, Somerset. -Restoration work 1894 and 1904
St. Clement's Church, Boscombe, Hampshire. 1895
St Mark's, Brithdir, near Dolgellau, Gwynedd, 1895 - 1898
St Bartholomew's Church, Brighton, -Baldacchino 1899 - 1900, tabernacle door, communion rails, pavement candlesticks, frieze in choir stalls, pulpit, Lady Altar 1902, Octagonal font 1908, wooden gallery 1906.
All Saints', Kenton, Teignbridge, Devon, -Silver Rood
Gloucester Cathedral -north transept clock case 1903.
St. Mary's Church, Nottingham -Bronze doors in south porch. 1904
Church of St Dyfrig and St Samson, Grangetown, Cardiff, 1904 -reredos
St Bartholomew's Church, Sydenham, London High altar, reredos and communion rails 1904
Elphinstone Tomb, King's College, Aberdeen 1912 - 1926
Ripon Cathedral pulpit 1913
Memorial Cross to Frederick Norman, St. Andrew's Churchyard, Much Hadham, Hertfordshire
Statues of Leofric, Godiva and Justice, Council House, Earls Street Coventry
Tonbridge School Gate of Remembrance 1918
Salada Tea Company, Boston, bronze doors. 1927
Cathedral of St. John the Divine, New York. West end bronze doors. 1927 - 1931
St Augustine of Canterbury Church, Highgate, London N6. Lady Chapel 1930.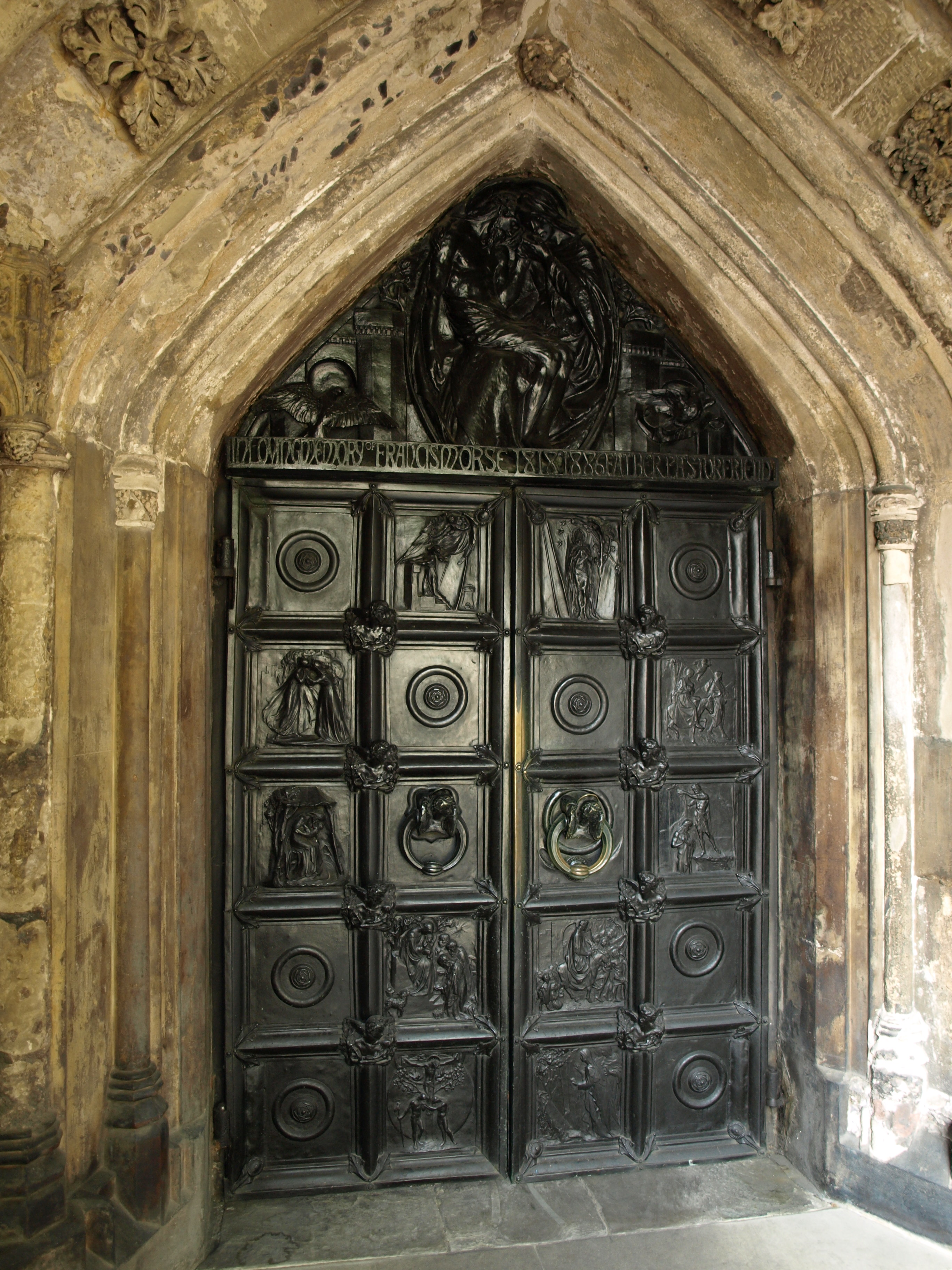 Bronze Doors by Henry Wilson at St. Mary's Church, Nottingham. Photo: Andrew R. Abbott - From Wikipedia

Le Cordon Bleu today

In the United States, 16 schools used to operate under the "Le Cordon Bleu North America" name through a licensing agreement with Career Education Corporation (CEC), a for-profit education company based in Chicago, Illinois. In 2009, the license was estimated to be worth $135 million. In 2014, Le Cordon Bleu North America generated $178.6 million in revenue and $70.6 million of operating losses. However, in light of the gainful employment rules implemented by the US Department of Education in 2015, CEC made the decision to sell the 16 campuses. When CEC failed to find a buyer it announced on 16 December 2015 that all 16 campuses in the United States would close by September 2017, giving enrolled students time to finish their programs. The last new students were accepted in January 2016. In June 2016, the Securities and Exchange Commission requested documents and information regarding Career Education's fourth quarter 2014 classification of its Le Cordon Bleu campuses.
Le Cordon Bleu has continued to maintain a presence in the United States through its New York office, Le Cordon Bleu Inc., which places students in the locations abroad.
''On October 15, 1895 the first cooking demonstration ever to be held on an electric stove was staged at Le Cordon Bleu in an effort to promote the magazine and launch the Paris cooking school. From this point on, the international reputation of Le Cordon Bleu spread rapidly. Great chefs came to the school to teach students further contributing to the world-renowned reputation of the school. As a result, students from a variety of countries were enrolling in classes as well as notable figures including Julia Child in 1950.'' From: https://www.cordonbleu.edu/home/en
Australian schools:
Adelaide
Brisbane
Melbourne
Sydney
LE CORDON BLEU JOINS FORCES WITH TWO OF SA'S UNIVERSITIES
Adelaide's mark on the world map is etched dee with the introduction of Le Cordon Bleu degrees at two of SA 's universities.
In a landmark step for South Australia, Le Cordon Bleu has teamed up with Adelaide University and the University of South Australia to offer three new Le Cordon Bleu Master degrees - set to further entrench SA's reputation as a world leader in food, wine and the hospitality industry.
Adelaide University - home to the internationally-recognised Research Centre for the History of Food and Drink - will offer an intensive Master of Arts in Gastronomy. University of SA will offer two Masters of Business Administration degrees, one in international Hotel and Resort Management, the other in International Hospitality and Restaurant Business. The new degrees -launched on Friday, October 12 - means Adelaide is set to become Le Cordon Bleu's home "down under" and an important Asia-Pacific base, in line with the new multimillion dollar Le Cordon Bleu school planned for Adelaide's CBD. Through its recruitment process, Le Cordon Bleu promotes Adelaide as being "the perfect education package" - a place where the environment of food, wine, restaurant ambience and educational intellect is second-to-none.
The Master of Arts in Gastronomy degree, particularly, has been developed for and is expected to attract the "foodies", as well as those seeking related careers in food and wine industries. Le Cordon Bleu's profile as undoubtedly the most respected provider of culinary arts programs worldwide. The new degrees are set to attract students and hospitality industry professionals from across Australia and around the world. But that's not all. These leading-edge new degrees combine for the first time academic rigour with a hospitality industry focus - and thus will set new benchmarks in food and wine industry excellence.
Le Cordon Bleu's academic director Dr Ian Whyte said, "This takes us into the new millennium of hospitality. These new degrees will prepare students, like never before, for the changing and growing demands of these burgeoning industries worldwide." The Master degrees, particularly the MBAs, will also fill a void in hospitality education, he said. "Until now, higher-order qualifications for mid-career hotel, resort or restaurant professionals have only been available through standard MBA programs....Many have gained most of their management skills on the job and for some, the opportunity to gain in-depth knowledge to create and operate their own new hospitality business has been rare," Dr Whyte said. The degrees will also be able to be studied on-line by 2002. Further information Contact Le Cordon Bleu Au (618)8348.4667 Email: Australia@cordonbleu.net LE CORDON BLEU JOINS FORCES WITH IWO OF SA'S UNIVERSITIES (2001, November 1). Le Courrier Australien (Sydney, NSW : 1892 - 2011), p. 28. Retrieved from http://nla.gov.au/nla.news-article226656399
Dione Lucas cookbook supplement in The Australian Women's Weekly, 1956 - advertisement examples - how many of these companies or products remain today?: