April 28 - May 4, 2019: Issue 402

Rozana Mediterranean Cuisine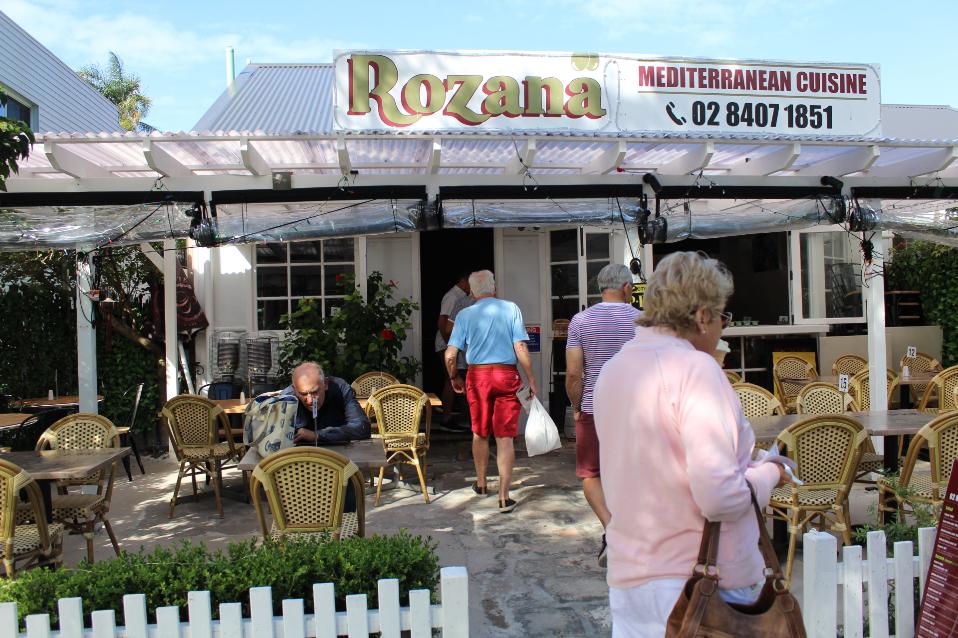 Rozana Mediterranean Cuisine
1/48 Old Barrenjoey Road, Avalon Beach
Ph: 8407 1851
Open Tuesday to Sundays for Lunch and Dinner
Free home delivery on orders over
$50.00 (weekends only)
Group bookings welcome
BYO Restaurant
Officially opened November 18, 2018, Rozana restaurant Avalon is a fusion of Mediterranean, Middle Eastern and international flavours. Fresh vibrant food and a great open space in the cottage that once hosted the Avalon Craft Cottage,
Khaled Fahmy and his team are wowing local eaters.
For those of us who like vegetarian cuisine but have a partner who likes meat, this is an eatery where both of you can eat together and select from a wide variety of choices, not just the usual 2-3 options for those who want something
substantially vegetarian. Dishes like tabouli are made daily and for those who used to head out to western Sydney for
real
falafels, you now need travel no further than downtown Avalon Beach.
Another welcome return for those who remember Terry and Pam Papadis who once ran the Milk Bar next to the
picture
theatre is a place to get Rice Pudding again - and what's more it tastes just like Terry's used to.
The chef has worked with world leading chefs in Europe the Middle East and South America, and has honed talents over the years to produce not just dishes, but true culinary masterpieces.
For Entrees we tried the
Fried kebbeh [4pcs] -
Cracked wheat with mince stuffed with pine nuts, onion and mince deep fried and served with tahina sauce and
Arnabeet [Cauliflower] - Lightly fried crispy cauliflower, served with tahini
sauce
- Both $14
Traditional
recipes and making the most out seasonal ingredients produced great tastes.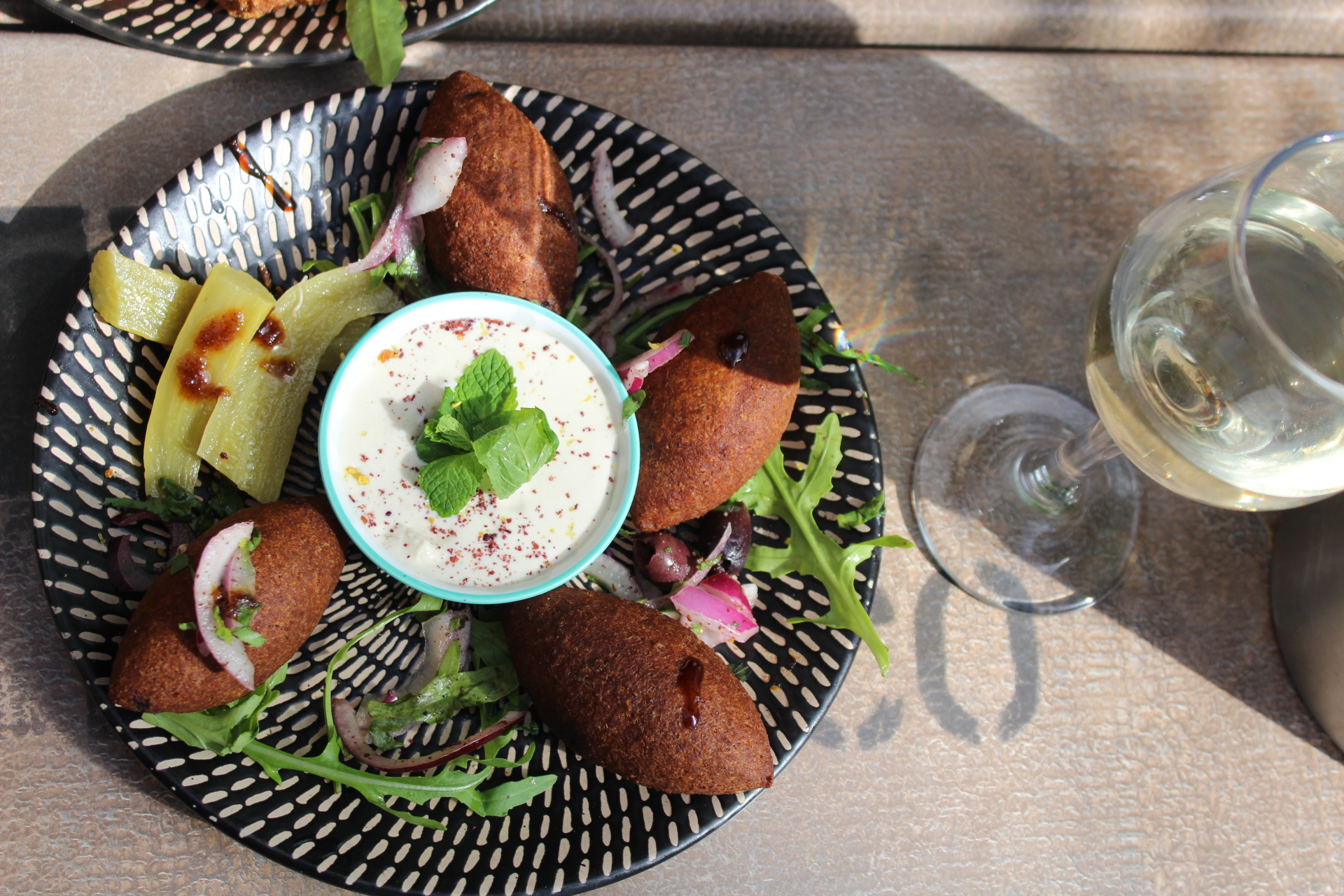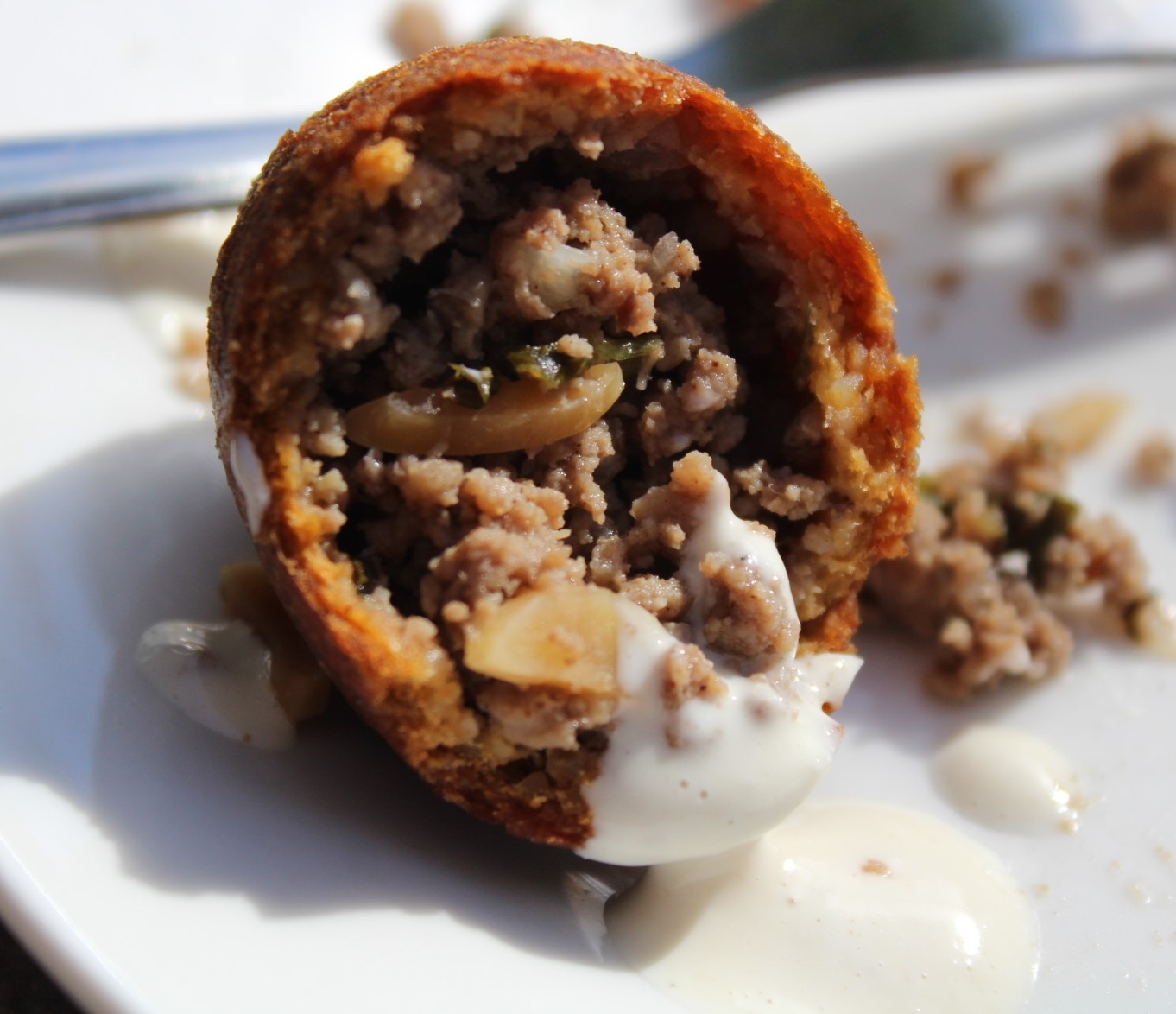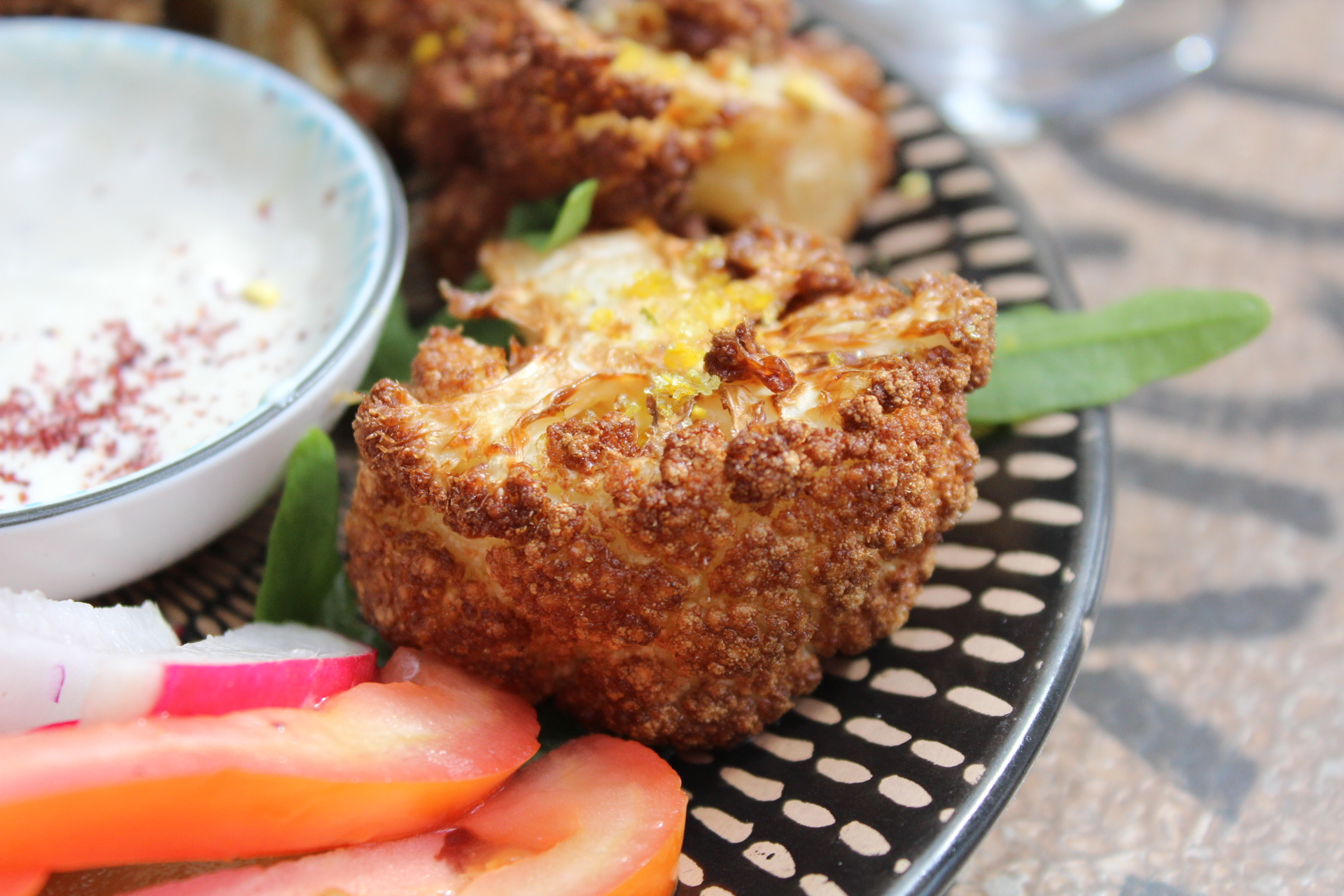 Our Mains were
Samka Hara -
Grilled barramundi fish fillet topped with spicy tahini sauce, roasted mix nuts and lemon with salad -
$28.
The Samka Hara is one of the main dishes served at Rozanas. The name itself is Arabic for "Spicy Fish''. The dish is made up of a lightly grilled barramundi served with a special sauce.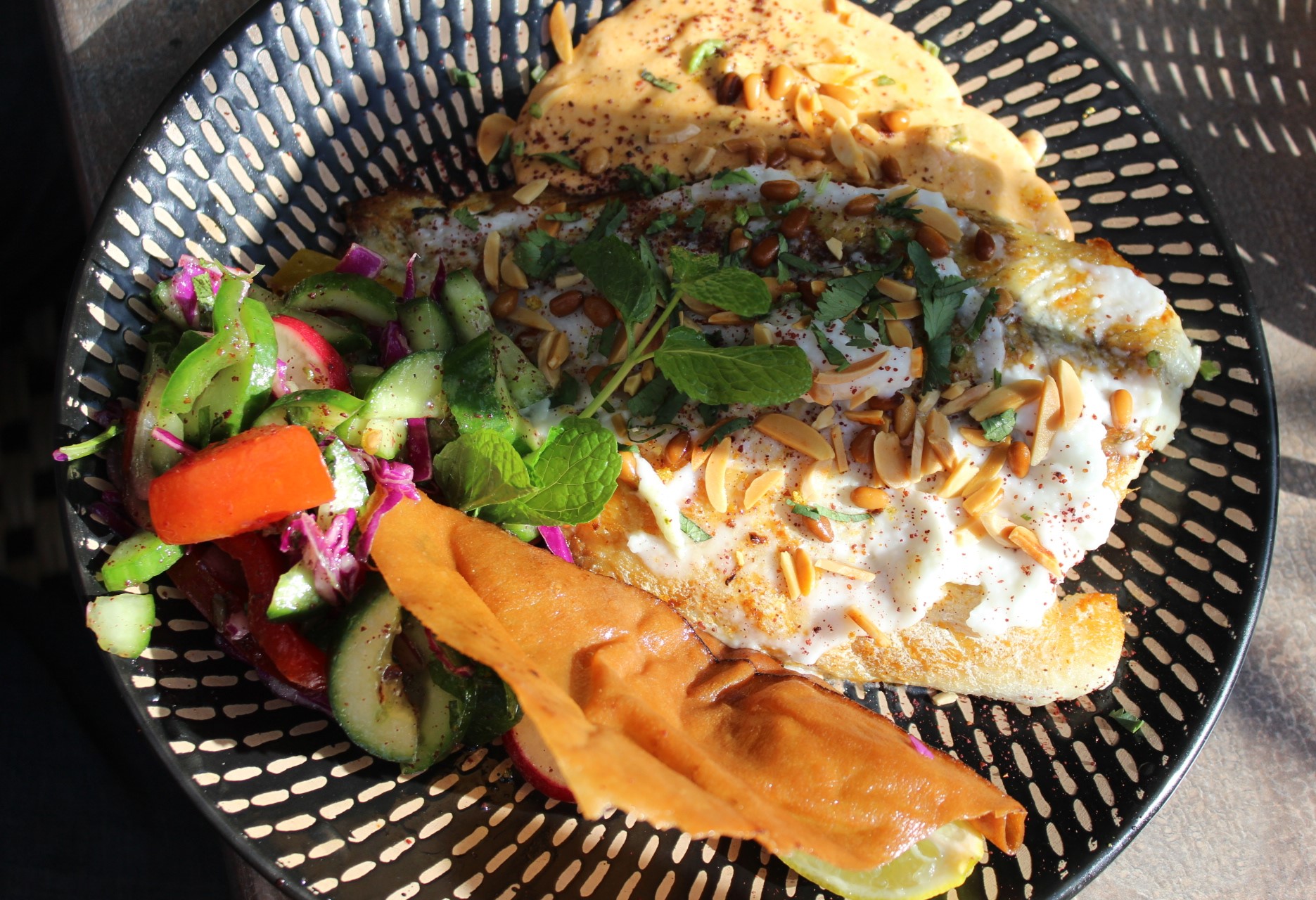 This dish hasn't always been called Samka Hara, originally the chefs named it 'Mojo Salmon'.
The Samka Hara was created after the two chefs from Rozanas came together and combined their cooking styles. One chef was from South America and one from the Middle East. Their combination of cooking styles has led to the fusion present in the Samka Hara. The fish was so fresh it melted in the mouth
Rosanna Grilled Salmon -
fresh Greek style salad and roasted potatoes with grilled salmon topped with a spicy green paste -
$28. Also really really fresh fish, crisp salad ingredients served cold - perfect for basking in Autumn sunshine while eating.
A sample of other dishes available are a
Moroccan tagine -
Moroccan style dish with chicken, chickpeas, vegetables and spices. Served with flat bread for sopping up the juices for
$30.
Shawarma [lamb or chicken],which is s
hredded (lamb or chicken fillet marinated in herbs and spices, grilled with onions and capsicum, served with tahini sauce or garlic sauce for
$25.
If you have a large table of guests you may want to try out the
Rozana Mixed Plate;
3 fresh skewers of lamb fresh tawook and kafta with falafel, kebbeh, dips, tabouli, fattoush and fresh bread for
$32.
Th restaurant also has Banquet meals for those who like to
try
the lot - the Rozana Banquet for 2 $40 per person includes
Lamb shish, tawook, kafta, steak, chargrilled chicken, hummus, baba ghanoush, garlic, fattoush, falafel, sambousk, kebbeh chips, pickles, fresh homemade sauce and fresh bread served with sweet dessert bakalava -
$80
For those who want real vegetarian choices there's the V
eggie Banquet for 2 [V] $35.00 per person taht includes
Vine leaves, falafel, sambousk, cauliflower, grilled eggplant, hummus, baba ghanoush, garlic, labnah rice, chips, fattoush, pickles, fresh bread, homemade sauce served with dessert bakalava -
$70
Rozana Mediterranean Cuisine has a Lunch Menu with a few examples including H
alloumi bruschetta;
Parsley, cucmbers, cracked wheat, shallots, lemon and olive oil dressing
$14
Fattouch [VD] -
Radish cucumbers, tomatoes, onion, shallots, mint, cabbage, pomegranate molasses and olive oil dressing,
for
$14
Extra's Add / Halloumi $3 / Chicken $5 / Beef $5
Or
Burgers, Wraps and Plates. There's a
Classic Chicken Burger;
Grilled chicken, butter, lettuce, tomatoes, gherkins, mayo, ketchup, topped with American cheddar for
$16 or
Falafel on sourdough [VD];
Served with lettuce, tomatoes, turnip, radish, gherkin, tahina sauce and hummus dip for
$14
The
Moroccan Lamb Sandwich is shredded lamb with tabouli, hummus pickled onions mint
yogurt
in Turkish focaccia bread for $16.
There's also a
Kid's Menu with
Nuggets and Chips,
Chicken Skewers and Chips or
Kafta Skewers
For those who like
Desserts try the
Choclava;
Pecans and sweet chocolate layered over delicate pastry creates an irresistible version of the traditional baklava dessert for
$7