May 17 - 23, 2015: Issue 214
Pumpkin
It's Pumpkin Season - these delightful globes of orange and gold crops are coming in and at 99 cents a kilo, the price, weight and taste proves they're fresh from the best fields of Australia. We bought a whole one the other day and regularly roast off extra junks when cooking some in the oven as it makes a great alternative spread to butter, or any other condiment, when cold.
During past pumpkin seasons we've shared recipes for whole pumpkin stuffed with rice and chorizo, the famous pumpkin scone Australia is renowned for, soup, muffin and pie recipes, and even a few ideas from days of yore.
This Autumn we'd like to share a few more inspirations for those who, like us, buy the whole pumpkin as they know there will be ideas enough to indulge in this great for you at this time of year vegetable.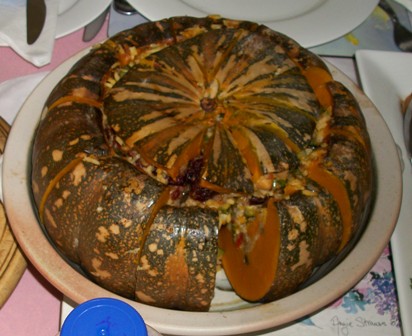 Pumpkin bread Savoury Version
500g butternut pumpkin, peeled, chopped
2 cups self-raising flour, sifted
1 teaspoon fennel seeds or similar
2 teaspoons dried oregano
75g butter, melted
1/2 cup reduced-fat milk
2 eggs, lightly beaten
2 teaspoons fresh rosemary sprigs
Butter, to serve (optional)
Preheat oven to 180C/160C fan-forced. Grease a 9cm-deep, 9cm x 19cm (base) loaf pan. Line base and 2 long ends with baking paper. Cook pumpkin in a saucepan of boiling, salted water until tender. Drain. Transfer to a large bowl. Using a fork, mash until smooth. Allow to cool.
Add flour, fennel seeds, oregano, butter, milk and eggs. Season with salt and pepper. Spoon mixture into prepared pan. Using a spatula, level top. Sprinkle over rosemary. Bake for 40 to 45 minutes or until a skewer inserted in centre comes out clean (cover with foil or a butter wrapper if over-browning during cooking). Stand in pan for 5 minutes. Lift out onto a wire rack to cool. Slice with a serrated edged knife and serve with butter, if using.
Pumpkin Bread Sweet Version
Adapted from Simply Recipes Idea great website at:
http://www.simplyrecipes.com/
You can easily double this recipe. If you want a gluten-free version, use almond meal instead of flour. Also taken into consideration which type of pumpkin you use if it is a sweeter one you may want to cut back on the sugar a bit
We're using melted butter in this version of the recipe. If you prefer non-dairy simply replace this with Rice-Bran oil or a light olive oil instead, same proportions. In our opinion, butter tastes better.
1 1/2 cups (200g) self-raising flour
1/2 teaspoon of salt
1 cup (200 g) sugar
1 teaspoon ground ginger
1/2 teaspoon cinnamon
1/2 teaspoon nutmeg
1/2 teaspoon allspice
1 cup pumpkin puree from roasted or steamed junks, mashed
112 g butter, melted; an sub 1/2 cup light olive oil or Rice Bran oil
2 eggs, beaten
1/4 cup water
2 teaspoons Golden Syrup or treacle
1 teaspoon orange zest (optional)
1/2 cup (120 ml) chopped pecans or walnuts (optional)
Preheat your oven to 180C. In a large bowl, whisk together the flour, salt, sugar, baking soda, ground ginger, cinnamon, nutmeg, and allspice. In a separate bowl mix together the pumpkin puree, the melted butter, beaten eggs, 1/4 cup of water, molasses, and orange zest (if using). Add the dry ingredients to the wet ingredients and stir until just combined and there is no more dry flour in the batter - add chopped walnuts, if incorporating these, and gently stir them in.

Butter the insides of an 8 x 4 x 3 -inch loaf pan. Pour the batter into the loaf pan and smooth the top. Put in the middle rack of the oven. Bake for 45 to 60 minutes until a skewer poked in the centre of the loaf comes out clean.
Remove from oven and let cool in the pan for 5 minutes. Then run a blunt dinner knife around the edges of the pumpkin bread to gently separate it from the pan. Put the loaf on a rack to cool completely and use a bread knife or one with a serrated edge to slice.
If you have a really sweet tooth you can also put some icing on this version and see how long it lasts!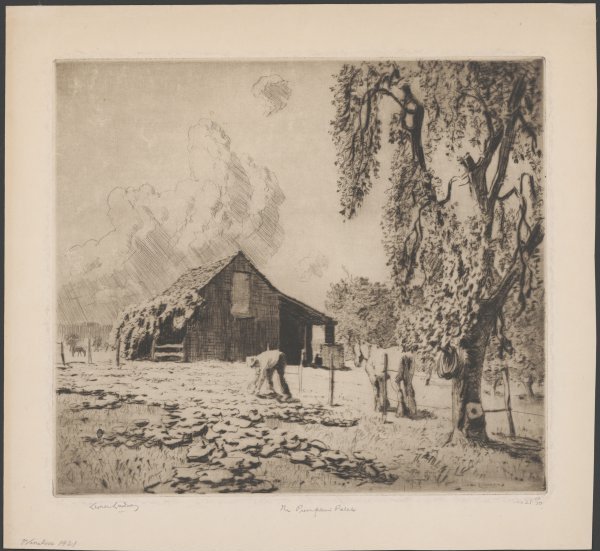 The pumpkin patch, Windsor, New South Wales, 1921 by Sir Lionel Lindsay, Lionel, Sir, 1874-1961. courtesy National Library of Australia, Image No.: nla.pic-an10691715
For the Kids Lunchboxes Pumpkin Muffins
Younger Readers Can Help Make these! And Parents, these were adapted from recipe ideas on Kids Spot another great Australian website:
http://www.kidspot.com.au/
If you want to make a gluten free or dairy free version, simply substitute your nut- meal or oil preference.
Savoury version
1½ cups -300g of pumpkin
2 cups self raising flour
¼ cup oil
2 eggs
1 cup cheese, grated
Extra grated cheese for topping
Steam pumpkin for 10 minutes or until soft. Allow to cool then mash with ¼ cup of the cooking liquid. Preheat oven to 180C and use an olive oil spray to grease the muffin pans. Combine the pumpkin mash, oil and eggs in a large bowl and whisk to combine. Sift flour into bowl, add cheese and stir or beat until just combined. Spoon evenly into muffin pans and sprinkle with extra cheese. Bake for 20-25 minutes until a skewer inserted into the middle of a muffin comes out clean.
Sweet Version
1 ¾ cups self-raising flour
½ cup brown sugar
1 cup sultanas
2 tsp cinnamon
¼ tsp nutmeg
½ tsp salt
1 cup pumpkin, cooked and mashed
2 eggs lightly beaten
½ cup milk
125g butter, melted or oil version
Preheat oven to 180C. Line two muffin tins with 18 patty pans. In a bowl, combine the flour, baking powder, brown sugar, cinnamon, nutmeg, raisins and salt. In a separate bowl, combine the eggs, pumpkin, milk and butter. Pour the wet mix into the dry mix and using a spatula, gently fold the mix together until all ingredients are just moist. Fill each patty pan to halfway and bake for approximately 15-20 minutes.
Pumpkin Frittata with Sundried Tomatoes, Rocket and Fetta
Easy lunch or for Picnic in Brilliant Autumn Days serves 4 or makes 8-10 Mini Frittatas
These can be made as little individual ones using a muffin tin, or make one large frittata and leave whole when taking on a picnic, then slice when ready to serve on a nice plate with a handful of dressed salad. If you make it prior to leaving, and keep it out of these snow winds by wrapping it in the cloth you will spread at lunchtime, it should retain enough warmth to bring out the best this great combination of flavours.
750 grams roast pumpkin
100g baby rocket
1 small red onion, thinly sliced
100g fetta, crumbled
1/3 cup grated pizza cheese
8 eggs
3/4 cup pure cream
100g mixed salad leaves
250g cherry tomatoes, halved
1 Lebanese cucumber, cut into thin ribbons
1/4 cup balsamic dressing
Preheat oven to 180C/160C fan-forced. Grease a 20cm square (base) cake pan. Line base and sides with baking paper.
Layer pumpkin, rocket, onion and fetta in pan. Sprinkle top with pizza cheese.
Whisk eggs and cream together in a large jug. Season with salt and pepper. Pour into pan. Place pan on a baking tray. Bake for 55 minutes or until browned and just set.
Meanwhile, combine salad leaves, tomato, cucumber and dressing in a large bowl. Toss to combine.
Stand frittata in pan for 5 minutes. Carefully remove from pan. Cut into pieces and serve with salad.
Curried pumpkin and lentils
1 tablespoon vegetable oil
2 brown onions, finely chopped
3 garlic cloves, peeled, thinly sliced lengthways
2 x 7cm cinnamon sticks
3 large fresh green chillies, thickly sliced optional; omit if not wanted
1 tablespoon black mustard seeds
3 teaspoons ground cumin
3 teaspoons ground turmeric
500g butternut pumpkin, peeled, deseeded, cut into 4cm pieces
305g (1 1/2 cups) dried brown or green lentils
1.25L (5 cups) Vegetable stock
3 celery stalks, including leaves, coarsely chopped
Salt & freshly ground black pepper

Heat oil in a large saucepan over medium-low heat. Add onion and garlic and cook, stirring, for 10 minutes or until soft. Add the cinnamon, chilli, mustard seeds, cumin and turmeric and cook, stirring, for 1 minute until you hear mustard seeds 'pop'.
Add pumpkin, lentils and stock to onion mixture. Increase heat to medium and bring to the boil. Reduce heat to low and simmer, covered, for 20 minutes. Add celery. Cook for further 10 minutes or until lentils are soft. Season with salt and pepper. Divide curry among serving bowls and serve with basmati rice.

In text: The pumpkin patch, Windsor, New South Wales, 1921 by Sir Lionel Lindsay, Lionel, Sir, 1874-1961. courtesy National Library of Australia, Image No.: nla.pic-an10691715
A pumpkin is a cultivar of the squash plant, most commonly of Cucurbita pepo, that is round, with smooth, slightly ribbed skin and deep yellow to orange coloration. The thick shell contains the seeds and pulp. Some exceptionally large cultivars of squash with similar appearance have also been derived from Cucurbita maxima. Specific cultivars of winter squash derived from other species, including C. argyrosperma, and C. moschata, are also sometimes called "pumpkin". In New Zealand and Australian English, the term "pumpkin" generally refers to the broader category called winter squash elsewhere.
The word pumpkin originates from the word pepon, which is Greek for "large melon", something round and large. The French adapted this word to pompon, which the British changed to pumpion and later American colonists changed that to the word that is used today, "pumpkin".
Pumpkins are high in Vitamin A, C and E, all Winter health boosting, and contains B-complex group of vitamins like folates, niacin, vitamin B-6 (pyridoxine), thiamin and pantothenic acid as well as minerals like copper, calcium, potassium and phosphorus. They are also high in fibre so great for digestion problems. The antioxidants and vitamins listed will alos support heart and eye health and a recent studies have shown a diet rich in beta-carotene may help you ward off prostate cancer, so munch on those pepitas or incorporate more pumpkin oil into your food.5
Pumpkin seeds, also known as pepitas, are small, flat, green, edible seeds. They are a good source of protein, magnesium,copper and zinc.
Pumpkin. (2015, April 13). In Wikipedia, The Free Encyclopedia. Retrieved from http://en.wikipedia.org/w/index.php?title=Pumpkin&oldid=656244225