February 19 - 25 2023: Issue 572

Summer Cake Treat: Nectarine Or Peach Upside-Down Cake - Experiments In Baking 2023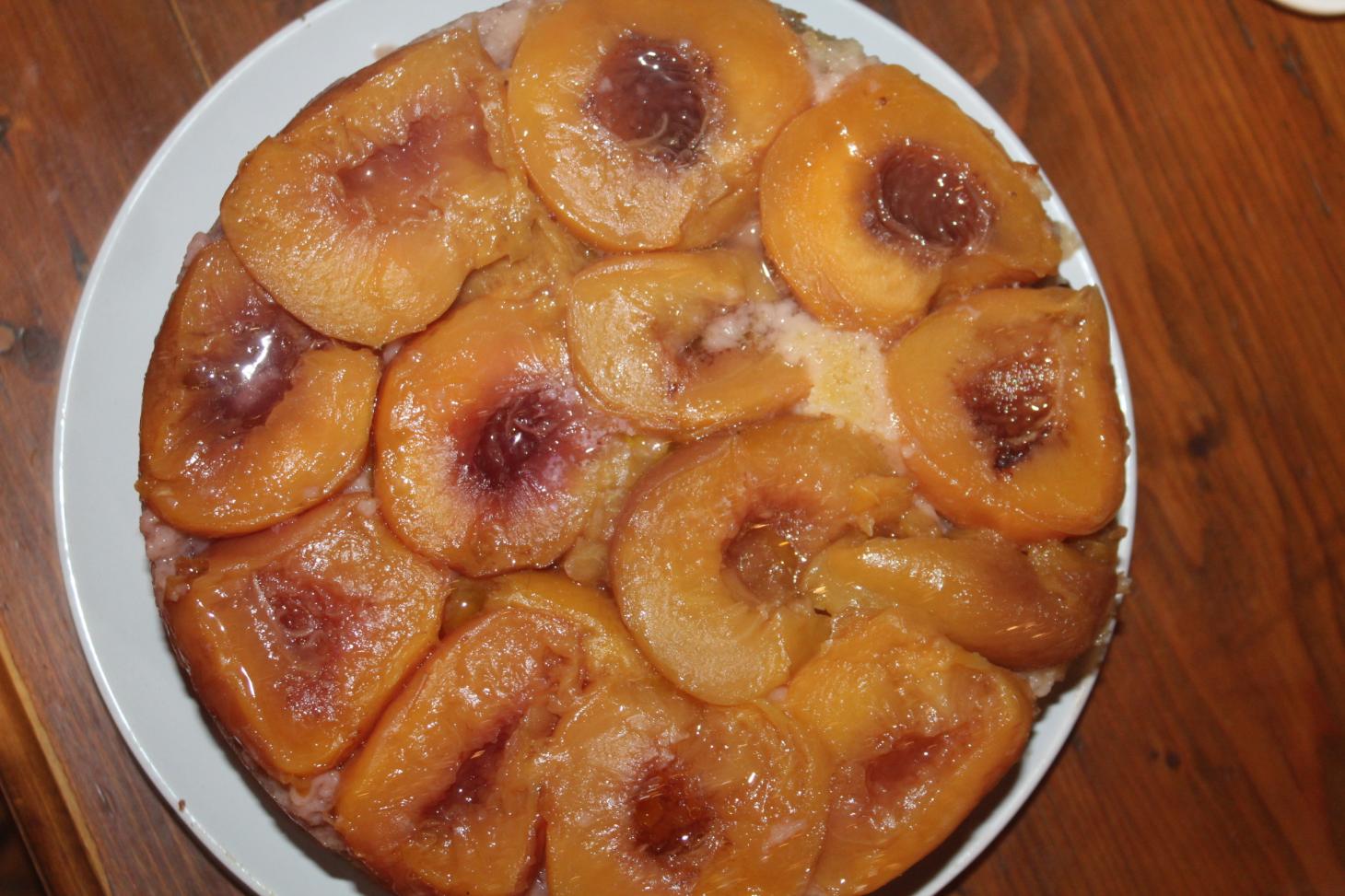 Peach upside-down cake, Feb 2023 cooking experiments
Whenever there is a meeting of what is known as the 'Brains' Trust' for Pittwater Online News those gathered are subjected to the latest 'experiment' in a recipe. Over the past few months the availability and quality of Summer stone fruit has been the target and new ways to incorporate these delicious fruits into dishes.
Lately afternoon tea fare has been a variation on the old pineapple upside-down cake using nectarines, plums, apricots and peaches. As everyone is also on a health kick, a good yoghurt is swapped out for cream and a good honey substitutes for some of the sugar quota in this recipe, or the editors version of it.
Success is measured by empty plates.
Along with loading everyone up some half-decent food if coming for lunch, or cake for afternoon tea talk sessions, there is always some leftover guests are required to take home.

Australian stone fruits are some of the sweetest and juiciest worldwide and are currently in season. January and February brings the peach, plum, nectarine apricot crops to grocers with an abundance of lovely sweet fruit this Summer. High in Vitamins A and C content, important for growth and development, and for the maintenance of the immune system and good vision in the case of Vitamin A, as well as Niacin which supports the energy required by the brain and digestive system, contributes to DNA repair and even is said to decrease the risk of cardiovascular disease in those already on a statin, these fruits are for Summer and all that comes with it.
Being in season, and cheap, if a case or two can be bought, it may be worthwhile making the chutney recipe available here as an 'extra' to add special touches to a few Summer dishes or to store them away for Winter when you want that taste of Summer without having to fly to the northern Hemisphere by simply stewing and freezing.
When stewing your fruit we find its best to stew them whole and then cut when using them. Don't add too much sugar when stewing them, you want to enhance, not overpower the fruit taste. Cook the whole fruit until soft but still whole and slightly firm, around 10 minutes depending on the size.
If you want something fresh for right now, cutting up and tossing a few of these into your salad mix with some goats cheese and prosciutto makes the mundane magnificent.
Ok, the 2023 Summer Nectarine and Peach Upside down cake recipe:
Summer Nectarine and Peach Upside down cake

Ingredients
190 grams butter
1 cup sugar - or half and half - with honey
3 eggs
1 1/2 cups self raising flour
1/2 teaspoon of salt
3/4 cup of dates
1/2 teaspoon pure vanilla essence
1/2 teaspoon cinnamon
8-10 peaches or nectarines - poached, cut in half, stone removed
1 cup Greek yoghurt or equivalent thick good yoghurt
First off heat your oven to 160 if fan forced, 150 if not - this is a dense moist cake that will take an hour and a half to cook slowly. Also boil the jug and place the deseeded dates in a bowl and cover them - this makes the dates softer and easier to incorporate into the cake batter mix. Liberally grease a deep cake pan of at least 22cm.
Place your cooked stone fruit into the cake tin base with either the cut flat side down or, if you want the outer side showing, place that down. Remember when you turn the cake out it is the fruit side you have placed down first that will show. Leave the skin on the fruit unless you don't like it - the skin is where a lot of vitamins are retained - this also helps the fruit retain its shape.
Cream together the butter and sugar and add in the vanilla essence at this stage - this will give that vanilla taste throughout the cake rather than adding it in later. Once the butter/sugar mix has become lighter in colour, add in your eggs one at a team and beat to incorporate.
Sift your dry ingredients together, the flour, cinnamon and don't forget the salt - people can omit this ingredient and that will lead to a starchy taste to your cake and the flour in it.
Put your dry ingredients atop the butter mix along with the cup of yoghurt and the dates, strained of the hot water. Mix until all ingredients are incorporated - if your mix is too dry, add in an extra spoon of yogurt, too wet, a spoonful more of flour.
Pour over the fruit - your cake batter should be still a bit stiff. Smooth out so it's fairly level, but don't fuss too much - the more you stir a cake batter the tougher you make it, so take the batter to where everything is well mixed but don't keep stirring, get it into the pan and into the oven.
Cook on the low heat for around an hour and a half or until the mix is just coming away from the tin edge.
Let it sit in the cake tin for at least 5 minutes before turning out.
Serve warm with whipped cream, ice cream or yoghurt or just plain. Will keep for around a week if you store it in the fridge or a cake container. The fridge would be better if the weather is humid.