January 13 - 19, 2013: Issue 93
Raspberries
These delicious red jewels are used in savoury dishes currently but are still best eaten, and best for you, as raw fruits. High in Vitamin C, coloured red in traditional forms, an indication they're good for your blood and all organs that filters this, they are from the rose family and a great way to say 'I love you' if preparing a dish for others without actually stating this. One of our ancient berries, these can be enjoyed in a delicious Summer dessert, the traditional 'fool'. A fool (obsolete spelling foole) is an English dessert generally made by mixing puréed fruit, whipped cream, sugar, and possibly a flavouring agent like rose water. Foole is first mentioned as a dessert in 1598 (together with trifle), although the origins of gooseberry fool may date back to the 15th century. The earliest recipe for fruit fool dates to the mid 17th century. Why the word "fool" is used as the name of this fruit dessert is not clear. Several authors derive it from the French verb fouler meaning "to crush" or "to press" (in the context of pressing grapes for wine), but this has been dismissed by the Oxford English Dictionary as baseless and inconsistent with the early use of the word. Perhaps it is associated more with the old meaning of 'fool' in English which was a comedian, someone who brought laughter, and its bubbling physical quality of joy, to our lives.
Raspberry fool – Greek Yoghurt Version
Serves 4 (or 1!)
340grams of raspberries
juice and zest of 1/2 a lemon
1 tablespoon of water
1 tablespoon confectioner's sugar
227grams of non fat Greek vanilla yogurt
1 tablespoon creme de cassis
mint sprig and a few raspberries for decoration
In a pan place the raspberries, lemon juice and zest, water and sugar. Gently simmer until sugar is dissolved and berries are very soft - about 5-8 minutes. Remove from heat and puree in a blender. Sieve the blended raspberry mixture into a bowl so you don't have any seeds. Chill in the fridge for at least 30 minutes. Place the vanilla yogurt into a large bowl. Gently fold the raspberry mixture into the yogurt. Turn into serving glasses and chill. Decorate with a sprig of mint and a few raspberries.
Original Cream version:
Serves 4
150g (1 punnet) raspberries
1 300ml container thickened cream
1 tbs icing sugar, sifted
1 1/2 tsp finely grated orange rind
Set aside 12 raspberries. Place the remaining raspberries in a bowl and use a fork to roughly mash. Use electric beaters to whisk the cream, icing sugar and orange rind in a small bowl until firm peaks form. Fold the mashed raspberries into the cream mixture to create a swirled effect. Spoon the mixture into four 125ml (1/2-cup) serving glasses and refrigerate at least 1 hour or overnight to develop the flavours. Top the fools with the reserved raspberries and serve.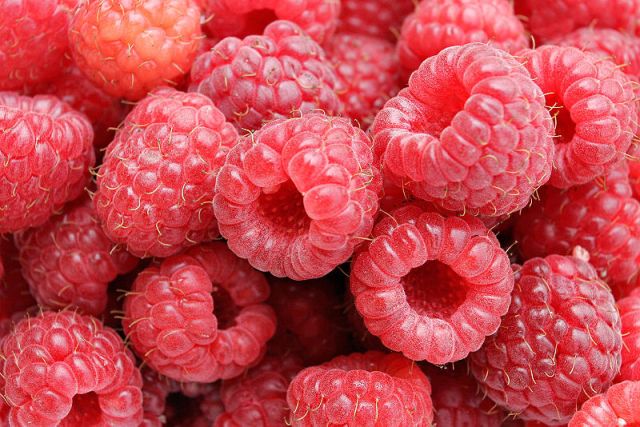 The raspberry is the edible fruit of a multitude of plant species in the genus Rubus of the Rose family, most of which are in the subgenus Idaeobatus; the name also applies to these plants themselves. Raspberries are perennial with woody stems. An individual raspberry weighs 3–5 g and is made up of around 100 drupelets, each of which consists of a juicy pulp and a single central seed. A raspberry bush can yield several hundred berries a year. Unlike blackberries and dewberries, a raspberry has a hollow core once it is removed from the receptacle.
The aggregate fruit structure contributes to raspberry's nutritional value, as it increases the proportion of dietary fibre which is among the highest known in whole foods, up to 20% fibre per total weight. Raspberries are a rich source of vitamin C, with 30 mg per serving of 1 cup (about 50% daily value), manganese (about 60% daily value) and dietary fibre (30% daily value). B vitamins 1–3, folic acid, magnesium, copper and iron are present in raspberries. Raspberries contain anthocyanin pigments, ellagic acid (from ellagotannins, see for instance the polyphenol ellagitannin), quercetin, gallic acid, cyanidins, pelargonidins, catechins,kaempferol and salicylic acid. Yellow raspberries and others with pale-colored fruits are lower in anthocyanins. Raspberries are a low-glycemic index food, as are other berries.
Fresh raspberries are an excellent source of vitamin-C, which is also a powerful natural antioxidant. 100 g berries provide 26.2 mg or about 47% of DRI of vitamin C. Consumption of fruits rich in vitamin C helps the body develop resistance against infectious agents, counter inflammation, and scavenge harmful free radicals. Raspberry contains anti-oxidant vitamins like vitamin A, and vitamin E. In addition to the above-mentioned antioxidants, is also rich in several other health promoting flavonoid poly phenolic antioxidants such as lutein, zea-xanthin, and ß-carotene in small amounts. Altogether, these compounds help act as protective scavengers against oxygen-derived free radicals and reactive oxygen species (ROS) that play a role in aging and various disease processes. Raspberry has an ORAC value (oxygen radical absorbance capacity) of about 4900 per 100 grams, crediting it among the top-ranked ORAC fruits.
Raspberries contain a good amount of minerals like potassium, manganese, copper, iron and magnesium. Potassium is an important component of cell and body fluids that helps controlling heart rate and blood pressure. Manganese is used by the body as a co-factor for the antioxidant enzyme, superoxide dismutase. Copper is required in the production of red blood cells. They are rich in B-complex group of vitamins and vitamin K. The berries contain very good amounts of vitamin B-6, niacin, riboflavin, and folic acid. These vitamins are function as co-factors and help body in the metabolism of carbohydrates, protein and fats.
Raspberry. (2012, December 27). In Wikipedia, The Free Encyclopedia. Retrieved from http://en.wikipedia.org/w/index.php?title=Raspberry&oldid=529934645
Copyright Pittwater Online News, 2013. All Rights Reserved.
Wild Native Raspberry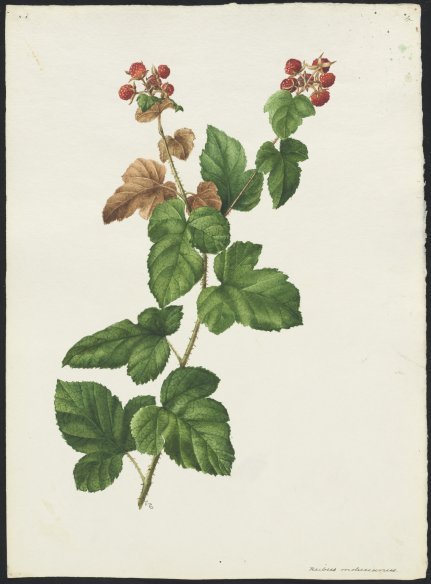 Rubus moluccanus, Molucca bramble or Broad-leaf Bramble, is a scrambling shrub or climber, native to moist eucalyptus forest and rainforest of eastern Australia, distributed from Queensland to Victoria. Molucca bramble leaves are simple with 3-5 lobes, 2–15 cm long, and 3–10 cm wide, and the lower surface tomentose. Flowers pinkish red or white. Red fruit is 1.2 cm wide. Regarded as a tasty edible fruit. Eaten out-of-hand, and used commercially to a limited extent in jams and sauces.
Rubus moluccanus. (2011, April 20). In Wikipedia, The Free Encyclopedia. Retrieved from http://en.wikipedia.org/w/index.php?title=Rubus_moluccanus&oldid=424959901
As well as being delicious to eat Molucca Berries are very nutritious and are fast gaining a reputation as a natural medicine. Nutritionally, they contain on average 1.5% protein, .01% Thiamin, 0.02% Riboflavin and1% Vitamin C. Recent research undertaken by Food ScienceAustralia shows the berries have extremely high anti-oxidant activity. Other research undertaken at Charles Sturt University suggests the berries could be developed for their anti-bacterial properties. The antimicrobial activity of molucca berry juice and dried molucca berries were investigated against five human pathogenic bacteria, and both were found to significantly reduce the growth of several species of bacteria including Staphylococcus aureus, Alcaligenes faecalis and E. Coli. You can also use the leaves to make tea which is said to be good for diarrhoea.
From; http://www.playingwithfire.com.au/index.php?p=1_9
Fresh/Frozen fruit is sometimes available - we sell out very quickly due to the high demand. Molucca Berry Rainforest Fruit Jelly
Playing with Fire: 5/79 Southern Cross Drive, Ballina NSW 2478. Phone: +61 2 6687 9245 E-mail: ozberries@hotmail.com
Picture: Rubus moluccanus var. trilobus, New South Wales, 14 April 1924 [picture] by Adam Forster (1848-1928) picture courtesy National Library of Australia, nla.pic-an6155177.
Adam Forster (1848–1928) began life as Carl Ludwig August Wiarda in East Friesland (Germany). After, he spent many years as a businessman in South Africa. He was the 5th son of Christian Heinrich Wiarda (president of the supreme high court of Aurich, Lower Saxony). The young Carl was sent to Military School, studied medicine, became an officer in the elite Prussian Guard, and won the Iron Cross, First Class, serving in the Franco-Prussian War in 1870 as a lieutenant. Soon after he gave up his commission and emigrated to South Africa. Here he married Mary Emma Smith, daughter of the Lord Mayor of Port Elizabeth. From there he emigrated to Australia on board the 'Cutty Sark' in 1891, and changed his German name to Adam Forster to create a more acceptable identity in the English colony.
In 1897 he was appointed Registrar of the Pharmaceutical Board, an office he held for 23 years until his retirement.
Forster had inherited artistic talent from his father, an accomplished portrait painter. His interest in the flora of his adopted country led him to develop that talent. He set himself the goal of depicting 1,000 Australian wildflowers. To this end, on weekends, he travelled all over the Sydney region and country New South Wales to sketch and collect plant specimens.
He was then commissioned by George Robertson of Angas & Roberston, to illustrate a book on Australian plants with miniature paintings based on his larger works. The book was initially to have text written by Edwin Cheel, State Botanist of NSW. Soon after completing 248 images for the book he died of a massive heart attack in 1928. The proposed book was shelved, but 10 years later, George Ferguson, Robertson's grandson, revived the project. On the advice of David Stead his then partner, Thistle Harris, was engaged to write the text for 15 pounds. Illustrated T.Harris, Wildflowers of Australia (1938).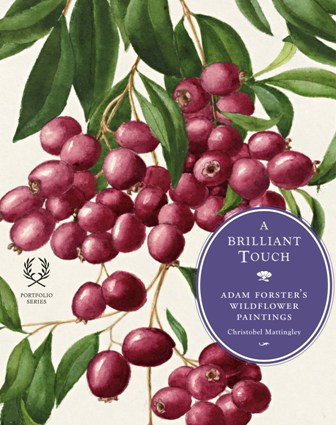 References and Sources:
National Library of Australia News, Feb 2005, article by Christobel Mattingley.
A George & C.Jordan A Heritage of Botanical Art. Voices (1993); H.Hewson Australia - 300 Years of Botanical Illustration (1999)
Adam Foster Biography Retrieved from: http://www.anbg.gov.au/biography/forster-adam.html
AvaliableNow:
A Brilliant Touch: Adam Forster's Wildflower Paintings by Christobel Mattingley. National Library of Australia, April 2011, 180pp.
Availability: Plenty. Price: AUD$29.95 (AUD$27.23 ex-tax) NZD$39.95
Purchase from: www.newsouthbooks.com.