January 29 - February 4 2023: Issue 569

Summer Vegetable: Beetroot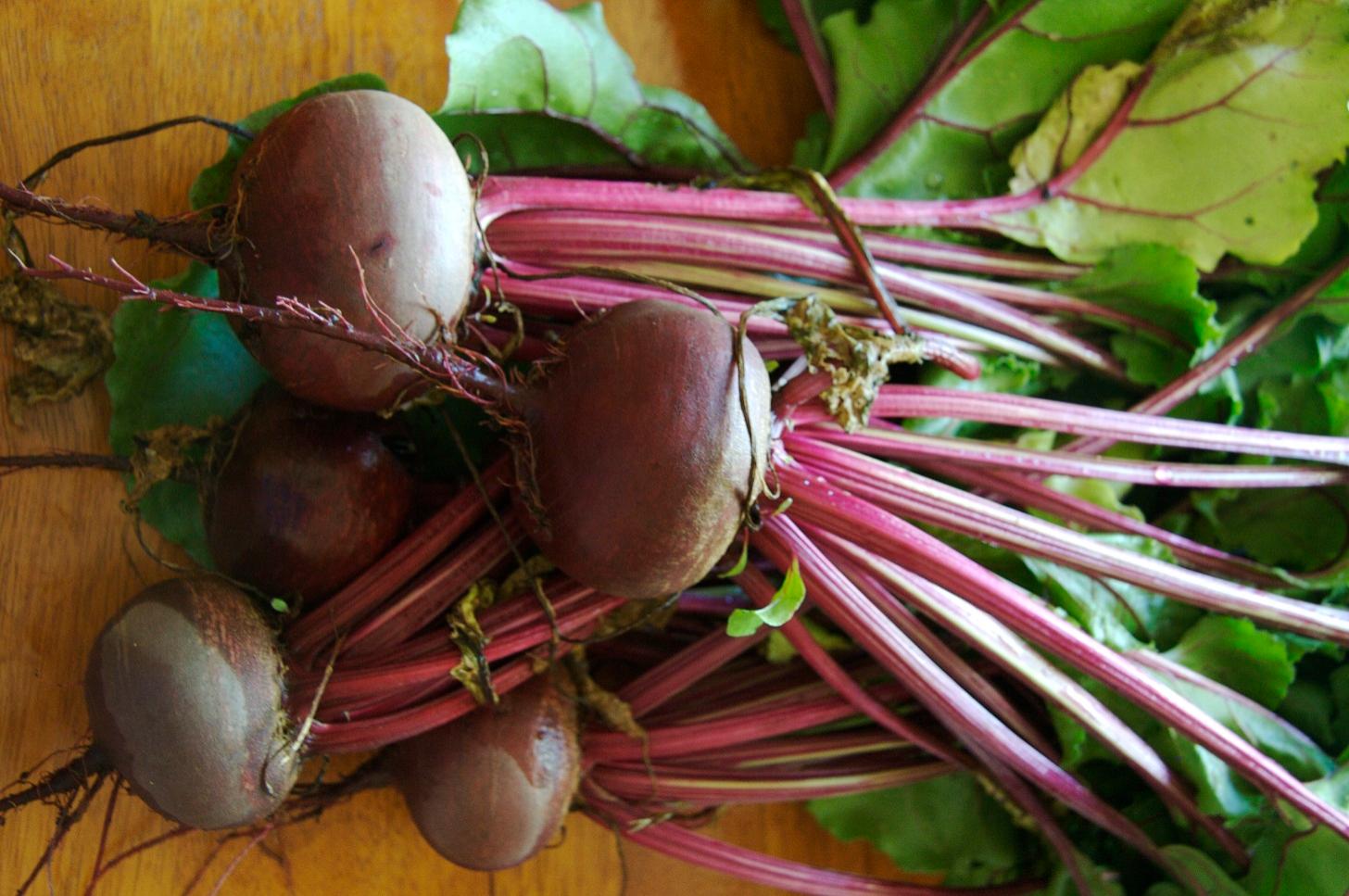 Beetroot on stem. Photo: Brianna Walther
For all those who like to amp up that healthy Summer feeling that comes with more visits to the beach and bush during this season, changing your diet to reflect and support these activities flows on as a natural consequence. Salads, Summer fruits, lighter cheeses such as ricotta and goats are all on the menu, as is freshly caught fish.
For those who like a good dose of vegetables as part of that diet, in season capsicums, whether roasted, stuffed with rice or simply chopped up to add to a Greek salad, green beans, also great value at present and a great addition to any green salad or a feature in Nicose salads, or eggplant made into Baba Ganoush or as a feature in a vegetarian version of Parmigiana are all in peak condition at present and readily available.
The other vegetable currently in season which will give you extra vim is the humble and ancient beetroot. Great for digestion and building muscles, high in folate, famous for making the Aussie Burger even better, whether roasted, raw in a juice or steamed and added to your salad, these red bulbs which health professionals are citing as a way to help lower blood pressure, boost exercise performance and prevent dementia, form part of many an Australian Summer menu.
If you can't get enough of them and are looking for some new ways to enjoy them, a few ideas follow. Always choose heavier smaller beetroots for recipes - bigger ones are best kept for juices.
Carrot and beetroot fritters
1 tablespoon olive oil
1 medium onion
1 garlic clove
2 large carrots
2 medium beetroots
2 teaspoons cumin
2 tablespoons chopped coriander

1 cup wholemeal flour
2 large eggs
Hommous or Minted Yoghurt to serve with
Grate the carrots and beetroot. Squeeze out as much liquid as you can, then put on a plate between triple-thickness kitchen roll. Leave to rest for 20 minutes.
Put the onion and herbs in a bowl and add the grated veg. Sprinkle over the flour, stir well, then add the eggs. Mix together, ensuring mix is neigther too wet or dry, then shape into 12 thin fritters.
Heat the oil in a large pan and fry the fritters for 2-3 minutes on each side. Drain on kitchen roll and serve with the salad and yogurt or Hummus.
Beetroot, Goats Cheese & Walnut Salad
6 medium beetroot bulbs
2/3 cup walnuts
1/2 small red onion
1/3 cup roughly chopped parsley
70g washed baby spinach leaves
1/4 cup olive oil
2 tbs lemon juice
1 tsp Dijon mustard
120g goats cheese
Preheat oven to 200°c. Trim 6 beetroot bulbs and wrap in foil. Roast for about 40-60 minutes until tender. Allow to cool then peel and cut into quarters and then quarter again. While cooking beetroot, p
lace walnuts on a baking tray and roast for last 8 minutes until golden. Finely slice red onion.
Combine onion, beetroot, walnuts and parsley in a bowl with baby spinach. Whisk olive oil with lemon juice and dijon mustard. Drizzle over salad. Toss gently. Crumble goats cheese over and serve with thick slabs of hot bread.
1 x 400g/can chickpeas, drained and rinsed
250g cooked beetroot
1/2 tsp salt
Juice 1/2 lemon
1 garlic clove, crushed
2 tbsp tahini
2 tsp ground cumin
100ml extra virgin olive oil
2 tbsp creamy horseradish
Finely chopped parsley to garnish
Method
Place all the ingredients except the horseradish, parsley and in a food processor and process until smooth.
Transfer to a serving dish then using a knife, swirl through the creamed horseradish to create a marble effect.
Garnish with the chopped parsley and serve with flatbreads or your choice of accompaniment on the side for dipping.
250g cooked beetroot, pureed
3 eggs
1/2 teaspoon vanilla extract
250ml vegetable oil
300g caster sugar
225g self raising flour
6 tablespoons cocoa powder
Preheat oven to 180 degrees C. Grease and flour your cake tin.
In a large bowl, combine pureed beetroots, eggs, vanilla, oil and sugar. Mix with an electric mixer until well combined.
In a separate bowl, mix together flour, salt and cocoa. Add to the beetroot mixture, folding together well. Pour batter into prepared tin.
Bake for 25 to 30 minutes until skewer inserted in centre comes out clean. Cool and cover with melted chocolate - bliss!
Dietary Nitrate Found In Beetroot Juice Significantly Increases Muscle Force During Exercise
A new study has found that consuming dietary nitrate -- the active molecule in beetroot juice -- significantly increased muscle force while exercising. While it is known that dietary nitrate enhances exercise, both boosting endurance and enhancing high-intensity exercise, researchers still have much to learn about why this effect occurs, and how our bodies convert dietary nitrate that we ingest into the nitric oxide that can be used by our cells.
To help close this gap, researchers at the University of Exeter,
the University of Queensland,
and the U.S. National Institutes of Health traced the distribution of ingested nitrate in the saliva, blood, muscle and urine of ten healthy volunteers, who were then asked to perform maximal leg exercise. The team wanted to discover where in the body the dietary nitrate was active, to give clues on the mechanisms at work.
An hour after the nitrate was taken, participants were asked to perform 60 contractions of the quadriceps -- the thigh muscle active while straightening the knee -- at maximum intensity over five minutes on an exercise machine. The team found a significant increase in the nitrate levels in muscle. During the exercises, researchers found this nitrate boost caused an increase in muscle force of seven per cent, compared to when the participants took a placebo.
Andy Jones, Professor of Applied Physiology at the University of Exeter, said: "Our research has already provided a large body of evidence on the performance-enhancing properties of dietary nitrate, commonly found in beetroot juice. Excitingly, this latest study provides the best evidence to date on the mechanisms behind why dietary nitrate improves human muscle performance."
Previous studies had found an increase of nitrate in tissue and body fluid after ingesting labelled dietary nitrate. By using the tracer in the new study, researchers were able to accurately assess where nitrate is increased and active, and also shed new light on how the nitrate we consume is used to enhance exercise performance.
"This study provides the first direct evidence that muscle nitrate levels are important for exercise performance, presumably by acting as a source of nitric oxide," said Dr Barbora Piknova, research collaborator and staff scientist in the National Institute of Diabetes and Digestive and Kidney Diseases at the National Institutes of Health. "These results have significant implications not only for the exercise field, but possibly for other medical areas such as those targeting neuromuscular and metabolic diseases related to nitric oxide deficiency."
The research was conducted in collaboration with the University of Queensland, Australia, under the QUEX partnership with Exeter.
Stefan Kadach, Ji Won Park, Zdravko Stoyanov, Matthew I. Black, Anni Vanhatalo, Mark Burnley, Peter J. Walter, Hongyi Cai, Alan N. Schechter, Barbora Piknova, Andrew M. Jones.
15 N ‐labeled dietary nitrate supplementation increases human skeletal muscle nitrate concentration and improves muscle torque production.
Acta Physiologica, 2023; DOI:
10.1111/apha.13924