Community News January 2021
January 24 - 30, 2021: Issue 480
This Issue
Inbox News
New State Library Of NSW Exhibition Showcases Defining Images Of 2020, Joe Biden sends a clear message to the watching world – America's back, Starfish: rare fossil helps answer the mystery of how they evolved arms, Brain Pressure Disorder That Causes Headache and Vision Problems On Rise, Research Establishes Antibiotic Potential For Cannabis Molecule, New Discovery In Breast Cancer Treatment, Cosmic Beasts and Where To Find Them
Environment
Time Of Burran, The Sydney Edible Garden Trail Gets Physical In 2021: register your garden by Jan. 31, Surfers For Climate, Discussion On February 11, 2021: Environmental Issues On Our Northern Beaches, Draft Horse Riding Plan For South East Wollemi National Park, Improved Access To McBrides Beach In Booti Booti National Park, 'Dinosaur Tree' Declared Asset Of Intergenerational Significance (NSW): from 2020 - Davidson Rural Fire Brigade's 'Arduous' Firefighters + Fire Fighting Mission Saves Prehistoric Pines, It's not too late to save them: 5 ways to improve the government's plan to protect threatened wildlife, Engineers have built machines to scrub CO₂ from the air. But will it halt climate change?, Ross River Fever In Pittwater: What You Can Do To Beat Those Mosquitoes, Upcoming Activities For Friends Of Narrabeen Lagoon Catchment, Bushcare In Pittwater, Gardens and Environment Groups and Organisations In Pittwater, Pittwater Reserves, Shorebird Identification Booklet: free to download, Aussie Bread Tags Collection Points in Pittwater
Vale George Patrick Pollnow
17/03/1955 - 08/01/2021
Passed away peacefully on Friday 8th January 2021 at home surrounded by family and friends.
Treasured husband of Margo, a loving and devoted father to Sam, Aly, Anita and Sarah (dec'd), father-in-law to Amy and Lilah, adored Pa to Hudson and Asher and caring dog dad to his loyal friend Elsa.
Aged 65 years.
We will miss his loving nature, his warm smile that could light up the room and his love and passion for music.
May he rest peacefully until we are together again.
A Celebration of Patrick's life was held at Bilgola Surf Club Wednesday January 20th.
Greatly missed in our community.
Reminder- Double Demerit Periods: Australia Day Long Weekend 2021
Double demerit points apply for speeding, seatbelt, motorcycle helmet and mobile phone offences during some holiday periods such as long weekends, Christmas, New Year and Easter. Remember that double demerits are in place for 5 days over the Australia Day period
from Friday January 22nd 2021 to Tuesday January 26 2021 inclusive.
Double demerit points apply for speeding, seat belt, motorcycle helmet and mobile phone offences during holiday periods and run from midnight on the start date
to midnight on the finish date
.
Mobile Phone Detection Cameras are being enforced and fines issued. Drivers caught using their phones during a double demerit period will be hit with a $349 fine and 10 demerits.
NSW Urged To Prepare For Heat Wave
With much of NSW forecast to experience severe to extreme heatwave conditions over the coming days, NSW Health is urging residents to take steps to beat the heat.
Acting Director of Environmental Health, Dr Adi Vyas said people should take extra care to prevent heat-related illness.
"Hot weather puts a lot of strain on the body, including dehydration, and can make underlying health conditions worse," Dr Vyas said.
"It also causes heat stress and heat stroke. People over 75 years, people with chronic medical conditions and people who live alone are particularly vulnerable.
"Plan for the upcoming heatwave by checking your fridges, freezers, fans and air-conditioners work properly. Set your air conditioning to cool; a setting of 24 degrees can keep you cool while helping to reduce electricity demand. Put jugs of water in the fridge and cool packs in the freezer. Also ensure your blinds are closed before the sun hits your windows. Plan your activities safely on hot days.
"Protect yourself during the heatwave by postponing or rescheduling your outdoor activities. Reduce the impact of heat by avoiding being outside during the hottest part of the day; keeping well hydrated with water; and looking after vulnerable neighbours and relatives.
"Signs of heat related illness include dizziness, tiredness, irritability, thirst, fainting, muscle pains or cramps, rapid pulse, shallow breathing, vomiting and confusion."
People showing severe signs of heat-related illness should seek urgent medical attention and, in an emergency situation, call Triple Zero (000).
While everyone needs to take necessary precautions to avoid heat-related illness, NSW Health is also urging people to continue to practise COVID-19 safe behaviour during the heatwave.
"If you're able to keep cool at home using fans, air-conditioning and closed blinds, please do so and stay at home. That way, we won't compromise physical distancing in public indoor venues, such as shopping centres, libraries and other public buildings where people may seek respite from the heat," Dr Vyas said.
"If you do leave your home to attend other indoor spaces, please physically distance and wear a mask in places where you cannot maintain 1.5 metres distance from others.
"It is essential to keep in touch with relatives, neighbours and friends; especially those living alone or who are isolated. Be COVID safe; check in with them through a phone call or video call."
More information can be found at the NSW Health website.
Woody Point Yacht Club Putt Putt Regatta 2021
The WPYC has been run and won on Saturday January 23rd - with a fine time had by all.
Owing to Covid-safety requirements the usual 'raft-up' could not occur, but the Church Point Ferry Service spotted favourite boats Karoo and Maltby, and gave a warm welcome to the new well decker living in McCarrs Creek from Gymea.
A great big thank you to all the organisers and competitors, Toby Jay, Dave Shirley, Col Bailey and all the others.
Col reports that:
Pete Muras won the putt putt, he was a local 30+ years ago!
Great catch up.
The top 5 finishers in the gents launch were all within 1 minute.
Quite fitting and only by 20 seconds was the mighty Maltby!
Millsy was looking over us today!
For those who weren't there missed out big time!
Photo courtesy Church Point Ferry Service.
BTW: Happy Birthday Captain Penny Gleen - 21, again, this week!
Waterways Warning - Don't Skip Safety
Residents and tourists are being urged to stay safe when heading out on the water after a recent spike in maritime incidents across NSW. Minister for Transport and Roads Andrew Constance said authorities were particularly concerned ahead of another weekend of warm weather, dangerous surf conditions and the Australia Day public holiday.
"Since the start of the COVID pandemic we've seen an increase in boating licences and people heading out to enjoy time on the water. But what is really concerning is there has also been an increase in the number of incidents, with a disturbing spike in the second half of 2020," Mr Constance said.
"We're about to head into some really warm summer weather combined with hazardous swells, the end of school holidays and the Australia Day public holiday. I am urgently reminding everyone to take the necessary safety measures to ensure a fun day out doesn't end in tragedy.
"In the past six months, we've lost nine lives on our waterways, including two this year. I can't stress enough how crucial it is for boaters to know and follow the rules which exist to keep us all safe.
"Our records show there are several hundred additional NSW boat licence holders compared to last year. We've also seen a further 1500 boats registered. That's a lot of new boaters. We are urging all skippers, new or more experienced, to review their own knowledge of the basics before they launch from the local boat ramp or push off from their mooring or marina."
Transport for NSW Acting Chief Operations Officer Mark Hutchings said NSW Maritime Boating Safety Officers will be patrolling all navigable waterways and providing assistance and advice to those on the water.
"We want everyone to stay safe over these next few days.
Please ensure you wear a lifejacket, check the weather and know how to use all of your safety equipment. Also log on and off with Marine Rescue NSW so they know where you are going and when you will be back each and every time you head out on the water."
"We're expecting dangerous surf conditions to continue into the weekend, which can easily become hazardous for rock fishing and vessels crossing coastal bars, so we need people to be extra vigilant.
"This isn't just a warning for those heading out to sea. Our rivers, lakes and estuaries can also be dangerous, and even deadly, so it's necessary that everyone follows the safety requirements," Mr Hutchings said.
Disposable Masks And Balloons Litter: Snip Those Straps And Please Dispose Of Properly - Forgo Releasing Balloons
Residents report finding disposable masks littering every street and footpath lately. Just one short stroll around the block each morning means the picking of 4 on average - that's 28 just this week.
Wildlife rescuers are receiving a significant increase in rescue call-outs to wildlife tangled in balloons and disposable medical masks. Entanglements are a killer. No matter where you're disposing of your mask please take a moment to
snip the straps.
The boom in face mask production to repel the coronavirus is expected to pollute the oceans for hundreds of years, and it is there where many of the 1.5 billion masks from 2020 are expected to end up. However, let us not forget about our land animals.
Single use masks will take as long as 450 years to break down and all the while serve as a source of micro plastic and negatively impact wildlife and ecosystems. Please wear a reusable mask if required to.
Balloons are also killing our local wildlife.
Balloons are in the top three most harmful waste items to wildlife. Birds and turtles not only ingest balloons, they actively select them as food. This is because a burst balloon often resembles a jellyfish, the natural food sources of many marine species like turtles.
Ingesting balloons, and the clips and strings attached to them, can cause intestinal blockages and results in a slow painful death through starvation. Marine animals don't have the gastrointestinal pH levels to breakdown a balloon and for turtles, it may also cause floating syndrome. Trapped gases in the gut can cause a turtle to become buoyant, unable to dive for food—making them vulnerable to boat strikes and leading to starvation and severe dehydration. Balloons are the number 1 cause of death in sea birds such as Albatross and Mutton birds that have consumed plastic - Google Lauren Roman's doctoral thesis looking at the effects of plastics in marine birds in Australia and New Zealand to learn more.
Wildlife, both terrestrial and marine, can also become entangled in balloon ribbons or strings, causing injury or death through drowning, suffocation, or an inability to feed and avoid predators.
Even if balloons are disposed of "safely" they go to landfill where it may take up to 1,000 years to decompose, leaching potentially toxic substances into the soil and water.
In recent weeks balloons have returned to all our beaches, some of them wrapped around the carcasses of local water birds, while on land, our local keystone species, the environment-seeding bats are also being found dead, entangled.
Again - please be more careful and thoughtful in your use of disposable masks and let's cut out the use of balloons altogether.
Source: Northern Beaches Clean Up Crew
Not All Disabilities Are Visible
A Bilgola mum has had a bad experience twice this week in using her Mobility Parking Scheme permit at the beach car park for a family member.

For the record - not all disabilities are visible and it's no ones' business why you have been issued with a permit.
A Clinically Recognisable Disability is a permanent disability certified by a doctor for the purposes of issuing a Mobility Parking Scheme permit.
If you meet the Clinically Recognisable Disability criteria, you only need to provide a doctor's certificate when you first apply for a Mobility Parking Scheme permit. Once the disability is recorded in the RMS system, you don't need a doctor's certificate to renew or replace your permit.
Your renewal notice will say whether or not you need to provide a medical report to renew your permit.
List of Clinically Recognisable Disabilities
The following conditions are considered Clinically Recognisable Disabilities:
Paraplegia
Quadriplegia
Leg amputations
Motor Neurone disease
Cerebral Palsy
Chromosomal or syndromic conditions
Neurodegenerative disorders
Neuromuscular conditions
Blindness
This list has been developed in consultation with the NSW Disability Council and with reference to criteria used by Centrelink for carer allowance applications.
Roads and Maritime does not record the details of your disability, only that you meet the criteria.
Newport Breakers Rugby Club Women's Team
The Newport Breakers Rugby Club Women's Team had their inaugural training session this week. The team is recruiting players.
If you'd like to join either send them a message or come down to Porter Reserve at 6.30 pm on a Thursday.
Inaugural Patrick Soars Cricket Cup
While on the Breakers, the Inaugural Colts Vs. Grade Patrick Soars Cup Cricket Match will take place on
Saturday January 30th, at Porters' Reserve, commencing at 3pm in a 20 overs match
. Who will win pre-season bragging rights?
Pre-season 2021 is about to kick off for this club. First full Grade training session is scheduled for February 4th, in between times the Breakers 7's team are training.

2020 will be recorded as one of the Breakers greatest years, led under the guidance of Club President Jake Osborne and forever Breaker Man Alan Jones. The Newport Breakers Rugby Club were voted by their peers as the 2020 NSW Suburban Rugby Union of the Year across all Divisions, as well as the 2020 Div 3 Club of the Year with
four out of five trophies won
.
Photo courtesy Lupe Tali Lomu
Crown Reserves Improvement Fund Allocations For 2021 Focuses On Weed Removal, Walking Trail Upgrade, Queenscliff Surf Club And Manly Cemetery
A J Guesdon photo - Winter, 2020
The NSW Government will provide a record $51.7 million from its Crown Reserves Improvement Fund (CRIF) to maintain and upgrade Crown reserves and community facilities across the State.
Minister for Water, Property and Housing Melinda Pavey announced on Thursday January 21, 2021 this week that this year's fund has received a $40 million stimulus boost to support communities impacted by bushfires and COVID with infrastructure improvements to support jobs and local economies.
"Last year the Crown Reserves Improvement Fund supported about 345 projects across NSW and this year's stimulus boost will more than double the number of projects to 705," Mrs Pavey said.
"The Crown Reserves Improvement Fund will support projects right across NSW which will contribute to the cultural, sporting and recreational life of hundreds of communities.
"It will support residents with quality open recreational space by maintaining and improving reserves and supporting bushfire, noxious weed and pest control to keep Crown land safe and functional and to protect the environment."
Minister for Planning and Public Spaces Rob Stokes said CRIF projects include improvements to nature reserves, public halls, surf life-saving facilities, Scout and Girl Guide halls, showgrounds, caravan parks, amenities blocks, PCYC clubs, racecourses, playground equipment and more.
"Crown land is for the people of NSW to use and enjoy, and to support organisations at the heart of our communities," Mr Stokes said.
"Across the State, Crown land provides space for local parks and nature reserves and a home for community organisations like showgrounds, surf life-saving clubs, Scouts, Girl Guides, RSPCA, PCYC, Rural Fire Service and SES groups.
"This record $51.7 million investment will protect and enhance Crown land while stimulating local economies with work for tradespeople."
That allocated to Council is:
Governor Phillip Park Local Parks & Reserves: Control of bitou bush and asparagus fern with dunes near Governor Phillip Park - $28,942
Griffith Park Local Parks & Reserves: Control of weeds in Griffith Park - $24,973
Harbord Lagoon & Reserve: Control and removal of widespread invasive weeds on the Harbord Lagoon & Reserve - $24,988
Manly Cemetery: Construction of four new memorial walls and upgrade to seating at the Manly Cemetery - $201,403
Manly Warringah War Memorial Park: Upgrade of walking trails in the Manly Warringah War Memorial State Park - $124,873
Upgrade of Queenscliff Surf Life Saving Club (in Merrett Park) - $164,500
Wakehurst Parkway: Control of priority weeds on Middle Creek Reserve - $24,000
For more information visit: https://reservemanager.crownland.nsw.gov.au/funding/crif
Planning Approval For Western Harbour Tunnel
The Western Harbour Tunnel and Warringah Freeway Upgrade has received planning approval from the NSW Government, in a major step towards delivering the third road crossing of Sydney Harbour.
Minister for Transport and Roads Andrew Constance said the mega-project includes a 6.5 kilometre tunnel, with three lanes in each direction, which will help slash travel times from North Sydney to Sydney Olympic Park by up to 20 minutes.
"The Western Harbour Tunnel will take pressure off the Sydney Harbour Bridge, Sydney Harbour Tunnel, Anzac Bridge and Western Distributor corridors to revolutionise transport capacity in and around our city," Mr Constance said.
"The new tunnel will start at the new Rozelle Interchange and head under the Harbour to the Warringah Freeway, and will integrate new and existing public transport connections.
"This city-shaping piece of infrastructure will deliver a vital boost to the NSW economy, with the tunnel and freeway upgrade, along with Beaches Link, expected to support around 15,000 full time equivalent jobs."
Minister for Planning and Public Spaces Rob Stokes said the project will transform the way people move across our harbour, with traffic volumes to be reduced on some of Sydney's busiest roads.
"Planning approval means the NSW Government can get on with delivering the first stage, which is an upgrade to one of Sydney's busiest and most complex road corridors, four kilometres of the Warringah Freeway," Mr Stokes said.
"Community feedback on the project has been valuable in helping understand and deliver positive changes to the design and plan, and we will continue to work closely with local communities as the project gets underway.
"Conditions of the project include an investigation of more footpaths and cycleways in the area and a requirement that any trees removed need to be replaced at a ratio of two-to-one."
A survey of local residents and businesses will be carried out in early 2021, to ensure the project team understands and can mitigate the impact of construction.
Following the procurement process and contract awards, construction is expected to start in the first quarter of 2021.
The community is also being reminded to have its say on the Beaches Link Environmental Impact Statement which is on public exhibition until March 1st 2021.
For more information and to see the interactive portal, visit:
COVID Leasing Regulations Extended To March 28th
Small businesses will have continued protections into next year with the Retail and Other Commercial Leases Regulation amended and extended until 28 March 2021.
Under the amended legislation, the annual turnover threshold for eligible businesses has been reduced to less than $5 million, down from $50 million, and excludes non-retail commercial leases.
Tenants will also need to re-establish their eligibility by demonstrating a 30 per cent decline in turnover for the 2020 December quarter.
Landlords of small retail tenants who establish eligibility under the new regulation from 1 January 2021 will be able to access further land tax relief of up to 25 per cent, where they provide rent reductions to their eligible tenants from 1 January 2021 to 28 March 2021.
Relief will be applied to any unpaid 2021 land tax liability and refunds will be issued for payments already made this year.
The NSW Small Business Commission can act as a professional mediator to ensure small businesses are heard and treated fairly in disputes over commercial leases.
Dine & Discover Business Registrations Now Open
Eligible businesses can now register to take part in the NSW Government's economic stimulus program, Dine & Discover NSW.
The Dine & Discover program will rollout across NSW from March 2021. It will provide an economic boost for dining, arts and tourism businesses.
Under the program, every NSW resident aged 18 and over will receive 4 $25 vouchers to spend at participating businesses to support economic recovery from COVID-19.
Eligible businesses can register online to take part in the program.
Businesses can track their application through the MyServiceNSW Business Profile. Business owners will also receive a step-by-step process on how to get ready for the program.
A specialised app from Service NSW will help businesses scan, track and manage the program's voucher usage.
Once activated, businesses will automatically get paid typically within 5 business days for the value of vouchers redeemed.
To be eligible, businesses must:
have an active ABN and be registered for GST
operate in NSW in one of the eligible industries
be registered as COVID Safe and have a COVID  Safety Plan in place. 
Learn more about the Dine & Discover program at:
Avalon Boomerang Bags 2021
Moving right ahead to 2021 and all going well, our
first day back will be Tuesday 2nd February
. We will also aim to have a
stall outside Woollies Avalon on Saturday 6th
and look to getting the boxes back out for Avalonians to use once again.
Happy, safe and joyful Christmas all.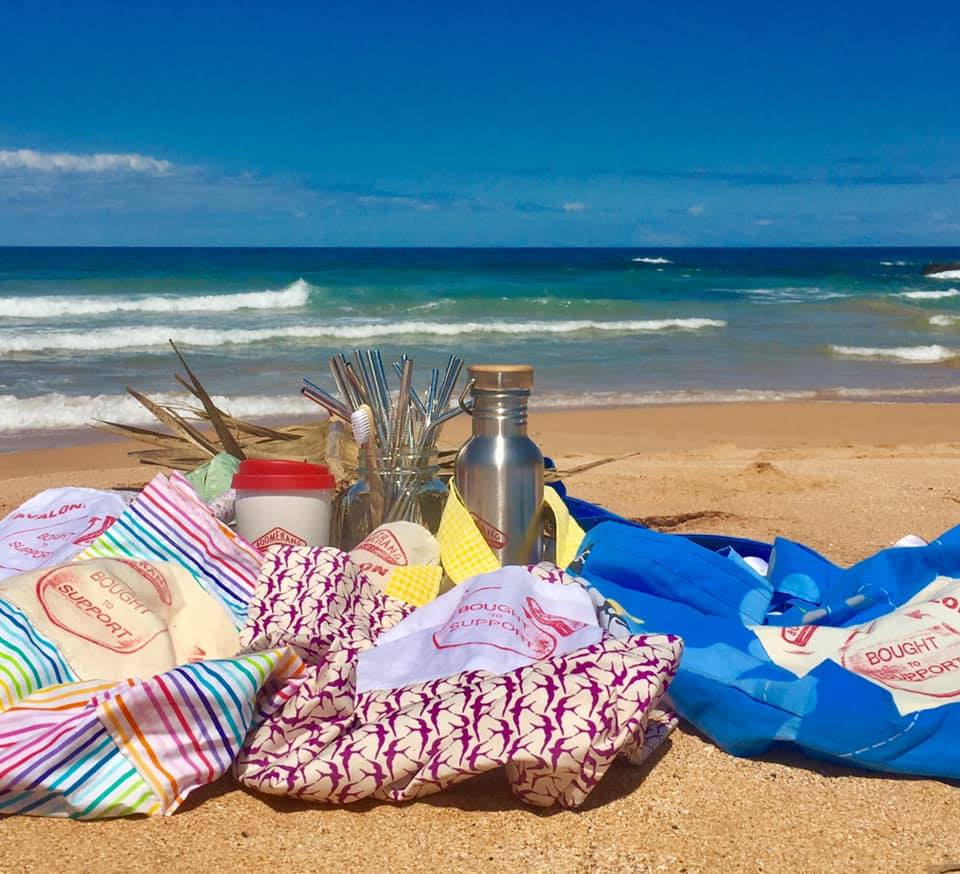 Do you believe people coming out of prison deserve a second chance?
Can you lend a helping hand to someone coming out of prison?
Are you willing to be a mentor to someone who needs guidance?
ITV STUDIOS is casting for a ground-breaking new documentary series that puts people leaving prison, back on the right track.
Filming is expected to commence from late January 2021.
People from all walks of life are encouraged to apply. For more information, please email us at:
LOTO@itv.com
Taylor's Point Wharf Turns 100 In 2021
Did you know that the wharf at Taylor's Point turns 100 in the Spring of this year?
The land consisting of the present beach reserve itself was dedicated to Warringah Shire Council in July 1920 from George Inglis Hudson through those acting for him, W. Robjohns Pty. Ltd. At this time a conversation around the need for a wharf at the site also began to take place.
On February 11th 1921 Portion 33 of the Estate was dedicated to Council for a road giving access to the wharf and beach and discussions on the plans submitted by Robjohn's Engineer saw council calling for Muntz steel or Monier steel to encase the piles – a decision that was later reversed.
On May 10th 1921 Mr. Hudson forwarded a cheque for £1000.00 for the erection of new wharf at Taylor's Point, repairs to Clareville Wharf, and repairs to roads approaching the Estate.
Soon after Tenders were called for by the Council and on June 13th, 1921 that of Messrs. Farquharson and Woodward for Two hundred and seventy-one pounds ten shillings and six pence. (£27l/10/6d.) was accepted.
In September 1921, the sale of the Taylor's Point Estate was advertised for sales to take place on October 8th - 8 Hour Day.
By October 4th 1921 Warringah Shire Council approved an extra £60 on Taylor's Point Wharf Contract be now paid, and the deposit be retained for a period of three months, against possible maintenance. The 'jetty' was in place, its original footprint was 120 feet long and 6 feet wide.
In November 1947 Warringah Shire Council records show ''that £35 be voted for the extension of Taylor's Point Wharf by 15 feet, and for two more piles, while the men are working in the area''.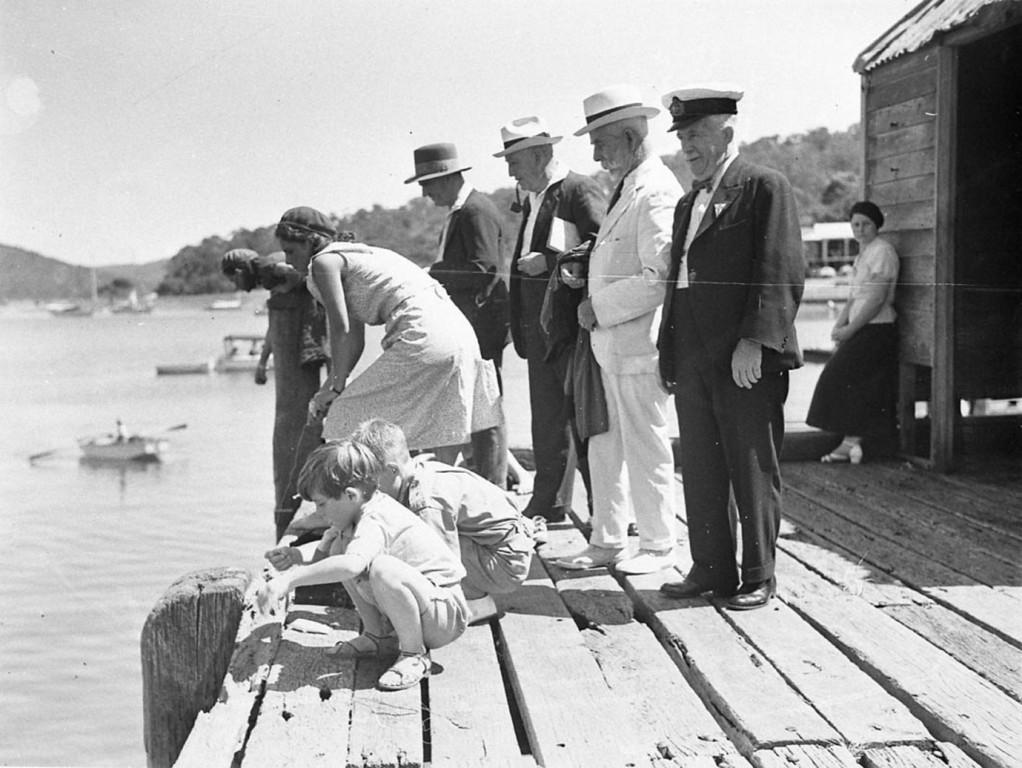 '
Fishing from a jetty at Taylor's Point
' - taken by Sam Hood during Pittwater Regatta, Broken Bay - possibly officials ensuring Taylors Point mark for races is rounded. Image No.: hood_06542, circa 1930's, courtesy State Library of NSW
Taylor's Point Wharf in 2013 – A J Guesdon photo
Operation Armada
January 18, 2021: Northern Beaches Police Area Command
Broken Bay, Pittwater, Brisbane Water, Cowan Creek and the Hawkesbury River are busy places, particularly on hot Summer weekends.
During the weekend just gone, we carried out Operation Armada, covering all of the above, all the way to Windsor.
Involved were police from:
- the Marine Area Command
- commands from both sides and the length of the waterway, including the Northern Beaches
- Traffic and Highway Patrol
- NSW Maritime.
Carried out were more than:
- 500 random breath tests
- 300 compliance inspections
- plus random drug tests.
Issued were:
- 72 infringements
- 4 court attendance notices.
As well, police responded to several marine related incidents including four tows, two searches and the medical evacuation of a bush walker who'd broken a leg in the Ku-Ring-Gai National Park.
It's all about safety on our waterways, reducing deaths and serious accidents and targeting marine crime.
Those involved say they were happy with the overall behaviour and attitude of those spoken to.
Their advice, as always, stay safe and look out for your mates.
Wakehurst Redbacks Score Grant To Facilitate Promotion Of Female Participation And Skill Development
The Wakehurst Redbacks have secured $2,500 in the latest announcement of 77 successful projects in the final round of NSW ICC T20 World Cup Cricket Legacy Fund.
Deputy Premier John Barilaro and Acting Minister for Sport Geoff Lee said the NSW Government is committed to upgrading cricket facilities and boosting grassroots development.
"As Aussies we love our cricket and this is particularly true in regional NSW where a large social network often revolves around the local cricket club," Mr Barilaro said this week.
"T20 cricket has given new life to the game, keeping kids interested and attracting new fans. It is fantastic to see the final round of the T20 World Cup Cricket Legacy Fund deliver projects to regional communities, giving country towns the same quality facilities as those in the city and improving participation rates in the sport.
"We are committed to supporting cricket in regional NSW and I am pleased to announce Big Bash fans in Coffs Harbour and Albury will get to see their heroes in action with the Sydney Sixers and Sydney Thunder locked in for fixtures in the 2020/21 season."
Mr Lee said the funding will facilitate the development of infrastructure for community cricket clubs, as well as support female programs and resources across the state.
"We are committed to ensuring a lasting legacy from hosting T20 World Cup matches in Sydney and the legacy fund continues to deliver great outcomes," Mr Lee said.
"Today's announcement of the successful recipients brings the total funding amount to $6 million over the last three years, supporting over 200 projects that will continue to benefit community cricket across NSW for generations to come."
ICC T20 World Cup Acting Chief Executive Officer Michelle Enright said the projects will ensure there is a lasting legacy beyond the women's and men's tournaments.
"We are delighted that the Legacy Fund continues to have a positive impact fostering cricket participation across NSW, especially for women and girls following the successful ICC Women's T20 World Cup," Ms Enright said.
"Congratulations to all recipients and a big thank you to the NSW Government and Cricket NSW for their generous support. We look forward to continuing our work together for the postponed Men's T20 World Cup in 2022, which will be another fantastic opportunity to inspire cricket participation."
The ICC Men's T20 World Cup will be held in 2022, with seven matches proposed to be held in Sydney. Fixtures and ticketing details will be available in 2021.
2021 Sponsorship Opportunities: Narrabeen Sharks
The Narrabeen Sharks Junior Football Club is looking for local businesses to sponsor our great junior rugby league community for the 2021 season.
As with all sporting clubs, the Narrabeen Sharks are dependent on charitable sponsorship and fundraising to help provide uniforms, training equipment, and safety gear to cover all 24 of our teams from u6 to u21s!
The Club's aim is and has always been, to promote the game of rugby league in a fun and fair environment and in 2021 it is more important than ever to encourage our members and children to lead an active and healthy lifestyle.
There is a package for every business, BIG and small; and I will personally work with you; to ensure you maximise your sponsorship $$ in building brand awareness to our community. We are the largest Junior Rugby League Club on the beaches and we are growing; our brand is highly visible.
The feedback from our Sponsors is they love the Sharkies community, they love being involved with our brand as our Sharkies families are loyal, passionate, hard-working local community members who support their business back for their involvement with the Club.
If you would like to discuss any sponsorship plans or require additional information at all, please do not hesitate to contact Francesca on 0410 144 286 or email at francesca@cuttingedgeservices.com.au.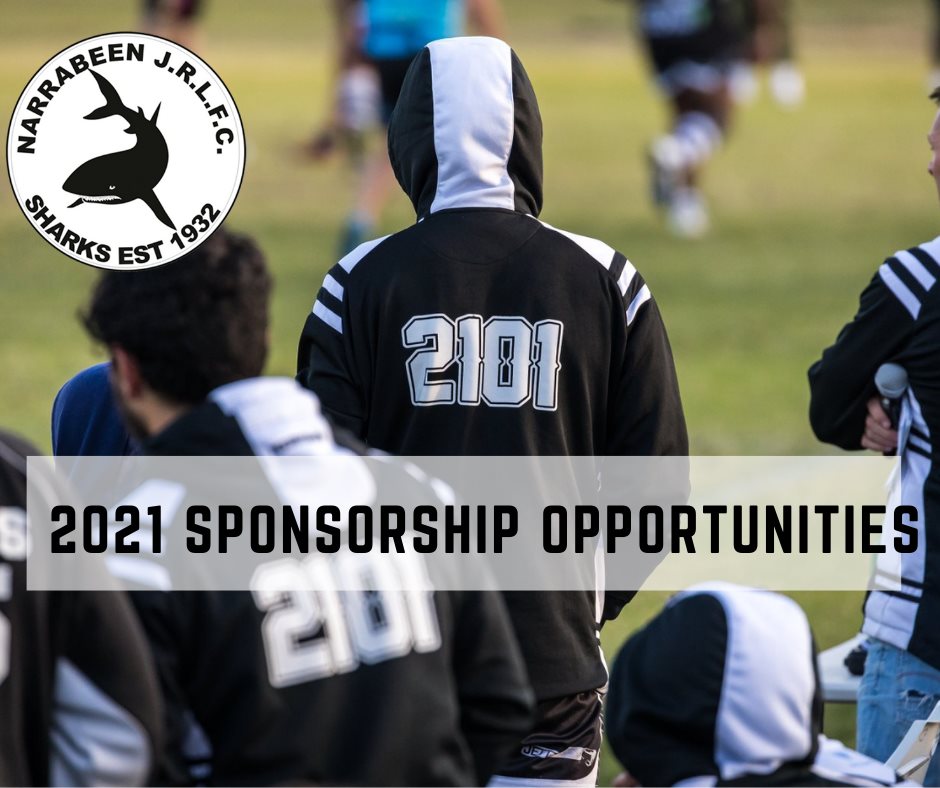 Pets Of The Week
Nelly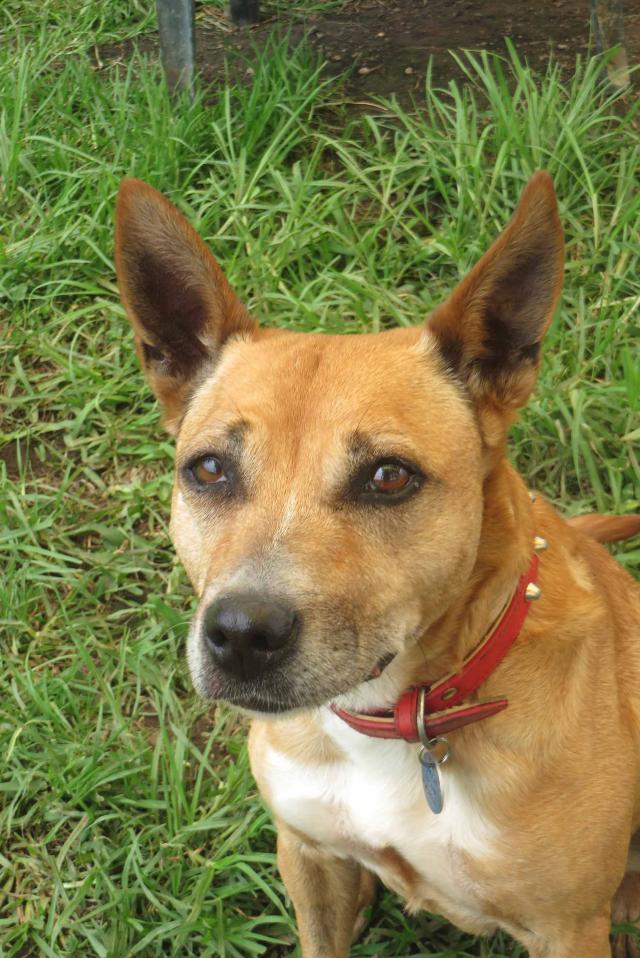 Nelly is a sweet natured affectionate girl. Out walking Nelly ignores cars and dogs and walks slowly. She enjoys belly rubs and jumps up to lick your face and likes being picked up. She is nervous of some things eg walking in internal staircases and big men. She has a smooth coat and weighs 13.1kg. She comes desexed, C5 vaccinated, heartworm free and microchipped. Also included for the love and health of our dogs is a free Health and Wellness Voucher with our DR Vet. Her adoption cost is $450.
Bryer
Bryer is sweet a black and white short coated boy who is approximately 2 years old. He is social with other cats. He is a little timid atm and needs a family to help him become more confident and relaxed. Bryer weighs 4.8kg.
He comes desexed, wormed, F3 vaccinated, FIV/FeLV tested and microchipped. His adoption fee is $220.
If you are interested in meeting him,
call DoggieRescue on 9486 3133 or email
cats@DoggieRescue.com
Not everyone is in a position to adopt a dog, which is why DoggieRescue runs a foster program making it easy for caring dog lovers to make an immediate difference.
Rehoming Organisation No R251000024.
Scheduled Roadworks - Utility Works: Avalon Beach
Barrenjoey Road between The Serpentine and Coles Parade
Sun 7 Feb 2021 to Mon 15 Feb 2021
Scheduled roadwork this week; Sun (10:00pm to 5:00am), Both directions affected
Mon (9:00pm to 5:00am); Both directions affected
Tue (9:00pm to 5:00am); Both directions affected
Wed (9:00pm to 5:00am); Both directions affected
Thu (9:00pm to 5:00am); Both directions affected
Sun (10:00pm to 5:00am); Both directions affected
January 17 - 23, 2021: Issue 479
This Issue:
Environment
Time Of Burran, Coastal Environment Centre Turns 30 In 2021, Numb Ray (Hypnos Monopterygius) In Pittwater At Present, Ross River Fever In Pittwater: What You Can Do To Beat Those Mosquitoes, Kookaburra Fledgling Feed-Time, Upcoming Activities For Friends Of Narrabeen Lagoon Catchment, Narrabeen Beach & Lagoon Clean Up, Bushcare In Pittwater, Gardens and Environment Groups and Organisations In Pittwater, Pittwater Reserves, NSW Government Response To Independent Panel's First Flush Recommendations, Amended Barwon-Darling Water Sharing Plan, Photos from the field: zooming in on Australia's hidden world of exquisite mites, snails and beetles, 75% of Australia's marine protected areas are given only 'partial' protection: Here's why that's a problem, Birds that play with others have the biggest brains and the same may go for humans, How Australia can phase out coal power while maintaining energy security, Asking people to prepare for fire is pointless if they can't afford to do it; It's time we subsidised fire prevention, Worried about Earth's future?; the outlook is worse than even scientists can grasp, Enjoy them while you can?; the ecotourism challenge facing Australia's favourite islands, Shorebird Identification Booklet: free to download, Aussie Bread Tags Collection Points in Pittwater
Inbox News
Contracts Signed For Rollout Of COVID-19 Vaccine, Multi-Million Dollar Tender Now Open For The Construction Of The World's Longest Wild Dog Fence, Sport Integrity Australia Advisory Council, Preventing Nicotine Uptake By Young Australians With Prescription Based Vaping, Reminder: Centrelink Debt Recovery Activity To Restart In February, First Tracks Laid On City & Southwest Metro, $45 Million Boost For Smart Places In NSW: EOI Sought,
New advocate for children and young people,
Digital Marketing Skills: Certificate IV In Marketing and Communications, The Christmas gifts that keep giving (your data away) and how to prevent this, Look up! Your guide to some of the best meteor showers for 2021, Why going for a swim in the ocean can be good for you and for nature, Girls Can't Surf shows how determined women battled sexism in their sport, Flip flop: the un-Australian history of the rubber thong, Mary Shepard: the artist who brought Mary Poppins to life, 3 reasons to study science communication beyond the West,
Free Diary Informs Seniors Of Their Rights, Would You Like To Improve Your Health & Wellbeing?, New Seniors Strategy Enables NSW To Age Well, $44 Million To Extend Dementia Training, Education and Support
Pittwater Offshore Newsletter: January 17, 2021
Click on Logo to access latest PON:

To contact Julian: editor@scotlandisland.org.au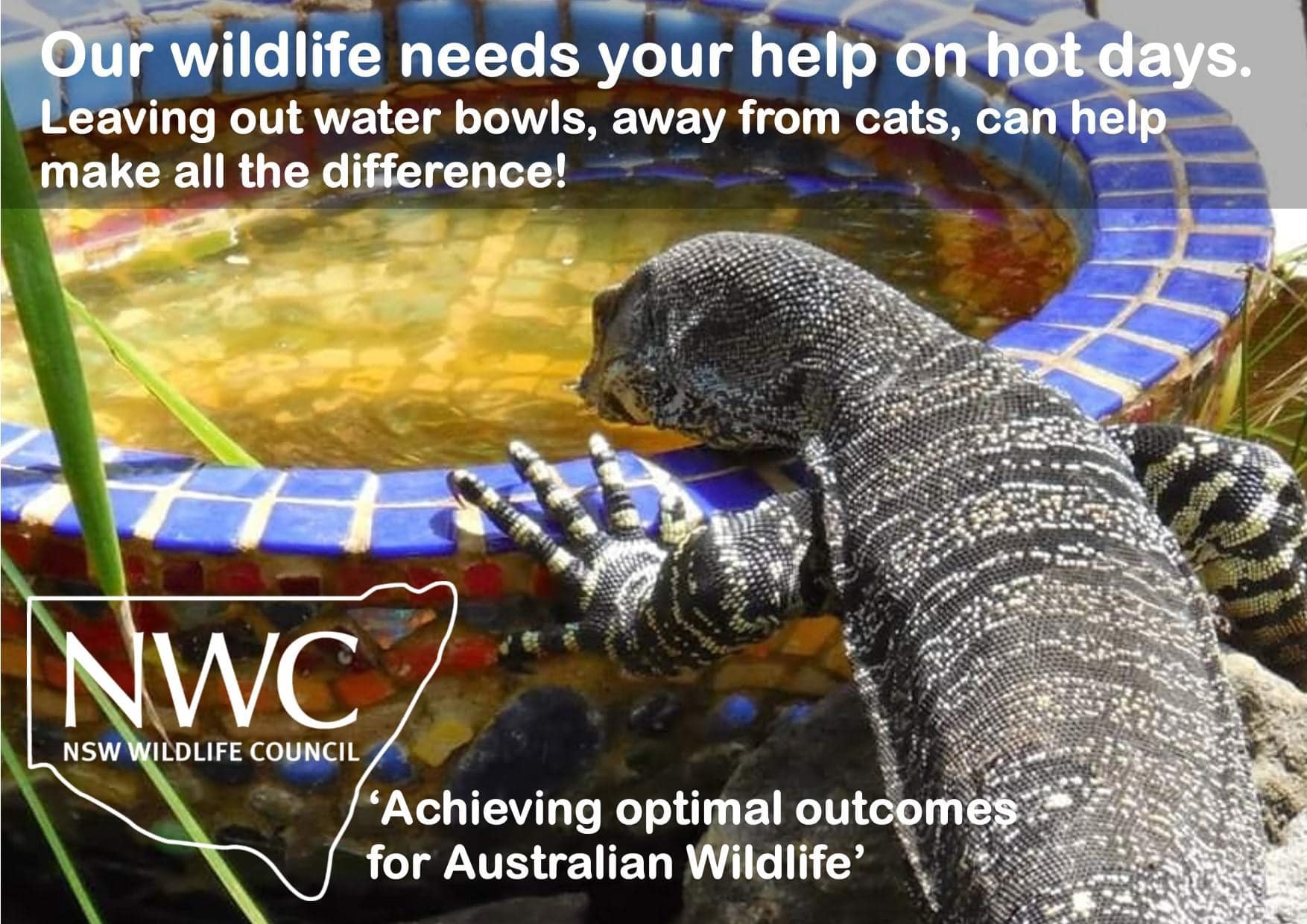 These hot days are tough on our wildlife - please put out some water in a shaded location and if you come across an animal that is in distress, dehydrated or injured - please contact your local wildlife rescue group:
Photo: Bronwyn Gould
Second Freshwater Ferry Retained
A second Freshwater class vessel will continue to operate on Sydney Harbour, following further consultation and feedback from the community.
Minister for Transport and Roads Andrew Constance said the oldest in the fleet, the MV Freshwater, will continue to operate alongside the MV Collaroy on weekends.
"I want to thank the local member for Manly who has continued to fight on behalf of his community to save an additional Freshwater," Mr Constance said.
"This decision is about balancing the needs of all our customers, with the community feedback and additional maintenance costs, and moving forward with a solution that we can all get onboard with."
The two Freshwaters will see services run between Circular Quay and Manly every hour on weekends and public holidays, year round.
"Weekday commuters, who want faster and more frequent services, will be served exclusively by the new generation Emerald class vessels, which are fully accessible, more energy efficient and cheaper to run," Mr Constance said.
Member for Manly James Griffin has welcomed the decision to save a second Freshwater class ferry on the Manly to Circular Quay route.
"I want to thank the Minister for Transport and Transport for NSW for listening to my community's feedback and retaining another Freshwater," Mr Griffin said.
"This decision strikes the right balance between keeping the grand old boats for tourists and residents who want to enjoy the scenic trip to Manly on weekends and public holidays, and a more frequent service that commuters want during the week."
The Freshwater will temporarily cease operation in the first quarter of 2021 while it undergoes major maintenance.
During this time, the remaining three Freshwater ferries will continue to run services.
The Narrabeen and Queenscliff will officially retire around the middle of the year when the Freshwater returns from major maintenance and the Emerald Class vessels begin operation on the F1 Circular Quay – Manly route.
Transport for NSW will update the community about farewell plans for the MV Queenscliff and MV Narrabeen early this year.
All four Freshwater class vessels will operate throughout this summer.
Have Your Say On Classification Of Land: 62 & 85 Hillside Road Newport
Those who fought to ensure the green space atop Newport Hill could be added into the Reserves for people and wildlife may like to provide feedback on the current Council's proposal to classify this land into two parcels. Under Section 31 and 34 of the Local Government Act 1993, prior to acquisition of land Council is required to classify land as either 'operational' or 'community' land and give public notice of this proposed resolution.
Council is proposing classification of 85 Hillside Road (Lot 2 DP 1036400) as operational land and 62 Hillside Road (Lot 1 DP 408800) as community land within the meaning of the Local Government Act 1993.
The primary distinction between community land and operational land
classifications
is
that
Operational land can be alienated from the public, ie: sold or leased for more than 21 years.
Community land cannot be sold, is subject to restrictions to ensure its long term retention for the public and is required to be used and managed in accordance with an adopted plan of management.
Have your say,
until January 31st, 2021
, at:
Have Your Say: Local Housing Strategy
The NSW Government requires all Councils to prepare a local housing strategy to address the short-term housing targets identified in the relevant District Plan.
The Draft Northern Beaches Local Housing Strategy has been prepared and is now open for public comment from Friday January 15th, 2021
to Sunday February 21st 2021.
The documents state the peninsula of the northern beaches (Manly to Palm Beach) needs to plan for approximately 12,000 new dwellings by 2036.
The draft document has been uploaded in 8 Sections to provide as much clarity on each component as possible.
Section 4 (The right locations for new housing) states that Brookvale, Dee Why and Mona Vale are classified as strategic centres in State level planning, and Manly Vale and Narrabeen, while smaller, offer many opportunities to build on their existing characteristics, along the existing B-Line, are all suited to medium to higher density development in the medium term.
Low to medium density housing will be investigated in the one kilometre radius around other local centres including Avalon, Newport, Warriewood, Terrey Hills, Belrose, Forestville, Beacon Hill, Freshwater, Balgowlah and Manly, excluding areas with environmental and other constraints.
In the longer term, if a second B-Line to Chatswood goes ahead, centres such as Forestville and Beacon Hill could also be a focus for medium to higher density housing.
Local centres suited to low to medium density housing such as dual occupancies, seniors accommodation and boarding houses include the strategic, town and village centres that are not on the existing B-Line or not proposed for significant housing renewal. These include: Avalon, Newport, Warriewood, Terrey Hills, Belrose, Forestville, Beacon Hill, Freshwater, Balgowlah and Manly.
Find out more and provide feedback at:
Have Your Say: Councillor Use Of Social Media Policy
In June 2020, Council endorsed a Notice of Motion (No 25/2020) to develop a Social Media Policy for Councillors. Subsequently, the draft policy was prepared in late 2020 and resolved by Council in November to be placed on public exhibition.
This policy will provide guidance for Councillors with regards to confidentiality, governance, privacy, record keeping and other legal and regulatory risks when using social media.
The draft policy
defines a set of principles to ensure communication between Councillors and the community will be in a manner that:
informs the community about the decisions of Council, policies, programs, services and decisions

promotes two-way communication

builds a highly informed and engaged community

accurately responds to community comments and requests

complies with relevant laws and regulations, and ensures the confidentiality of Council information

respects the democratic process acknowledging Council resolutions represent the majority view.
Feedback on this Policy
until from Monday January 11 to Wednesday 10 February 2021.
Surf Life Saving NSW Receives Wave Of Hand Sanitiser
Thanks to an anonymous donation and the assistance of Good360 and JJ Lawson, Surf Life Saving Clubs across NSW will this week start receiving boxes of free hand sanitiser to assist with preventing the spread of COVID-19.
Good360 is an organisation that matches donated product with the needs of not-for-profits. It recently connected Surf Life Saving NSW with a donation of eight pallets of hand sanitiser which will be distributed across its 11 branches and 129 surf clubs.
The donation has meant a cost saving in the order of $64,000 in keeping frontline volunteer surf lifesavers COVID-safe whilst on patrol.
Not only was the hand sanitiser donated but so was the transportation of the products to Surf Life Saving NSW headquarters in Belrose, Sydney, by the good people at JJ Lawson.
When told about this generous donation, Mike Hallahan of the Far South Coast Branch said, "We would be thrilled to receive the donated hand sanitiser on behalf of our clubs".
Club Development Officer at Surf Life Saving Sydney, Karen Byron, who accepted the donation on behalf of the Sydney Branch and its 15 clubs said, "How fortunate are we to receive this!".
Surf Life Saving NSW branches will coordinate the distribution of the hand sanitiser to each of their clubs so they can start making use of it as part of the COVID-19 Safety Plans every surf club is required to have in place.
Chief Executive of Surf Life Saving NSW, Steven Pearce said that the safety of volunteer lifesavers is paramount, particularly because they are frontline first responders in an emergency service charged with the responsibility of lifesaving and coastal aquatic rescue.
"Not only has COVID presented many challenges in terms of our operations, but it has also had a financial impact on our 129 Surf Life Saving clubs who have to comply with new health and safety regulations and also manage member safety."
President of Surf Life Saving NSW, George Shales OAM, said the donation could not have come at a better time.
"The donated product will provide much needed budget relief and additional personal safety assurance for our clubs. It's just one less thing they need to worry about and we are delighted and extremely appreciative to be able to facilitate this for them," George Shales said.
Surf Life Saving NSW encourages all clubs and branches to visit
www.good360.org.au
and take advantage of the free registration to keep abreast of other donated products that may assist in day-to-day operations.
Surf Life Saving NSW would like to thank the anonymous donor, Good360 and JJ Lawson for the generous donation and for making the distribution of the hand sanitiser possible.
Your Invitation To Come Join Us: Manly To Church Point Bike Ride 26th January 2021 - Ride With Aboriginal Peoples
This is not a race, just a friendly ride to show respect for Aboriginal People. You can do the full 24km or join the ride at Dee Why or Narrabeen and Mona Vale.
There will be a support car with you all the way so no one is left behind. The cost, a smile.
Meet at West Esplanade, Manly
At the monument between Manly wharf and Manly Art Gallery, where Wil-Le-Me-Ring a Garigal Aboriginal man Speared Governor Captain Arthur Phillip 1778.
We will be sent off to the sound of the didgeridoo.
Meet 7.00 to leave Manly 7.30 am - 7km to Dee Why
– via Queenscliff, Freshwater, Curl Curl
8.15am Meet at the Dee Why Beach
at the southern crossing, then we do not have to cross Pittwater Road until out of Dee Why.
8.30am leave - 7km to Narrabeen – via Pittwater/Sydney Road.
9.15am Meet at North Narrabeen S
urf Club car park.
9.30am leave – 3km to Mona Vale – via Ocean Street and Narrabeen Park Parade.
9.40am Meet at Robert Dunn Reserve
at Coronation Street.
9.50am leave – 7km to Church Point Wharf – via Pittwater Road
10.30am - be welcomed by friends at Church Point.
Meet local Aboriginal Garigal man, Neil Evers. Hear stories about the Aboriginal people who once lived in the area while you enjoying a well-deserved rest.
While you listen to the haunting sound of the didgeridoo echo across Pittwater and you play the clap sticks. (clap sticks provided) Listen and learn to dance along to the Aboriginal language.
Please pass this on to your friends.
For more information and to book in: please contact Colin Hutton
Curriculum Overhaul
January 15, 2021: NSW Government
NSW Curriculum Reform is powering on with the first stage of decluttering that will see a reduction of more than 80 courses developed by schools classified as unnecessary.
As part of the NSW Curriculum Reform, new criteria have been developed to ensure elective courses developed by schools provide students with strong foundations for future learning and life beyond school.
Premier Gladys Berejiklian said the NSW Government has exceeded its target to reduce the number of elective courses developed by high schools by at least 20 per cent.
"We need our schools to be focussed on the core learning areas," Ms Berejiklian said.
"Removing unnecessary courses allows schools and teachers the time and resources to deliver the essentials for students."
Minister for Education Sarah Mitchell said that she wanted to ensure schools are delivering high quality syllabuses to set students for success after school.
"New criteria will ensure that courses are only approved where the course provides a high quality elective option for students, and does not duplicate or overlap with existing opportunities within the syllabus," Ms Mitchell said.
"While courses will be cut, students will still have opportunities to explore their interests. For example, courses like print-making would no longer be standalone courses, but they could still be options as part of a core course like Art.
"Removing these courses is the first step in our curriculum reform with the development of the new, streamlined K-2 English and Maths syllabuses also on track to be released for consultation in March this year."
With the exception of languages, Auslan and Braille, all Year 9 and 10 elective courses developed by schools will be phased out by 2022. Year 9 and 10 students will have the opportunity to select elective subjects that will be developed by the NSW Education Standards Authority and will be available statewide.
Pittwater High School 2021
Our latest newsletter contains really important information for 2021, we advise all parents to check their emails. This includes a schedule of important dates (see image) including our student and parent information evenings to be held the beginning of next year.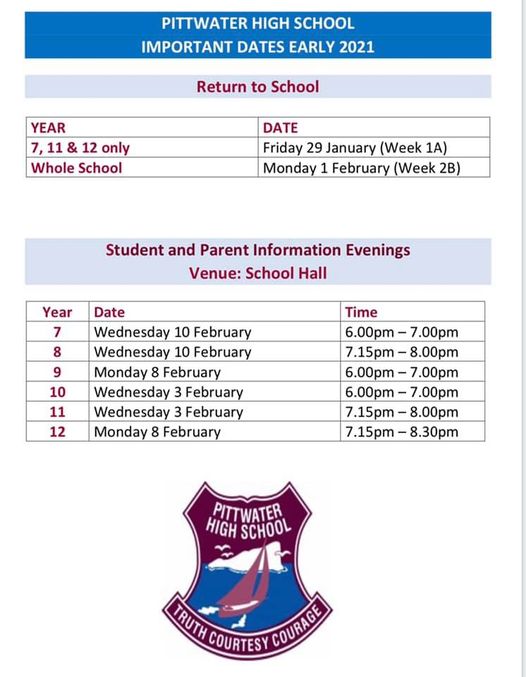 Barrenjoey High School 2021 Uniforms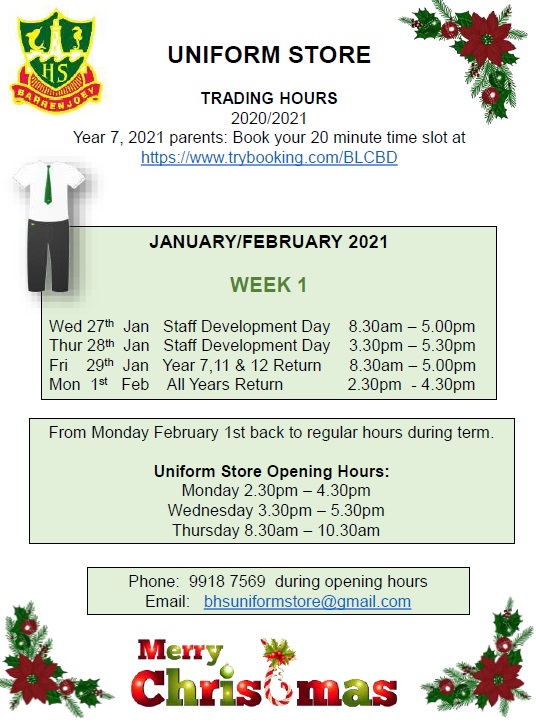 Newport Surf Life Saving Club Building Extensions
Input welcome until January 22nd, 2021
Over the past two years Council have worked closely with Newport Surf Life Saving Club, architect, coastal, geotechnical and structural engineers as well as Council's heritage team to refine the building extension concept plan for Newport Surf Life Saving Club.
The building extension proposal, first exhibited in August 2017 was based on a masterplanning concept commissioned by the Newport Surf Life Saving Club.
Following the initial consultation Council engaged an architect and carried out additional detailed investigations to inform the development of the updated concept plan.
The updated concept addresses the building site conditions, heritage constraints and the requirement for coastal protection works.
The building extension concept plan provides a design that addressed the need to maintain the important heritage elements, provide increased floor space and improve access.
Key design features include:
increased equipment storage
a new internal lift, foyer and improved circulation
two dedicated training rooms with secondary access
extension of north facing terrace
grouping amenities
a buried seawall
Images (courtesy NBC) : East elevation, North east Corner, North elevation, West Elevation, South Elevation.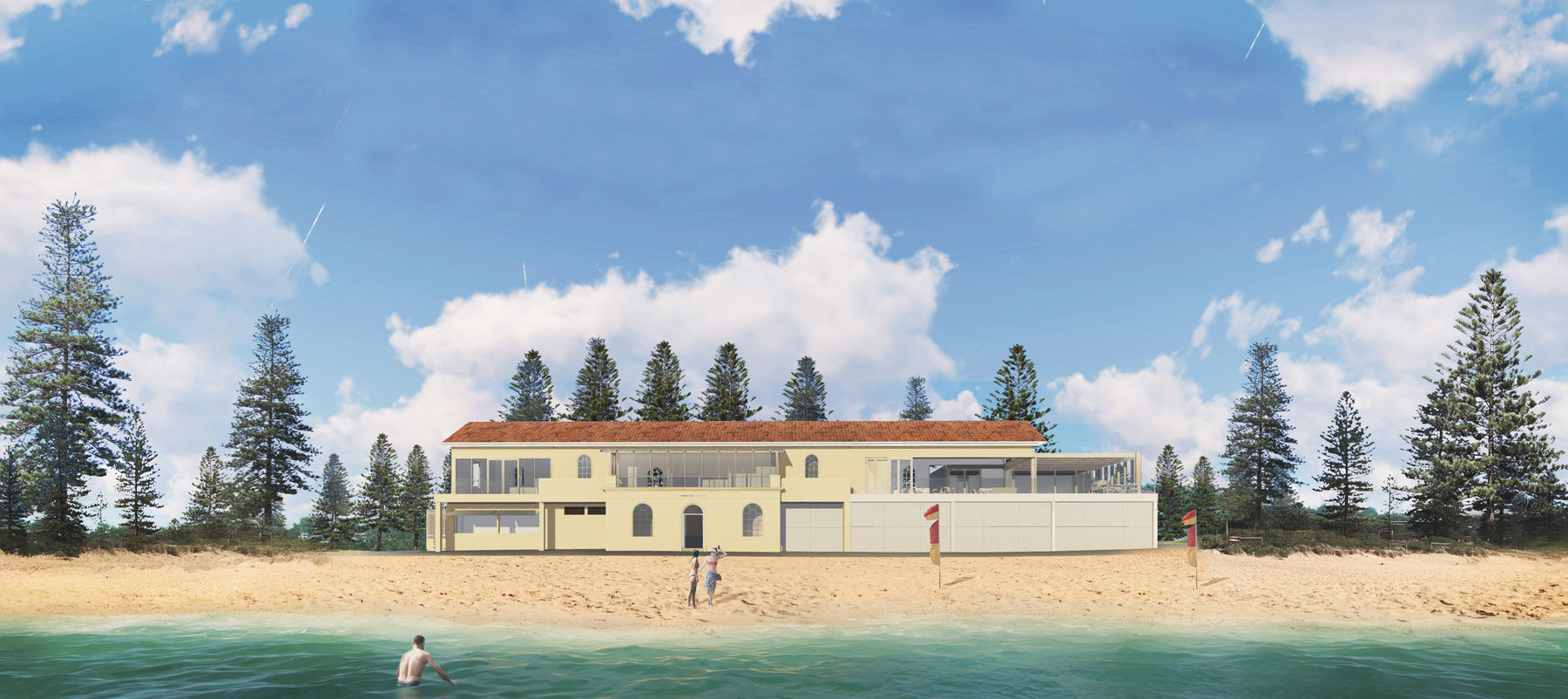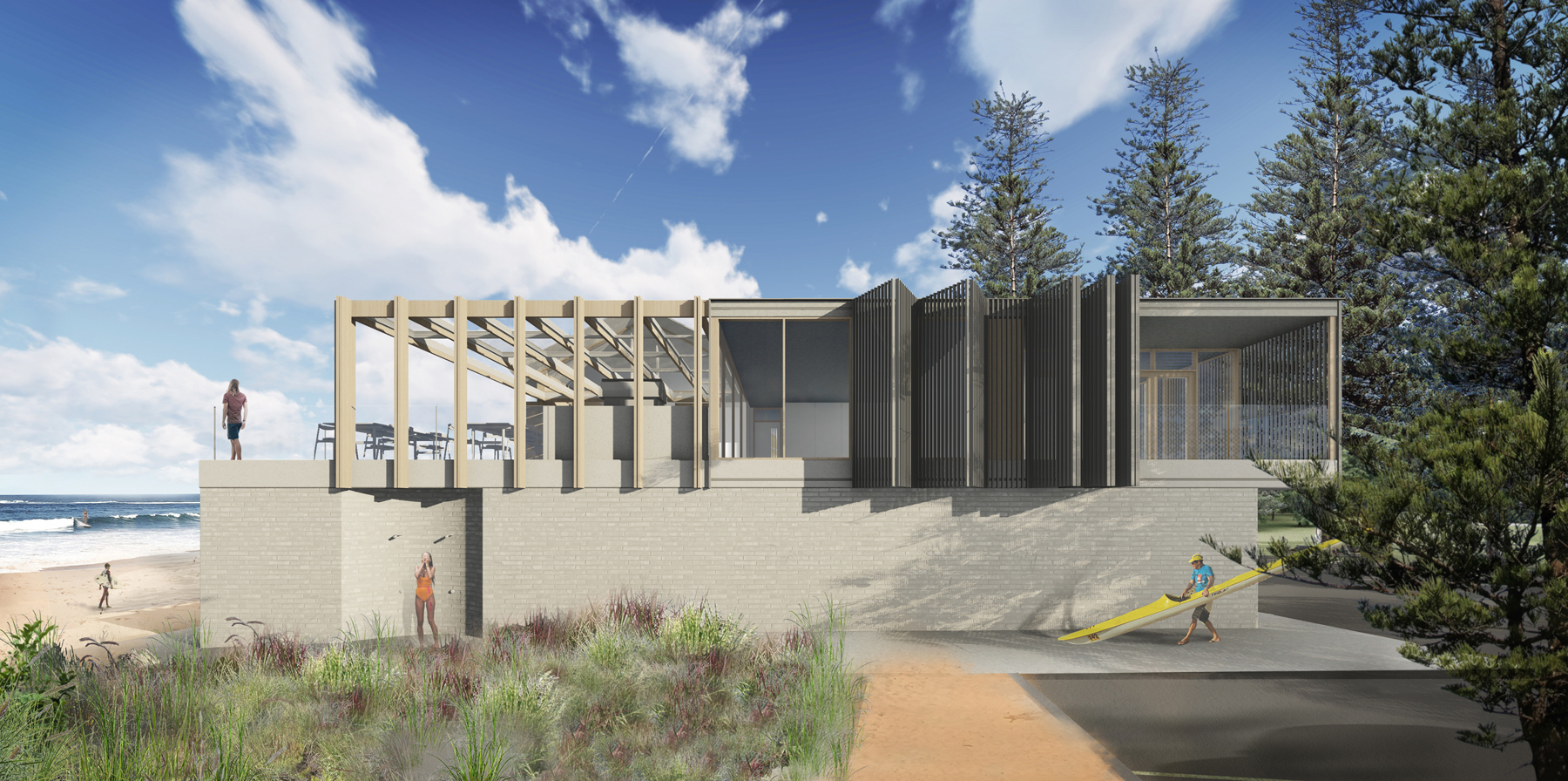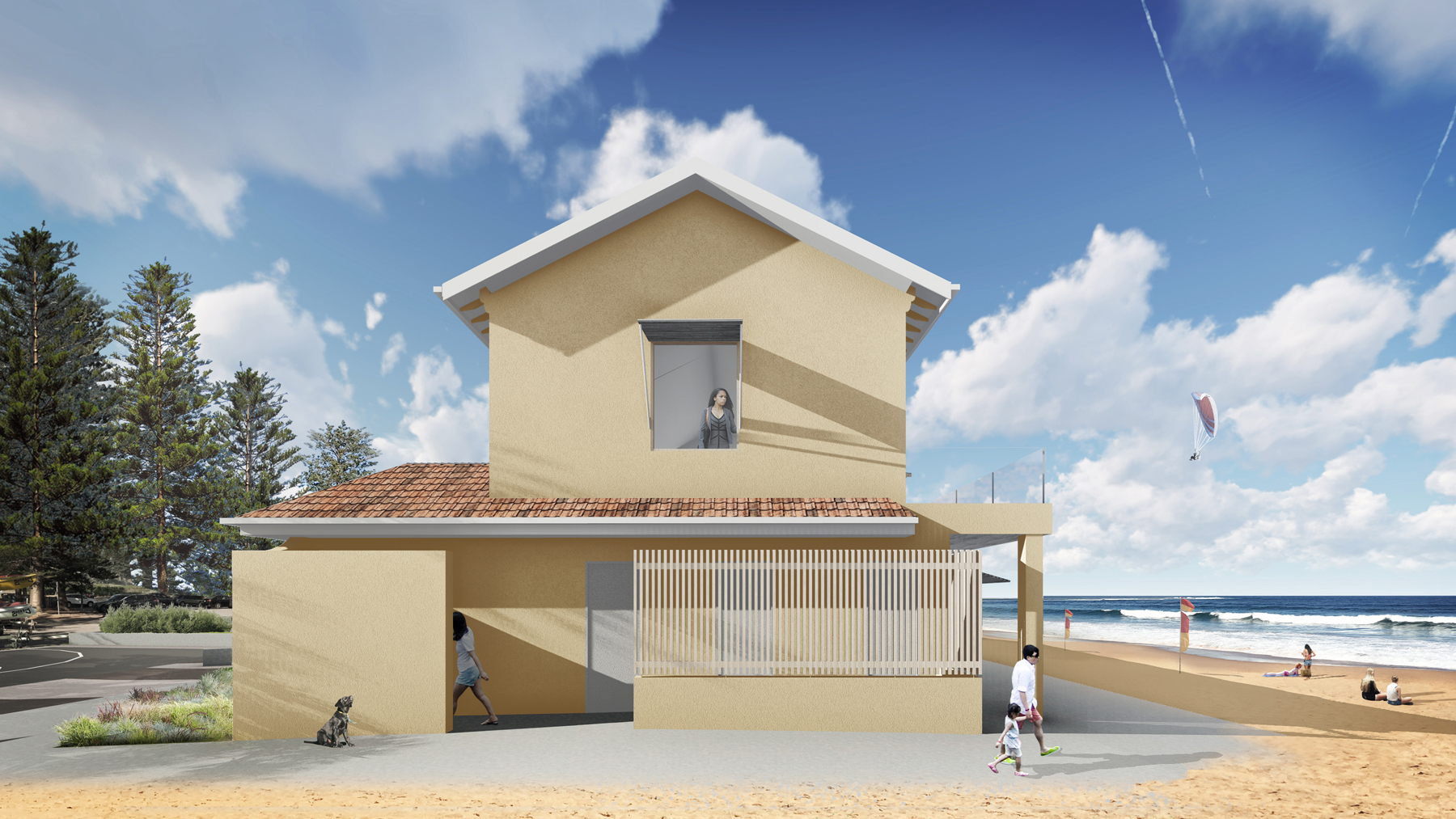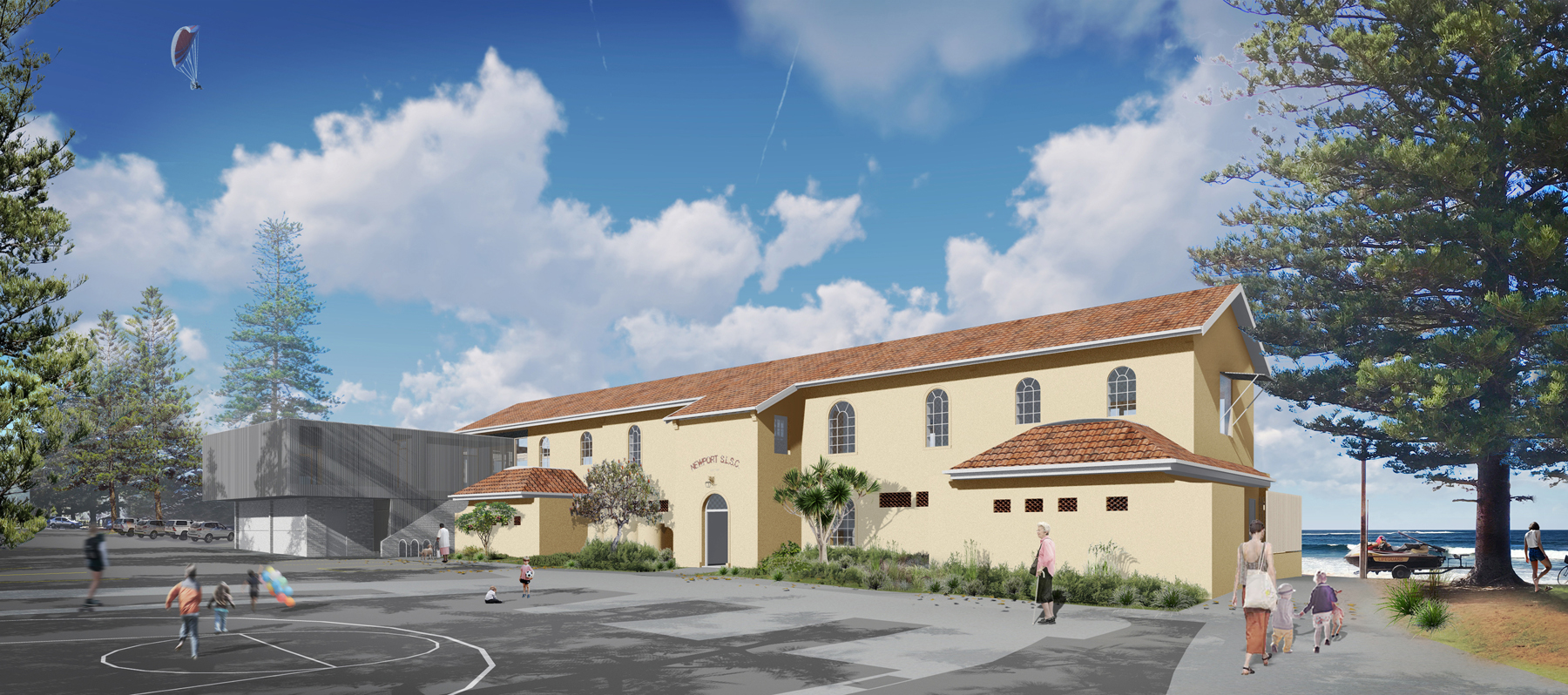 2021-2023 NSW Heritage Grants Now Open: Closes Feb 8, 2021
Grants totalling more than $5 million over a two-year period are now available for heritage projects across NSW.
Minister for Aboriginal Affairs and the Arts Don Harwin said the 2021-23 NSW Heritage Grants Program will identify, conserve and celebrate our state's rich heritage.
"I have witnessed first-hand the impact recent disasters have had on our Aboriginal cultural heritage, built heritage and the natural environment," Mr Harwin said.
"So this year, we are offering grants that will help those impacted to remediate sites and improve resilience.
"Protecting and celebrating Aboriginal cultural heritage continues to be a key focus for the NSW Government."
There are three grant categories including Aboriginal Cultural Heritage, Caring for State Heritage and Community Heritage. The program has also been expanded to help owners and custodians of heritage places affected by natural disasters.
The Aboriginal Cultural Heritage Grants category aligns with the NSW Government's commitment to strengthen and empower Aboriginal communities across NSW and increase understanding, respect, celebration and cultural participation in Aboriginal cultural heritage.
"Projects in this category can include works to Aboriginal cultural heritage sites, as well as projects that celebrate and promote greater understanding of Aboriginal cultural heritage," Mr Harwin said.
"Owners of state significant heritage can apply for grants for works to restore, activate and interpret those items through the Caring for State Heritage Grants category."
The Community Heritage Grants category is for projects that engage communities in the celebration and promotion of heritage especially projects that connect future generations with our heritage.
The 2021-23 NSW Heritage Grants funding round is now open for applications until 8 February 2021. Funding is also available for local government initiatives.
$10 Million Grants Program To Assist Women To Get Back Into The Workforce
Women across the state will have access to grants of up to $5000 through the NSW Government's new $10 million Return to Work program, as part of the 2020-21 NSW Budget.
Premier Gladys Berejiklian said the program would provide women with financial assistance and targeted support including mentoring, advice and training to help them return to the workforce.
"These grants will help women whose employment has been affected by COVID-19 to overcome some of the obstacles in returning to the workforce," Ms Berejiklian said.
"I encourage women from all walks of life to apply for these grants and use this springboard to jump back into their former career or even start a new one."
Treasurer Dominic Perrottet said helping more women get back to work will not only provide a financial lifeline for them and their families, it will also boost the economy.
"We know that many part-time or casual positions and female-dominated industries were severely impacted by COVID-19, so we are looking to empower as many women as possible to be able to get back into paid employment," Mr Perrottet said.
It is estimated that women make up 53 per cent of directly affected industries and 65 per cent of secondary industries impacted by the pandemic. These include accommodation and food services, retail, arts, and professional services.
Minister for Women Bronnie Taylor said the grants are available to all women who have been out of work for at least one month.
"There are so many costs involved in starting up again, so it is great that women looking to return to work will be
able to
use these grants towards things like training and education, office supplies, or whatever it is they need to get back into a job," Mrs Taylor said.
"The money can also be used for childcare, including before and after school care and transport
, which will really help mothers overcome some of the biggest barriers to getting back into work."
Eligible recipients will be given a Return to Work Coordinator to develop a plan, which will set out the resources that will assist them getting back in the workforce. They must be a resident of NSW and plan to start paid work within six months.
The Return to Work Program aligns with the NSW Women's Strategy, which sets the NSW Government's priorities for supporting women and girls, especially following times of crisis.
Find out more information about the program here: