March 19 - 25, 2023: Issue 576
MoWaNa Safe Space Officially Launched by Safe Space Community Champions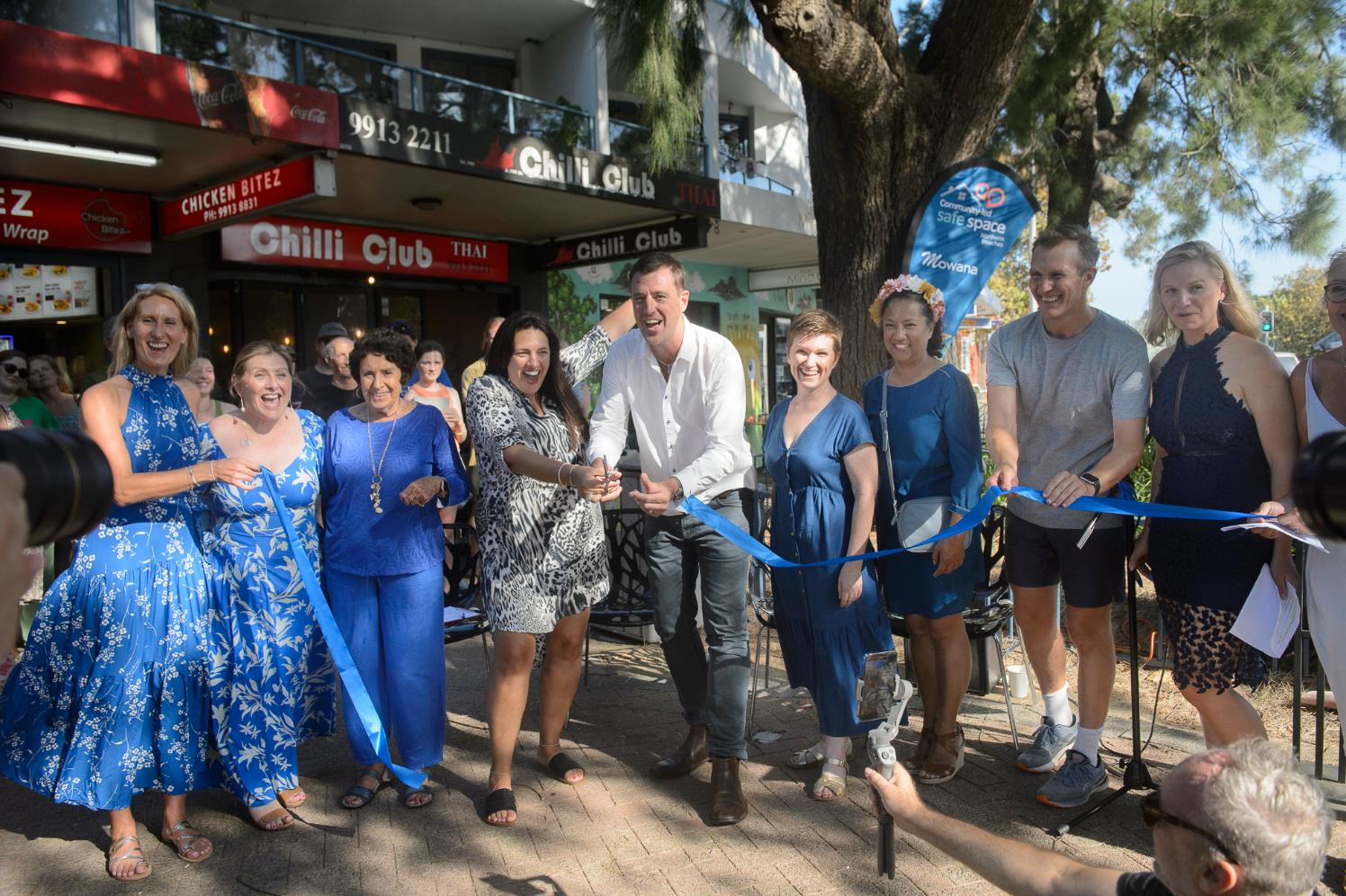 Photo: Michael Mannington OASM, Community Photography.
On Saturday March 18 2023 community champions with a proven track record in supporting measures that will address good health turned out in force to launch the MoWaNa Safe Space in Narrabeen.
The Hon. Rob Stokes, Lucy Brogden AM, and John Brogden AM, Lifeline Australia Patron and international mental health and suicide prevention advocate, suicide survivor, businessman and former NSW politician, Mayor Michael Regan, Dr Sophie Scamps and Racheal Leah Jackson plus around 100 plus people turned up for launch. We had Tom playing the digeridoo and some inspirational words from our special guests, all of whom have worked for years to improve the availability of health services for residents.
MoWaNa Safe Space is a peer led community-based service to support people who are experiencing emotional or suicidal distress.
MoWaNa stands for Mona Vale, Warriewood and Narrabeen.
The Safe Space is a 'drop in' style place that offers a non-clinical alternative to acute, clinical services such as emergency departments for people experiencing emotional or suicidal distress.
Our community led Safe Space provides a warm, welcoming environment in which to reduce distress, it will be staffed by our Peer CARE Companions (PCC) who have either had their own lived experience of suicide, have supported someone else in crisis, or who have been bereaved by suicide. This means they are better able to connect with others through the mutual understanding that comes with meaningful shared experience.
We are:
• A trauma-informed 'no wrong' door approach
• A warm welcoming environment
• Non-clinical support that meets the holistic needs of our peers
• A compassionate and capable peer-led workforce
• Warm connections to other appropriate and reliable supports
• People with Lived Experience are actively involved in all aspects of the Community Safe Space.
The community-led Safe Space model has been designed by Roses in the Ocean.
We are working alongside Roses in the Ocean for their expertise, guidance, and operational support
We have over 40 companions that will volunteer in our Safe Space. All our volunteers are provided with two key trainings: Living Works ASIST (Applied Suicide Intervention Skills Training), and Roses in the Ocean Peer Care Companion Training and gatekeeper training.
We are thankful for the support of, Roses in the Ocean, Sydney North Health Network and Northern Beaches Council, who have actively supported our volunteers by offering free or subsidised training. This is essential to equip them with the skills to provide compassionate and trauma informed interventions as well as having the appropriate language to support those who are distressed.
We know that there are many factors which can lead a person to experience suicidal distress, including an existing mental health issue, adverse life challenges, or points of disconnection throughout their life. We will build capacity within our volunteers to know which local services and supports they can refer people to. We shall ensure we build effective and ongoing relationships with the Northern Sydney Local Health District, Northern Beaches Hospital, and other local community services and groups.
We initially plan to be open for community drop-ins on Friday and Saturday nights 5-9pm and will consider additional hours upon community need.
While we raise funds for our own space in Pittwater, Guy at The Mind Café in Narrabeen is kindly allowing us to use his space, it aligns with our intentions for our community to reduce suicide.
If you can contribute towards our fundraising to provide a dedicated space for this work, please visit: https://gofund.me/cdd60a91
We are opening on Friday 18th February at 5.00pm for those in emotional distress.
Our Executive Committee are:
Kerry Gleeson (President)
Mel Kypri (Vice President and Volunteer coordinate)
Adele Sullivan (Secretary)
Claire Monaghan (Treasurer)
Aileen Ogilvie (Executive Committee member)
Becky Sexton (Executive Committee member)
Linda Quy (Executive Committee member and event coordinator)
Amber Boyd (Fundraiser Coordinator)
Please keep up with what we're doing via our Facebook page at: www.facebook.com/mowanasafespace