March 5 - 11 2023: Issue 574

The Newport Leatherjackets
Social swim groups in Newport SLSC Welcome all Community Members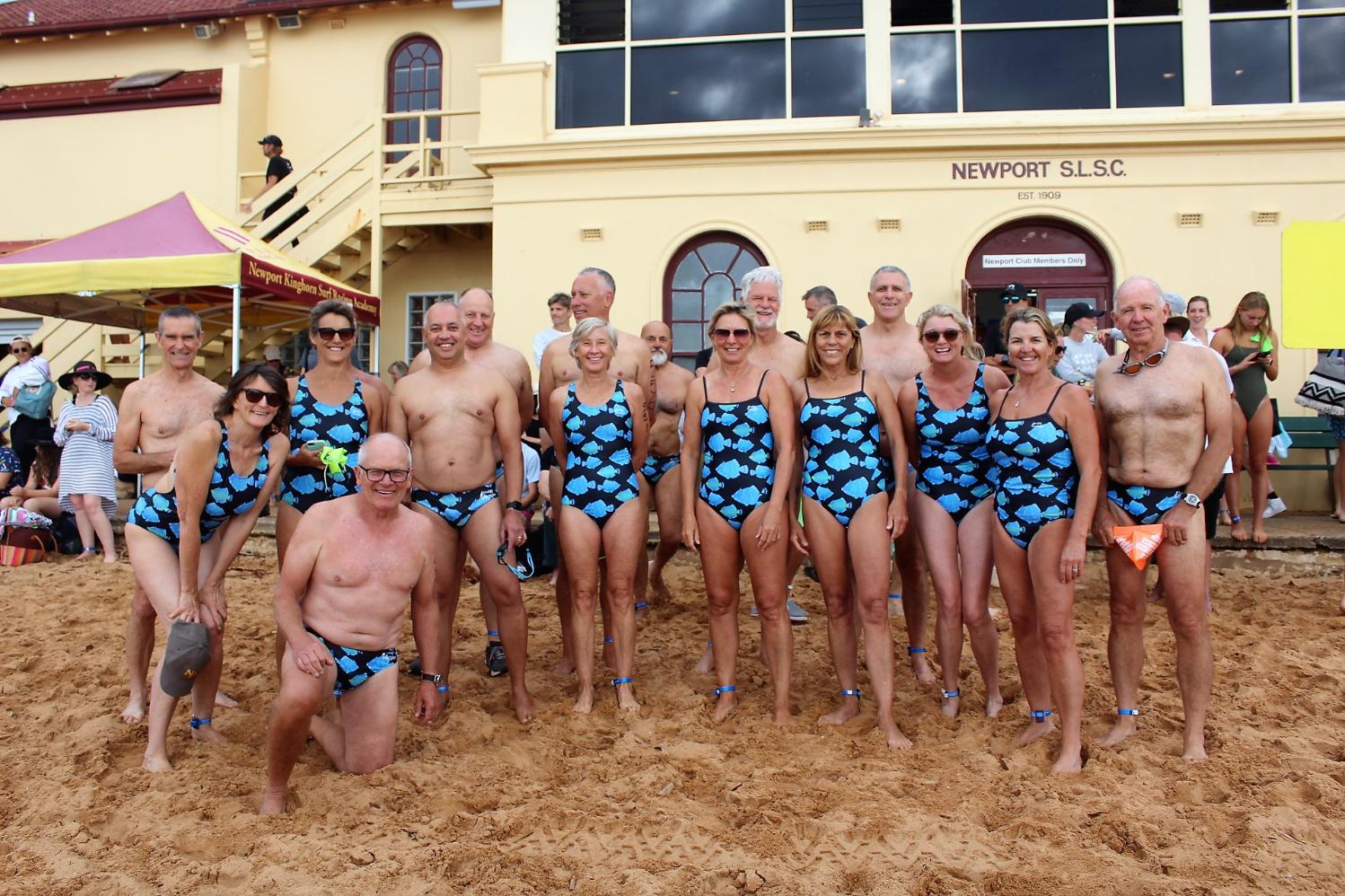 At Newport SLSC there are three social swim groups; The Leatherjackets, Flat Whites and The Knackers - where you can 'get in the swim' year round.
A chat with Rob Barkley, long-term member of the club, as nominated by his fellow Leatherjacket members, provides an insight into the formation of these groups and how everyone in the Newport community is welcome at their local surf club.
Does 'leatherjackets' refer to the fish or the apparel?
Rob: (laughs) It is probably a bit of both because we swim all year round. It is referring to the fish first but with a slant with us all being a bit leathery. This is not an age reference, as we have people under 40 swimming and also people over 70 swimming – so it would be a reference to also being sun lovers as well, or those who have acquired great resilience through being part of one group enjoying this form of exercise.
There are 3 social swimming groups centred in the Newport surf club?
Yes, the Leatherjackets, Flat Whites and The Knackers.
The Knackers were probably the original group of gentlemen to form a social swimming group, going back to the 1990's. They would gather every morning and have a 10-minute dip then have a quick shower and spend the next hour in the rooms discussing social issues and debating their financial status. They were all 70+ or thereabouts, all retired gentlemen.
The Flat Whites are an interesting group of fellows because once again they did their Bronze, are all very good swimmers, but certainly didn't start out as ocean swimmers. The joke was; there's an Englishman, Irishman, Welshman and an Australian, and that's exactly what they were. You'd see one, you'd see them all – a very social group of fellows, very funny – and they've been with the club for over 10 years now.
When did the Leatherjackets start?
You could say the Leatherjackets are aspiring Knackers as we're in the midst of moving towards them. The Leatherjackets would have started in the late 1990's, so 23 years ago. A fellow by the name of Dave Garman was then the Chief Instructor of Newport Surf Club, and there weren't a lot of members back then. Grant Dargue and myself got together and started training Bronze Medallion members for the club. As we trained each group we encouraged the swimming side of this.
There was a buoy that washed off a boat at some stage in the late 1990's, and it was called 'Kylie'. Dave was pretty inventive, he'd come up with all sorts of anchors, but it was basically a bucket of concrete attached to this buoy and set it about 200 metres directly out in front of the club. That became a focal point for a lot of people in Newport to just aspire to swim out and around Kylie and come back in, and certainly for the Bronze Medallion trainees it was part of what they did. If you couldn't swim out to Kylie and back in then you couldn't do your Bronze as that's the required swim length.
Every time there's a big swell it washes in or around the corner and always finds its way back to the Newport surf Club. We've had anchors attached to it, and it always ends up back out there.
Most of the Leatherjackets have done their civic duty and given back to the community – many of them have done 10-15 years of Patrols on the beach protecting the swimming public of Newport.
Leatherjackets members also come from all walks of life – they're teachers, doctors, tradies, and all come together due to their love for the beach.
Swimming all year round; what's the difference between a Summer swim and a Winter swim?
From September through to May is just absolutely beautiful. There are no rules but we turn up at 7.30am on a Saturday and Sunday, on the water's edge, and we swim. We have from between 3 to 40 swimmers.
We also swim during the weekdays – a start time then can range from 6 in the morning through to 7 to allow for all those who work to take part of they want, and depending on what people are doing and depending on how much light there is. The rule is sun-up to sun-down is the time you swim and anything before then you're being a bit silly.
We all look after each other as part of this. We meet on the water's edge and swim out past the break, which is about 100 metres out, we reconvene there as there is varying degrees of capability in swimming, we then swim out to Kylie, which is set 200-250 metres off the beach depending on whether it's high or low tide. We reconvene there, tell a joke or two, if it's someone's birthday we sing a song. We then head up to what is called the Newport 'Peak' which is about 300 metres northwards. We reconvene there, have a chat, and then we come back with what we call 'a bit of feeling'. So you'd swim a bit harder going back towards the club. All up it's between 750 metres to a kilometre that we swim each time.
How long does that take?
Around 15-20 minutes out in the water.
Wow – some of us could not walk a kilometre in 15-20 minutes let alone swim one.
[laughs] Most of the members have done their Bronze or have a decent amount of fitness. There are people who join us who aren't really good swimmers to begin with but then gain confidence through being pat of a group that does swim in the surf. When you are swimming in the ocean there's something about it that helps you gain confidence over a period of time simply through just doing it repetitively. For members it's the way they start their day and they feel lost if they don't do it – it's become a habit for us. It's funny getting down to the beach at that time of the day all ready to go and running into people who still have the bed cruisers in their eyes but are ready to dive in.
There's also a social aspect and connection in a get-together afterwards?
Yes; there's some great banter that goes on afterwards as it's definitely about the coffee and breakfast we have afterwards as much as the swims. We have a chat about what's going on in Newport or anything really. It's nice as some of the members have gone through the different ages of the club – they've been Age or Nippers Managers when their kids were that age, or they are Patrolling Members getting to spend time with others not on their Patrol or on their patrol outside of those duty times. Many of them have been heavily involved in the Newport Surf Club and have shared in the clubs' success in the last 20 or so years.
I know the girls all get together and go away for weekends – last year they all went down to the snowfields and spent a weekend in a lodge; there's a picture of everyone with their ski boots on with their speedos.
If someone from outside Newport Surf Club wanted to join in how do they do that, what is the pathway?
There are no rules – if you turn up and you want to swim with us, then do so – everyone is welcome. If you're part of the club, that's a bonus. To use the facilities you can certainly pay an Associate Members fee and that gives you access top a hot shower etc. but our stance is everyone is welcome – we all share a love of the beach and the surf and swimming. That's the base and basis.
For all of us it's a way of getting in touch with Nature, and maintaining that. Throughout the year we will have schools of fish swimming under us, whether it's salmon or tailor or leatherjackets, then in other seasons you have the pods of dolphins swimming past you, then in Winter we have the whales giving us a 'hey-ho!' from further out or even closer.
Rob, you mentioned fulfilling other roles such as training Bronze Medallion aspirants – what else have you done at Newport Surf club?
I began at Newport through my kids starting in Nippers when we first moved to Sydney – I came up from Albury. I'm an ex-Melbourne boy and never wanted to go back once we found here, it's paradise. So I became an Age Manager, did my Bronze and became a Trainer, went on to become Chief Instructor, was Club Captain for about 7 or 8 years, then Treasurer – so I've done a bit over the years. I still Patrol the beach during the Season and have been doing that for 25 years.
Newport has always had this social aspect and connection to the local community going back to the foundations of the club – and social swimming groups seem to be one part of how the club is carrying that forward.
Yes, it's very much one of the friendliest surf clubs on the peninsula. From sun up to sun down the beach and the Newport surf club facility is utilised by everyone – even those outside the club. There's people conducting yoga classes there, different community groups use it as their meeting place, it's used for training, and we continue to bat way above our average when we compete at State and National titles. The younger members have an enthusiasm that's just infectious. When we get there when they're training and see them just propelling themselves out through the break on skies and boards and whatever, it just gets everyone aiming higher.
They're basically doing cartwheels on the water.
In this we see members who are involved in the Iron Man series through Nutri-Grain or taking part in the Summer of Surf series having won a place to compete in that, and it doesn't seem to swell their heads – they all come up and have a chat, they get involved in helping out the club in anyway they can outside of those series and surf sports competitions, and you will even see them turning up to help out with Nippers or fulfil Patrols – even when they've done their bit for the Season. You can't keep them off the beach or out of the water.
What are the Leatherjackets favourite places in Pittwater and why?
Newport Surf Club, on Newport beach. We all enjoy the serenity of being on the outdoor deck and having an ale or two on a Friday or Sunday afternoon.
We all certainly enjoy having a coffee in Robertson road at Newport too.
What is the Newport Leatherjackets 'motto for life' or a favourite phrase they try to live by?
Start out slow, and then ease back.
Associate Membership at Newport SLSC
Are you keen to join a Surf Life Saving Club but don't want to patrol the beach? An associate membership allows you to do just that! Whether you would like to help with Nippers on a Sunday, help on the BBQ stall or just help with some admin and logistics, this membership type allows you to. You will be a social member of the club and it will enable you to be part of our one big surf family. Newport SLSC understands that not everyone wants to get their Bronze Medallion or their Surf Rescue Certificate so are very supportive in helping individuals achieve their surf goals! A surf club could not run without a secretary, BBQ coordinator, treasurer, social coordinator or Nipper volunteers, so we welcome you to sign up and be part of our great club.
Find out more at: newportsurfclub.com.au/surf-club-membership